Top bathroom hacks to help you save on bills
After almost three quarters (73%) of UK adults said a rise in their energy bills impacted their cost of living most over the past month, so we thought it would be helpful to discuss some bathroom hacks to help save you hundreds.
Below, we'll explain how Brits can switch up their bathroom habits with the smallest of changes that could result in the biggest savings when it comes to energy and water usage.
It's important now more than ever to try and save wherever we can and there are some surprising little changes that can be made in the bathroom to cut the cost of bills.
See below our six savvy hacks to give a helping hand throughout the ongoing cost of living crisis.
1 – Don't Leave Leaks Unattended

Some small leaks may not seem to be causing you problems if they aren't displaying a loud dripping noise or causing flooding issues, but thousands of litres of water could be wasted every year if they aren't tended to.
Regularly check taps, showerheads and toilets for any leakage and always consult a professional tradesperson to fix any problems to ensure it is done correctly and no money is wasted on bodge jobs that have to be rectified.
2 – Never Leave The Taps Running
Start with simple habit changes like turning taps off when not using the water.
This may sound obvious but it's easy to leave a tap running while you're brushing teeth or nipping to get a fresh razor from the cupboard before shaving.
Running taps can use around 10 litres of water a minute so, by cutting down to seconds, you can literally save litres of water every day.
3 – Leave The Extractor Fan On No Longer Than Necessary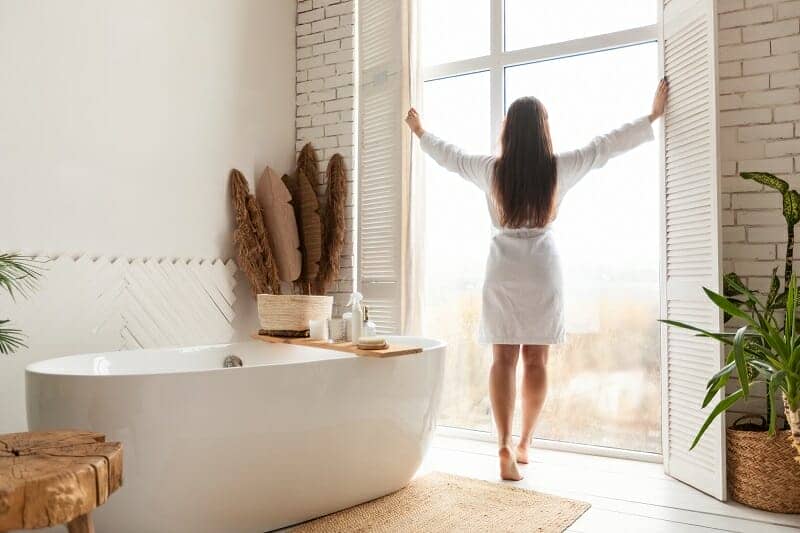 To save on electric, monitor the performance of your extractor fan once turned on to ensure it runs no longer than needed.
Extractors are often switched on pre shower or bath and forgotten about for hours after.
You probably don't need to have one on for longer than 10 minutes to effectively remove most of the moisture that has gathered after a steamy shower and then you can simply prop open the window to air the space out.
4 – Only Use Towel Rails If You Need To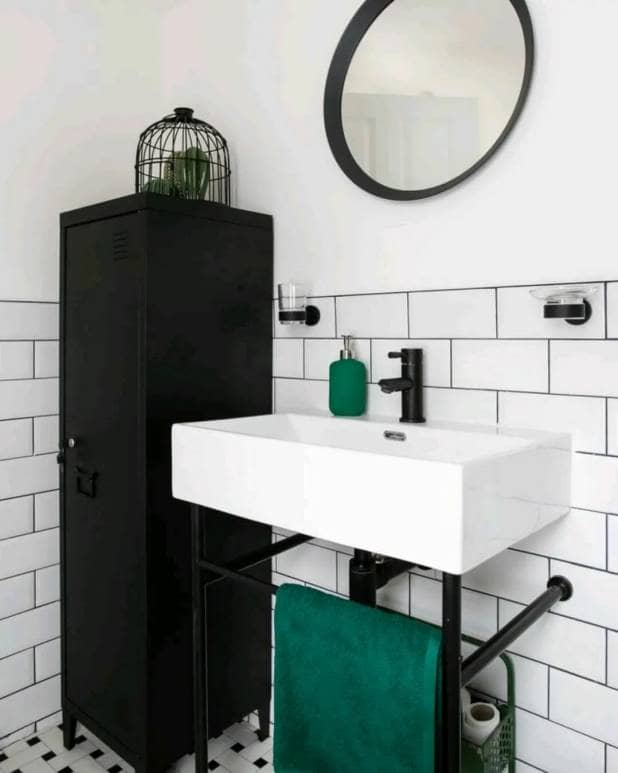 Towel rails are now commonly used as a source of heat not only to dry towels but to warm the whole room.
As we head towards spring and the start of milder weather, the bathroom is one area to start turning off the radiators.
If only used once or twice, towels will be able to air dry within a half a day and simply leaving a window open slightly will help to speed up the process.
In the spring and summer it's worth having a dedicated rack in a sunny spot within your home or garden to air out towels after use, aloowing you to leave the towel rail off completely during this time.
5 – Use Cold Water Where You Can
Heating water can account for around 10% of the average household energy bill.
Using cold or cooler water where you can will make a huge difference, even just adjusting your usual shower temperature – turning the shower heat dial down a couple notches – won't be too noticeable and could save you some cash.
If you're having a quick freshen up wash, a cold-water option may be good to give you that re-vitalised feeling, especially as the weather heats up.
Cold showers are also a great relaxation and stress coping mechanism, influenced by the likes of Wim Hof, with health benefits including muscle recovery and immune system boosting.
6 – Keep Showers Under 7 Minutes
Keep showers short and sweet, seven minutes is more than enough time.
Set a timer so that you know when it's time to turn off the water or for a more fun approach, create the ultimate seven minute shower playlist that will start and end within the time it takes to get clean.
You can always allow yourself a longer shower once a week to complete your full pamper routine.
Your Energy-Saving Bathroom Hacks
So there are our 6 energy conscious bathroom hacks.
We're sure you have a few of your own!
If you do, why not drop us a comment below, or contact us via Instagram? Hit us up at @Big_Bathroom_Shop and tell us all about them!

John trained in journalism before joining the Big Bathroom Shop team. His exceptional journalism skills allow him to meticulously research bathroom topics and bring you the very latest news and views on all things bath and shower related. He's also a dab hand at Scrabble!