Join us on a visit to Savoy Automobile Museum in Cartersville, GA, a brand new facility that houses cars that you know and love as well as many you probably have never seen before. Sitting on 37 acres, this world class automobile museum will take you back to the memory or your first car and you'll enjoy reminiscing about the past. Mark and I had a blast walking through the museum, taking in the cars, talking about our first cars and seeing the original car art. We are looking forward to taking more day trips in the future and seeing things around our area that are new, so I'll be sharing all of these trips here on the blog.
The newest endeavor of Georgia Museums, Inc., the Savoy joins a prestigious group of museums including Booth Western Art Museum, Tellus Science Museum, and Bartow History Museum. We have been to the Booth Western Museum and it's very impressive as well. If you've missed these cultural spots in Cartersville, make sure you get out to see them. I love supporting our local endeavors.
The Savoy is easy to get to and it sits in an impressive silver and red building.
Other Cartersville museums you may want to see.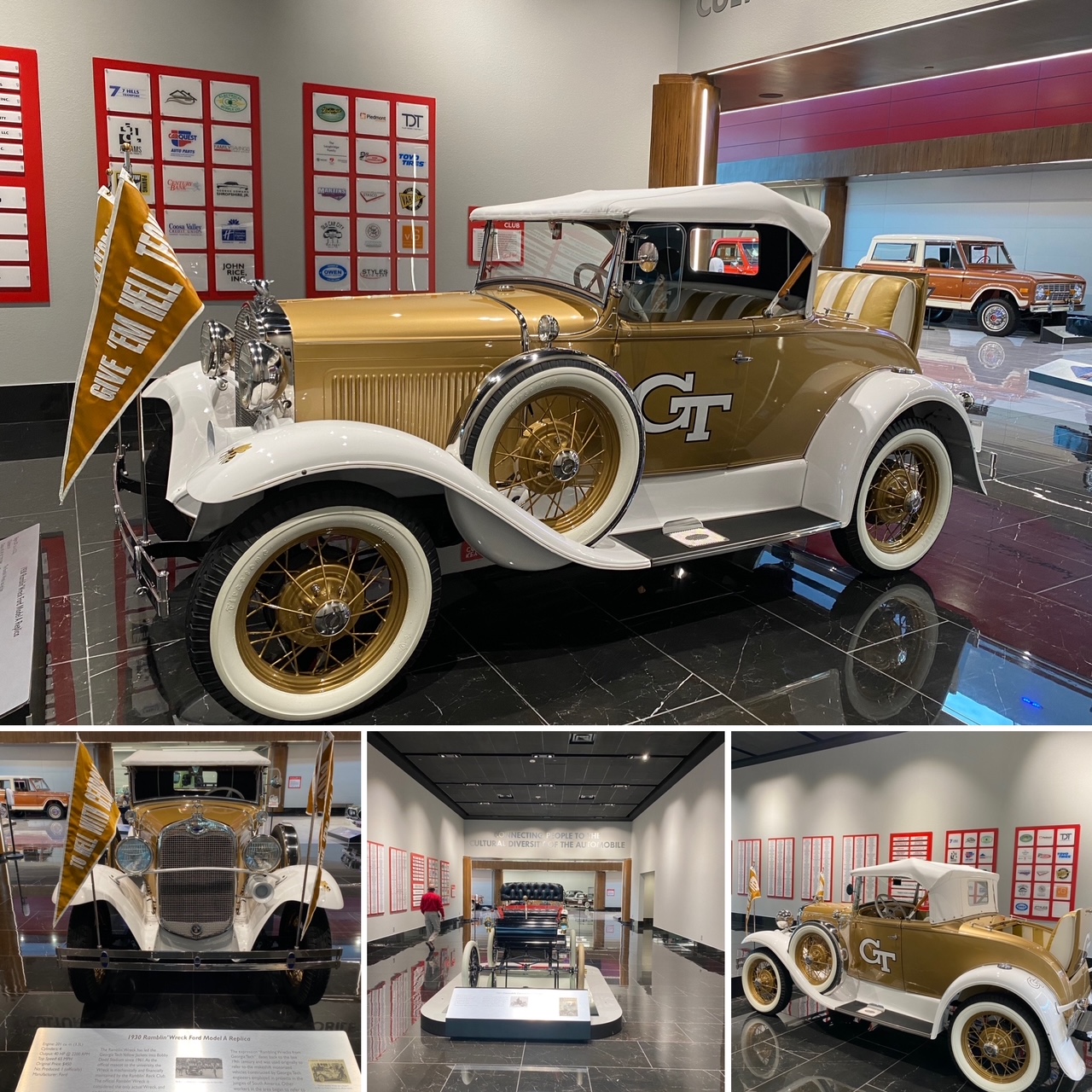 The Rambling Wreck of Georgia Tech is well represented. Cars sure are a big part of our lives aren't they? Who remembers their first car vividly? I sure do. It was a used 1971 Plymouth Fury, dark brown 4 door and believe me when I say it was butt ugly. I think I paid $600 or $800 for that car, it was all the money I had saved up and could afford. I was proud to have a car, but I didn't keep it too long. I ended up trading it in after about a year when I went to college for a 1973 Pontiac Grand Prix, in burgandy with a white vinyl top. Oh how I loved that car! This looks just like my Grand Prix.
I've always loved sports cars, but never had a true sports car of my own. I've owned that Fury, the Grand Prix, a Datsun 310 hatchback (which had troubles and I ended up getting rid of it), a 1986 Dodge Daytona, a beautiful gray/blue metallic Buick Riviera, a 2006 Toyota Solara, and now a 2017 Nissan Murano. The Japanese cars have been the best performers for me and I'll probably stick with a Toyota, Honda or Nissan. There's nothing worse than an unreliable car.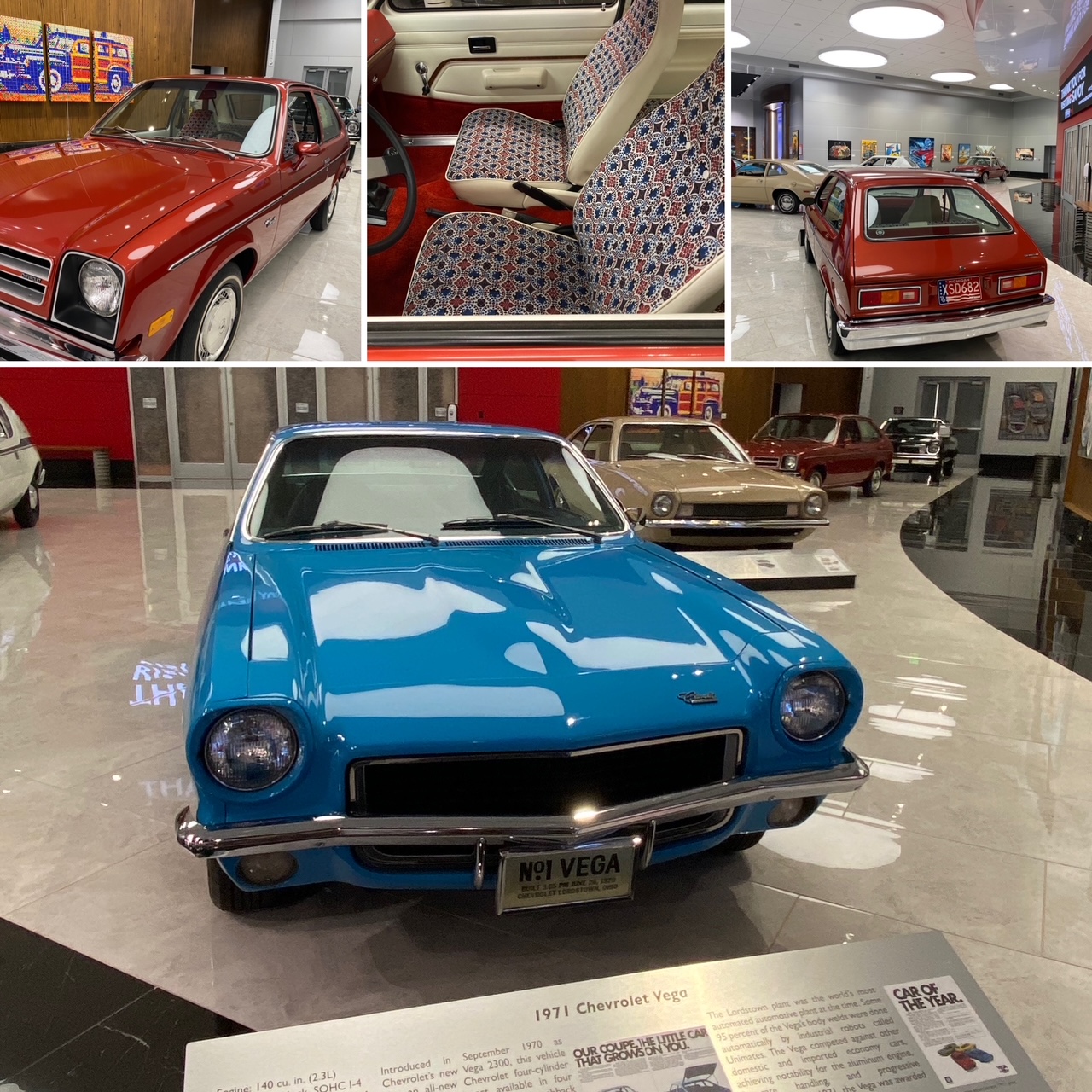 There was a group of 1970's iconic cars that we all knew and some loved, like the Chevrolet Vega, the Ford Pinto, and the AMC Pacer. We had to laugh a bit about those cars that so many people had, and at the time seemed pretty cool, but they were not that reliable or pretty to look at. I never had any of those cars.
Mark told me the funniest story about a high school friend of his who got a brand new Vega,. He and Mark were driving around while his friend showed off his new car and decided to do some maneuvers with it, lost control and ended up running up and over an embankment ditch back and forth until every side of the car was mangled. I was hysterically laughing over Mark's description of his poor friend who then had to go home and face his dad….and his high school sweetheart, his fiance. They were getting married in about a week and that brand new car was history!
This 2020 Ford GT was very eye catching and pretty. I've always loved a pretty sports car.
Mark had fun looking at this nostalgic Pontiac Trans Ams. He had 2 of these, he said, the same years as these, a 1974 and 1978. He loved those cars a lot. That green car is a Plymouth Barracuda, another popular muscle car of the time.
I think this car was the most popular car of my high school years, the Z-28 Chevy Camaro. I know there were more of these in the parking lot of my high school than anything else. I loved them too, but never had one.
This is a 1970 model.
Mark loved this old Chevy truck.
I forgot to get a picture of the plaque on this one, but I thought it was really pretty. Looks like something out of James Bond or a movie in Europe. .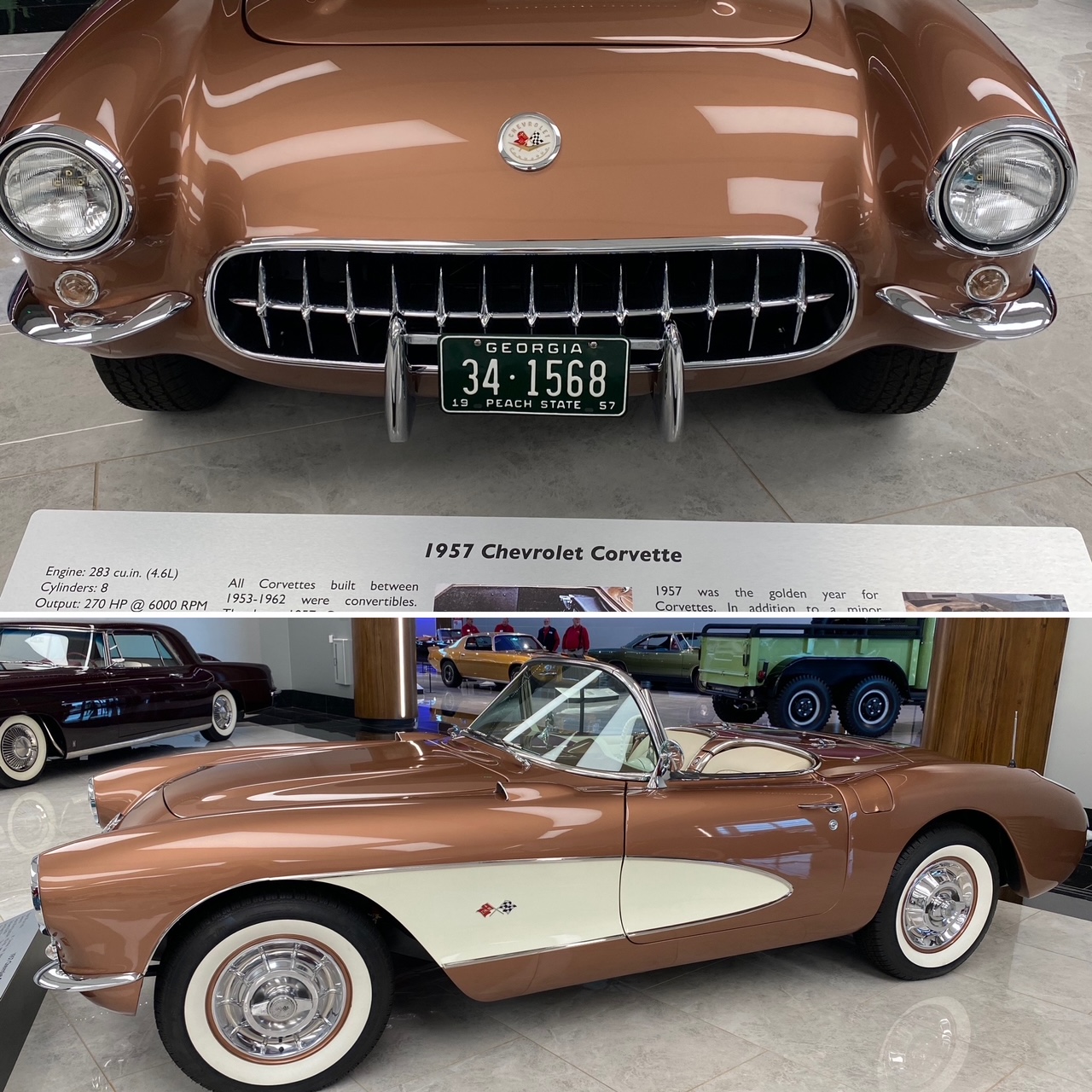 Of course, the Chevrolet Corvette has always been popular, I love them too.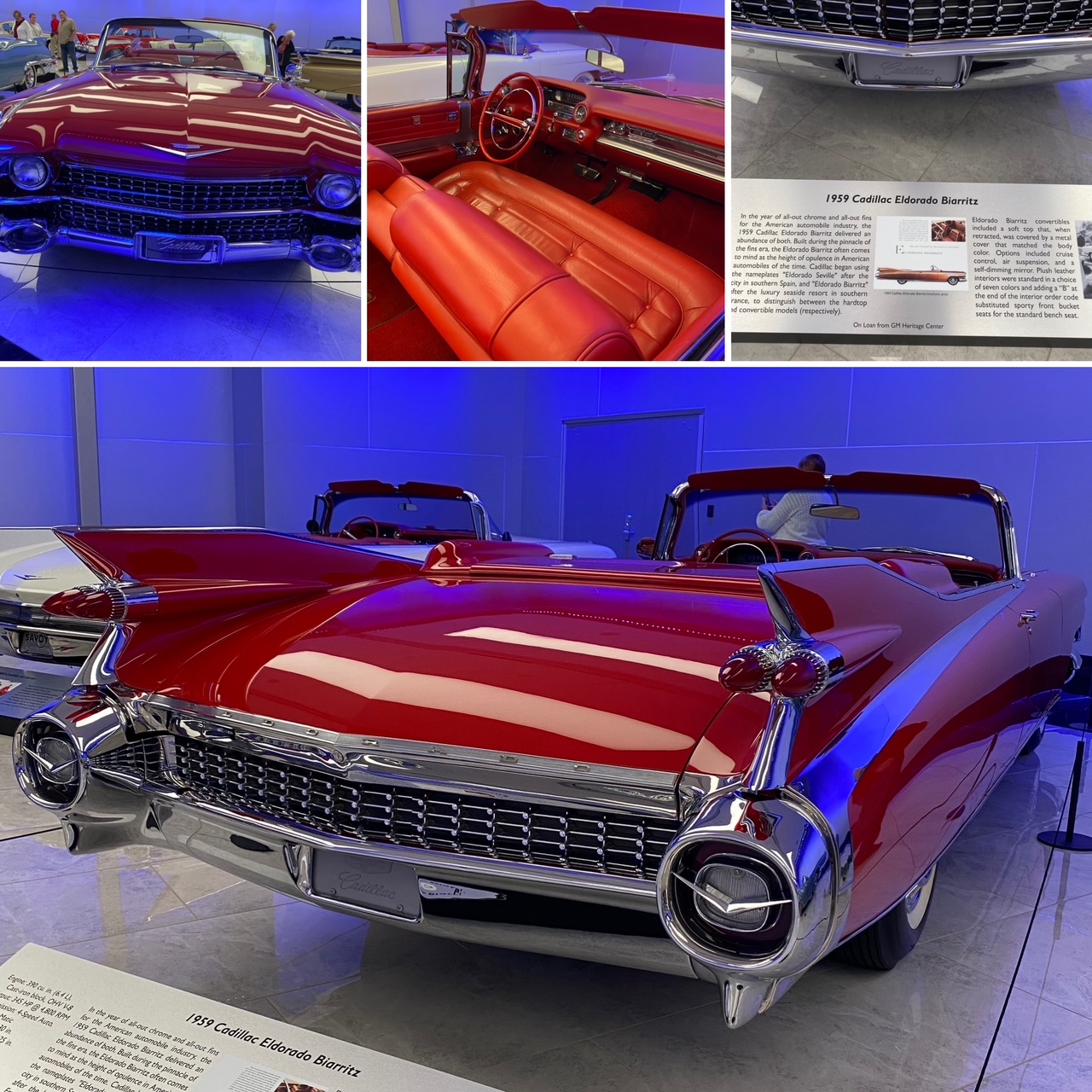 This 1959 Cadillac Eldorado Biarritz was a favorite of Mark.
There were so many different types of cars and models all the way back to the beginning and in between.
The showroom is set up really nice to showcase these beauties.
This was a good looking sports car, the Bizzarrini.
This Chrysler Town & Country Sedan was really striking with that real wood siding.
The futuristic DeLorean made an appearance as well.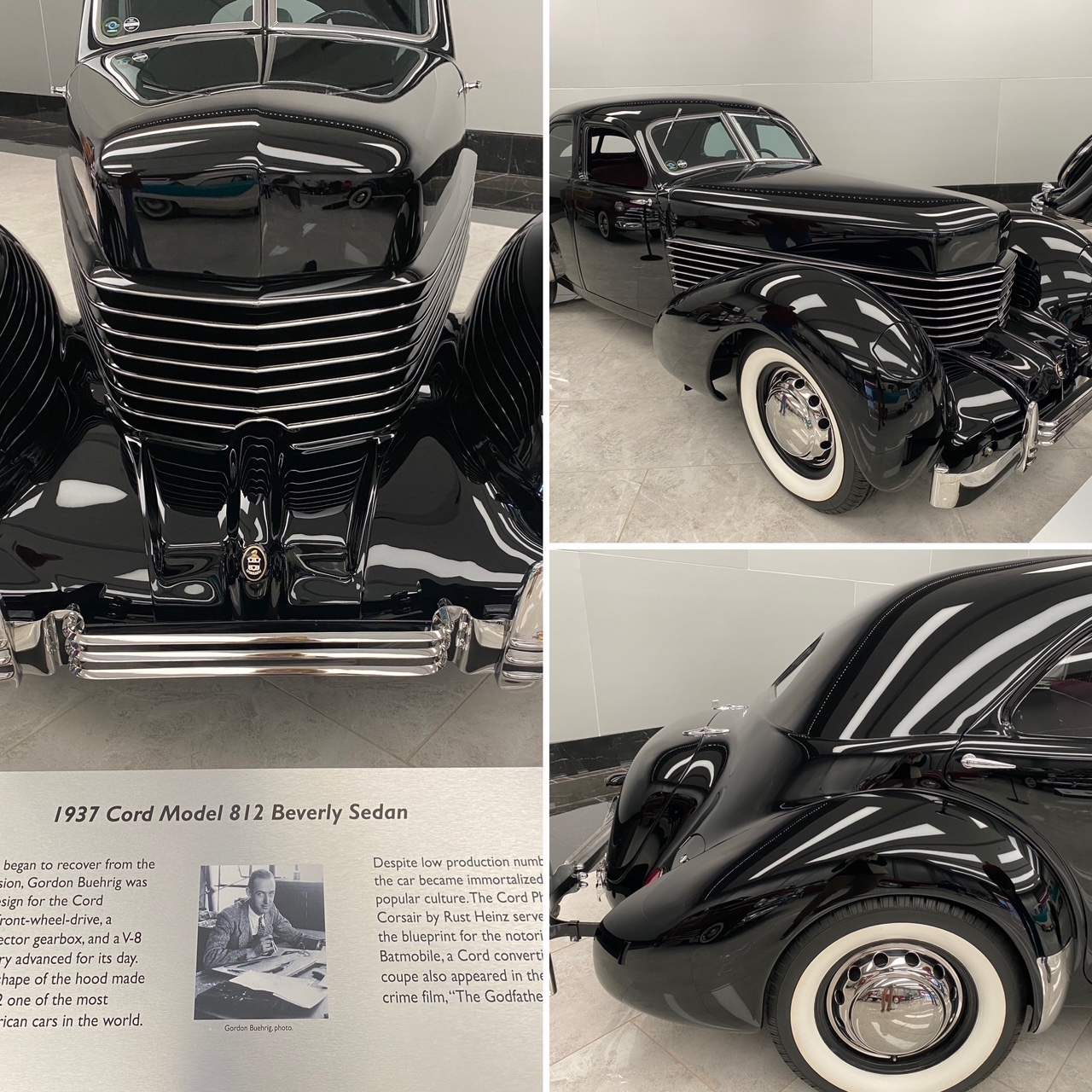 Mark also loved this 1937 Cord Model 812. It was quite the car!
So if you live in the area or close to North Georgia and you enjoy looking at old cars, you will love visiting the Savoy Automobile Museum. The admission is an affordable $15 for adults. They also have events on their website you can follow. There's a cafe inside if you want to have lunch.
It's really well done and we were impressed with how the museum was set up and the cars showcased. Some of the cars are on loan we read.
It's a fun place to visit and I'd definitely recommend it to all!
Are you a car lover too? I've always loved cars and so has Mark, so we had plenty to talk about in the museum. It was fun to talk about our cars, what all we've owned and loved and to talk about the dog cars we've had as well. Some cars performed better than others! I'm a keep my car for 10 years or longer car owner, how about you? My current Nissan Murano is 6 years old now and I plan to keep it for a long time. I've really enjoyed it a lot!
We had lunch at the popular Cartersville spot, Appalachian Grill. Mark had never been and I haven't been in a few years, but we will definitely go back. It was delicious and mouth watering. I got a salmon dish with grilled shrimp over mashed sweet potatoes and spinach.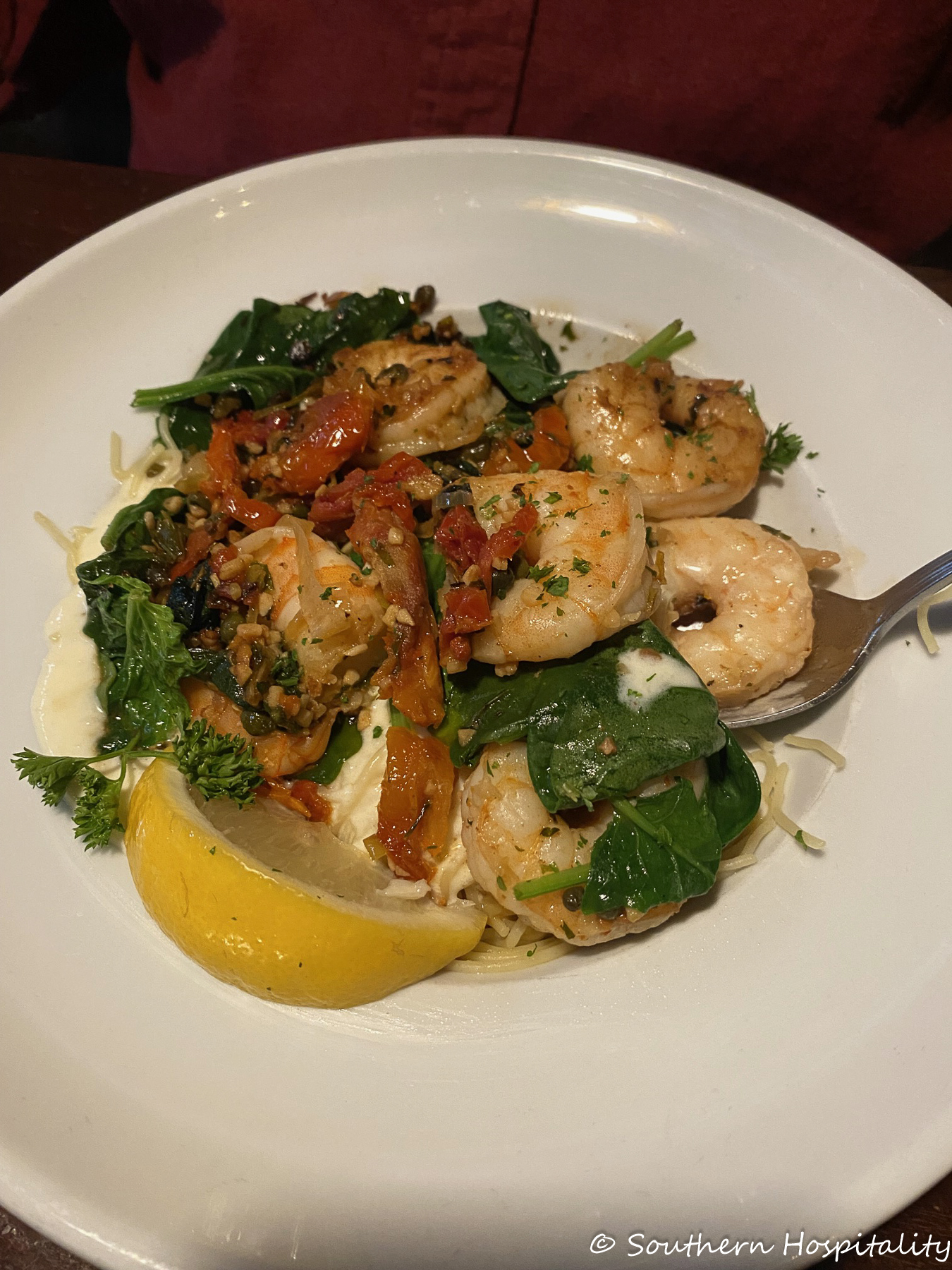 Mark got a grilled shrimp dish over pasta and we both loved our choices. If you haven't been to Appalachian Grill in downtown Cartersville, definitely give it a try too. Great place to eat a meal!
Related
Don't Miss a Post, join my list!