How to add a mural to a wall for instant style and impact to your room. Adding a focal point in the room with a mural is an easy way to jazz up a room with color and texture.
This post is sponsored by Photowall. They sent me a free mural to try in my home. Affiliate links used in this post.
Sometimes we need a do over, don't we? I didn't intend to do over my office/guest space/playroom this soon, but it was perfect timing to add a mural to this space. Let's look at the before and after.
You all watched as I added peel and stick wallpaper to this room as well as a trundle bed and even though I loved the wallpaper, it never had the look and impact I wanted after I put it up. I thought black and white would look good in here, but I think I figured out why it doesn't work that well. The wallpaper is very cool undertones and the walls and drapes are warm undertones, so it just doesn't look that great.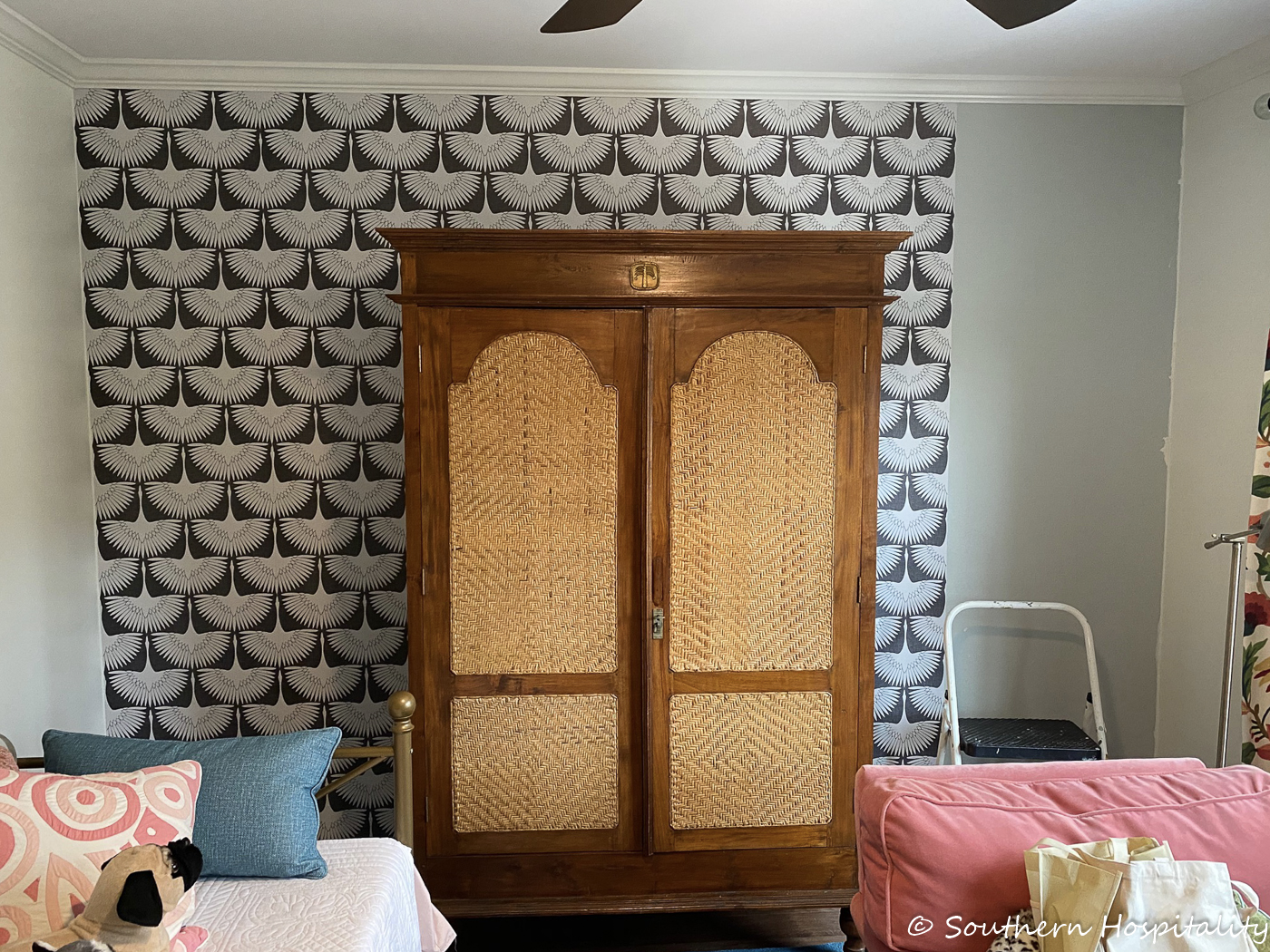 Luckily the peel and stick wallpaper does peel right off and left my walls perfectly smooth with no residue and ready for a new treatment. I was so excited to get an email from a new to me company, Photowall and they offered to send me a mural to try out. When I started looking through their murals, it was overwhelming. There were so many to choose from. I knew I wanted something with a little tropical feel in here. With the rattan armoire and the boldly patterned and colors in the drapes, a pretty tropical mural would be perfect, so I searched until I found the one I thought would be it and I found it!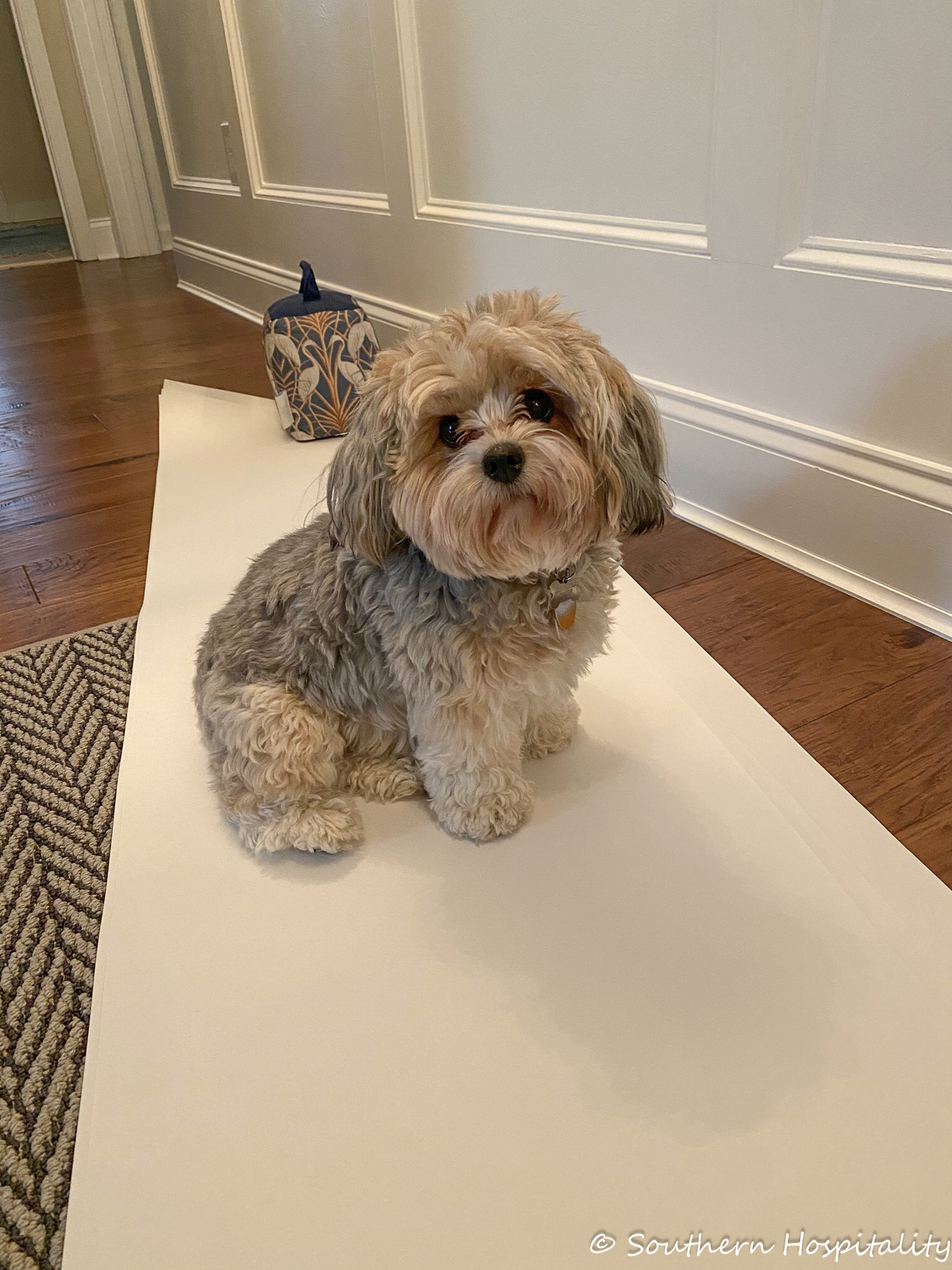 The really neat thing about Photowall murals is that they custom size the mural to your wall. All you have to do is measure the wall in height and width in inches and add an extra couple of inches to the measurement and put it in their calculator. It measures out the mural in strips with everything matched up just perfectly. My wall took 8 strips of wallpaper.
Daisy is always ready to help her mama out with a project.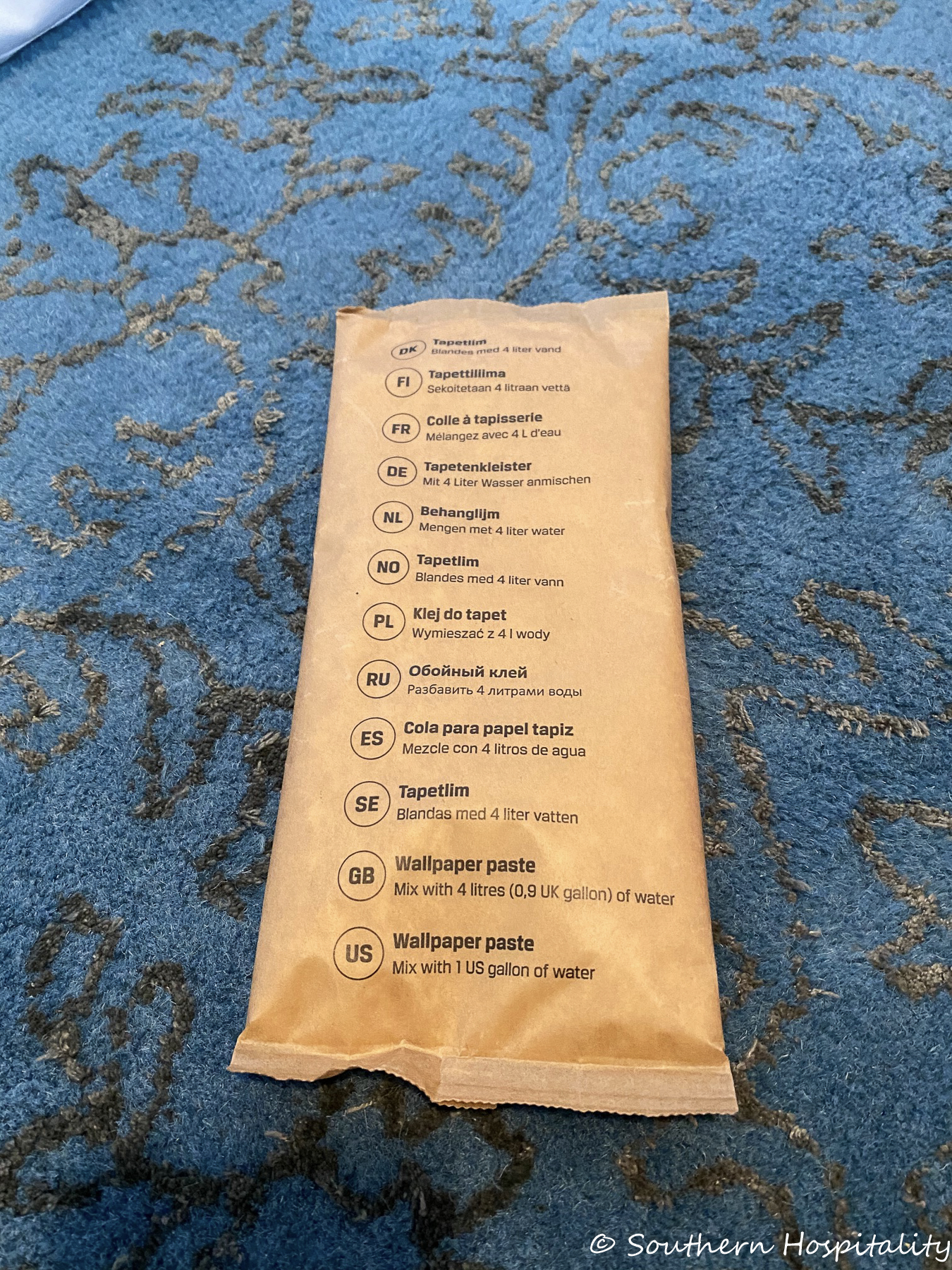 They sent glue to use on my wall and this method is paste the wall wallpaper, just like the brick wallpaper we put up recently. I didn't need the whole package and could have just mixed 1/2 of it. It mixes easily with water.
The wallpaper mural comes in a roll and it's measured out in strips with lines where you cut the mural apart. I went ahead and cut all my strips and had them ready to hang.
Affiliate link from Photowall.
This mural is called Tropical Plateau and it also comes in a Sepia tone. The brighter one is perfect for my room.
This shot is from the website and you can see all the birds and colors. I wish more of it could show, but that's the way it is in a smaller room, the big armoire hides a lot of the scene.
The cut lines on the wallpaper made the process so easy to do. I got it done in about 4 hours.
What You Will Need for This Project:
Scissors
A tray for glue along with a foam roller and paintbrush for small area.
A sponge and water
A smoothing tool for the wallpaper
Cutting tool for cutting excess paper at the ceiling and baseboard
TIP:
One tip I'll share with you if you do this project is to start the first piece (it starts on the left side of the wall with #1) about 1″ above the top of your wall or crown molding. I cut on the line and started that first strip right under the crown molding. But as walls tend to do, they might not be perfectly straight so as I moved across the wall, there was a slight gap under the crown molding as all 8 strips of paper went up. You have to match the pattern so the top of the paper may shift ever so slightly moving along the wall. If I had let my paper overlap at least 1″ on the crown molding, then I could have avoided having a slight 1/4″ gap under the crown for about 3/4 of the way across the wall. When I was finished, I had a strip of blue paper left and I just cut little strips to fill in that little gap and no one will ever know it, but that's a tip for you. Overlap and trim the top of the paper and there's plenty on the bottom to overlap the baseboards. I hope that makes sense. They allow extra on each strip based on the measurements you give them.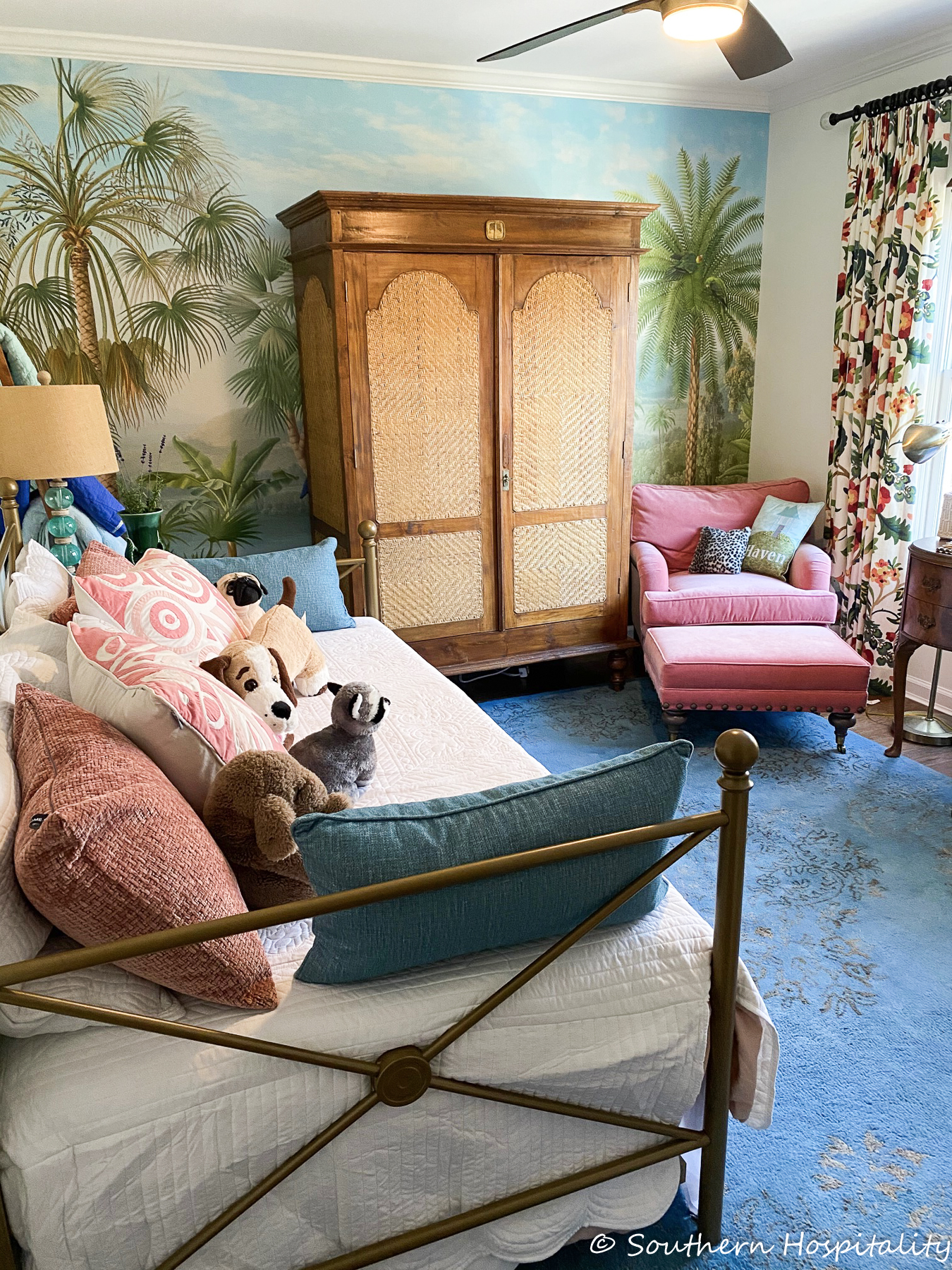 After 4 hours of work, I had a completely different look in this room. I really really love the outcome of this mural and it looks great in here. I'm sure a lot of people didn't like the black and white and I get that, but this one really is perfect I think.
I'm so much happier with it too!
This room is an office/guest room/playroom space and not perfectly styled for anyone but us, but I love how it feels in here. The kids really enjoy this room when they come over, the grandkids and my great nieces.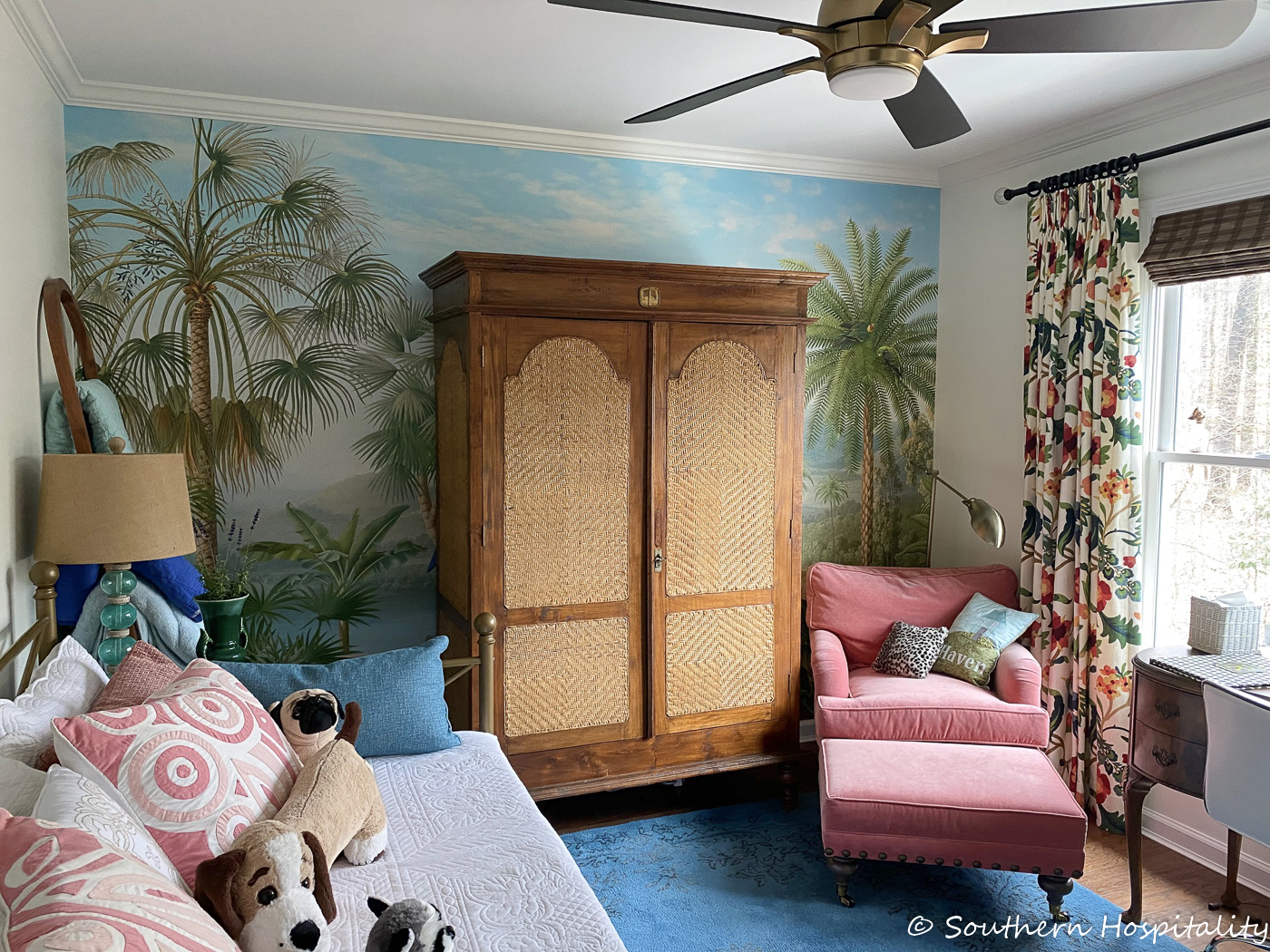 As you can see, they've left some stuffed animals behind for when they visit again.
It's such a cute room and everyone smiles when they go in here.
The only unfortunate thing about the wallpaper is that it has several colorful birds and 2 of the more colorful ones are behind the armoire. These two aren't as bright but they are right above the pink chair, so at least they do show.
There are pretty flowers on the left of the armoire near the bottom. It's a gorgeous mural!
I have added a lot of furniture in this small room and we did try moving it all around again to see if the daybed would work on that wall. It didn't. When I shared this on Instagram in progress, I had so many people asking if I tried the bed on the wall and the armoire when the bed is. Yes, we went to the trouble of moving it all and it just didn't work. If I want to keep the pink chair in here and I do, it has to stay this way, so we moved it all back in the original configuration.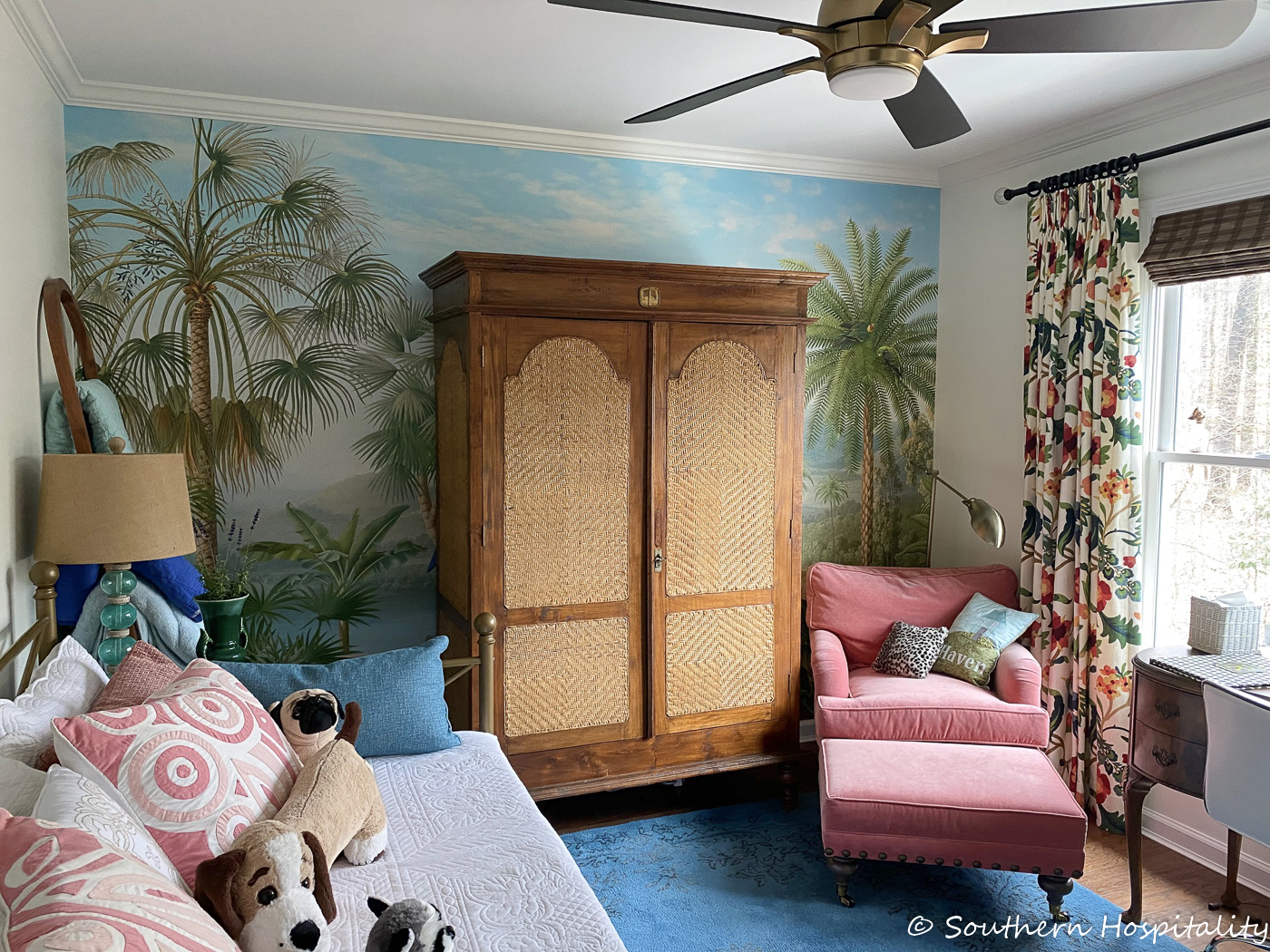 I would love for all the birds to show, but the backdrop behind the armoire is pretty to me too.
It's a fun little retreat space and I've even gone in here sometimes to read and it's great. If I ever can't sleep, which is thankfully rare, this is where I go.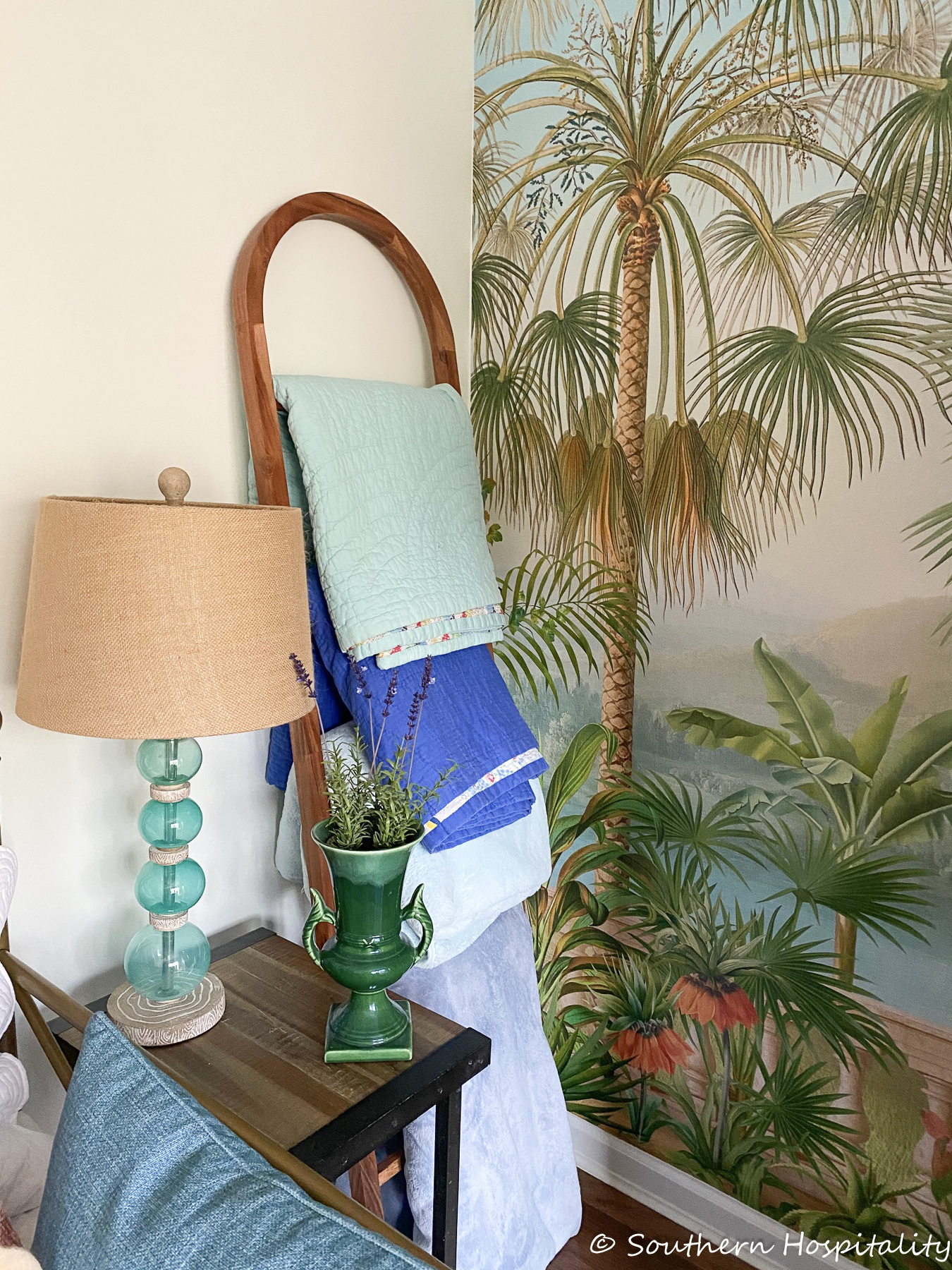 I moved the quilt rack off that wall to show the mural more. These are extra blankets for the kids to use and some of them my mom made. I've had this lamp for a long time and I added it back in the room and it looks great with the colors.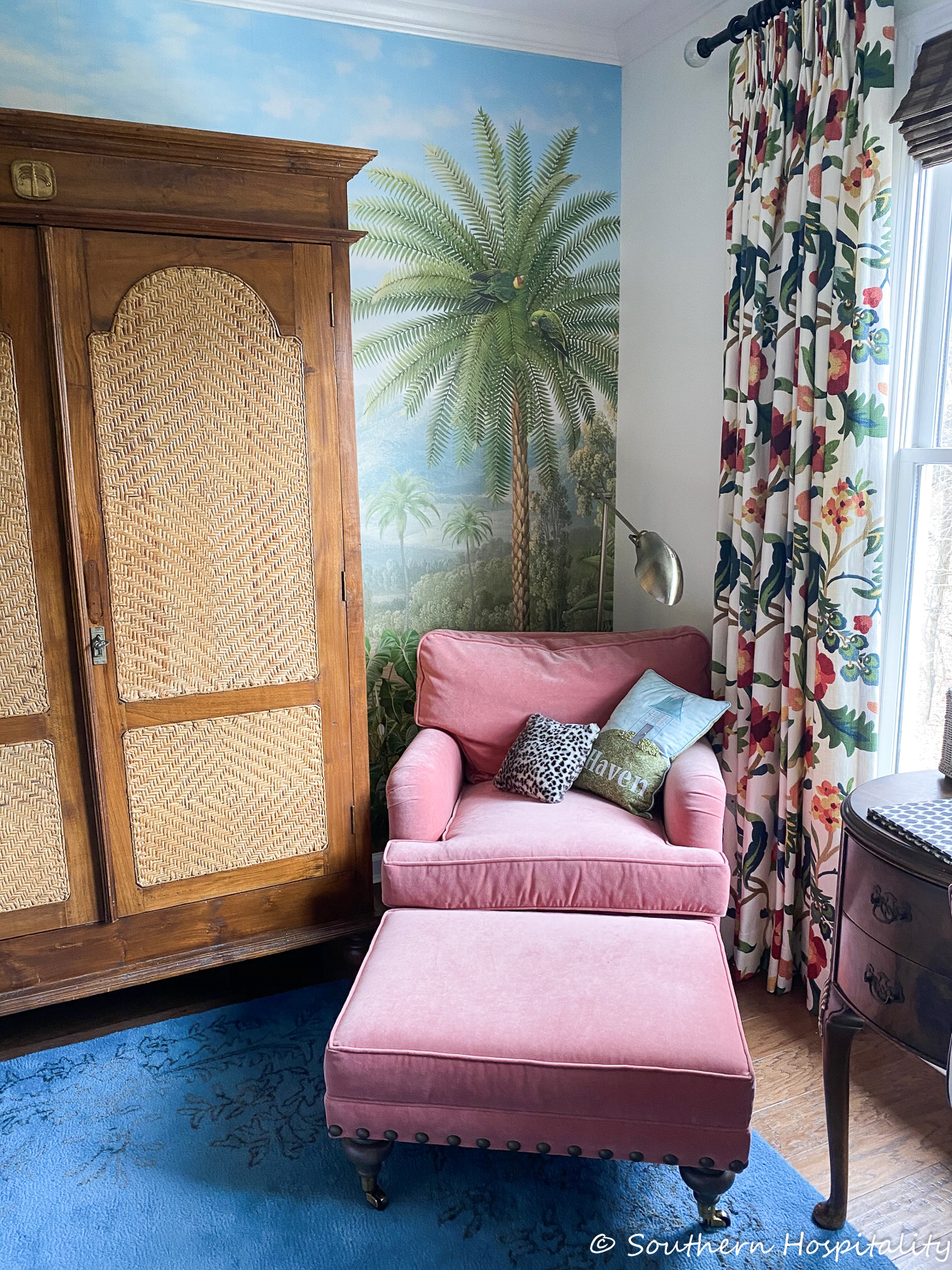 I wasn't ready to get rid of the Ballard's pink chair, it looks so cute in here, so it stays.
It looks so good in here against the drapes and mural.
A small bamboo bookcase holds books and toys. I still love having this little desk space in front of the window.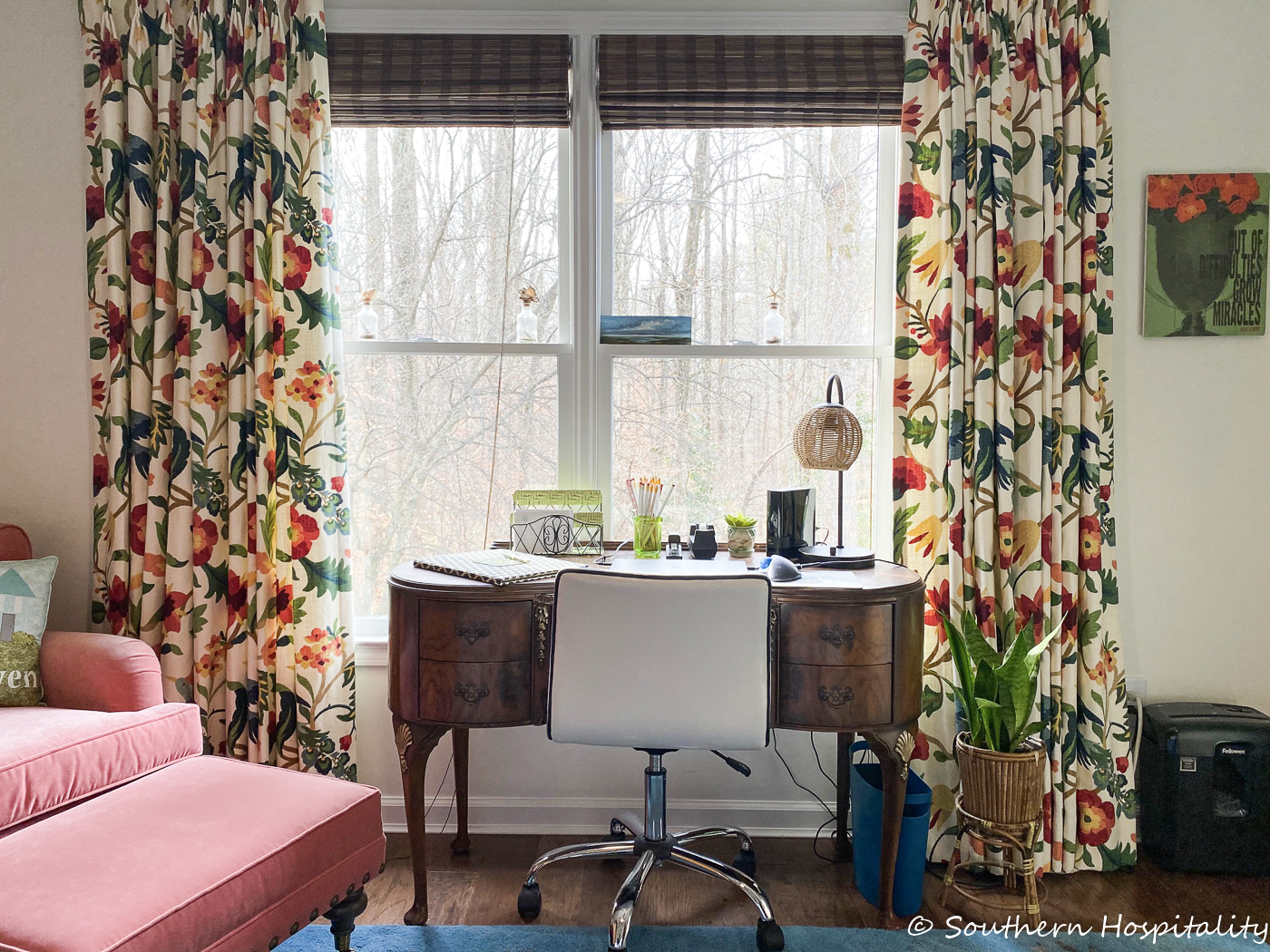 It's a compact room, but I managed to get all I wanted to in here.
View coming in the door.
So that's a do over and I'm so happy with. I'm really glad I got the chance to do it again and make a better choice in here this time around. I hope you love it too! If you're looking for a mural, definitely check out Photowall. I couldn't be happier with how this turned out and it was really easy to do.
Related
Don't Miss a Post, join my list!