This Post May Contain Affiliate Links. Please Read Our Disclosure Policy here
Do you get the winter blues? It's hard to keep spirits up in January. Winter here in our coastal pocket of the NW isn't nearly as miserable as it is in some areas of the country, so I'm grateful for that. But we have more gray, chilly and rainy days than I would choose.
Dark cold months and short days are depressing, especially when they don't seem to end. Even worse, it's hard if you tend to get sick in the winter! One of the most beneficial ways I've found to invest in our health and well-being and to uplift the mood of our home (and my own mood!) is to use and diffuse essential oils.
I used to be a skeptic, it seemed a little "out there" that essential oils would make a difference. I was wrong.
Nearly a decade ago we started focusing on health and prevention by building up our immune systems. One of the first things I did after a long winter with a flu bug I struggled to shake was to start adding pure essential oils to our wellness routines. That was a huge turning point!
My husband used to get sinus infections from fall to spring. It was miserable for him (and for me heheheh). He tried everything. Diet changes. Antibiotics, sinus rinses, frequent doctor visits, nothing stopped them. After everything else failed, he was so tired of dealing with it that he was finally willing to give oils a try. He will be the first to tell you, he was a big skeptic and went into his oils experiment several years ago with few expectations.
He's no longer a skeptic, he immediately stopped getting sinus infections and hasn't had one since.
When it comes to our health, it is so important to not mess around with oils that could be compromised in any way, or any that may have preservatives or ingredients. These are PURE plant oils. I'm confident in the quality, they are the real deal and the only brand we've used for a decade now.
Thieves Essential Oil
It's so simple to use oils. For his sinus issues, my husband put Thieves oil in the palms of his hands and breathed in deeply. He followed his breathing regime daily for a long time. Now he resumes it when he feels like his body needs a little extra support.
We always keep Thieves on hand, we often put it on the bottom of our feet as wellness support. Sounds weird but it works! (It comes as a roll on version too for convenience).
Our whole family has oils stories that turned us from skeptics to oil believers over the last decade :). Sleep, hormones, digestion, it's crazy how they help. I'll link to some of our faves below.
Not only do we use oils for all the things and staying well, we also use them because the therapeutic value of essential oils really can help lift spirits as well as calm moods.
Mood Lifting Oils
I used to stock up on seasonal room sprays and scented products, but they were so harmful to my health (I have an auto-immune disease called Hashimotos). One of my favorites to diffuse this time of year is the Anthropologie candle inspired blend that my daughters and I came up with years ago. After experimenting with different combinations and comparing it side by side with a Volcano candle, we found a winner and we've used it ever since.
It's full of citrus and spruce oils, both which are known to be mood lifters! I will share the recipe for you down below 🙂
If you don't have a diffuser yet, I definitely suggest getting one to enjoy all winter (and every season!). You can get diffusers in starter kits here, or order them separately. Diffusing is simply a delightful experience and I can't recommend it enough! I love picking out different blends each day.
I started diffusing years ago when I learned that scented candles can be toxic, plus diffusing ends up more cost effective in the long run so it's a win-win all around.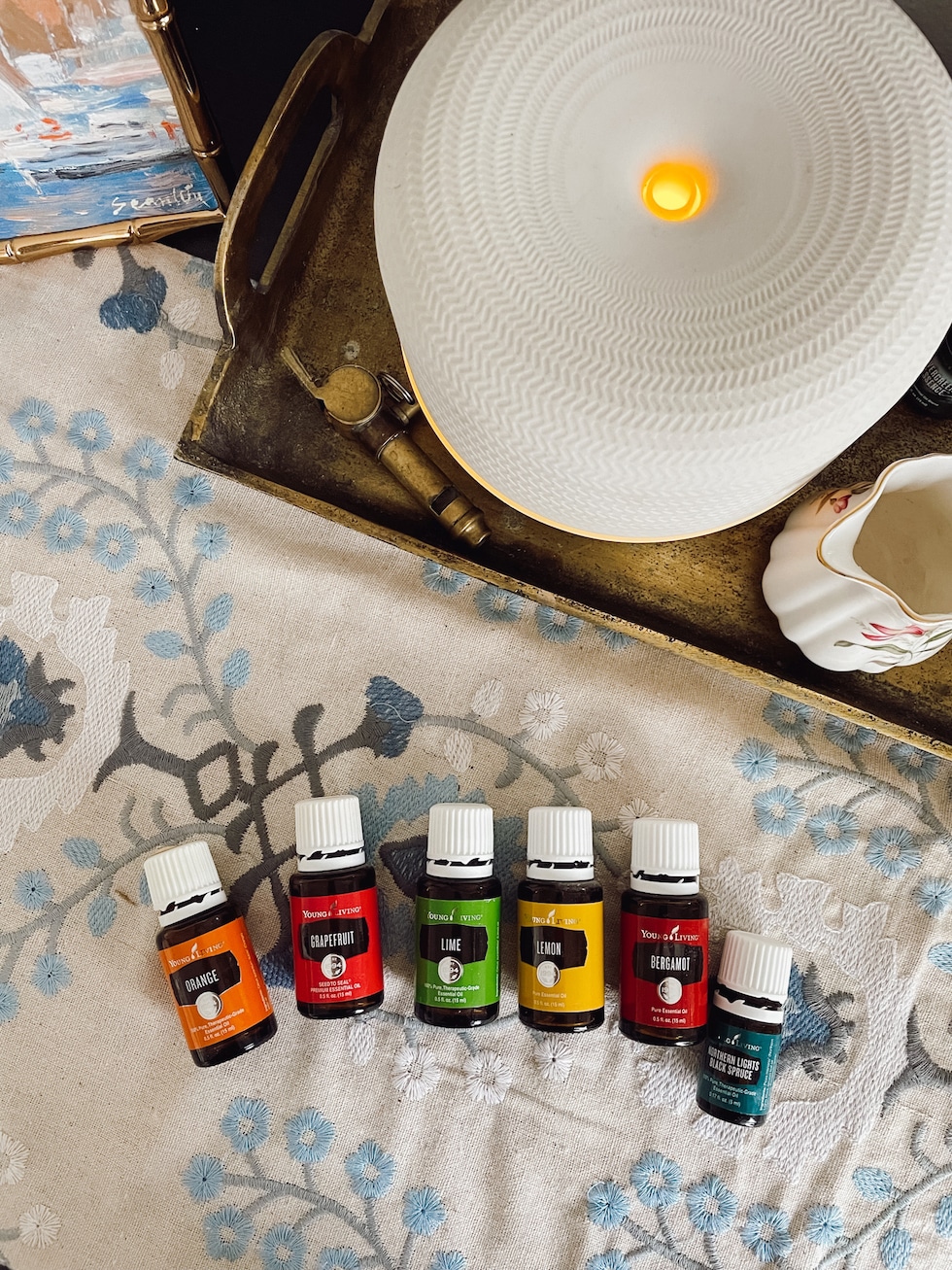 Anthropologie Volcano Candle Diffuser Blend
-5 drops lemon essential oil
-5 drops lime essential oil
-3 drops orange essential oil
-2 drops grapefruit essential oil
-2 northern lights black spruce essential oil
-1 bergamot essential oil
These are the amount of drops I use in my big diffuser, but feel free to adjust for your diffuser, preferences or room size! I like to make room sprays with these as well. For a room spray, just double the recipe above and add to a 2oz spray bottle and fill with water!
Over time I bet you'll fall in LOVE with and even CRAVE plant oils like I do, will never ever want to smell anything toxic again. Just like walking in the forest, diffusing pure plant oils is a wonderful experience.
Good news, through the end of January you can get 15% off for first time orders at Young Living of 100pv or more!
If you order by adding your items to a loyalty order, you get points back and a free diffuser with your next loyalty order!

---
I've created a handy list with all the Anthro oils I use linked here. You can add the items you want right from that list (plus feel free to add a diffuser or anything else you want from the website as well!). Once you order we'll invite you to follow our free private instagram plus you can receive our texts for ideas and any questions you might have, too!
---
---
Below are several other ideas and pre-filled carts with some of my winter wellness favorites.