Trending Bathroom Colours According To Instagram
The best and worst tones for boosting mood
With Google searches for 'bathroom colour schemes' up by 100% since the start of the new year, bathroom renovation plans are being established across the UK but which trending colours are best for boosting your mood?
We've delved into Instagram hashtag data to determine the most popular bathroom colours of 2023 and ranked the top 5 choices for those looking to refresh their bathroom style this year.
With the 'January Blues' hitting this week, getting that mood boost is more important than ever, so we've teamed up with Lee Chambers, a colour psychologist, who has explained which of the trending tones are best for boosting mood for a positive year.
Top 5 Bathroom Colour Choices Of 2023
White bathroom – 92,400 posts
Pink bathroom – 46,500 posts
Black bathroom – 32,600 posts
Green bathroom – 24,800 posts
Blue bathroom- 22,000 posts
White Bathrooms & Tranquillity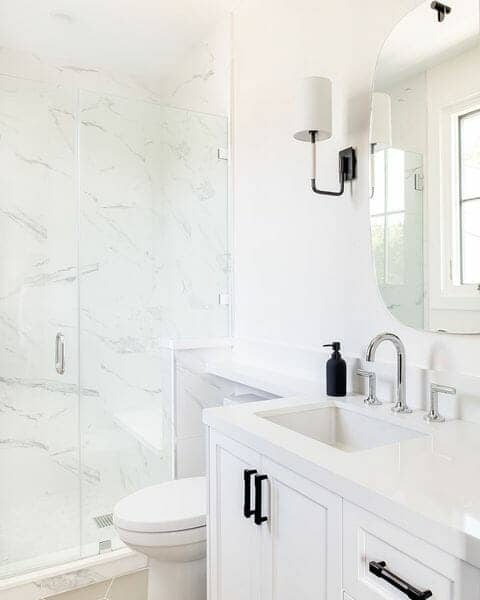 White is often associated with tranquillity.
Not only is white a positive colour choice for mood but it can give the illusion of a brighter and more spacious bathroom.
Design a clean and elegant space by incorporating white through lustrous materials like high gloss tiles or marble to create a spa-like bathroom that will act as an at-home retreat to relax in.
"A white bathroom can create a clean, calm feeling, and given its associations with peacefulness, it can be a mood booster and a mind relaxer."
Pink Bathrooms & Comforting Warmth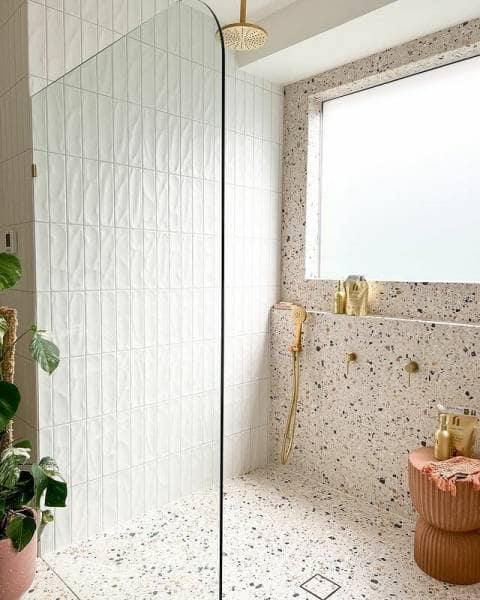 Although pink can create warmth and a sense of comfort, it can often trigger feelings of agitation, hence being a more daring choice.
For those wanting to nail the pink bathroom look, opt for trending tones of blush or rose pink for a subtle introduction of uplifting colour to your bathroom.
For a cohesive scheme, pair pink with colours like terracotta, navy and sage, either through vanities or accessories, or even get playful with some terrazzo tiling.
"How a pink bathroom can make you feel completely depends on the shade as the more intense ones can tend to make people feel uneasy, overwhelmed and agitated."

Lee Chambers
Black Bathrooms & Empowerment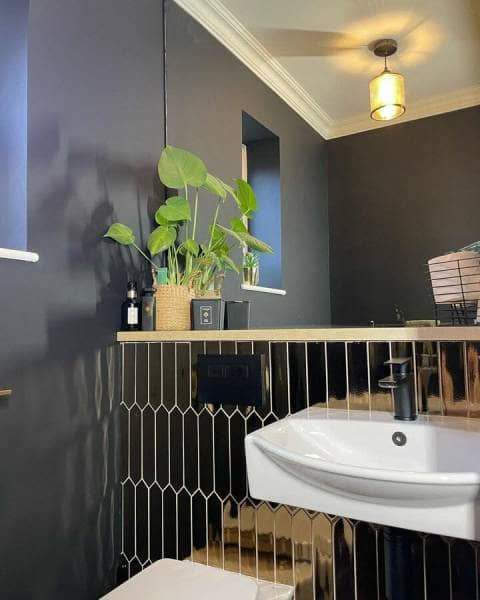 Black may be considered a dark and dingy colour but used correctly and it can create a strong sense of empowerment.
Although black can look truly striking in a bathroom, be sure to use just enough to ensure that the space still feels open.
Matt black is definitely still having a moment so why not install some statement black taps or even a black shower fitting against a neutral backdrop for an industrial and contemporary feel.
"Black oozes luxury and can create a powerful statement and often in a small space. With its sophisticated nature, we can feel quite powerful surrounded by it in a bathtub, and it does bring a real aura of drama."

Lee Chambers
Green Bathrooms & Connecting With Self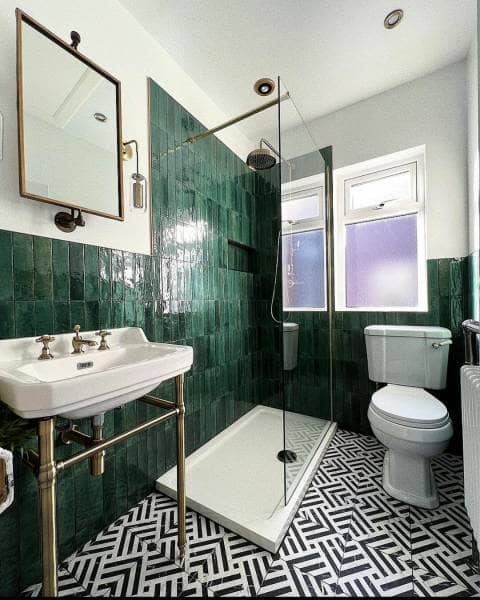 Green is symbolic of wellbeing and can help us feel grounded.
Create a self-care space ­that brings the outdoors in.
Incorporate shades of forest and sage green which pair well with gold and brushed brass fittings.
Add houseplants and materials like rattan for a well-rounded natural look.
"As a natural colour, it can make us feel more connected to ourselves and at one with nature, as well as giving us a sense of being open to self-growth. It can give a feeling of relief after a long day and does bring an element of freshness into a space."

Lee Chambers
Blue Bathrooms & Relaxation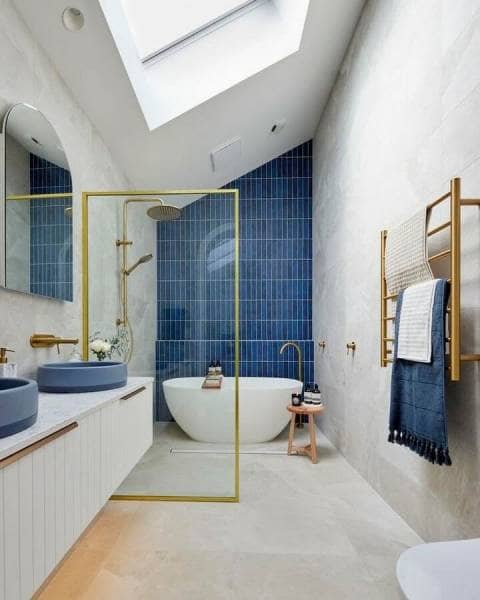 Blue is often regarded as relaxing and a colour that provides a sense of stability, but it can also provoke sadness.
Using lighter and jewel shades of blue will help to curate a relaxing space.
Create a focal point around a wet room shower or statement tub that celebrates the colour through a shimmering multi-tonal splashback of turquoise, azure and sapphire.
"Blue has its challenges, and can make some people feel low, others feel lonely, and sometimes it can stump our feelings of energy."

Lee Chambers
How Will You Use Colour In 2023?
So there you have it, the very best bathroom colours to boost your mood (according to Intsagram).
How will you use bathroom colours to boost your mood in 2023?
Drop us a comment below to tell us all about it, or tag us @big_bathroom_shop on Instagram and let us know how you've created your own colourful bathroom oasis!
Rikki has a passion for interior design and an even bigger passion for writing about it. When she isn't writing about gorgeous bathroom interiors, you'll find her discovering all of the latest trends.