The brilliance of an en-suite bathroom is that you usually don't have to share it with the rest of your family. It's completely your own unique space. So when it comes to deciding on the layout and design it should be your own dream space to relax and refresh yourself each morning and every night.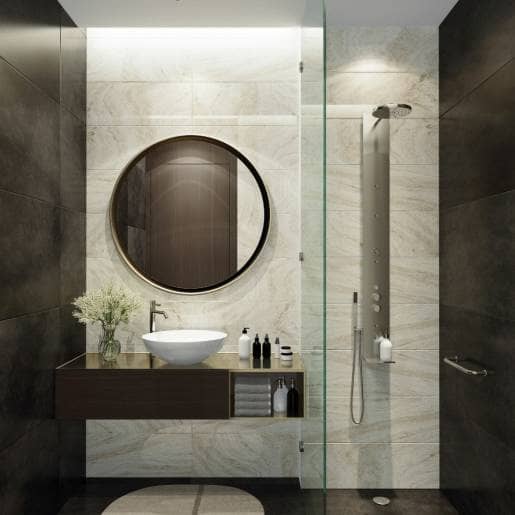 Whilst en-suites are usually small In size, style should not be compromised and that's why we have a list of 13 beautiful ensuite bathroom ideas for 2023 for you to admire and gather ready for your renovation.
Filled with designs that will take over in the coming year, you'll be right on trend. From corner shower ideas, sliding pocket doors, bold floor space inspiration and so many more gorgeous ideas for small bathrooms.
Planning An Ensuite Bathroom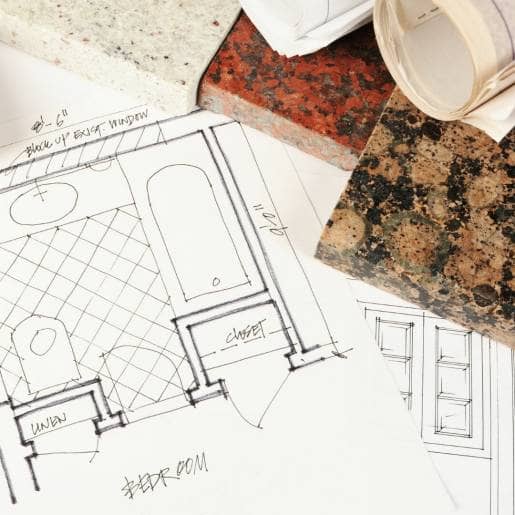 When it comes the designing the perfect ensuite it all comes with good planning. If you have a small space, you must be meticulous about designing the layout. Little tricks like installing a washstand or wall-hung basin rather than floor standing will leave more floor space and therefore enhance the size of the room.
Applying plenty of thought to how you can enhance your space with furniture (or lack of), colours and lighting is key to giving the illusion of space and a great ensuite bathroom design.
Bathrooms should be a space to relax, rejuvenate and refresh, but in a family space that's sometimes difficult to achieve. En-suite ideas can help you to create a luxurious, private haven while adding welcome value to your home.
Bold Tiles
When it comes to tile choice, the colour and style of the tile you opt for plays a vital role in the overall look of your ensuite. Bold tiles will help create a statement space.
Adding coloured tiles will decide if you want a calming look or something more visually appealing, that will spark energy and excitement.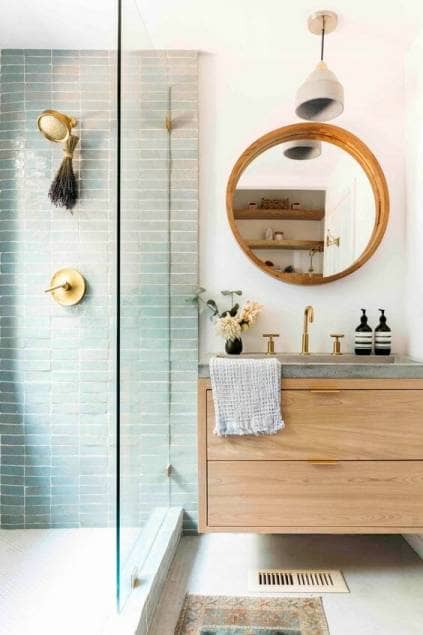 A great way to instill a calm yet creative look is to include either colourful floor tiles and neutral plain walls, or vice versa.
Use Mirrors to Add The Illusion of More Space
Including plenty of mirrors or one big mirror around the room will help make the space look larger and more glamorous looking. It is interior designers' best trick for optimising smaller rooms.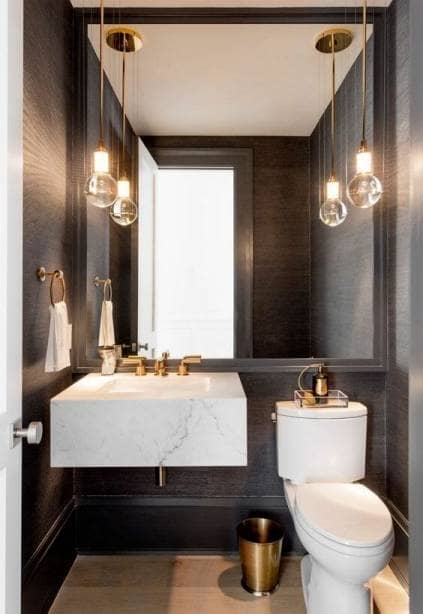 Use oval or softer cornered mirrors for a modern, art look, or go for longer sharper angular mirrors for the perfect period style.
If you can spare the wall space, be sure to add mirrors!
French Countryside
What's French country style we hear you ask? Well, it's one of the up-and-coming trends to watch out for in bathroom interiors. Combining European elegance and rustic comforts by using soft hues, calm patterns, and antique touches.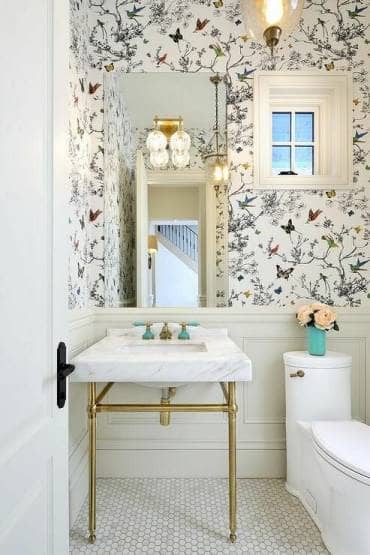 The aim is to perfect the balance between a well-polished and lived-in look. Use earthy to a neutral colour scheme and use textures to build character.
When it comes to designing your French country-inspired ensuite, think rustic vanity units, wall panels, and grandeur freestanding baths.
Oval Baths Are Everything In 2023
Curved furniture and specifically curved bathtubs are a great way to convey comfort. The soft curved edges of an oval bath will leave space between the bath and wall, which is great for smaller bathroom spaces, as the tub looks less 'wedged' in and the gap conveys the illusion of more space.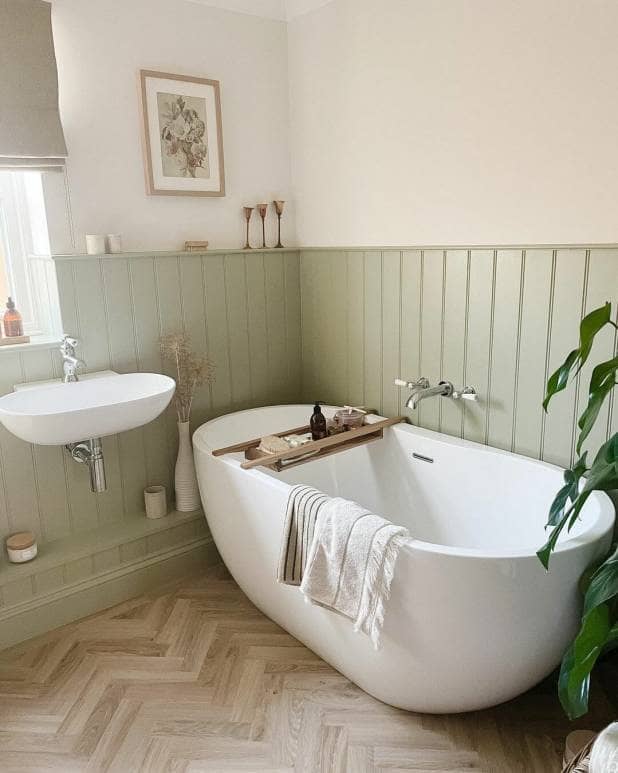 In addition, a soft curved freestanding bathtub offers more comfort whilst you bathe. The soft corners deliver an easy-on-the-eye gentle touch to any modern bathroom.
Coloured Marble
Forget about the neutral marbles in 2023 and make way for coloured marble. That's right, interior bathroom experts have predicted a rise in bold marble choices. Think pastel pink veins in your shower area combined with brushed brassware for a stark contrast.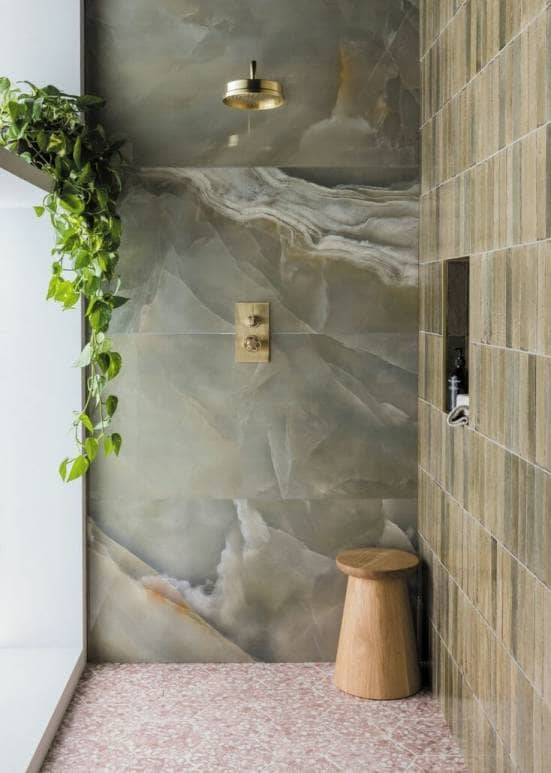 Go biophilic with soft green marble, beige and cream veins to turn your bathroom into a work of art.
Washstands To Maximise Space
If space is an issue, we have the perfect answer… why not introduce a Victorian period-inspired washstand. Designed with sturdy and slimline legs that will make the most of a smaller space.
If modern is more your mojo, we have a beautiful selection of modern designs in a variety of size options.
In our collection, we have chrome, brushed gold, oil-rubbed bronze, copper and matt black options to choose from.
Wall Hung Toilet
Not only do wall-hung toilets look aesthetically pleasing, but they are also one of the more practical toilet designs and as we head into 2023 the wall-hung design is going to be a customer favourite.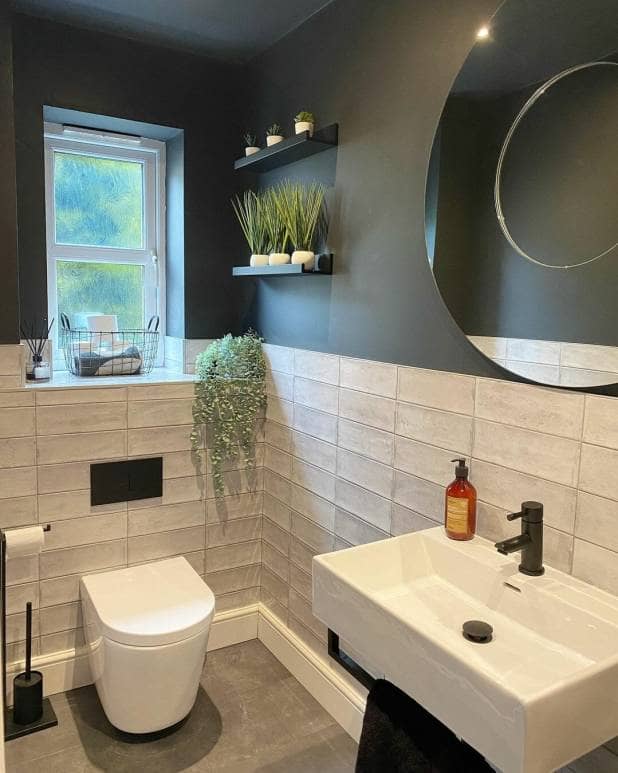 The hung design provides more floor space giving the illusion of openness that helps a small room excel.
The benefits don't stop there, wall mounted toilets are also easier to clean as they sit just above the floor you can mop and brush underneath the bowl.
Tile The Shower Wall
Saving all your creative juices for the shower wall is going to be something we will see more of in 2023. Creating a wall of art with wall murals, patterned tiles, and marble or limewash walls for a shower room that packs a punch.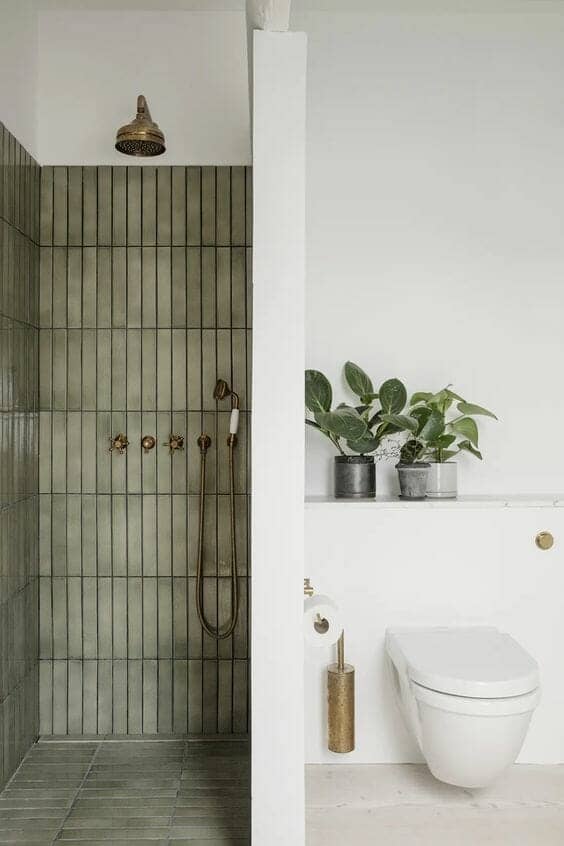 A tiled shower wall works best with walk-in showers and bath showers. However, if well-thought-out, any shower enclosure could pull off this statement style.
Not only are shower feature walls right on trend, but it's also a more cost-effective way to spice up your ensuite décor without breaking the back.
Dedicating more expensive materials such as tiles for one wall will help you save hundreds, if not thousands.
Micro Luxury
Micro luxury will be a hit trend in 2023, it's defined as intense glamour and luxury incorporated into small en-suites or cloakroom bathrooms.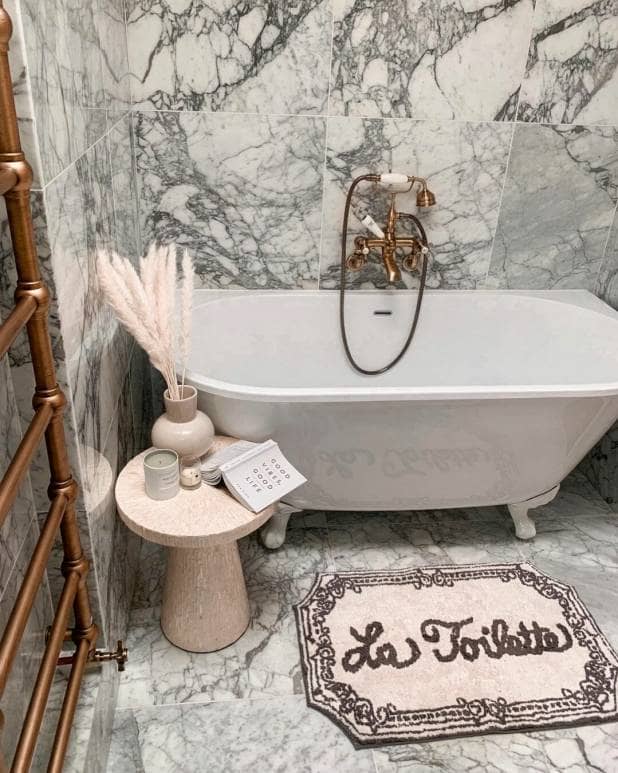 Micro luxury bathrooms are all about instilling maximum amounts of luxury into a small space through brassware, artwork, walk-in shower, textures and mirror designs.
Fitted Furniture
It's not often we have a huge ensuite, they tend to be on the smaller scale so it's vital to have some innovative ways to hide away toiletries, towels and other less-than-pretty items you don't want on show.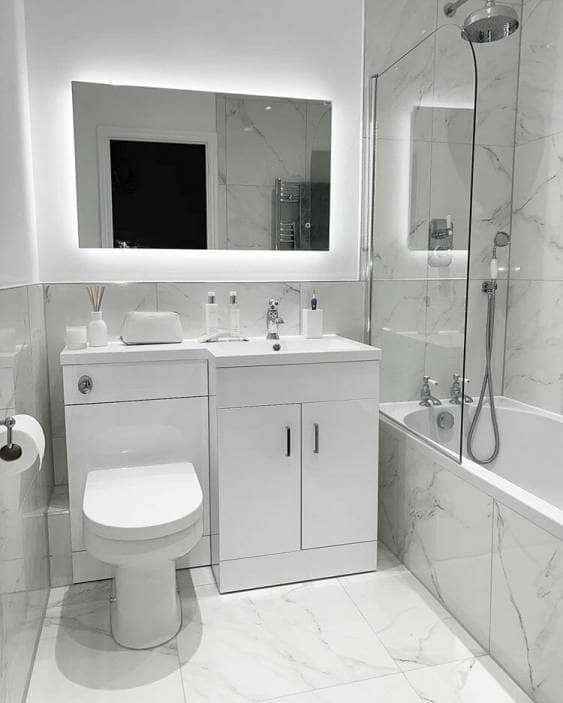 Having a storage solution is key and that's where fitted furniture comes in. A fitted bathroom furniture is a unit that can attach to the floor and walls and provides plenty of places to store away towels and toiletries that you don't want on show.
They slot into your space and if chosen wisely can create a beautiful bathroom space.
Create a Wetroom In 2023
Transforming your en-suite into a spa-like wetroom is a must in 2023. There are multiple benefits of having a wetroom including adding value to your home, being easy to clean, long-lasting, and a great space-saving option.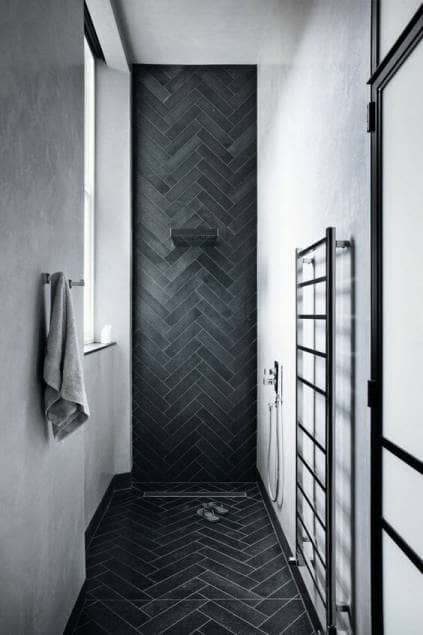 Above all, wetrooms scream luxury and timeless style. When it comes to the design and décor you can keep it super minimal and clean or go wild with colour and personality.
What Is a Wetroom?
A wetroom is simply a bathroom that has been made 'waterproof' by tanking the floors and walls to seal in any moisture and water. Doing this will prevent any seeping and water damage to the rest of the home.
We hope this gave you plenty of ensuite ideas to kick-start your 2023 renovations. If you didn't find the inspiration you were looking for, take a look at our other bathroom ideas articles.
Rikki has a passion for interior design and an even bigger passion for writing about it. When she isn't writing about gorgeous bathroom interiors, you'll find her discovering all of the latest trends.