Every time we move to another home with an opportunity to redo a kitchen, I find myself mostly wrestling over the same design question.
How and where could I add character into it?
(*By the way, I have the comments turned on for this post if you want to chat!*)
The first piece I committed to for this kitchen was my faucet! I chose the Rohl Perrin + Rowe Ionian Tap with Rinse in polished nickel. It's a beauty!
This faucet on Amazon is the same brand, finish and style of faucet I have, but I bought mine through deVOL Kitchens. It appears to be a special deVOL edition and the price I paid was far less than the version on Amazon. This style was also less than many others from the same brand elsewhere and I loved the design.
I put in a Rohl Perrin + Rowe nickel faucet in my English Tudor as well in as in a remodeled bathroom in the English cottage we lived in before that. It's been years since we lived in those homes but I still remember how much I loved the quality and finish of the faucets.
By the way, for transparency sake, nothing in my kitchen is sponsored in any way at this time! I would never partner with a brand I wouldn't choose for my home, but even when a project like this one is not a part of any partnership and there are no obligations, I still try to share details of our design decisions as I know they can be helpful to readers, particularly if you're planning a remodel.
Due to the layout and arrangement of our space, the sink will be in the center of the kitchen which makes the faucet visible to other rooms. I decided to use that as an opportunity to make it extra pretty to look at. The faucet would be a style setter regardless of what I chose because of its visibility, so it was important to make it "the right style" for our home.
This is a kitchen we intend to keep and live in for many years, so it also made sense to choose a classic finish and a quality faucet I know I will love for a long time. There are many lovely faucets available these days at all price points. While faucets can certainly be expensive, there are style options available these days to fit many budgets.
In our previous house we had this brass faucet that was in the $200 range at the time, I was thrilled to find one I liked at that price. I'll do another post sometime sharing more of our past faucets.
People have strong opinions about faucet style and handle design, but it's really a personal decision. I wanted a faucet design that had a vintage flair and my husband always insists on a sprayer (even though honestly I wanted to veto that this time because he hasn't yet learned to use one in a way so the water sprays only IN the sink). 🙂
The design and handles have a classic vintage feel, I love the simple charming statement it makes. Nickel is a warm metal, in person you can definitely tell the difference between it and chrome. Polished nickel is a classic finish, so it has stood the test of time.
Brass is classic, too. It is a finish that has also been "on trend" for awhile. But just because it has been on trend, or when it is no longer considered a trend, that doesn't mean a classic finish is ever "out." Don't believe the click bait trend posts. If you choose classic finishes or materials appropriate for your style and home, they will remain classic.
Even though I do love brass and will for sure have it in our home, I just didn't feel like I was drawn to brass faucets. Mixing metal finishes is one way to keep a space feeling timeless, so brass will be introduced to the design in other ways. I also just prefer a collected feel in design rather than having everything match.
The tale of my new range (and her name!)
Speaking of mixing metals in our kitchen, this brings me to my new range! She's a real beauty, too! She was delivered months ago and is patiently awaiting her special place in the new kitchen. If you'd like to read the details on how I came to this decision and why, I'll share them below along with her name!
The range I chose is the Ilve Nostalgie 30 inch duel fuel range in Blue Gray. (This one, but in 30 inch). I ordered mine directly from an appliance store that had the color and size I wanted in stock. With supply chain issues, I didn't want to take any chances on delays or cancellations.
I wrestled with this particular decision for an entire year. This range was one I loved from the beginning, but there were many other options I considered, too. Due to its unique color, finish and style, it would definitely be a "style setter." I wanted to make sure it was the style I could live with for a long time and that I would be able to let design choices be in the supporting role or be a complement to it.
After researching every option in every single brand, as well as weighing every price range, feature, style, review, and every option for finish or color, I concluded there were many "good" choices out there and many that would have worked for us. There are glowing and terrible reviews of every appliance, and there are people who love them and people who don't. Usually the people who had a bad experience or don't love something are the loudest online, so you have to keep that in mind when you are researching, too.
We can drive ourselves crazy trying to make the best decisions! Understandably, it is overwhelming. It's good to remember that there are MANY ways to design a beautiful kitchen, and so many choices that would be just as lovely in different ways.
At some point you just have to make a decision so you can move forward. I decided that for our particular kitchen, and the other classic elements I wanted in it, this pretty range was a simple way to add personality.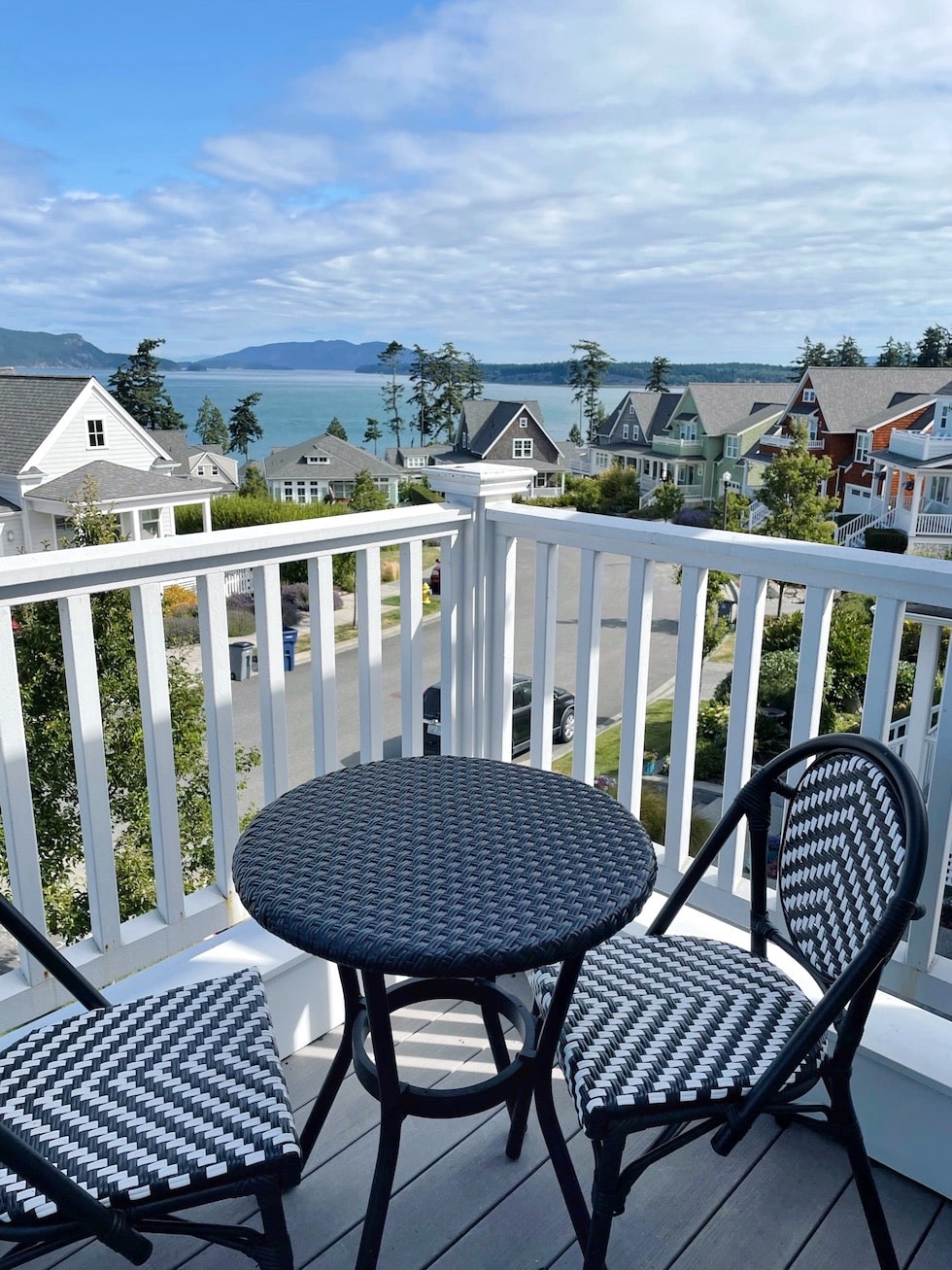 Since we live on an island, I felt like this range gives a subtle quiet nod to the coastal vibe of where we live. The brass makes me think of what you might find in an old ship and the color reminds me of the sea. It will feel special in our kitchen, and compared to many gorgeous ranges out there, the price was far more in line what we had budgeted. Certainly it is not cheap, but also not $18,000. :).
This range makes me think of an old vintage piece I would fall in love with on an adventure and decide to bring home with me. The fact that it is made in Venice, Italy made me love it for even more personal reasons. One of my most memorable trips years ago was when my sister and parents and I went to Venice. It feels like it could have be shipped home from Venice to be a part of our new kitchen on this island. Yes, I realize I tend to romanticize everything, but I love the story it tells my heart.
Once this lovely range arrived, she needed a name, so I put up a poll in my Instagram stories awhile back to get some ideas. We all agreed the name needs to be special! There were so many wonderful and appropriate suggestions, but one stood out to me. Beatrix.
As in Beatrix Potter, the author and illustrator of Peter Rabbit and other children's books. I love that Beatrix Potter delighted in the detail and humor of animals and the natural world, as do I. 🙂 Kindred spirits. Beatrix means "she who brings happiness; blessed, voyager and traveller."
She is all of those things.
I'd say having Beatrix here was meant to be.
Shall we call her Bee for short?
These two pieces are going to be great additions to the character of our new kitchen. I will share more of the character setting pieces soon–we just looked at kitchen countertops and have slabs on hold! So excited! Subscribe to my emails here to stay in the loop.
If you missed my last post sharing the kitchen floor plan and elevations, click here!