Ovens, stovetops, and refrigerators may be standard, but that doesn't necessarily mean you like them all to be completely visible all of the time. Likewise, the plethora of countertop appliances—microwaves, coffee makers, blenders, toasters that make our lives easier and appear in nearly every kitchen, also quickly create a lot of cluttered space. And who wants that?
It is true that appliances can be decorative, but they can also be an eyesore, depending on your aesthetic style. Thus, many homeowners choose integrated kitchens for their kitchen remodel, creating purposeful spaces that hide certain appliances behind matching or complementary cabinet overlays. So, keep reading if you're searching for practical and stylish ideas on how to tuck your appliances away.
How to hide appliances and make my kitchen more spacious and tidy?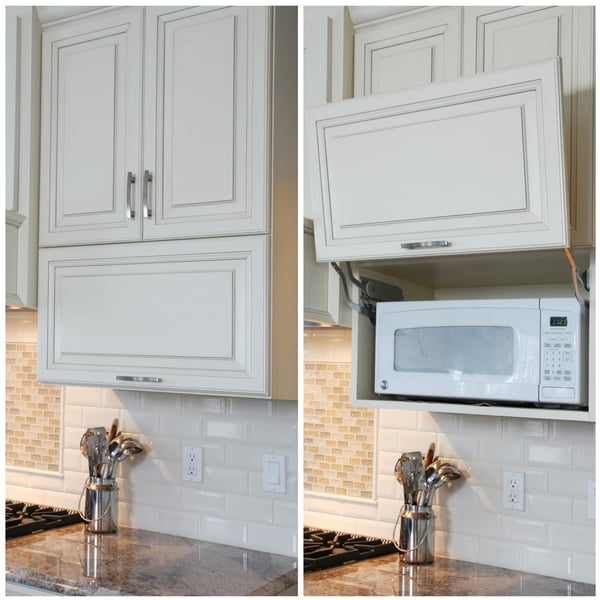 Appliances that are integrated or concealed will benefit you in the following ways:
Eliminating kitchen clutter

Extra counter space to show off new countertops and more room for food preparation

Additional space creates the option for personalized decor or open space for a more minimalist look

Better kitchen flow
Innovations in kitchen design and variety of storage solutions can help conceal those extras in many ways. The following examples are some of our favorites.
1.
Integrate larger appliances using an attractive cabinet design
We can cover standard large appliances – the most popular for appliance overlay panels are the fridge and dishwasher. Instead of a big box of stainless steel – you see gorgeous wood paneling or a fresh pop of color. Appliances are all right there – but less conspicuous with their presence. To learn more, read 5 Differences Between Partially-Integrated and Fully-Integrated Appliances.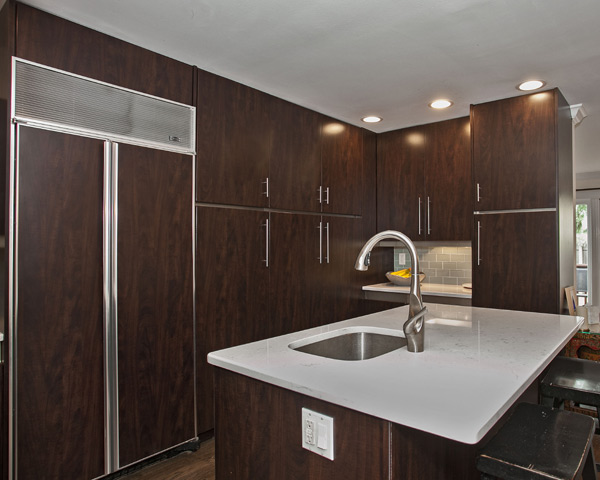 2.

Install a cabinet for appliances
Keeping the appliances out of sight and easily accessible is possible with appliance cabinets. With built-in electrical sockets in the cabinet back (often the backsplash area), you can use your appliances with either swinging or lift-up door mechanism.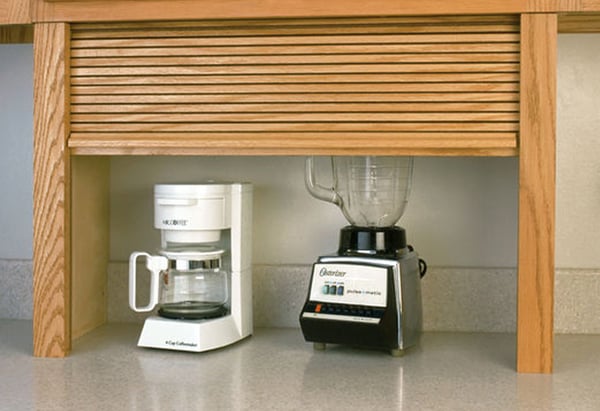 3.
Make room for appliance cubbies
Appliance cubbies are a simple take on the cabinet idea – door-free access to the coffee pot, blender, mixer and toaster. A pull out bottom tray can be incorporated. These cubbies inherently break up the monotony of cabinet boxes while still complimenting the design and also work well with open-shelving designs.
We also like building nooks into the back of the kitchen island or over the upper cabinets. This idea is ideal for an open-concept kitchen as it adds interest to the design and gives a sense of separation between the two areas.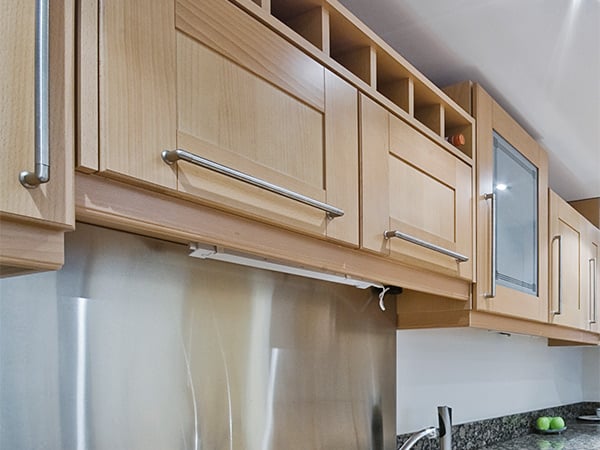 4. The cabinet-cubby combo
Most homeowners wind up with a combination of the above ideas – an appliance cabinet for the microwave/larger appliances and cubbies for the smaller versions. Housing them all in the same general area makes sense from an organizational standpoint.
5.

Invest in an appliance pantry
For the aspiring chef and/or bakery enthusiast – and in the Lehigh Valley the love of culinary creativity makes cooking and baking a popular pastime – appliance pantry storage solutions are highly recommended. In case you own every appliance under the sun, cabinets and cubbies may be too hard to manage. Instead, dedicate an entire pantry – or a significant portion of the existing pantry – to appliance organization.
Getting ready for a kitchen remodel? Contact Kitchen Magic today!
Seeking to hide your necessary but unsightly tools of the cooking trade? Visit with the ingenious kitchen design team at Kitchen Magic and we'll make it happen! One of our designers can visit you in your home to assess your space and make clever recommendations. Whether you live in Lehigh Valley or elsewhere in Pennsylvania, our kitchen design has you covered. Your dream kitchen is finally attainable with less stress, in less time, and at an affordable cost. We are ready to help you with your kitchen renovation project. Just contact us for a free in-home estimate!