A new year, a new kitchen on the way! Sounds like a fun new year to me :). Last year I shared about our remodeling plans along with the before photos (find them here). I haven't yet posted the floor plan so I thought you might enjoy seeing the changes we are going to make. Our remodel should begin in the coming weeks (!!!!!!), we are so excited!
Note: I don't always have the comment box open these days on the blog, but I LOVE to hear from you! I will open the comment option on this post (you don't have to have a website to comment and your email remains private!) so if you want to leave a comment, I would love it.
This project has been a long time coming. We moved here in the fall of 2021 with a few ideas for how to make our new house our own, but about a year ago it morphed into a bit bigger project involving an addition and a brand new kitchen.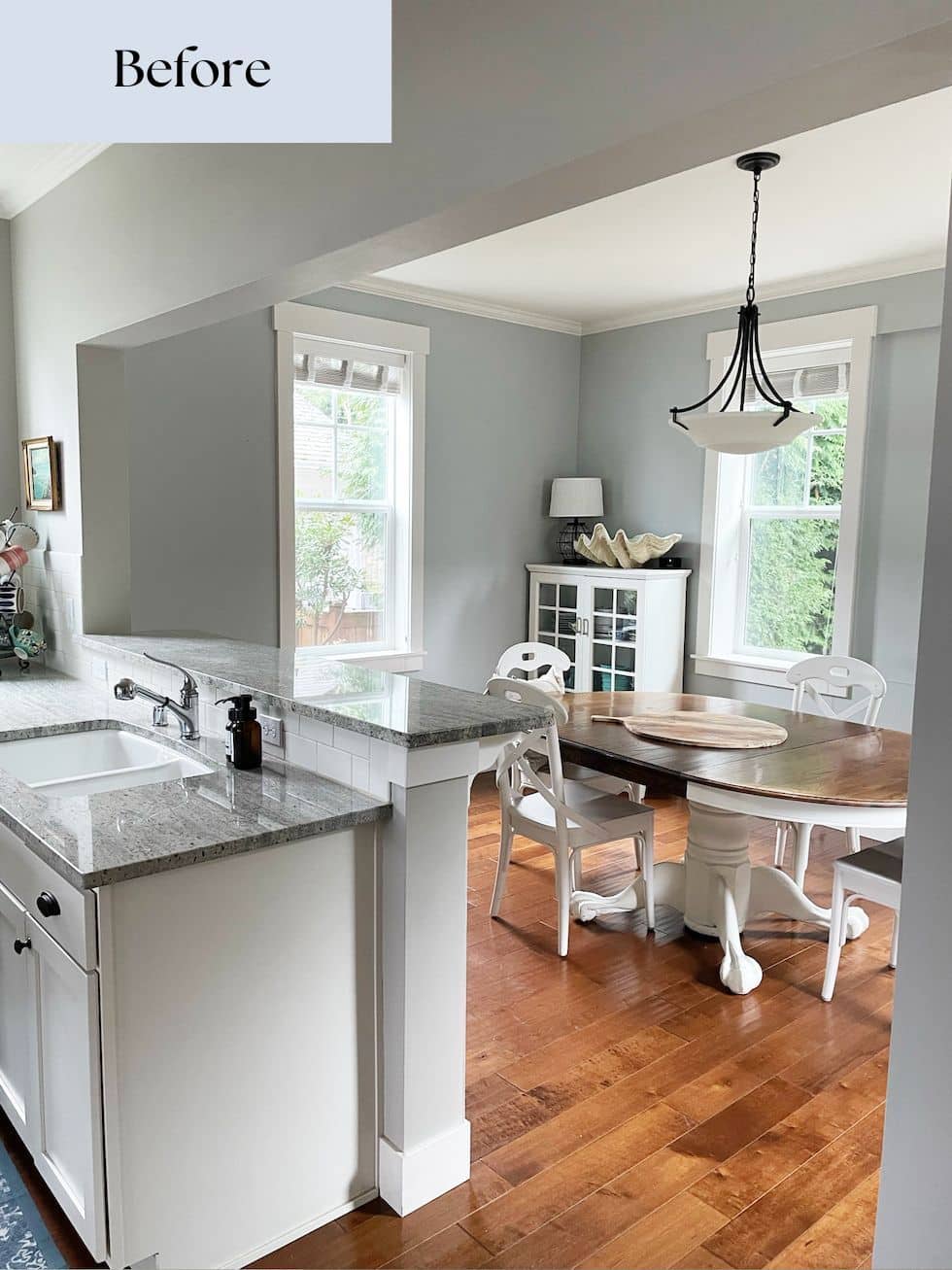 The quick backstory if you've forgotten or are new here, we invited my parents to move in with us when we bought this house and they had the idea to add a small suite for themselves to the back of our house. Even though it's a very small addition, it was complicated to design. It took a lot of detailed planning to be able to fit what was needed into the very limited space we had as well as to tie it into existing architecture.
My mom and dad drew most of the initial plans for their addition themselves. But then architectural drawings had to be made and a structural engineer and other professionals were involved to make sure it would all work and be approved for permits as we expected.
The addition will impact our space in a few ways, so from there I began drawing out floor plans for our own remodel. Our main floor is fairly compact at around 800 square feet and the rooms are all connected, so any change to one impacts the rest.
Given the updates we needed to make related to changes occurring with adding parents' suite, and that we really want to make the most of what we have so this home will be enjoyed by our whole family for years to come, we arrived at the plans I'll share below.
So much thought has gone into what choices would make sense for our needs and our family! Every square inch matters in a smaller home so we wanted to use our existing space well. With the exception of of the addition for my parents', we are not adding any additional square feet, we are simply rearranging how we will use the space!
Here is our CURRENT floor plan: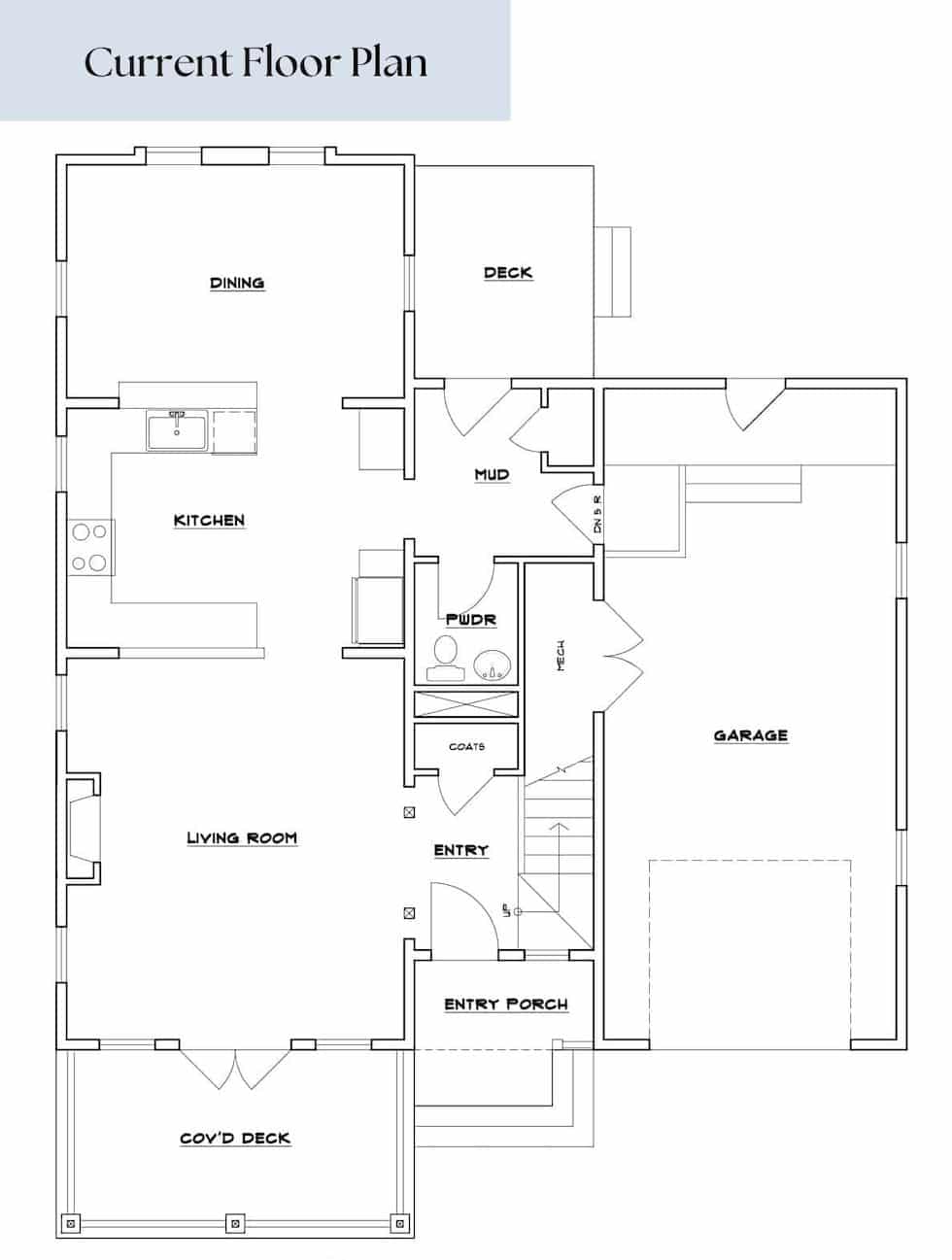 My parents will have a back door from their suite, but our existing door in the mudroom will have to be removed with the addition. One of the first decisions we had to make was to find a new way for us to get out to the backyard! We only had one optional place for the door to be located, so we decided to replace windows you see below across the back of the house (in the current dining room) with French doors (that will mirror the French doors in the front of the house opposite this room.). The windows will be repurposed, which I'll explain below.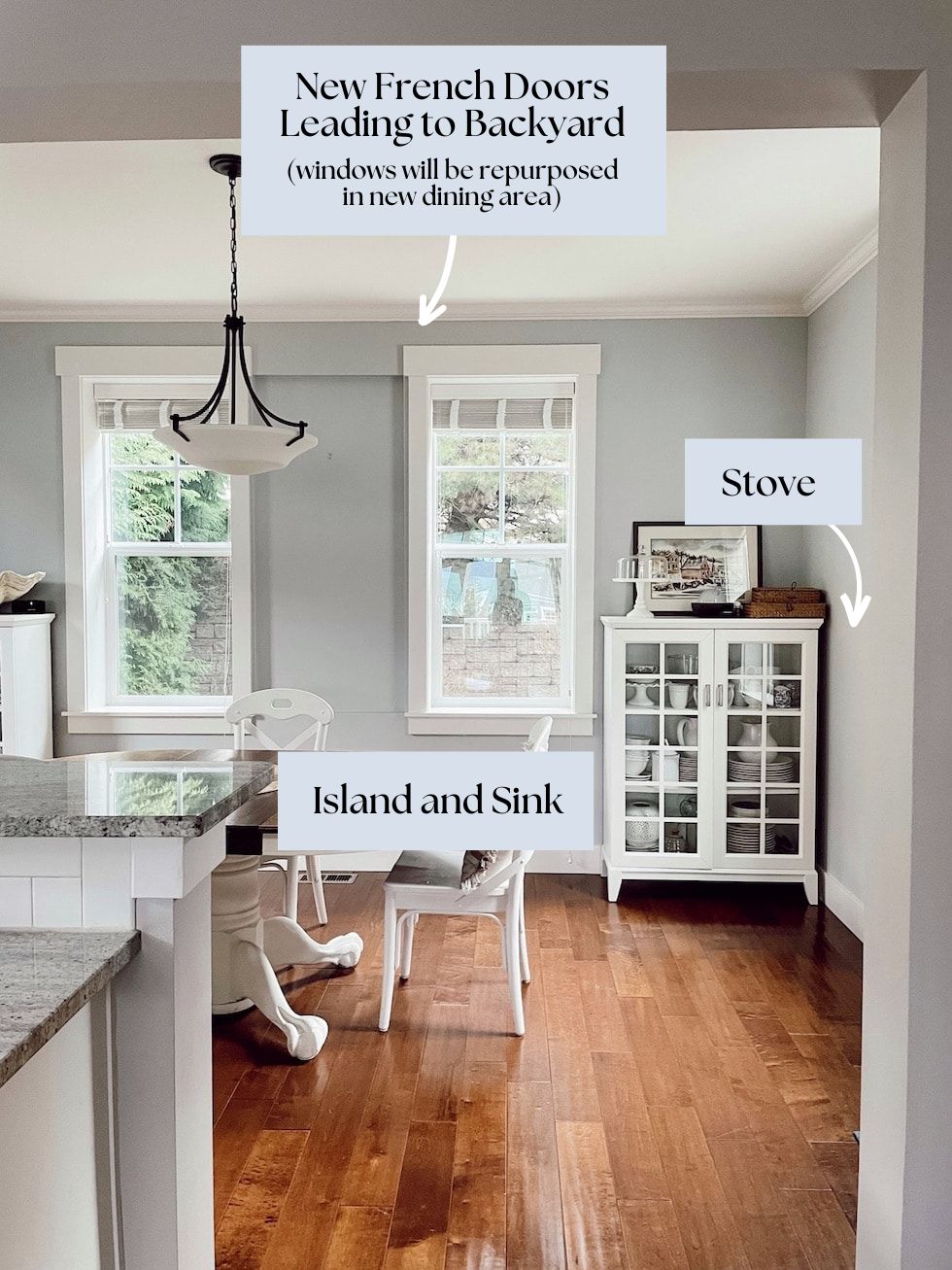 When we bought this house we planned to get new appliances for the existing kitchen and to do some minor updates to make the space our own. I had my eye on a really pretty range from day one (which is now in my garage, I will share more about it in a followup post!).
But as we started to get settled in the house and the addition plans took shape, we realized in the long run that it made good sense for us to not just remodel to add new appliances, but to relocate the kitchen at the same time as other projects related to the addition.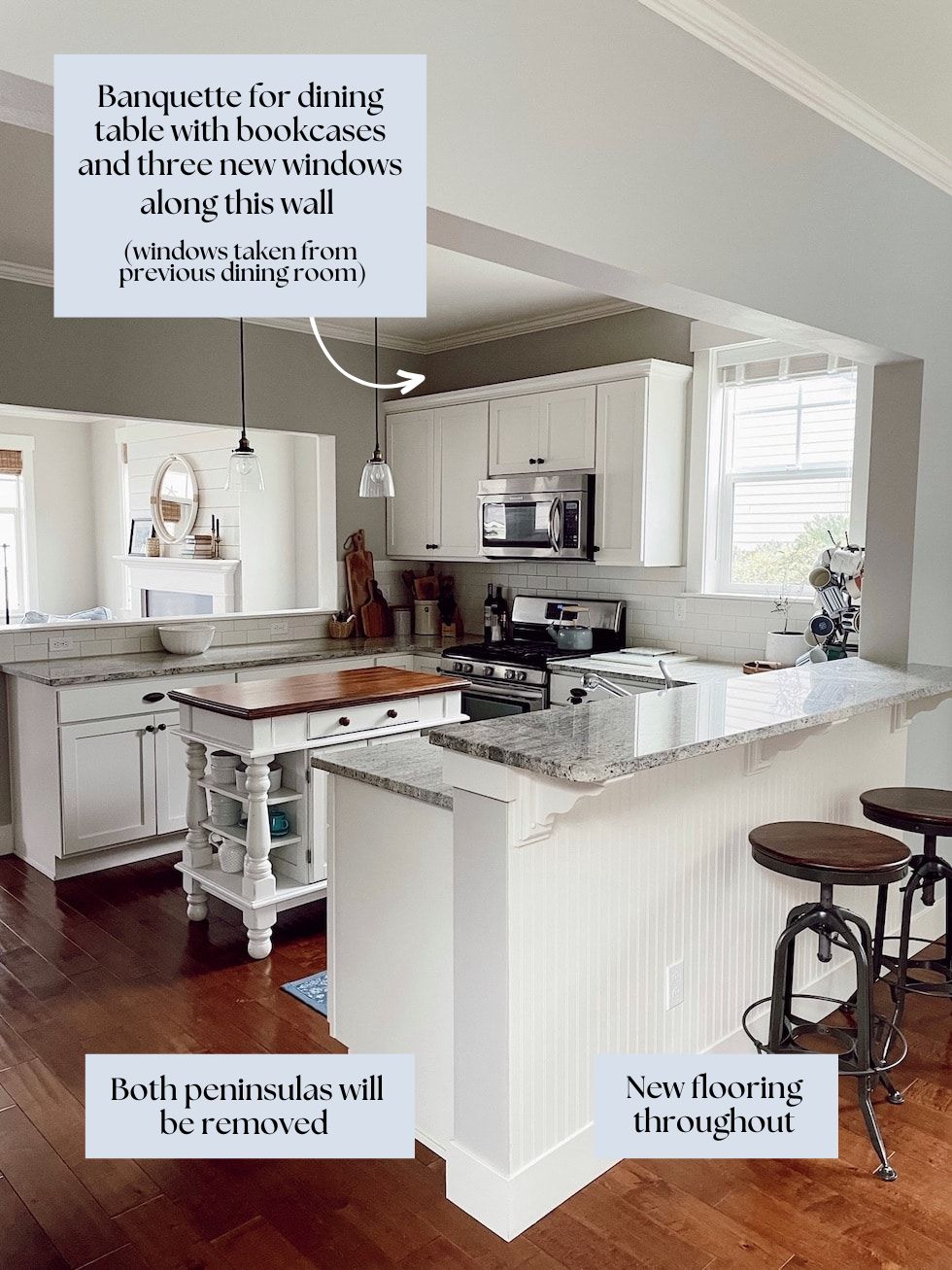 Swapping the locations of the kitchen and dining area made so much sense for us for many reasons. This one change will connect the living room to the dining area, which creates more flexible space for our family with easier traffic flow between rooms. It also opens up more options for needed storage and useful space throughout.
A new dining nook will be created with a banquette and storage built-ins, and several windows will be relocated to the former kitchen space. These updates will make this space cozy and comfortable for the two of us to use in various ways throughout the day, as well as create more space to gather as a family.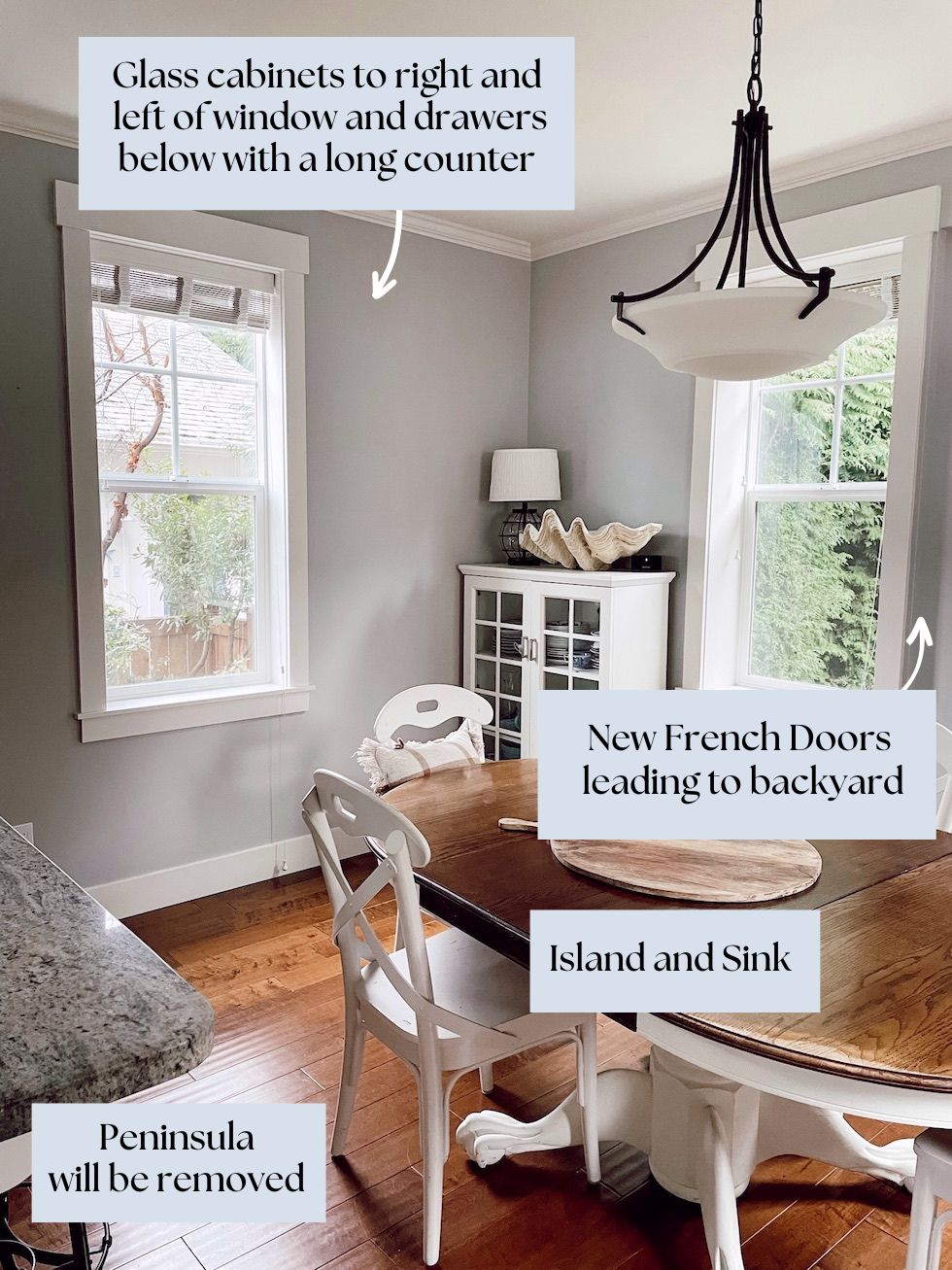 I'm very excited that with the kitchen relocating to our former dining room, the new sink will be in a center island with a view through so many windows and French doors as we do dishes! It will also provide a comfortable connection and view through the other rooms and happenings on the main floor, but is "tucked away" enough at the back of the house to feel like its own special quieter corner of the home, rather than being the center of attention.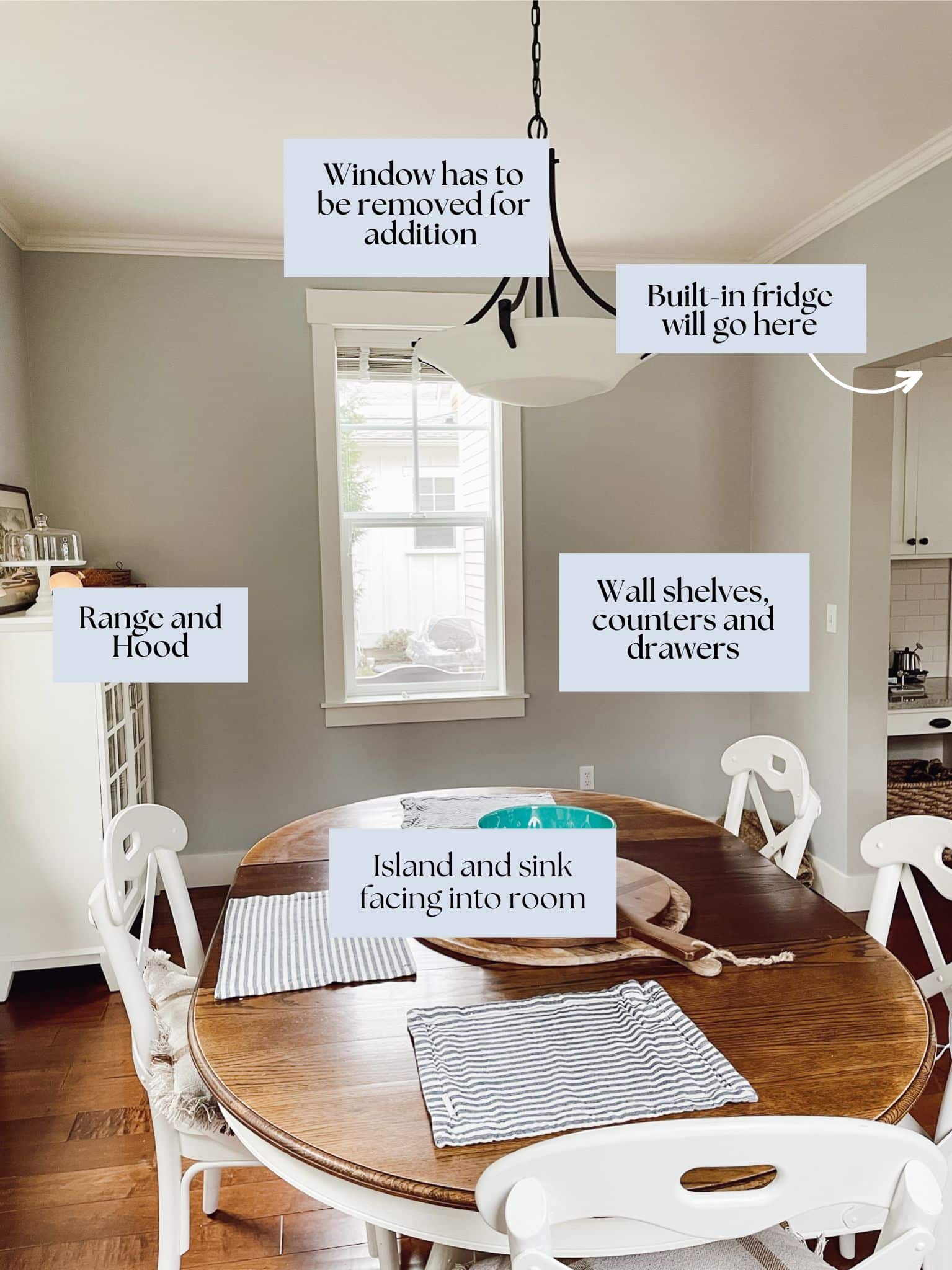 As we rearrange these spaces, without adding any square footage to our living areas, we are able to create more storage and counter space as well as more natural light and breathing room everywhere.
We found dedicated space for various zones where family will have more room to help with preparations and hang out together as we prepare meals, set the table, serve food buffet style, make coffee, as well better connection to the outdoors (we have a fire pit in the back yard) and most importantly, expanded room to be together in one area for holiday and family gatherings.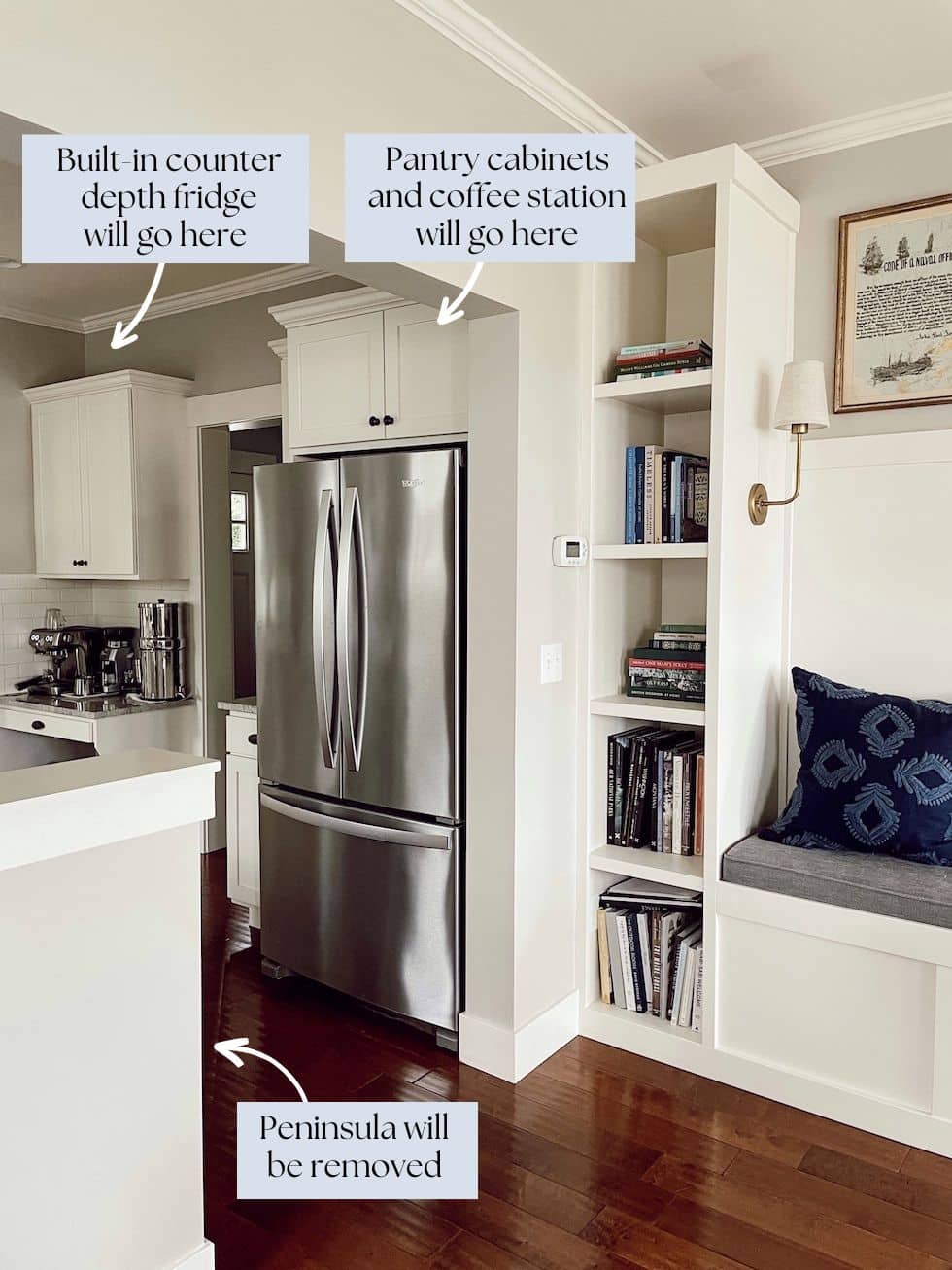 You can see below a bird's eye view of how our kitchen and dining space will be connected and laid out once the remodel is complete. There are also exterior elevations from the back of the house so you can get an idea of the changes that will happen there as well. I'll share more details about the addition in future posts!
Stay tuned for my next remodeling update, I'll share photos of two of the style setters we bought for our kitchen: our lovely new range (and her name!) and our pretty kitchen faucet. I have so many design details I can share, too, such as our cabinet style and the new dining room light fixture I just ordered! Subscribe to my emails HERE to get all future updates!
Below is the plan for our updated kitchen and dining area so you can see it laid out in this birds-eye view! I'll share more details on the addition in a future post.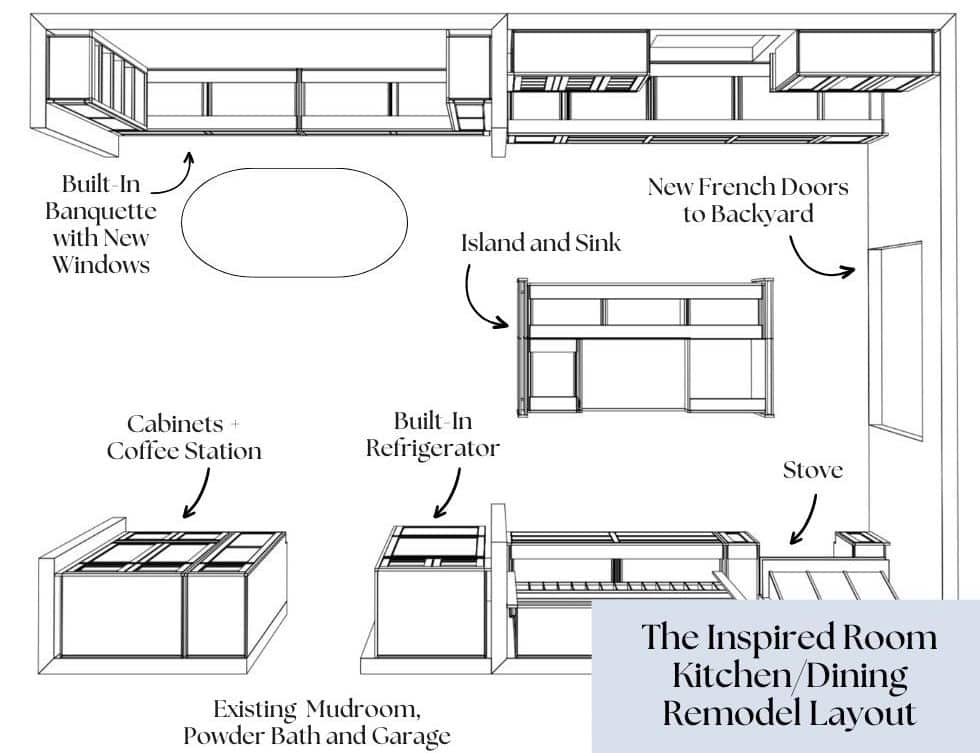 Below is the before and after of the back exterior of our house. In the 'after' you'll see my parents' addition on the left, and on the right the new French doors which will be located in the new kitchen.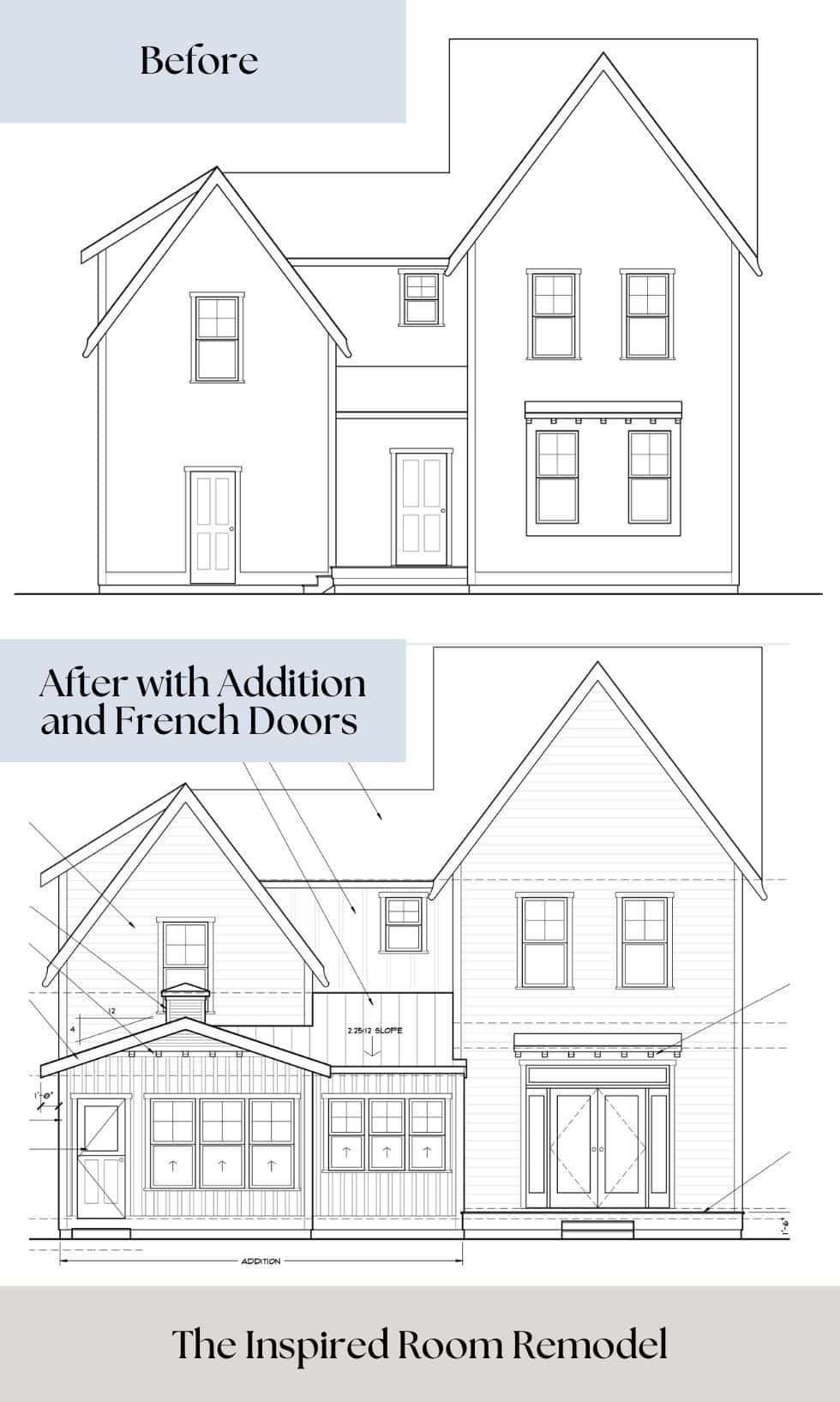 We are so excited for this project and can't wait to share the process with you along the way.
Make sure you're subscribed to my emails HERE to get all future updates!