Are you getting ready to upgrade to your kitchen with new flooring? If so, take stock of your options. Flooring is more challenging to replace "after the fact." By choosing flooring that complements your lifestyle and preferences, you'll benefit from a style and finish that will withstand the test of time.
So, if you're thinking about a kitchen remodel, here are several flooring designs for your home that are sure to catch your eye.
What is the best flooring option for a kitchen?
Notice we emphasize a timeless finish? That's because the best kitchen remodels won't need to be altered or changed for decades to come.
Here are four popular kitchen flooring options that meet the ideal standard of functional luxury.
1. Hardwood flooring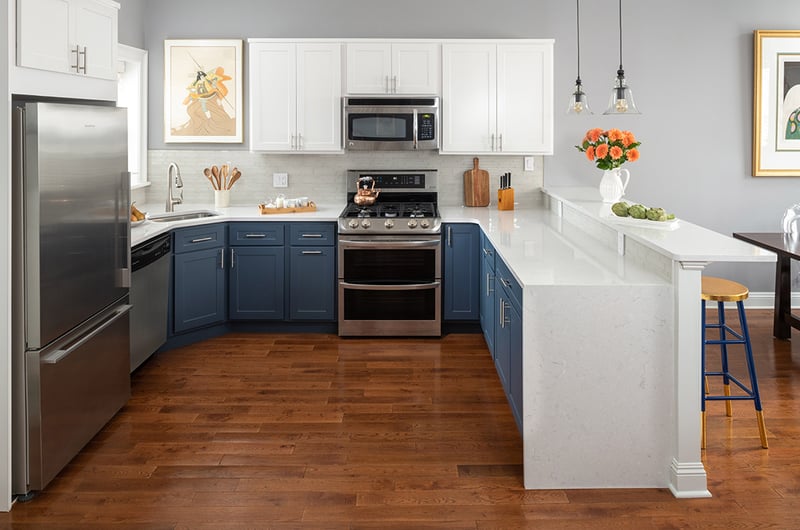 Hardwood is still near the l top of top kitchen flooring options. In addition to the visual and textural appeal, it adds to the mix, there is a wide range of finish options. Hardwood is also universal, working just as well in a traditional design as it does in an uber-contemporary kitchen. In that way, it offers a large return on the investment in your Montgomery County residence and will appeal to future homebuyers.
It is a softer and warmer finish than hardwood replicas (see below options). That said, it is prone to scratching and water damage. Odds are you'll need to sand and refinish it about every 10 to 15 years or so (in case you have kids). If you live alone or are an empty nester, your flooring may last even longer than that.
Read more about that in our post, The Pros & Cons of Hardwood Flooring.
2. Tile flooring options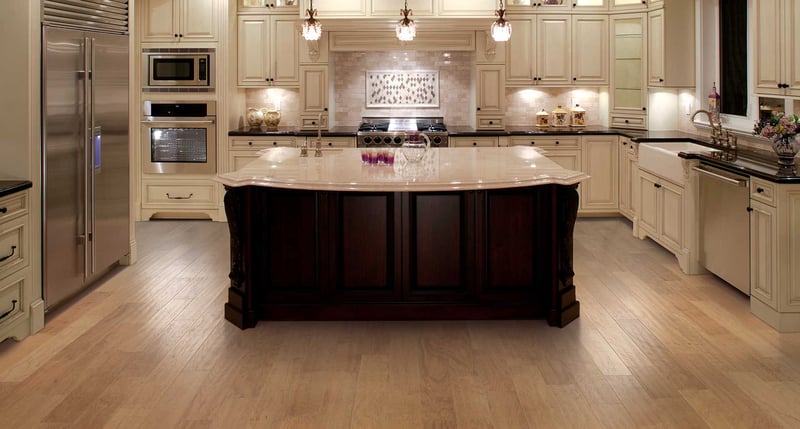 Tile flooring was vastly popular in the 80s and 90s. However, due to the lack of demand, traditional square and rectangular tiles are becoming less desirable. Instead, we design kitchens using tile planks, which are textured and look just like hardwood. These planks are a top alternative to hardwood for most homeowners and are designed to take a beating.
If you have children or you share a home with pets, or you simply don't like the idea of having to sand and finish hardwood floors over time, plank or square tile is the option for you. Tile planks even look so much like wood that we often have clients getting down on their hands and knees because they can't believe they're not real wood.
3. A range of high-quality laminate options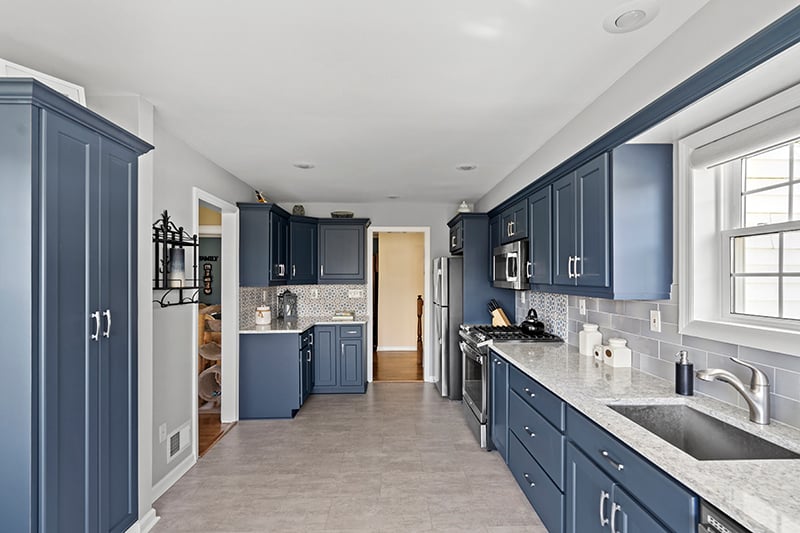 Laminate flooring, that typically comes as a roll product has been around for eons. For a long while, it was considered dated because the ability to print "realistic" or natural look laminate wasn't there. Today, innovative, state of the art laminate flooring manufacturers have created stunning replicas of natural stone and wood. The colors and textures are so true that this floor too now needs up close inspection to realize that it is not a tile or wood product.
4.
Luxury vinyl flooring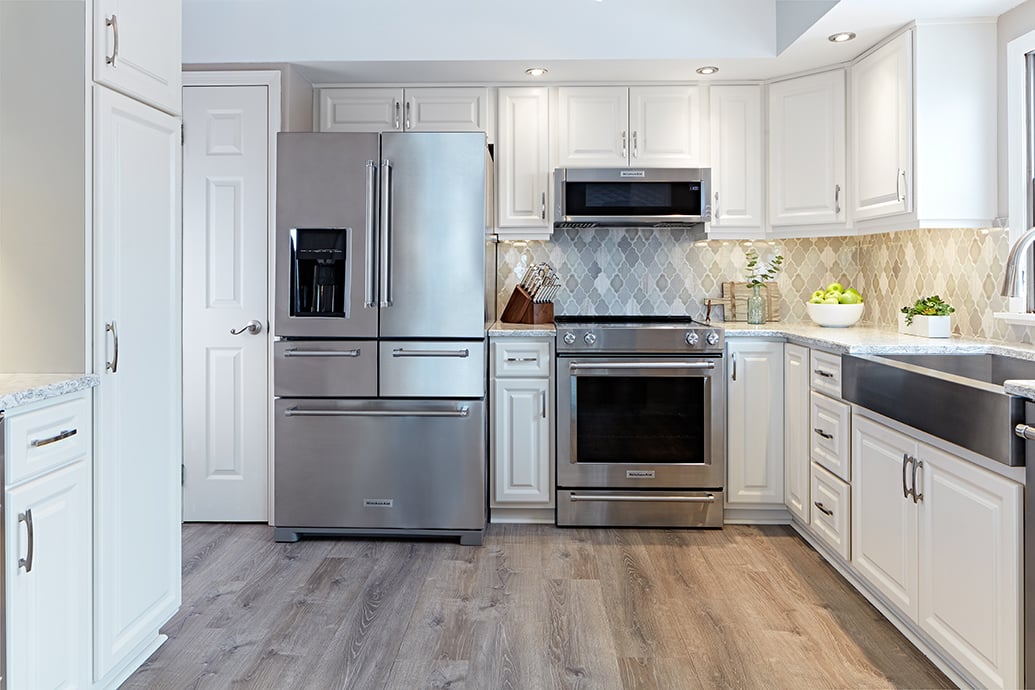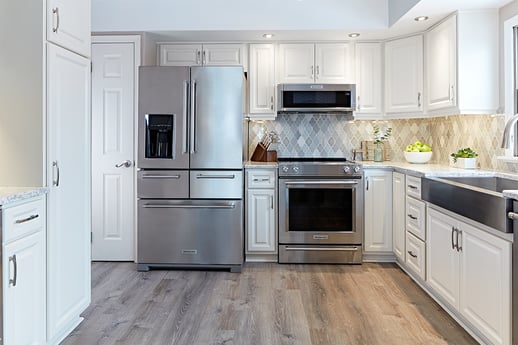 At this moment in time, vinyl is the clear winner and has pulled way ahead of all options and competitors. Like laminate, vinyl manufacturers have achieved a platinum standard for replicating the realistic look of other materials. Plus, vinyl is textured, waterproof, and ultra-durable!
Hardwood replicas are certainly vinyl's top-sellers since they mimic virtually thousands of tree species, including distressed wood looks. However, vinyl floors are also available in patterns replicating natural stones, bricks, concrete, and just about any other flooring material you can think of.
Is your home in need of an expert kitchen remodel in Montgomery County? Call Kitchen Magic!
Ready to ground yourself in a kitchen flooring groove you'll love? Taking on a kitchen remodeling project can be stressful and time-consuming, especially if it takes more than a few days. Schedule your kitchen design consultation with Kitchen Magic and explore how you can change the way your kitchen looks and functions. It's fun, informative, and completely free! Just give us a call at 866-525-7999, or click here to schedule your appointment today!