As the year draws to a close, I always like to look back at all the projects we completed this year. We didn't actually do that much DIY ourselves, not as many projects as we usually do. But, I did go down to Louisiana 3 times this year to help my sister with planning and then doing projects with her as they prepared to move in their new house. I shared all those with you too, so we will look back at all of those projects as well. We did accomplish plenty!
At our house, the BIG BIG project of 2022 was getting our pool completed. That's enough of a project for a few years actually, since putting in a pool requires so much time, attention, and planning. We are absolutely thrilled to have it finished and we've just gone through our first fall/winter season with a pool.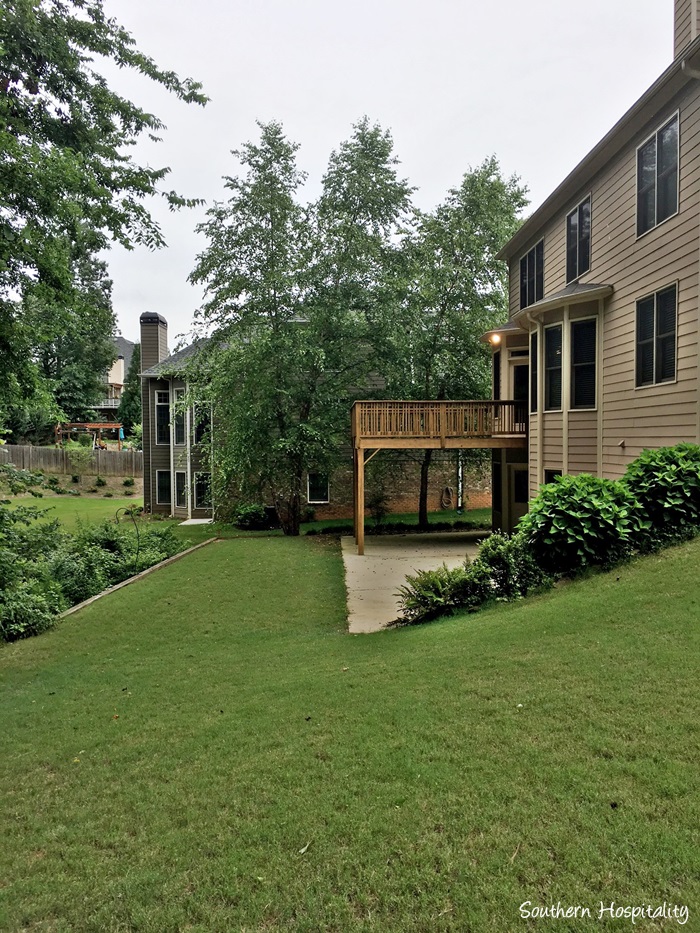 Just a reminder of our backyard when we bought our house and moved in, back in 2017. The backyard is smallish, more long and narrow, but plenty big for our needs. We had no idea then that we would actually put in a pool, but it's fun to see the changes from the beginning. There are so many projects done back here to get it to where it is now. Some were DIY and some we hired out, but all make our backyard beautiful. We have done a lot in 5 years!
Another angle of the backyard when we moved in. We were fortunate to have that big patio already in place.
After the pool went in this year, it now looks like this. If you missed the pool reveal, definitely go back and look at it. It does take effort to keep it clean and looking this good. Mark is really good about getting back there and cleaning the pool and surrounding landscaping and I'm glad for that. He has a gas blower that helps too. He still takes care of the mowing and all the maintenance in our yard. He's a hard worker! No backyard is maintenance free, is it?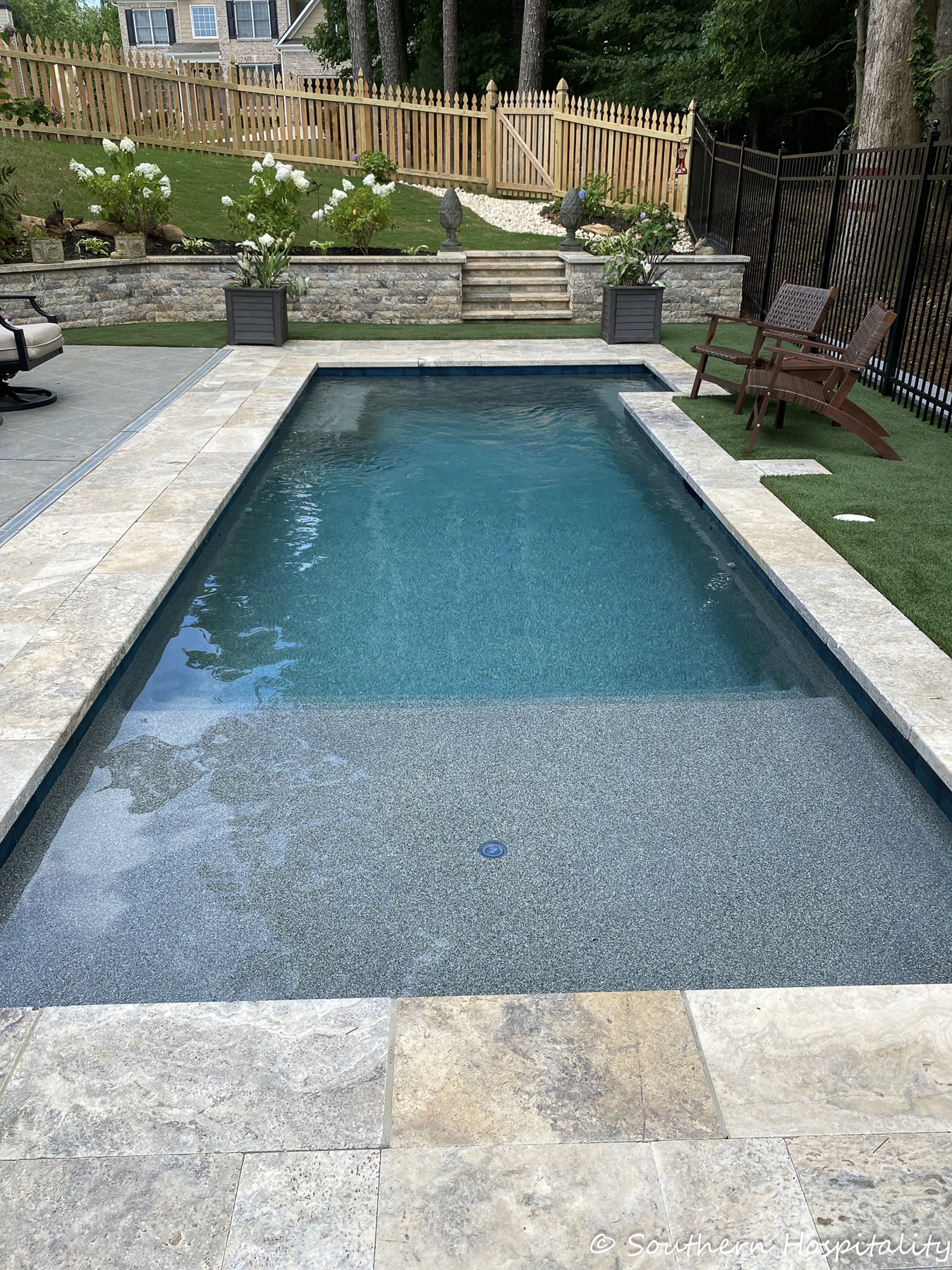 We've just gone through our first fall with a pool and we put a net on it for about 2 months. It wasn't that pretty with all the leaves falling, but now they are done and it's not so bad keeping it clean back here. We have also stained the fence since these pics were taken so I'll have to take new pics this spring.
We love how it turned out and we can't wait to get back in there come summer next year. We are still waiting on the gas company to run a larger line to our gas meter so that we can run the heater. It should be done by spring, but we had no idea it would take this long.
It really is our backyard paradise and we are grateful to have it!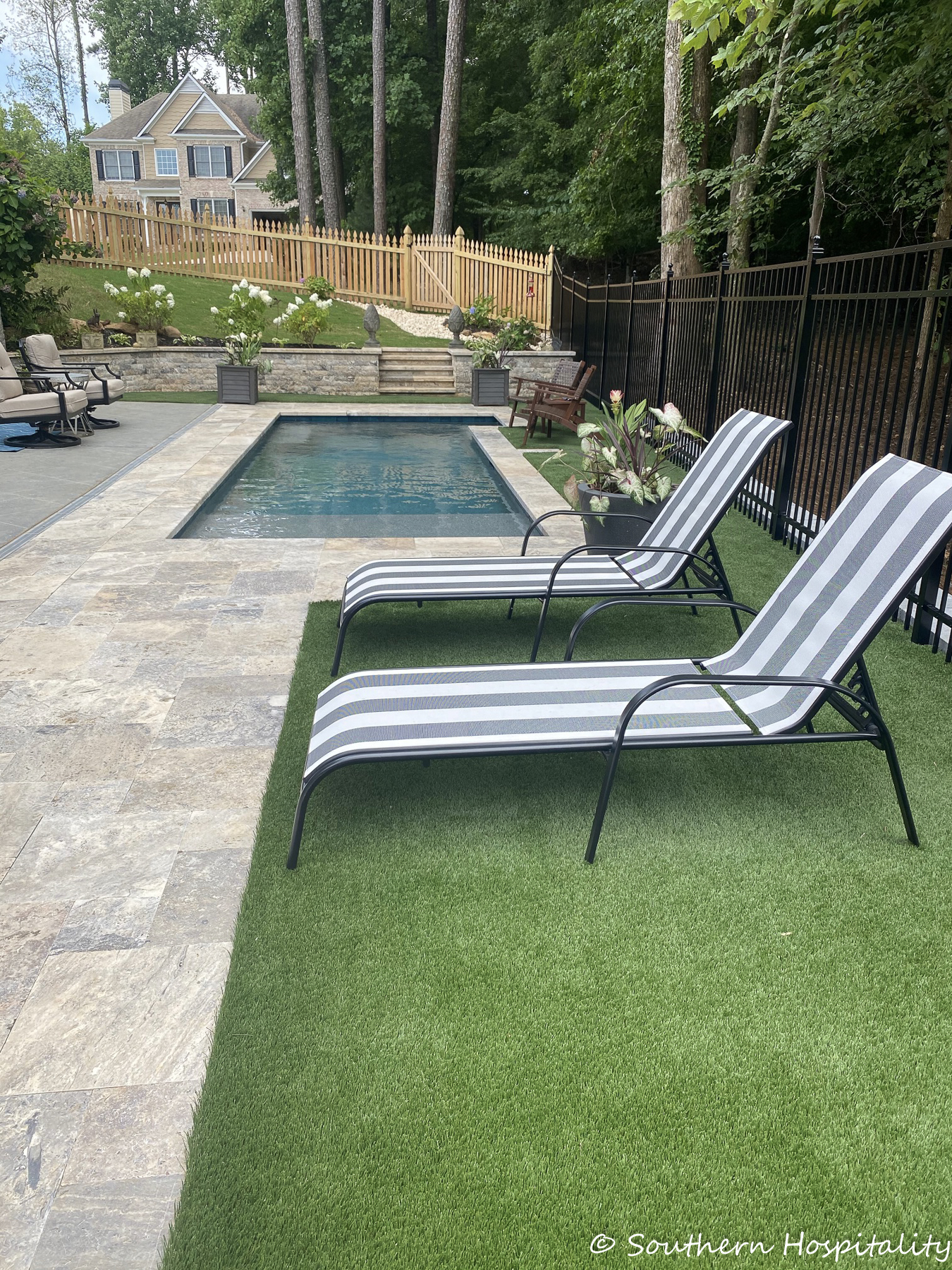 We have really enjoyed the artificial turf too, it's low maintenance and we love how it looks.
This is our biggest project to date and we are very proud of it. It's the perfect outdoor entertaining spot.
My sister and brother-in-law moved into their new lake house in Covington, LA. I shared all the projects at my sister's house too and we did all this wicker spray painting when I went down in October after they moved in. What a difference it made on their porches to have all this done. See all the after shots of the porches in that post. They are really enjoying their new house. Don't miss the lake house post if you missed that.
I shared all the before and after of the wicker painting in this post, so check it out. The green chair above was the curbside find (vintage Lloyd Flanders) from my neighborhood. I finally dug back in my photos and found the original pic of the chair on the curb. And now I have an after shot of it to share with you. You can see if was mismatched paint colors and the cushions were dated. I remember that fabric. It just needed some TLC.
My sister got the cushions covered here in Marietta at Fringe Benefits. The fabric is a performance fabric so should hold up fine outdoors.
And here's the after! This is a really comfy chair and I know they will enjoy it now.
Here are some in progress shots of us painting all the wicker. It all turned out great and filled up their porches. All from the curb, Facebook marketplace and consignment shops.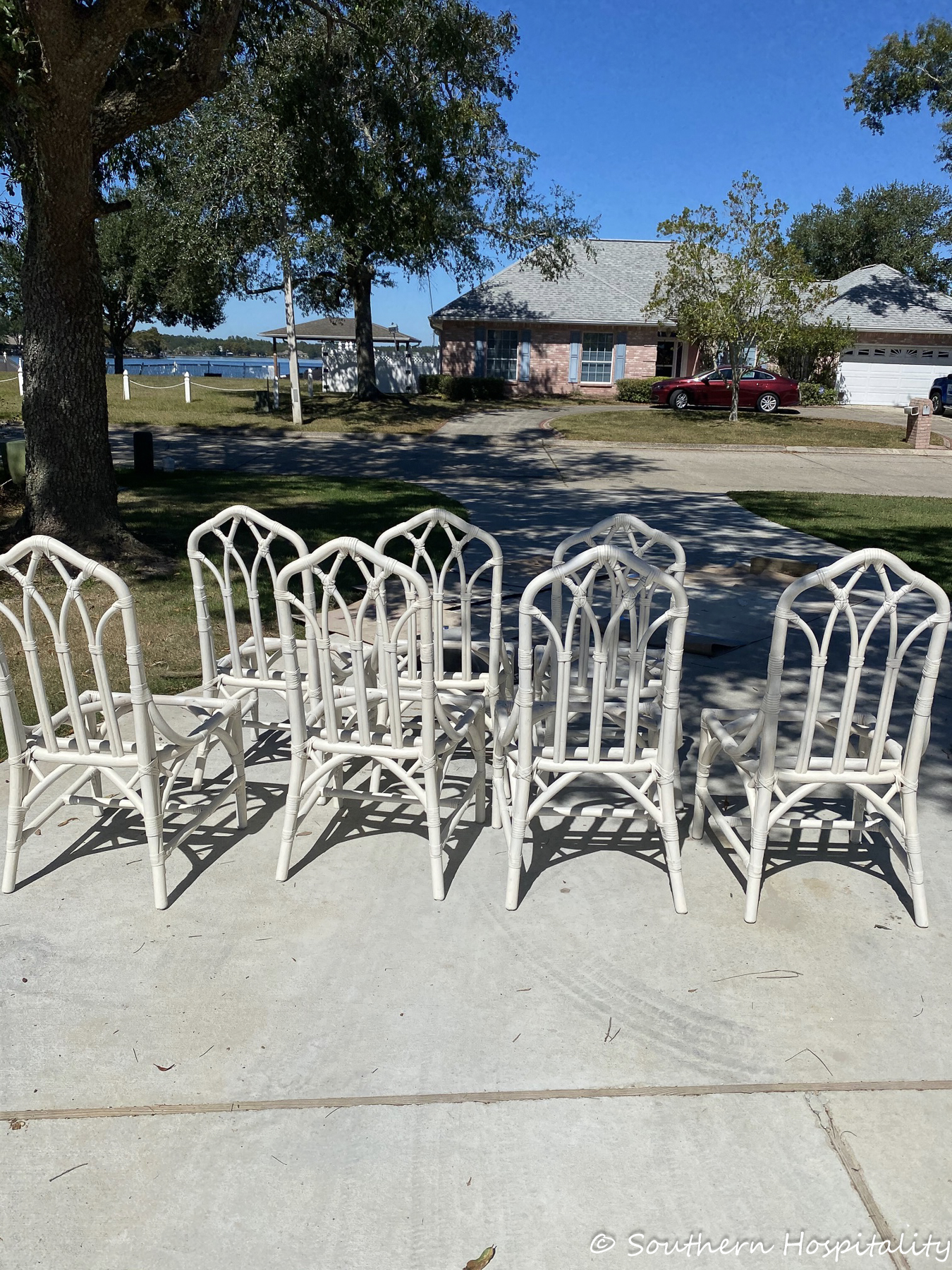 Projects are always worth the effort. All it takes is a little bit of DIY to completely change things up with spray paint and paint in general.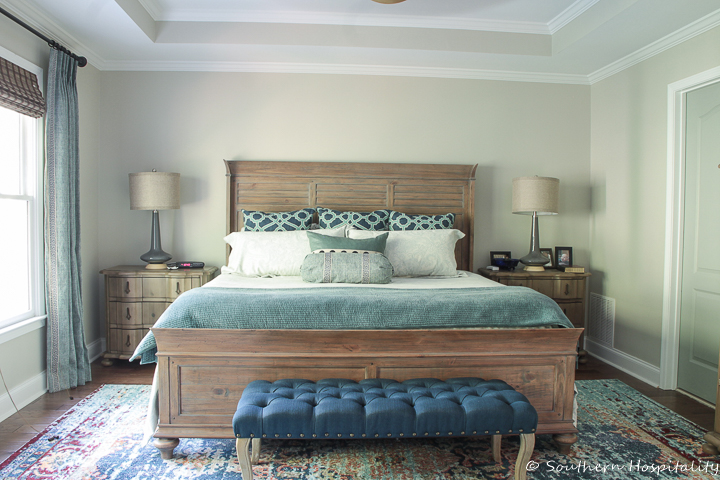 Just before Christmas, Mark and I tackled one last project at our house in the master bedroom. As I mentioned in the reveal post, we had talked about doing real brick, but the expense and the mess deterred that plan, so we opted for brick wallpaper instead.
We are so happy with the outcome and really love how it turned out. Everyone that has seen it loves it too. It totally warmed up our room so much and it was such an easy project, only took 4 hours to do. We tackled it in one day and the room was put back together!
That's a wrap on our projects this year. A big one and a few small ones are what we have to show for the year. We always have something going on around her and I expect next year will be no exception. We have a few more things we want to do here at our house. Mark has a coffered ceiling planned for our family room. We have one more bathroom to do upstairs and then we will move to the basement where we plan to start finishing off the middle section down there, from the stairs down to the main room. We have a lot of decluttering still to do in the basement and a lot more organizing to do too, but that will be our last area of improvement. We just want to get the middle section finished to make it feel like a real room down there, so we will see what we come up with on that. It's still in the thinking stages.
It feels good to DIY and get things done around a house, doesn't it? We are very proud of our house and how much we have completed in 5 years. If you missed my post How we Upgraded our Builder's Beige house, you can see all the before and afters we have completed so far in our home. We love our home and have no plans to move anytime soon. We have fallen in love with our town of Acworth and love where we live.
Related
Don't Miss a Post, join my list!