Earth tones, neutrals, whites and greys were making your bathrooms a thing of beauty in 2022, but the new year represents an opportunity to finally run with those new interior design ideas and make a start on that project you've been waiting to do for so long.
Bathrooms are always an area for improvement and for many it seems that it is the first room to be getting a makeover in 2023 – with "bathroom design" searches trending for a second month on Pinterest.
So, for those of you planning on giving your bathroom a completely new lease of life in the new year, we can reveal what we think will be the top 5 anticipated bathroom trends set to make it big in 2023!
So, without further ado…
Micro-luxury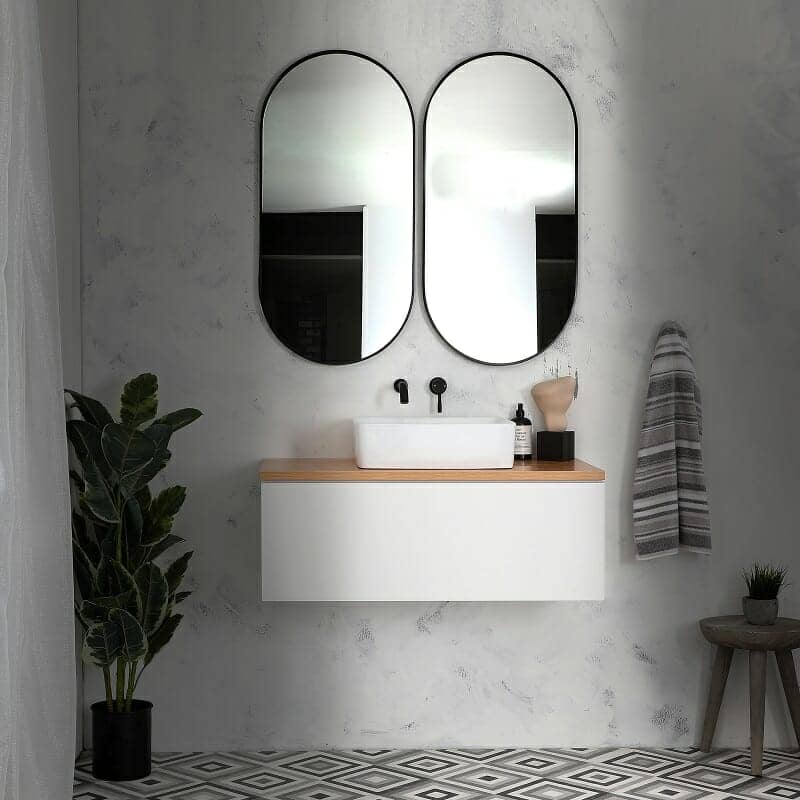 Whether it's that your bathroom is on the smaller side, you have an en-suite, or a cloakroom bathroom a little tight on space, making the most of this area and transforming it into a luxurious portal is going to become popular in 2023.
The micro-luxury trend is all about making sure your small space packs a punch, which is much easier to do than you probably think – smaller spaces are easier to upgrade with luxury materials, accents, and accessories as you simply need less of them.
With micro-luxury, we expect to see matt black or brass fixtures incorporated into sleek, elevated design which is carried all the way through tiling and lighting – expect more herringbone, pearlescent tiling, and low, atmospheric lighting.
As soon as you step into this bathroom, you'll feel that it's your haven where you can relax and give yourself a luxurious pamper routine.
Maximalism
Maximalism is a huge interior trend expected to stick around throughout 2023. While it can often sound intimidating, especially for those of us who like to play it safe, there really is no wrong or right way to pull this look off.
Embracing different textures, colours, and prints can be a little easier to do in other areas of the home, however, with a little creativity, you can achieve an inspiring maximalist bathroom.
Make a statement with your fixtures and opt for something gold and antique in style, this will contrast nicely against any bold features and dark colours that are trademark maximalism must-haves.
If you have any wall space in your bathroom, try using dark matt paint, or busy wallpaper to give the room more depth.
Then to take the look even further, incorporate some fun floral print towels on your towel rail!
French Country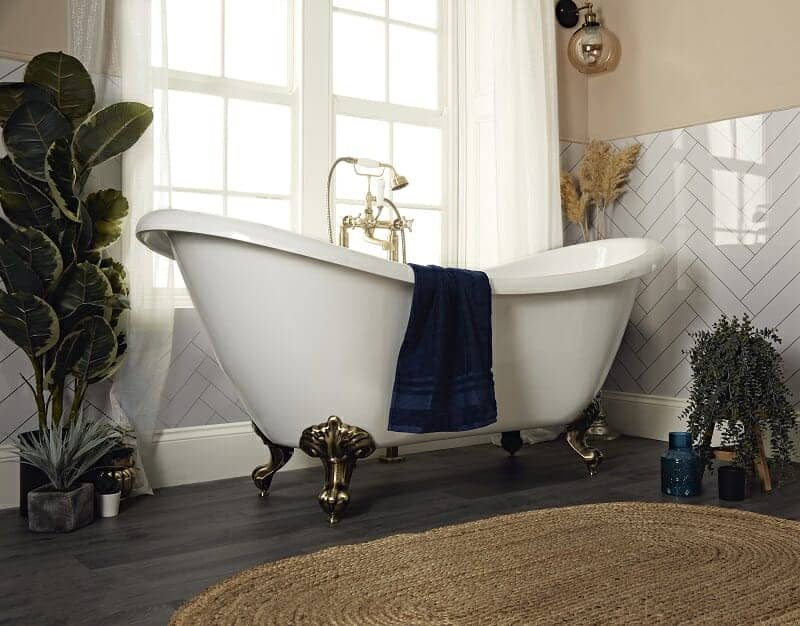 Expect to see French influence carried through to our salle de bain this coming year as 'countrycore' meets traditional chic.
French county is all about bringing back those more traditional bathroom features and straying away from sleek, modern designs.
Think chunkier and curvier when it comes to ceramic toilets and basins – there are no straight lines and corners with this trend.
Then when it comes to fixtures, incorporate the traditional, classic silver with white accents into your taps and shower.
Of course though, to channel French county to the max, a roll top bath embodies the trend while also providing the perfect relaxation feature to any bathroom.
Marble Revive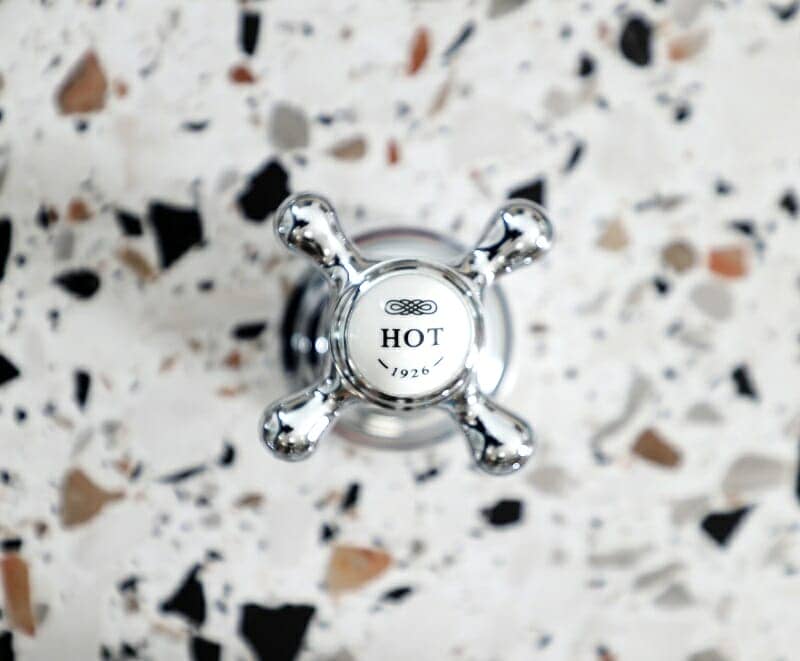 Marble made it big a few years back, and while momentum behind the trend slowed, it seems people are back to give it another push in 2023, making it no surprise that we'll be seeing a lot more of it in our bathrooms.
Marble will always continue to be a great material for bathrooms, with strength and style it can be incorporated across tiles, countertop basins and accessories.
Creating a modern and luxurious feel, marble is the perfect option for anyone wanting to strip back without compromising on style and design.
It's also worth considering that marble doesn't have to just be the classic white and grey – for a bolder look, a predominantly black marble with white strokes will look great and create a completely different atmosphere in your new bathroom.
Shades of Green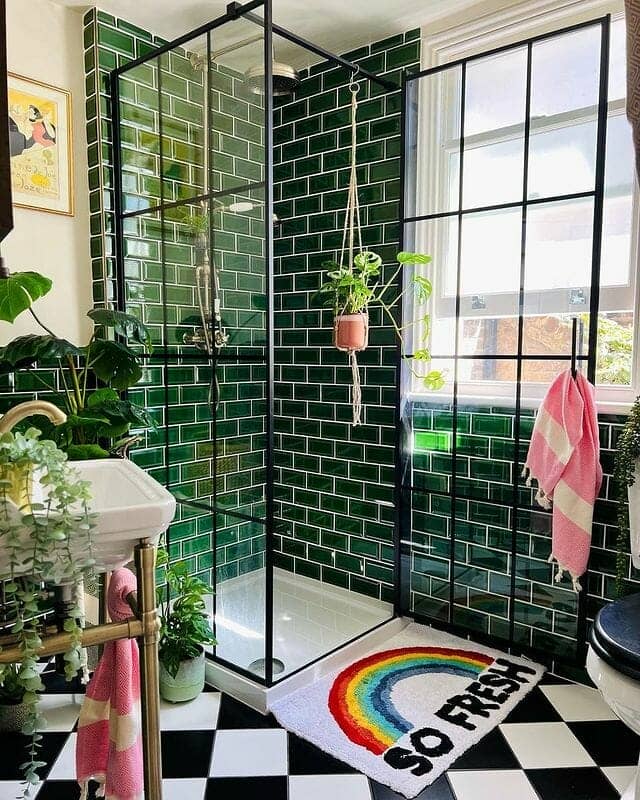 Green interiors have stood as the longest-standing trend of the last decade and it's no exception this coming year.
Monochromatic looks are big and transforming your bathroom into a rainbow of green could be your next exciting project.
The colour green lends itself well to achieving an enviable bathroom for your home – green can be paired up or down to achieve either an understated, calming washroom or a bold and brassy bathroom.
Fixtures and accessories can really vary depending on the tone you opt for, the deeper the shade of green, the darker the fixtures and accessories we recommend.
Green is a great colour to help you achieve that fresh and clean aesthetic that works so well in a bathroom, add to this by incorporating some rich leafy houseplants in terracotta pots, not only will they look great, they will also bring some nature into the space.
Your Big Bathroom Trends for 2023
So there you have it, our top 5 bathroom trends for 2023 – what do you think?
If you feel there's something that is going to make big bathroom waves next year, drop a message in the comments below or tag us @big_bathroom_shop on Instagram and tell us what you have planned for 2023!
Your Big Bathroom Questions

Got a burning bathroom question you just can't find the answer to?
Pay a visit to our FAQ page and get a whole host of answers to some of the most popular bathroom questions.
Need to fix a tap? Struggling with that bathroom caulking? Maybe your toilet flush is broken and you don't know what to do.
Whatever the bathroom query, we have you covered with our Frequently Asked Questions page…
Rikki has a passion for interior design and an even bigger passion for writing about it. When she isn't writing about gorgeous bathroom interiors, you'll find her discovering all of the latest trends.