This Post May Contain Affiliate Links. Please Read Our Disclosure Policy here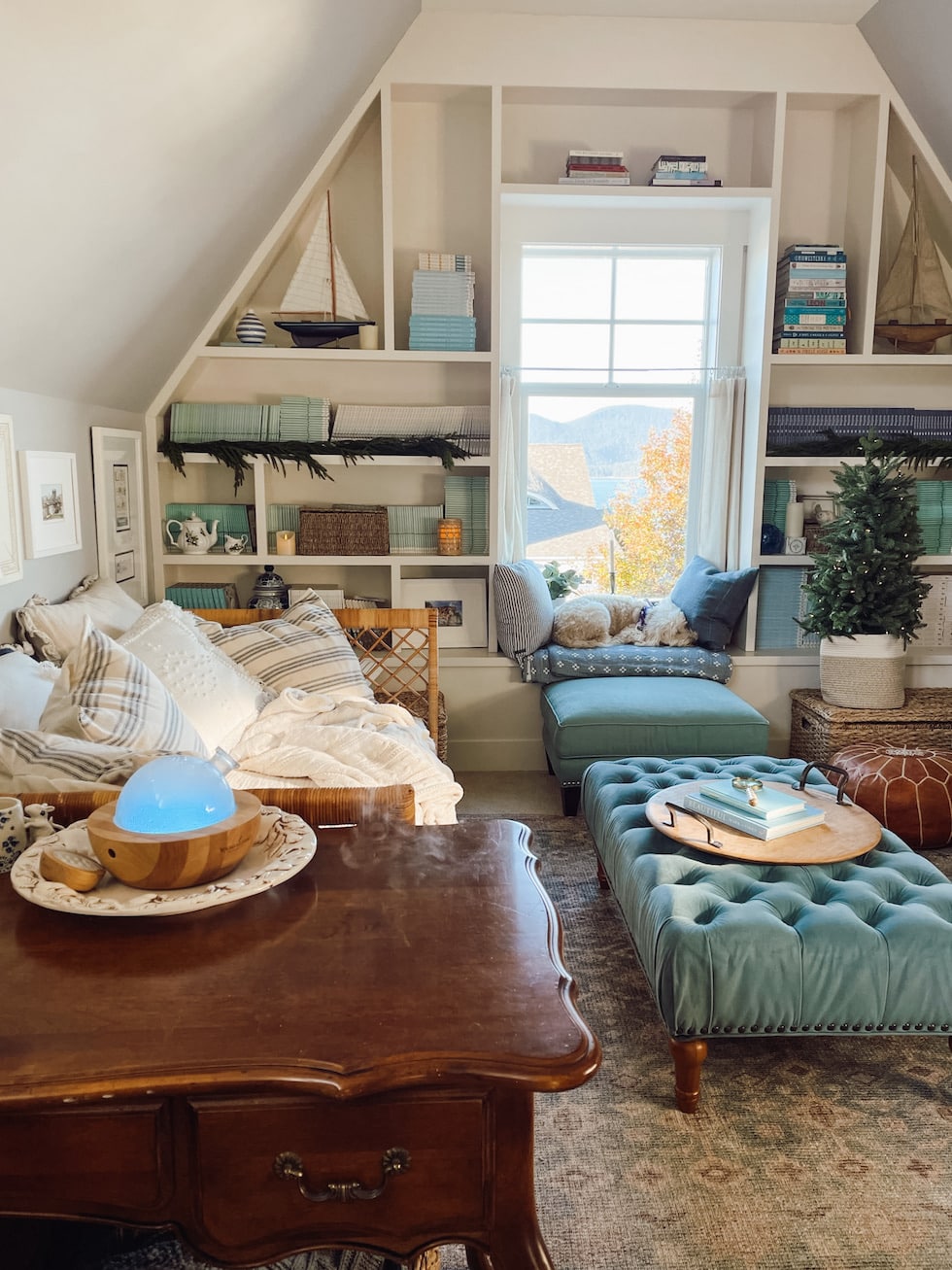 Do you have a room in your home that will be your cozy go-to space for winter? The Snug is without a doubt going to be my cozy winter spot. Of course, I work here year round but in winter I'm not outside nearly much so I've made this room extra cozy so I will enjoy it even more!
Do I wish I had a fireplace in The Snug? Yes. There are lots of things I'd like to have in time, but a room doesn't have to be perfect in every way to be useful cozy and welcoming right now.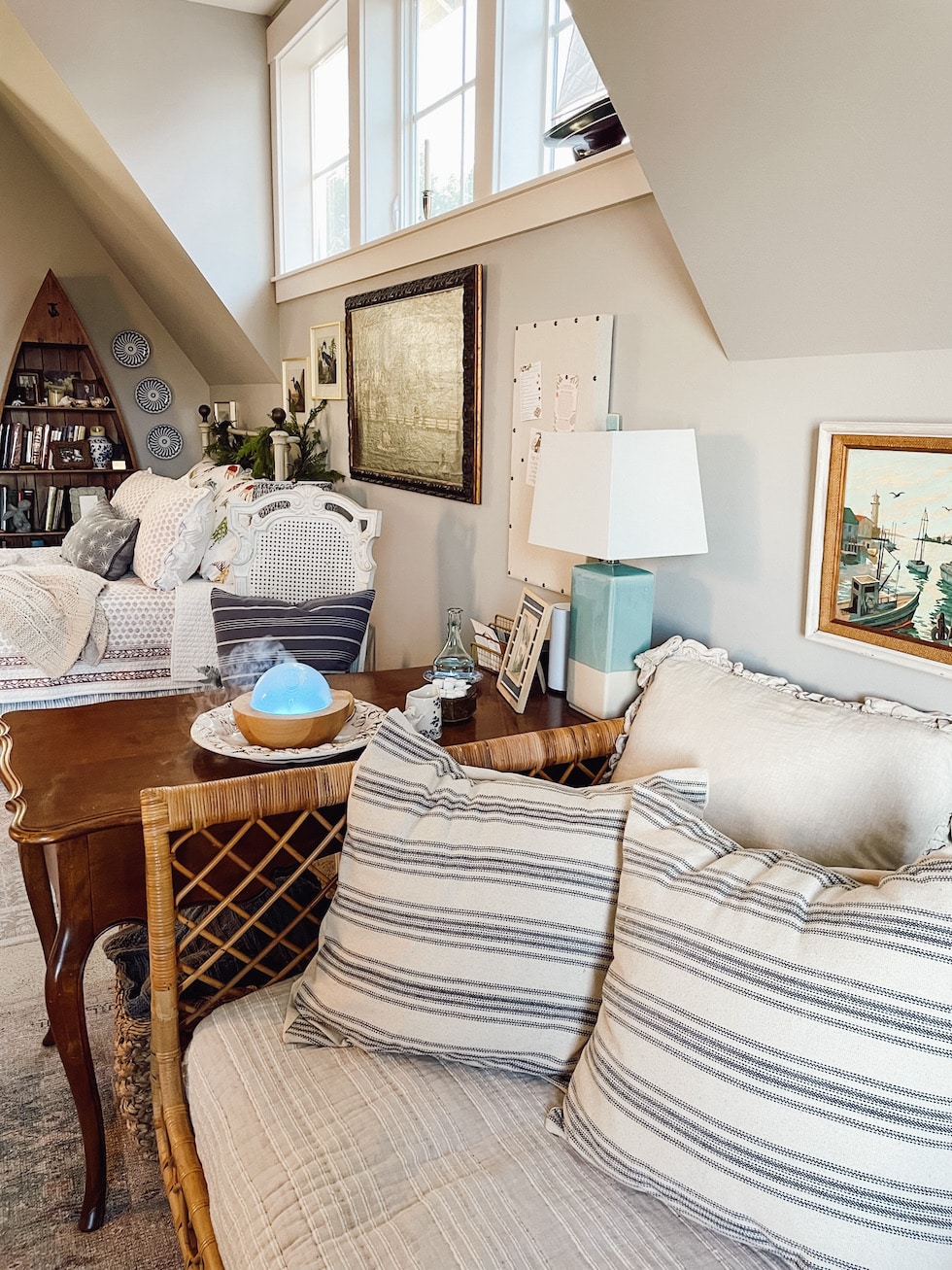 We didn't plan to decorate in here for Christmas this year, but a few leftover bits of winter greenery ended up in here one day so I just used it around the room. I think it feels quite cozy and festive! Simple is really my favorite.
I will keep this post brief since I know most of us have Christmas prep and all to get to, but I will answer a few questions people have asked about The Snug. I'll also show you some more photos since I know some of you were wanting to see more of how we arranged furniture so we could use it day to day as well as for other purposes.
(By the way, I always try to add sources throughout, but also have a source list at the end of the post if you're looking!).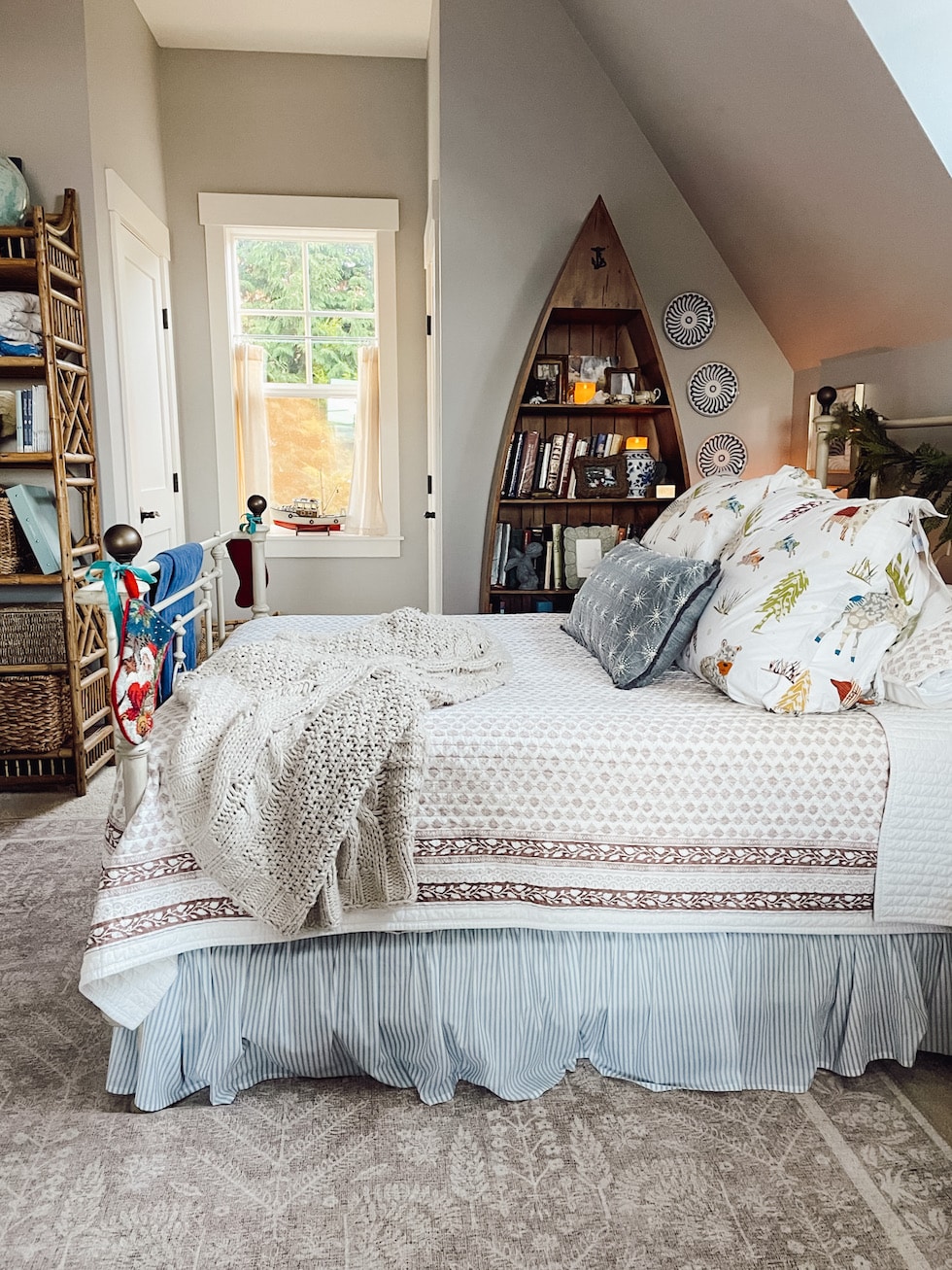 If you missed my last post about this space (Whimsical Winter Bed for Guests: Little Bits of Progress in The Snug) you can see it here.
The furniture in this room is a mix of a lot of things we already had. Most of these pieces and items had no other place to go when we moved in to this smaller home. Yet we liked them and believed they would be useful to us. And that they are!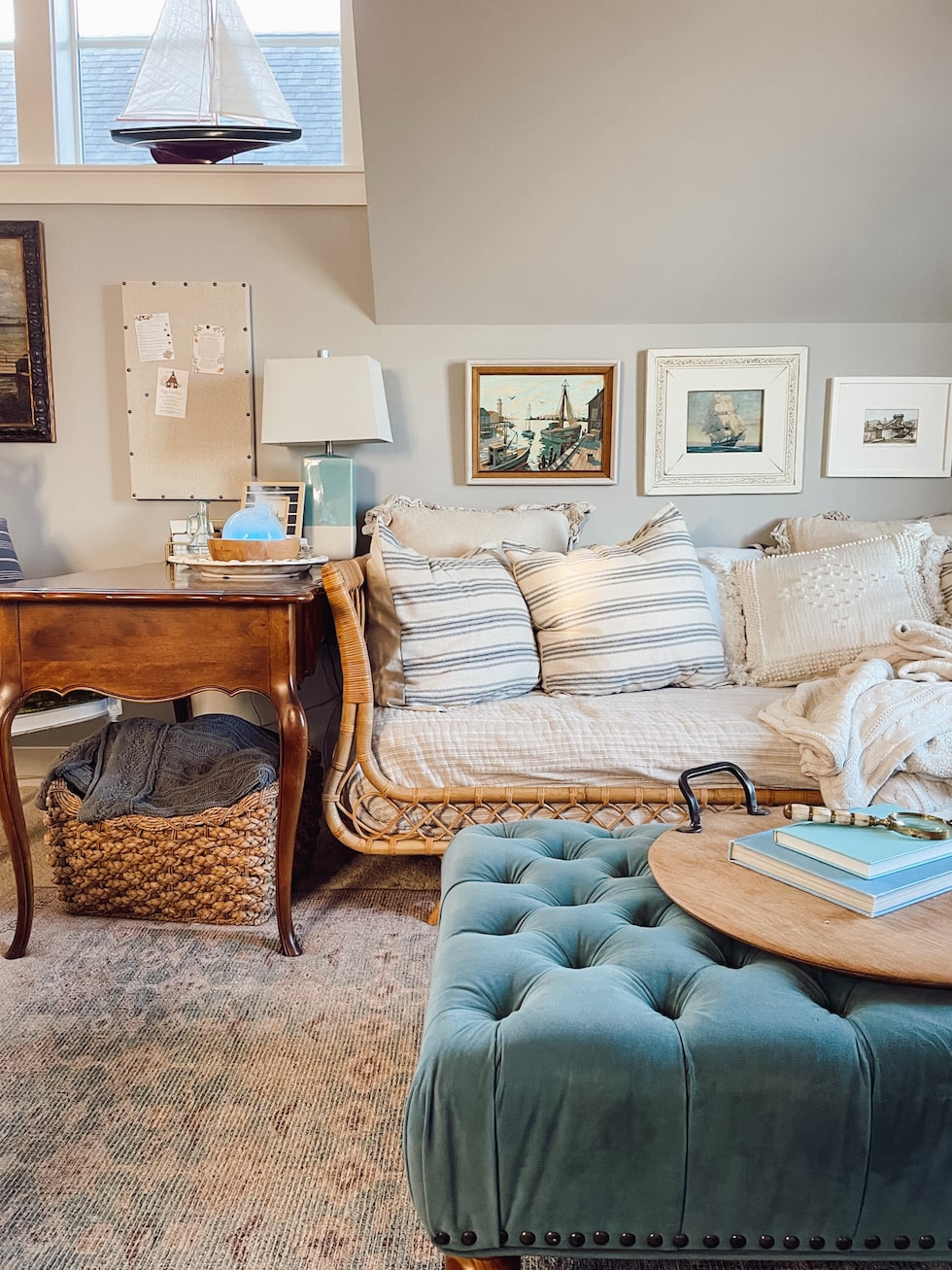 We will probably make some changes in this room over time, but we really just wanted to get moved in and settled with furniture we had first and save other ideas for the future. We did get a few new things like a floor lamp, a couple of wicker storage trunks, a pretty pleated lampshade, pillow covers, art, bedding and added two smaller new rugs in here to help pull all the random pieces together and make it feel a bit more cozy and functional.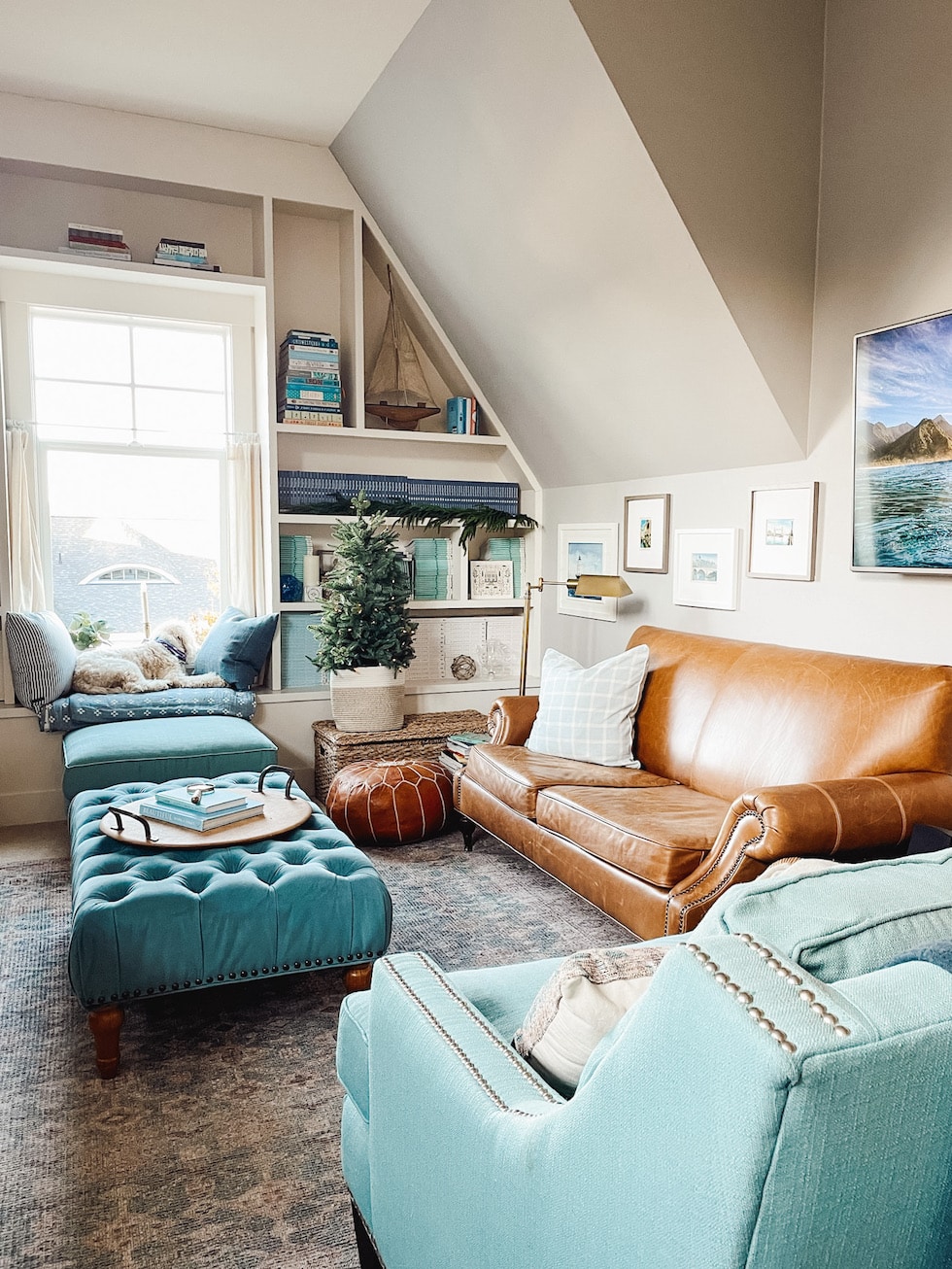 The rattan daybed has been a favorite piece for the past six years or so (used in our living room, son's room, and guest room at the old house!). The tufted ottoman we've had for years and years (find similar tufted ottomans in this blog post), the leather loveseat (our leather loveseat isn't available anymore but it's from this line), my mom's wood desk, a teal chair we had in our old house, our rattan bookshelf that was found at a flea market two homes ago, etc.
If you've been following for awhile through our past two moves, you may recognize many of these pieces. We really do try to get good use out of what we have and things we buy! 🙂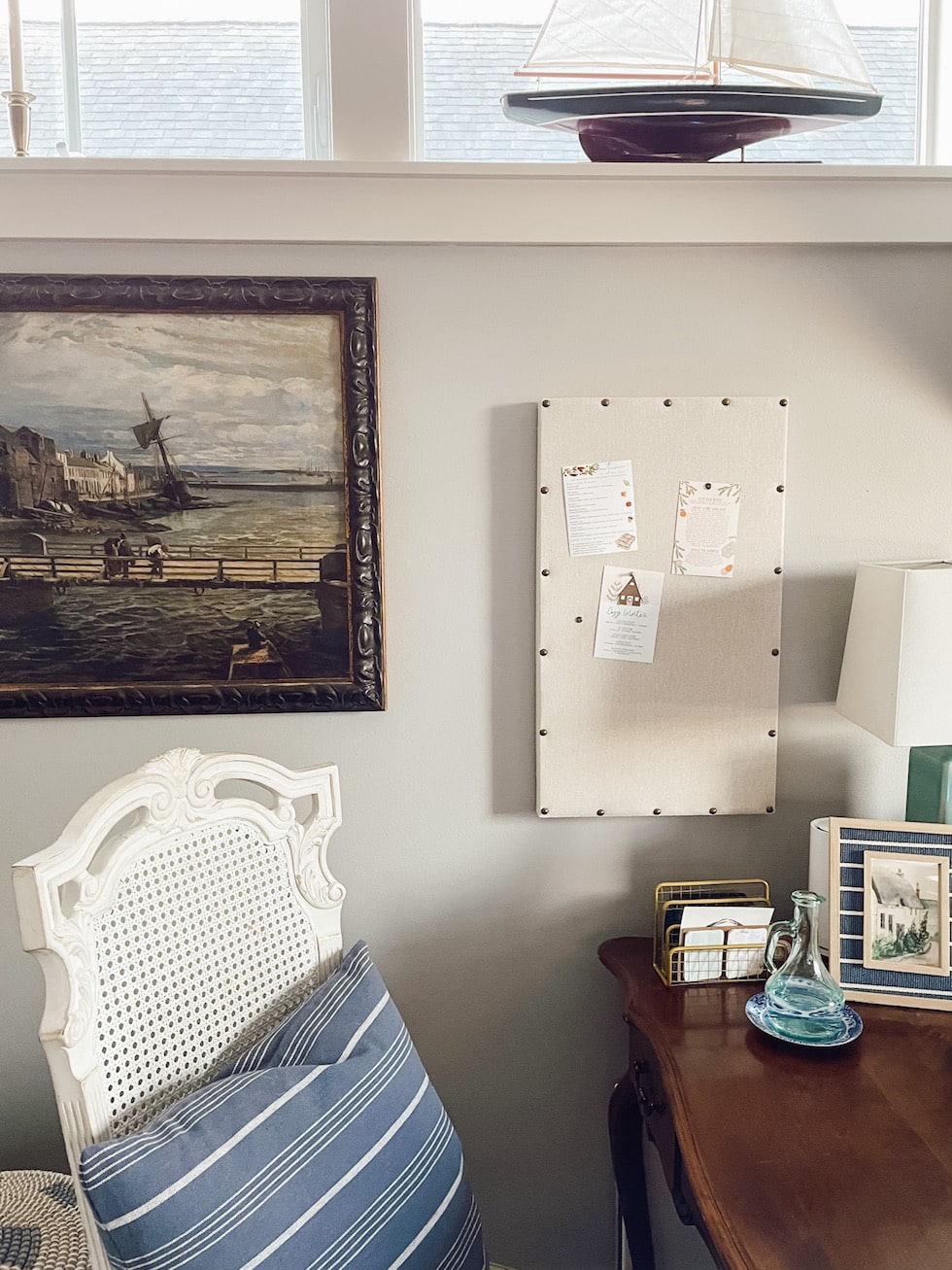 To make The Snug a bit more functional for so many purposes, we basically arranged the furniture, rugs and accessories in a way that helped divide the one room into task/purpose zones. Now we are able to watch TV, work at a desk, have places for guests to sleep, make use of flexible seating arrangements for family game and movie nights, as well as benefit from a few convenient pieces we use as storage for bedding and work needs.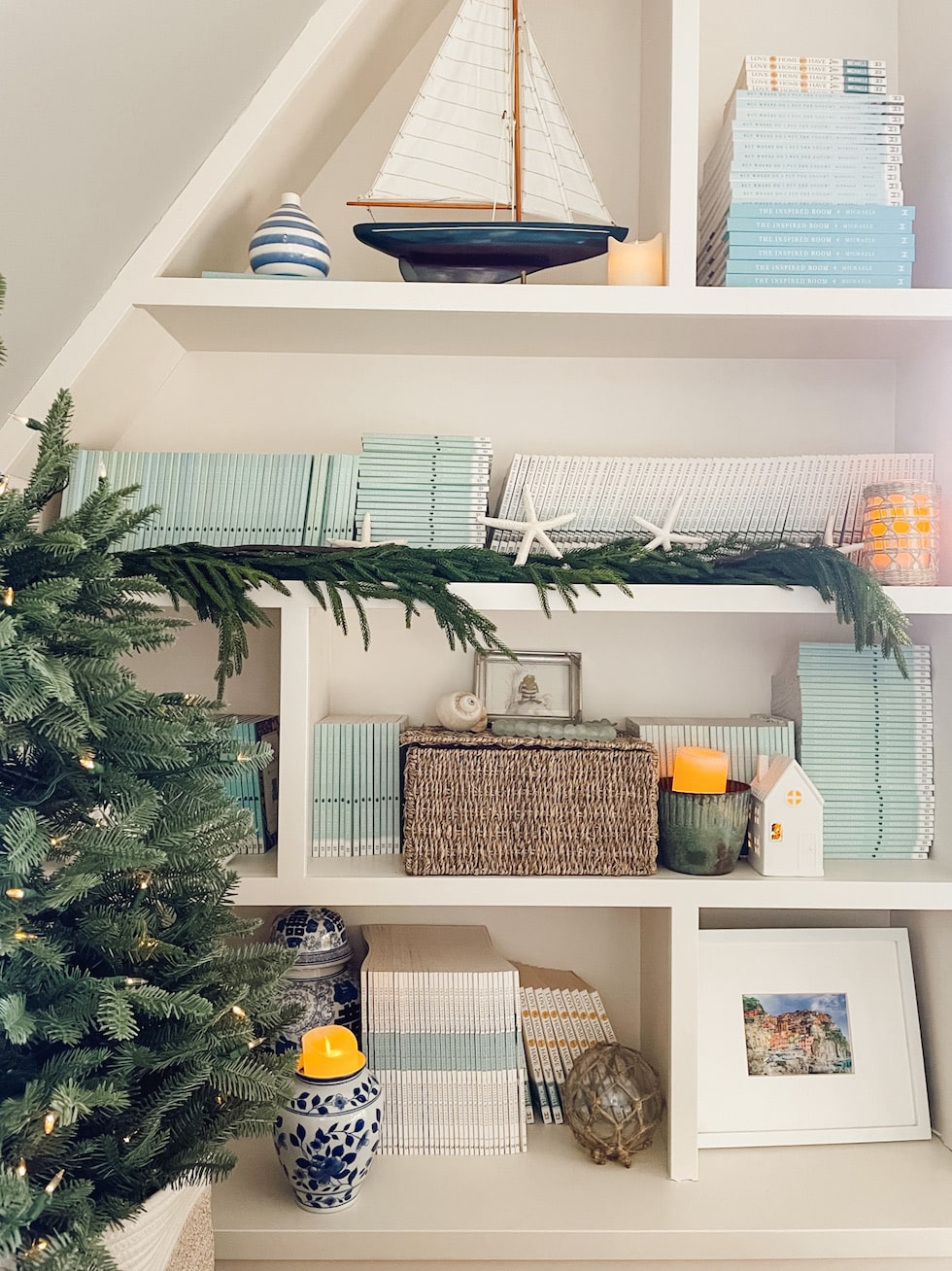 We put this charming yet imperfect and eclectic "use what you have" room to the ultimate test over Thanksgiving and it was a hit! It is cozy and welcoming to be in. Whether I'm in here working alone as I am most days, or inviting twelve or so family members for a movie night, it works for this season of our life.
Do you have a room like this? Maybe a unique multi-purpose space that serves your family in the way you need it to? I hope you feel inspired to use what you have or can find. It's OK to break the design rules to do what works for you!
I will be delighted to hangout here in The Snug all winter, and I can't wait to invite you in (virtually) again soon.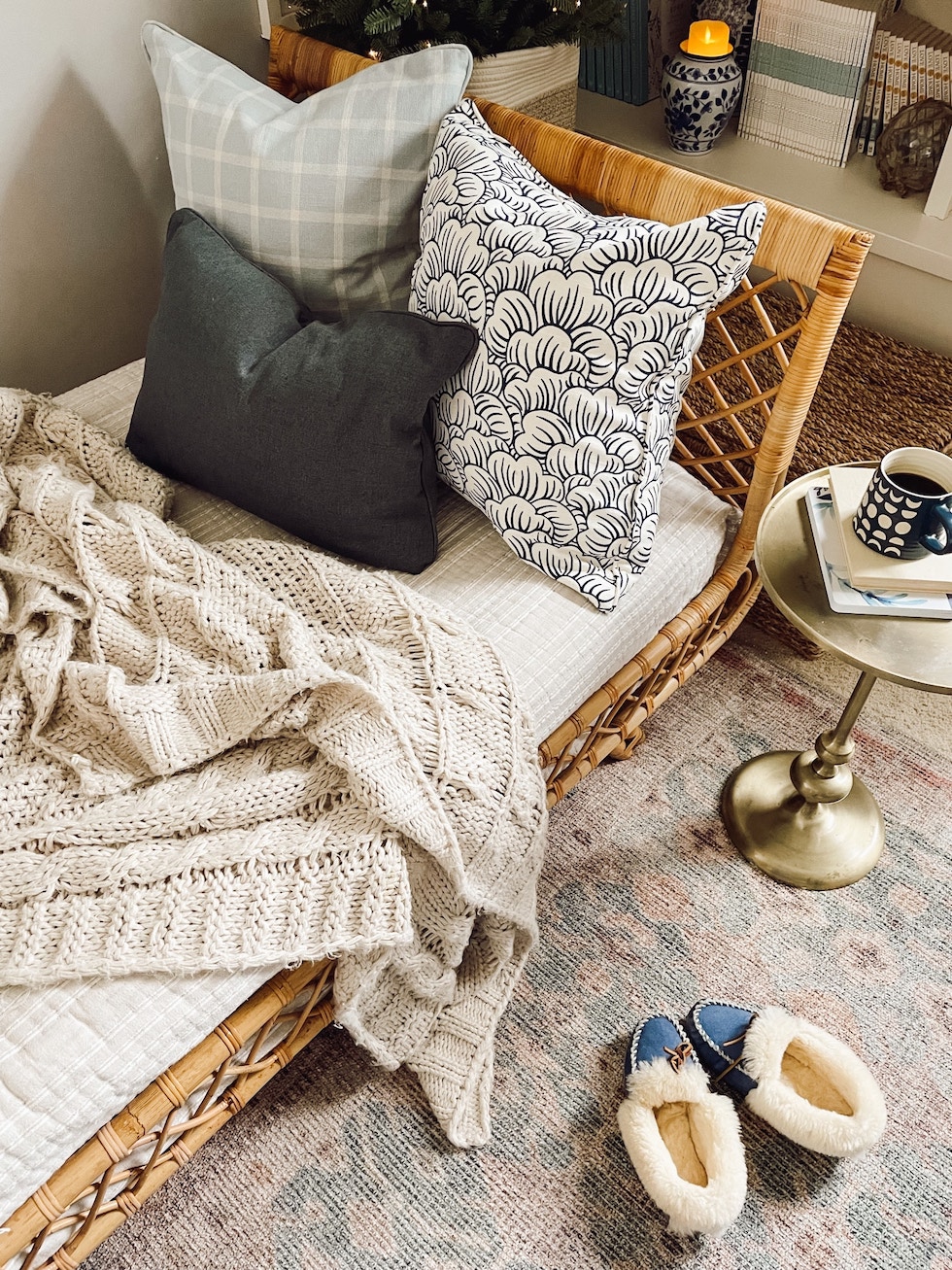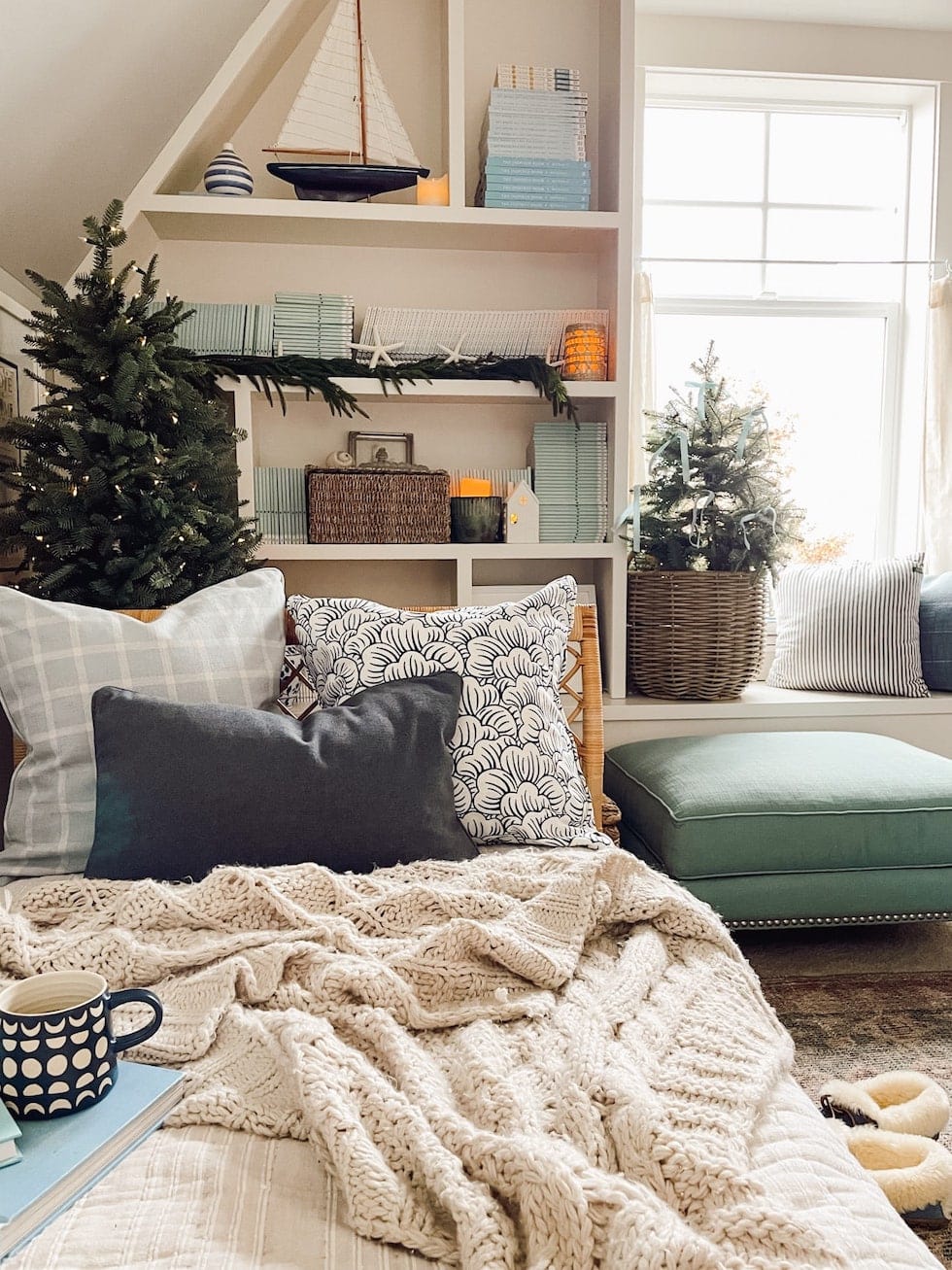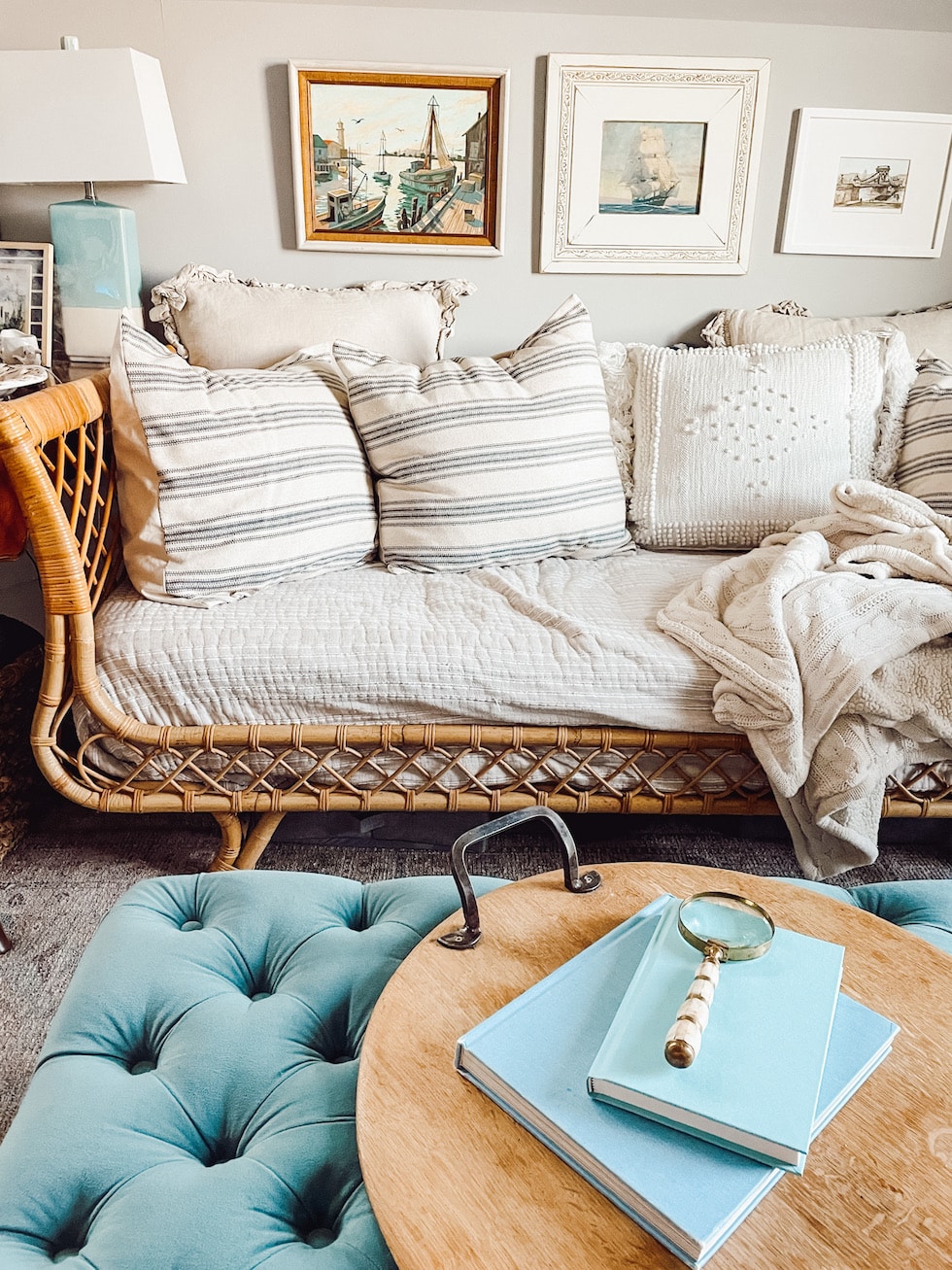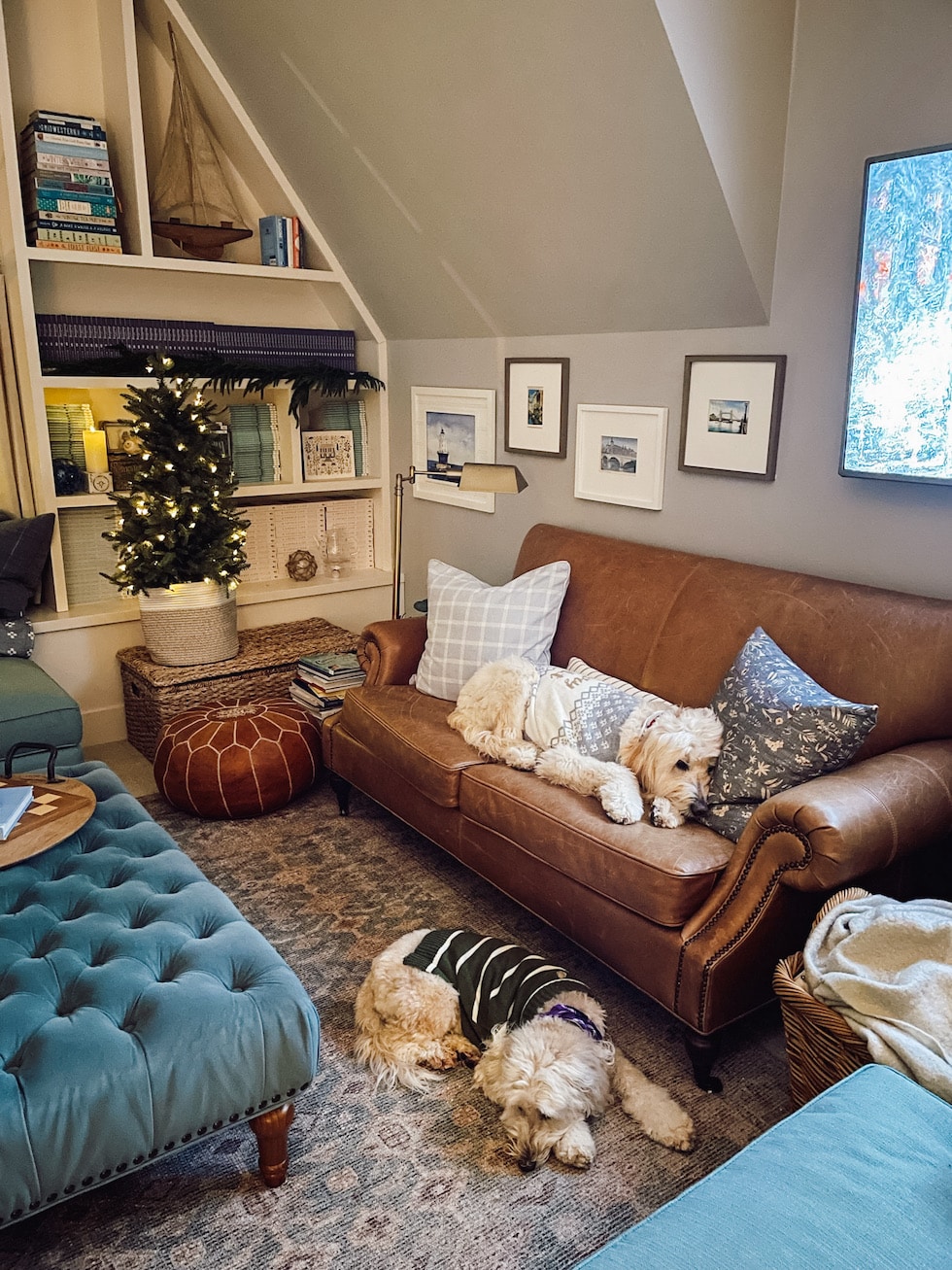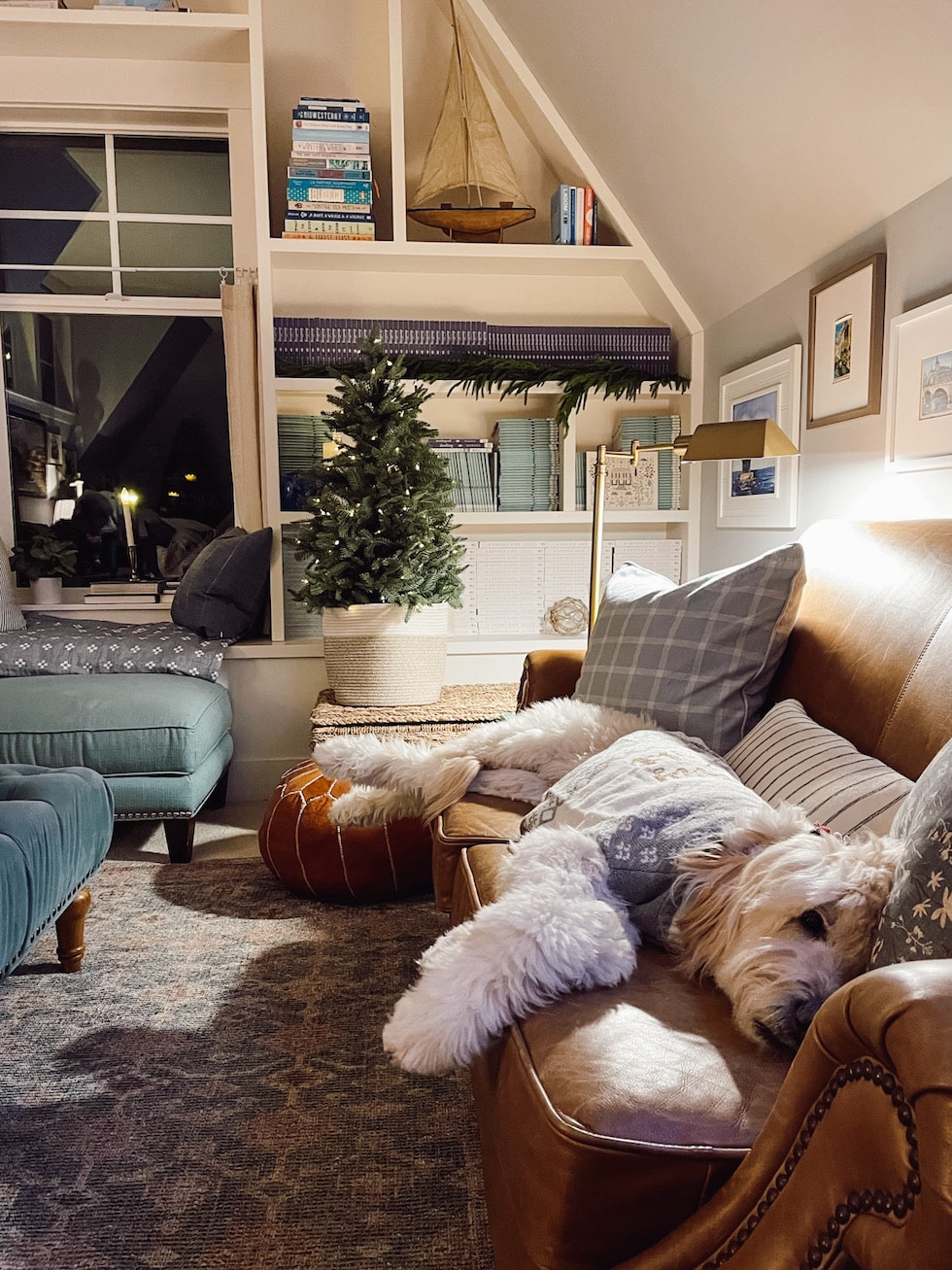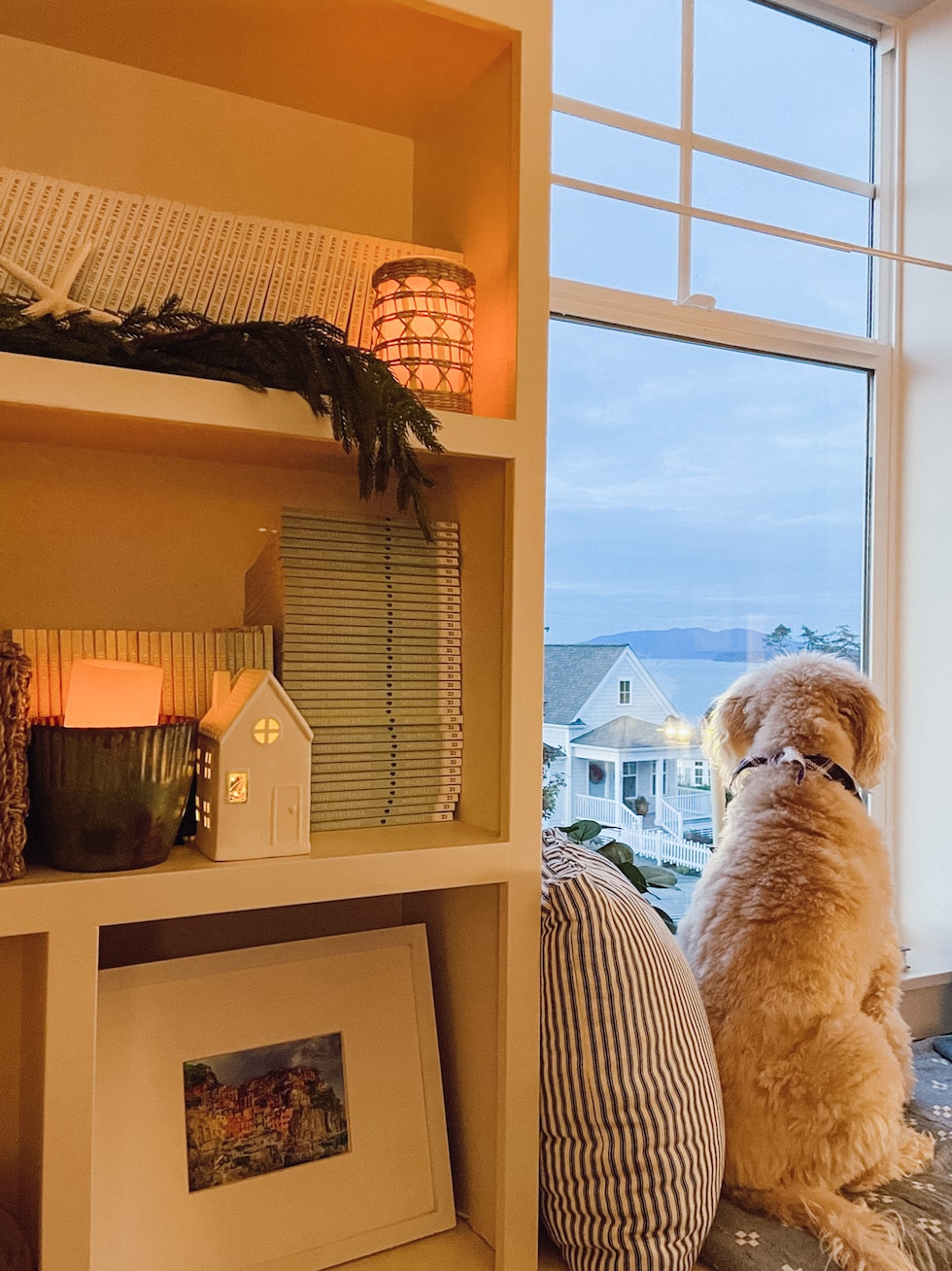 More Posts You Might Have Missed:
Whimsical Winter Bed for Guests: Little Bits of Progress in The Snug
How to Make Christmas More Festive, Magical, and Memorable (10 Simple Ideas)
Last Minute Gift Ideas You Can Get in Time for Christmas
My Early Winter Cottage Bedroom (+ Printable Seasonal Artwork)
7 Simple Ways We Made our House Feel Like Home (in the first year!)

Rattan daybed //// Similar rattan daybed at lower price point
Brass Window Candle – read about why I love these particular window candles here
Striped pillow covers on daybed
Our leather loveseat isn't available anymore but it's from this line)
Neutral Patterned Rug under Guest Bed
Find more sources from my home below!