This Post May Contain Affiliate Links. Please Read Our Disclosure Policy here
Want this season to feel joyful, festive and make more memories in your home as we enter these last couple of weeks before Christmas? Today I'm sharing ten simple ideas for how to make Christmas feel more festive.
"The best winter holiday traditions bring people together and leave a lasting impression. Keep them simple and sustainable, and give yourself permission to let go or evolve to new traditions." – from my book A Lovely Life
A Lovely Life is all about savoring the simple joys in every season. I share lots of ideas in the winter section about making room in life for soul-filling joys, beauty, and people!
The ideas in this post are SIMPLE! A memorable holiday doesn't have to be full of revolutionary ideas, complicated DIYs, expensive experiences or anything elaborate. Take the ideas that feel doable to you and keep them simple and fun…don't worry about perfection! I hope this post today inspires you to make lasting memories with those you love.
Add extra sparkle with lights
We love adding lots of lights to our home for winter! We hung these star shaped Christmas string lights to our railing, these star shaped window lights in our windows, and these Moravian hanging stars (see below). We also have these battery operated copper wire string lights throughout the house. All are on Amazon so not too late if you want to add some extra sparkle!
These hanging Moravian stars bring such delight to our porch! Read more details about our stars here.
Related post: Our Battery Operated Window Candles (A Charming and Cozy Tradition for Winter)
---
Make Christmas treats like cookies or gingerbread houses
You can even make your baking into a competition to make it even more memorable! Write down an 'award' title for each person involved like "most creative", "most colorful" "most sprinkles used" etc. Let each person vote. Everybody wins one! We did this for a gingerbread house competition a few years ago and even printed out little certificates for each person, it was so memorable and fun! You can get gingerbread house kits here, and find pretty gingerbread house inspiration here.
Slow down to play table games or do a puzzle
Our family loves playing games together over the holidays. I shared some of our favorite family games and pretty seasonal puzzles here. We just ordered this festive puzzle–I love the houses!
"We can slow down a hectic rhythm of long days filled to the brim with frantic activity and make room in winter for a more soulful, joyful life". – from my book A Lovely Life
Read the Christmas story around a nativity scene
Reading the Christmas story and setting up the nativity scene were always special parts of our family's Christmas tradition from the time we had babies. It helped us all to focus on the true meaning of the season and made lasting memories! I shared more about our blue and white nativity scene and family tradition in this post.
Bring extra delight to your daily coffee, tea, or hot cocoa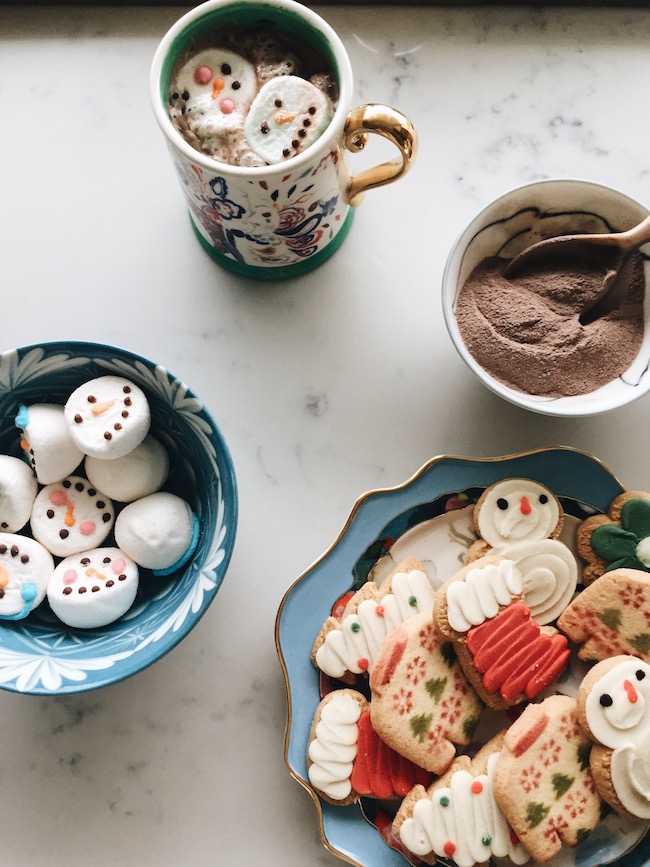 ---
You could even set up a little hot cocoa station with fun toppings (how adorable are these snowman marshmallows?)! I shared this winter cocoa station idea years ago here. Watch the video below for ideas!
---
Hop in the car to look at Christmas lights
Our family loves doing a Christmas light drive! Drive around your own neighborhood, or a nearby neighborhood with festive lights. You could even fill up thermoses with hot cocoa!
Use conversation cards for memorable chats
Spark interesting and memorable conversations with these conversation cards! (I shared more about this Hygge Game in this recent post about conversation starters for holiday gatherings.)
Do a simple Christmas craft
Turn on music to inspire a cozy or festive atmosphere
Music can so greatly impact the way you and your family feel in your home! We have these speakers throughout our house and love to play music throughout the day. Turn on some tunes to inspire a festive atmosphere whether you're hosting a party, having a simple dinner together at home, or even while you're doing household tasks.
---
Make it extra fun with Santa hats, reindeer antlers, elf hats, or Christmas sweaters!
We have a stash of these we bring out for family holiday festivities, because why not? 🙂
Add holiday touches in guest spaces
If you're hosting guests for the holidays, you can add a bit of festive cheer to their space like draping a garland over the bed, tying a stocking to the bedpost, or setting up a mini tree! I also love using cozy flannel sheets in the winter like these adorable patterned ones. I shared about our whimsical winter guest bed in this post.
Still Christmas shopping? Me too! You'll find lots of gift ideas on Amazon HERE that you can still get in plenty of time!
---
---
See more in our Amazon storefront here, you'll find gift ideas in all sorts of categories!