This Post May Contain Affiliate Links. Please Read Our Disclosure Policy here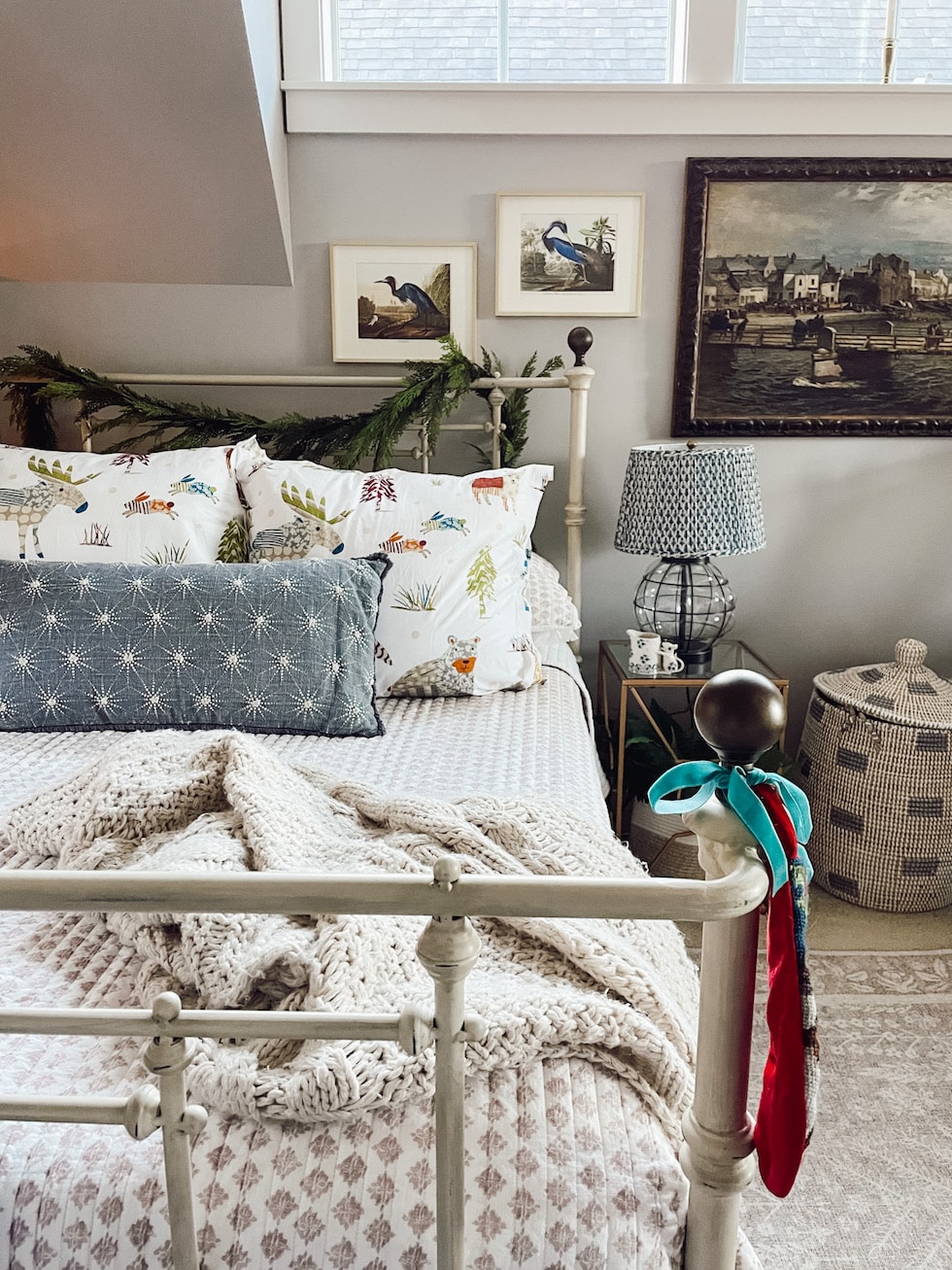 It is snowing as I write this, so it feels like winter has arrived! Time to get cozy in a winter bed. We've been making little bits of progress to this side of our "multi-purpose" room. While that is what it is, I don't like the name "multi-purpose" room. Since I feel the desire to romanticize everything, this room will henceforth be known by all as the "the snug." And that it is. A snug is a cozy room filled with soft furnishings where one goes for peace and relaxation.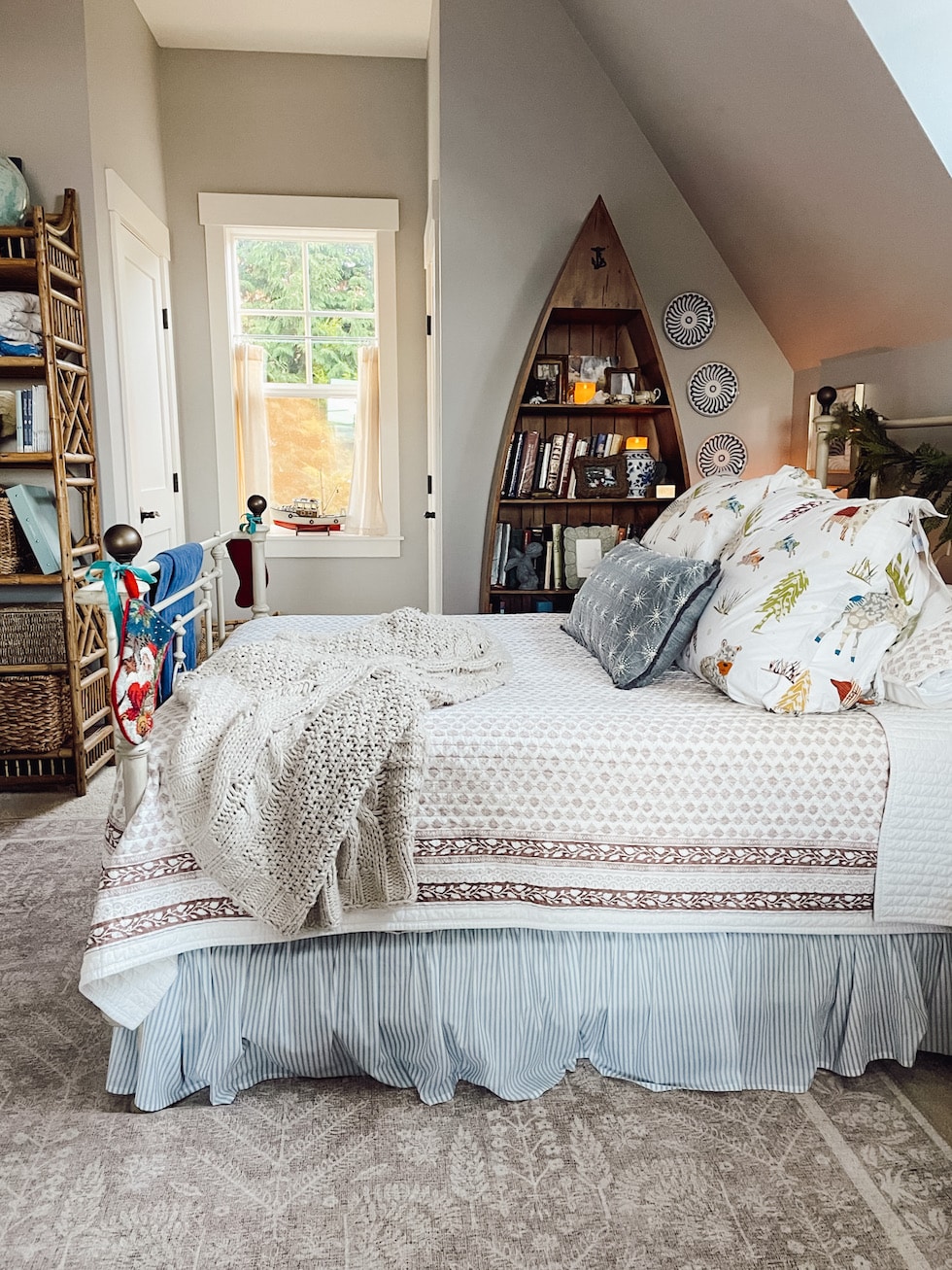 I shared the story of how this room came to house my office, our TV, sitting area, now, also a full guest bed (you can read more about this room HERE and see our whole house "before" tour here). It's not a very big room but it is the largest room in our smallish home so it has to earn its keep! Even though this space continues to evolve and isn't exactly how I originally planned to use it, I LOVE IT! Of course, it will continue to change and evolve as we live here, but that's the fun part.
Since this is our only guest space, we wanted it to have an extra cozy and inviting winter bed for visiting family!
Mixed and Matched Winter Bed
Do you like to mix and match your bedding? It makes it fun to create new looks in every season by swapping a few things in a new way. I also love that because you can buy some extra fun seasonal shams to jazz up your basic bedding, too. I bought each piece we used on our "winter bed" at separate times over the past year! A couple of items are not longer available but we found similar sources for everything we could (see full source list at end of this post).
The shams are just darling for a winter bed, I got them HERE, I'm sad they don't sell these exact ones any longer (but they do have some similar, see below). I got them last year and knew they'd be my favorite as a whimsical touch for a guest bed.
Similar Christmas Patterned Shams (scroll and click below):

---
I bought the bird art on Etsy HERE, and put them in these gold frames. I fell in love with the vintage birds which are very similar to the ones we see near the water. The way our walls are makes hanging art a little different in this room because of the angles and peaks, but I love that about this room! It makes you think creatively and do unique things.
We got the "boat bookcase" as we call it years ago (here's a similar looking one). I'm so glad it found a home in this room, it's such a sturdy and unique piece I'm glad I held onto it all this time. My husband uses it for his books and we tucked in some personal and meaningful items, too. In a world where there is so much styled perfection, I love the "un-styled" realness of it.
The garland adds a bit of holiday cozy to the bed, don't you think?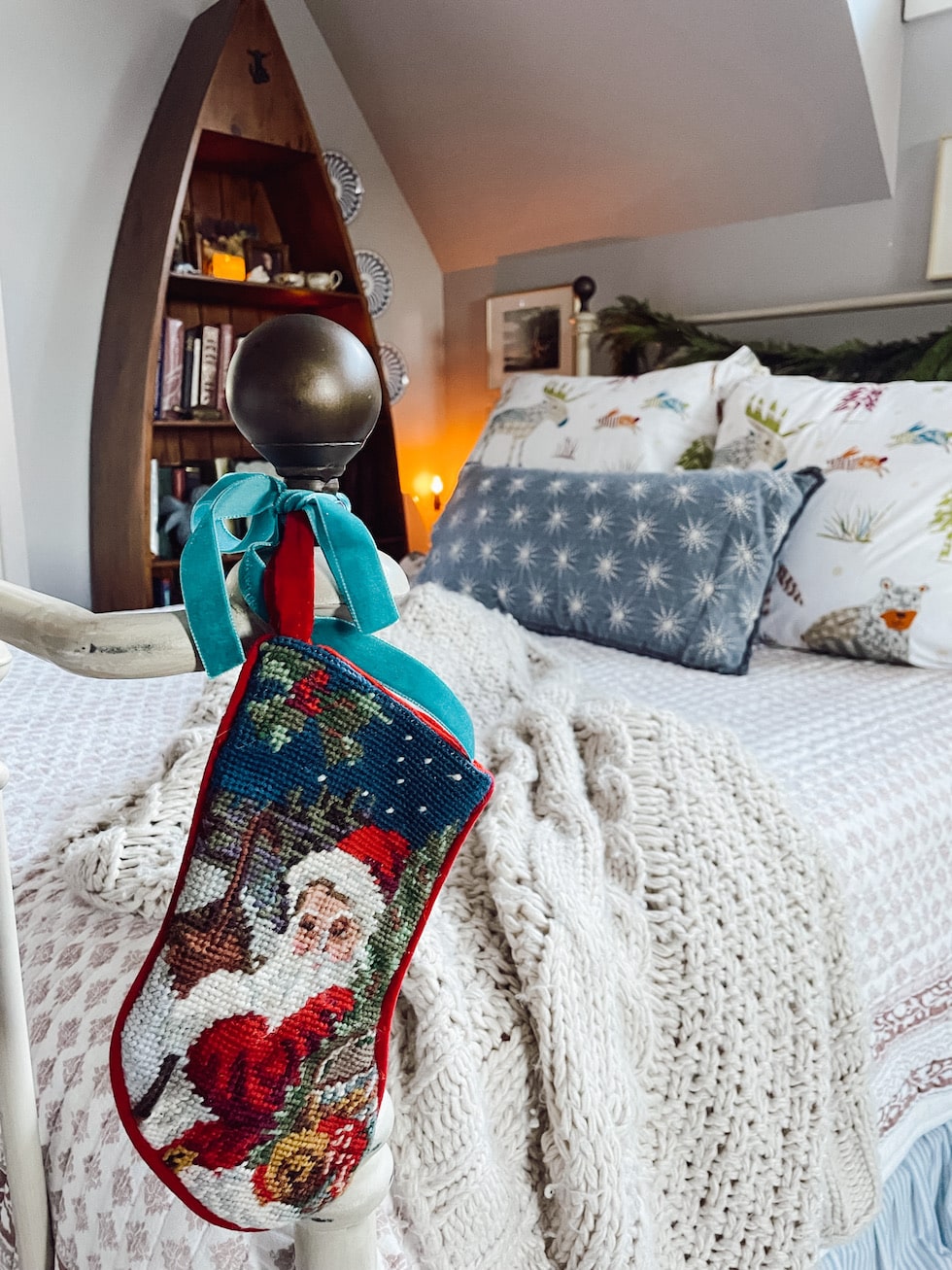 When my girls were very young my Aunt bought my husband and I these needlepoint stockings. She always got us a Christmas item, which made us so happy especially since we were just establishing our own traditions! I just tied one on each side of the bed with this pretty teal velvet ribbon. Here are two similar stockings: Similar needlepoint stocking // Similar stocking also on Etsy
We use some visual tricks to make each part of this room feel more cozy. Our original painting of the sea is a lovely divider here between the "guest nook" and my "office" and family room. The colors of the new bird art and the painting really coordinate nicely but help lead into that "separate space" feeling as well.
This is technically the guest bed but it's so wonderful to have a spot to relax or read when guests aren't here!
Of course, Lily thinks this is HER winter bed! I can't blame her. She is a girl after my own heart, always looking for the coziest prettiest spot. I'll let her think it's all for her, as long as we don't have visitors :). I hope our "snug" and winter bed inspire you to embrace the space you have and make it cozy for your family.


Paint color: Smoked Embers Benjamin Moore, eggshell
Christmas shams – here are similar shams, I got mine from the same store. Pottery Barn has similar shams like these as well.
Metal bed – here is a black metal bed with a very similar shape, and a similar white metal bed.
Bird Art in these gold frames.
Needlepoint stockings: Similar needlepoint stocking // Similar stocking also on Etsy
Boat Bookcase – here's a similar one (mine is old Birch Lane)
Mauve quilt and matching mauve shams.
Blue and White Floral Lamp Shade
Faux Fern in Woven Plant Basket
Blue and white star pillow is from here (my exact is out of stock).
Blue and white striped bedskirt
Blue and White Plates on Wall hung with these plate hangers
Find more sources from my home here in my shop.
---
A few recent posts on the blog (in case you missed them):
The Tale of Our Striped Armchair
Little Bits of Progress (My Blue and White Checked Curtains + Bird Art!)
7 Simple Ways We Made our House Feel Like Home (in the first year!)
How to Make Christmas Garland Look Extra Full and Festive | And 25 Simple Ideas to Try
The Tradition of the Moravian Stars on our Porch (4 Reasons Why We Love Them!)
Battery Operated Window Candles: A Charming and Cozy Tradition for Winter
Make sure you're subscribed to my newsletter HERE to stay in the loop and get exclusive content!