It is always a great pleasure to visit the Atlanta Holiday Home hosted by Atlanta Homes & Lifestyles magazine. A lot of work goes into these homes and it's always fun to walk through and see them all decked out in beautiful furnishings and also festively dressed for the holiday season.
As is usually the case, this year's Holiday house is in Buckhead, the prestigious neighborhood in Atlanta that has beautiful architectural homes and is home to the GA Governor's mansion. This newly built home is a contemporary take on an English estate and is filled to the brim with beautiful architecture and design. Some of the finest designers in the Southeast have come together to make this house a show stopper. I think you will enjoy it!
The house is designed and built by Harrison Design and KBD Construction. The 14th annual showhouse in the heart of Buckhead is situated on one acre with a finished basement and is the second collaboration between the respected architecture firm and developer for an Atlanta Homes & Lifestyles signature event. The charity beneficiary of the showhouse is Children's Healthcare of Atlanta.
The house is open to the public for tours through December 11th, so be sure and get tickets if you want to tour this year. It's a fun way to spend an afternoon.
With more than 10,500 s.f., the home features 5 bedrooms, six full baths and three half baths on three levels.
All the holiday florals on the outside are by Dan Belman and Randy Korando of Boxwoods Gardens & Gifts, a wonderful shop to visit if you've never been.
This mailbox swag is outstanding!
As is the front door swag and beautiful urn with tree.
Welcome to the 2022 Holiday House!
Foyer & Hallway, Dan Belman & Randy Korando, Boxwoods Gardens & Gifts
Dining Room: Lauren DeLoach, Lauren DeLoach Interiors
That's a wine cellar behind the glass doors.
Living Room: Janie Wilburn, The Jane Group
Kitchen & Keeping Room: Lauren Davenport Imber, Davenport Designs. Ltd.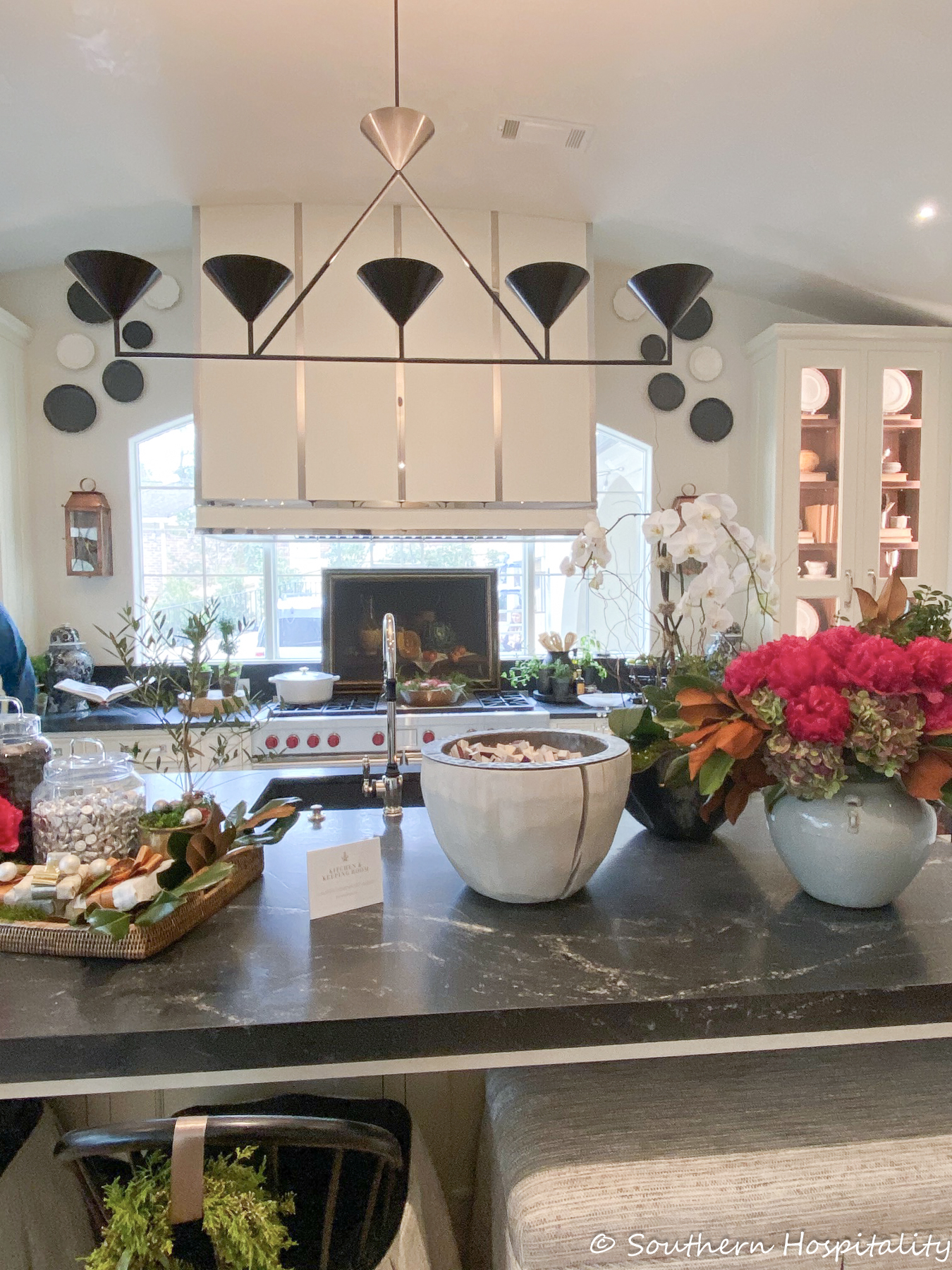 Mudroom & Public Powder Room: Kati Hardwick, B.D. Jeffries
Scullery, Pantry & Powder Room: Amber Guyton, Blessed Little Bungalow
Amber was on the influencers tour when to High Point in spring. She's a delight and I loved her space!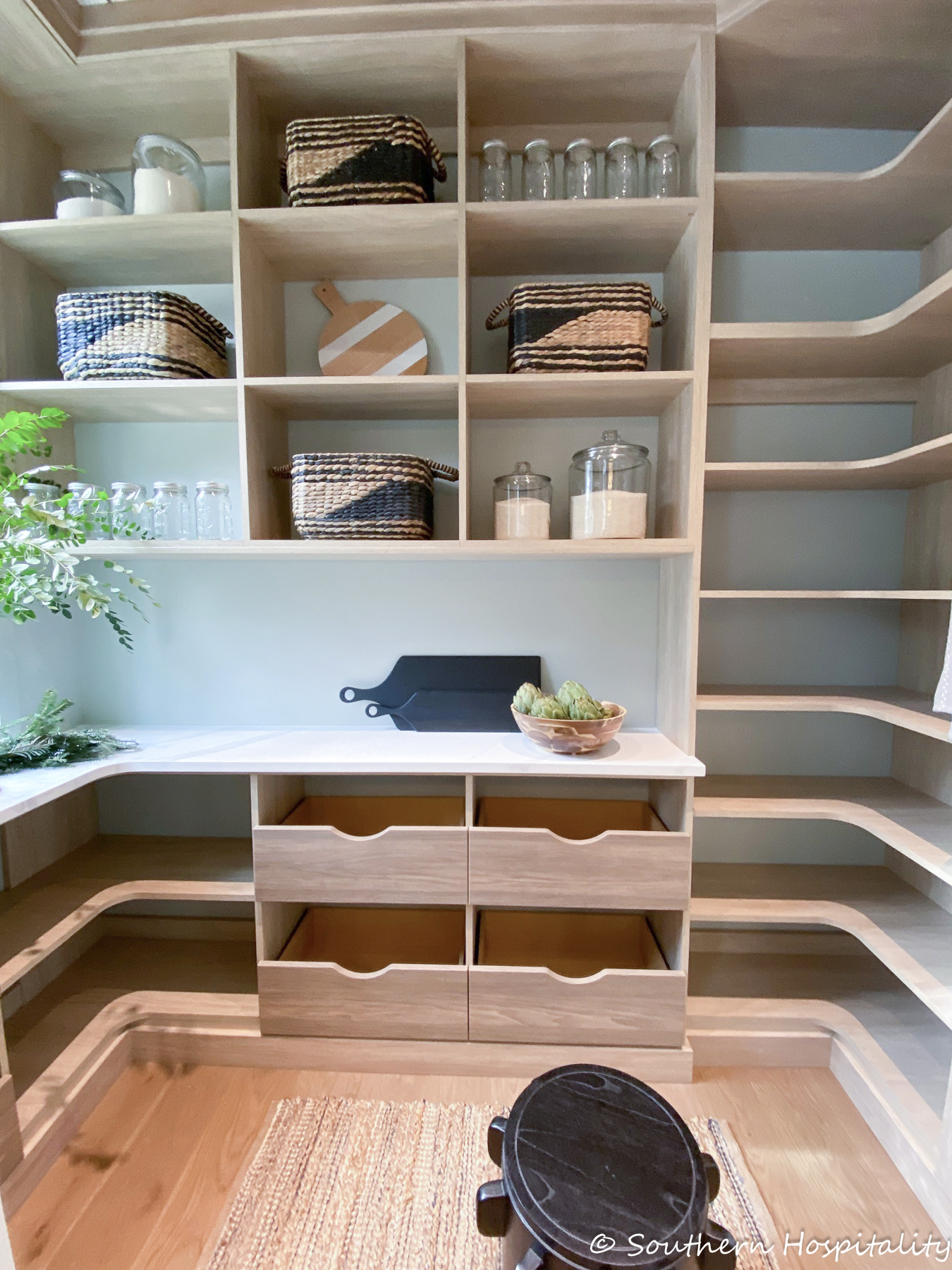 Primary Bedroom: Patricia McLean, Patricia McLean Interiors, Inc.
Primary Bathroom & Closets: Sande Beck, Sande Beck Design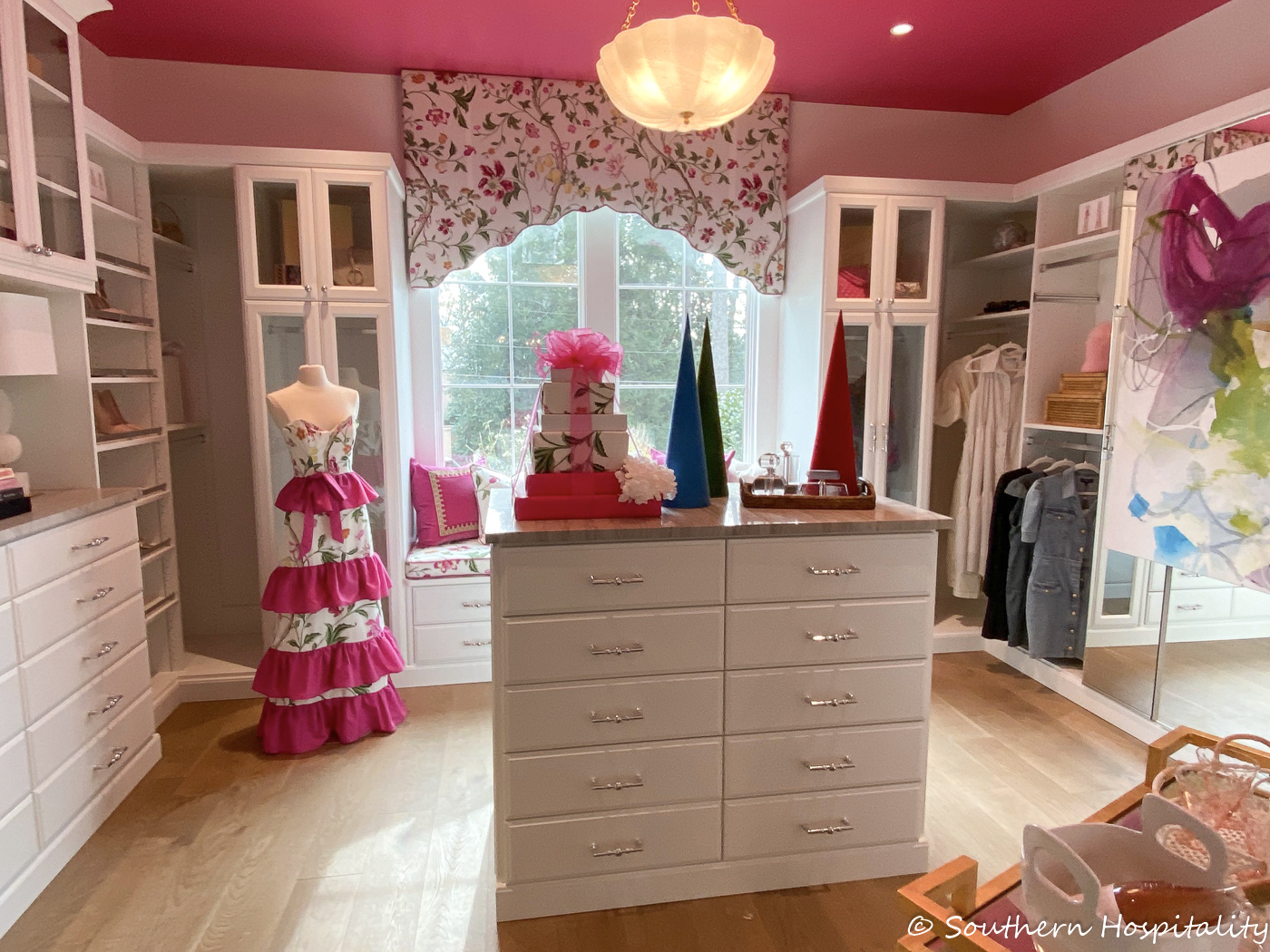 Library: Jessica Bradley, Jessica Bradley Interiors
Stair Hall, Upstairs Laundry, & Hallway: Crystal Corder, Crystal Corder Interiors
Upstairs Lounge: Tavia Forbes & Monet Masters, Forbes Masters
Bedroom & Bathroom #1: Kerry Howard, Howard House Interiors
Bedroom & Bath #4: Whitney Tingle, Madi Gray & Leigh Ann Harris, Christopher Collection
Bedroom & Bath #2: Evan Millard, Millard
Bedroom & Bath #3: Chris Holt, Holt Interiors
Lower Level Game Room: Elizabeth McKay, Venture Games
Loggia & Pool Deck: Universal Furniture with Grayson Pratt
You know I loved this covered porch with all the blues & greens!
The artificial turf was being installed around the pool. Brought back memories of ours!
I missed one space that I see on the house map. The upstairs guest suite above the garage, designed by Trudy Stump, Heather Parker, & Wren Caples, Huff Harrington Design. Sorry I missed that one, I'm sure it's gorgeous, but I had no idea it was up there.
That's the tour this year for the Atlanta Homes & Lifestyles Holiday Home. I thoroughly enjoyed seeing it in person and I hope you enjoyed the tour too. I'm finishing up my Christmas decorating this weekend and will be sharing it all the next couple of weeks, so stay tuned. It's not that different from previous years, but it's beginning to feel festive around here. Merry Christmas y'all!
Related
Don't Miss a Post, join my list!