Bublé and Mariah named as UK's favourite shower partners ahead of Christmas
Searches for Christmas songs up by 200% in the last three months
52% of Brits admit to ONLY singing festive tunes in the shower from December
Bublé revealed as the duet king of Christmas shower routines, featuring on 30% of the top 10 tracks!
The Top Christmas Shower Songs Of The Year
As searches for Christmas songs have soared by 200% since September, our new study of 500 Spotify playlists reveals the UK's favourites when it comes to creating the ultimate festive soundtrack… for the shower.
We surveyed 1000 festive Brits to find who sings and who doesn't – and, more importantly, which songs are getting sung the most while we enjoy a festive showering!
We can reveal that 78% of those surveyed admit to singing in the shower and an amazing 52% have a personalised bathroom playlist of their favourite Christmas shower songs – that they play exclusively from December 1st.
The Xmas Shower Playlist Top 10
So which festive tracks made it to the top ten and into our shower showtimes?
We delved into 100 "Christmas Shower Playlists" (yes, of course they are a thing!) and found those that featured the most to give you the ultimate top 10 Christmas shower songs.
All I Want for Christmas Is You, Mariah Carey
Jingle Bell Rock, Bobby Helms
Rockin' Around the Christmas Tree, Brenda Lee
Last Christmas, Wham!
It's Beginning to Look a Lot like Christmas, Michael Bublé
We Wish You a Merry Christmas, Pentatonix
Santa Tell Me, Ariana Grande
Sleigh Ride, Ella Fitzgerald
Christmas (Baby Please Come Home), Michael Bublé
Holly Jolly Christmas, Michael Bublé
Showering Christmas Tunes
Unsurprisingly, the "Queen of Christmas" herself, Mariah Carey, came out on top with her 1994 classic "All I Want For Christmas, Is You", which featured across 15% of the festive shower playlists.
With it's catchy lyrics and simple tune proving too much for people to ignore, in second place – and with a whopping 556,108,387 listens on Spotify – was "Jingle Bell Rock" by Bobby Helms.
Brenda Lee landed in third place with "Rockin' Around The Christmas Tree" – featured in iconic films such as Home Alone and Deck The Halls – a family favourite that is here to stay and that's bound to get dad shouting into his shampoo bottle.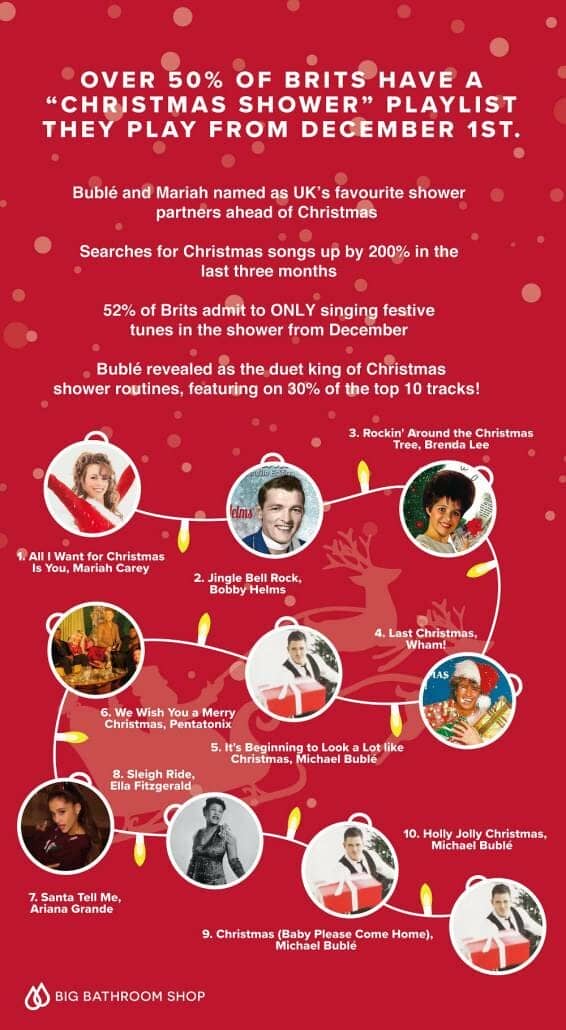 It May Be Mariah's Shower, But It's Bublé's Bathroom
Although he may only have just crept into the top five with "It's Beginning To Look A Lot Like Christmas", it appears that Michael Bublé (or maybe Mr Bubbles now?) is the nation's favourite festive duet partner.
The Canadian crooner's voice features on 30% of the top 10 festive tracks – so while Mariah may be queen of the shower duets, it is Bublé that is the boss of the festive bathroom ballad.
We took the time to do this research to learn a little more about bathroom behaviours, and how Christmas really does take over every area of our lives.
We often argue over when it's appropriate to start singing Christmas songs, and it was interesting to see that so many Brits have specific dedicated playlists to make showering more festive.
According to our research, December 1st appears to be the main date for people to start adding a more festive touch to their shower playlists – but when do you start singing about Christmas?
Let us know which songs you're singing this year and if you have a favourite Christmas shower song, in the comments below!

John trained in journalism before joining the Big Bathroom Shop team. His exceptional journalism skills allow him to meticulously research bathroom topics and bring you the very latest news and views on all things bath and shower related. He's also a dab hand at Scrabble!