This Post May Contain Affiliate Links. Please Read Our Disclosure Policy here
Decorating an entire room can be expensive or a lot to think about at once, but I usually find that a few updates in a corner seems more doable. Plus it gives you a sense of accomplishment, even if you are waiting on other projects!
This corner of our bedroom has had a couple of changes, so I thought I would share even in its imperfect and unfinished state. I'm in no way done here, but I hope by sharing little bits of progress (especially when they are simple) it encourages you to take a few small manageable steps in your home.
I've mentioned that we added these curtains (chambray color) to our bedroom. I will share more down the road about the benefits in making a bold design decision (like a big pattern!), but for now I'll just say I am SO glad I didn't play it safe here. I also love the acrylic and brass curtain rods we chose!
I've loved this room all along (especially the view) but by following my heart, now I feel like I'm really making myself at home here. I wanted to do something in this corner, though, so I've had my thinking cap on for awhile.
Once the blue and white checked curtains were up, I've felt freer to take another step and hang art I love, too! I bought these bird prints years ago, for our last home! I never ended up using them there, so I was determined to get them up on the wall here.
I just love the colors and quirkiness of them, as well as how appropriate they feel for the coastal area we live. With the curtains in place, it felt right to keep going and make this corner even cozier. I found some simple brass gold frames for the art (to complement the brass rod brackets) and to bring that pretty texture and tone around the room.
My husband hung the art for me because he cares about precision. I would have just eyeballed it hahah. The art prints came in a set of six, but we ultimately decided to use just four here. I may hang another nearby, we'll see.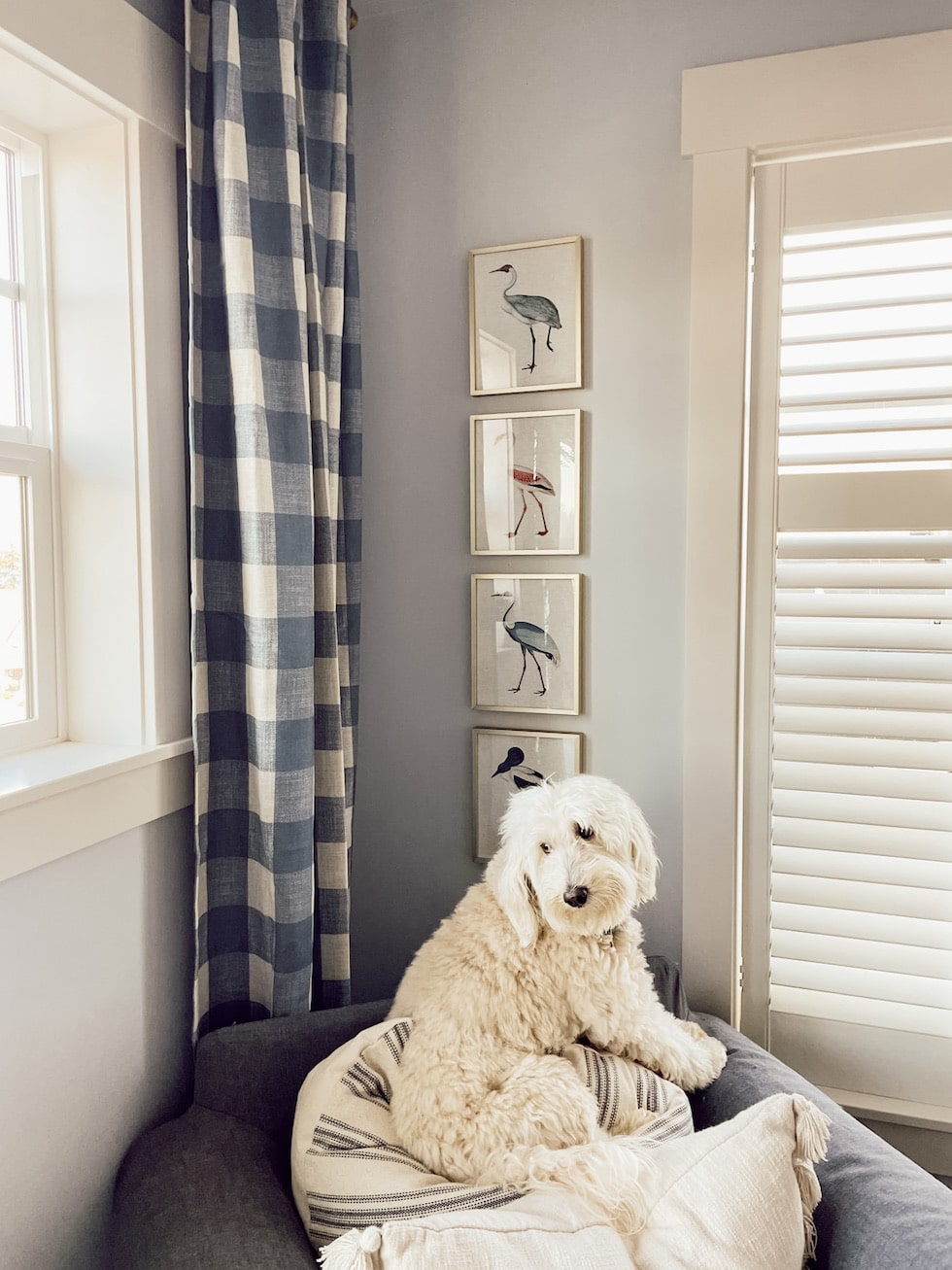 The chair was in the house when we bought it (one of the three IKEA Ektorps, and the only one we have left since we gave two to our daughter when we bought our new striped chairs for the living room). The dogs LOVE this chair, it's super comfy here. So for now, it's staying. It may get a new slipcover or it may be replaced down the road, but I'm moving onto other decisions for the time being.
Soon I'll show you some other simple changes I made for winter on our bookshelf!
More recent house update posts:
The Tale of Our Striped Armchair (and how a Christmas tree helped me make a design decision)
7 Simple Ways We Made Our House Feel Like Home (in the First Year)
Our DIY Porch Wall Lantern with a Flickering Candle Bulb — Without Electricity or Gas!
Battery Operated Window Candles: A Charming and Cozy Tradition for Winter
Looking for something from my house? Find sources here!