As you scroll through the kitchen images on Houzz and other décor websites, you can get lost. The countless countertop colors and styles become intoxicating. Sprinkle in countertop finishes, and you really have a conundrum. We can help narrow down the latter to 2 finishes that offer instant beauty and style. The Cambria Matte™ and Cambria High Gloss finishes will create a unique look that will define the space as traditional, earthy, glamorous or all-of-the-above.
There are 5 uber-popular Cambria Matte designs that mimic natural stone for a 'marble' effect, imparting an old-world charm that echoes centuries past and will last just as long. Mesmerized by the glitz and glam of a high gloss finish but not certain whether it's right for your Lehigh County residence? No worries. In case you're thinking about countertop installation, with these 10 Cambria quartz designs you'll easily find what truly speaks to you.
5 Cambria matte designs
Annicca Matte™
The dramatic look of Cambria's Annicca Matte brings a natural marble look with a twist. Dusted with reflective purple flecks that illuminate with brilliance to give your kitchen dimension and interest. Thick rivers of taupe splatter this foamy white backdrop for a theatrical effect in your kitchen's décor.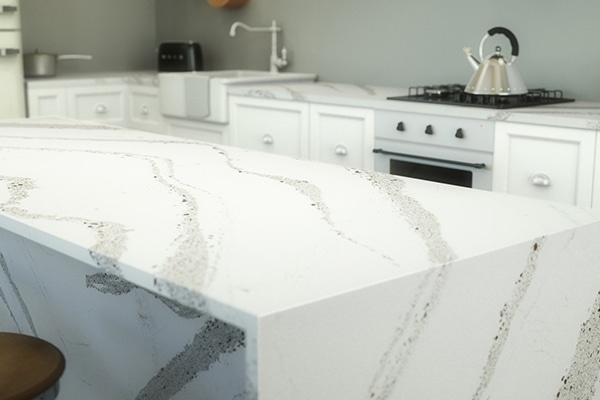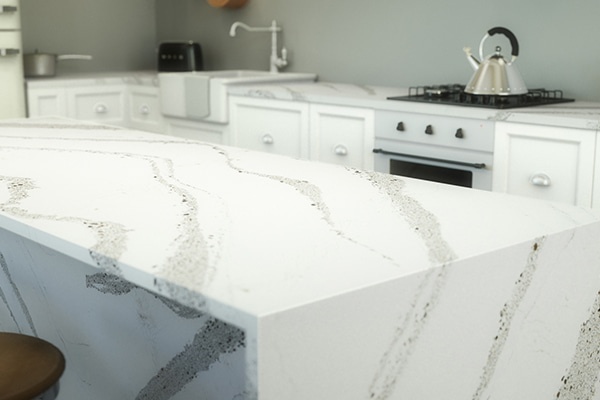 Clareanne Matte™
This smoky colored design offers a softer touch in matte. Clareanne Matte includes just a whisper of white throughout, creating a 'farmhouse fresh' showplace. It's the subtle taupe backdrop that allows the other elements in the room to take center stage. Clareanne Matte is also a great alternative to concrete.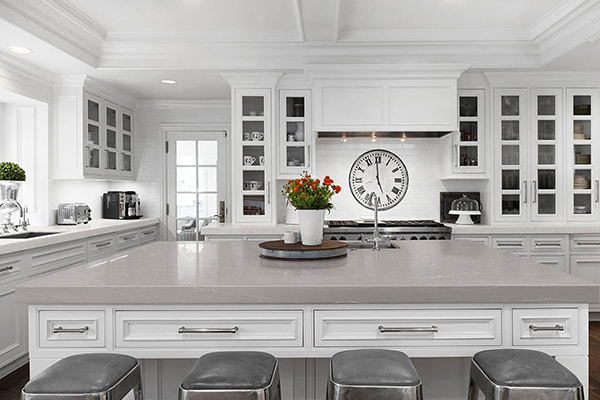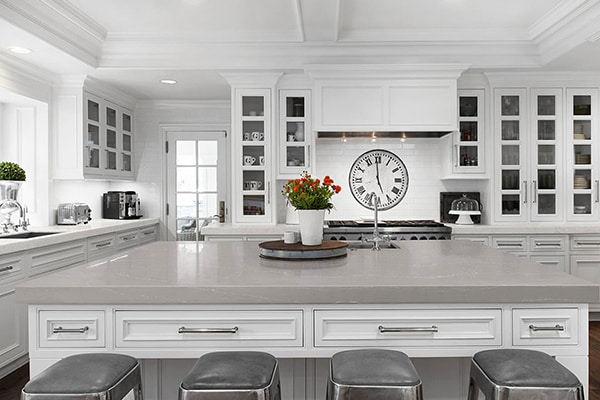 Rosedale Matte™
Cambria's Rosedale Matte bathes your room in contrasting beauty, instilling a fashionable contemporary vibe. The deep swirls create luxury and the essence of style. Rosedale Matte's contrasting black and white tapestry coordinates well with white, black or sleek gray cabinetry for the modern kitchen motif.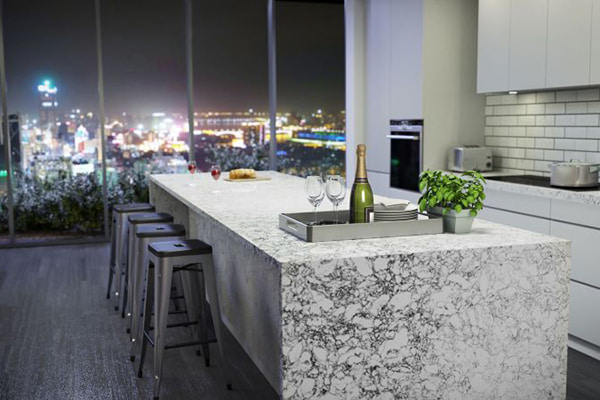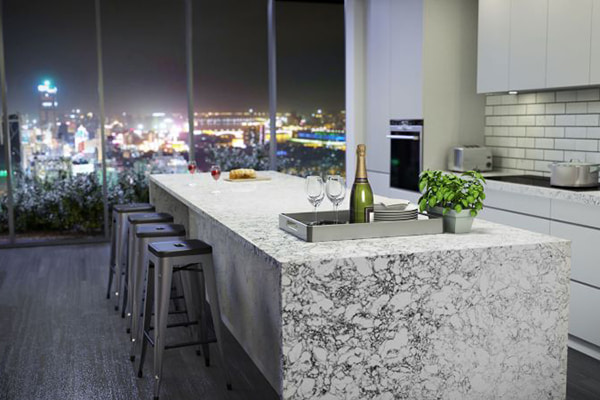 Blackpool™
When searching for something attention-grabbing, look no further than Cambria's Blackpool design. This solid black matte-look provides an exciting presence. Unadorned by a hi-gloss finish, offered only in Cambria Matte, the rich black hues emit a sheen that reflects the natural light. Blackpool instantly grounds the design, drawing your eye in. This rich, black color complements most any cabinet color and enriches the room by its sole presence.
Queen Anne Matte™
The cultured, gray hues of Cambria's Queen Anne Matte design creates a monochromatic motif. These gray-brown colors play together to ignite a natural feel. The marbled pattern paired with a matte finish will fashion an earthy, naturalistic flavor in your new kitchen design.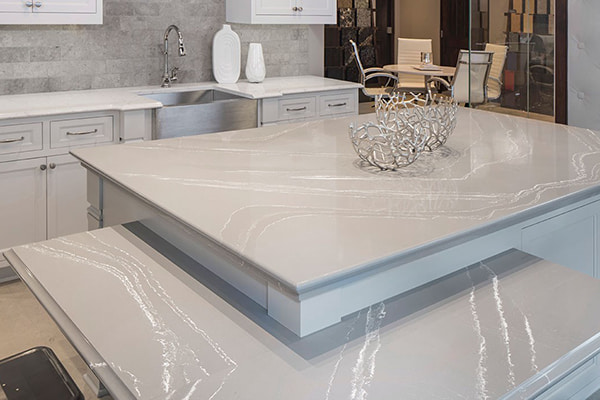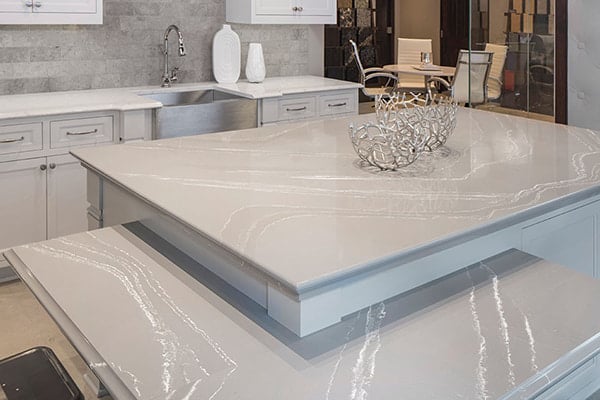 5 Cambria high gloss designs
Windermere™
Cambria's Windermere design is composed of a creamy palette, leaving its beauty simple and fresh. Paired with a high gloss finish, it's the distinct creamy brush strokes that add ambiance and invite endless possibilities to bring color throughout the room's design.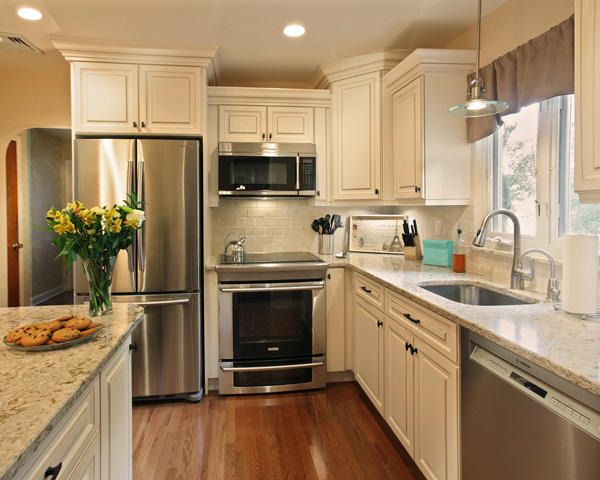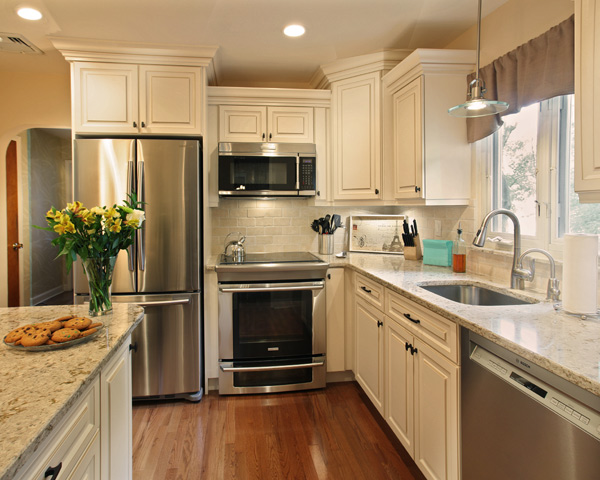 Bellingham™
When looking for a pattern to impress, Cambria's Bellingham design mixes swirls of cocoa, white and charcoal for a harmonious blend of neutrals. Bellingham has an ability to pair with any cabinet style to make your combination unique. Shown here with Chocolate Pear cabinetry, this kitchen oozes sophistication.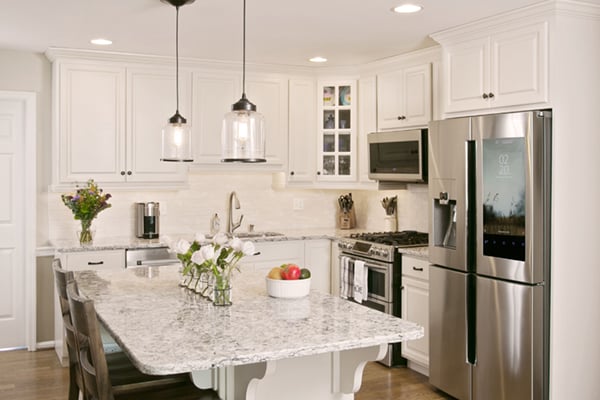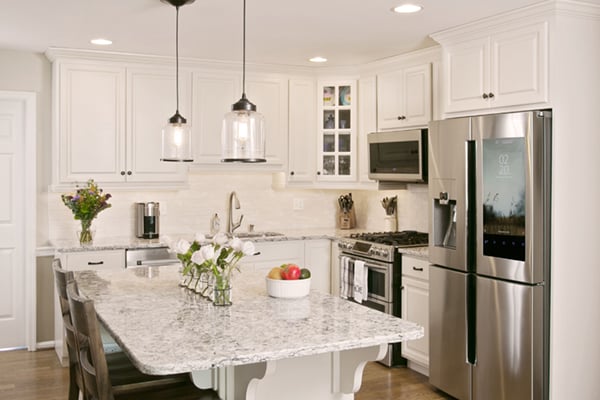 Buckingham™
When looking for a rich color scheme of golds and browns, look no further than Cambria's Buckingham design. An intricate color-weave that magically creates movement and depth. The splashing swirls of color will coordinate well with any wood grain or white cabinetry. Gleaming with bold tones, Buckingham's color scheme will enchant any kitchen motif.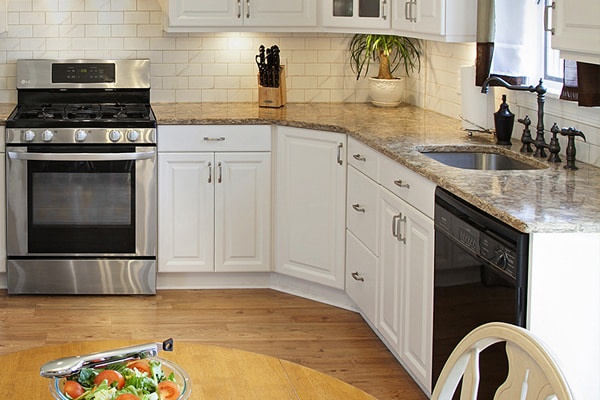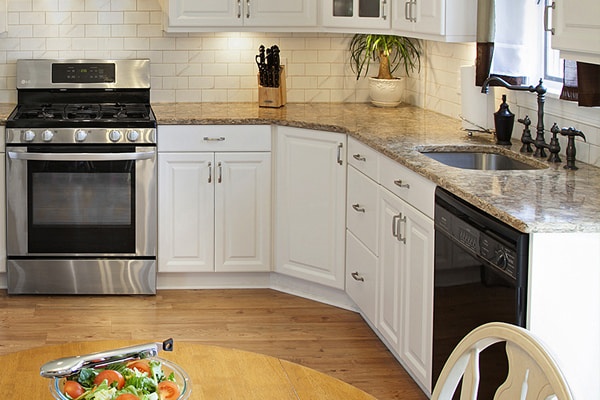 Bradshaw™
When you decide your new countertop should have a feeling of warmth and classic style, consider Cambria's Bradshaw design. Its contrasting palette includes a combination of chocolate and taupe. It's the even distribution of color, churning together, to create movement and depth in the design. The high-gloss finish will ensure the design is brilliantly illuminated.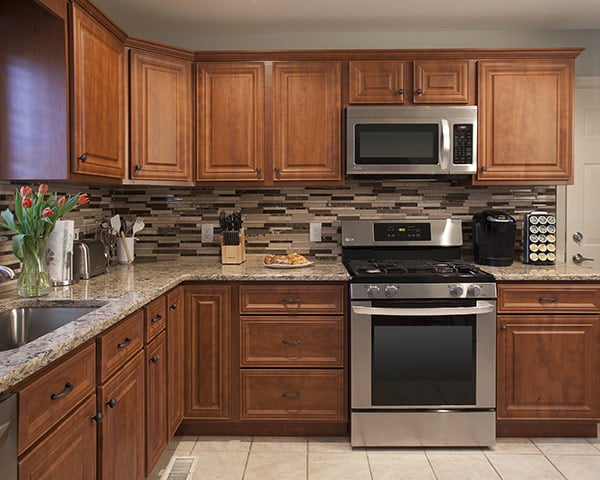 Brittanicca™
Cambria's Brittanicca Design begins with a white base and then is graced with severe strokes of gray for a whimsical elegance. This quartz countertop design becomes one of the room's highlights, providing a fun and shabby-chic style.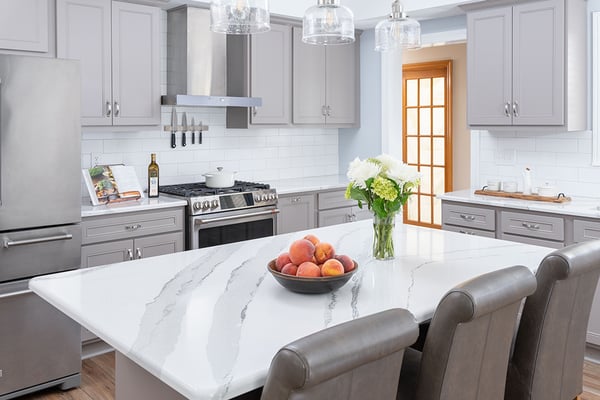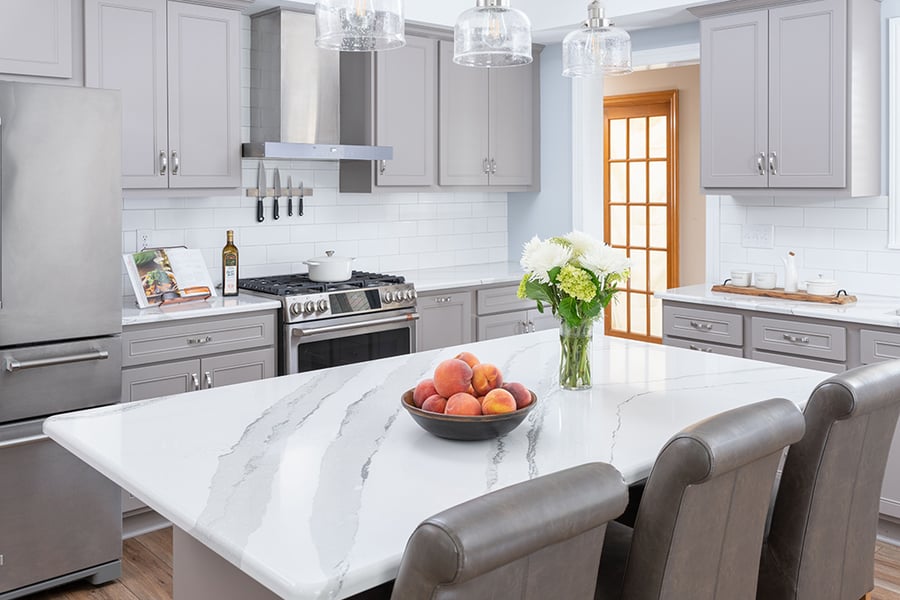 Looking for expert countertop installation in Lehigh County? Call Kitchen Magic!
Cambria's Matte finishes will create a sense of harmony in a kitchen design, offering a distinctive earthy tone, while high gloss will always escalate the room's design to a glamorous showplace. When choosing quartz for your new space, Cambria Matte or High Gloss finishes will take your design from outdated to outstanding.
Ready to start designing your dream kitchen? If so, give Kitchen Magic a call today and arrange a free in-home design consultation with one of our expert kitchen design consultants. No matter if you live in Allentown or elsewhere in the area, you can trust us for quality countertop and installation and replacement services anytime!