Bursting hoses, low-lighting and water hammers are all obstacles — here's how to avoid them.
If you're just beginning your IKEA laundry room design, there are some building tips you absolutely must know. Our entire team thinks so. Why's that? Because these are practical tips that will make any laundry room layout more efficient, functional and safer. These tips include knowing the available IKEA cabinets; safety issues; countertop choices and lighting options, among others. And they may very well increase your overall enjoyment of doing laundry — while simultaneously improving the functionality of your home.
"Laundry rooms these days are migrating upstairs from basements, where they've traditionally sat in most homes. Sometimes these rooms are little more than two appliances and a slop sink in an unfinished space. While this is a step up from rubbing the clothes on a rock at river's edge, most people are seeking a better laundry experience," says IKD designer Frank.
But how do you get that better experience? You start with IKEA's SEKTION kitchen system (SEKTION works for laundry rooms) or IKEA's GODMORGON Series (if there's a wardrobe section in your laundry room) to mix with IKEA cabinets or fronts from third-party custom cabinet manufacturers, like Semihandmade (SHM). SHM's Shaker Night Sky is one example of an available doorstyle. Other examples of suitable IKEA cabinets include mixing IKEA LERHYTTAN base cabinets and IKEA AXSTAD door style for the upper cabinetry (paired with IKEA's ENRYDA brass cabinet pulls) or selecting IKEA's gray-green BODARP doorstyle. Other product options include IKEA's Walnut veneer KARLBY countertops; IKEA MAXIMERA pullout drawers and SEKTION pullouts; and IKEA's STROMLINJE LED countertop lightsor IKEA's VAXMYRA LED spotlight, which is ideal to brighten the inside of glass cabinets.
Whether your laundry room is located in your basement or moved upstairs, our team will make sure you get the most out of every inch. It's these details that will make your laundry room feel more luxurious and less laborious. Let's see how to make your IKEA laundry room work!
We'll Design Your Ideal IKEA Laundry Room Easily, Affordably, and Online
Our IKEA Laundry Room Design Package is everything you need to complete your new laundry room with confidence.
Cabinet Choices
Combining IKEA's SEKTION system with IKEA cabinets is seamless in laundry room designs.
"The right IKEA cabinets can make all the difference in cost, style and efficiency with your laundry room design. This could create open storage or dramatic concealed storage options, such as using IKEA AXSTAD Matte Blue cabinets side-by-side next to the washer/dryer to provide storage of detergents and soaps, etc." says IKD designer Frank.
This was the case for IKD customer Kitty, whose remodeled laundry room features separate IKEA UTRUSTA hanging and storage areas ideal for newly ironed items; complemented by IKEA BAGGANAS brass handles/knobs and IKEA SALJAN 2″ thick oak effect butcher block countertops.(She also cleverly repeated the countertops in the tall IKEA AXSTAD cabinets as a folding area.) A unique 36″ (w) x 10″ (h) x 24″ (d) open cabinet is also featured to store boxes, baskets, etc. Other IKEA cabinets that work well in laundry rooms include: IKEA GRIMSLOV cabinets with off-white doors; IKEA ASKERSUND doors and IKEA KUNGSBACKA black-stained doors, among others.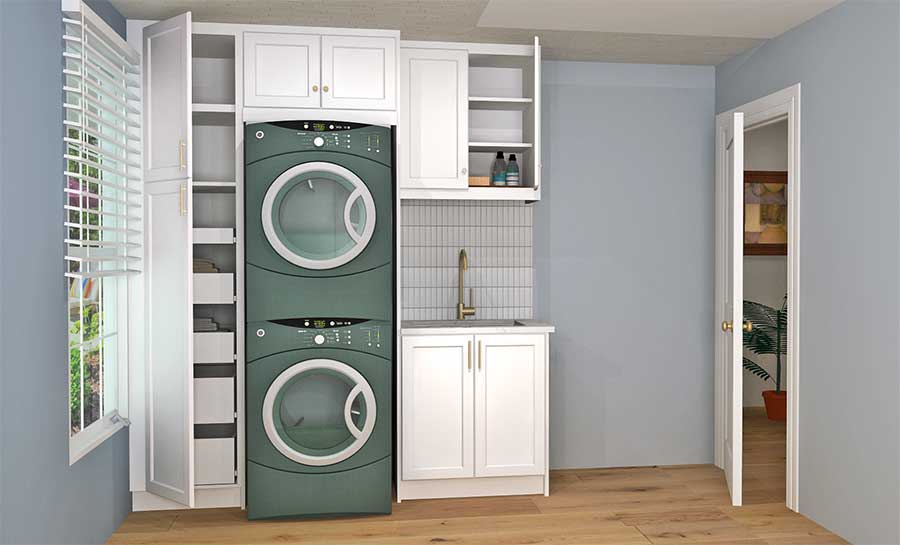 Safety Issues
IKEA customers may be interested to know there are options of where to put your laundry room.
"If you're upgrading your laundry room but are still keeping it in the basement, the issues you deal with are mostly about aesthetics and function, such as better lighting, counter space and other common issues. But if you're moving the setup to upper levels, there are different concerns," says IKD designer Richard.
Those concerns mainly revolve around the fact that you're dealing with heavy-duty appliances — one filled with water and one with heat. So you really need to be careful.The most important safety concern in your laundry room is the dryer duct. A smooth-walled rigid duct, properly installed with the minimum run and fewest number of turns is critical. The washing machine itself could leak, so if you're on an upper floor, it should be installed in a pan with a drain. Better yet, tile the floor and have a floor drain installed. This way you can mop any water right into the drain. Also be sure the dryer isn't pushed against the wall, crimping the exhaust. We suggest you clean your lint filter often and check the ductwork and exterior outlet at least once a year for lint buildup. If the laundry is going to be on an upper floor, the floor joists should be reinforced to handle the load.You've made your laundry space beautiful and functional — don't let a flood or fire ruin it!
Counter Offensive
One of the first upgrades to make to an IKEA laundry room (after the cabinets of course!) is adding counter space.
"Front-loading washers free up space on top of the appliance, so it's possible to install a counter over the washer and dryer. Make sure to leave space for the machines to move without hitting the counter. This is important. You'll need to install wood blocking to support the counter as you don't want to rest it on the machine," says IKD designer Frank.
Some product ideas include IKEA's KARLBY countertops or Silestone Miami Vena quartz countertops — ideal for folding, sorting and piling the family's laundry. Also consider an LG Compact All-In-One Front Load Washer/Dryer Combo and a stainless steel IKEA NORRSJON 14-5/8″ x 17-3/8″ under-mount utility sink for added capacity. Using IKEA's BOAXEL drying racks or an IKEA MULIG clothes bar is a great way to save energy (and counter space), but you'll want to get rid of the moisture in the air too, so install a dehumidifier or an exhaust fan ducted to the exterior.
Other IKEA Laundry Room Design Ideas
There are other tips to make your laundry room layout more functional and enjoyable. "If your laundry room is in an area open to view as people pass through your house — like a mudroom — you'll want to keep things hidden. Some of the things we install in kitchens work equally well in a laundry room," says IKD designer Merari. For example, if you're building a kitchen and laundry space at the same time, consider combining the cabinet order and get accessories like the Rev-A-Shelf CIB Series ironing board (which is concealed in a pullout drawer); or select the IKEA DANKA ironing board. You could even re-use old kitchen cabinets in the laundry and add an aftermarket pullout trash can.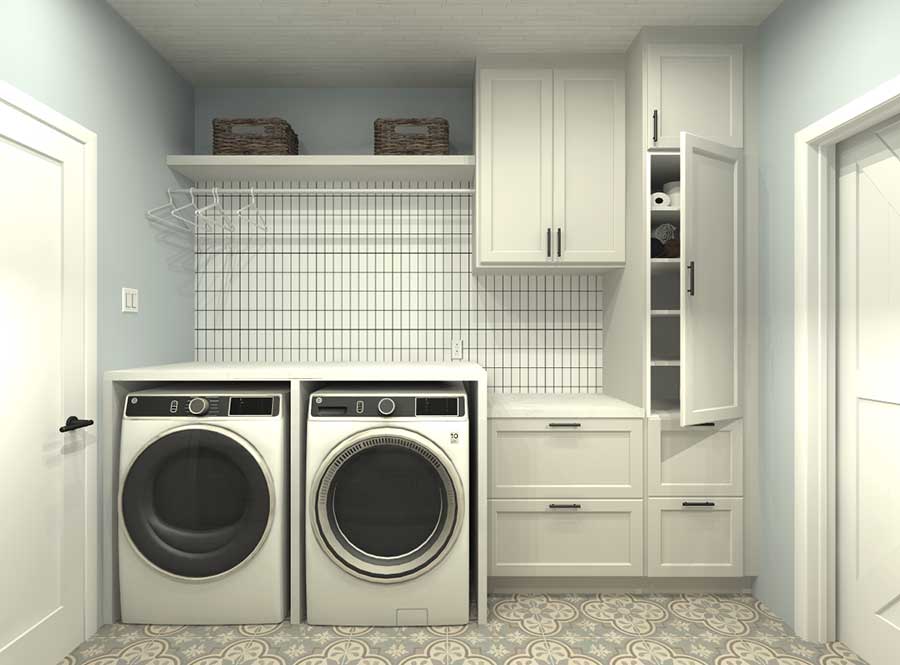 Keep in mind that the closer your IKEA laundry room is to the rest of your house the more sound will be an issue. You could install batt insulation in the walls to reduce noise (for a new construction). And a noise you don't want to ignore is what's known as "water hammer." Newer washing machines add small bursts of water repeatedly, and the water turning on and off can rattle the pipes in the wall, potentially causing leaks. If you hear a clunking sound when the washer runs, consult a plumber! A burst washer hose can flood your house in a minute, so make sure you're using braided stainless steel reinforced hoses.
One last tip: To make the task of moving wet laundry into your dryer easier, make sure that the washer and dryer are installed so the door swing on each is opposite, and that the door of the dryer doesn't get in the way as you toss clothes from one to the other. When you purchase appliances, ask the salesperson if the doors can be switched easily at home if the swing isn't right on the one you buy.
An IKEA laundry room design can make your home — and your life — function much more smoothly. By implementing some of these practical tips you will have a strong framework to achieve your laundry room. After all, without a solid foundation your design will not be as good as it can be. Our design team is here to guide you through the product selection and design process for your laundry room.
Get a Professional IKEA Laundry Room Design – All Online

Work with our certified designers to get a personalized laundry room designed around your needs and vision. If you're interested in learning more about our service, make sure to check out our IKEA Laundry Room Design Services.