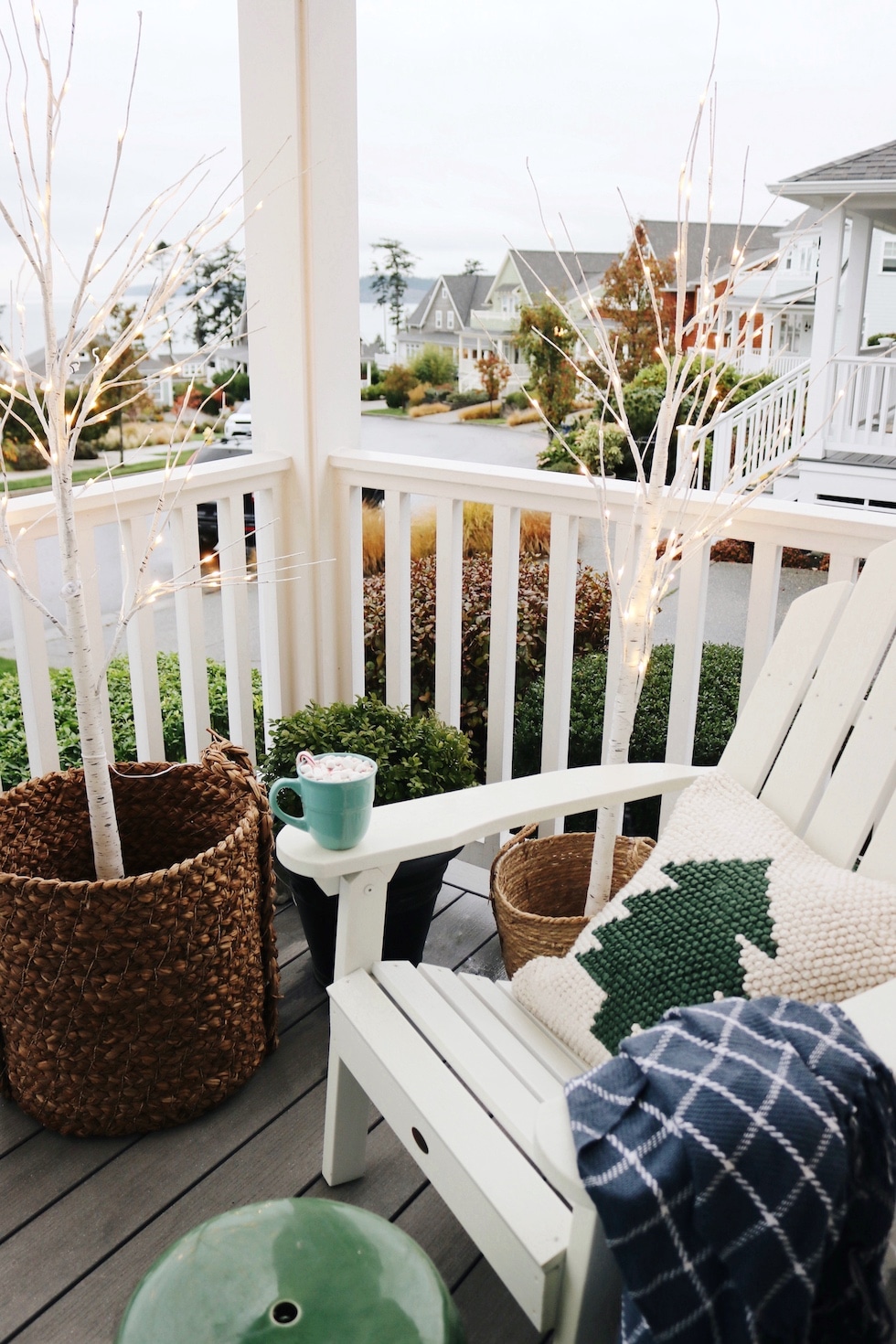 Every year we keep our eyes open for the best of the best gift ideas for your home and the people you care about. It's always fun curating our favorites to share with you! We know our readers look forward to these gift guides every year, so we consider our time putting them together as a gift to you! Enjoy! Bookmark this page or pin it to refer back later.
This year my daughters and I thought it would be fun to share some of our personal favorite gift ideas (things we personally own and highly recommend!). We also created several curated guides you'll see below.
You can see ALL the gift guides here, and our Amazon gift ideas HERE.
Melissa's Gift Favorites:
Sources for above (and why Melissa loves these):
Bronze Bunny Bookends You probably know by now that I love bunnies and books, these are darling to hold up a pretty collection of books on a console table or to tuck into a bookcase!
Stonewashed Stripe Napkins (lots of pattern and color options). Years ago we stopped buying paper napkins for every day use and started using cloth. These striped napkins are my new favorites.
Last year I bought the comfiest Ugg Boots. I wore them all winter long. Super cozy and comfy! These aren't the exact ones, mine are discontinued, but these look very much like them and are the same brand. I was excited to bring mine out again and have them on my feet right now. 🙂
I also bought myself these slippers last year. I love wearing them around the house! They are not only super cozy but they have a sole on them so I don't slip! They come in other colors here.
I love this little brass easel for small art on a bookcase! It's so pretty. I've used it to elevate unframed and framed art or quotes.
This milk frother has been in daily use for years now. I use it to make all kinds of steamed drinks, including foamed oat milk for coffee. This frother is stainless steel so it doesn't have the toxic non-stick coating many frothers have. You can even make hot chocolate in it, matcha, etc. It has temperature settings to make your milk as hot as you'd like (or you can also do cold foam!).
I recently got these Hygge conversation cards to use over the holidays! They would make a fun gift for couples, date nights or any type of gathering, too. During quarantine days I heard of a lot of people using these as a way to connect to friends and family far and near, so I'm looking forward to using them.
This bourbon vanilla is a favorite for making a special coffee, but I will probably use it this winter in baking too! I also enjoy this vanilla bean paste.
I bought this copper gooseneck kettle a few years ago to use for pour over coffee. It's so pretty sitting out, too!
We bought these battery operated window candles and we are very happy with them! I wrote all about why I recommend this brand HERE. My husband and I enjoy finding ways to make the winter months more special and magical, so these window candles have definitely become a tradition to look forward to.
This pan is the one we use most often! It's non-stick, non-toxic, and replaces so many of our other pans. It comes with a wood spatula and has a built-in spoon rest, and also comes with a steamer basket and colander. It also has pour spouts to make it easy to strain. Bonus, it looks cute left out on the stove! It's such a lovely color and there are several other pretty colors, too.
This book is my favorite decor book, it's a classic for the coffee table and anyone who loves a charming home!
A homebody mug…. need I say more? I love this mug and I've ordered others since like this Rise + Shine one! It's a nice heavy mug and feels so cozy to drink out of.
Courtney's Gift Favorites:
Sources for above (and why Courtney loves these):
Face Mug – This hand painted mug just makes me happy every time I use it. It comes in other patterns and even a Mr. and Mrs. Claus version too.
Recycled Glass Stemless Wine Glasses – My husband and I got these from our wedding registry and use them as our everyday glasses– we LOVE them. They're really thick and heavy solid glass, and the prettiest blue green color with little bubbles.
Striped Dish Towel Set – These are our favorite kitchen towels–soft, absorbent, cute…all the good things.
Apple Air Tag – I was SO thankful we had one of these when our car was recently broken into! It's a little tag you can attach to anything to track its location. My husband had one of these in his backpack that was stolen, which allowed police to easily find the location and get it back to us. Made me want to buy a couple more! You can get them as a 4 pack or individual, and you can also get little keychains for them.
Wildflower Card Deck – This is a box of 78 cards with the prettiest artwork on one side and a quote on another. I use these as artwork all around my apartment that I change throughout each season (I've shared that on the blog before!). Highly recommend giving this as a gift, it's been so fun for me. I even used these as decor on our wedding reception tables which I'll be sharing here soon.
Coffee Tumbler – Pretty sure this is the best tumbler ever. It keeps coffee/tea hot for so long, fits in a cup holder, has a splash guard so it's easy to sip on the go, has a leak proof sealable lid, ceramic inside so it doesn't make your coffee taste weird, and lots of color options!
Oil and Vinegar Containers with Tray – These have the prettiest texture and look so nice on our counter. The included tray is great for keeping the counter clean, too.
Mini Round Cocotte – I had been admiring these mini Dutch ovens forever and recently got this one in white. Perfect for little individual desserts like cobbler or creme brûlée, pot pie, a small dip for a party, I've even seen people use them to store salt out on the counter to enjoy their cuteness every day (lots of pretty color options, too).
Beanie Hat – I basically lived in this last winter! Kylee has it in that brown color, I have it in a taupe and am definitely getting another color this year. 2022 was the year I learned how much of a difference it makes in the winter outside when your head and ears are warm, ha!
Brass Taper Candle Holders – We got these from our registry and they're such a classy addition to our apartment. We have them on a console with these flickering battery taper candles.
Suede Sheerling Slippers – One of my favorite gifts I've ever received! I just got them to wear at home this fall/winter and they are soooo cozy and warm.
Waffle Maker (stainless steel and ceramic) – My husband and I got this for our registry and have used it so much ever since. Easy to use, makes perfect waffles every time, and simple to clean. It makes our weekend brunch at home feel extra fancy! I also love that it locks closed so you can store it vertically in a small space.
Gold Stainless Steel Bag Chip Clips – The amount of joy these things bring me every time I use them…it's the little things, you know? Really sturdy, good sized clips.
4 Tiered Jewelry Tray – I keep this space saving jewelry tray on my nightstand and store my rings in it, earrings, bracelets, and other tiny trinkets. So handy!
Kylee's Gift Favorites: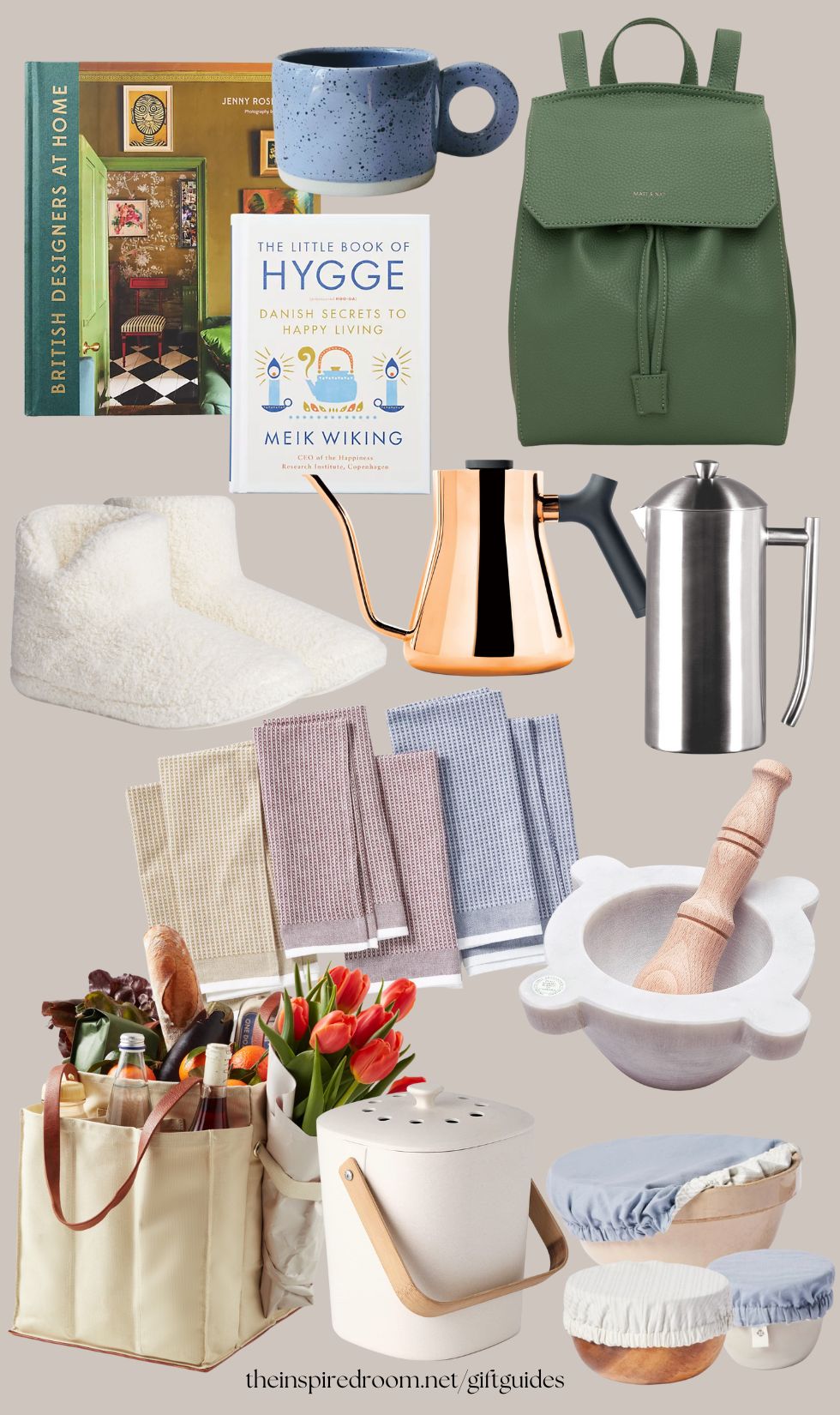 Sources for above (and why Kylee loves these!)
British Designers at Home Book – I love getting coffee table books as gifts! I use them as a part of my decor, so I particularly love how big this is and the green spine! It's a beautiful book full of interviews from and the homes of British Designers.The homes are collected, full of antiques, and definitely lean English Traditional. I love flipping through it!
Market Tote – This market tote is right up my alley! With year round Farmers Markets in Portland, I am there every weekend. I have totes, but nothing this fancy, what a DREAM gift! Love the slot for flowers and pockets on the side! Would totally be a great grocery bag as well.
Cozy Booties – I have similar slippers from here and love them! The perfect gift for your friend who loves being cozy.
Waffle Kitchen Organic Cotton Towels Set of 6 – I love everything I've ever gotten from Coyuchi. All of their textiles are super high quality, soft, and luxurious making them the perfect gift! This towel set is gorgeous!
Organic Bowl Covers – A simple, reusable alternative to plastic wrap, this set of three reversible bowl covers is a wonderful sustainable gift that anyone could use.
Speckled Mug – I gifted this cute and unique mug to myself last Christmas and it's been a staple ever since!
Vegan Leather Backpack – Matt and Nat make some of the best vegan leather goods I've found! I think this backpack is super cute and practical (and comes in different colors). My husband gifted me a wallet from them and it has lasted well and is very high quality.
The Little Book of Hygge – This little guide to Hygge (the Danish philosophy of comfort, togetherness, and well-being) is the best and so inspiring. I think everyone should have a copy!
Carrara Marble Mortar – My husband got this for me as a gift last year and it is such a beautiful, top of the line kitchen item. It's made from solid Carrara marble from Tuscany and is the type of gift that will last a lifetime and be passed down to generations!
Copper Pour Over Kettle Another gift I've personally received and been very happy with. This kettle is stylish, ergonomic, has a temperature gauge, and gives a very precise pour, perfect for pour over lovers! Several color options as well, Courtney has it in white!
Double Walled Stainless Steel French Press – Another gift my husband gave me years ago that I've loved! Perfect for coffee lovers, this is one of the highest quality French Presses you can get. It's double walled stainless steel and keeps coffee warm for 4 times longer than other French Presses, plus it doesn't leave any sediment thanks to the patented dual screen made of super-fine mesh. Unlike glass ones, it won't break on you!
Food Compost Bin – I have this bamboo compost bin and love how stylish it looks on the counter, plus it keeps any smells in!
Also not pictured in the graphic but I'm obsessed with these organic cotton joggers.
Gifts for Her:
Sources for above:
Cozy Home Mug // Scallop Tray // Cut Flower Garden Book // Hand Carved Bone Frame for 4×4 art // Blue and White Ceramic Bowl Set of 3 (I have the mug versions of these!) // Small Wood Bread Boards (these have been a TIR reader favorite for a long time!) // Stanley Quencher Tumbler (people have been raving about these online, I might need to see what all the fuss is about!) // White Le Creuset Salt and Pepper Mills // Scallop Woven Tray (or this one is similar and slightly less, both a splurge but a beautiful special gift!) // Ceramic Ruffle Loaf Pan (color options) // Secret Garden Simple Syrup ("perfect for cocktails, mocktails, coffee, sparkling water, baked goods, and beyond", they also have this set of 4 mini simple syrups with more flavors) // Blue and White Cafetière // Warm and Cozy Mug // Gray Ceramic Bunny Figurine // Cozy Deer Socks // Chunky Cable Knit Reversible (color options) // Insulated Lunch Bag (I gave these to Kylee and Courtney as gifts a few years ago and they use them SO much! Perfect for packing a picnic lunch or taking on day trips to keep food or drinks cold. They're also the cutest little bags to bring treats to a party in. They have a long strap for carrying and a pocket on the back you can keep cutlery in.)
This new aroma oils set is wonderful for a naturally healthy and happy home. There are so many ways to enjoy these oils! They're from YL where I get so many of the toxin free products I've used in my home for over 8 years and highly recommend (learn more here).
---
Gifts for Him:
Sources for above:
Flannel Shirt Jacket /// Travel Mug (we LOVE these non-spill tumblers, I got them for several family gifts last year! They keep drinks hot for so long. Many color options and other sizes) /// Stanley Camp Mug /// Beanie Hat (many color options) /// Apple Air Tag /// Ugg Shearling Slippers (color options) /// The Pendleton Field Guide to Campfire Cooking /// Black Metal and Wood Portable Charcoal Grill /// Bluetooth Radio (Courtney has and loves this! Multiple color options) /// Maple Bourbon Barrel Aged Maple Syrup /// Coffee Beans (we love this brand!) /// Pickleball Paddle Set (Have you played pickleball? Our family started playing it this summer, so fun!) /// Ninja Ice Cream Maker /// Herschel Wallets /// Pendleton Chess and Checkers Travel Roll Up Game /// Best Dad Ever Mug
---
Gifts for Babies and Kids:
Sources for above:
Woodland Travel Play Mat // Custom Baby Beanie // Jellycat Elephant // Garden Play Set // Patterned Flannel Sheet Set (I loved getting cozy seasonal sheets like these for my kids when they were little!) // Woven Dollhouse Basket // Rainbow Stacking Toy // Bear Hood Rain Jacket // Personalized Name Flower Knit Baby Sweater // Wooden Bear Dolls // Velveteen Stuffed Dino (these are sooo soft and squishy!) // Wooden Train Set // Wooden Bear Set of 3 // Patterned Rain Boots (other pattern options) // Stacking Circle Toy // What Do You Do With An Idea book
---
Family Board Games + Card Games + Puzzles We Love:
These are all games and puzzles we personally play often with our families and think you'll love too.
Sources for above:
Wingspan (this is such a fun/peaceful game and all the game elements are just artistically beautiful, too…I love all the unique bird cards!) // Monopoly Deal (perfect stocking stuffer, everybody loves this one) // Sushi Go (fun, simple, and such cute cards) // Honeycombs Game // Blokus XL (we played this so much as a family in 2020, everyone loved it!) // Machi Koro // Marble Board Game (we have a square version of this we have played since my kids were little) // Catan // Carcassonne // Winter Stroll Puzzle (currently in process at our house!) // Magic Puzzles: Happy Isles, The Sunny City, The Forest Feast (unique puzzles with a surprise twist ending!) // The Hygge Game (cozy conversation in pleasant company) // Spot It // Quoridor
---
Gifts for Pets and Pet Lovers: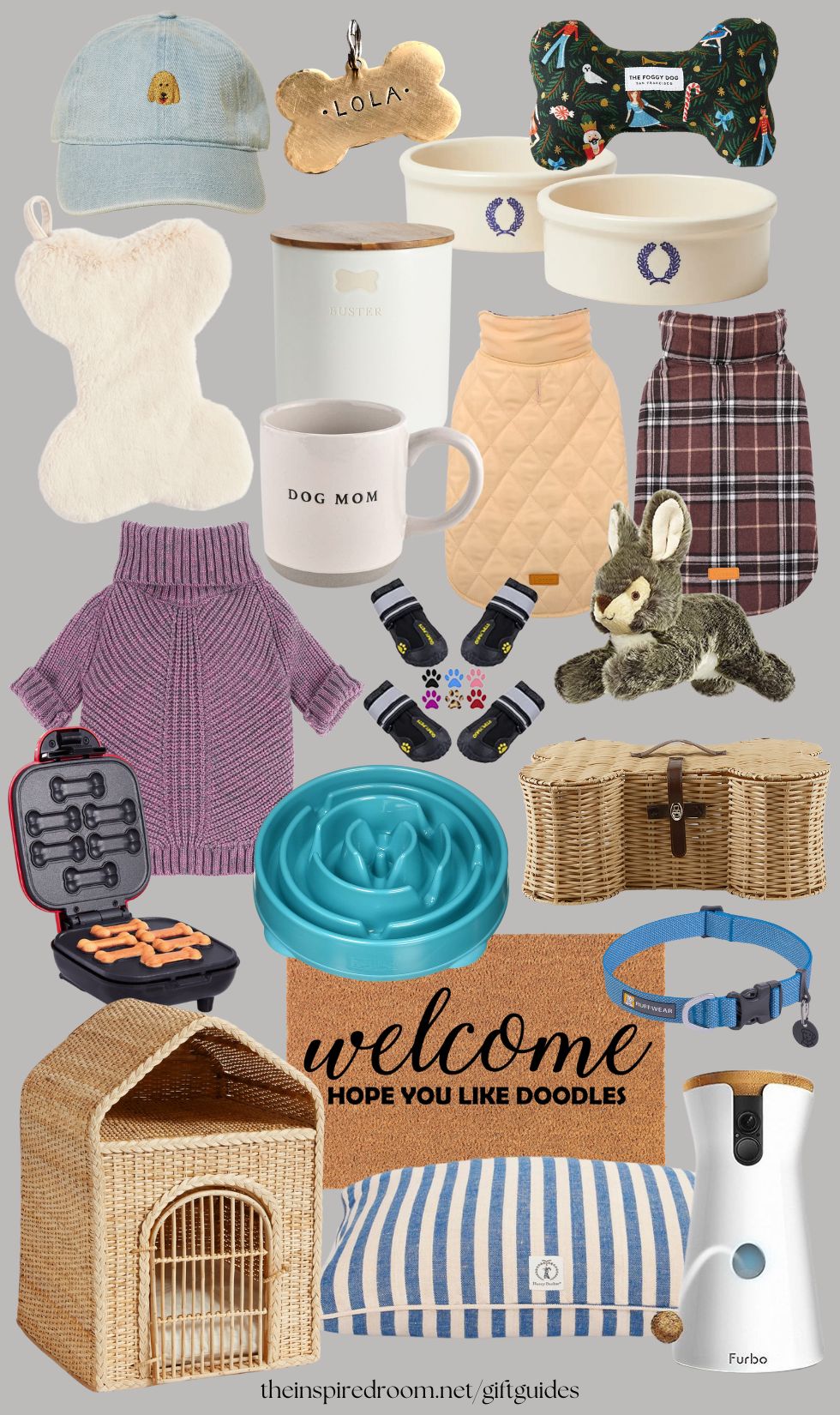 Sources for above:
Dog Mom Mug // Brass Dog Tag // Bunny Dog Toy (we have this one and more from this brand!) // Farmhouse Dog Bowls // Dog Collar (this is the exact one we have for our doodles Jack and Lily, it's lightweight and sturdy) // Stoneware Treat Canister (personalizable!) // Knit Dog Turtleneck (color options) // Faux Fur Pet Stocking // Vintage Stripe Pet Bed // Handwoven Rattan House Shaped Pet Bed // Nutcracker Squeaky Dog Toy // Mini Dog Treat Maker // Hope You Like Doodles Doormat // Furbo Dog Treat Tossing Camera // Slow Feeder Dog Bowl(we got this for Jack because he was eating too quickly, it helps a lot!) // Embroidered Dog Hat (lots of colors and other options) // Waterproof Dog Boots (Jack and Lily have these!) // Bone Shaped Dog Toy Basket // Waterproof Reversible Plaid Jacket
---
Stocking Stuffer Gifts: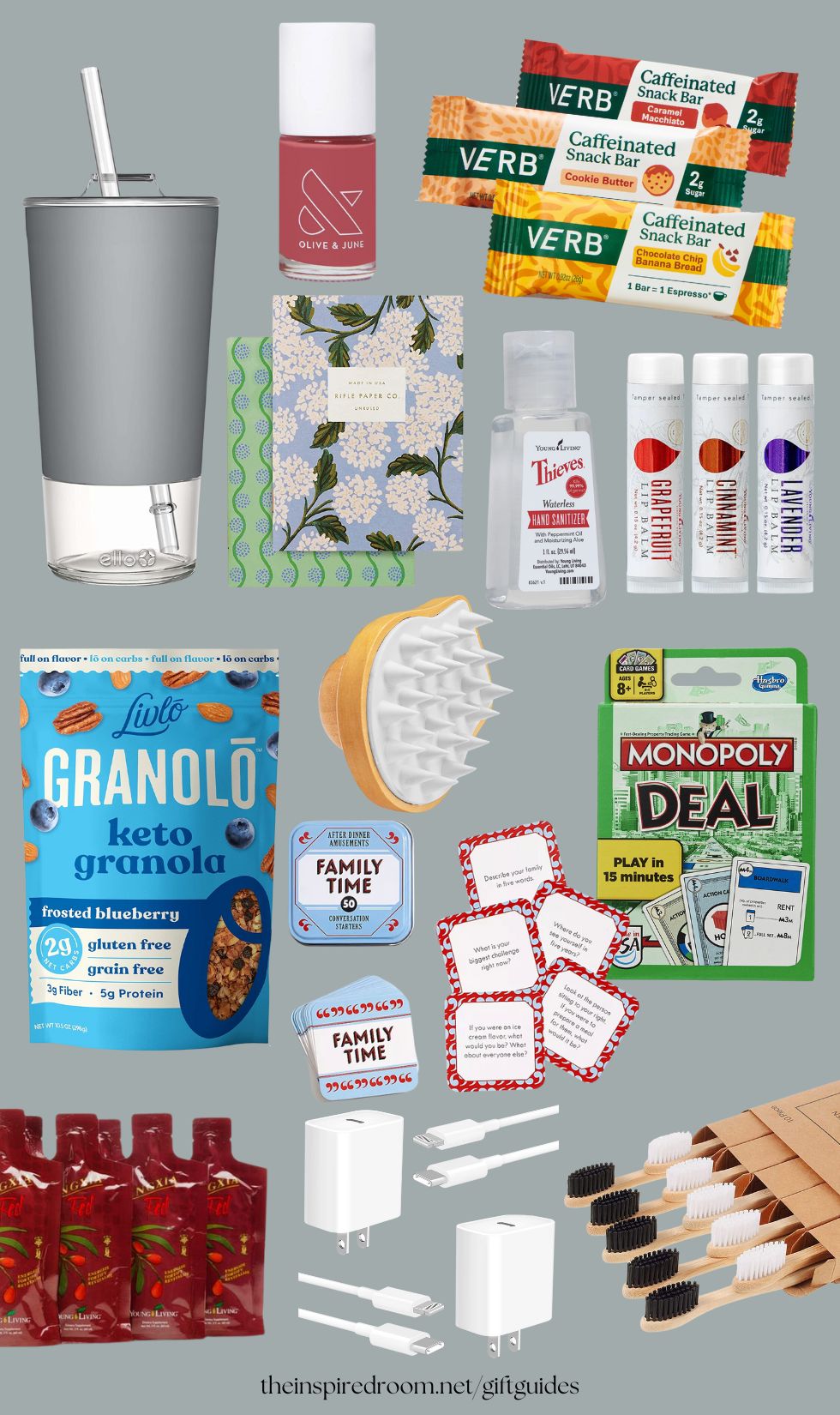 These are all items we've had in our family's stockings in recent years.
Sources for above:
Verb Bars – My favorite green tea energy bars! They're gluten-free, dairy-free, and vegan. The entire site is 30% off during November with my link here. I keep them stocked in my pantry for a quick snack on the go, and a delicious morning or afternoon pick-me-up. So many easy flavor and variety packs, too. The Chocolate Chip Banana Bread is one of my faves but I haven't tried any I didn't like!
Olive & June Nail Polish – I've been loving these toxin-free polishes for at home manicures.
Pocket Notebooks – set of 2 so you can split them into two gifts.
Thieves Hand Sanitizer – my fave–doesn't dry my hands out and it smells like mint.
These iPhone chargers with a 6 foot cord
Frosted Blueberry Gluten Free Granola
NingXia Red Packets – my everyday antioxidant drink, I always put one of these in the kids' stockings!
Wooden Shampoo Scrubber Brush / Scalp Massager – Kylee got us these, so soothing and good for the scalp.
Favorite Lip Balms – set of 3 so you can split them up! Lavender, Cinnamint and Grapefruit.
Family Time Card Game – compact little tin you can keep in your car for road trip chats!
Bookmark this page or pin it to refer back later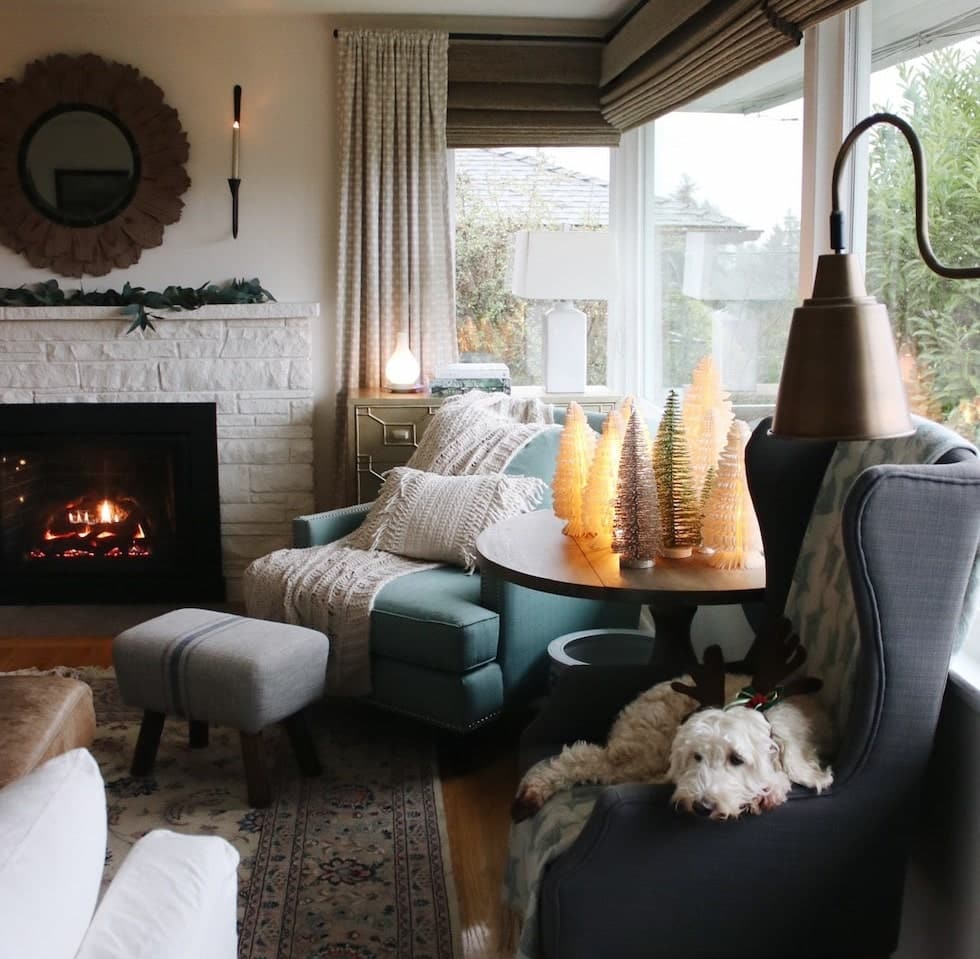 Holiday inspiration on the blog:
Cozy Holiday Home Music Playlist
Want to keep holiday decorating SIMPLE this year? Me too! Here are 7 Simple Pieces I Love for Christmas and Winter Decorating (and why I think they make so much sense).
Our Christmas House Tours + Videos
Find all Christmas decor inspiration on the blog here.