This Post May Contain Affiliate Links. Please Read Our Disclosure Policy here

Are you hosting Thanksgiving this year (or did you, if you are in Canada!)? Last year we had just moved in to our new home. We had a wonderful Thanksgiving at my daughter Kylee's house in Portland. But this year, we're hosting! My sister and her family, the grandparents, our son Luke, daughter Kylee and her husband Lance, my daughter Courtney and her husband Dong!
Today's Monday Mood Board evokes all of the feelings of gratitude and being home with people you love at Thanksgiving. It's a feast for all of the senses. I am already excited for the music we'll listen to (we've shared these playlists if you're looking for music!), everybody gathered in the kitchen peeling the potatoes, making the stuffing and mashed potatoes. Kylee usually makes a charcuterie board for guests to enjoy while food is cooking, Court makes her famous pie, my dad and mom are helping in the kitchen, too. I can almost smell the aroma of the meal cooking!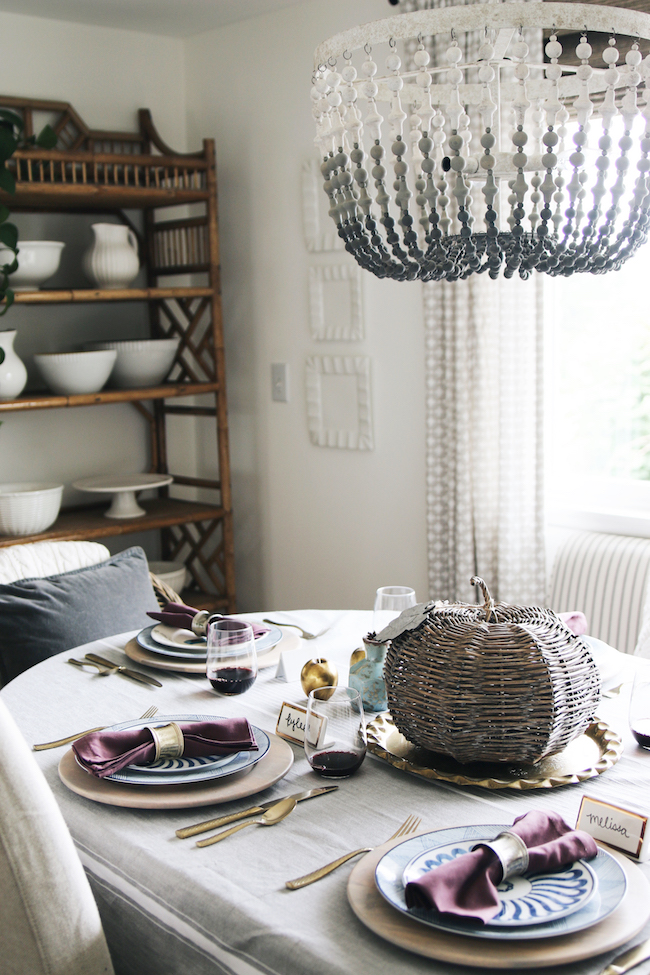 We cannot wait to have our family gathered here. We have so many treasured memories of Thanksgiving with family! We've always made it a priority to be together, whether we all went to the family beach house we had for years (near Cannon Beach) or my parents home, our home, or now our kids' homes! It really doesn't matter where. We never need the perfect meal or table setting. Kids have always helped set tables!
Thanksgiving is for spending time together around the table (or folding chairs and card tables, as the case may be) and sharing in the gratitude for the many blessings around us.
I hope this mood board inspires you to create an atmosphere of Thanksgiving!
Mood Board Sources:
Almond Cream Kitchen Aid Mixer // Ceramic Pumpkin Shaped Deep Pie Dish with Lid // Silicone and Wood Double Spoon // Copper Pepper Mill and Salt Shaker Set // Pumpkin Spice Dish Towel 'give thanks and eat pie' // Forest Feast Gatherings: Simple Vegetarian Menus for Hosting Friends & Family // Pumpkin Spice Spread // Bird Dessert Plate // Jute Woven Round Placemat // White Sauce Boat // Mouse Place Card Holder // Small Wood Bread Board // Slate Cheese Board and Chalk Set // Marble and Wood Oval Serving Board // Thanksgiving Pie Crust Cutters
Related posts:
Monday Mood Board: Autumn Dining Room
How to Decorate Your Kitchen for Fall: 17 Cozy Ideas
Simple and Charming Thanksgiving Table Decorating Ideas
Simple and Natural Table Setting Ideas
Simple Cozy Fall Tablescape in our New Dining Room
My Book Simple Gatherings: 50 Ways to Inspire Connection