Happy Friday friends! It's hard to believe that it's November already and the year is flying by. I've got a few things to share with you today so I hope you enjoy these shares.
Instagram Inspiration
Love this beautiful shot from Karen Keysar on Instagram. Such a pretty and traditional room.
She has a beautiful feed you are sure to love.
Recipes
I've been playing around with my Ninja air fryer and grill and really liking it a lot. Someone told me about The Recipe Teacher for air fryer and instant pot recipes and he looks like a good one to follow. I'll definitely be checking him out for easy recipes. I like how concise and easy it looks. If you're a novice like me, you may enjoy it too. I like the air fryer for the speed of cooking things and it really does crisp up things so well.
Around the House
Are you thinking about Christmas yet? It will be here before we know it and I'm trying to get geared up before it jumps out and hits me in the face. I will start to think about Christmas shopping very soon, so I thought I'd share a few Amazon items that would be good gift ideas.
Affiliate links used below.
My mom has discovered the Blair.com catalog and has picked out a lot of things she wants. So now I'm ordering Christmas presents for her after she ordered 3 jackets for herself. She loves them! Blair has lots of good clothing for older ladies (the seniors in your life). She said all her friends were ordering from Blair too. So in case you've got ladies who would like this kind of clothing, check out Blair! We will be buying for mom this year and she will be so happy to get some new clothes.
Everyone seems to love bath bombs and these are so cute!
Burt's Bees grooming essentials for men.
My family loves these Palmer's cocoa butter lip balms. They are super moisturizing and bigger than the normal lip balm. I use it every night before I go to bed.
I love mercury glass votives and these are a good deal for 6.
Love this set of stemless wine glasses too.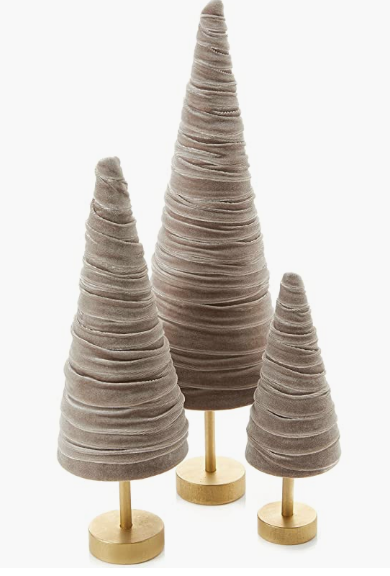 These velvet trees come in a lot of colors for Christmas decorating.
What We're Watching
We usually look for true crime shows documentaries and both enjoy those, so that's what we've mainly been watching together lately.
Related
Don't Miss a Post, join my list!