Cabinets are a primary feature in any renovation project. However, the same aesthetic attributes cabinetry adds to a kitchen design – via door panel styles – can actually detract from your kitchen's look and function if you aren't careful. Yet, sometimes, it's best to skip cabinets for certain applications, opting for open shelving instead.
If you're planning a kitchen remodel some time soon, you'll probably wonder which solution works better for your home and start searching for answers. Read on to find out!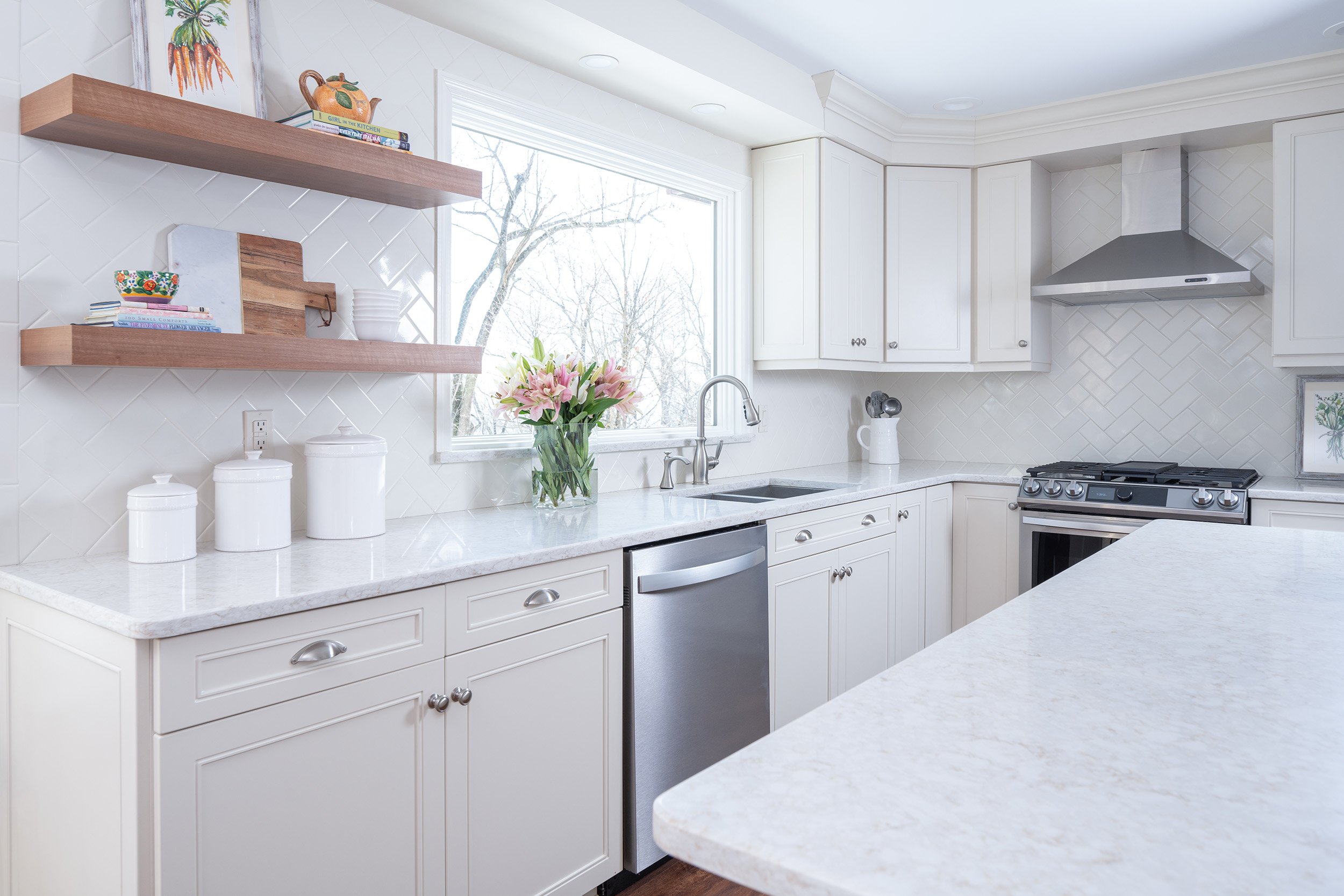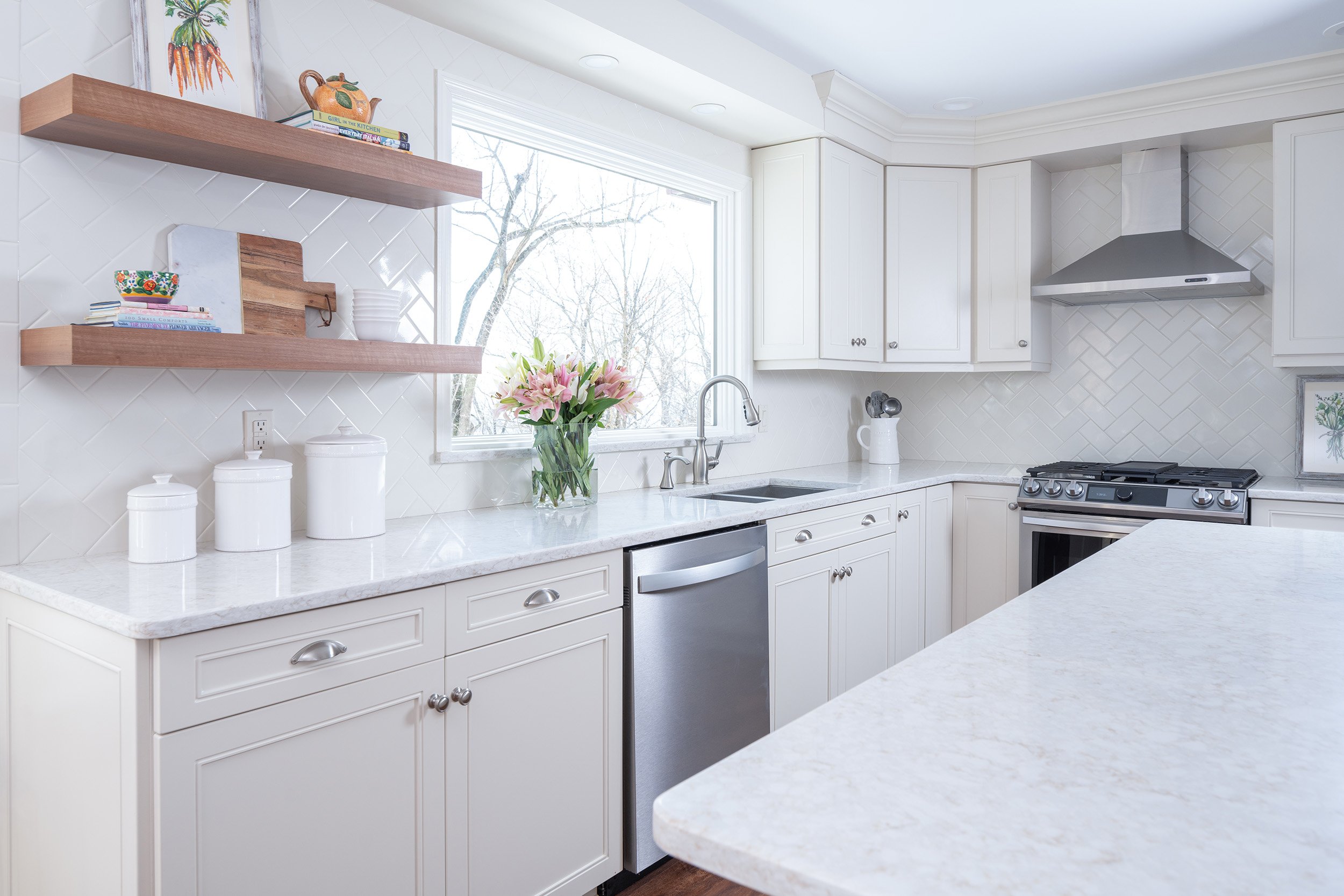 Is open shelving a good idea?
When we say "open shelving vs. cabinets with doors," it isn't that one is better than the other. However, there are certain circumstances where open shelving wins out.
Some of the benefits of open shelving include:
Extra visual space is recommended for smaller kitchens or for blind corners.

Easy access to regularly used mugs, glasses, and dishware.

Low maintenance

and easy to care for

.

They provide space to add a little color to the design.
In the grand evolution of kitchen design, open shelving options were a standard. Building custom cabinetry by hand is no easy feat, and purchasing custom cabinetry has always been a higher-dollar investment. Thus, open shelving was the most popular storage option for kitchens and pantries until more affordable, mass-produced cabinetry came on the market.
Now, open shelving is making a comeback because it keeps things easy, accessible, and (if desired) more colorful.
When to consider open shelving for your kitchen design?
The following are circumstances where open shelving may be a better option than cabinets with doors.
1. A tight kitchen space
Cabinets take up about 12- to 24-inches of depth from the wall into your air space. This is pretty significant in a small kitchen. When you eliminate the cabinet box and doors, opting for open shelving instead, you "add" that visual space back, which keeps your kitchen feeling more open and spacious.
2. Interested in improving accessibility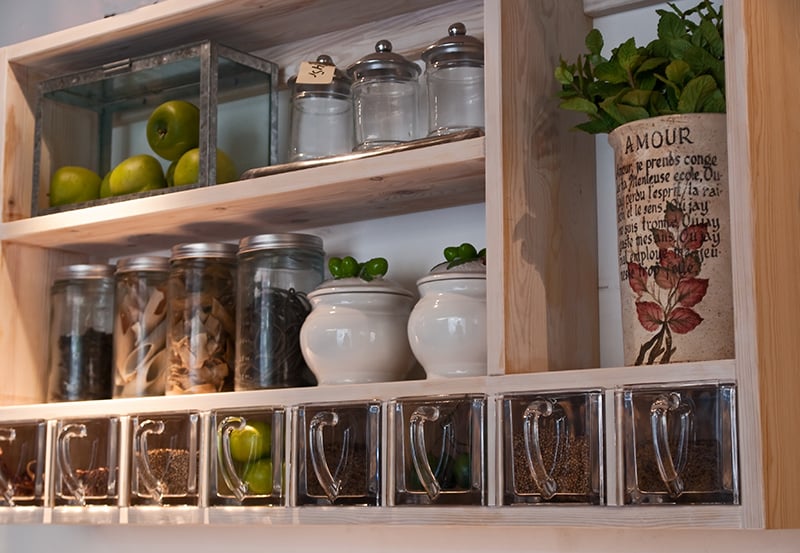 Resistant whisper-quiet hinges are nice but, apart from the sound of rapid-fire cabinet door shutting, opening and closing cabinetry is more cumbersome than you think. Only those of us who have open shelving are aware of this. Your shelves make it so much simpler to grab your go-to mugs, spices, and daily dishware. They also expedite the process of emptying your dishwasher.
Accessible or livable kitchen designs in Monmouth County also capitalize on the ease of use offered by open shelving. Elderly people and those with any type of mobility issue find open shelves markedly easier to access than cabinets with doors because they eliminate an extra step or two and keep someone from having to maneuver around cumbersome, open cabinet doors.
3. Long for a maintenance-friendly design
Well-built cabinetry shouldn't be too difficult to maintain but there are still cabinet doors to keep free of splatter and smudging. There are hinges that can break and cabinet doors hide the cavernous cabinet body that can collect miscellaneous debris without you even knowing it. Shelves, on the other hand, require virtually zero maintenance. Once they are firmly installed, they aren't going anywhere.
To clean them, you simply offload the contents, run a damp cloth along the surface, and they're back to clean again. With a nice seal, they won't need to be repainted for years unless you have a change of heart in regards to color. If you opt for commercial-style, stainless steel shelving, you'll hardly need to clean them at all.
4. Your space needs a splash of color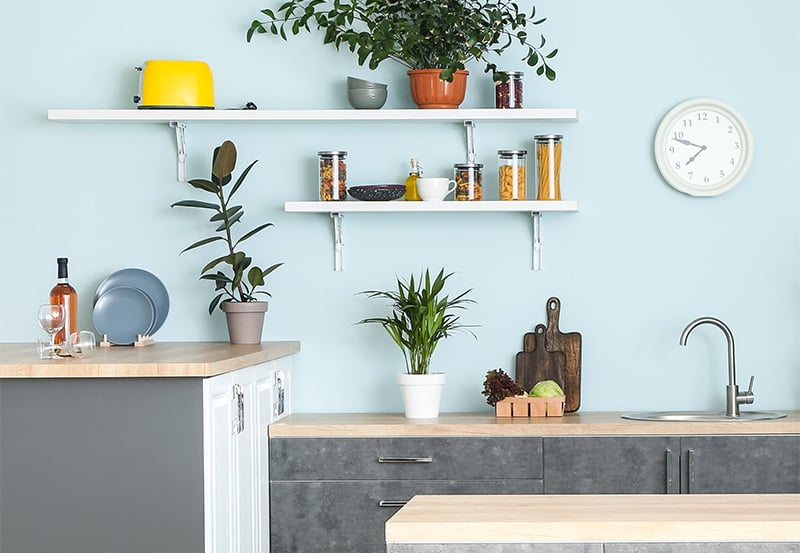 The key to timeless design is using a more neutral color palette for "permanent" fixtures – like cabinets and countertops – and then using accessories to add splashes of trendy color. Open shelving installations are a great space to add those transient color infusions.
Where can I book the finest kitchen remodel in Monmouth County?
If you're thinking about taking on a kitchen renovation project, we've got you covered. Just bring your kitchen plans over to the Kitchen Magic experienced team and we'll help you suss out the ideal spots for open shelving and cabinets with doors. Contact us at  866 339 9099 or schedule your free in-home design consultation for a personalized guide to selecting the best kitchen design for you and your lifestyle. Best of all, you can count on our experienced team to ensure your family's safety during the remodeling process.