How to save money by buying second hand furniture and spray painting it all. Repurpose those older pieces for new life.
I shared all the pictures of my sister, Renee's, new house with the after pictures of all the projects we've done so far. I didn't do a great job of getting before shots of everything but I'll show all we did and explain how we took second hand pieces and made them over using spray paint. It's always been my number one thing to do to refresh and repurpose finds over the years. I've been spray painting for many years! It still amazes me how fresh things can look once they get painted. Spray paint is instant gratification. It takes some time and effort, but it's totally worth it!
Renee found these rattan counter stools on her local Facebook Marketplace in LA for $100 for all 4. They rattan was a little beat up and she wanted to spray them white so we did this project when I was there in June. We were looking for an off-white and ended up with a color that was more white than she wanted, but they will do fine until she gets ready to purchase what she really wants. We taped off the legs and started spray painting.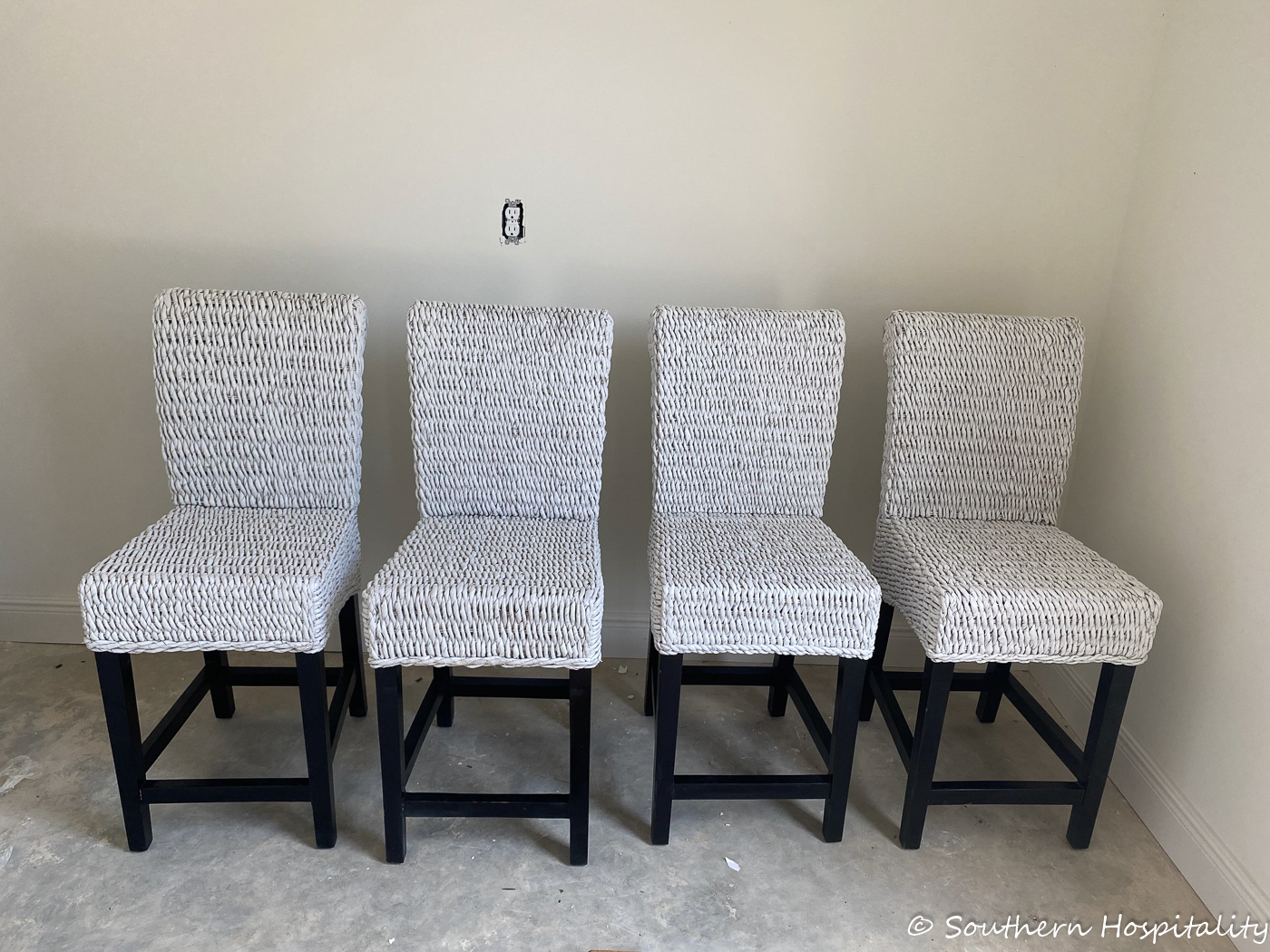 And they ended up like this. I can't remember the name of the white, but my favorite white is Heirloom White. We did find that when we got ready to do the other rattan chairs for her dining table so you can see the subtle difference. These are fine, but a little more white than she wanted.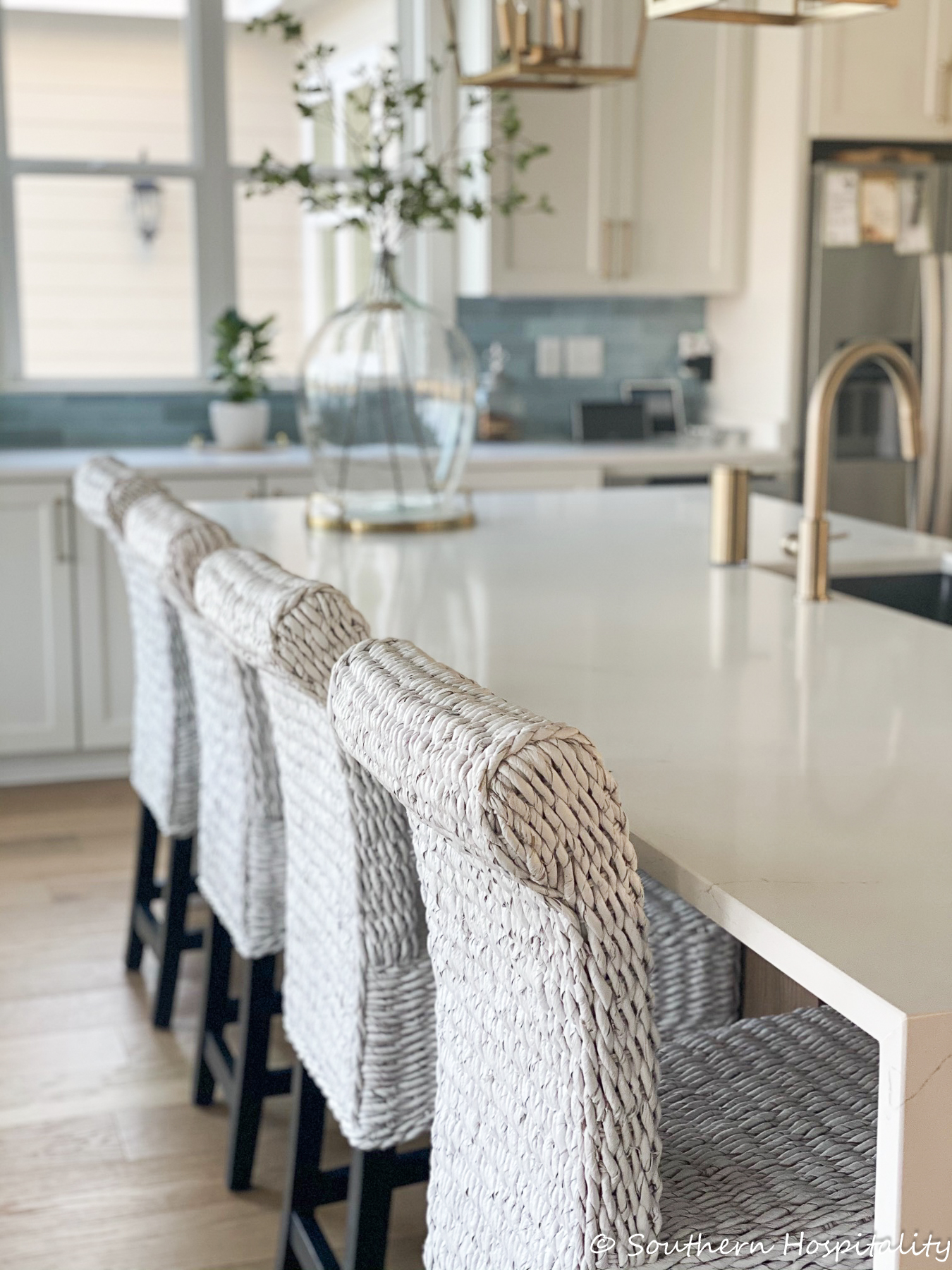 Here they are in place. They look just fine, I think and will serve her purpose for a long while. We sat here at the island several times while I was there.
This trip, we did a lot of projects. These are the chairs I insisted she buy off our ATL Facebook Marketplace when I spotted them last year right after they moved in April. She wasn't quite ready to think about dining chairs yet, but I knew she would kick herself if she didn't get them, so she did send an offer that day to the seller and got all 7 for $525. Mark and I went and picked them up for her in Norcross and stored them in our basement for over a year, along with several other pieces that she scored on Facebook. Yes, we were glad when the day finally came that our basement was emptied. They look much better at her house!
This is how the chairs were when I picked them up. We discovered 3 layers of fabric on there and they were all stripes. Go figure! We ended up choosing a stripe too and they turned out great.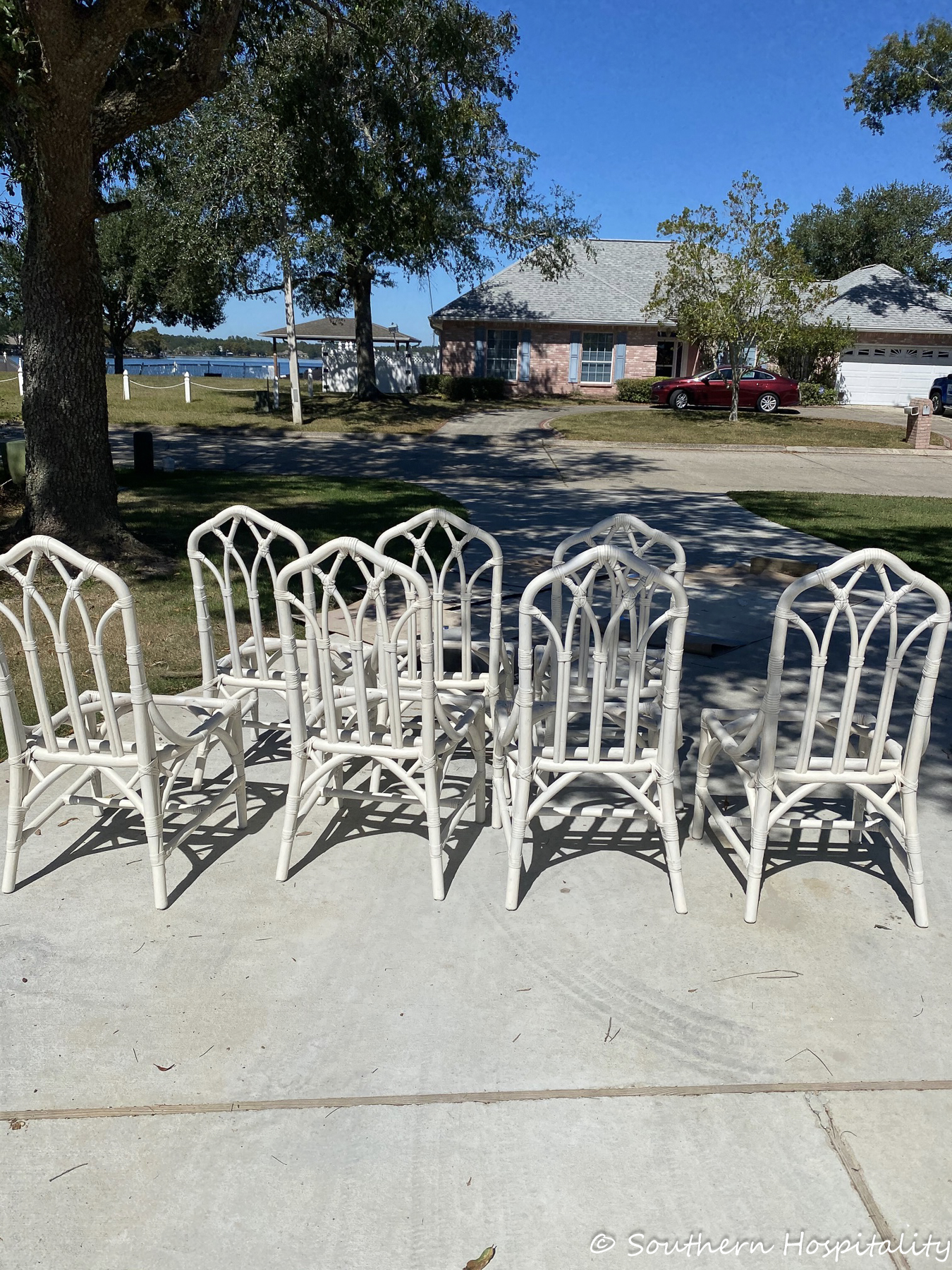 This time we found Heirloom White (by Rustoleum) and bought at least 8 or 9 cans I think to cover them all. We started working on the driveway and then later on the next sessions, moved over to more shade on the other side of the house.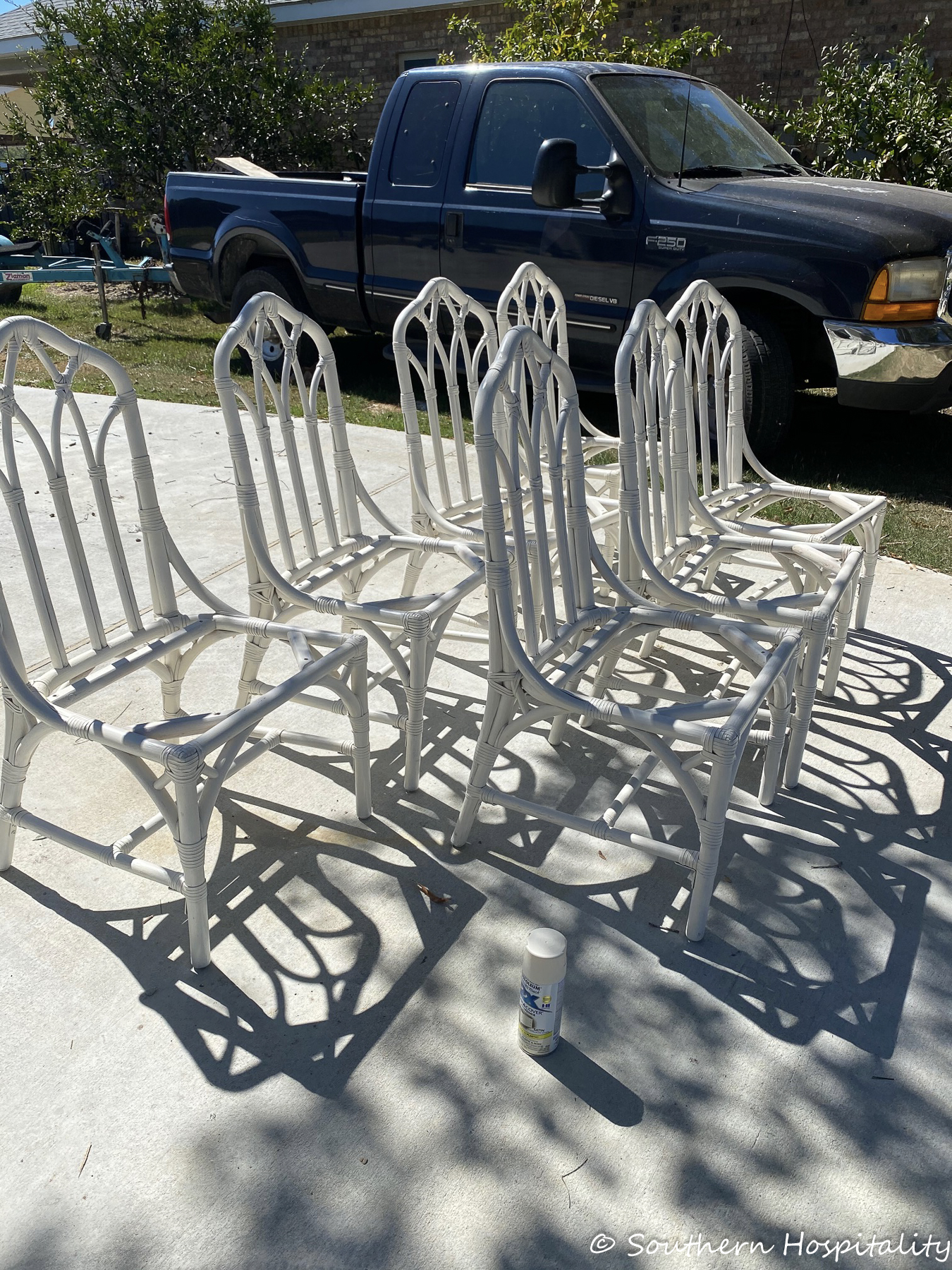 Affiliate links used below
These all sprayed very nicely and looked so fresh and clean after they were all done. It really refreshed these chairs which probably date back to the 80's. Pretty sure they are Henry Link chairs and they sell for a lot on Chairish. She definitely got a deal. New chairs similar to this on Ballard Designs are very pricey!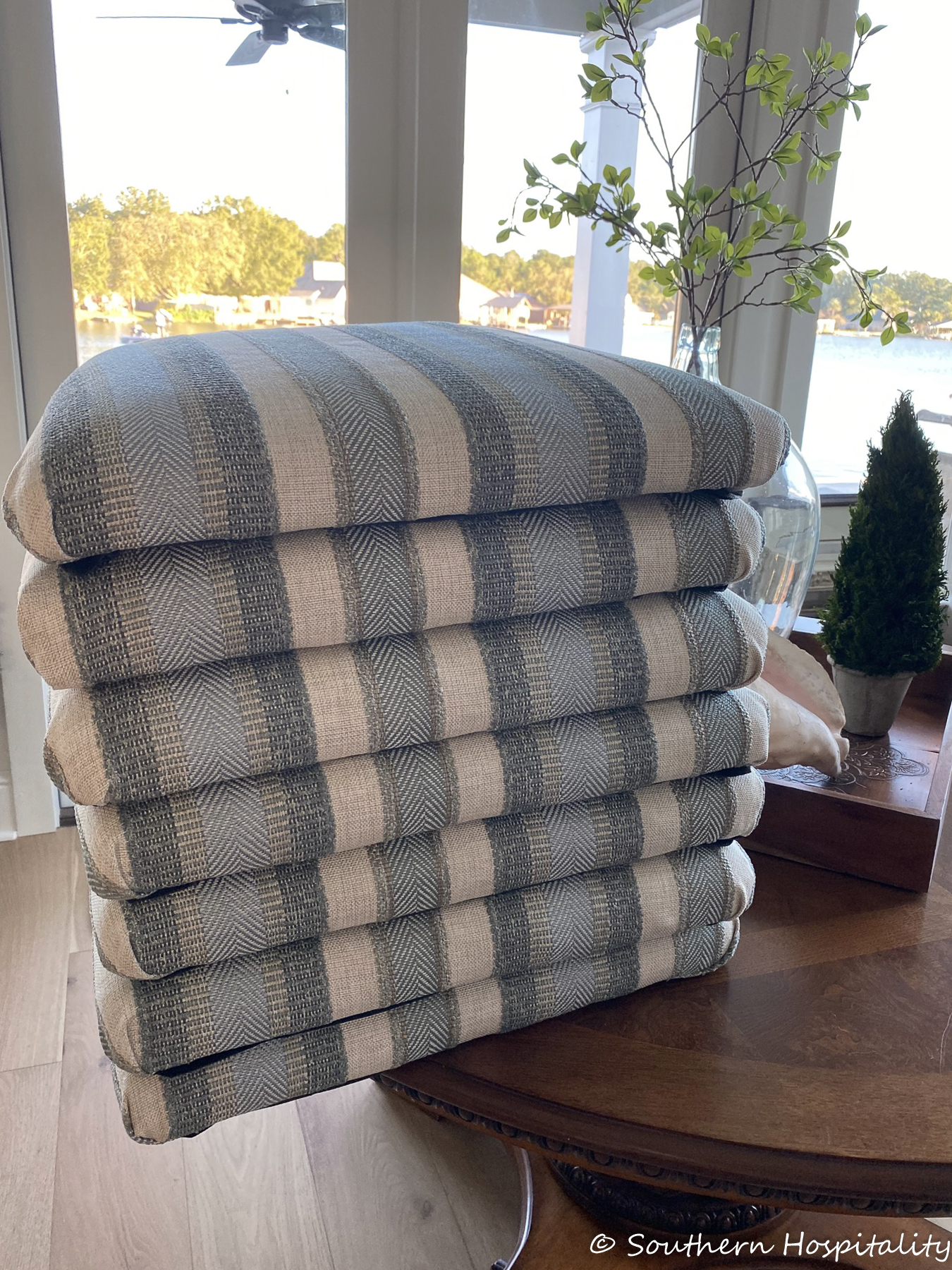 If you've never recovered chair seats, it's so easy. I've done it plenty of times since I've been blogging and shared a how to in this post. Just remove the seat and turn it over, cut the fabric to fit and then just staple and turn under the corners. An electric stapler is a time saver so get one if you don't have one. Mine aren't all perfect, but once you get them back in place they all look great. My sister just let me run with them and I got them done in no time.
Here's the after with new fabric and paint.
They look like a million bucks now in her new dining space.
For the rest of our wicker projects, we used Espresso by Rustoeum. The 2X paint and primer is really good and sticks well to plastic, which is what this outdoor furniture is. We also used one of those Rustoleum trigger grips that snap on a can of spray paint to make the job easier. Those really save your hands.
She found a 5 piece set of white vinyl wicker very near me here in Acworth that someone sold on Facebook Marketplace so we picked that up too and stored it. The set is a chaise lounge, 2 chairs, and 2 round tables for $75. What a deal! So we sprayed it all dark brown to all blend together and it worked great.
This Lloyd Flanders wicker chair was a curbside find in my neighborhood. Someone put it out on the street for trash pickup day and I spotted it along with the white ottoman that was with it. It has cushions too that I forgot to take pics of before we dropped it off to be recovered. Nice cushions that came with it I'm sure. Just needs new fabric.
The ottoman on the right came with it. It all just needs a little TLC to put it all together again, but it's a nice comfy chair and ottoman. She bought new fabric for the cushions and left it all here in Marietta to get covered by Connie from Fringe Benefits. She does a great job on drapes and cushions, so definitely go there if you're local. The side table on the left I picked up at a local yardsale for $8, but didn't need it so I passed it onto Renee.
There's the chaise lounge and one of the chairs.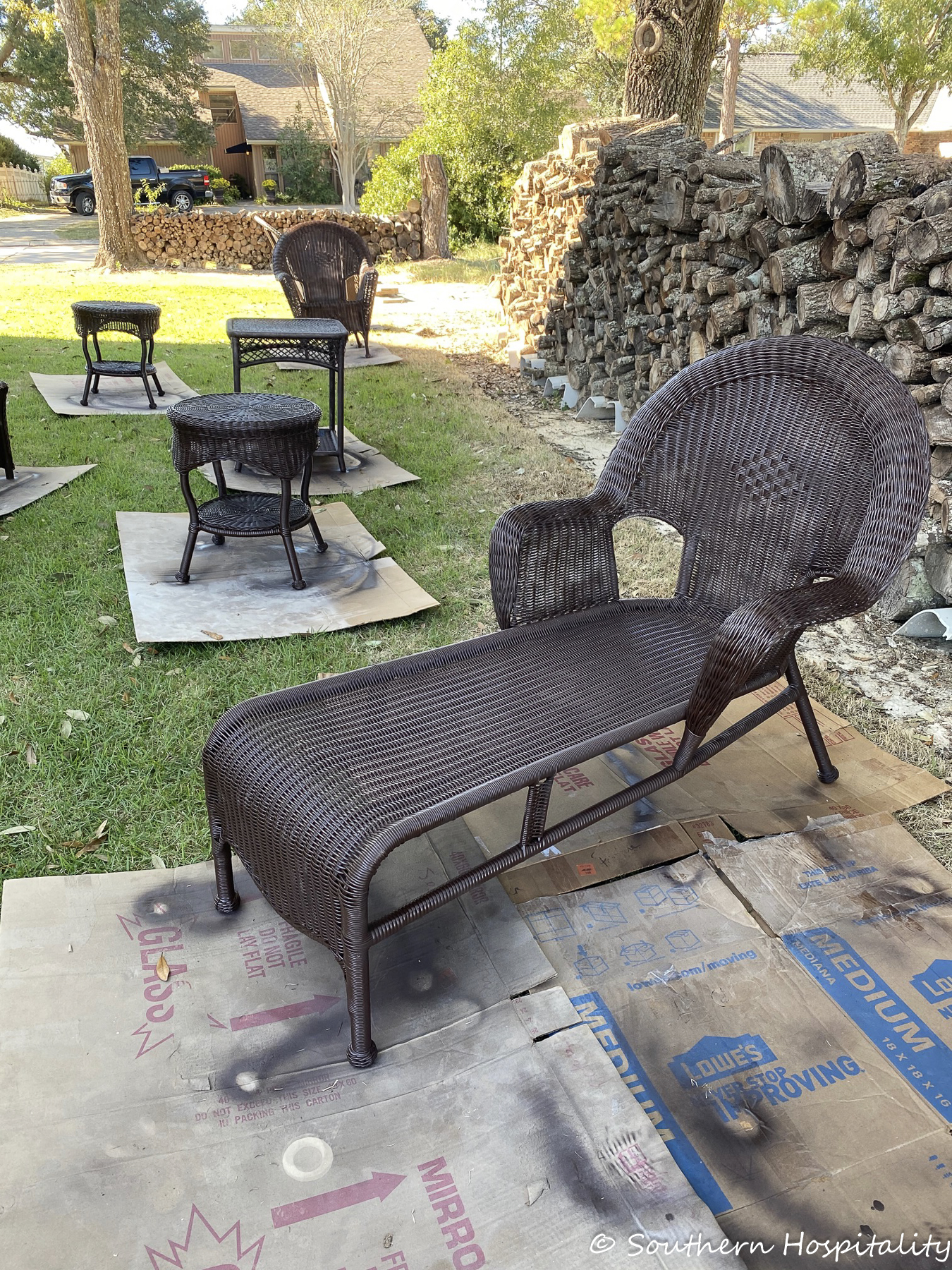 We spread out cardboard and got busy painting. It took us a good 3 or 4 days to get it all this spray painting done. We turned it all over first and started on the bottom and then flipped them over. We'd go back and check several times in different light to make sure it was all getting covered. And just kept spraying until it was all done.
The spots showed up in the light and we just added more layers as needed to cover it all. That green chair took a lot of paint, it just soaked it all in and it took several layers to cover all the green. As soon as we thought we were finished, we'd see more green peeking through. It takes patience to spray paint a lot of pieces like this, but we got it done. Sore and tired, but we made it!
I also gave her a settee, a chair and coffee table from Big Lots that I wasn't using anymore and the brown spray paint blended them all in together.
Everything got covered with a few coats of paint and then we were ready to put it all together and decide where all the pieces would to. They have 3 areas on the main covered porch and another big porch outside the bonus room and there was enough to put seating in all the empty areas.
It did take a few days to get this all done, but it was totally worth it.
We both worked hard and were exhausted but the hard part was over.
It all turned out so good and when we got it all in place, we were both so proud of our efforts.
She ordered some cushions on sale from a couple different online sources, Kohls and TJ Maxx. They worked together well and this space all came together so nicely. This is the 2 chairs and 2 round tables that were white that we spray painted and that's the Big Lots settee that I gave her. It all blends so well.
I was so busy working that I didn't get a proper before picture of this coffee table. She bought it at a thriftstore place in Covington. It was a gray metal and we sprayed it navy blue. It all works together so well now.
The chaise lounge and the Lloyd Flanders chair and ottoman as well as the Big Lots chair (not painted) and yardsale table all ended up here in front of the fireplace. I know they are going to enjoy having these here for seating and enjoying the fireplace for years to come. The good thing is that now all the brown pieces can be moved around and mixed up as needed. When the new cushions are ready that big chair on the left will be a really cozy spot.
And that's how to update old mismatched pieces of wicker to refresh and renew second hand pieces. I'm so proud of how it all turned out and happy that I was able to help her get it all done. We envisioned how this would all look together and I'm so happy that vision came to life. Spray paint is a wonderful invention! Hope you enjoyed this post.
Related
Don't Miss a Post, join my list!