Breathe new life into your IKEA laundry room with clever design solutions — and decorations
IKEA laundry rooms are an affordable way to add value to your home. As experts in all things IKEA we'd like to share some tips that can really add a breath of fresh air into your laundry room area. This includes combining IKEA's SEKTION kitchen system (yes SEKTION is suitable for laundry rooms!) with IKEA cabinets as well as some custom storage options. Design touches with colors or lighting options can really make an IKEA laundry room complete as well.
"I think creating the right laundry room starts with efficiency. Choosing the right appliances, the right surface spaces and plenty of storage are important here. So is creating the right mood. Laundry rooms should have pleasant colors and interesting design touches," says IKD designer Merari.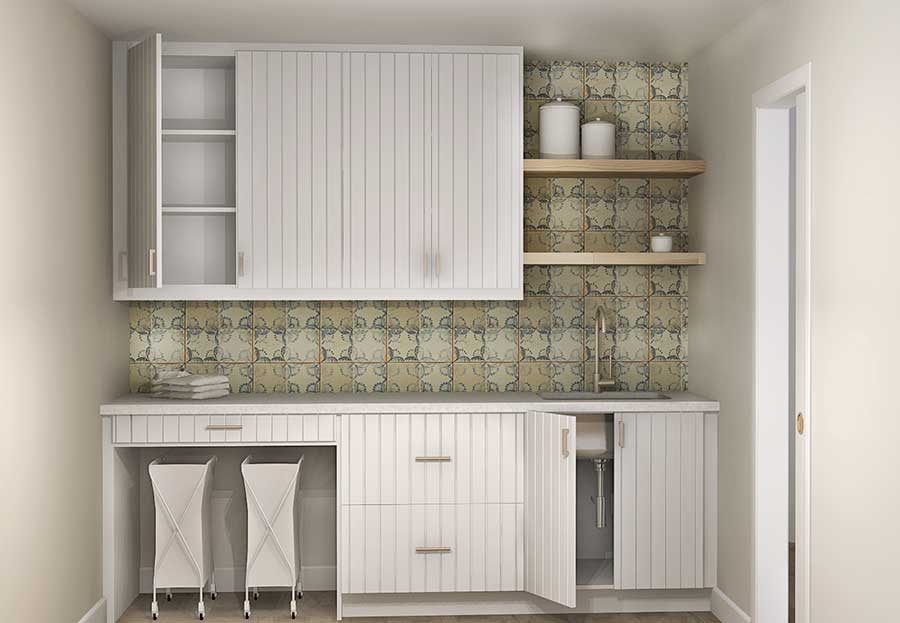 One recent IKEA laundry room saw Merari work with IKD customer Pat from Boulder, CO. Pat wanted to update her family's laundry space which was a large, high-traffic area in her home's basement which is the first room leading from the outdoors. She needed it to be more functional, stylish and, above all, clutter free. Florence designed a unique L-shaped layout featuring IKEA's SEKTION kitchen system with black-stained IKEA LERHYTTAN base cabinets and white IKEA AXSTAD door style for the upper cabinetry. Along with IKEA BERGSHULT/RAMSHULTwall shelving for added storage; Quartz countertops for extra surfacing to fold laundry and a few stylistic touches — including IKEA's MOLNSKOG wall decorations and IKEA's BJORKSPHIREA LED decorative lights as well as Rev-A-Shelf's Aluminum Bottom Mount Wire Hamper.
Let's see how to make your IKEA laundry room work!
We'll Design Your Ideal IKEA Laundry Room Easily, Affordably, and Online
Our IKEA Laundry Room Design Package is everything you need to complete your new laundry room with confidence.
Freshen Up Your Laundry Room
A remodeled laundry room adds value to your home in ways you may not have considered.
"It's unfortunate that so many people ignore the design of their laundry rooms and storage rooms. It's as though these spaces are an afterthought even though the laundry room is a room we use all of the time. IKEA laundry rooms provide a lot of options for making the task of laundry more enjoyable," says Merari.
This begins, of course with choosing the right IKEA cabinets. You can select IKEA's GODMORGON series (if there is a wardrobe area in your laundry room) or IKEA's SEKTION kitchen system with your IKEA cabinets. Options here again include IKEA's LERHYTTAN cabinets, like Pat chose; or you can even select Semihandmade's (SHM) Shaker Night Sky door custom cabinet fronts.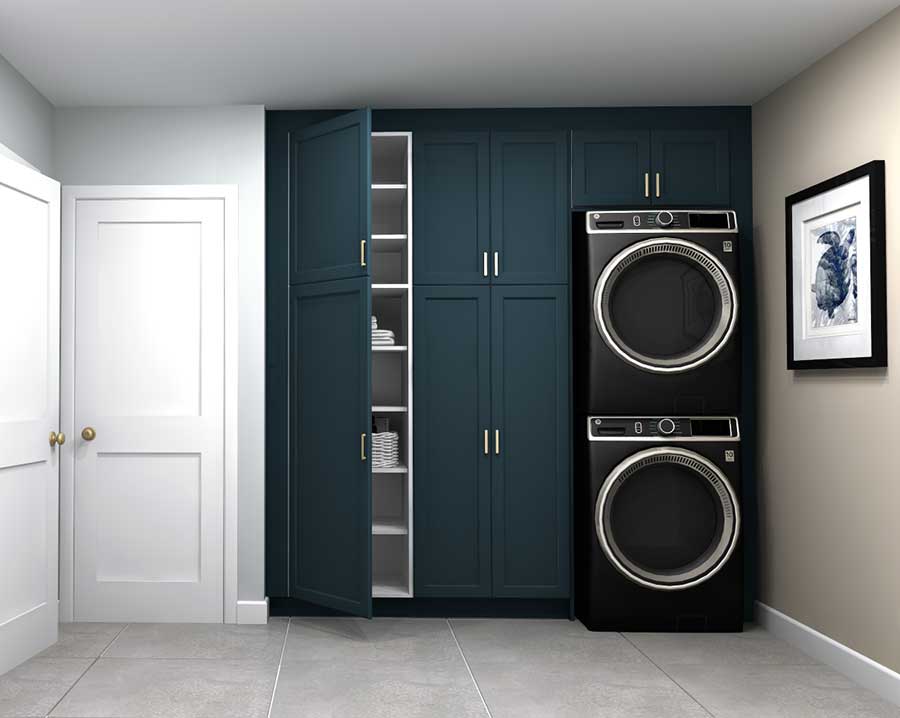 Pairing your IKEA cabinets with the proper laundry room appliances matters a lot. This is why we strongly suggest our customers make a checklist of their needs and how they typically use their space. Ask yourself: What type of washer and dryer would I have if I could choose any model? What are the most important features in the washer and dryer I select?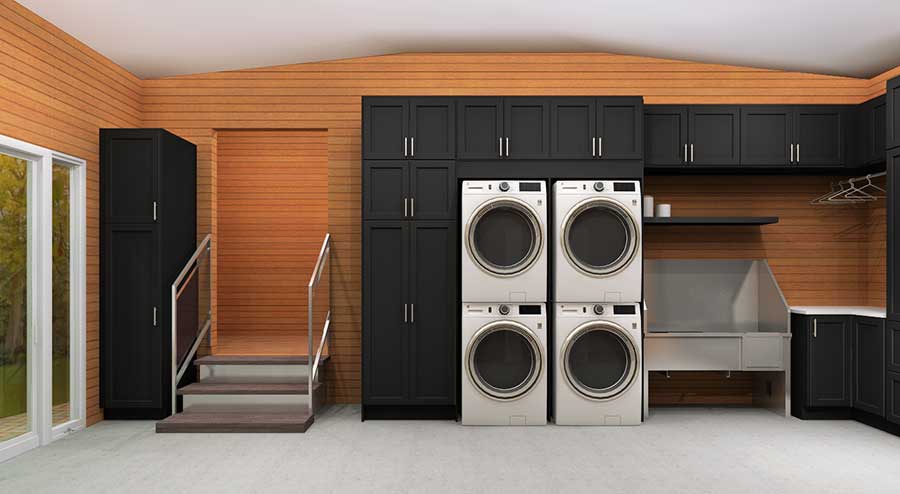 Merari also suggests the following tips:
Add folding tables — If there is space in your laundry room for a table where you can fold and sort clothes then by all means do it here.
Add racks— Options here include the IKEA FROST drying rack or IKEA SLIBB drying rack. For wall options, consider the IKEA BOAXELwall upright/shelves/drying rack combination system for convenient and flexible accessory options.
Add shelves —Make sure there is plenty of shelf space. It's much easier to keep a laundry room organized and efficient if you have enough shelf space to do so.
Another option is to install a large sink or old washtub. This actually can be quite practical, and aesthetic; especially if you tend to wash a lot of clothing by hand or if you have laundry that needs to soak before washing.This saves money and also saves more than three times the amount of water used by water-saving washing machines.
Decorative Ideas for Laundry Rooms
There are also several other decorative ideas to add to laundry rooms.
"I recommend adding cute touches to your IKEA laundry room. Many people just ignore the decor of their laundry room but just a few little touches — like an IKEA LAUTERS floorlamp with LED bulb or IKEA signage wall decorations— can really personalize your space. Decorating the laundry room to be more efficient, more comfortable and more appealing to the eye seems to make perfect sense to me," says Merari.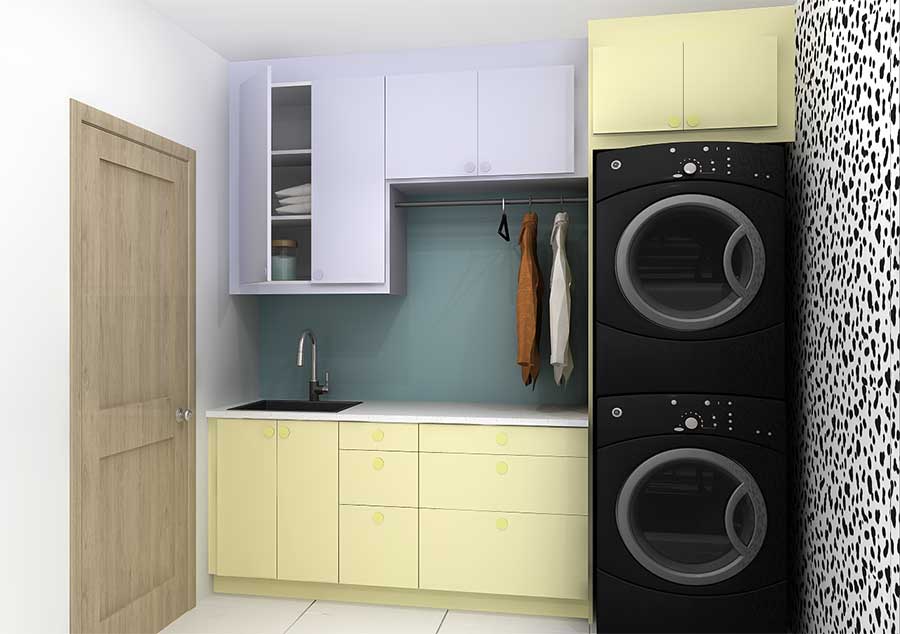 You can also make the walls more interesting, such as using mosaic tile; wallpaper or even just a new layer of paint can brighten your laundry room. You'll want to choose an interesting color palette. Maybe consider something green or blue, perhaps an aqua color rather than just white. You don't expect to walk into a laundry room and see bright blue, right? Picking something unique will make the room more welcoming instead of just a place to do the work of the house.
Other IKEA accessories include the IKEA BRANÄS laundry basket; the IKEA PLUGGIS recycling bin, and the IKEA DANKA ironing board, among others.
As you can see, your IKEA laundry room is a space just waiting to be freshened up. It really combines durability and style and it gives you the opportunity to improve both. Our team is here to guide you through the product selection and design process. All you need to bring is your design vision and we'll have your laundry room looking brand new in no time!
Get a Professional IKEA Laundry Room Design – All Online

Work with our certified designers to get a personalized laundry room designed around your needs and vision. If you're interested in learning more about our service, make sure to check out our IKEA Laundry Room Design Services.