Backsplashes add significant visual appeal to the kitchen, protect wall surfaces, and ease the kitchen cleaning and maintenance burden. However, they can also become a headache during the design phases as homeowners look through myriad tile options or mosaic patterns, trying to find the perfect one for their kitchen.
In case you're redesigning an outdated kitchen, be sure to contact experienced kitchen remodel contractors. Whether you're looking for sheet backsplash that matches your style or a statement piece, you can trust these experts to deliver both stylish and functional design solutions to your home in Providence County.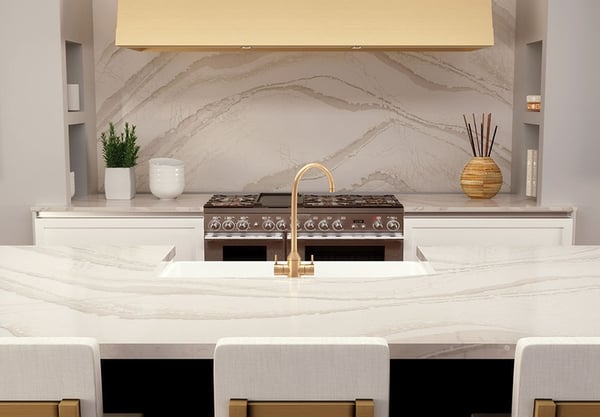 Sheet backsplashes add beauty & protection to kitchen walls
Well, guess what? Backsplash selections get a whole lot easier when you scrap the idea of finding matching tiles or fancy patterns and enjoy the stunning simplicity of sheet-style backsplashes. Sheet-style backsplashes come in two basic forms: single sheets for clean aesthetic or prefabricated options, designed to replicate other materials.
What are sheet backsplashes?
Sheet backsplashes are whole, continuous sheets of slab-style material – most typically quartz, granite, solid surface, or laminate – applied to walls behind sinks and stovetop areas to protect them from moisture and staining.
Of course, depending on the selected material, backsplash color and pattern, this protective element becomes an instant visual feature, too. The possibilities for sheet backsplash aesthetics increase all the time. In addition to the options available in natural stones, quartz, and Corian, there are options replicating other textures – such as wood, brick, or even linen.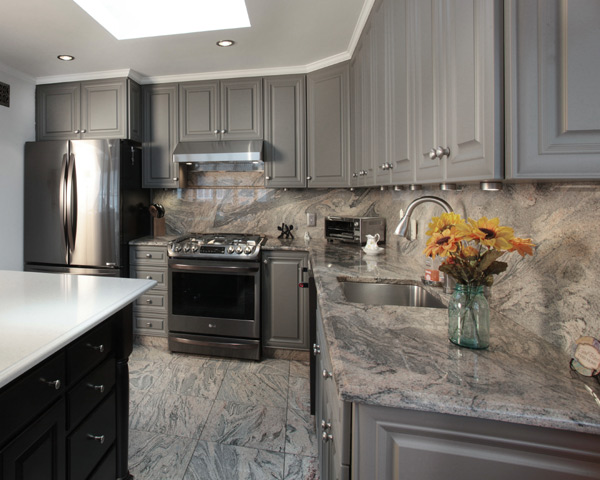 What are the advantages of sheet backsplashes?
There are several benefits to using one sheet of material rather than several pieces for your backsplash:

1. Simple & diverse design options
You'll have an easier time selecting a single sheet to serve as your backsplash. In most cases, you'll simply match the countertop material, guaranteeing a perfect fit. There are so many color and pattern options across the materials board, you'll be able to find something neutral – or something quite bold.
You can also select sheet-style backsplashes with prefabricated patterns or mock-tile layouts, so you don't get lost in "design land," and can quickly select the colors and patterns that call to you.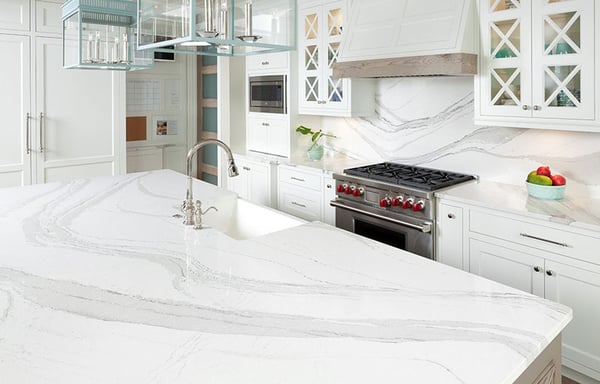 2. Better protection for kitchen walls
Not only are sheet backsplashes attractive, but they're also the best option for considerations such as easy clean-up and protecting wall surfaces behind them.
Unlike their versatile tile counterparts, there are no grout lines or penetrable spaces that can allow moisture or other materials to move beyond the backsplash and into the wall behind it. And, as a result of that smooth, continuous sheet – cleaning up messes is a breeze.
That said, choose the best sheet backsplash material – with the practicality of the space in mind. For example, if you love marble, we recommend skipping over "real" marble options, which are easily stained and harder to maintain in high-use areas, opting for a quartz or Corian sheet that looks like marble but is practically indestructible.
3. Create a seamless look
While most people choose to use sheet backsplashes all around the kitchen, from counter-to-cabinet, and from wall to wall, there are plenty of ways to customize it to your exact needs.
For example, If you want to enjoy a fun wall paint color, you may prefer a simple 4-inch backsplash around perimeter walls, selecting a matching or contrasting sheet backsplash for the stovetop wall or the kitchen's baking station. Partial sheet backsplashes are also a happy medium for those on a tight kitchen budget.
4. You can have it all with Corian backsplash
If you like the idea of a sheet backsplash, but you're still partial to the look of tile, there is an ideal solution for you—the routed Corian backsplash! This cost-effective option is a sheet of solid surface material that has lines routed out to resemble tiles.
The massive upside to this is the lack of tile grout. So, you get the look of tile, without all the maintenance, because anyone who's ever had to clean grout knows that it's no small feat. Not to mention, grout can be prone to mildew, in a very visible way. Who needs that in their kitchen?
Formica Laminate Backsplash in Calcatta Marble
However, choosing Corian backsplash is always the right option due to its nonporous nature that is easy to clean, and available in a variety of finishes that mimic natural stone. Even if you already have your heart set on a quartz or granite countertop, you can coordinate a routed Corian backsplash from their plentiful color assortment. The example below pairs a routed Corian backsplash in Raincloud with a Cambria Quartz countertop in Bellingham.
Where can I find reliable kitchen remodel contractors in Providence County?
As a leading provider of kitchen remodeling services in Providence County and the area, we use cutting-edge design and outstanding quality to offer custom kitchen solutions that match your vision. Reach out to us and we'll make sure you get the results you're looking for. You can rely on our experienced and talented team to handle every aspect of the project, from the initial planning, material selection, necessary approvals, through to the final construction phase. Get in touch with us at 866-525-7999 and make sure your kitchen renovation is up to par!