It was a busy, yet productive trip to LA to visit my sister and BIL, Renee and Bruce. They moved in their newly built lake home at the end of July, so they've been in about 2.5 months now. Since I had all the Facebook marketplace outdoor wicker finds in our basement for the last year, they came home to get the rest of their things from us as well as a storage unit, to finally get completely moved in. I planned to ride back with my sister and stay at least a week and then fly home, which is what I did. I ended up staying about 11 days, with two being travel days and we needed all those days to get things finished enough for me to photograph their house. We made it, I'm happy to say! We worked our butts off spray painting that outdoor wicker for the first 3 or 4 days, got the outdoor porches set up and ready to use and then moved on inside the house where we hung pics and mirrors (thanks Bruce!) and accessorized all the spaces too. We also went shopping and picked up some Homegoods finds to complete the bathrooms and other areas. It was a fun and exhausting trip, but a good tired!
I know my sis was happy that I came to help her. She's not quite the DIYer I am (Bruce is her DIYer), but she rallied and we dove into the spray painting and got it done together. It's totally worth it to find things to repurpose on Facebook Marketplace or elsewhere and remake them for a fraction of the cost. That's what we did for their porches and I'll be sharing the makeover process with you at a later time. They all turned out great!
When you build an expensive house, it makes sense (and is necessary) for them to use a lot of what they already owned. Renee has done a great job using what she had as well as shopping wisely to add some new pieces to the mix (it's a new house & it's exciting to add some new things). She had lots of accessories that she had saved from their old house, lamps and artwork as well and we made good use of much of it spreading it inside and outside on the porches. The rest she will give away or donate, but it's always great to shop your house, as most of us do that.
Come along and let's take a look at the house! You are going to love it. Dream home is completely accurate. It's totally a dream home in every sense of the words. I'm so happy for them to realize their dream of retiring on a beautiful lake and to be close to Lauren and her family. Truly a dream come true for them and the setting of their lake house could not be more perfect. I told them to never take it for granted and I'm sure they will not. They are in a neighborhood called Lake Ramsey in Covington, LA, a gem of a place to live. It's sort of out in the country, but close enough to all the stores and restaurants and only 45 minutes from Lauren. They wake up to the sounds of the lake and get to enjoy this scenery every single day!
Warning: I took a zillion pics, so I hope you like lots of details. I'll divide this tour into two parts and share the house today and the outdoor porches and pool next weekend. It's a lot! I will also share as much of the accessories and building materials as I can, but feel free to ask questions if you have them.
We had stellar fall weather while I was there with not a drop of rain. We had beautiful sunshine and blue skies every single day and that helped us get all our projects done. Here's the exterior of the house facing the street. It's a big house, but not gigantic at around 3600 s.f. The spacious garage is on the right, the mudroom in the middle and the main house to the left, of course.
House siding exterior color: Analytical Gray, Sherwin Williams
Shutters: Enduring Bronze, Sherwin Williams
Trim: Matched to their windows, but similar to Pure White
Front Door: Underseas, Sherwin Williams
Porch Ceilings: Rainwashed, Sherwin Williams
Affiliate links used below in this post.
They used a stack stone around the front porch which really looks nice. The house is based on the 2020 HGTV Dream Home in Hilton Head, SC that I toured in person back then. If you haven't seen the first post I wrote about their plans, you can see it here. The exterior of the homes look quite a bit different, since they had room to spread it all out and the HGTV home had the garage to the side. They modified a few things along the way too, but this is a gorgeous floor plan, very open and so nice to live with. It was fun to go back and look at my old pics of the dream home comparing it to their house. I love theirs even more!
It turned out so gorgeous and I was so excited to see it in person after helping her choose so many of the finishes and materials. You'll notice the shutters under those smaller windows. Bruce is going to add white trim around those to finish them off like the windows above. They still have lots of projects they want to do and Bruce is a handy guy and will do much of it himself.
Love this front door, it's a perfect lake house color.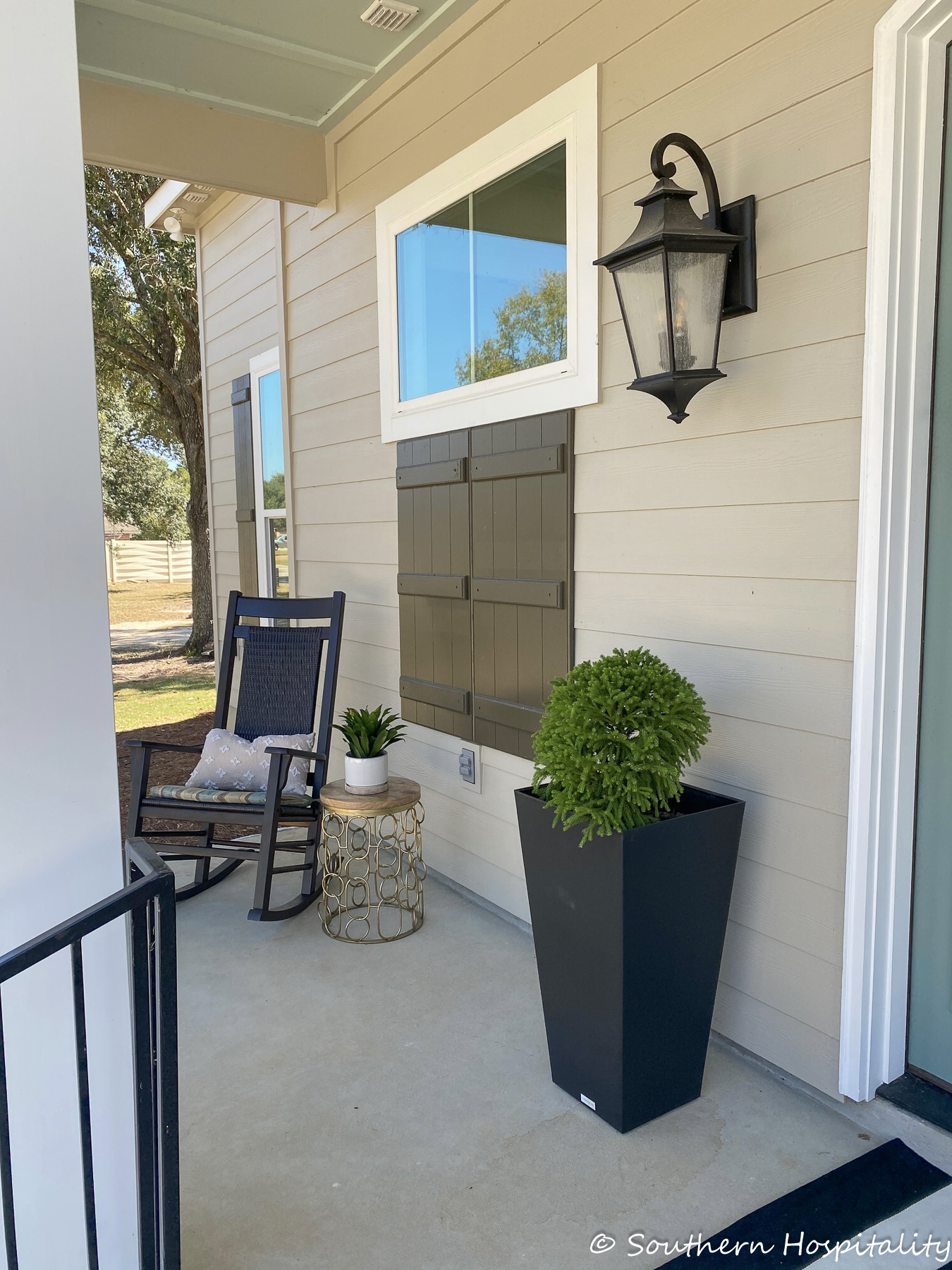 We brought that rocking chair back from GA, it belonged to mom and dad and we spray painted it a dark brown instead of the blonde that it was. It's a nice reminder for her to have it on the porch.
They added a porch swing too.
New rugs and wreaths on this beautiful double wood front door.
inside the door, is the spacious tall 2 story foyer which looks up to the upstairs landing with railing. She had this zebra rug already as well as that large piece on the left. It works perfect in here.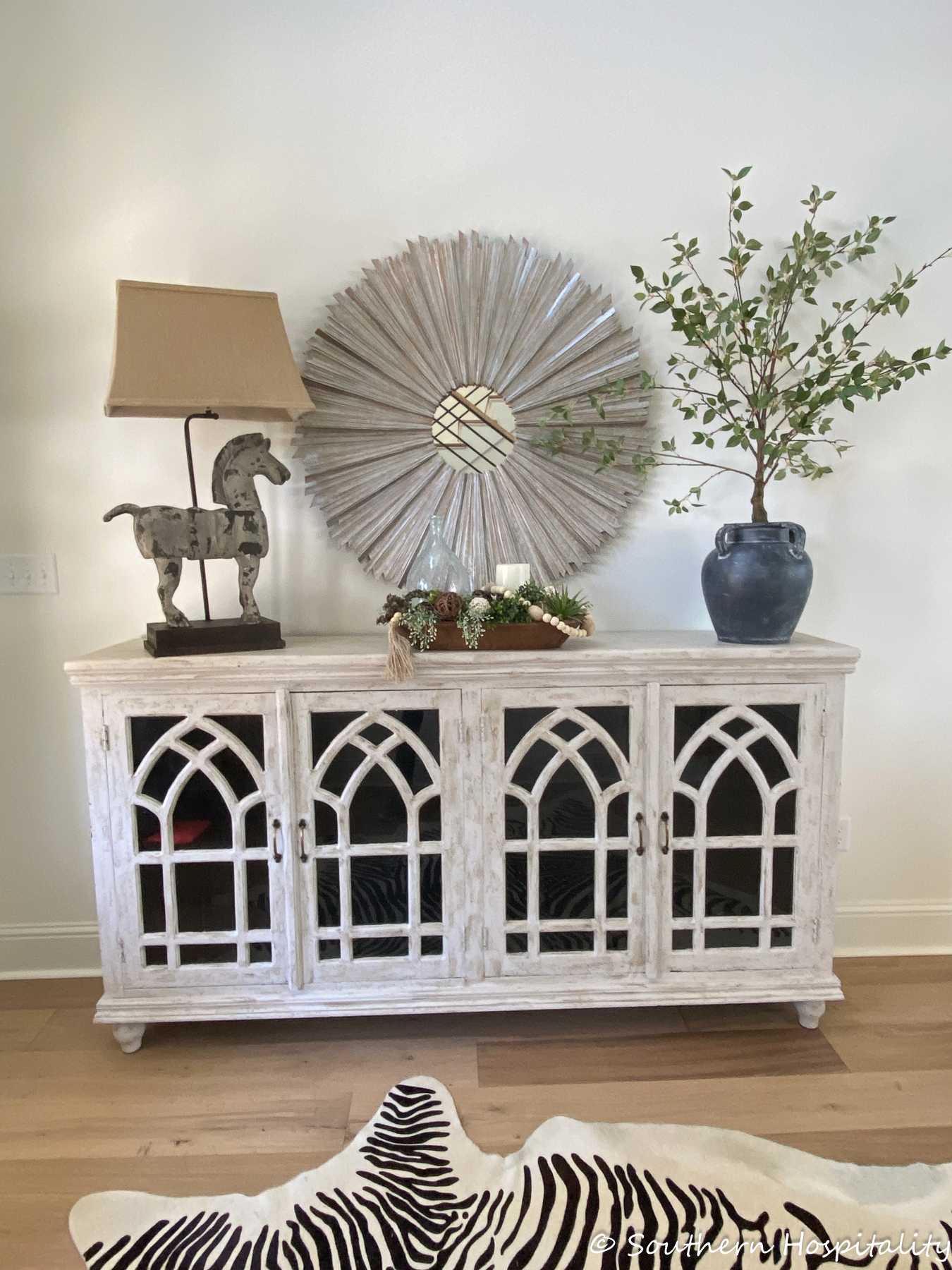 She already had the horse lamp too and we added the new black pot and arrangement (pot from Homegoods and the green tree from a local shop). She had the mirror already too.
She also had the dough bowl and we arranged that together using what she had, but also added some ball filler to it and greenery she had. We love how it turned out!
She loves real plants like I do and added them all around the house, inside and outside. I love the railings they chose, modern and linear in black and oak.
Bruce hung this mirror that they already had on the stairs and we loved how it bounced the light around. Their house has so much light coming in, it will never feel dreary. In fact, it's hard to photograph a house with so much light, but I did the best I can.
Wall paint & trim paint: Alabaster, Sherwin Williams. Trim was done in Semi-gloss and walls in matte.
Interior doors: Oyster Bay, Sherwin Williams (same as my interior doors)
I'm sure many will ask about their hardwood floors, they are engineered oak floors and here's the style and manufacturer. They got them through their builder from a local wholesale flooring company.
They are beautiful! The company is PS Distribution, style is Rare Earth Euro Oak 7.5″ plank. Rare Earth Granite must be the color name. Hope that helps!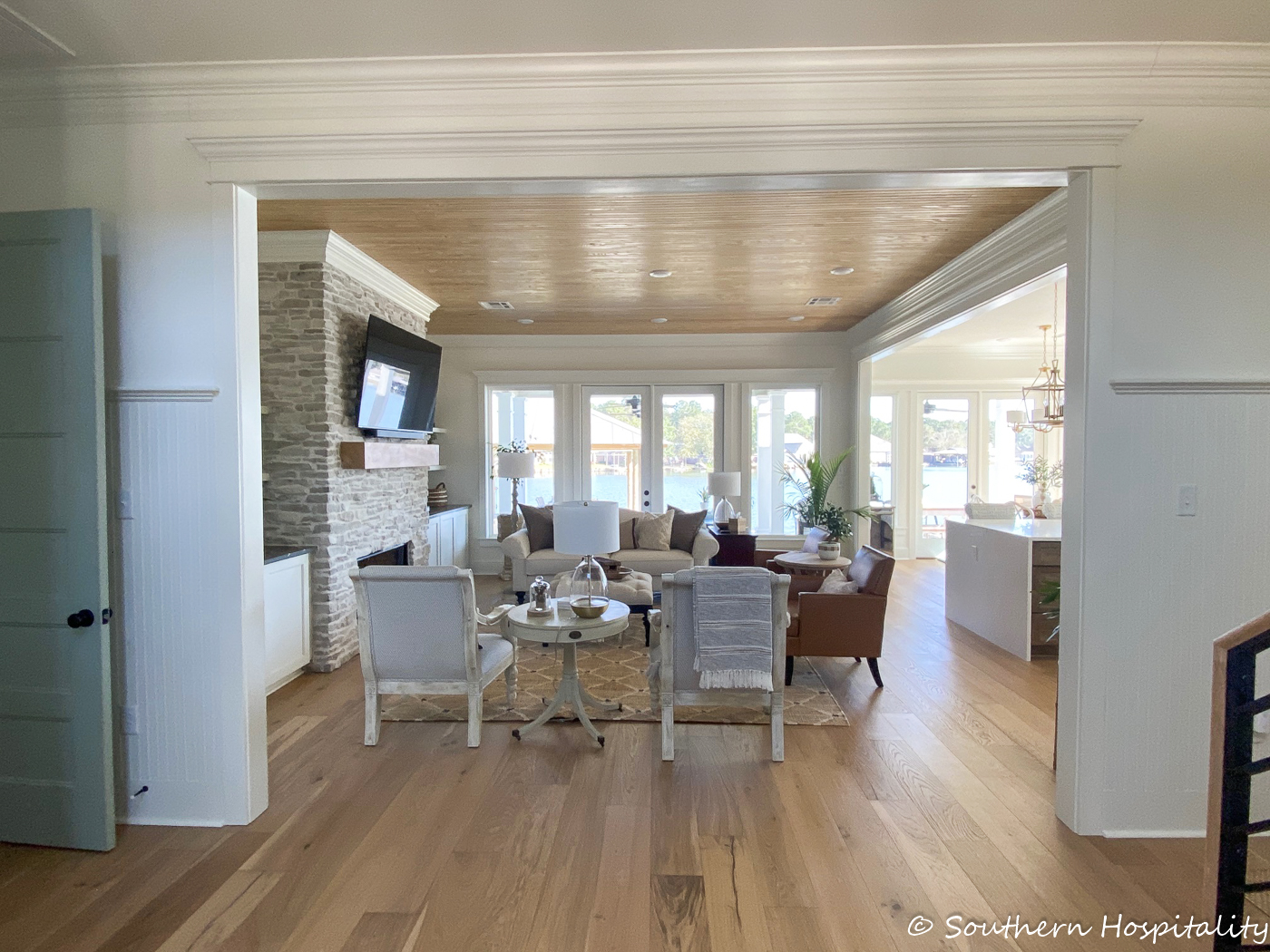 The living room is straight ahead when you walk in and the lower level is very open. The door on the left leads to the master suite. The whole back of the house is windows and French doors. Gorgeous! The molding is also gorgeous! This house is a wonderful open floor plan and very easy to live in. With the master suite on the main (plus a powder room downstairs) and 2 bedrooms and 2 bathrooms upstairs, as well as a bonus room in the middle, it's a great layout.
Looking back to the foyer and stairs.
I love how this natural beadboard ceiling looks with all the white.
The living room is spacious and open to the kitchen and dining area. Those faux leather brown chairs are new and I'll link them below. They are the perfect size in here.
She found lots of small pots for real plants and it was fun putting those around the house.
Bailey was napping on the sofa and made for a good photograph.
She had those 2 chairs straight ahead and had them painted white and recovered in a neutral before she moved.
She had these shelves accessorized, but we tweaked a lot after I got there and added some better things from Homegoods. It was fun working on these and we think they turned out fantastic. That's a black marble look quartz on the built-ins.
Love how this turned out.
Cute Bailey boy. He snuggled with me a lot while I was there and was missing my Daisy. They are both Shorkies.
Love this side too. It was fun to place things and play around with them until it was just right. She had most of this already, but we added a few things.
Looking to the kitchen.
So gorgeous and open, those windows and doors are amazing, letting in so much natural light. The island is huge.
You might remember I talked about these 4 rattan chairs that we spray painted last time I was down there. These came from Facebook Marketplace, all 4 for $100 and will do nicely until she buys more down the road.
I just love how the kitchen came out. They have a ton of drawers and cabinets, plenty of storage plus a walk-in pantry.
The blue tile is a beautiful pop of color with the white cabinets, perfect for a lake house. Some have asked me about this backsplash tile and Renee is checking to see if she has the details on it.
It's a very spacious kitchen and so nice for entertaining. The island was one thing that got mixed up during the build. The color she ordered from the cabinet company was much lighter than the ones that came (what she ordered was a darker tone more like the floor) and she was originally getting a regular countertop, no waterfall edge. After the island came and the back was trimmed out she realized that it wasn't what she ordered. We had pics from when we visited the cabinet company and she went back and apparently the cabinet company had discontinued that color without ever letting her know. This color took the place and that's what they shipped. She wasn't happy with it, but in making lemonade out of lemons, the company agreed to pay for a waterfall edge to break up all the wood. It worked perfectly and she is thrilled with the outcome.
The island is just a different tone than what she ordered, but it works fine. I think it's beautiful and the waterfall edge is gorgeous.
Here's where I shout out a wonderful company that I've worked with before and who agreed to work with us on this project as well. They provided all the kitchen hardware, the bathroom hardware and hooks for the baths. Thanks to D. Lawless Hardware for their support of product for this lake home. So greatly appreciated. I've worked with him several times on my cabinets and his products are beautiful and affordable, so please check out his website.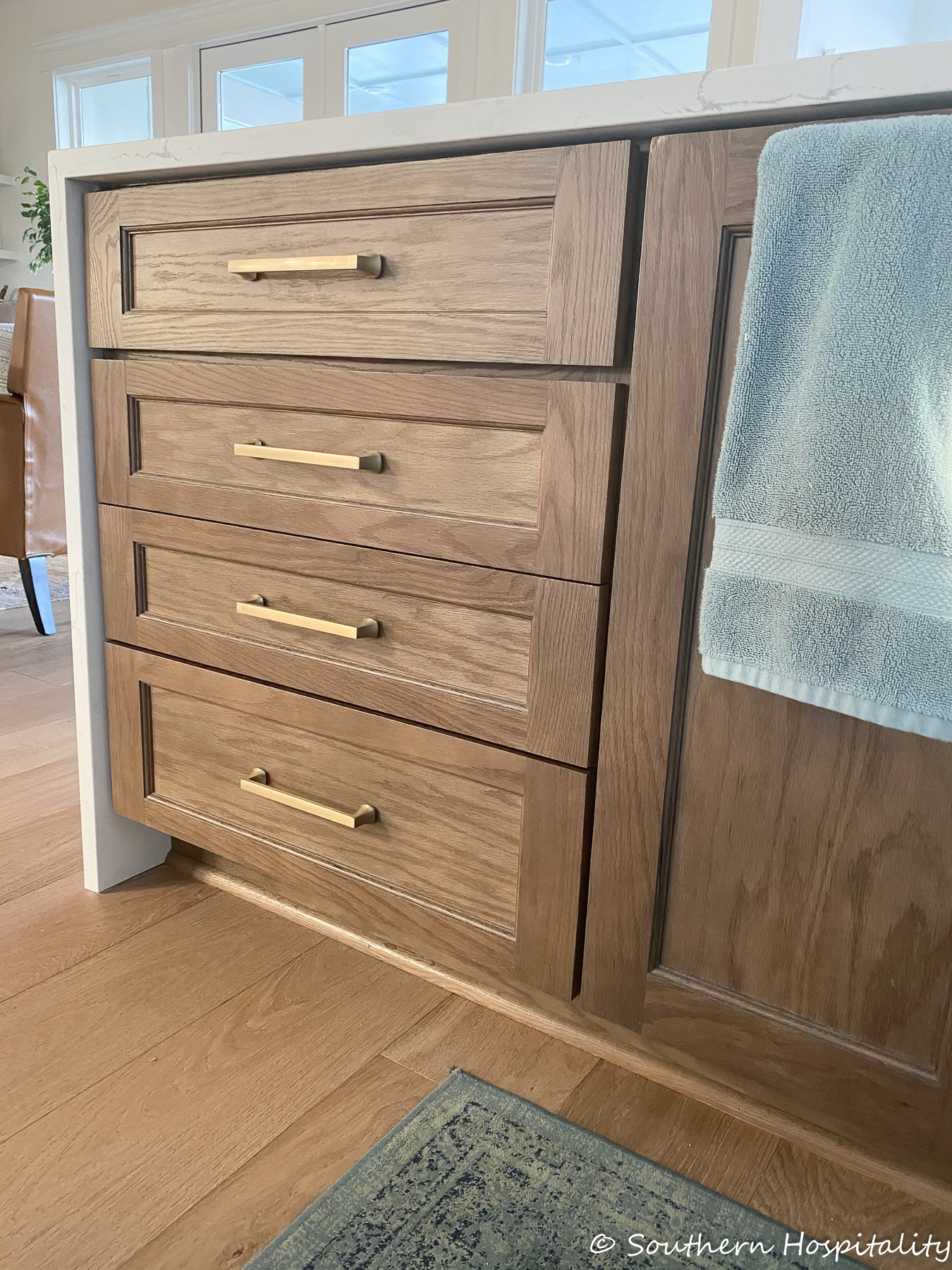 These are the Mandara 6 inch pulls in Champagne Bronze and they are so gorgeous on her white cabinets and wood island. She opted for the same finish in knobs for the upper cabinets. Prices at D. Lawless Hardware are very reasonable.
Mandara Knobs in Champagne Bronze. She used those in the master bath too and I'll show you those as well.
They are stately and elegant pulls and knobs.
She did a gold faucet in the kitchen and as you can see, the sink is in the island. It's a granite composite sink. We both have and love those.
Hood and cooktop. They have GE Cafe ovens and cooktop.
Don't you love the tile? All those shades of blue are so soothing. That bread board is a French antique I picked up for her in Round Top a few years ago.
I'm really envious of these pull out drawers. I had them in my previous house and they are so much easier to store in.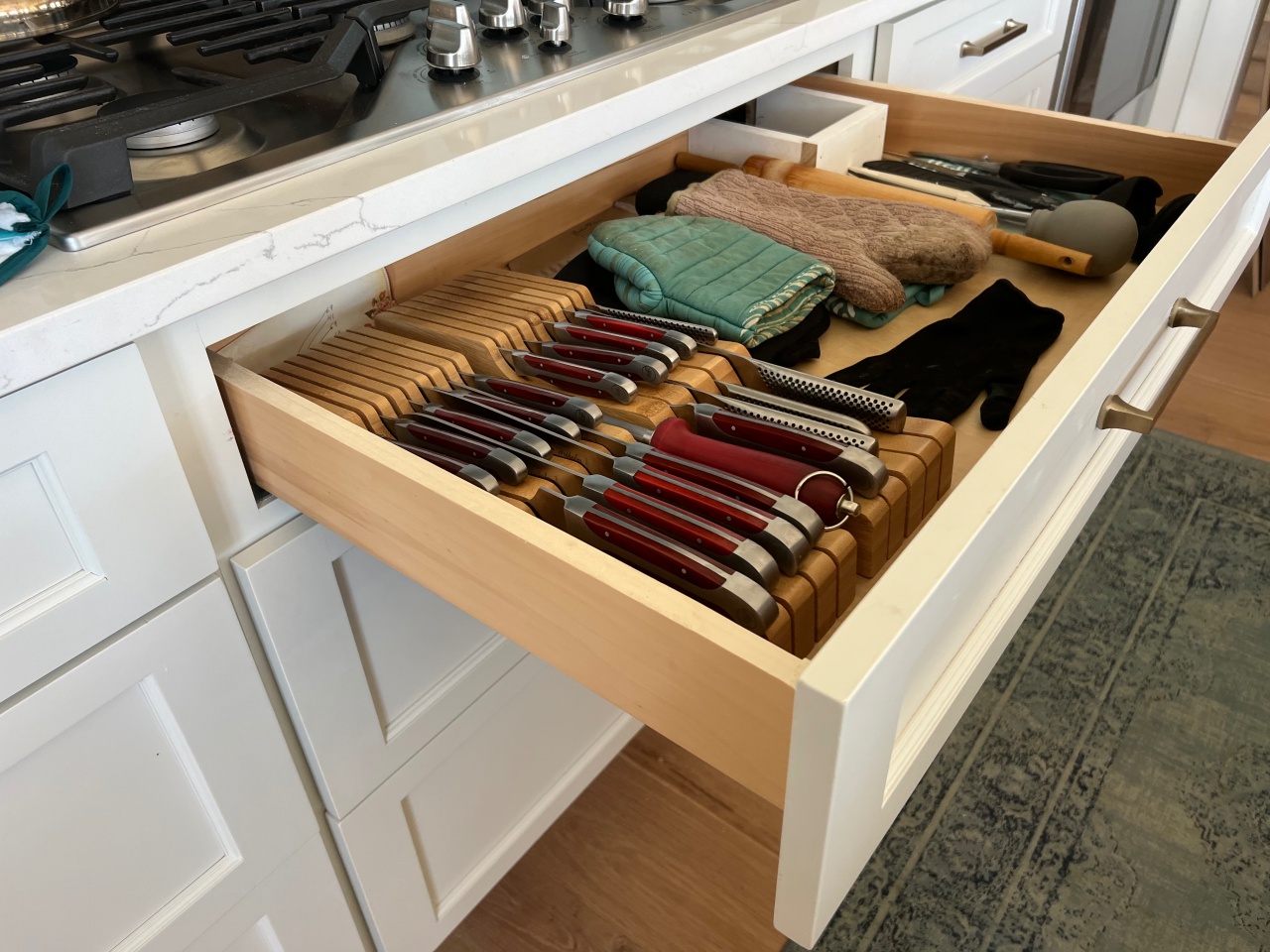 She's got so many drawers and added this knife organizer right under the cooktop which is convenient.
To the right of the cooktop she added this stackable spice rack with glass jars which is also handy and convenient. Love the labels!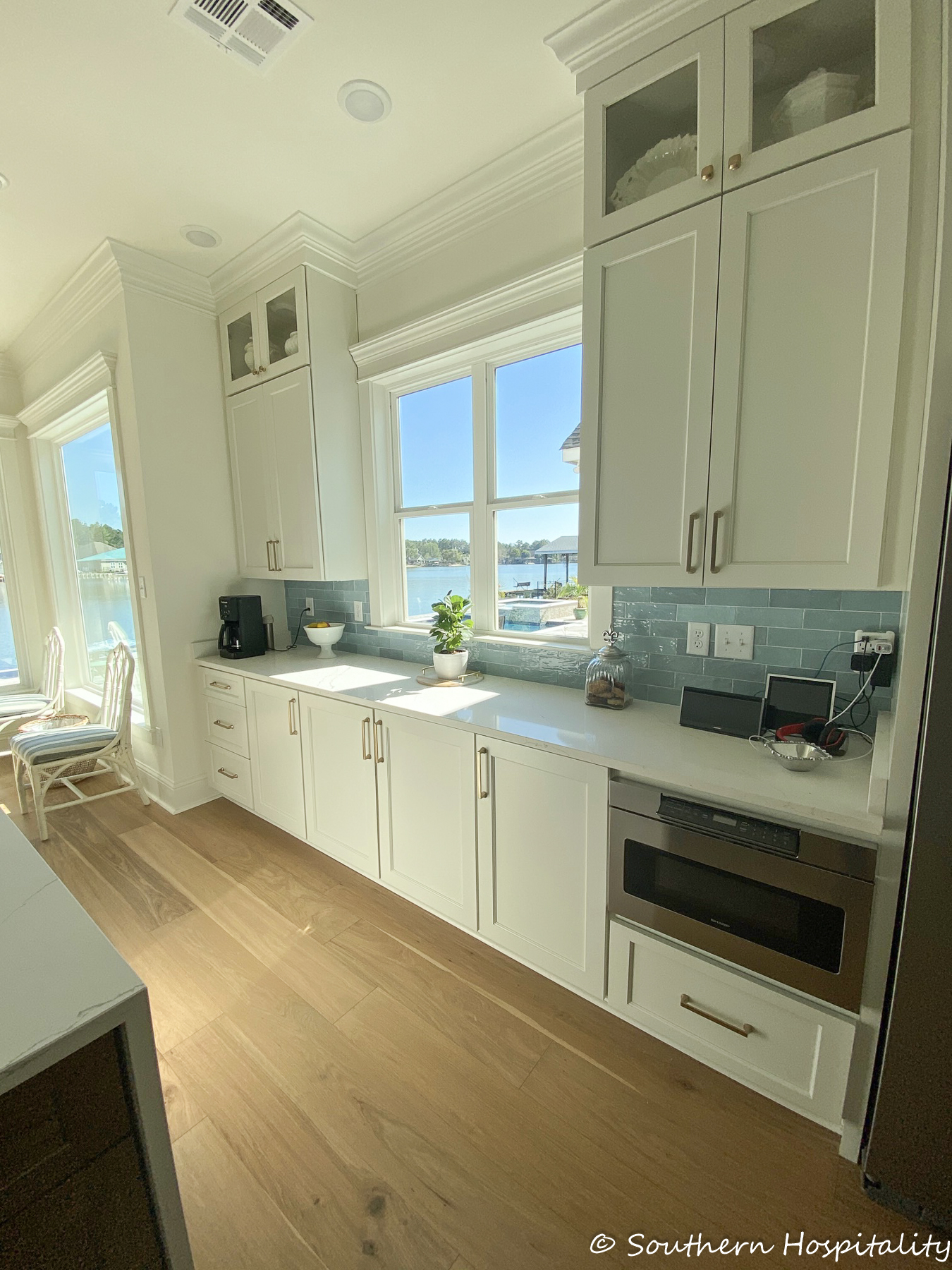 The other side of the kitchen has almost a butler's pantry effect. Lots of countertop space and more cabinets above and below. They have a microwave drawer which is pretty snazzy. I had never used one before, but it's very efficient.
I love the tall cabinets with glass fronts, perfect for showing off white pottery dishes.
We decided one large wine bottle on this marble tray would be the perfect accent on the island. It's huge! I have these stems linked below, they are great.
Such great storage in this kitchen, not to mention all the windows.
A good look at the waterfall edge on the countertop.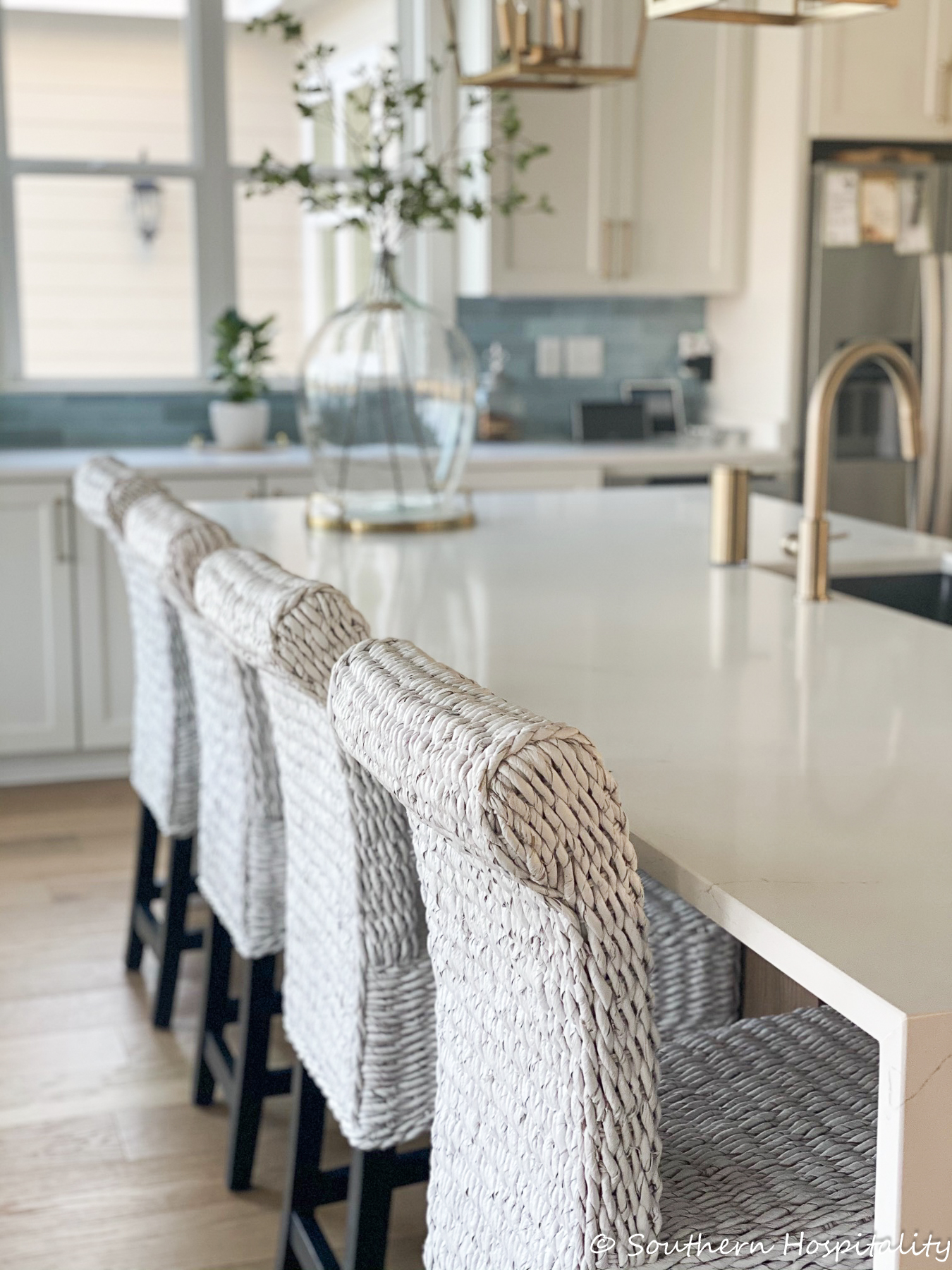 You can see how open and spacious the house is, with sight views back to the front door.
Next to the kitchen is the dining area. She already had this dining table and kept it. She had lineny dining room chairs that were all upholstered and sold them before they moved. She had her eye on the rattan dining chairs from Ballard Designs similar to these. When I spotted this set of 7 on Atlanta Facebook Marketplace not long after they moved last year, I texted them to her and said you need to get these. She hem hawed a little while, since they had just moved and she didn't want to think about it and finally texted me back and said, I made an offer, can you pick them up if I get them? Of course, I said yes! She got all 7 for $525 and these were top of line for our makeover project when I got down there. She bought fabric this summer from our local Fabric & Fringe Warehouse and we were ready to get that project done. Mark and I picked up the chairs in Norcross and stored them in our basement for a year.
Here they are before we got started. I'll do another post on all our makeovers, but these look so great after spray painting and changing out the chair fabric.
The chairs had 3 layers of fabric on them, all stripes! And we added a stripe too. It was too funny. These chairs look to be Henry Link and here's a set of 8 on Charish. As you can see she got a great deal and she's very happy I talked her into them.
Here's a good shot of the dining area looking out to the pool and lake. Isn't this stunning? This is afternoon.
I took pics at different times of the day to capture lighting. This is late afternoon almost dusk.
This mirrored chest she's had for a long time as well as the painting (from Homegoods) and accessories.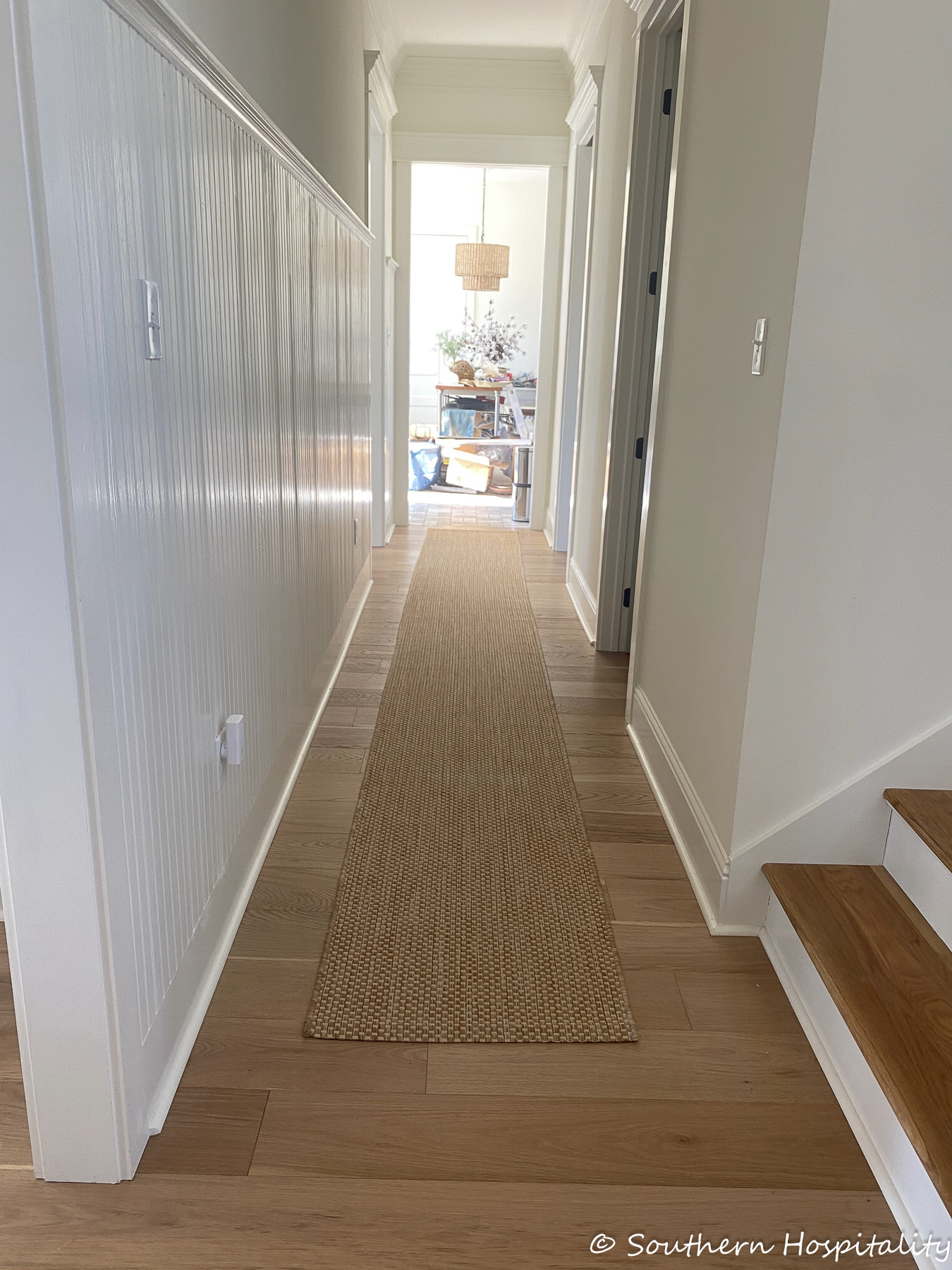 They had extra beadboard and the builder added beadboard down this side of the hall and the opposite side going to their suite. Long hallway coming in the foyer to the right that leads to the mudroom. We will peek in there, but it's the dumping ground for now.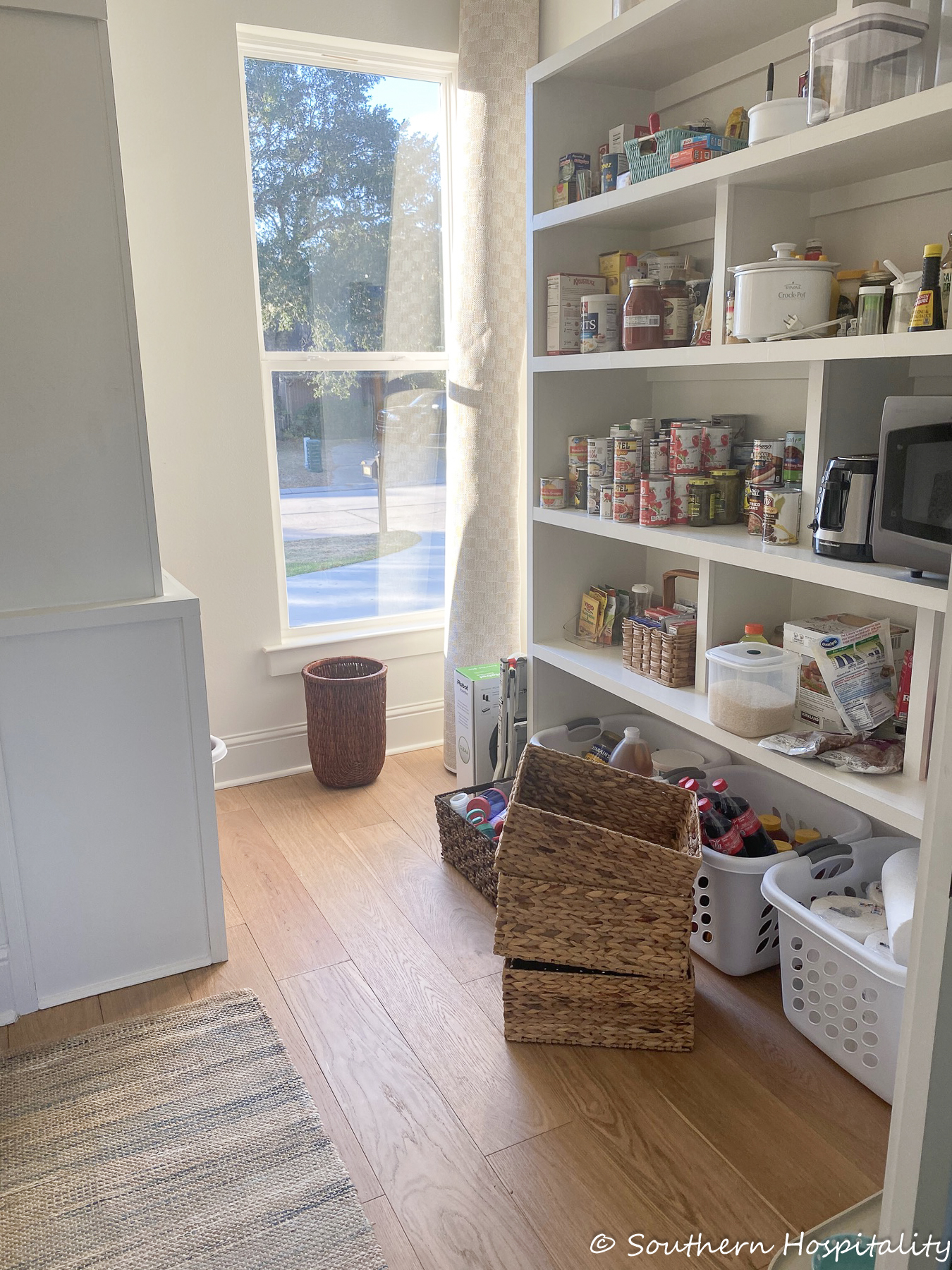 The pantry is just across the hall from the kitchen and very spacious.
To the left is the pantry sink. What a nice pantry! I've never had a walk in pantry like this and it has a pocket door too that can be closed off.
More D. Lawless Hardware supplied knobs in the pantry on the cabinets. These flower knobs add a special touch in there.
Here's the mudroom/laundry room, which again is the dumping ground for now. After things got unpacked all the accessories were brought in here so we could "shop" them. We made a lot of headway on using many of them but she will sell some things too.
This tile floor is from Floor and Decor, it's a beautiful brick pattern and color. Eventually they will add cabinets in here and make it all nice and spiffy.
Powder room is off that hallway too, under the stairs. This navy vanity is the starting point in here and eventually she wants to make it really pretty with wallpaper, art and accessories.
It's the perfect space to make so cute and stylish.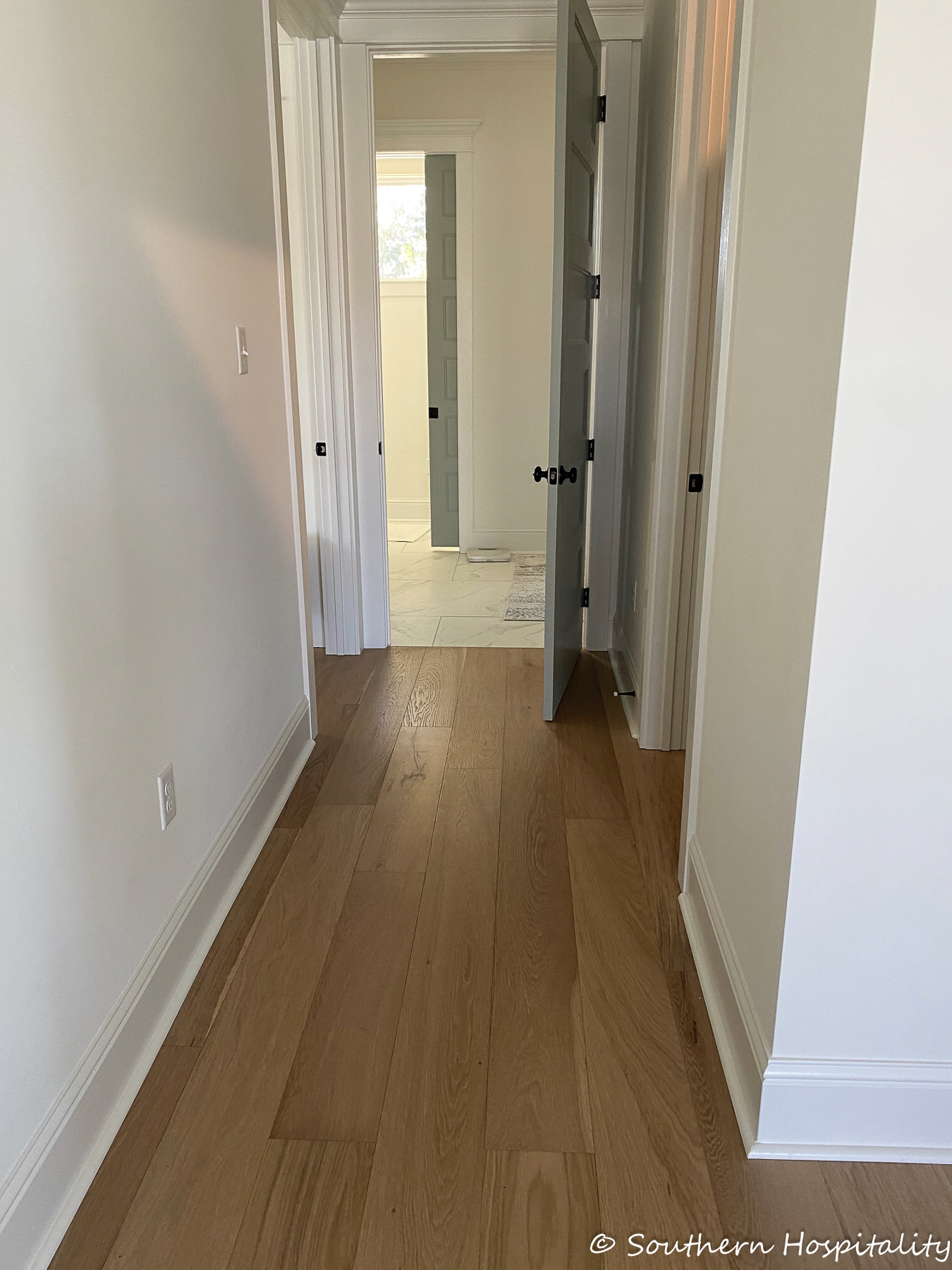 Heading to the master suite, they have a little alcove that comes in with a hallway that goes to the bedroom, closet and master bath. This is looking from the bedroom to the bathroom, closet to the right.
The bedroom is very spacious with French doors leading outside to the covered porch. The light in this house is amazing!
Renee has plans to redo this space, with a new bed, nightstands and bedding, so that will be a little while before that happens. She's looking for the right things to go in here and plans to keep things neutral in here. That rug that I showed you a few weeks ago that's all neutral and she styled on the porch will go here (from Sara's Simply Southern Cottage collection). It will be gorgeous in here.
She's keeping the French Country dresser and chest that she found years ago.
Looking out to the lake, they have a fireplace right outside these doors.
Bruce lit a fire a couple of mornings and evenings and it was so nice. They have tons of firewood stacked up from cutting down some trees. I gave her a chair and ottoman by Sherrill that I had in my old bedroom that I bought in Birmingham at Salvation Army for $100. It needs recovering and she bought fabric for it and will get it recovered to put here in this corner. It's going to be so pretty when done!
That's the master for now, but it will get much better too. They are also waiting on bamboo blinds to come in for all the bedrooms and a few other strategic windows that need covering. The main windows in the kitchen and living room will remain uncovered, but she may add some drapes later on. Or maybe not!
The closet is spacious and Bruce installed a closet system after they moved in.
Very nice!
Heading to the master bath, the toilet room has a little window that's high up on the porch. Also has a pocket door and double doors inside for storage, which is nice.
The bathroom is spacious too and we found this rug at Homegoods while I was there. It's perfect and has such pretty tones with the aqua vanities in here.
Master shower with marble floors.
Shades will go on these windows too. She found that tall glass front cabinet at a local place Clayton's in Covington.
These vanities are both from Home Depot and I'll link them below. Mirrors from Lowes and we spray painted them the right shade of gold. She's got plans to spruce up the bathroom more later too, with wallpaper.
Mandara knobs from D. Lawless Hardware look beautiful on the vanities.
Adding wallpaper will really liven up the space, but it's a gorgeous bathroom.
They brought the chandelier with them and she wanted it in here and it's perfect. She's planning on getting the vanity painted in a deep navy.
Heading upstairs to the 2 bedrooms and bonus room in the middle.
The 3 granddaughters have a room upstairs and a bathroom. We added a new shower curtain and rugs from Homegoods. I love how the shower curtain looks.
I'll link the vanity and mirrors too. It's the perfect bathroom for the girls to share.
We ordered these pretty black pulls from D. Lawless Hardware for both vanities upstairs. They look great on the natural wood tone.
Tiled bathtub.
Looking out to the hallway and the girls' bedroom is just outside this door.
Renee used all the furniture and bedding she already had, but has plans to add 3 twin beds in here eventually. Alexandra still sleeps in the baby bed when she sleeps over.
It's all cute and comfy for them for now and it will be fun to help her redo this room later on.
Iris just painted those paintings to the left of the closet so we hung them up for her. The girls each have a basket with their names on them on top of the dresser.
It's comfy for them now and they enjoy coming to see Nae Nae and Papa.
Upstairs landing
Right outside on the landing, we added shelves and put a painting over and added a few accessories. It looks great here. Renee found those corbels in Marietta and they had left over stair treads that Bruce cut for the shelf. I love it!
She already had all these pieces so we shopped her house and it really adds a little something to this open hallway.
The middle space up here is currently Bruce's office in the corner and the playroom/media room. The girls can watch TV up here and play. There's a spacious upstairs porch right through the French doors I'll show you later.
A very nice room to have and so spacious. They had this sectional sofa in their old house great room.
It fits here perfectly. The girls still have some toys up here to play with. Alex and Iris like them the most.
Down the hall on the other side of the house is the guest room where I stayed for over a week. It was very comfy and I loved staying here. I did have to add some cardboard to the windows to keep the early morning sunshine from totally wrecking my sleep. It gets light early in Central time. Those bamboo shades will take care of that. We found this rug when I was there earlier this summer at Homegoods and it's perfect in here.
She will add more to this room too and has nightstands on order.
Dresser from Facebook marketplace and she has a great start in this guest room. She will add more artwork and things later on.
The guest bath is comfortable and spacious too.
Shower has pretty penny tile and stylish patterned tile on the floor in all neutrals.
More hooks from D Lawless Hardware, perfect for hanging towels near the shower.
The guest room has a spacious closet the length of the bathroom that's really nice with built ins and a pocket door.
And that's a tour of the inside of the house. I hope you enjoyed seeing their new house as much as I enjoyed showing it off. I'm so happy for them and thrilled that they got to build this beautiful house. Getting more finishing touches will happen for years to come as they personalize it even more. I'll share more with you as they make even more progress later on. You can bet Mark and I will be visiting!
I'm linking everything I can below in this widget, so just ask about anything else you see. Many things she already had so no links for those. This is mainly the house materials and new things she got recently:
Related
Don't Miss a Post, join my list!