Other natural elements tie it all together.
Let's face it: The bathroom is where we all start our day. So when you're ready to remodel your master bath using IKEA cabinets, chances are you're looking for a fresh start. But where do you begin? Perhaps you're faced with a small space with limited storage and no workable vanity area. Or maybe the color scheme is a bit underwhelming for your taste. One of the fastest (and most appealing) approaches is a white IKEA master bath using natural materials such as marble, glass and oak, based around IKEA's SEKTION kitchen system. (And yes, SEKTION works well in the master bath!)
Two separate master bath designs for a couple of Californians really reflect this approach. For Jennifer from Lake Forest, CA her previously outdated space was becoming cramped and dark — making it a not-so-inviting space for her to enjoy without a major overhaul. So she mixed IKEA's VEDHAMN oak cabinets to create an impressive centerpiece vanity featuring a combination of doors and drawers and white IKEA KASKER countertops for an elegant look. Emily from San Francisco, CA shared a similar experience in her remodeled bathroom using the Semihandmade (SHM) Impression Tahoe door style along with IKEA's SEKTION kitchen system and plenty of counter space to create a double vanity with clever storage for makeup and hair styling products.
"We chose IKEA's VEDHAMN cabinets because our previous bathroom didn't have much characteror any real storage. It was getting very depressing! We love the lightness our white bathroom now brings. I especially love how the wall tiles, flooring and hardware work so well together," says Jennifer.
Created with guidance from IKD's design team, both white bathrooms feature oak cabinets to create the light feel, re-imagined vanity areas and using natural materials. The tiles used add a subtle, sleek complement and clever floating shelves add storage options without cluttering up the area. Plus each bathroom was completed for well under their original budgets of $4,000.
Let's take a look!
We'll Design Your Ideal IKEA Bathroom Easily, Affordably, and Online

Our IKEA Bathroom Design Package is everything you need to complete your new bathroom with confidence.
Vanity Thy Name Is
Jennifer had the bathroom space — she just needed to capitalize on it — and a new vanity was the answer.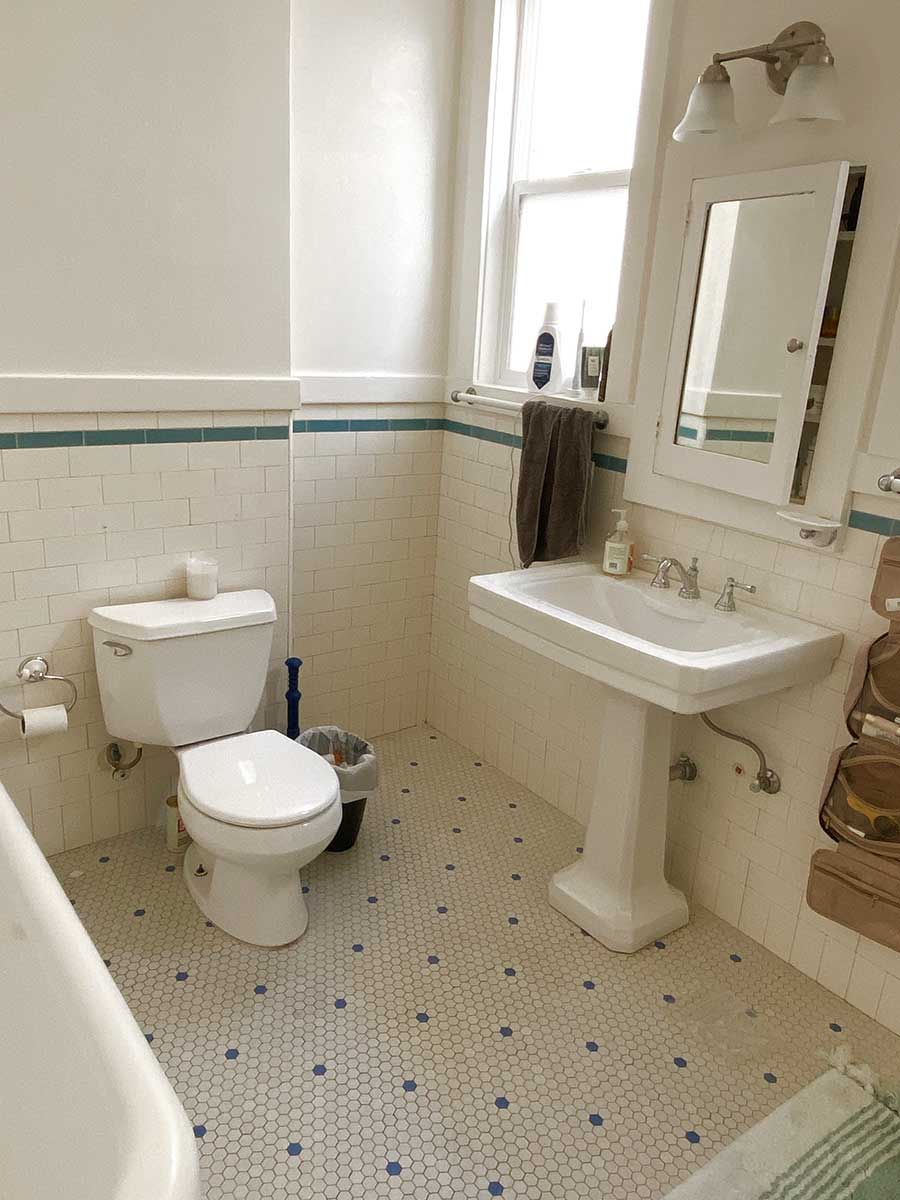 "Our original bathroom was very dark and isolated off our bedroom. We started to notice our morning routine was becoming hectic and the vanity area was simply not cutting it for storage. The dark wood cabinets, the one large mirror – all of it had to go!" she says.
Working with IKD designer Merari, she developed a design wishlist and a vision. She selected IKEA's VEDHAM Noak base cabinetswith white frame finish as the centerpiece for the vanity section. Combined with the IKEA white marble effect KASKER countertops and his-and hers Kohler undermount sinks, the vanity area offers a nice complement to the natural stone flooring and provides additional storage with three extra IKEA MAXIMERA drawers on each side. The light oak color opened up the 78-square-foot space even more and gives a bright, airy feeling to the design. Another interesting element is that Jennifer opted against a medicine cabinet, feeling that those doors would protrude out and hinder the couple's routine. They instead chose individual mirrors to replace the original large mirror. The two mirrors reach to the top of the 8' ceilings and creates distinct his-and-hers stations. The stations each feature the base cabinet doors and three drawers each — ideal for storing beauty and grooming products as well as other bathroom essentials.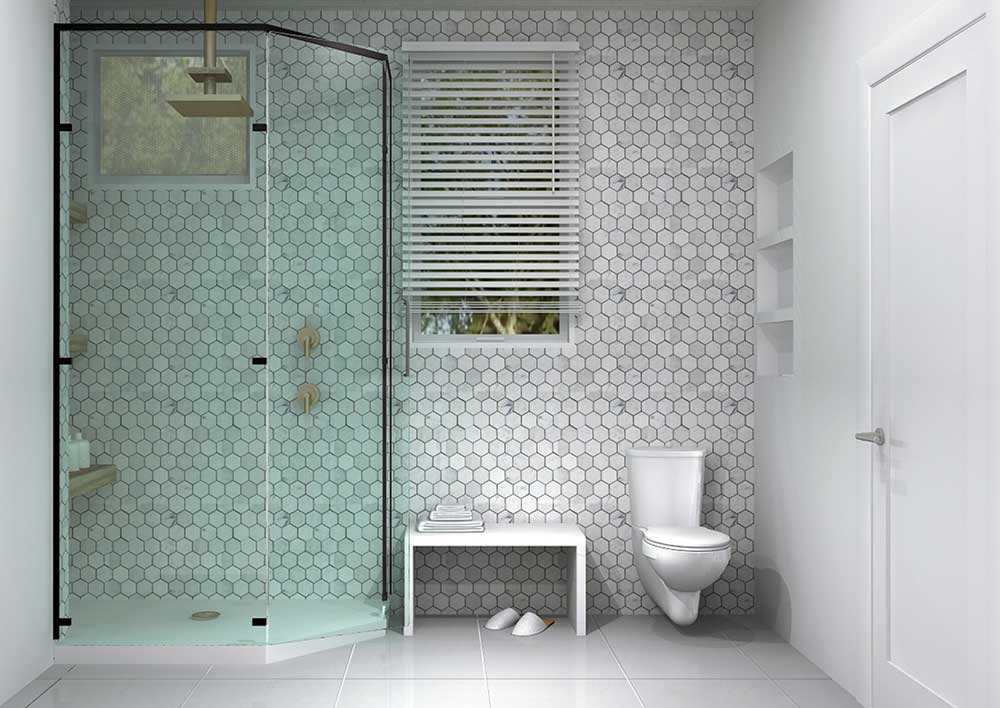 On the opposite side of the bathroom is the toilet area, which features a floating shelf again with the 88" (H) IKEA VEDHAMN wall cabinet. Merari also used an IKEA cabinet hack to modify the wall cabinet by cutting it down to 24" (w) x 7"(d) x 30" (w).This cabinet conveniently holds shampoos, soaps and towels for the nearby shower area. It also punctuates the otherwise white walls with a natural feel. A wall from the original layout was knocked down to open up the space for this as well, done by a local contractor Jennifer found during her online research. This was key for incorporating the shower with a glass panel from floor to ceiling as well as speckled wall tiles for a splash (get it?!)of extra color. A small natural stone bench is included in the shower as well, useful for aging-in-place options.
Jennifer's master bathroom is completed with wall sconces and a touch of natural lighting to lighten up the design theme. In total, the bathroom features five cabinets and four panels for a total for cabinets and extra items of $2,310.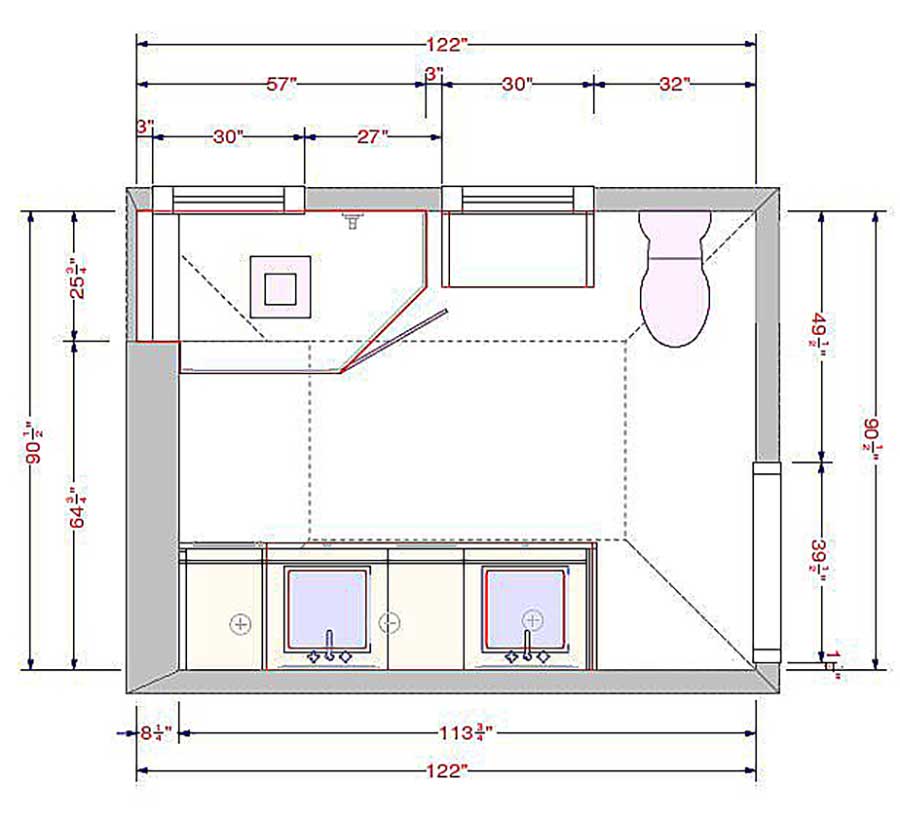 Project Numbers
| | |
| --- | --- |
| $1,678 | IKEA Cabinet Cost |
| $632 | Extra Items Cost |
| $2,310 | Total Cabinet and Extra Items Cost |
Double The Style
If you want to double the style in your master bath, Emily's project will show you how.
"We bought a new home and we gutted the existing bathroom. It looked more like a 1970s police station bathroom than a place to relax! I loved the natural look of marble and white oak cabinets. I did like the existing 9' ceilings and the idea of keeping the white design theme of the original layout, so I had our designer work with those elements," Emily says.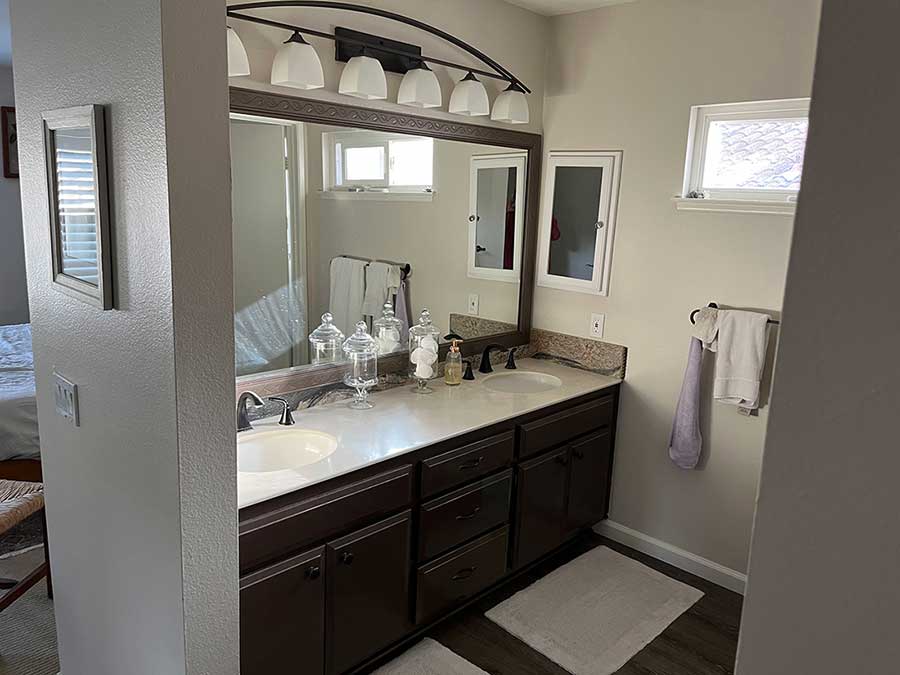 Emily worked with IKD designer Daniel and decided on SHM's Impression Tahoe cabinets with white cabinet frames for the 76-square foot space, combined with IKEA's SEKTION kitchen system. She preferred building a vanity across the entire wall including the linen closet so the dynamic double vanity features four SHM base cabinets and three panels, including practical storage with IKEA MAXIMERA drawers with brass pulls for storing her hair products as well as an 84-1/2" wall cabinet for storing linens, toilet paper and other bath products. This is key as she was concerned about taking advantage of the layout size and storage available to her.
Additional oak shelving is featured adjacent to the toilet area and offers surfaces for candles, soaps and decorative artwork. The clean look is enhanced by his-and-hers mirrors; two 15" (w) x 15" (l) waterfall sinks; 11-square feet of white quartz countertops with grey veining and large flooring tiles to create an organic, natural feel.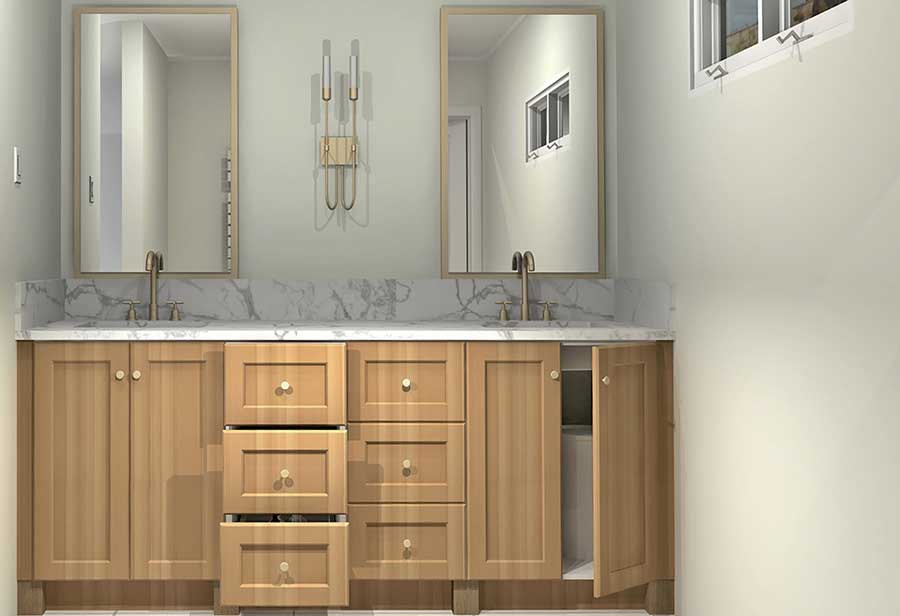 "This space is unique for its custom looks and storage. Space was a challenge for fitting in the vanity because we needed to leave room for a laundry hamper underneath. I call this project 'Night and Day' because it has a built-in quality that didn't exist in the original layout," Daniel says.
Emily also wanted a walk-in shower and the design features a glass enclosure and multiple shelves for ease of use, compared to the outdated toilet that was in the existing bathroom. Daniel notes that an extra white stool was added between the shower and toilet area, providing a convenient surface to grab towels, soaps and shampoos, as needed. Completing the product lineup are: IKEA UTRUSTA hinges; IKEA FIXA countertop support fixtures; IKEA FORBATTRA toe kick, and IKEA SEKTION suspension rail.And all of this wasaccomplished for a total IKEA cabinets and extra items cost under $1,000 — well below her original budget!
Combining natural looks with white master bath color schemes (with a touch of color) can completely renew your master bath. And isn't that the idea of the space, to feel renewed? Our design team thinks so and are here to guide you through the design and product selection process.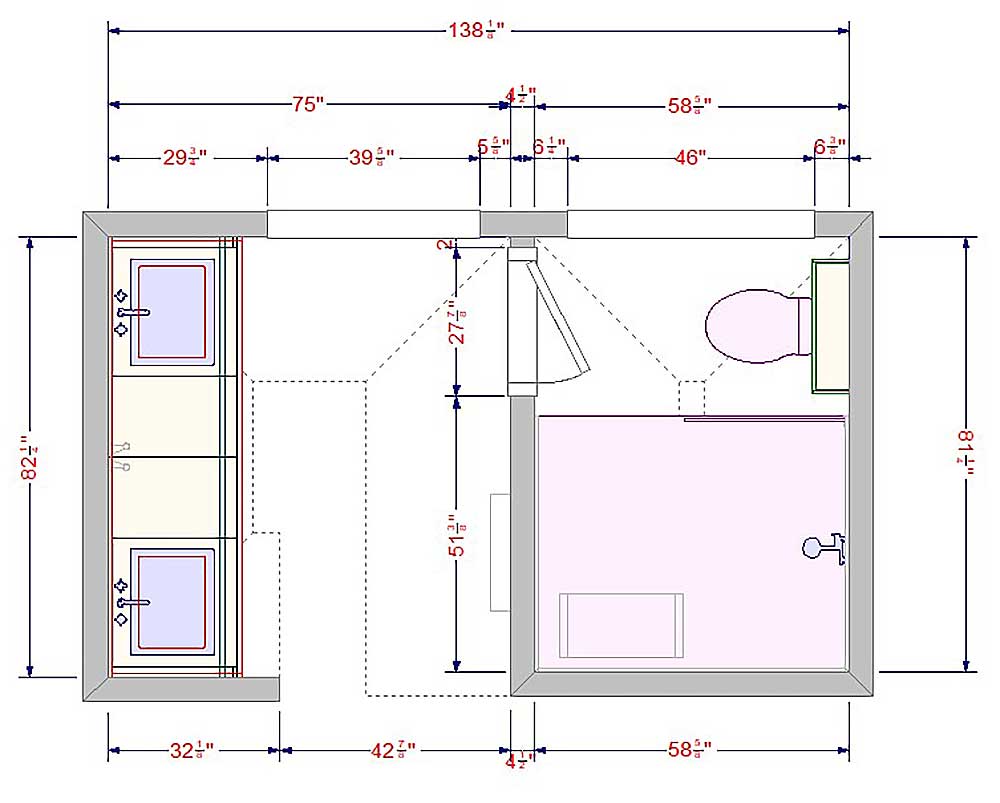 Project Numbers
| | |
| --- | --- |
| $898 | IKEA Cabinet Cost |
| $138 | Extra Items Cost |
| $1036 | Total Cabinet and Extra Items Cost |
Get a Professional IKEA Bathroom Design – All Online

Work with our certified designers to get a personalized bathroom designed around your needs and vision. If you're interested in learning more about our service, make sure to check out our IKEA Bathroom Design Services.