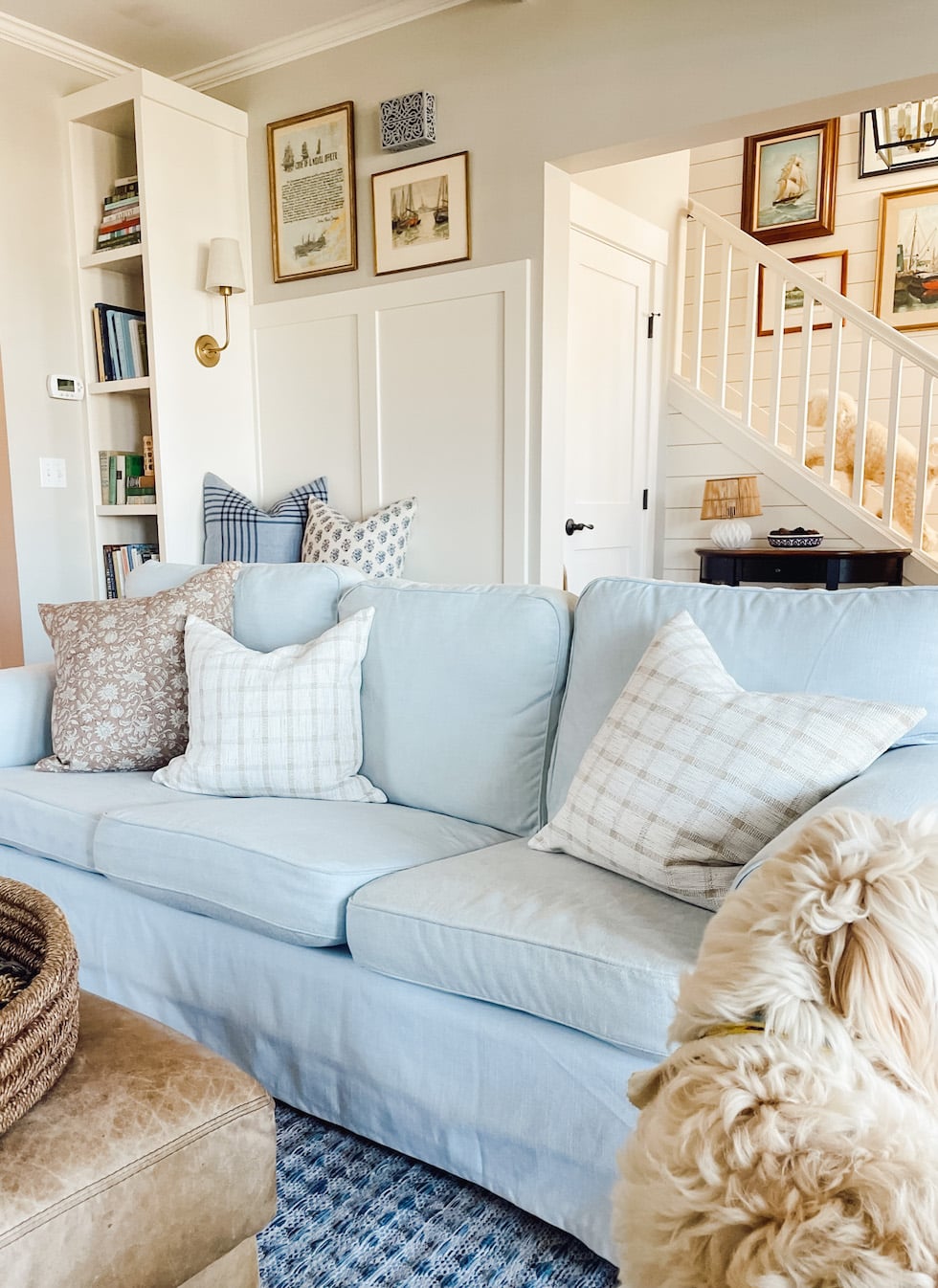 One of my favorite decorating accessories for my home is PILLOWS! But how do you get decorative pillows that go together and make them all look pretty in your home? Today I am going to share some of my own "designer secrets" that will not only help you select decorative pillows that will go together and look lovely, but that can also save you money, frustration and space. These tips will also help you simplify decorating and create a more cohesive look in your home in any season.
Most people struggle with pillows! Too many? They don't look right? Not enough? Storage, style, sizes, pairings, mix and match, inserts, there is so much to think about and learn. But I'm here to share a few of my secrets today. I hope they'll encourage you!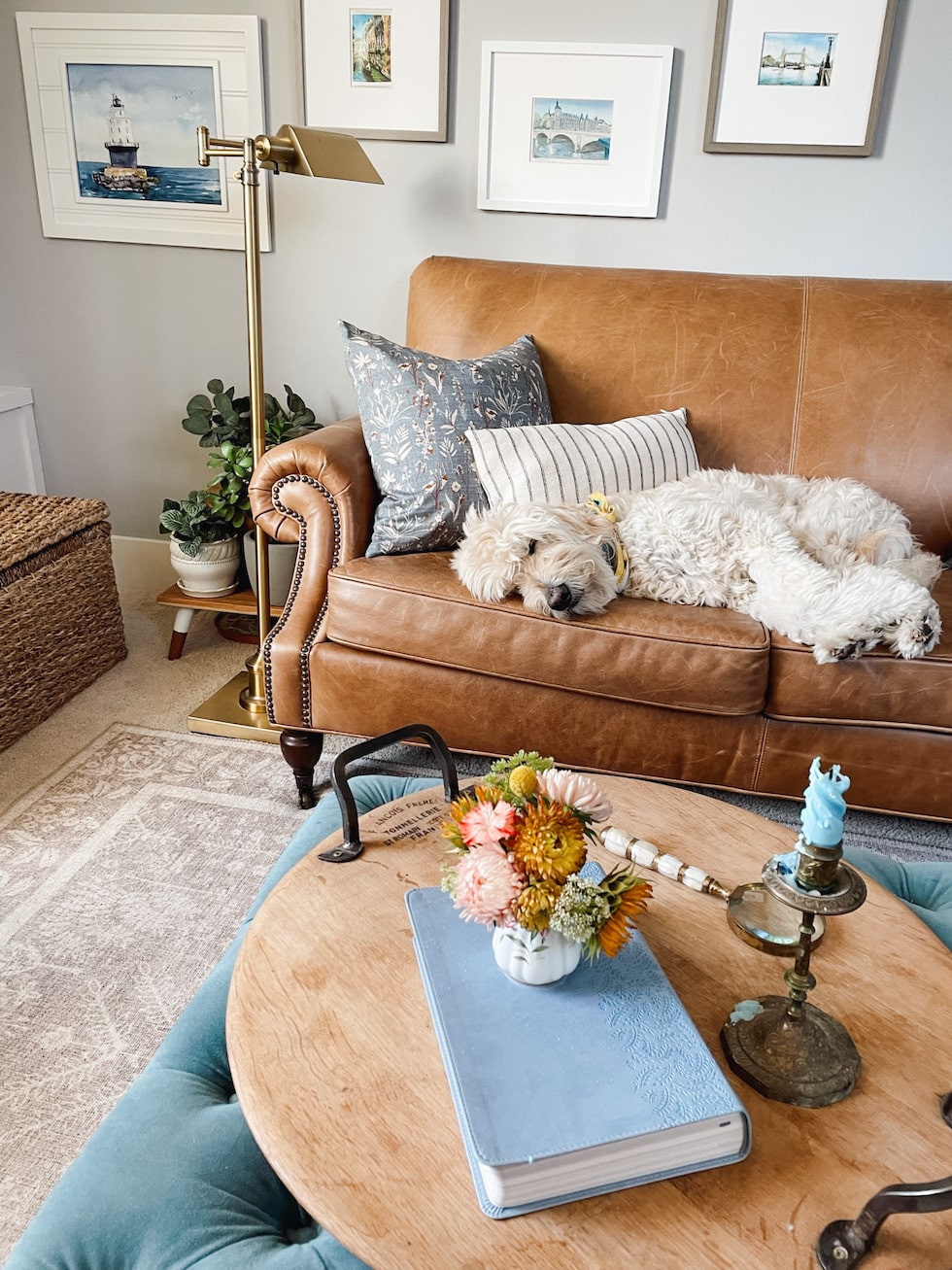 The right pillows and pairings don't have to be perfectly styled to look pretty.
This is one of my best discoveries. This might ruffle the feathered inserts of some designers, but I will share my tips so that your pillows do not have to be perfectly styled to look pretty. They are known by many as "throw pillows" for a reason. My dogs throw my pillows on the floor. Every day. All day. Perhaps your spouse or children do, too. Ha!
If I expected pillows to stay perfectly arranged, fluffed and styled at all times I would be forever frustrated. Pillow perfection is not reality at our home. But that does not stop me from wanting pretty pillows.
I want to enjoy my home, laugh at my dogs and have pretty pillows. It's a fact, they will likely be smooshed (the pillows, not the dogs). The pillows will not always be set up in the right order (according to designer rules). They probably will be tipped over or on the floor much of the day. But they can still look pretty if you incorporate a few of my secret tips which I will share today.
A different approach to decorating for a lived in home
There are many people who offer advice on home decorating. Even if they are considered an expert, that doesn't mean what they say a space should look like is going to inspire you or even be right for you or your home. For my personal taste, I prefer a more casual "we actually live here" look.
A more laid back style feels the most inviting to me. So with that said, some decorating rules I read online or in books don't inspire me. I don't want my home to feel so stiff or overly styled, so I have to take a different approach to decorating.
I offer my own decorating tips simply to be of help to those who feel as I do. If you feel your home is meant to be a haven in the world, and want it to be a pretty and inspiring place where people and pets are comfortable, you are probably in the right place. Your style might be different than mine, but I hope the encouragement you find here will inspire you in your own lived in and loved home.
Whether I follow known decorating rules or break them, make decorating mistakes or inspire an idea, my lived in home has always felt pretty, welcoming and cozy to our family. That's who you are designing your home for, the people (and any pets) who live there. Perfection isn't necessary and in fact, it can be a hindrance in so many ways.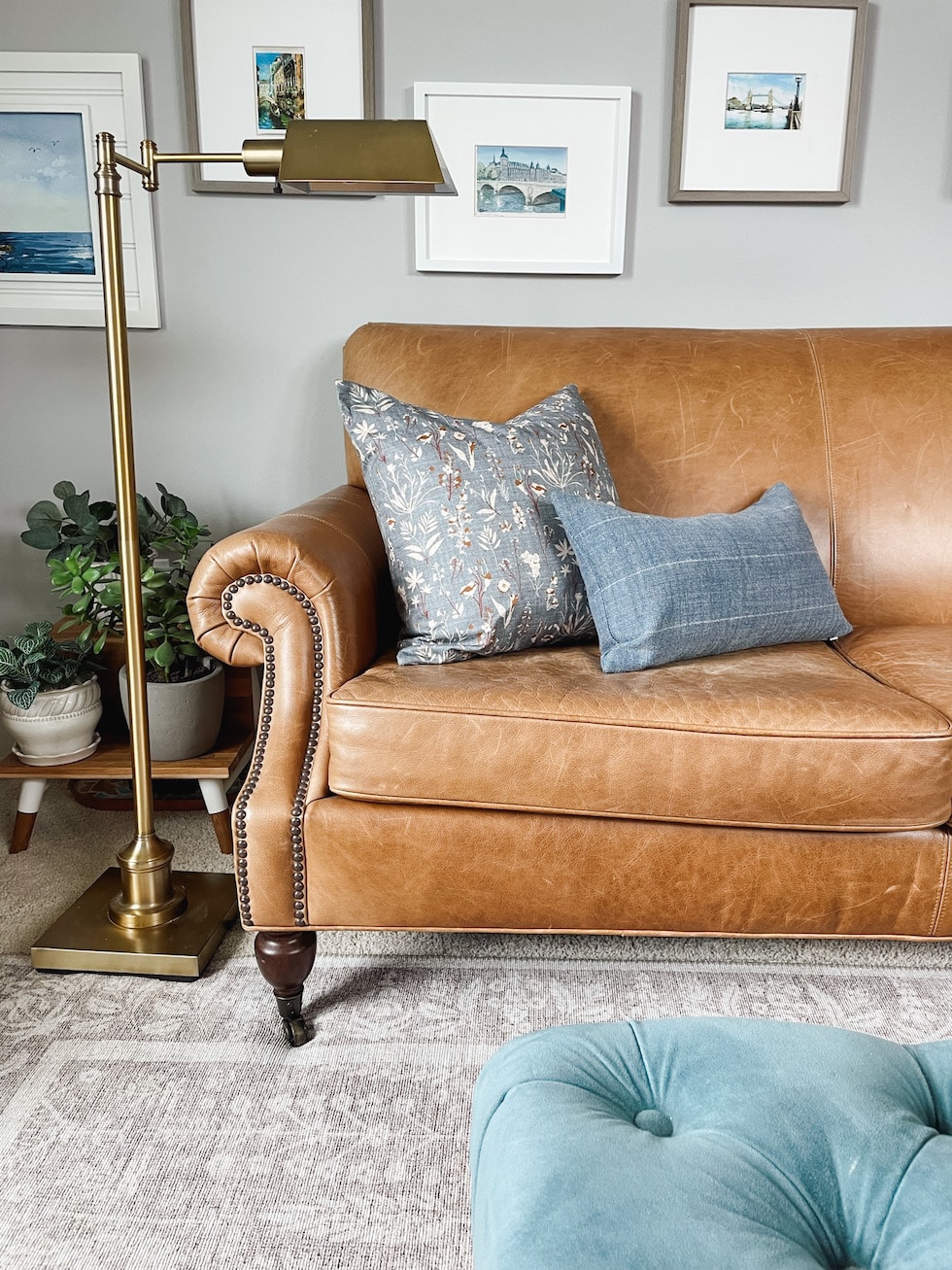 A signature style that is pretty and practical
If you're like me and have home that is comfy and lived in, you'll see my tips for creating your own signature style with pillows that still look pretty when they are smooshed, not fluffed to perfection, or even when they are on the floor, too. 🙂
Recently I bought a fresh new collection of pillow covers to add to our home. I thought it would be fun to show you what I got and how they look together in different pairings. You don't have to have these exact pillows to learn from this post. I'll share my tips to make your pillows look pretty together and in your room, regardless of your style of sofa or pillows.
For inspiration I'm mostly showing them on our leather sofa. Many people are flustered if they have a leather sofa because they don't think pretty pillows work as well on them. I hope you'll find through my tips why that doesn't have to be the case! I'm a big fan of using what you have and pulling together a look that is both pretty and practical for your family.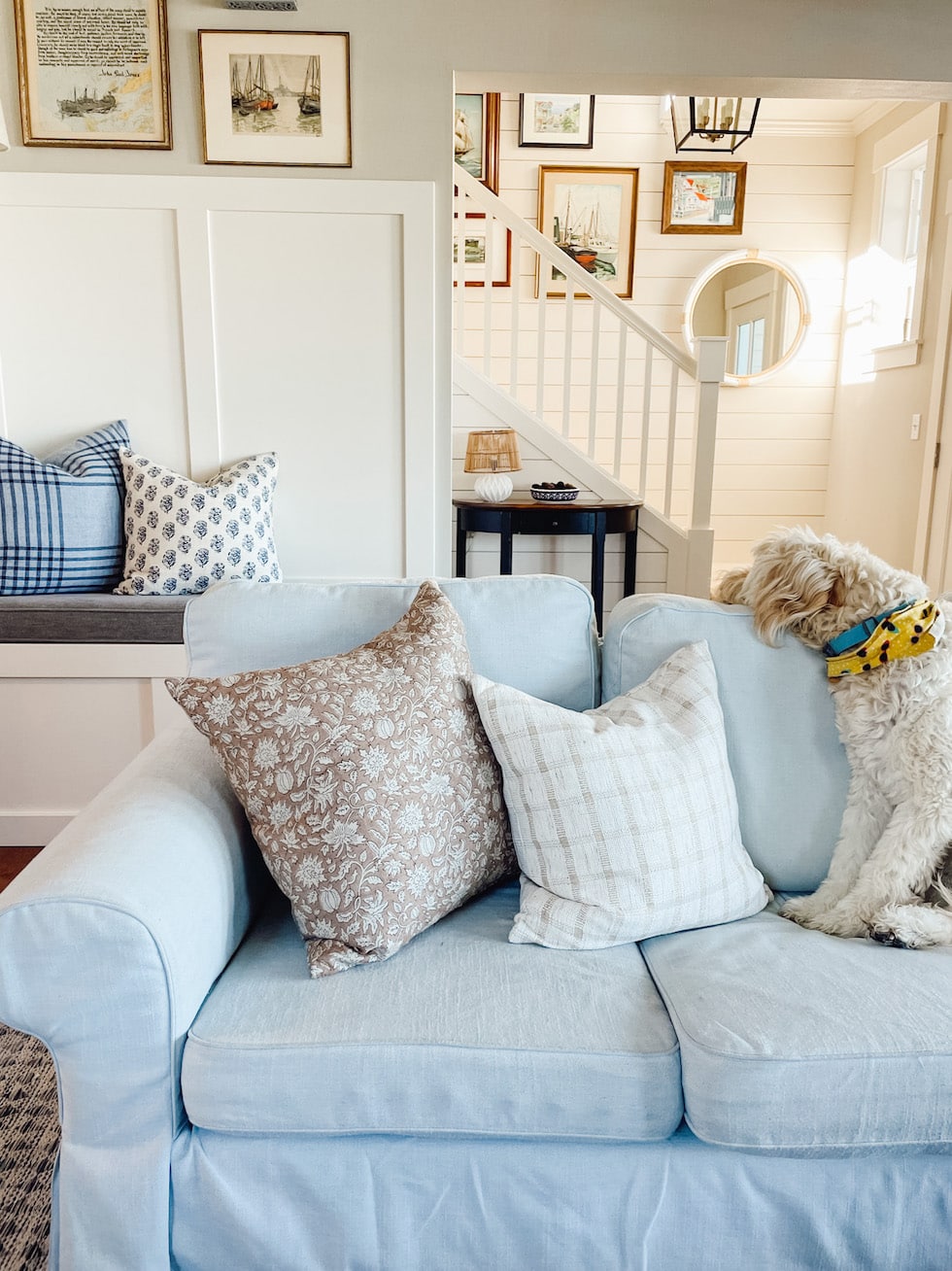 Here are my tips for choosing decorative pillows that go together, saving money, avoiding mistakes and finding your signature style for your spaces.
1) Choose your signature color palette for your home (or a room).
I think my home decorating secret for a signature palette is a good one for so many reasons, if you can make it work. Let me explain why it's helpful when it comes to pillows (I'll share more on this topic in an upcoming resource, if you'd like to be notified when it's available, make sure to sign up for my newsletter to be updated when it's available HERE).
When you have one base palette for your home, you will be able to swap, mix and match many of your pillows and accessories any room all year round.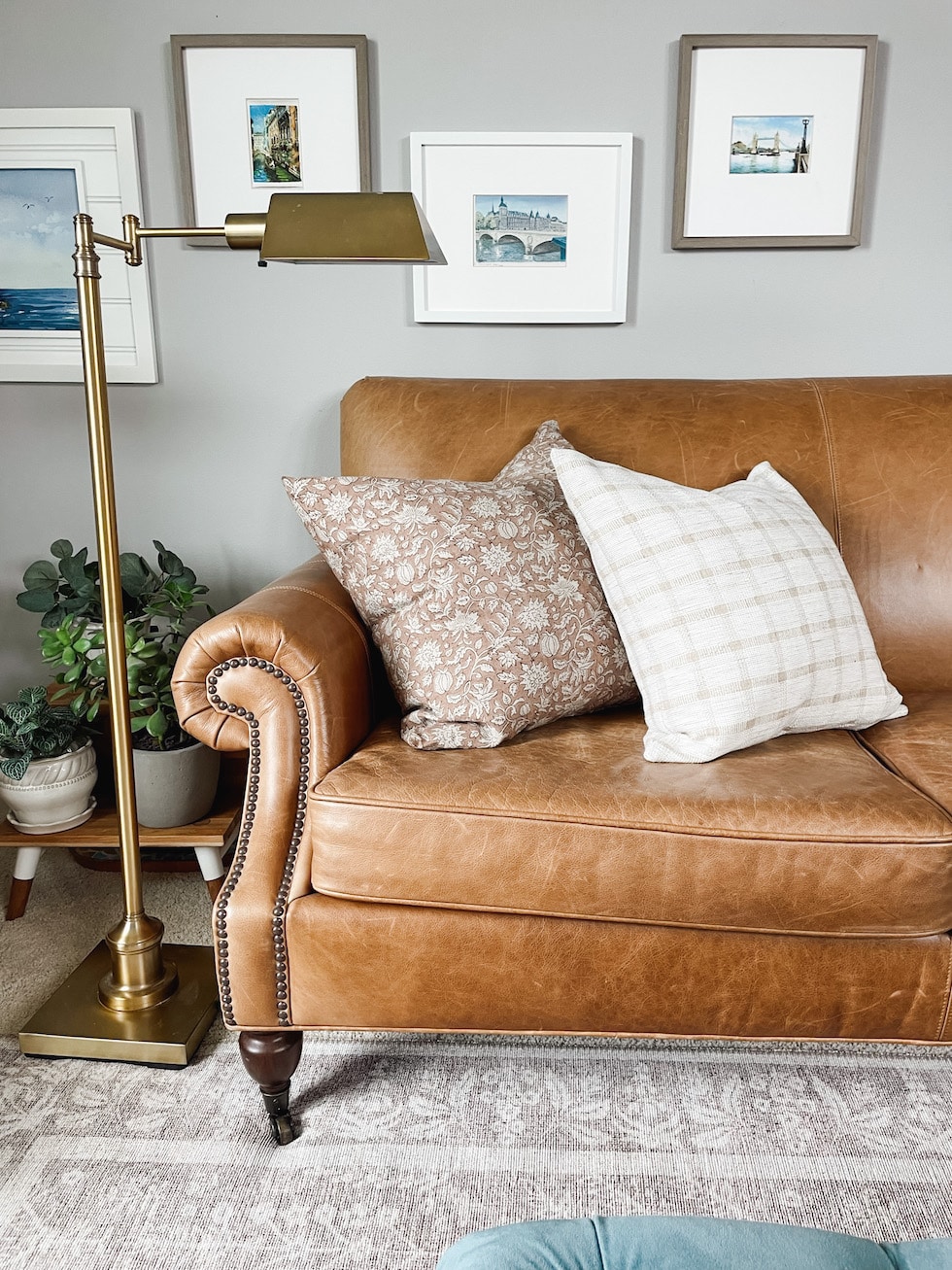 Your investment in pillows will go further and your need for seasonal storage goes down! If you have a cohesive palette you can then more easily shop your home for a fresh combination of pillows to update the look of any room (rather than having a full set of pillows that only work in one room or one season).
A signature base color palette can feel fresh in any season by simple swapping textures of some of the pillows, or adding in a few pillows in your palette that you've chosen for a specific season. You can also play up one color or combination of colors in your palette more prominently in different rooms or seasons.
Your home might naturally look best with a certain color palette, so go with what makes sense for your home! A signature palette doesn't have to feel boring or redundant at all. There are so many ways to keep your spaces feeling fresh and up-to-date without redecorating everything all the time.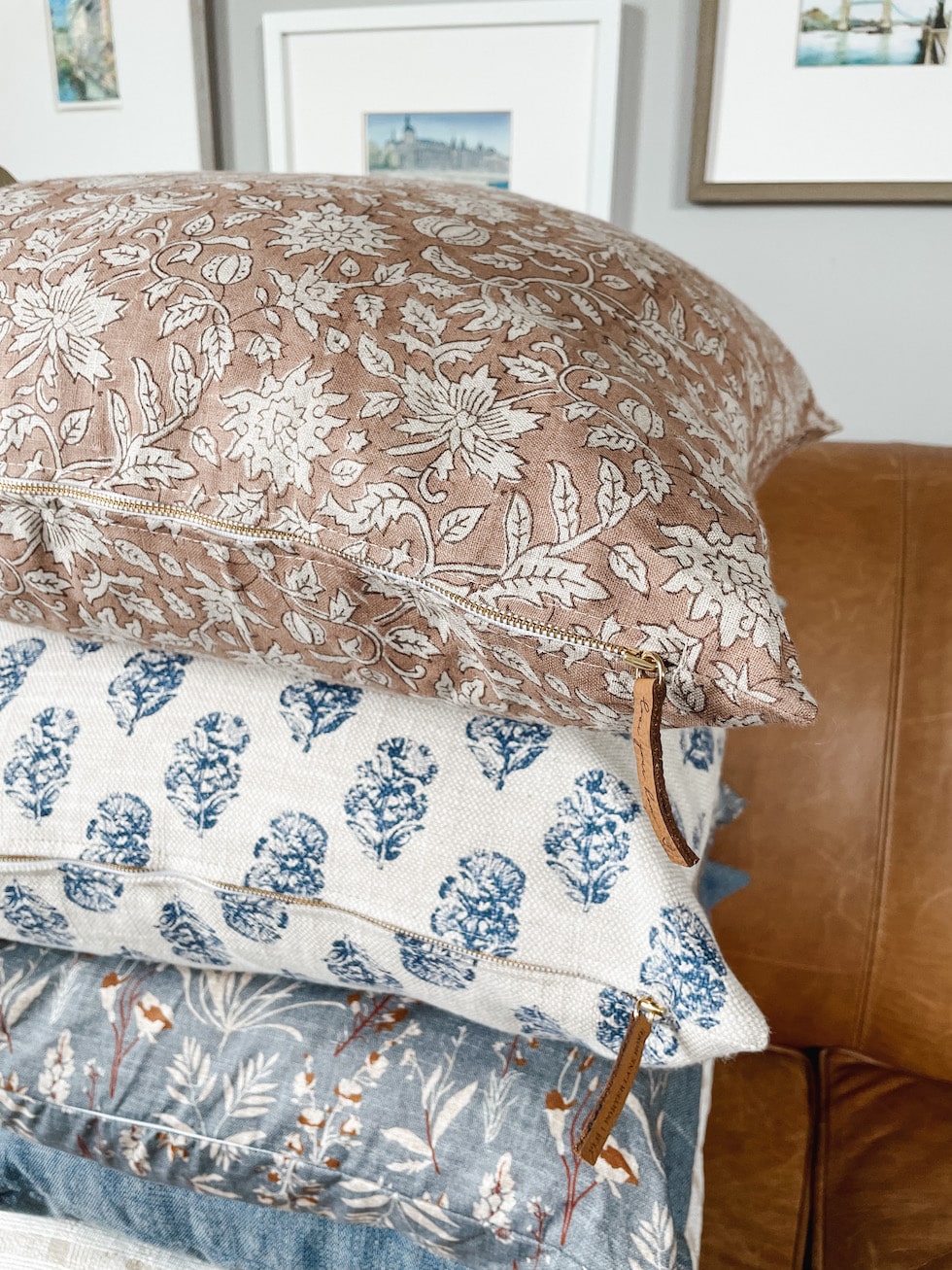 2) Find a base set of decorative pillow covers that all go together.
Let's start with the basics. You'll want to find pillow covers. I'm talking about decorative covers that usually have zippers and are used over the inserts (which we'll talk about in another step). You can buy a large set for your home all at once, get a few to start with, or one and have a plan to add to your base set over time!
I am sharing examples of some I have, and you can find more ideas and inspiration for pillow covers that might look good together here in this post!
Have fun with your mix of colors and patterns, as long as you like how they look together and in your home. Ideally don't mix very modern with very traditional patterns, it will feel better to go in one direction. Here's a helpful guideline: I prefer to stick to mostly classic patterns like stripes, plaids, and traditional florals or fun botanicals.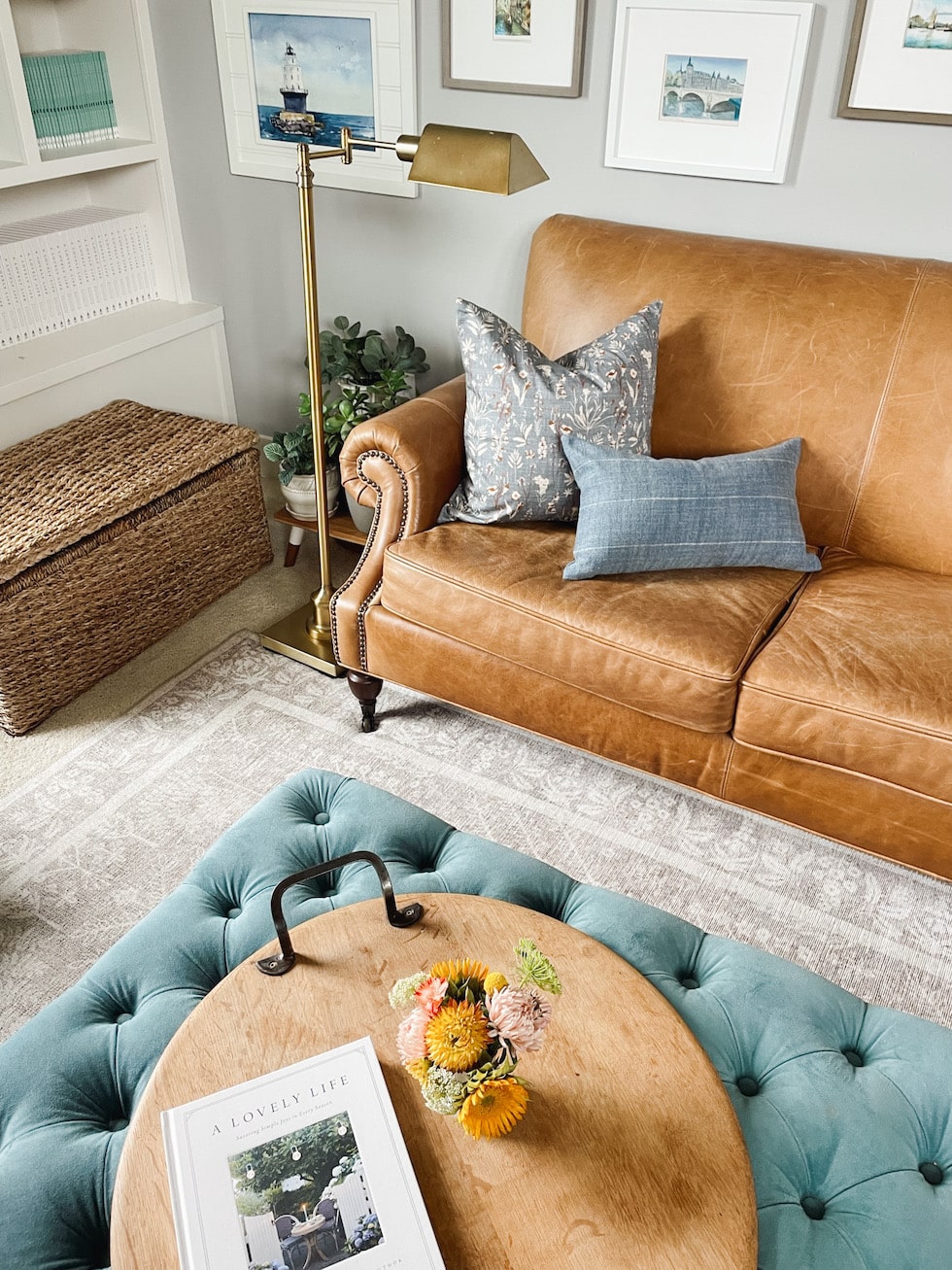 I also like to mix in a couple of unique pillow covers such as a star pattern, polka dots, a traditional geometric or even a seasonal specific one, just to keep the style fresh. Vary the sizes of the patterns and don't use too many. Make sure some patterns are bigger and some smaller so they aren't in competition with each other.
Here's another tip, consider buying a set of two or even three matching pillow covers to make a cohesive style statement. Place them on the ends of a sofa, on a bed, or a bench. They can make your space feel more cohesive! Or even use them around the room, on two or three chairs to bring the room together. But sometimes I decide to use mismatched pillows and various sizes everywhere. This is up to you and just a personal or style preference, in my opinion.
If you have a patterned or colored sofa, of course you'll want to select pillows in complementary patterns and colors.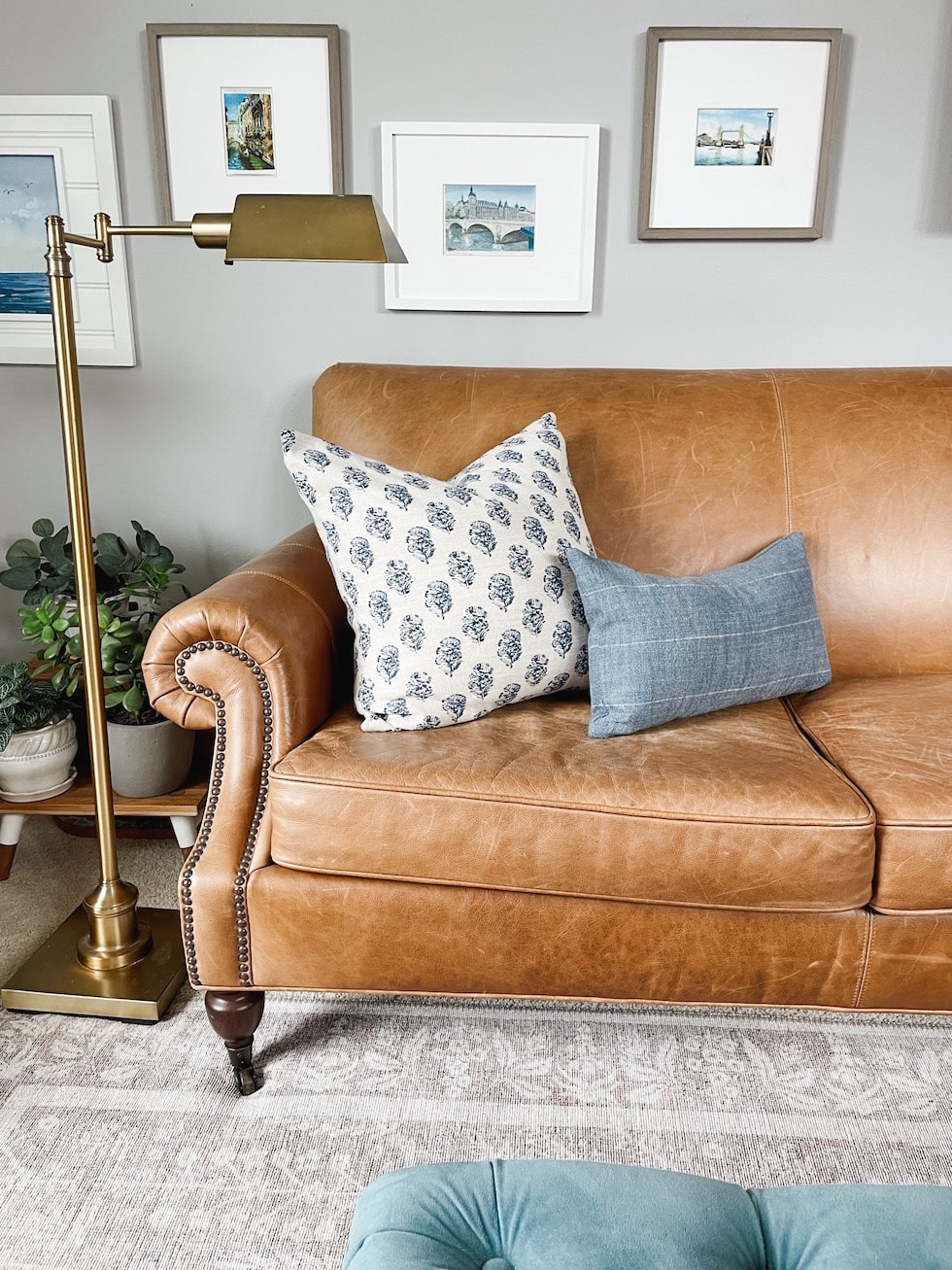 3) Choose the right sizes and shapes for your pillows.
I suggest you pick at least a couple different sizes you can pair together or use in different ways.
Bigger square pillows look better on a larger sofa (22 x 22 to 24 x 24 inches, or larger) or a deeper bench seat or beds. Smaller (19 or 20 inches) work better on smaller scaled chairs or when paired with larger pillows. Longer rectangles look nice in the middle of a bed or even a sofa. Shorter rectangles are handy for chairs (especially those that already have a puffy back cushion), or they can can be paired in the middle of two squares on a sofa. I use small rectangle pillows, 12 x 20, for my smaller scale chairs and sofas. You can also get round pillows to add to the mix!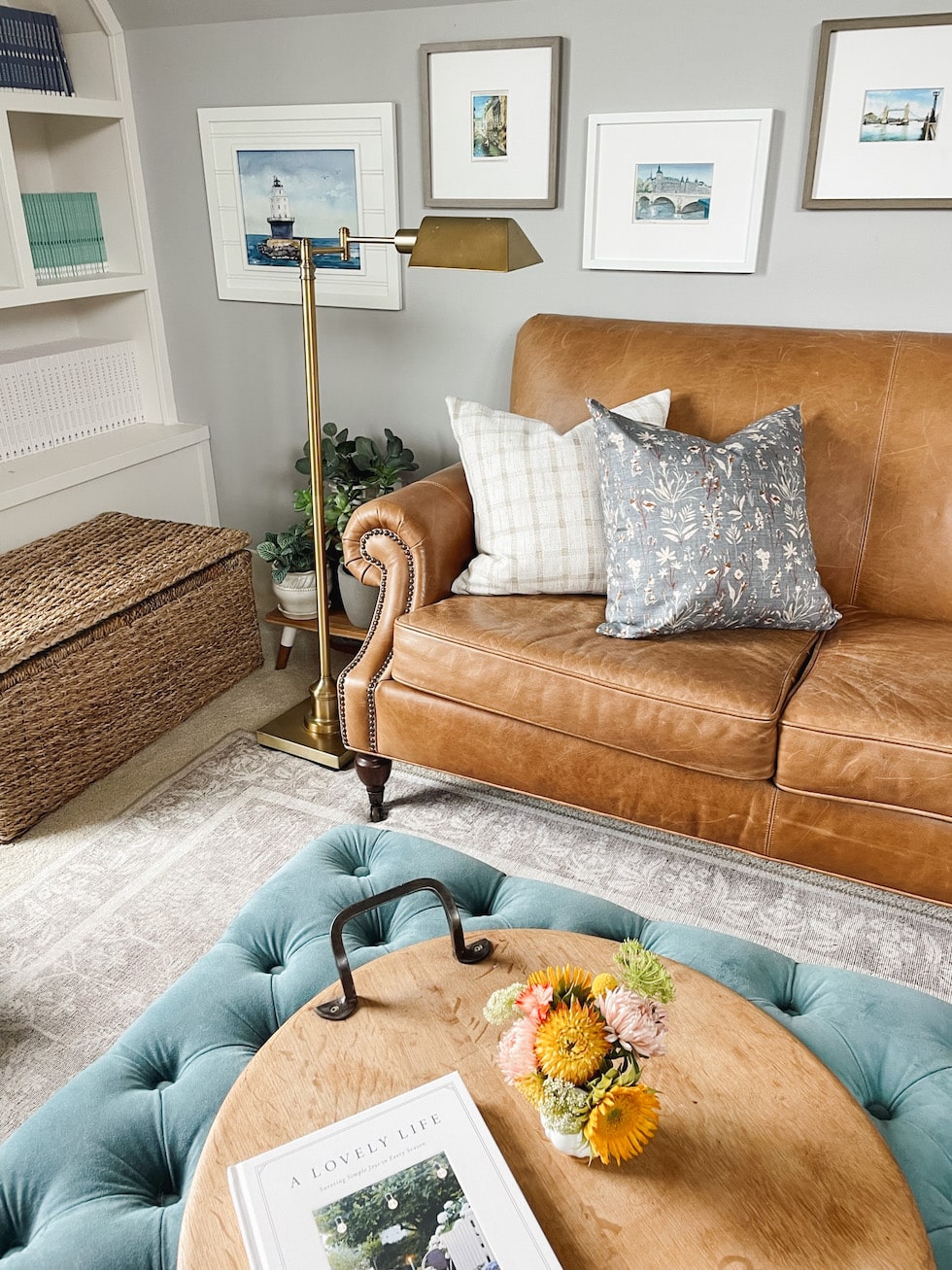 4) Consider your signature pillow cover fabrics, textures and details!
Ideally your base set of pillow covers will be in textures that work for your home and style in most seasons. Maybe your home shines in the fall or feels best in the summer. Or maybe you like a cozier heavier feel or a lighter airier vibe! But no matter the mood of your home, you can also consider having some in additional textures (linens, cotton, denim, cozy woven, velvet, knit, flannels, chenille or wool) to allow you to have a fresh mix for various seasons. Whichever fabrics you prefer, if you can find a few with tassels or fringe it can make the whole mix more fun.
5. Invest in good quality inserts and buy what you need for each room / piece of furniture.
You can do this step over time, or get them all at once. Make a list of what sizes you want if you plan to add to the collection as you're able. Keep a list of what you have or still need (put it in your phone or small notebook you carry with you) in case you see inserts or covers anywhere at a good deal. If you stick to your chosen sizes for your standard collection of pillows, you will feel free to buy new covers without having to invest in new inserts or find storage for the extras.
It's important to keep in mind for the best look, the general rule of thumb buy inserts one or two sizes bigger than the cover. So if you have a 20 inch cover, you'll want a 22 inch insert. That will give it a fuller, higher quality look.
Pillow insert quality is important because if they are are flimsy and lightweight, or not firm or fluffy, full and heavy enough your pillows will look lifeless! Plus if you have a leather sofa the lightweight cheap ones will also just slide right down or fall off. They need enough weight!
You can decide if you prefer a fluffier pillow, like down or hypoallergenic down, or firmer style. I often choose mine based on what I think I'll use them for the most. I like firmer pillows for the back of a bed to lean on. My favorites for sofas are the squish-able soft chubby fluffy ones, they just look so relaxed, cozy and casual, like you can grab them to take a nap! That's the look I prefer for my home and suits my style, but you can choose what you like the best.
Sometimes you can find inserts affordably but with a cover you don't like. Watch for those, you can give away the cover and keep the insert, or if they don't have zippers some of your pillow covers may be heavy enough that you can use them over the original pillow.
I hope you found my ideas on pillow pairings and a pretty and practical signature style helpful! This is a preview of an upcoming home decorating resource, would you like to be the first to know when it is available? Sign up for my free newsletter here to be in the loop!
Where to get decorative pillows and my pillow sources
I got a set of my favorite pillow inserts at PB here and also have bought pillow inserts on Amazon, too. See some of my favorite pillow inserts here in my Amazon storefront.
Here are the links to the pillow inserts I bought if you want the same sizes: 20 inch square insert // 22 inch square insert
Here is a big round-up of decorative pillows and pairing ideas to inspire!
Below are the pillow covers I bought more recently for our home, so feel free to buy the same ones as long as they're available. But you can even just use this collection as inspiration for finding your own pillow covers over time!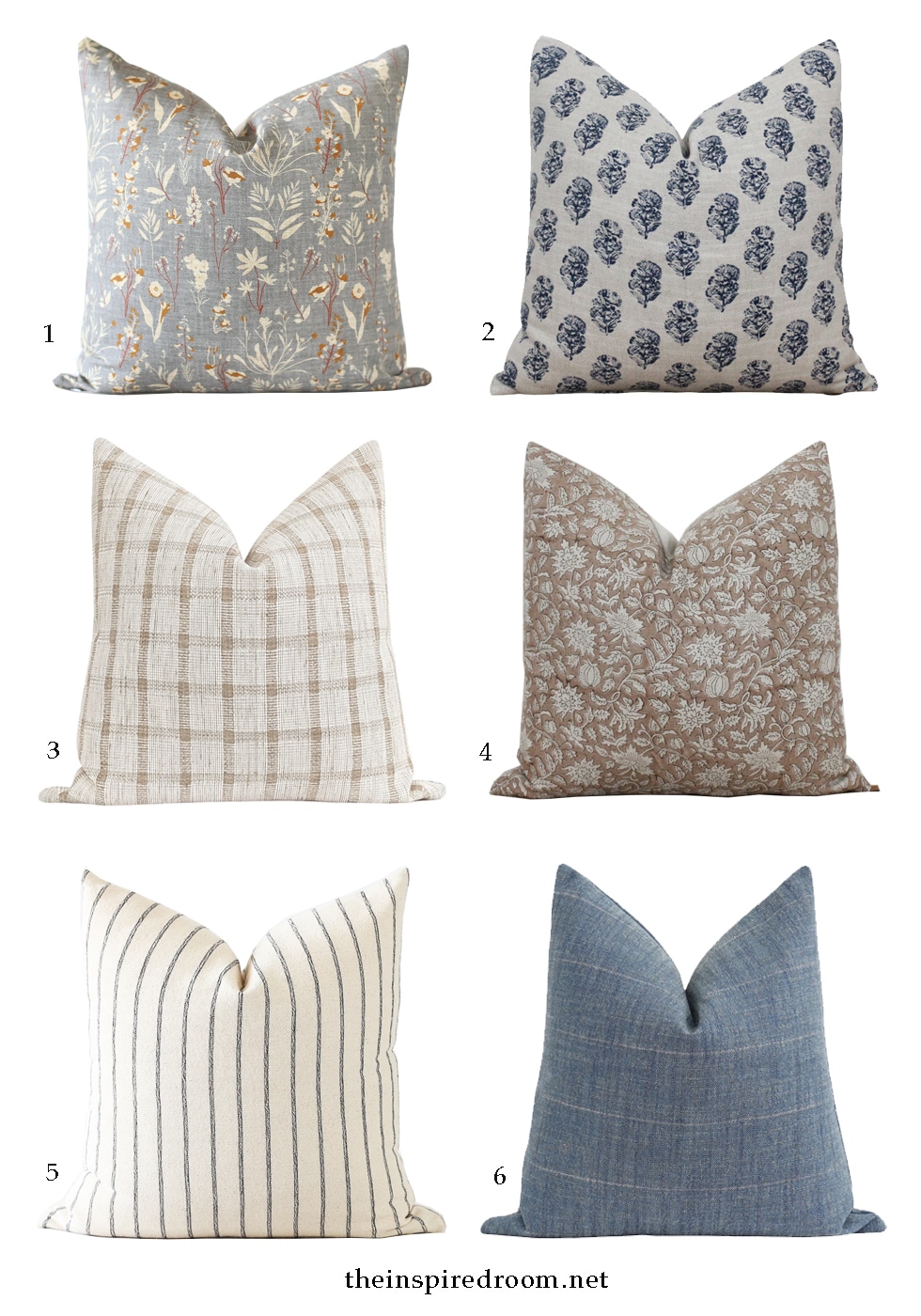 ---
Pin this post for later so you can look for similar patterns and styles. We also keep our Amazon storefront stocked with current and seasonal styles we like (see our Amazon pillow shop HERE), so be sure to bookmark it for easy reference and you can always watch the blog for fresh ideas.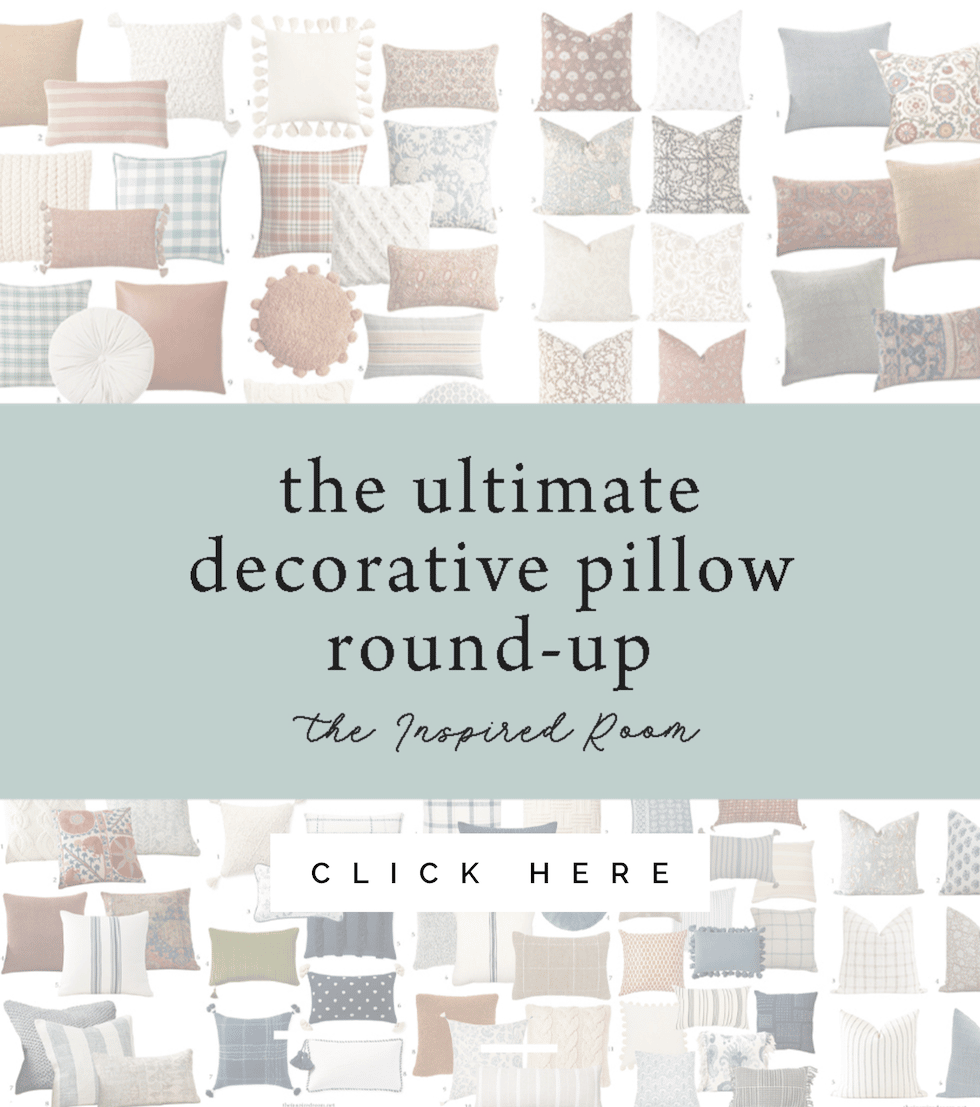 Here is a post on lots of pretty fallish pillow collections!