This Post May Contain Affiliate Links. Please Read Our Disclosure Policy here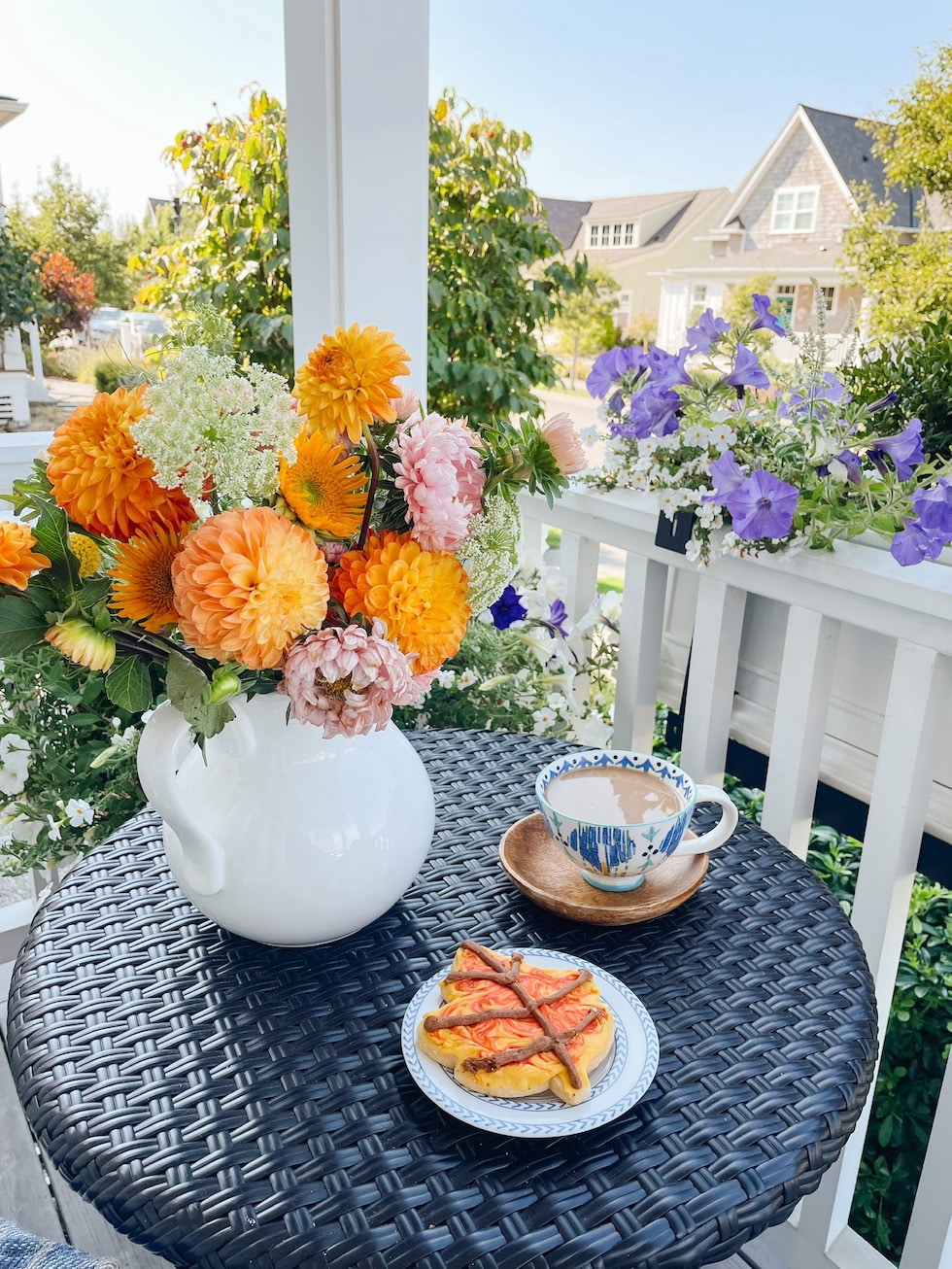 Fall is my very favorite season for so many reasons, but one of my favorites is sipping ALL THE COZY FALL drinks. I used to go to coffee shops far more often in fall to meet up with my girls or to work, or sometimes just to treat myself to a tasty seasonal coffee. But when the world started shifting a couple years ago, I started making extra yummy coffees at home, since I was there every day :).
Now, don't get me wrong. I do still occasionally head to a coffee shop! But I just find that I enjoy my coffee at home just as much (and often more!) as I do when I get it at a cafe. Besides, the high price of those fancy lattes out is something I can't justify very often. So mostly what I missed about going to coffee shops regularly wasn't the coffee since I could make it at home, it was the experience of going out to coffee. You know what I mean?
So instead, I created a similar experience at home. Staying home feels more comfortable for us homebodies, anyway. And it's much easier on the budget. 🙂
Today I'll share a few tips on how to make great coffee affordably, a couple of recipes you could try, and a few ideas for creating a coffee shop mood at home.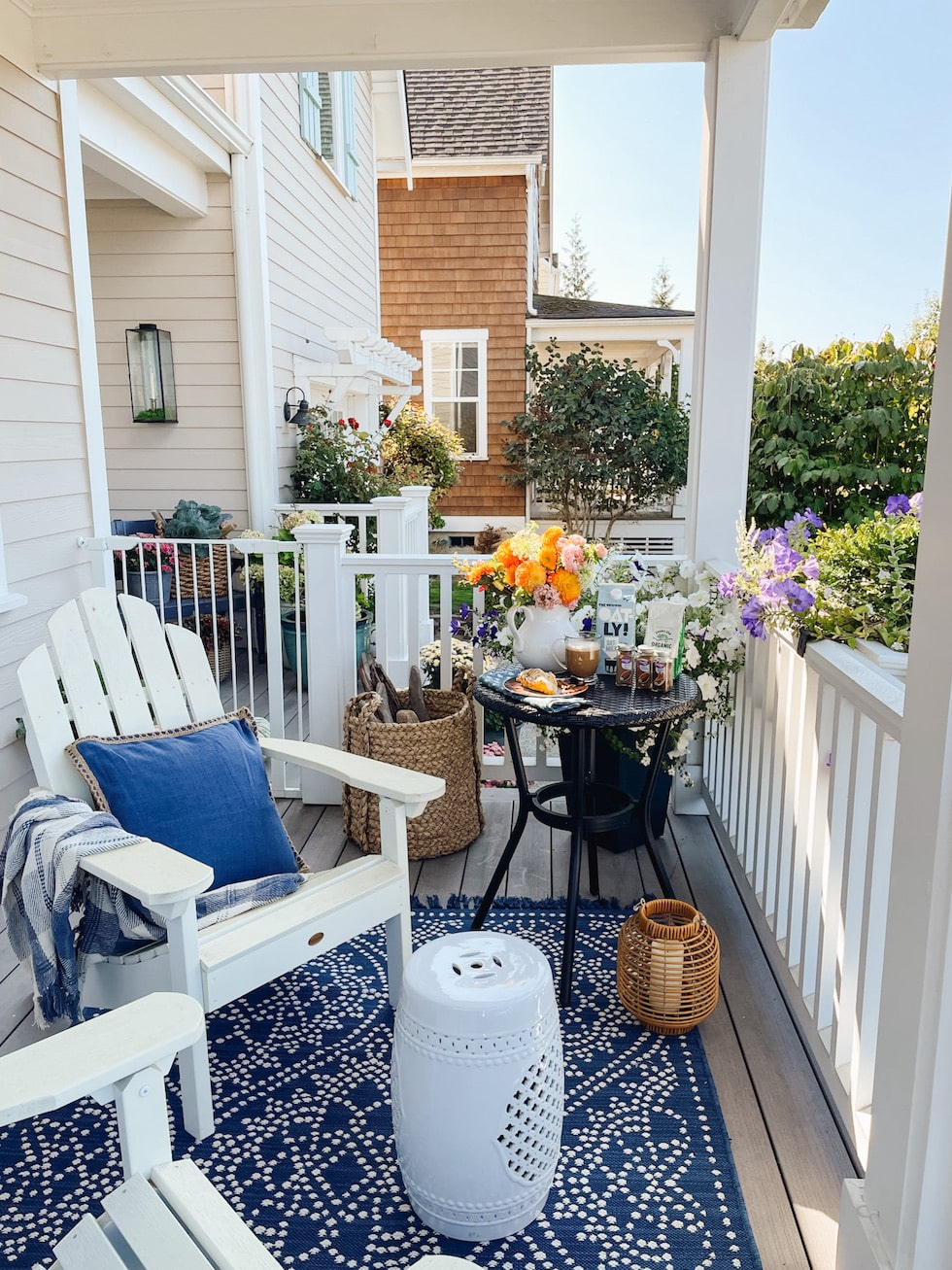 How to Create a Coffee Shop Experience at Home
1. Experiment with methods and recipes until you find the coffee you love to make at home.
Making delicious coffee doesn't mean you have to buy a fancy machine! I used to think that was the only way. But over the years I've found many ways to make really good coffee with less expensive tools. And, it's really simple, I promise.
You can find some of my coffee making tips and posts here: How I Make Coffee in a Stovetop Espresso Maker //// How I Make Pour Over Coffee //// Our Cozy Coffee Routine (live video from me and Courtney) // Iced Maple Oat Milk Shaken Espresso Recipe (Starbucks Copycat) // Vanilla Bourbon Latte
Learn to make really good coffee at home and you will love YOUR coffee even more than getting it out!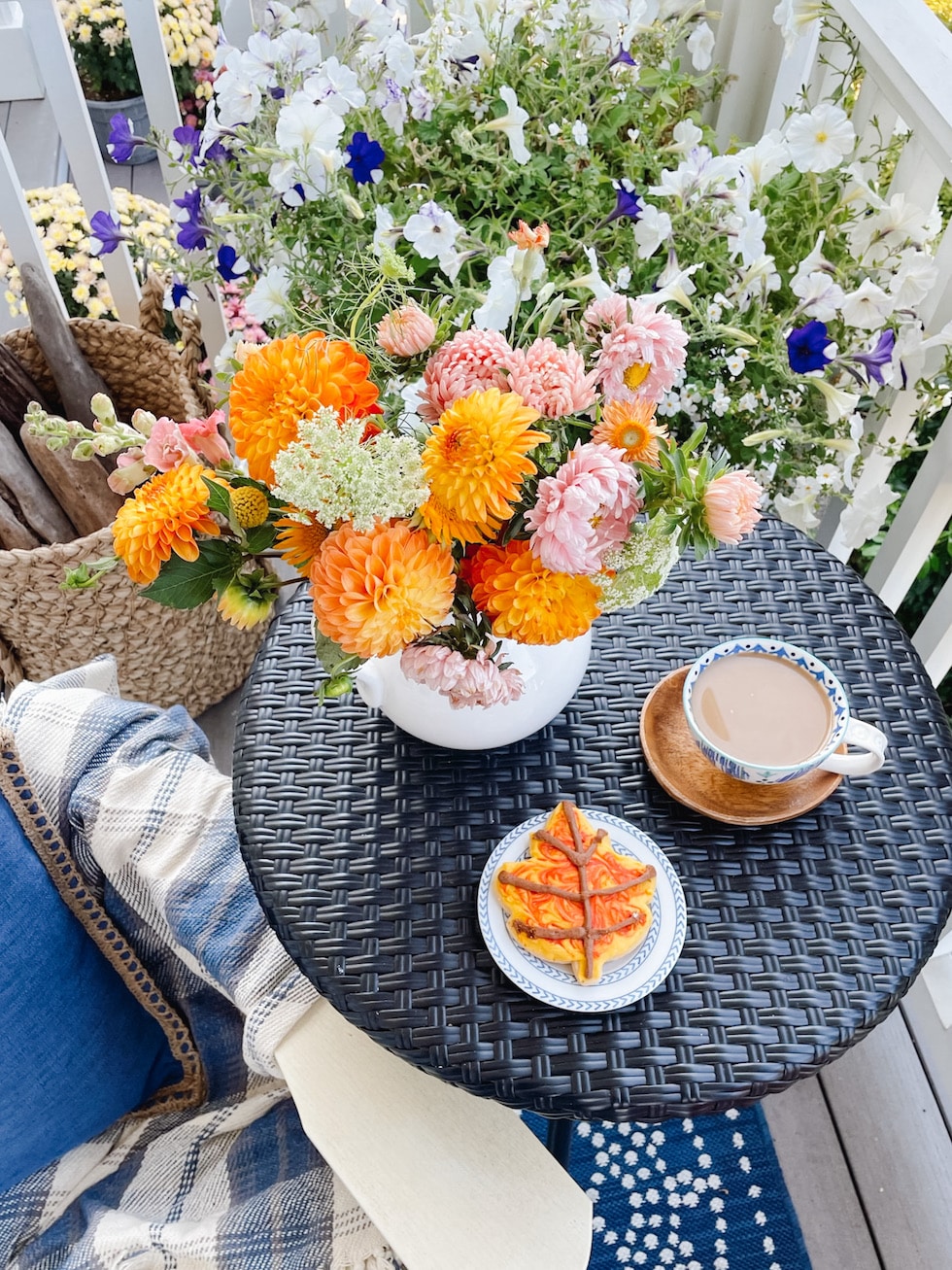 2. Plan ahead for the fall drinks or treats you want to make.
I have a free fall meal planner sheet you can download here. Decide what you're going to have for meals and add any fall drinks or treats you'd like to make. Put them all on your meal planner and then you can make a shopping list!
Having a plan in advance means you will have ingredients on hand to make your favorites. It's so tempting to stop and get an expensive latte out. Being prepared to make really good coffee at home will definitely help you avoid that temptation, save you money and make fall more fun, too.
You can find my Pumpkin Spice Latte (I make mine with oat milk) recipe HERE.
One additional thing I try to do is anticipate any treats I might be tempted to grab on the go. I used to love going to coffee in the fall so I could get a pumpkin scone, too. Ha! That was as tempting (or more-so) than the coffee. Instead, plan to (occasionally!) make your favorites at home! When you bake at home you can better control the ingredients, maybe even make them healthier or more suited to your own dietary needs. One of my go-to treats over the years has been this banana bread with chocolate chips (I make mine gluten-free, you can also use applesauce instead of sugar).
I also have a new pumpkin spice banana muffin recipe that is SO GOOD and perfect for fall! You can find the recipe in THIS POST.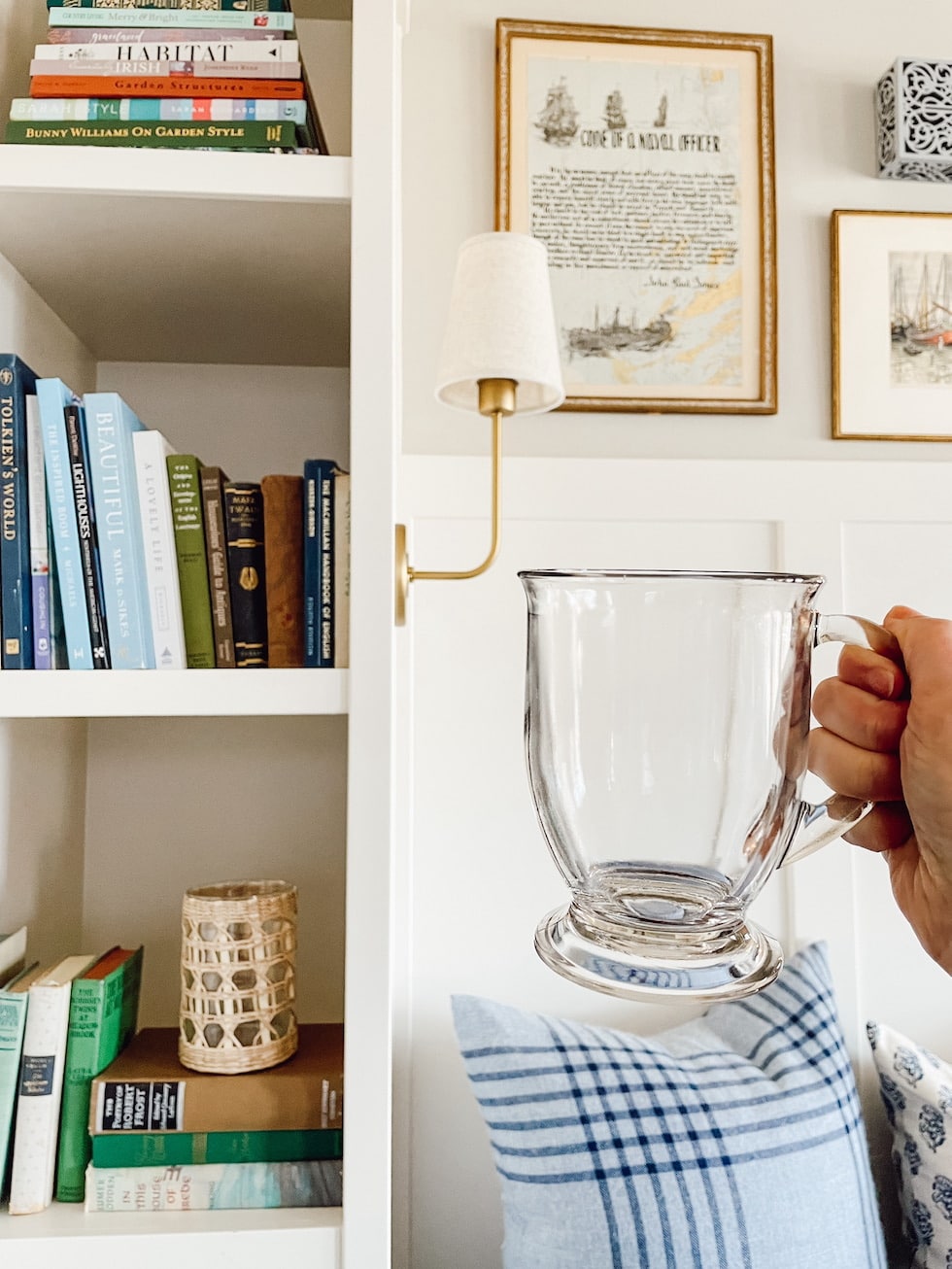 3. Play up the ambience.
Who wouldn't enjoy an outing to a quaint coffee shop on a crisp fall day? I know I do! It's fun to get out. But you'll get more bang for your buck by making the whole experience of savoring PSL at home just as appealing to your senses as going out!
What do you think of when you go to a charming coffee shop? The feeling of the room? The scent of the freshly brewed coffee? The visual experience? Holding the large mug? Sipping a tasty coffee while reading a book? Picking a treat from the baked goods? The peace and quiet? A place to meet up with a friend?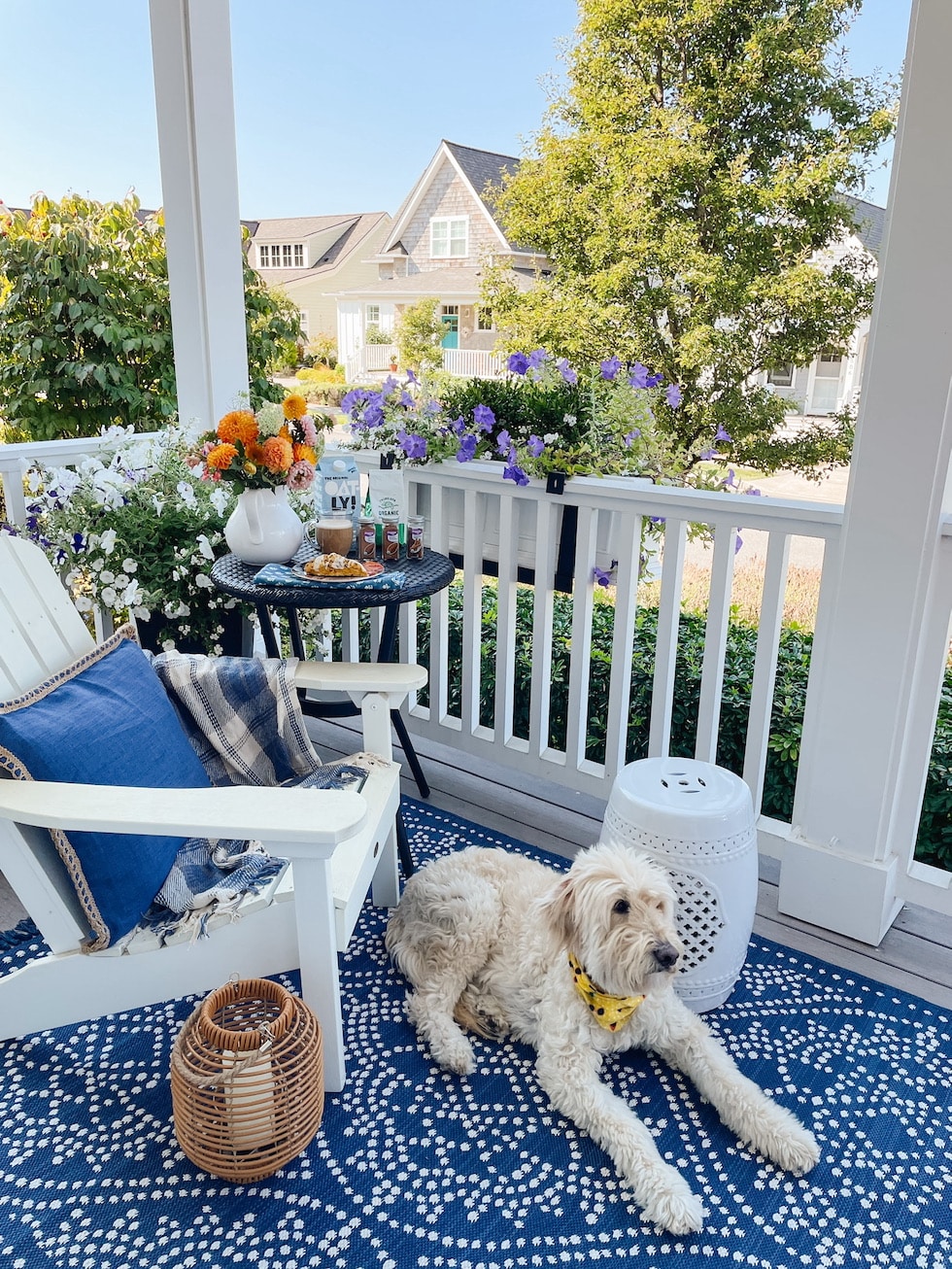 You can recreate a similar experience by incorporating simple elements into a comfortable area of your home. While the weather is still nice, I love to set up a space on the porch like I did here, with a little cafe table. As it gets cooler, I will move this experience inside (and the colder it gets, the closer to the fireplace I'll get haha).
Use what you have, it doesn't have to be fancy. Sometimes I'll add a tray or basket to our ottoman, or I'll set up the coffee on an end table next to a reading lamp and a comfy chair. You could even set up a spot for coffee in a dining room. The key is to prepare the spot first, grab your book or set up some music. Then when your coffee is ready, you can just pour and enjoy. (Find my playlists here for music ideas!)
You can have these coffee shop experiences on the weekend if weekdays are too hectic. Or, plan to make them only on occasion, such as a once a month date with your spouse or invite a friend to join you.
Get my favorite recipe for a homemade pumpkin spice oat milk latte here as well as yummy pumpkin banana muffins! Click HERE for the recipe.


---
Related Posts:
Fall Mugs to Make Your Day Cozier
My Favorite Coffee Making Sources (milk frother/steamer, brewers and more)