This post is sponsored by Walmart
It's fall and that means it's time for alllll the pumpkins drinks and treats! I have to admit that I've not always been the biggest fan of the famous PSLs (pumpkin spice lattes) you can buy at the well-known drive through. Recently I made a pumpkin spice oat milk latte recipe at home and oh my goodness, it was SO GOOD! THIS is what I call a PSL.
Today I'll share the recipe with you! I hope you'll enjoy making them at home this fall! And speaking of all things pumpkin, Courtney made us some delicious pumpkin banana muffins, too, so we'll share that recipe as well!
Every morning right after I make my bed, I head to my office (which is conveniently located just down the hall from my bedroom!). It's a quiet place where I can shut the door and start my day. I love having a spot where I can focus on all the things I need to do, as well as a peaceful place to enjoy my morning coffee.
Now that I can make my own delicious PSL and these tasty pumpkin banana muffins, I feel like I really have the whole fall cafe experience figured out. I have no problem turning down a $10 latte on the go when I know I can easily make one that's even tastier at home for much less.
It feels good knowing I can save money and that I don't have to sacrifice the experiences I enjoy.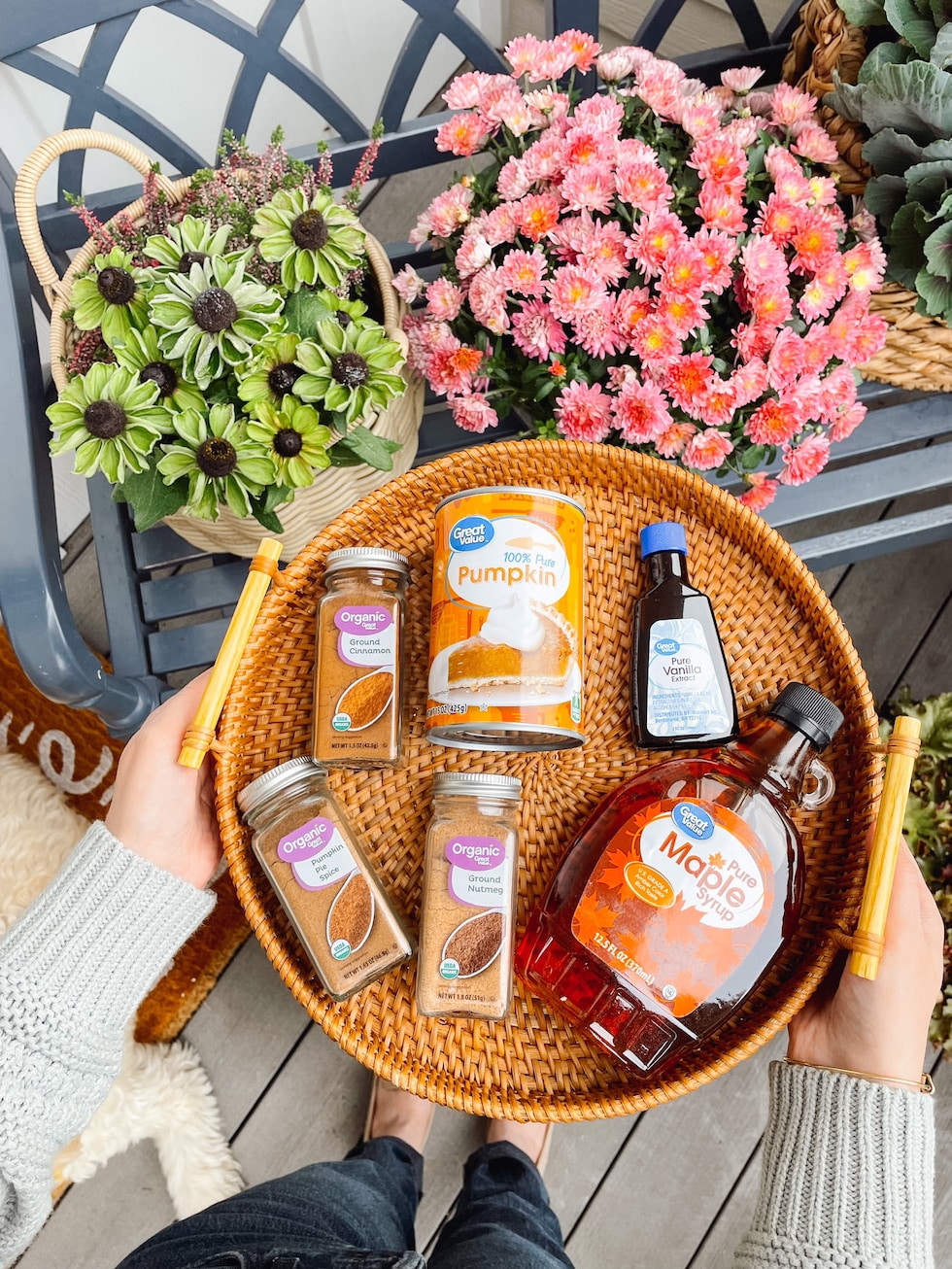 ---
I know we're all feeling the pinch on our finances these days. Finding what you want at more affordable prices really helps stretch the budget, so let me share a few quick and helpful tips and then I'll share my recipes! When you shop at Walmart you don't have to miss out on enjoying the fun fall coffees or treats, nor do you have to sacrifice on quality ingredients! Walmart has great options at low prices (including organic, vegan, keto, etc) that help you stretch your dollar farther. Check out their private label brands (Great Value, Marketside, Sam's Choice and Freshness Guaranteed).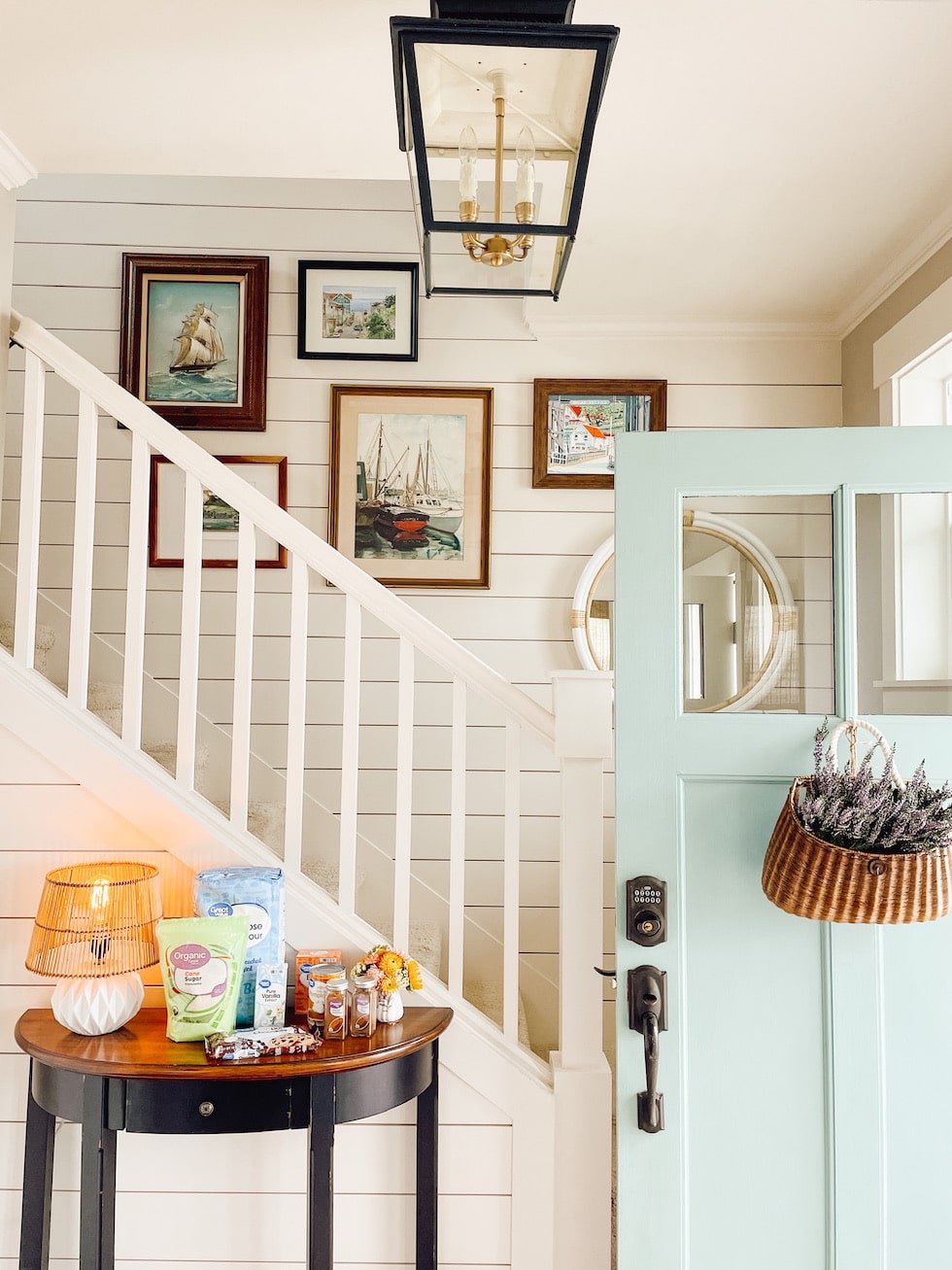 I'm also a big fan of ordering online groceries online to save me time and money, too. I used Walmart's Online Grocery service to order the ingredients we needed for the pumpkin spice lattes and muffins. Then I just picked them up curbside while I was already out and about. So simple and convenient!
If you haven't tried online grocery shopping, new customers can shop at Walmart with promo code TRIPLE10 to save $10 off their first three pickup or delivery orders. $50 min.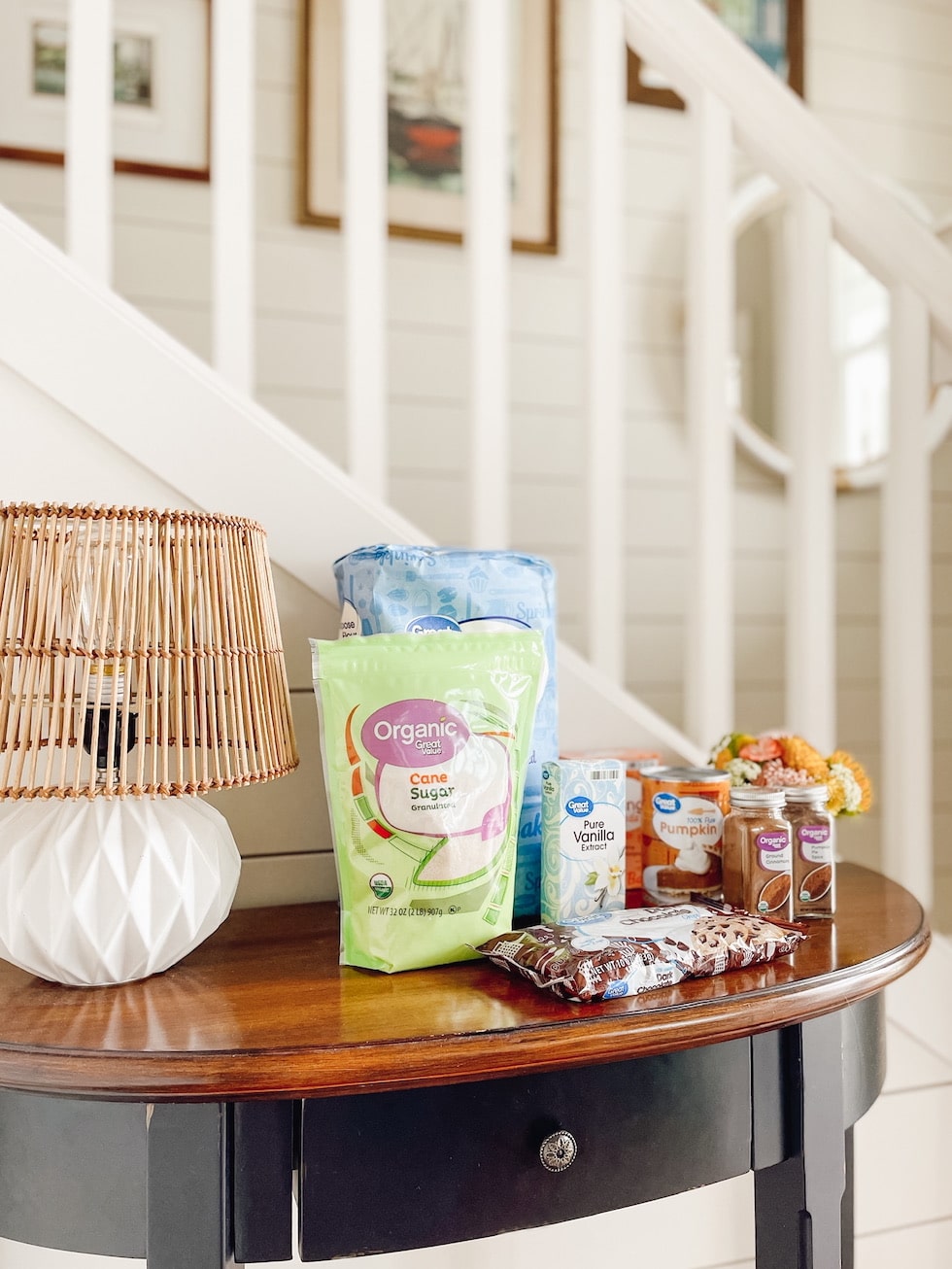 ---
Here's how to savor your PSL and pumpkin muffins at home!
Shop at Walmart to get the quality ingredients you need. My recipe is below, feel free to adapt to your taste or dietary needs.
Make your pumpkin muffins and delicious pumpkin spice lattes (or try a spiced tea!). Tip: First make sure you know how to make really good black coffee, you can find posts on The Inspired Room blog on how to make the best coffee simply and affordably.
Have a cozy spot set up for a lovely fall morning on a porch or in a quiet corner of your home.
Find a pretty plate and tray, put a few fall flowers or foliage in a vase (I put mine in a vintage creamer), turn on a fall playlist;
Enjoy your pumpkin spice latte and muffin in peace, in the comfort of your own home.
Ahhhh, happy fall y'all! Enjoy the recipes below!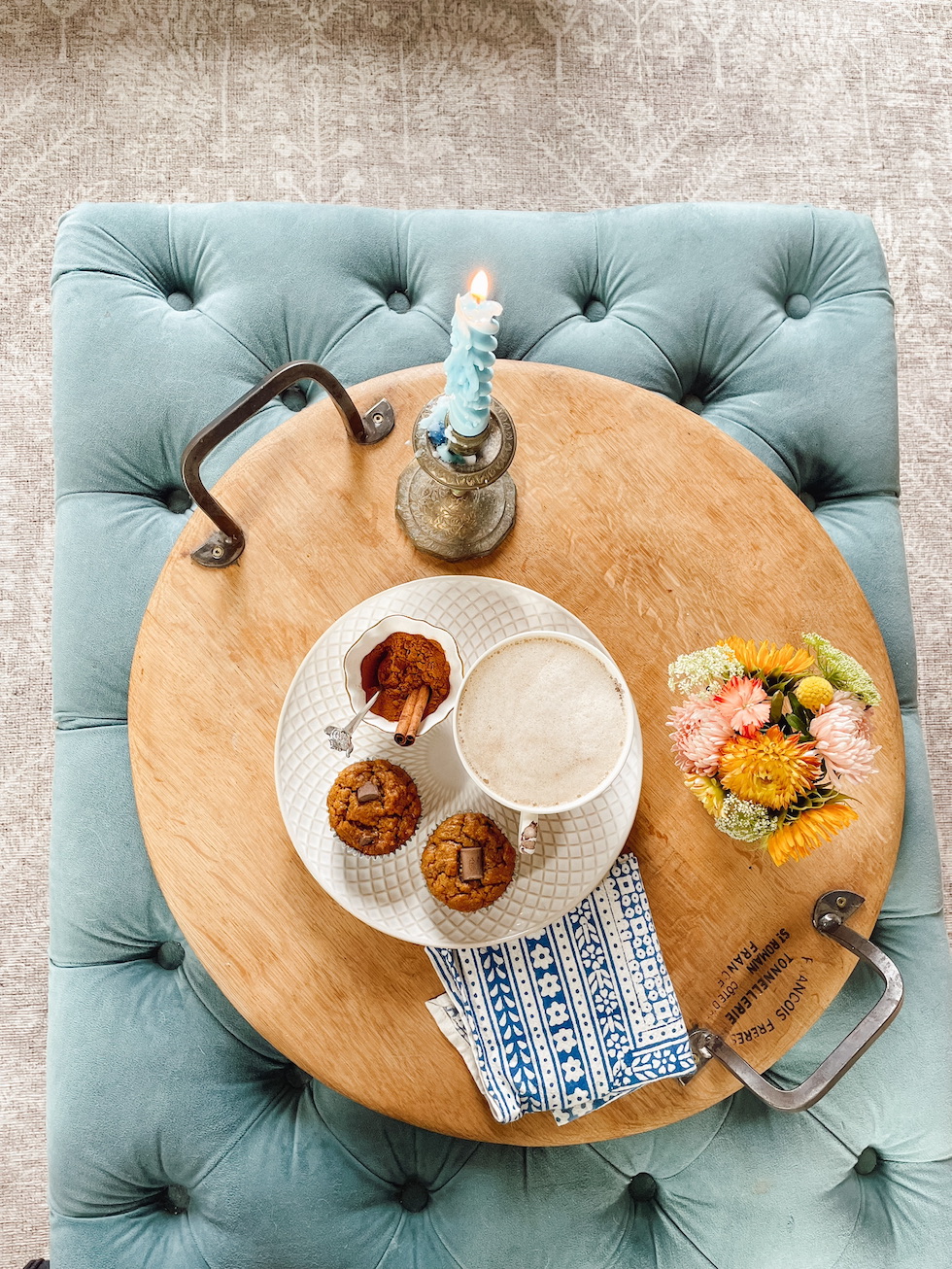 PUMPKIN SPICE OAT MILK LATTE RECIPE:
Ingredients:
2 cups oat milk (or whatever milk you like).
1 tablespoon pumpkin puree
1 teaspoon pumpkin pie spice
1/2 teaspoon cinnamon
A dash of nutmeg
1 teaspoon vanilla extract
Maple syrup or honey to sweeten (optional, I used maple syrup)
1 pinch sea salt
Directions:
Warm oat milk in a small saucepan on low heat. Stir in your vanilla extract, pumpkin puree, spices, and sea salt. Gently simmer for about 15 minutes. Store the creamer in an air tight glass jar and refrigerate for up to 5 days. Shake before use.
Then brew a cup of coffee any way you like (good coffee is key, I've done several posts you can find on the blog with tips for making delicious coffee at home!) and pour in your desired amount of pumpkin spice creamer! Add a sprinkle of nutmeg, cinnamon or pumpkin pie spice to the top if you'd like! Sip, savor, and enjoy.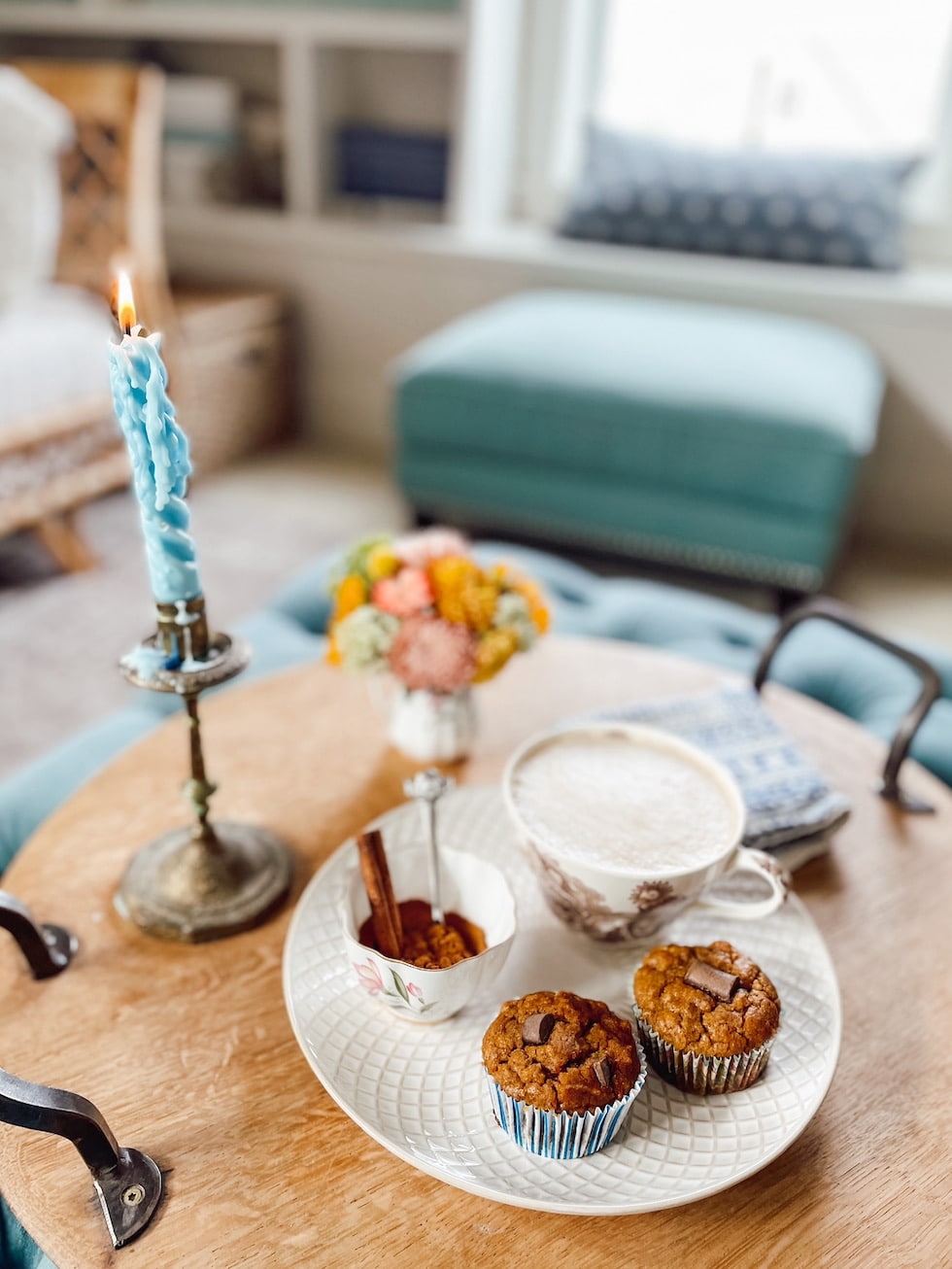 PUMPKIN SPICE BANANA MUFFIN RECIPE:
Ingredients:
2 bananas (very ripe)
1/4 cup butter
1 cup sugar
3/4 cup pumpkin puree
1 egg
1 teaspoon vanilla
1.5 teaspoon pumpkin pie spice
1 teaspoon cinnamon
1.5 cups flour (you can use gluten-free 1:1 if you'd like, we've done this and it worked well!)
1/2 teaspoon salt
1 teaspoon baking soda
Chocolate chips or chunks (optional, but delicious addition)
Directions:
Preheat oven to 425 degrees. Line a 12 count muffin tin with liners.
Melt your butter. In a large bowl, mash up your bananas. Add in the melted butter, sugar, pumpkin puree, egg, vanilla, pumpkin spice, and cinnamon. Mix well. Add the flour, salt, baking soda. Mix until no dry pockets remain. Finally, add chocolate chips if desired.
Spoon the batter evenly into your prepared muffin tin. Place a couple chocolate chips on the top of each muffin before baking if you'd like.
Bake at 425 for 5 minutes, then reduce heat to 350 (leave muffins in the oven) and bake for another 16-20 minutes or until a toothpick comes out clean.
Remove muffins from oven and let them cool on a baking rack. Once cool, store in an airtight container (tip: you can line your airtight container with a paper towel below and on top to soak up moisture and keep them fresh.
Enjoy!