This Post May Contain Affiliate Links. Please Read Our Disclosure Policy here
Happy official first day of fall, lovely friend! A couple days ago I invited you into our fall entry (if you missed it, see that here). But today I wanted to give you a peek just outside the door to my fall front porch, 2022 edition! I added some simple but welcoming touches that have been bringing us a little extra joy every time we arrive home.
I will also have the connected covered porch to show you soon too! We added a pretty blue rug out there and I am LOVING how cozy it is. Can't wait to share it with you! Make sure you're subscribed to my free newsletter so you don't miss anything (I also share things in there that I don't share anywhere else).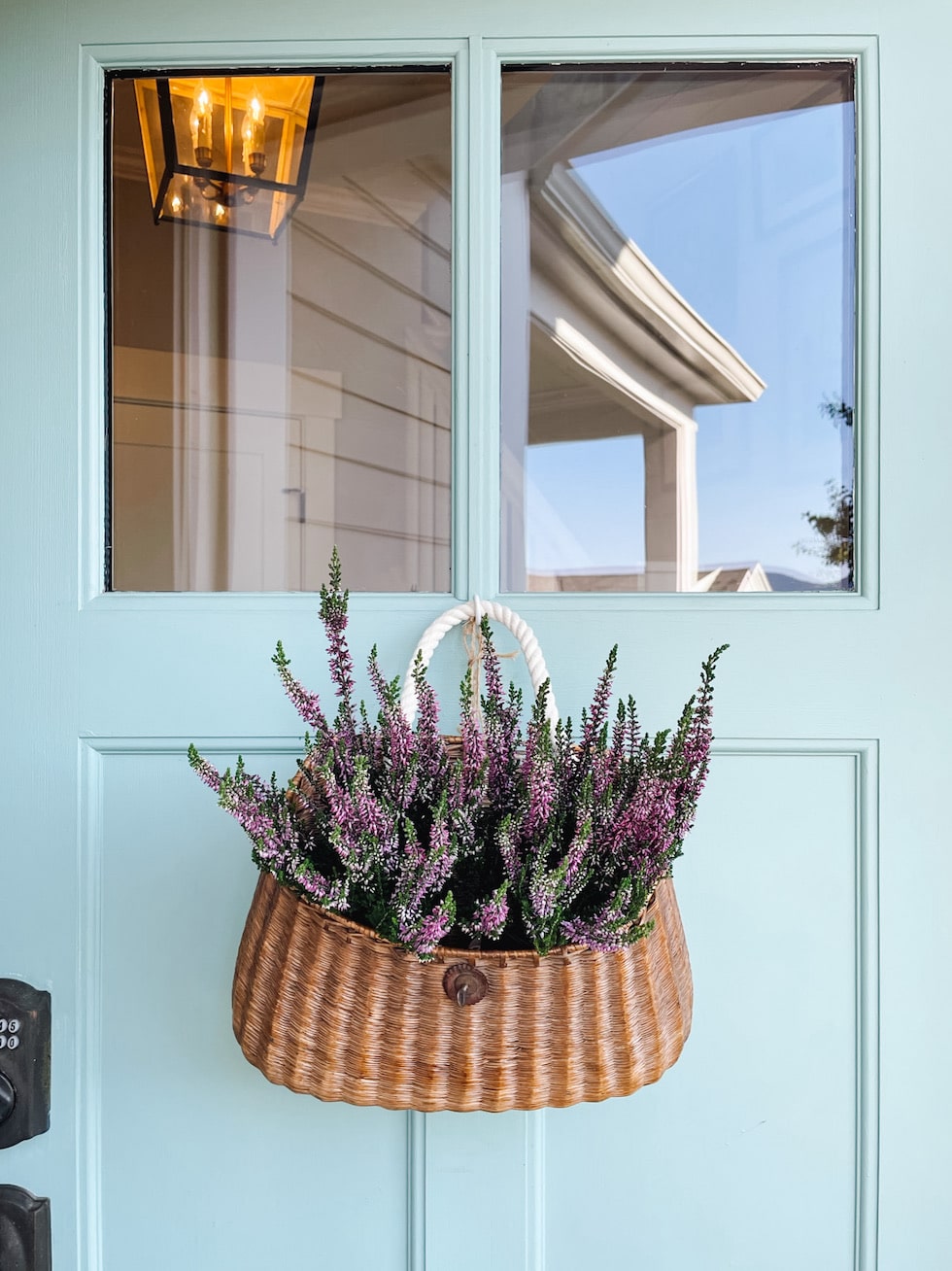 This is the vintage fisherman's basket you might have seen from inside the entry! It's a really darling little basket I picked up at an antique market recently. I just set two potted Heather plants in it so they can easily be taken out water them. You can find lots of similar fisherman's baskets here.
This is the white rope I added to make a little handle. It gives it sort of a nautical vibe, which is fun for a beach house. Since the basket was kind of falling apart in the back I decided to not hang it directly from the rope, although that's what I had intended. The rope was quite charming though, so I left it there.The basket is actually hanging from brown twine that I was able to tie to the basket. And it's all just hanging on a cup hook in the door!
You can see a little video of our porch below!
We used an assortment of plants and pots, too. I think you can mix and match planters, it's an eclectic look but that's how I roll. The pretty blue and white pots I bought locally, some at Ace Hardware and some at Christianson's. Some we brought from our old house. And I got these resin planter baskets over the summer. Some of the fall plants came in pots that I thought were cute, so I just used them! Wouldn't it be neat if all plants came in pretty pots? Right now they are just sitting in the pots, but I'll probably plant some of them.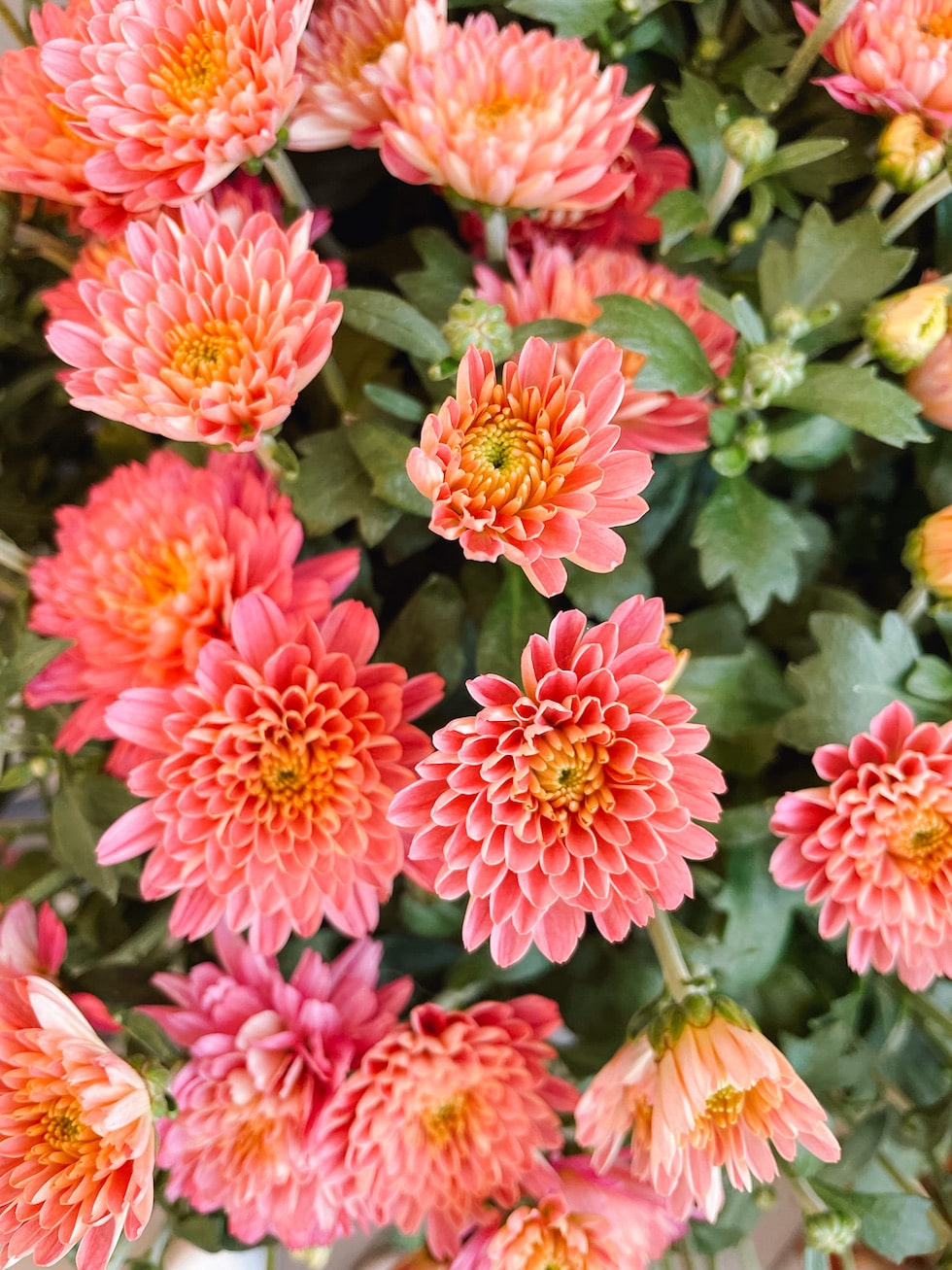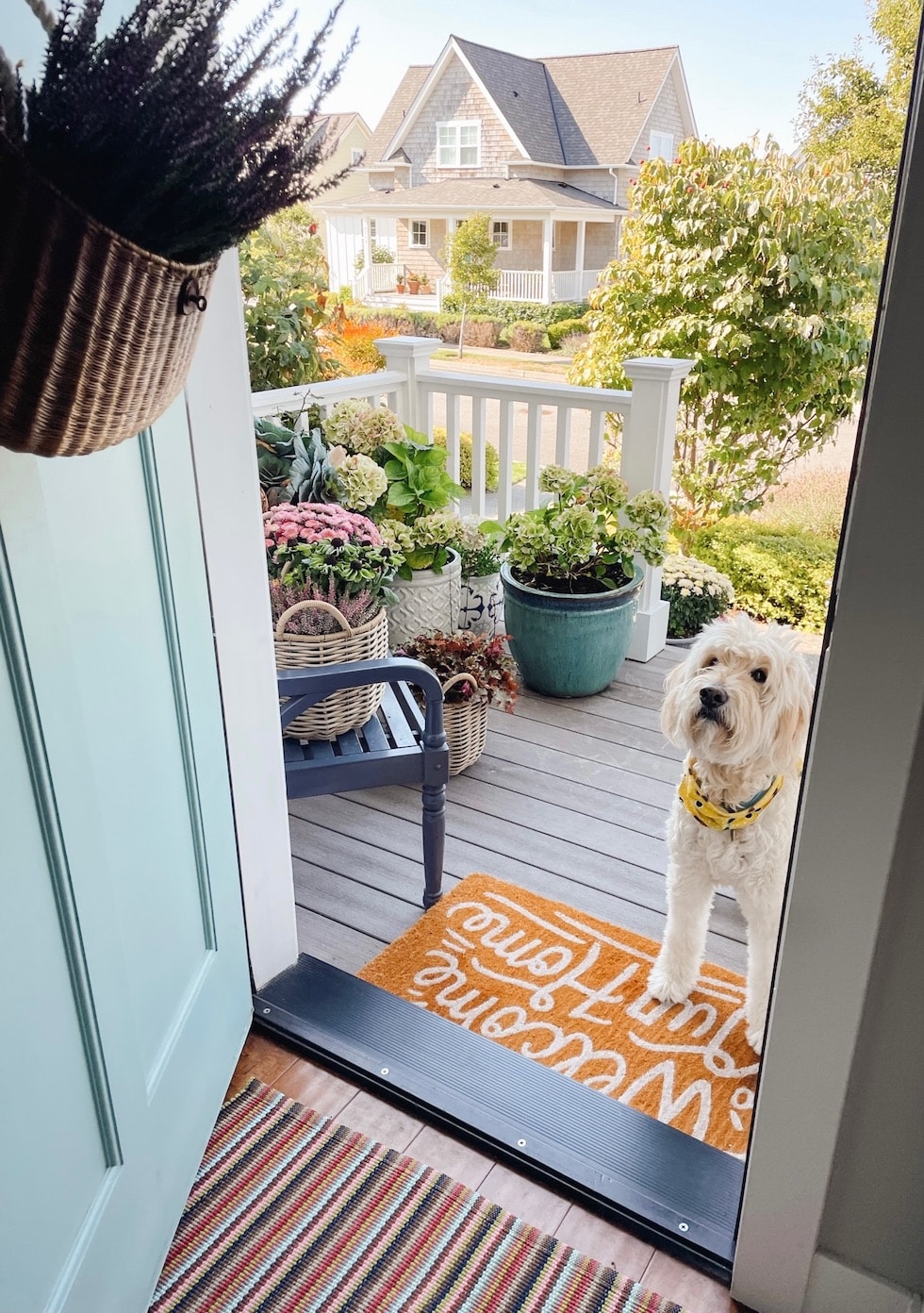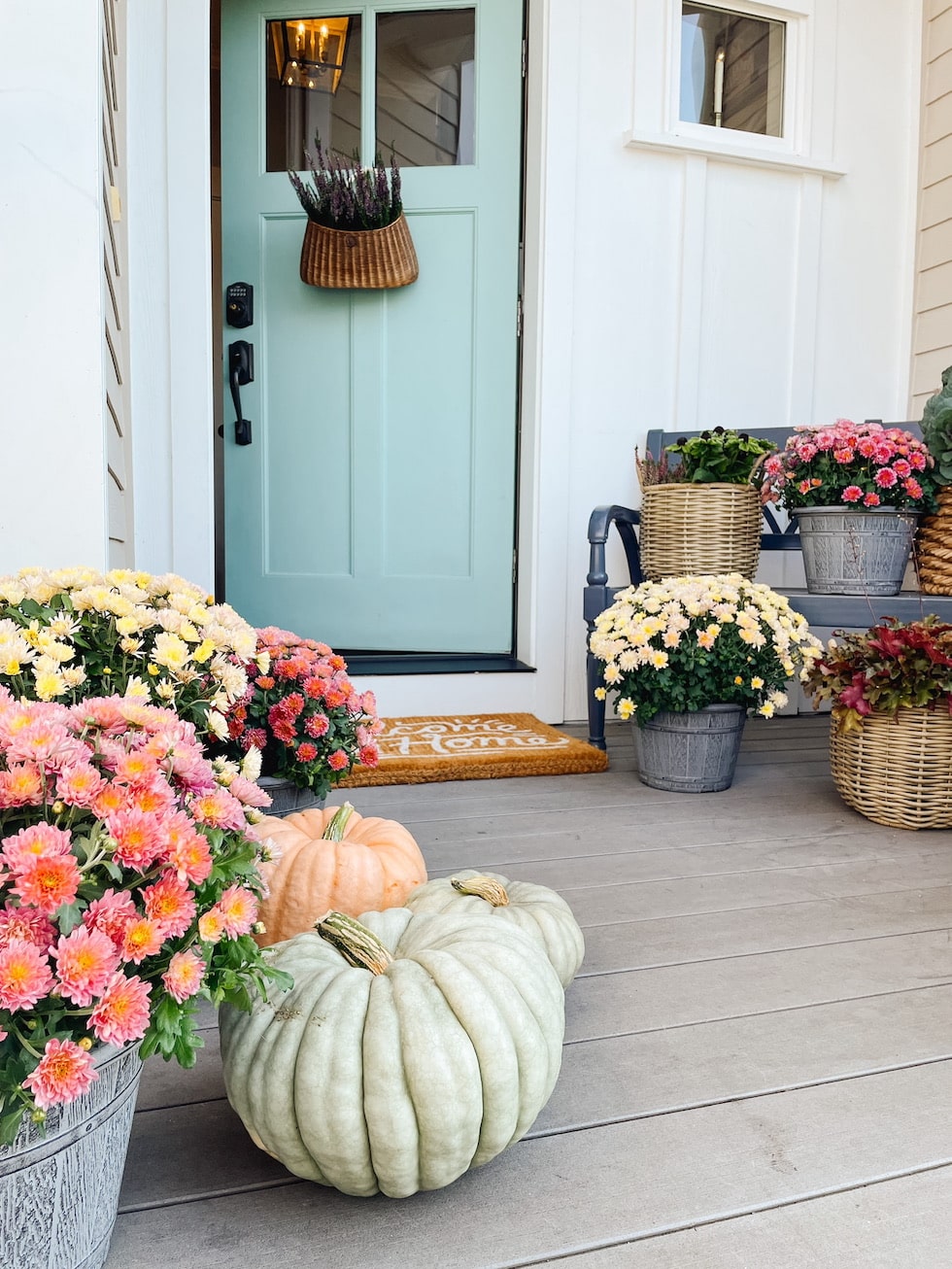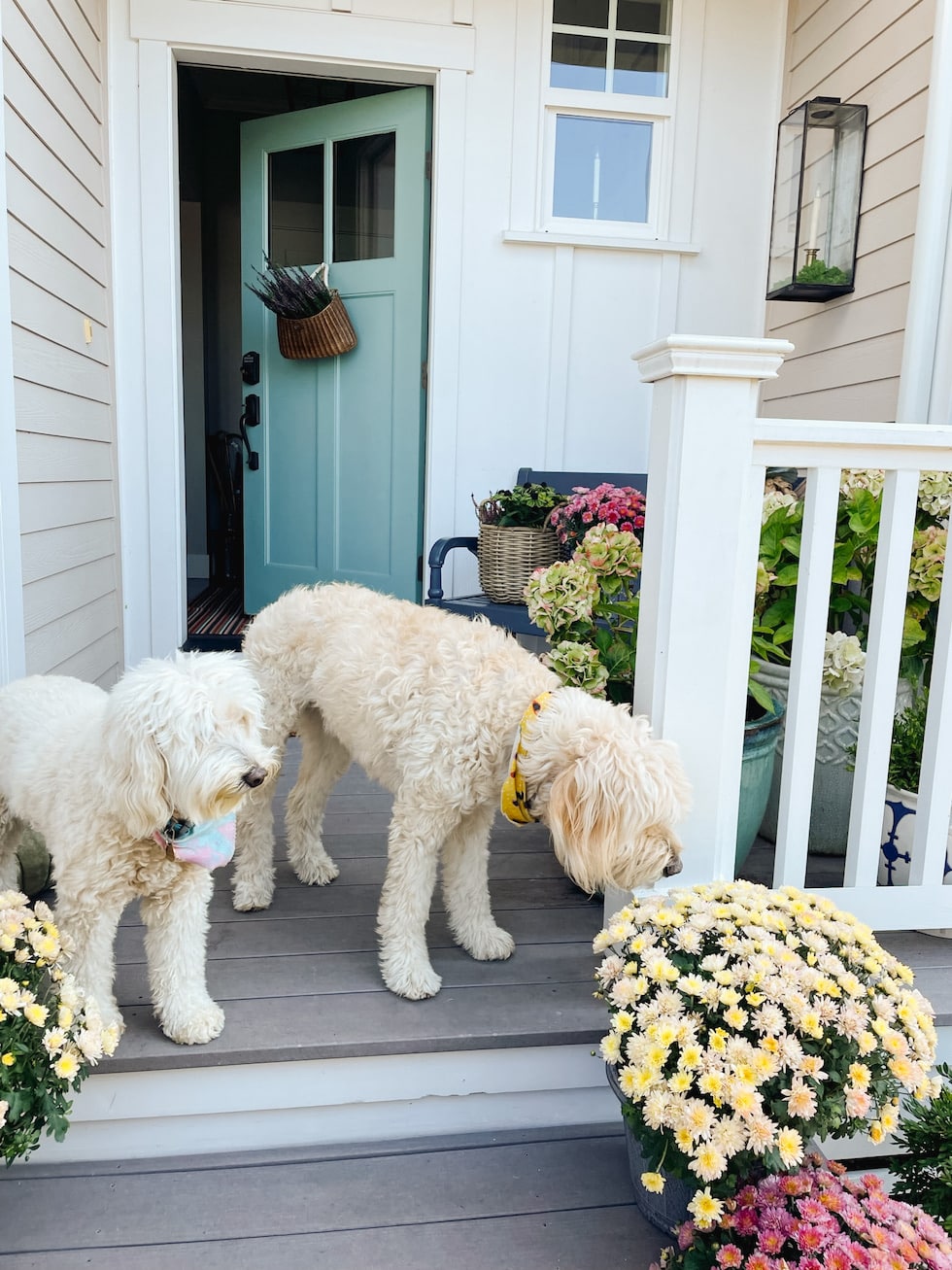 Jack and Lily were so curious about all of the new plants and pumpkins. They loved them! But since Jack sometimes eats my plants we try to keep most of them in places he can't get to. He doesn't go out here in the front unsupervised so the plants (and Jack) are SAFE!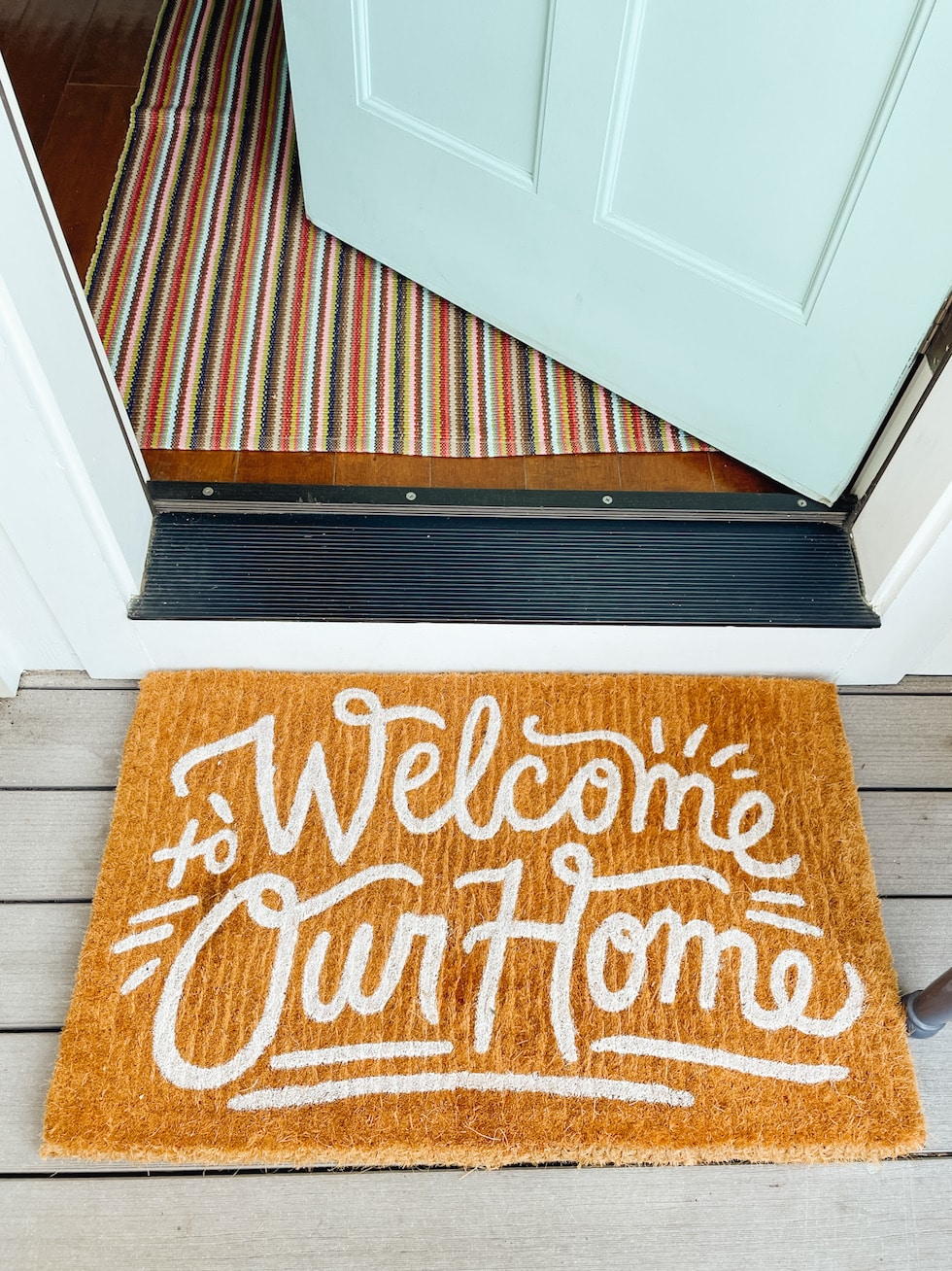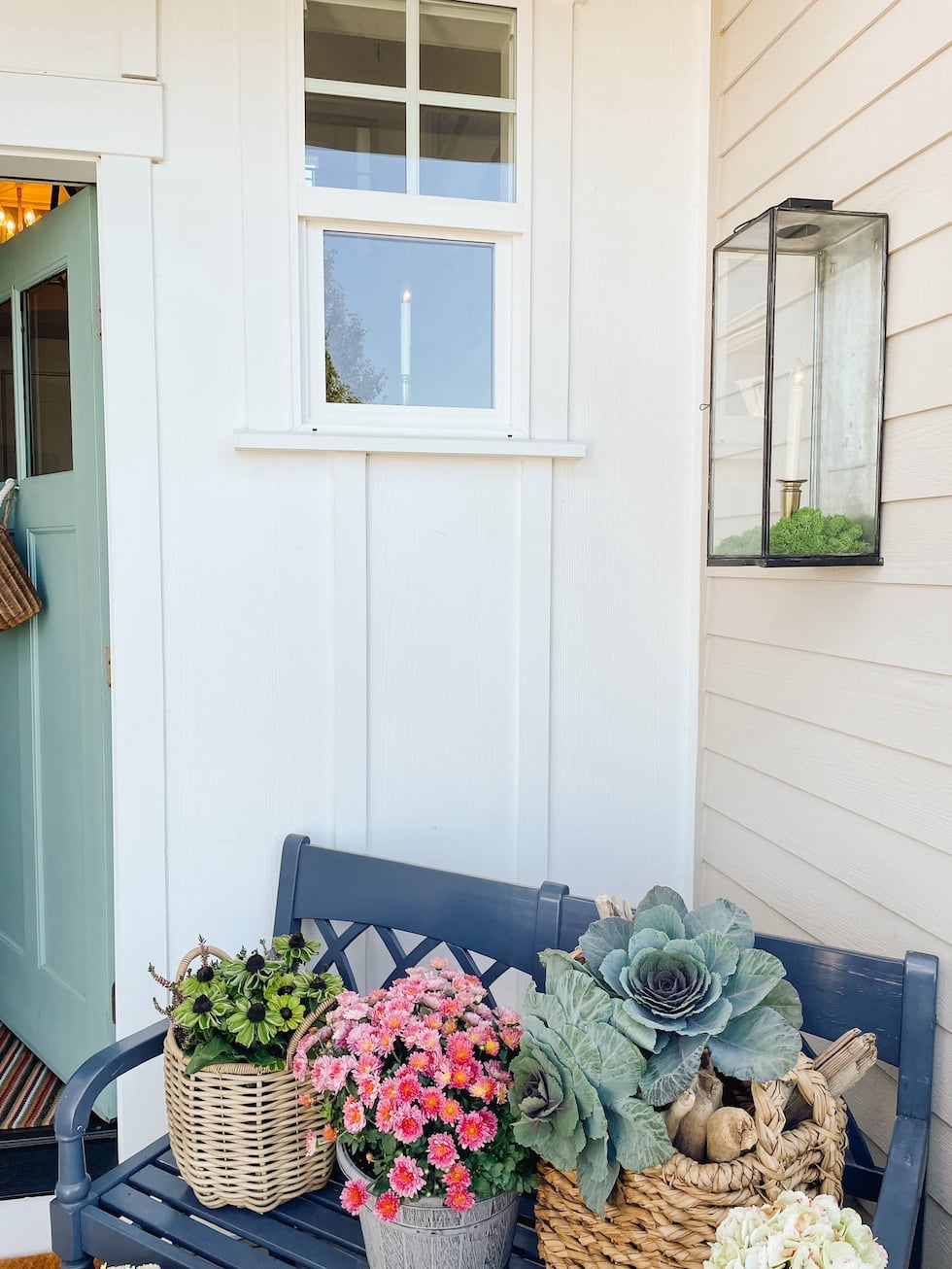 Did you notice something familiar in this area ? Look up on the house. Do you see it? Ahhhh! It's BAACCCCKKKKK. The lantern we had at our old house is finally up on the house and ready for service here. It was so fun at our last home to decorate the lantern for the seasons (see some of the ways I decorated it here). My lantern is out of stock but this one would get you a similar look! I just added this preserved moss and these battery operated candles. We put those candles over the house in the windows, too. I'll have to show you them, soon!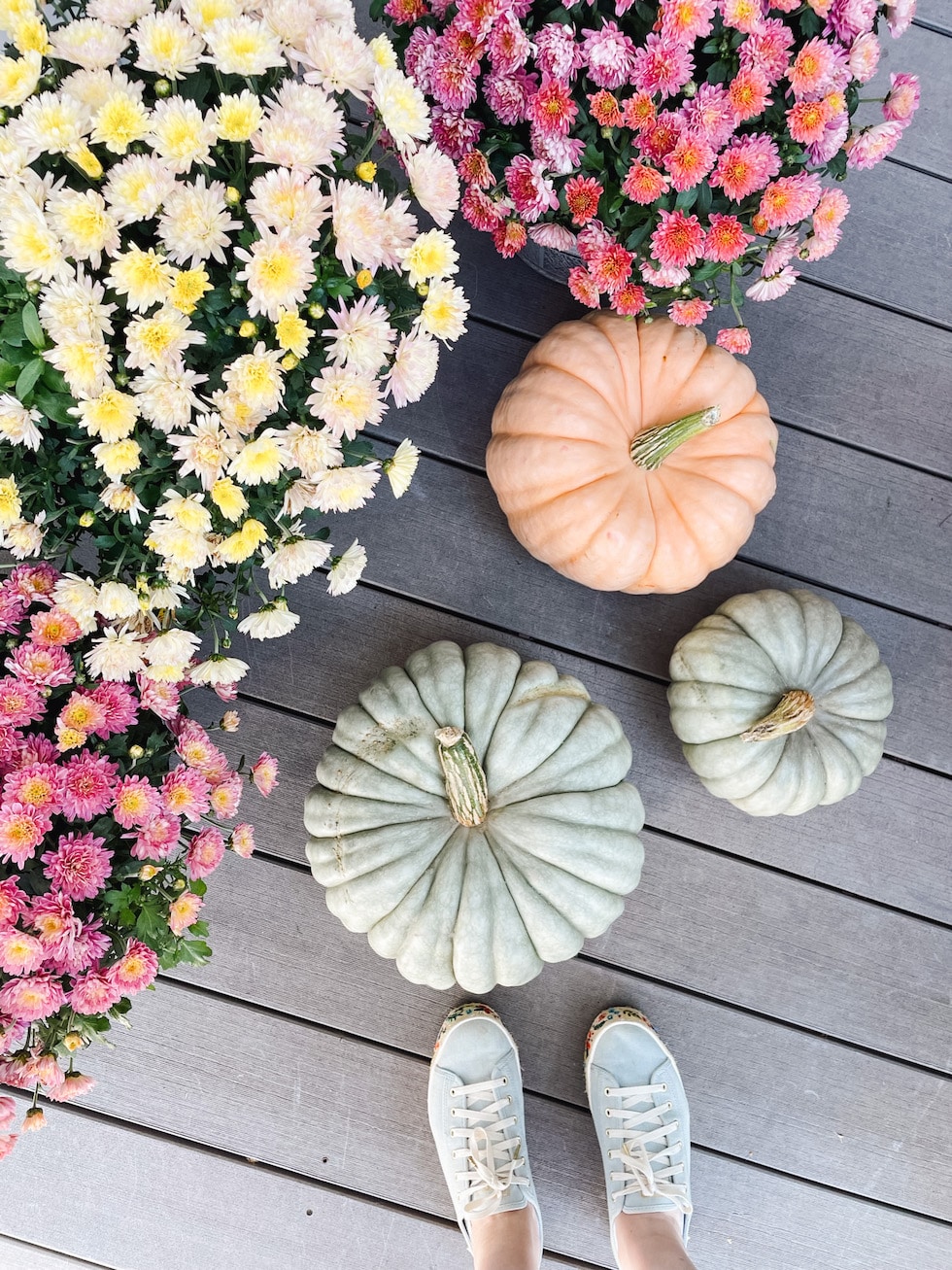 While we were out and about the other day I saw these darling 'Cinderella pumpkins' at a local market. The colors are so pretty, so they had to come home with me.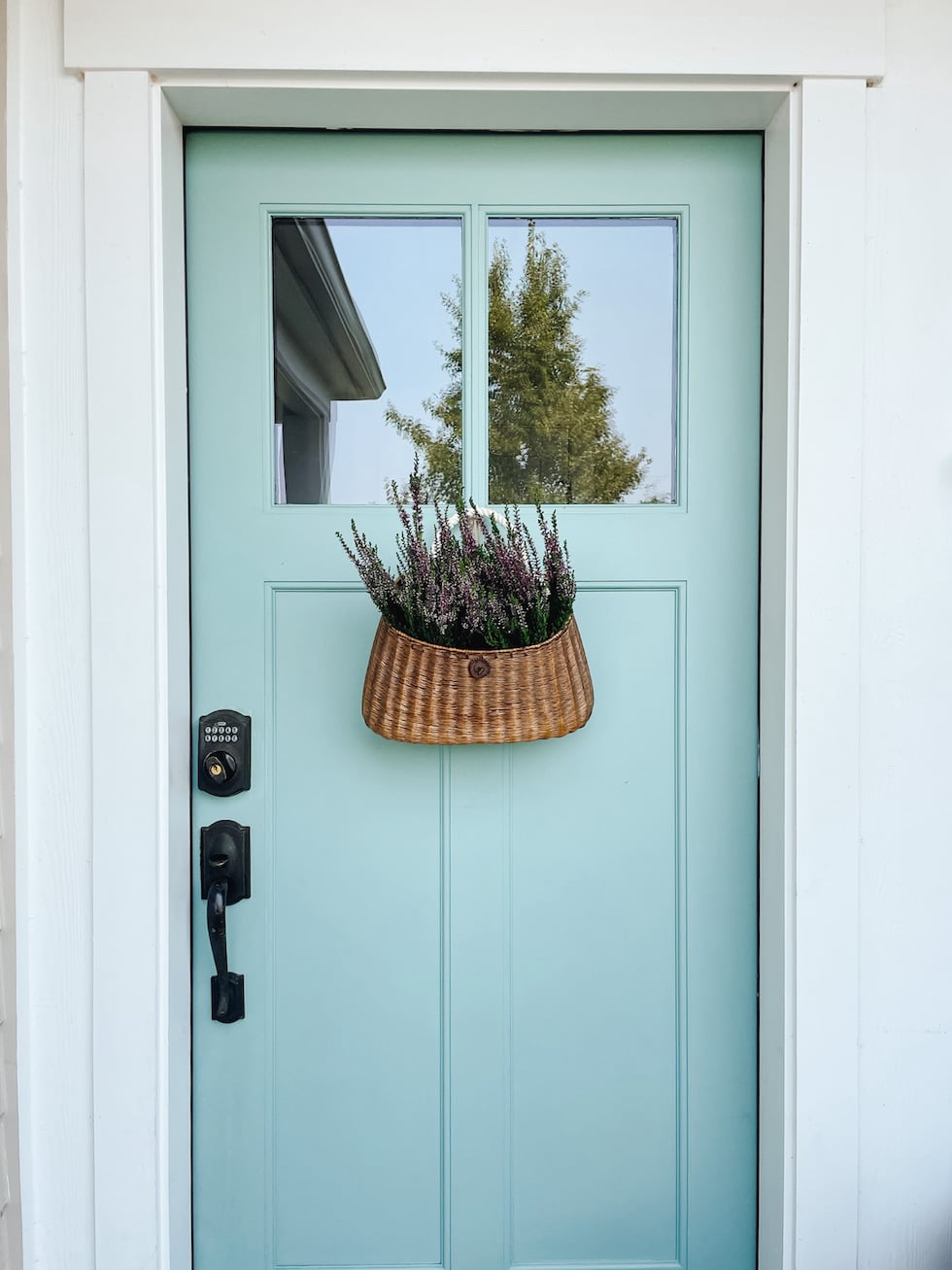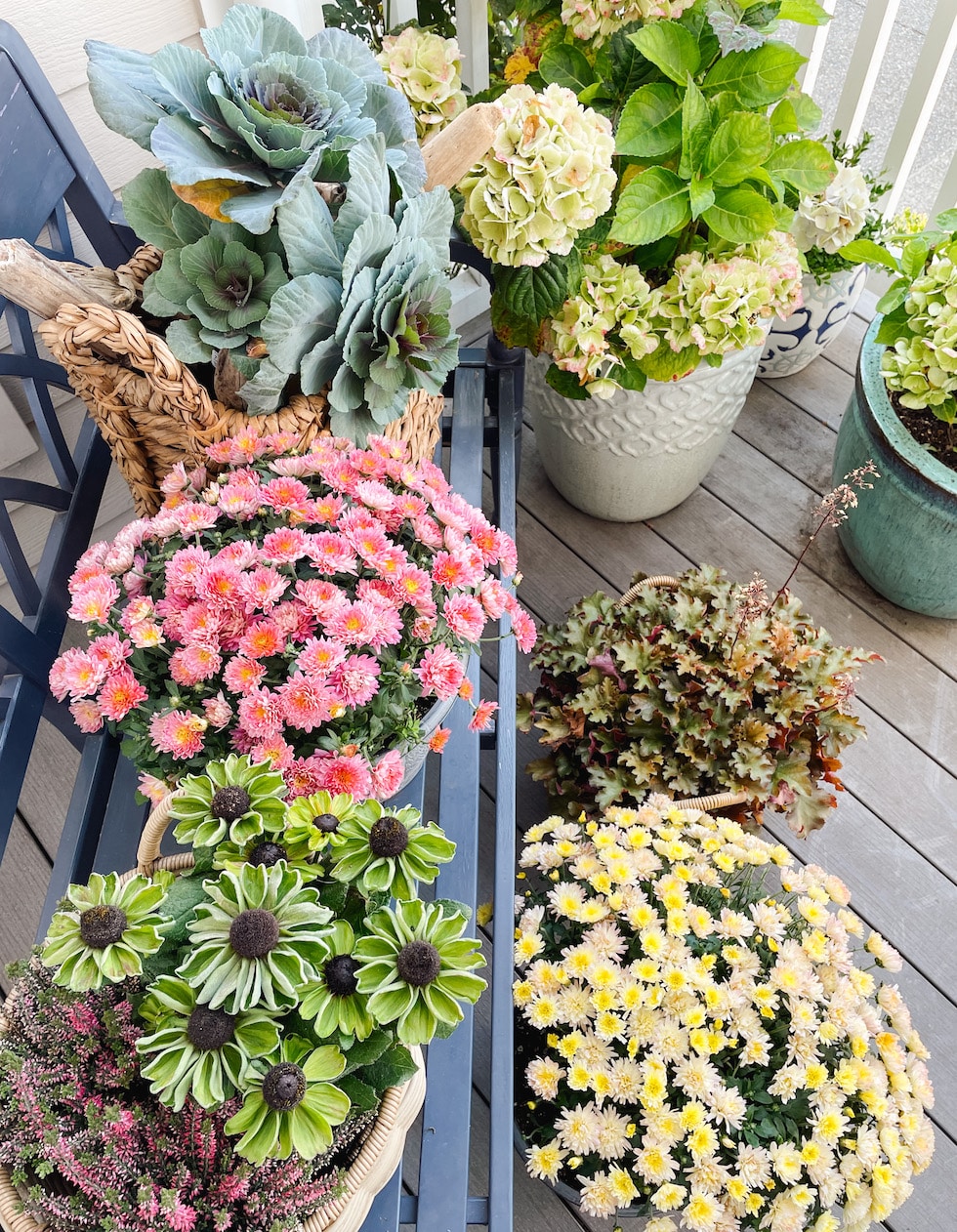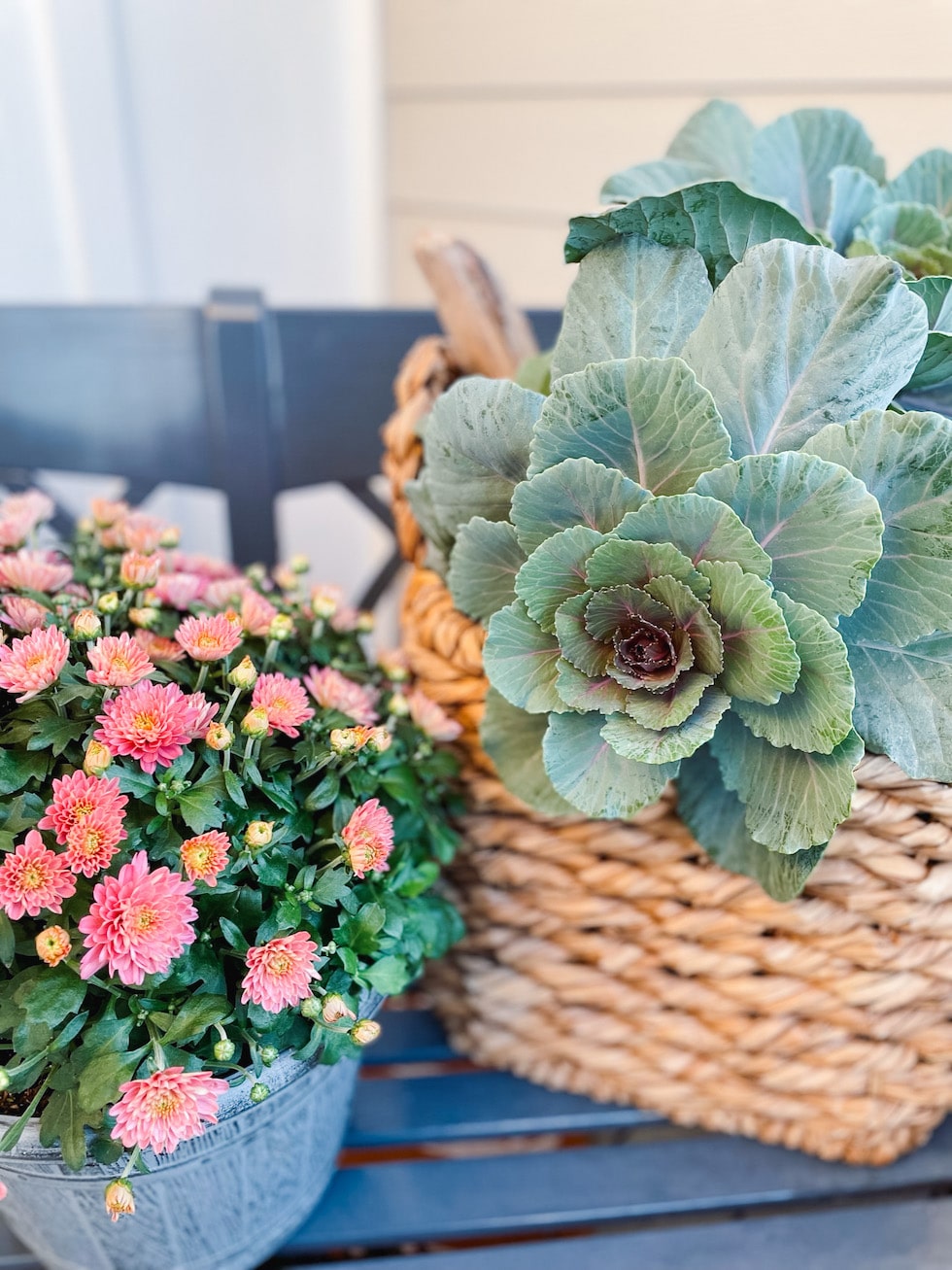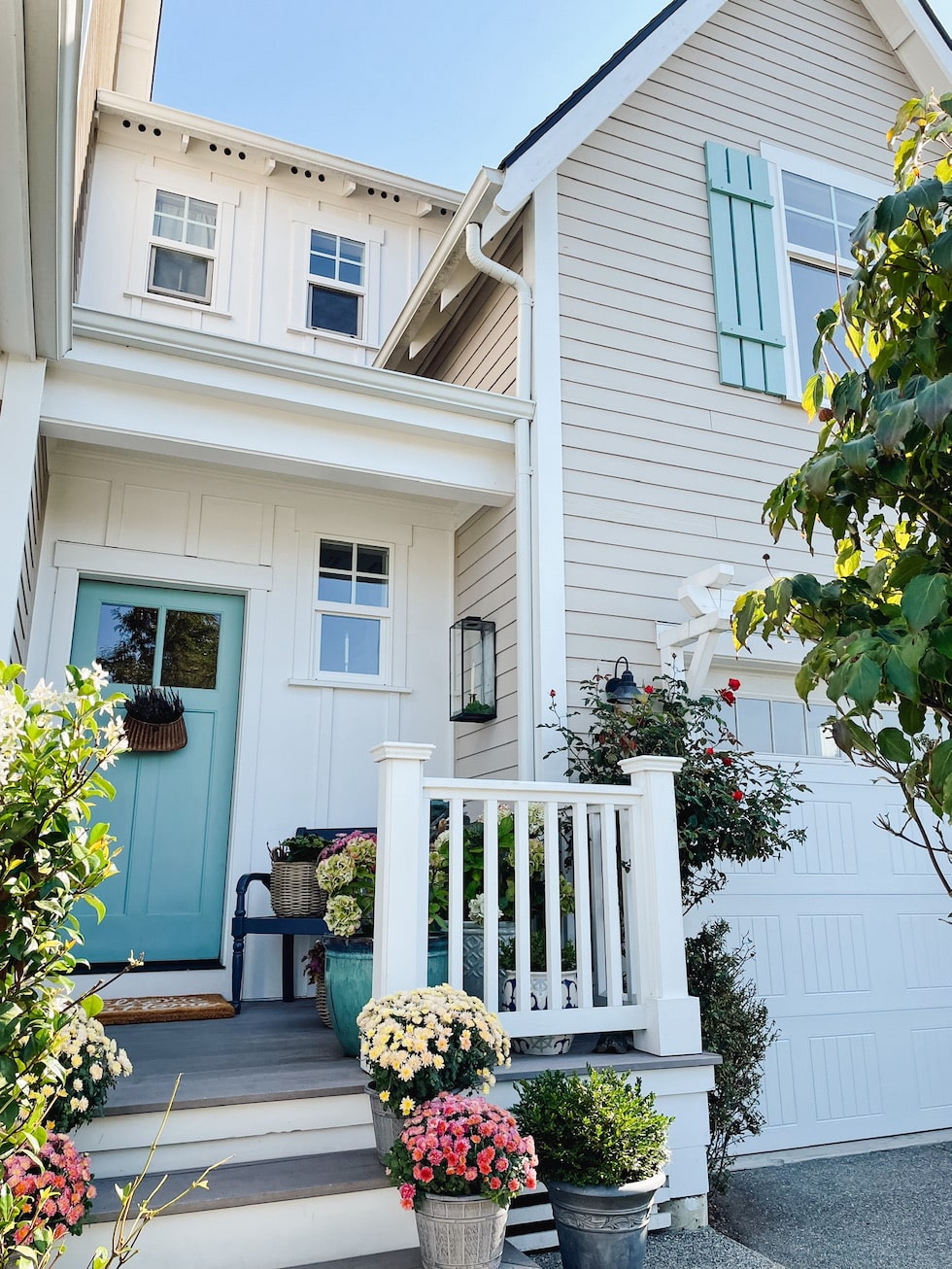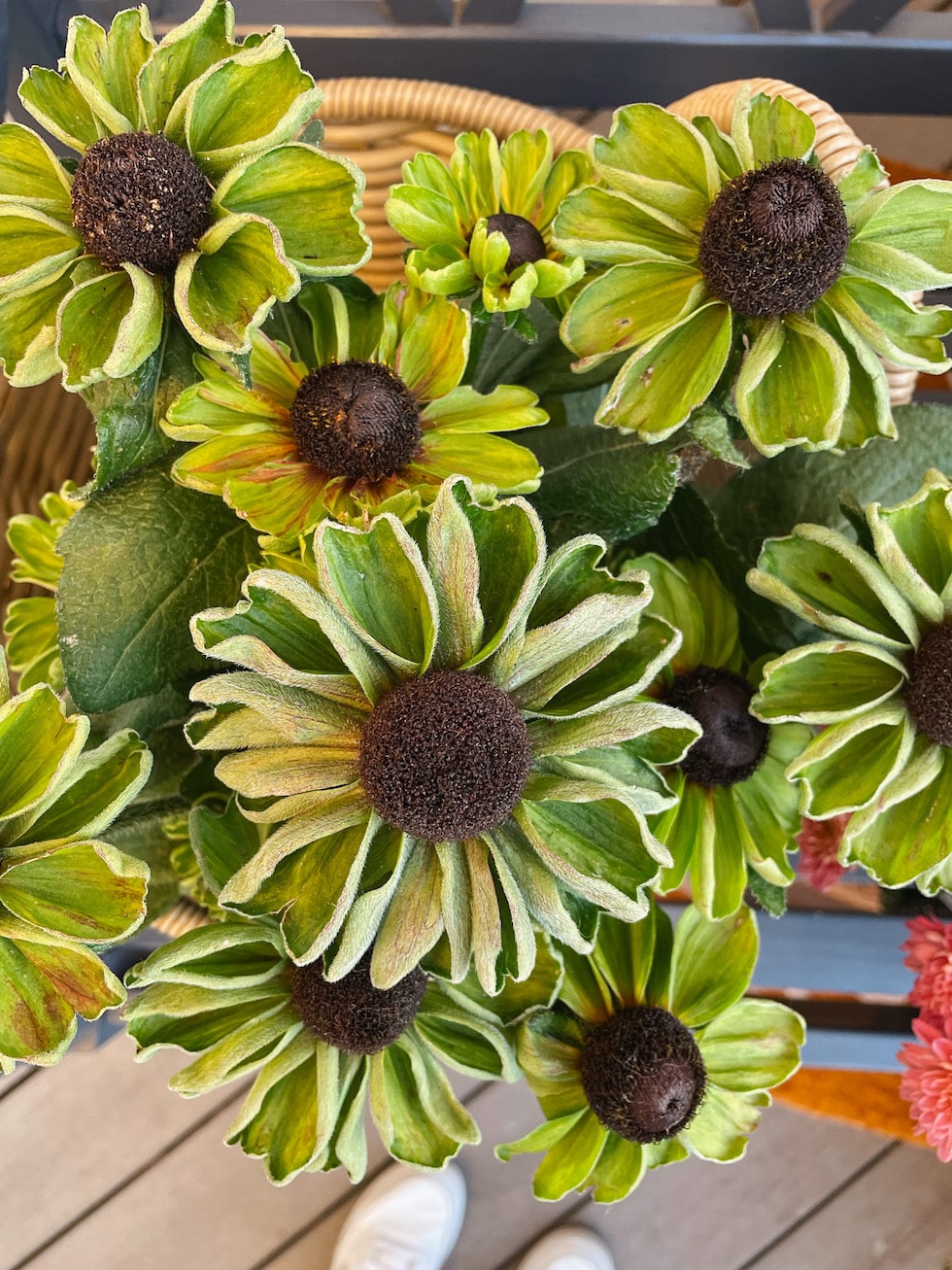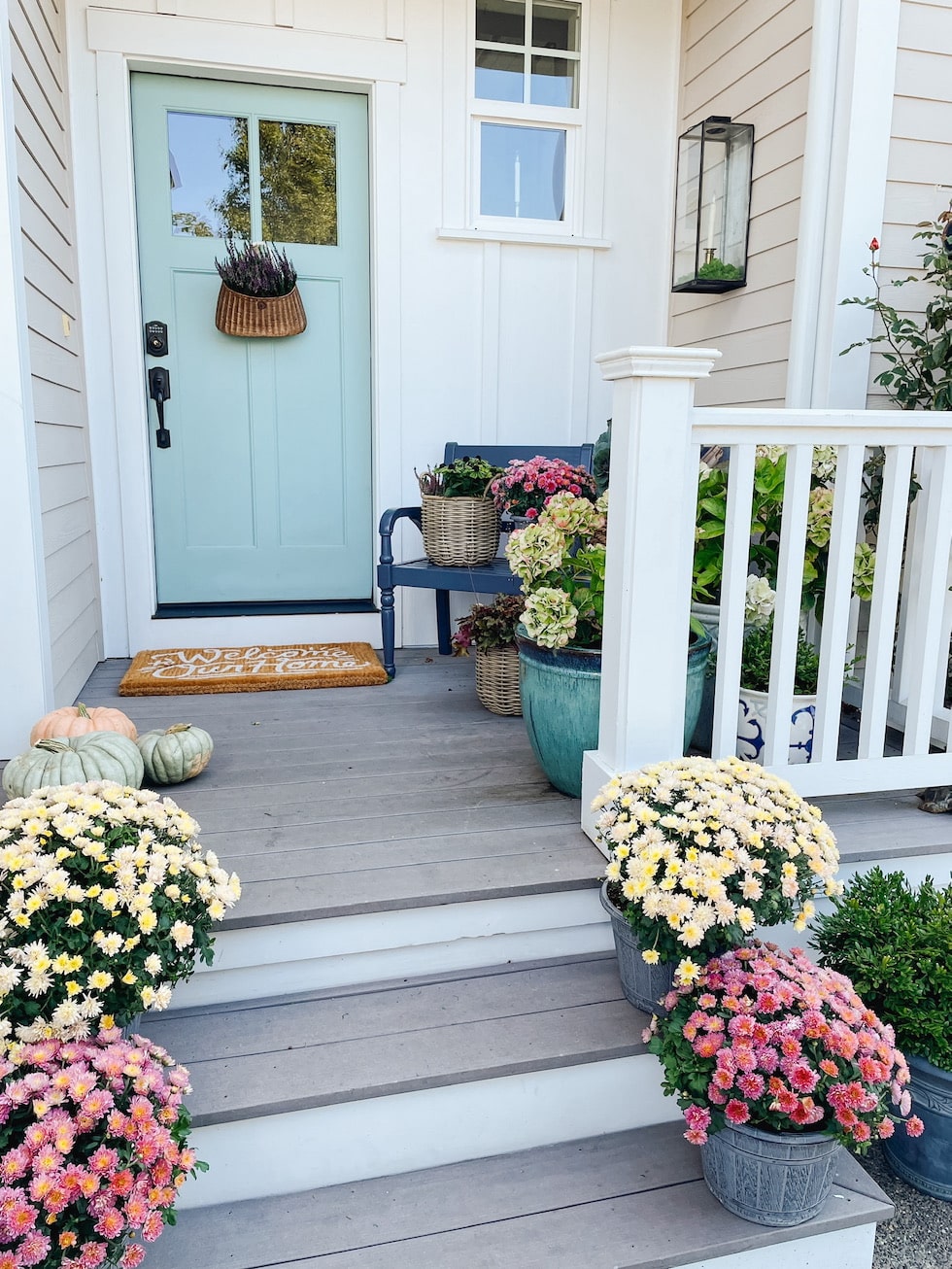 Fun fact, I can officially say we've owned this house for four seasons now! Can you believe it? But I consider this to be our very first FULL fall season here since we were just selling our Seattle house and moving in last year. I think we'll have a lot of fun with this porch every year and in every season. In fact, I know I will :).
Are you decorating your porch, front door or entry for fall? Come to our TIR community group and show us what you're up to. I love hearing from you and seeing your fall home. I know all the kind ladies there do, too.


---
More Recent Posts You May Have Missed:
Our Cozy Fall Entry: 13 Simple Decorating Tips for a More Welcoming Entry
My Secret Decorating Tip (and why my blue glass lamp is in a new spot!)
Fall Decorating: 7 Simple Tips to Transition Your Home to Fall
How to Create an Autumn Mindset for Your Home (and why social media is distracting us)
How to Decorate Your Kitchen for Fall (17 Cozy Ideas!)
My Fall Mantel + Tips for How to Decorate a Mantel (Using What You Have!)