This Post May Contain Affiliate Links. Please Read Our Disclosure Policy here
Welcome to our early fall entry! As the air outside is cooling a bit and the leaves are definitely turning colors, it's therapeutic (and fun!) for me to create a warm and welcoming transition into our home. An entryway really can help set the tone for the comfort and coziness you want people to experience inside, so it's significant space (whether it's large or small!).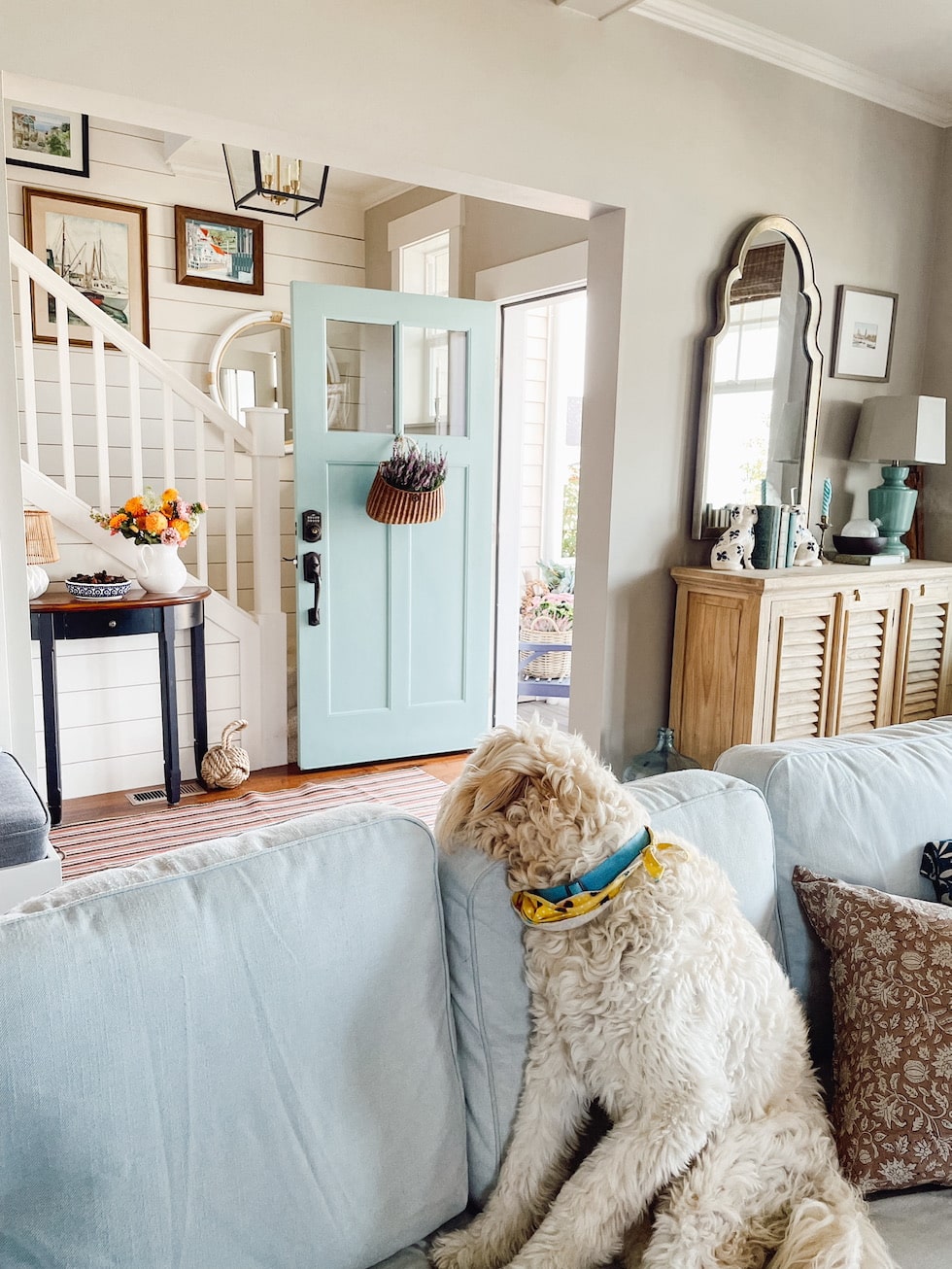 With fall officially arriving on the calendar this week, we celebrated the transition with a really simple fall makeover to our entry. As we often do, we updated our entryway using mostly what we already had on hand.
There are lots of photos in this post, so I probably went overboard! BUT I do think it might be helpful to see different angles and to see what is around the entry and how this space connects to what is nearby. Especially since our entry and home isn't huge so we have to utilize every square inch! Fellow small home friends might appreciate that situation and see how we are making the space work for us.
Scroll down to see all the photos and a list of ideas and what we used from our home to create our cozy fall entry!
Small space or no dedicated entry? No problem!
I know not everyone has a dedicated entry to decorate. I talked about that situation in Monday's Mood Board post on Creating a Cozier Fall Entry.
No matter how large or compact the transition space to your home might be (whether it's a grand entry, a porch, a front step, a living room wall….) that space can be made cozier, more inviting and a reflection of the season.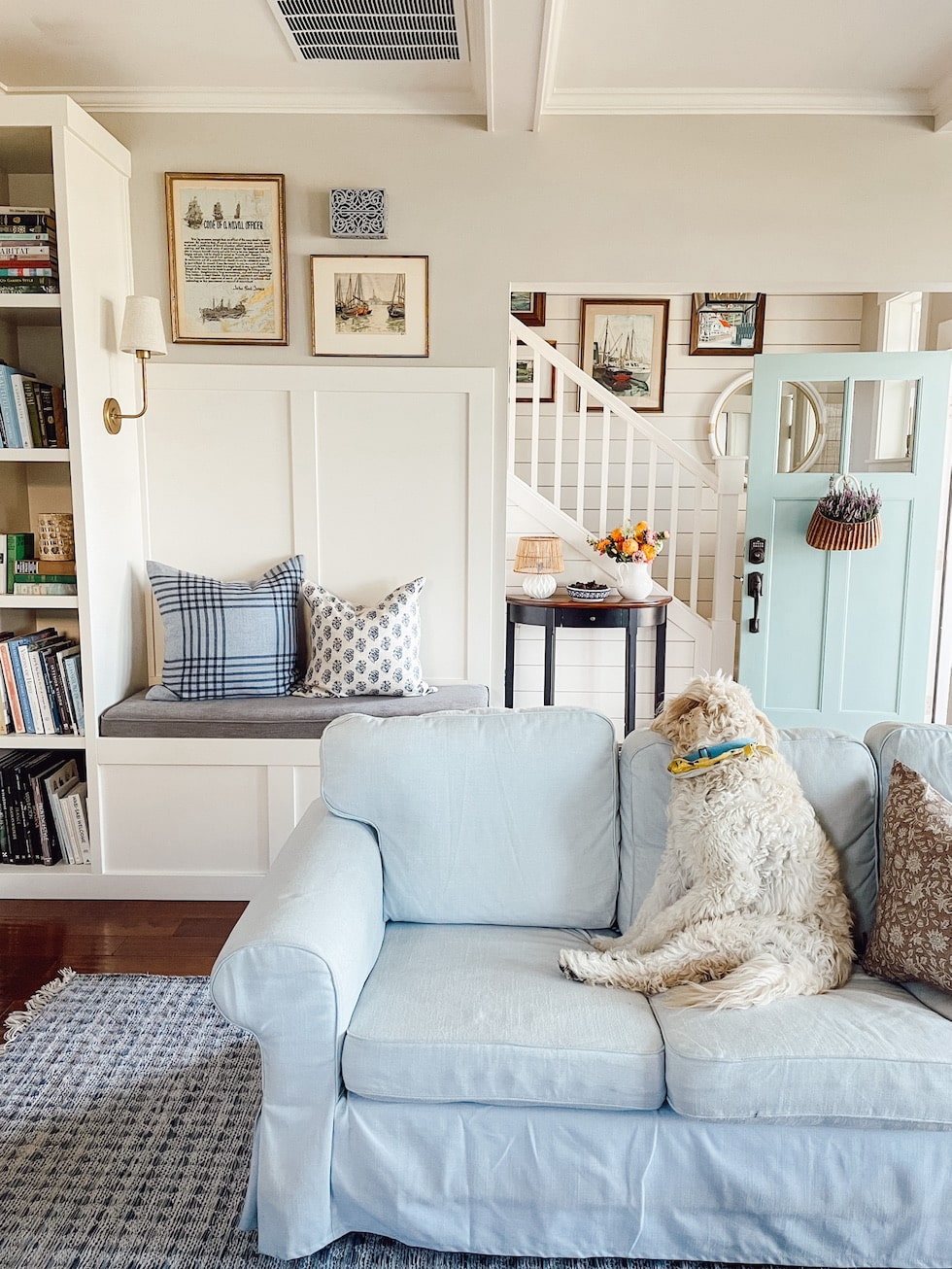 Don't compare or despair
Our entry is definitely on the smaller side (don't come at me if you think it's HUGE compared to yours!). For everyone who has a tinier entry, I know there are also many that are far larger than my entire main floor, hahaha, so stop the comparison right now. Maybe you are thinking "my goodness how can she live with such a small entry!" Ha, everyone has a different perspective on space.
If you ever feel your home is less than in any way, or when any depressing sense of comparison creeps in on social media, I encourage you to go back and read this post on an Autumn Mindset. Hopefully that mindset helps us all regain perspective on what matters in this season.
I do love our little entry, but we don't have a lot of floor space for furniture or surfaces for many accessories. So I just use what I have or whatever I can find to get the feeling I want in here! Scroll down for some tips we used to create a more welcoming fall entry.
Here are 13 tips we used that helped us create a welcoming fall entry:
Look around! When I'm working with a small room or part of our home, I often will look to the surrounding spaces to find ways to pull the whole look and function together so it can all be of benefit to the smaller space. A cohesive look can be important in any room.
Don't feel limited by a small space! While we don't have room for a bench or fall pillows IN our entry, there is a built in one tucked around the corner in our living room. You want to use what you have to create a welcoming experience at the front door, even if it's around the corner on the porch or in the living room. Don't feel limited by space!
Swap pillows for a fall mood. I did order some new pillows for our home recently, you can see a couple of them in these photos but I'll share the rest in an upcoming post. I'll also share more about swapping and storing them for a new season in an upcoming post as well.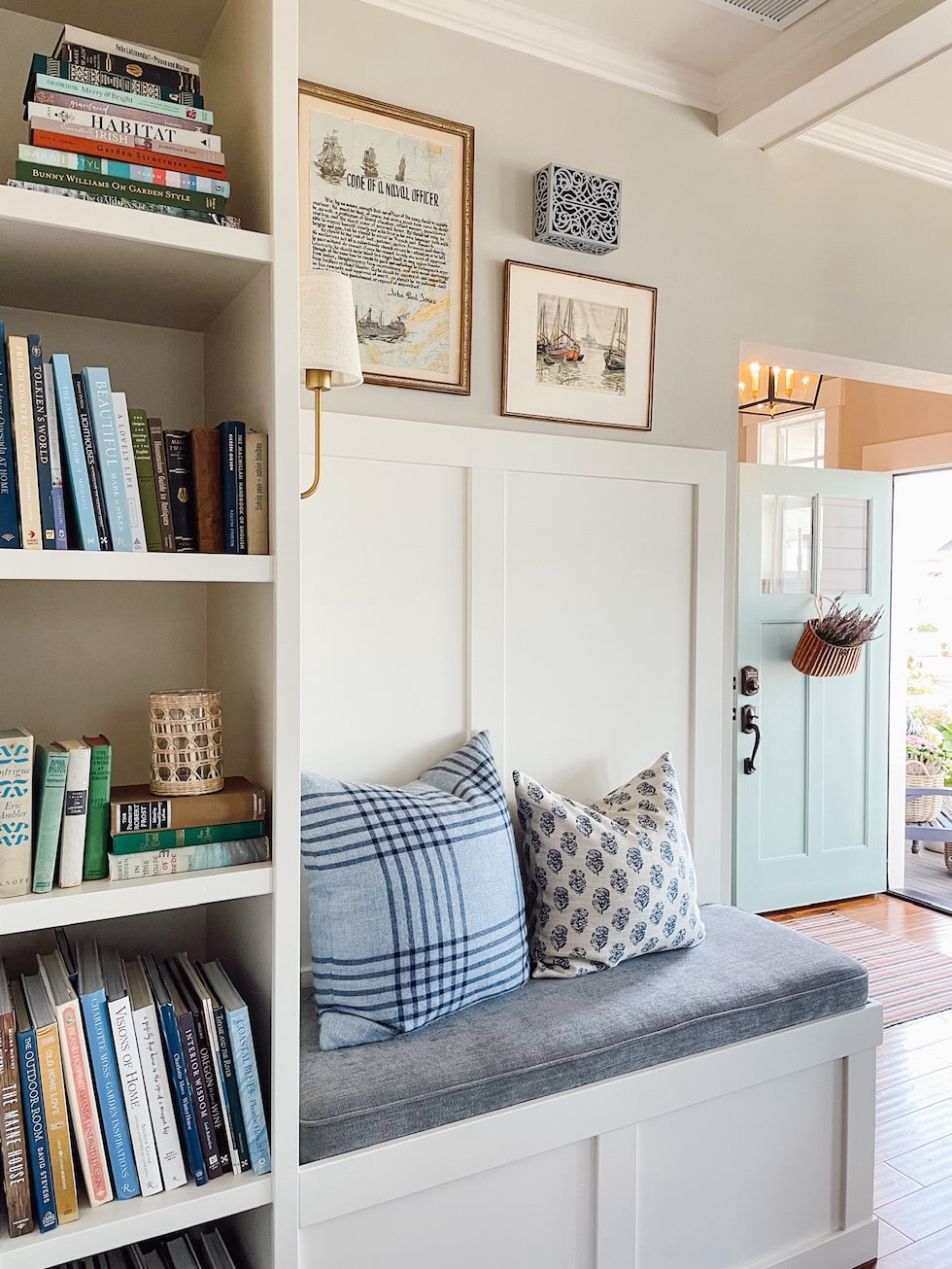 Incorporate meaningful or seasonal art. We continue adding our meaningful seascape art to the stairwell. You can read where we find our coastal art HERE and a bit about why we collect art in this post HERE. Meaningful art is something I have written about a lot, we collect second hand or as we find pieces that speak to us or remind us of special places. The art on this wall has inadvertently created a color palette in this space that can be incorporated into our home in various ways or combinations in any season.
Light fixtures add warmth, but can set your own style mood! You might remember we switched out the light fixture a few months ago. It was a splurge intended for our bedroom, but we are loving the lantern in here (read about it HERE). The lantern really makes the whole space feel cozier and more our style, so I'm really glad we put it here as a style setting statement the front door.
Set up a seasonal entry table or shelf near the door. The little demilune table was a part of the purchase when we bought the house! It tucks into that space and gives us a wee surface for our lamp (added warmth), a bouquet and whatever little accessory we want there. Right now we have pinecones in the bowl (which I'll share more about in an upcoming post as well).
Use a fall bouquet for color! I fell in love with this fall bouquet fresh from a local gardener, who I incidentally discovered after I bought it at the market is also the gal who we ordered flowers from for Courtney's wedding! It's wonderful to treat yourself to a bouquet of lovely fall flowers, but even better when they are grown either in your own yard or locally. Fresh flowers won't last forever, but they don't have to be stored so I consider that a win.
Gather what you have. If you can mostly decorate with what you have, that's awesome! Of course, that doesn't mean you shouldn't buy anything new. At some point, our spaces can use a little upgrade or something different to elevate or complete the look. You can find some ideas for a fall entry in this Monday Mood Board post.
Vintage elements add cozy character. We added a door basket, as we often do! This fisherman's basket is something I picked up at an antique store recently, so I guess it's "new" but also … old … and what I had on hand! (You can find similar baskets here like this one). We used it on the door but it was a bit rickety so I had to kind of tie it together :). That is part of it's charm, though, right? I'll share more about the front door, porch and plants this week.
Use warm metal accessories like copper or aged brass. I've had my copper umbrella stand for years (I'm not even sure what it is, but I've always used it for umbrellas). Sometimes I leave it out all year, but the copper and umbrellas are especially pretty in the fall, I think!
A rug in the entry makes it cozier and can set a fall color palette for the home. The main thing that I think really pulled the space together for me is the rug (I don't think this exact one is available anymore but it's from here–I love this similar one and this one). This striped rug was in our beach house years ago, so I am glad my mom hung onto it so we can use it here. It's really perfect for the beginning of fall! The rug adds a layer of warmth here (add a non-slip rug pad for safety!), but also it pulls together a lovely fall color palette. It brings in hues found in the art, as well as the front door and takes the overall mood of our home effortlessly from summer into fall!
Invest in items that will stand the style test of time. I've always been a HUGE fan of Dash & Albert striped rugs. If you have loved a look or a piece for a very long time, that's a good indicator that it's a classic, not trendy AND best of all it won't feel outdated to you years down the road. I have loved this striped rug look FOREVER so I picture having many of these rugs in our home and plan to even have runner down the stairs once we change the flooring as we complete the remodel.
Don't let future plans or things you can't change halt you from creating a cozy space. It can always be made more welcoming! We plan to get new flooring which will also alter the feel of our home and staircase, BUT with that said, I try to not let any FUTURE plans, or things I can't change, stop me from creating an inviting home right now.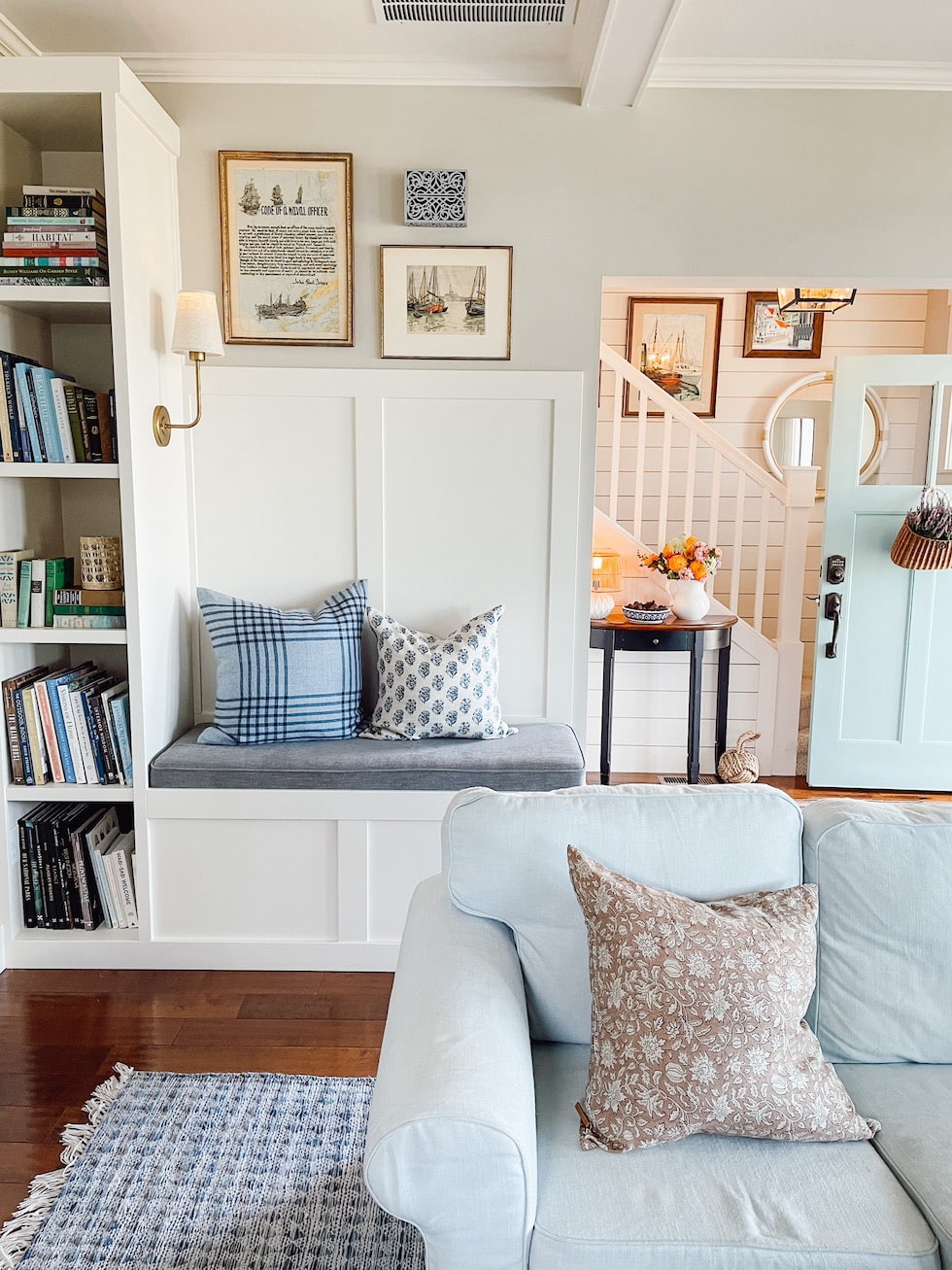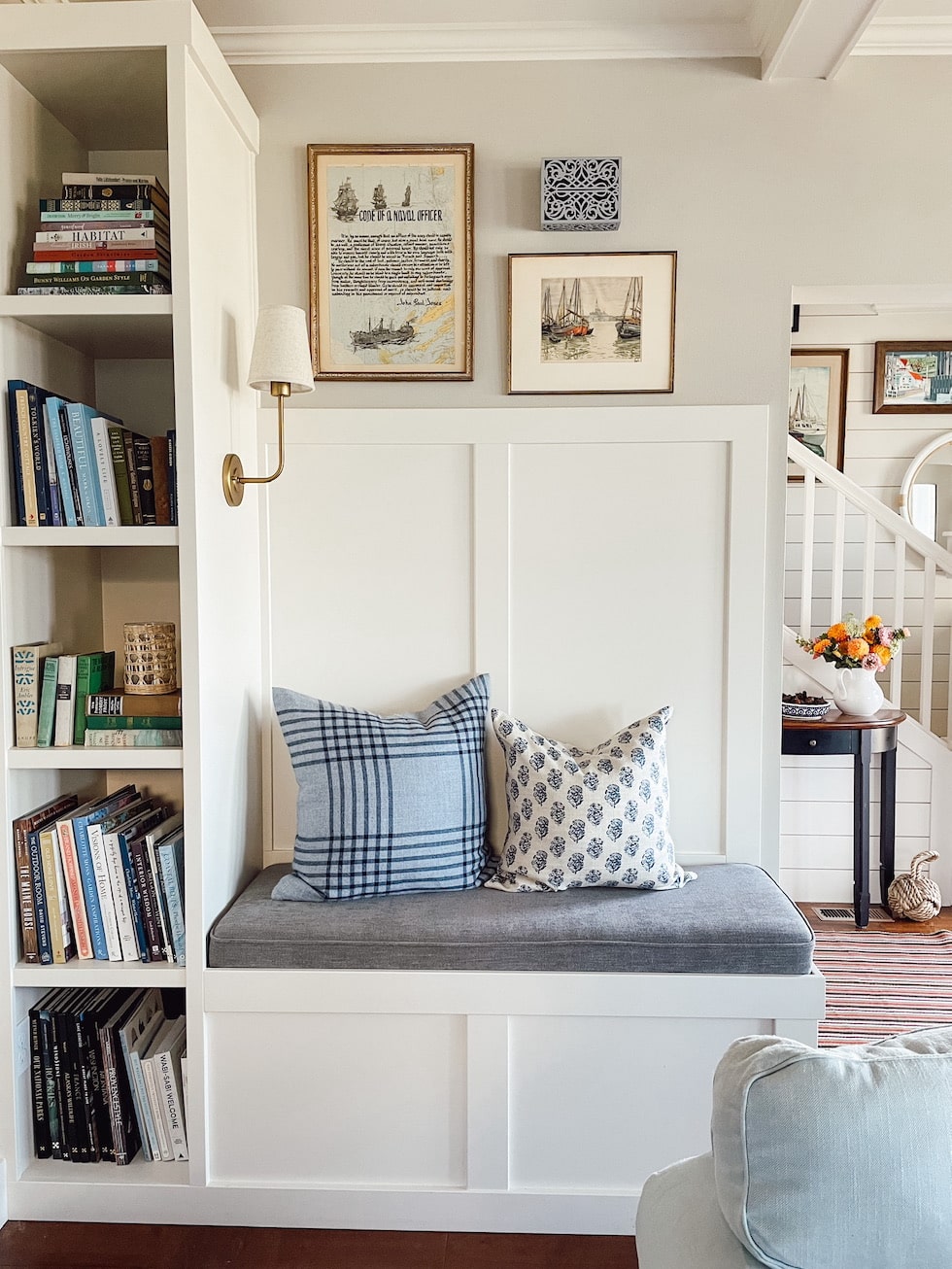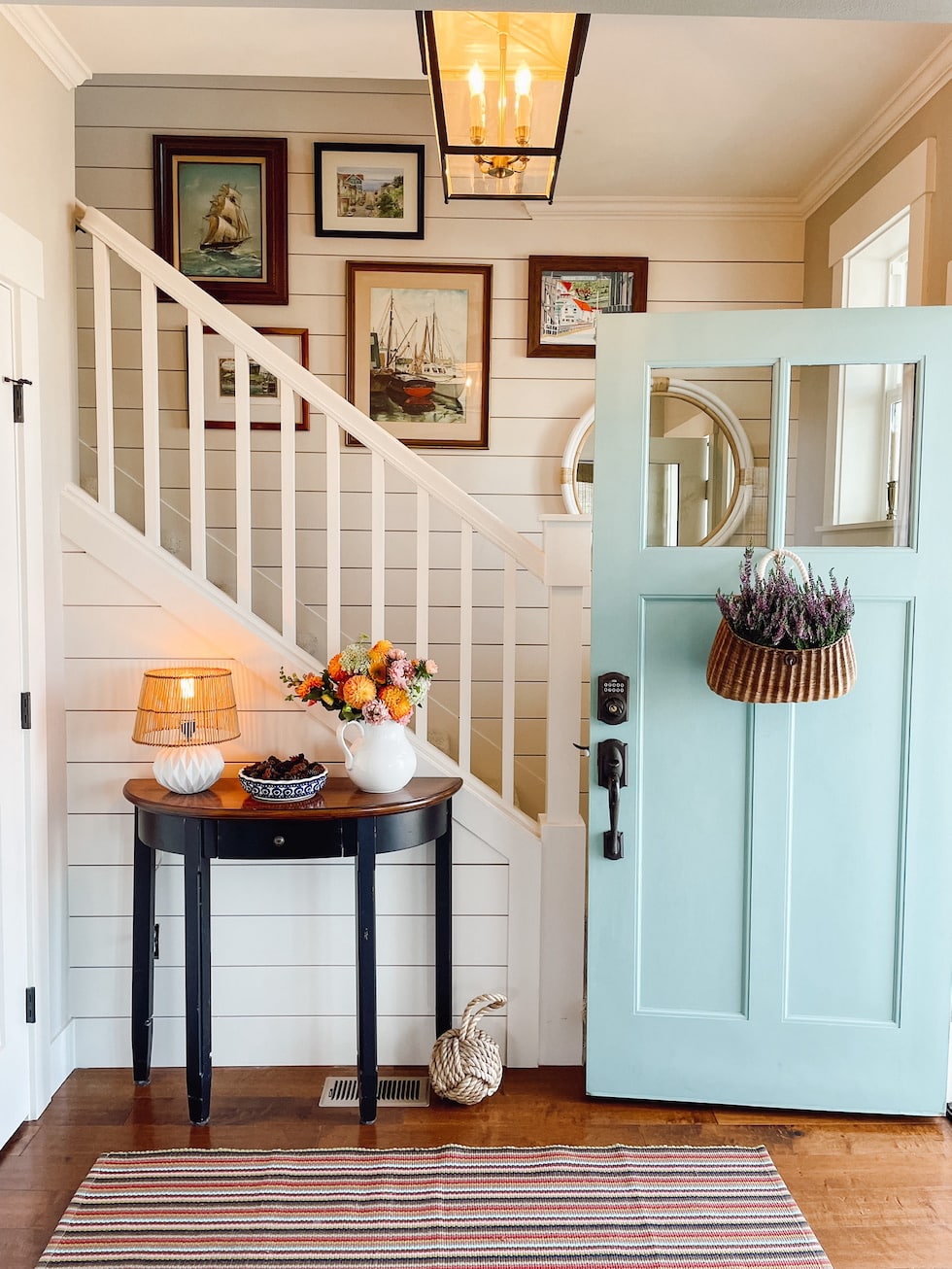 Would you like to peek outside the door to see our fall porch?
Stay tuned, I will show you our fall porch this week!
Happy fall nesting, friend! PS. I'd love to see what you're up to, so please join and show some photos in our TIR community group! It's fun to share with the group.


---
Some recent fall and decorating posts you might have missed:
Cozy Fall Decorating Mood Board
A Cozier Fall Entry Mood Board
Using What You Have to Decorate (and why I moved my blue lamp to the living room!)
Come see my office/family room/TV room/guest room (and a tip for organizing linens without a closet!)
17 Ways to Decorate Your Kitchen for Fall (without pumpkins!)