Happy Friday! I'm glad you're back today for the second part of my Fall home tour. Today we'll see the dining room and foyer. These are my favorite spots to decorate seasonally and I try to make sure they are decked out. I use what I have and recycle things I've had for years. I sure don't go out and buy new things every year. Welcome!
Here's our front porch again…come on in!
Affiliate links used below.
We'll go straight to the dining room. I love our dining room and enjoy setting the table for each season.
Blue and white lends itself to a lot of complementary colors and I enjoy the fall colors with it.
As I mentioned, cutting limelight blooms are free from my yard and they make the perfect accent to my fall decor. I love the soft green shades of limelights as they are fading to fall colors.
I also love using small paintings on easels with my seasonal decor. Bamboo easels and all! Here's a similar easel to mine. And here's another one from Etsy.
These plates I've had a long time too, they are from England and I got them at TJ Maxx, I think. Love the colors in them and the birds! This set of bamboo flatware is new too and I love them! They are very pretty for the low cost.
Here's another look at the Pagoda gold candles, I really love them so you'll see me using them often.
Simple whiteware on the buffet. Those pagoda lamps are a lucky find from Homegoods right after we moved in here. I found a set online too if you're interested.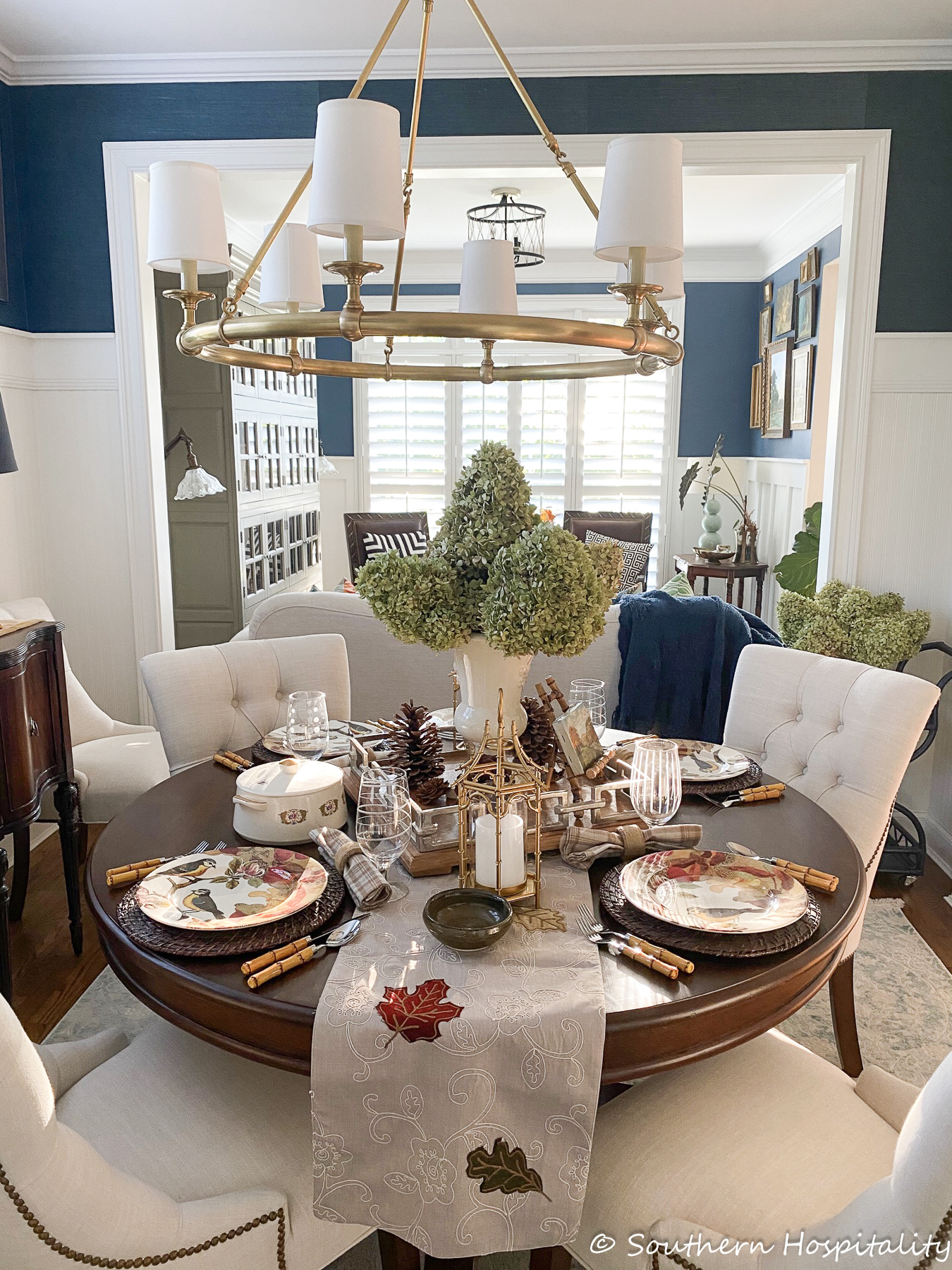 We love our dining light fixture too and it was a splurge when we moved in. We still love it so much!
Did you know Homegoods is online now and you can shop directly from them?! If you don't have a store near you, you're now in luck. I love Homegoods! Check out this page of fall finds from Homegoods.
I got my glass pumpkins from Homegoods. These are cute and so are these! If you want a headstart on Christmas, these Shiny Brites are pretty!
On my bar cart, I added more cut limelights in a pretty fallish glass vase.
Looking to the foyer.
That's morning sunlight coming in.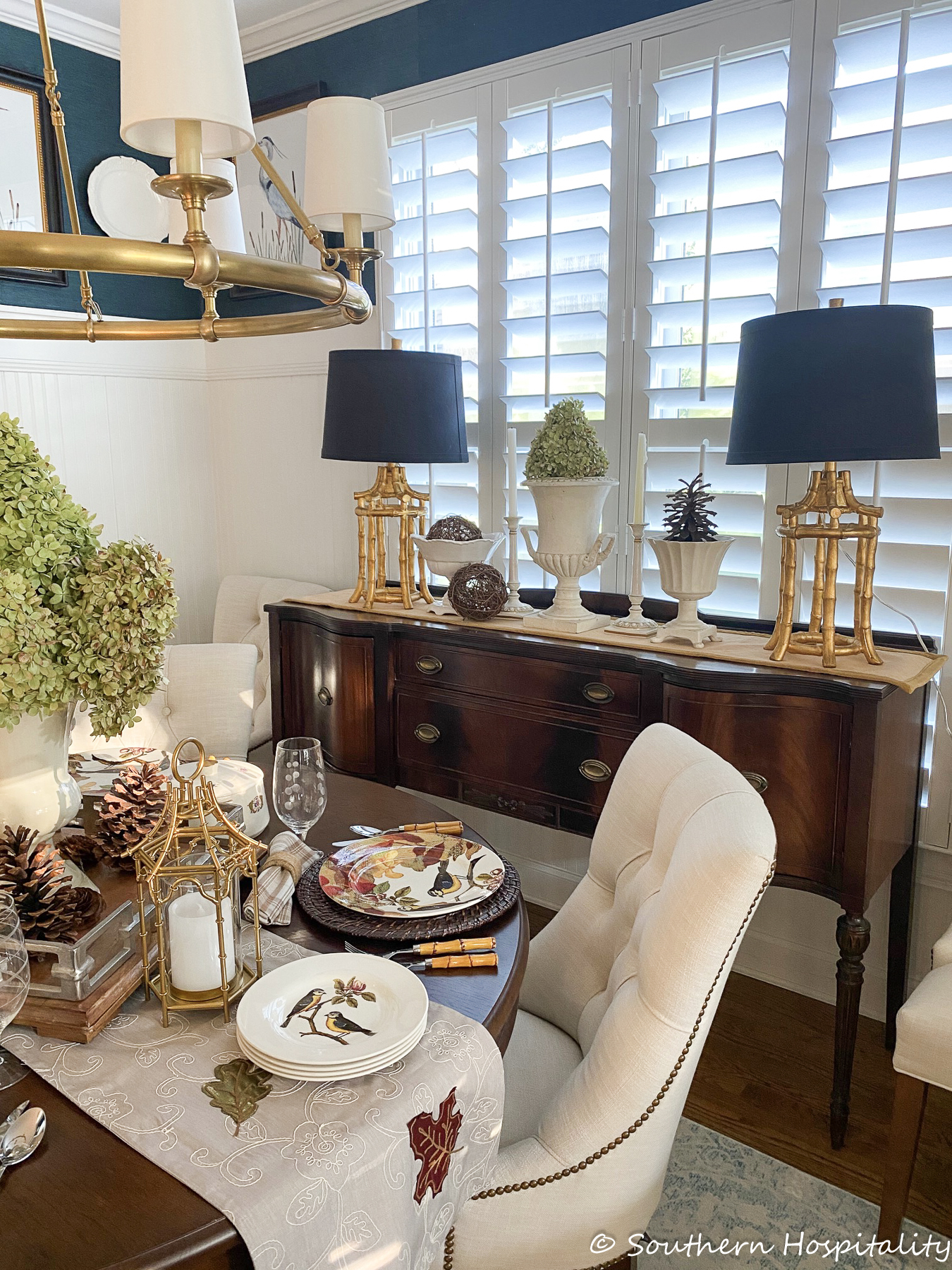 Mark did such a great job on the molding in our foyer. We've done so much to our house since we moved in 5 years ago and we still have a few more things to do inside.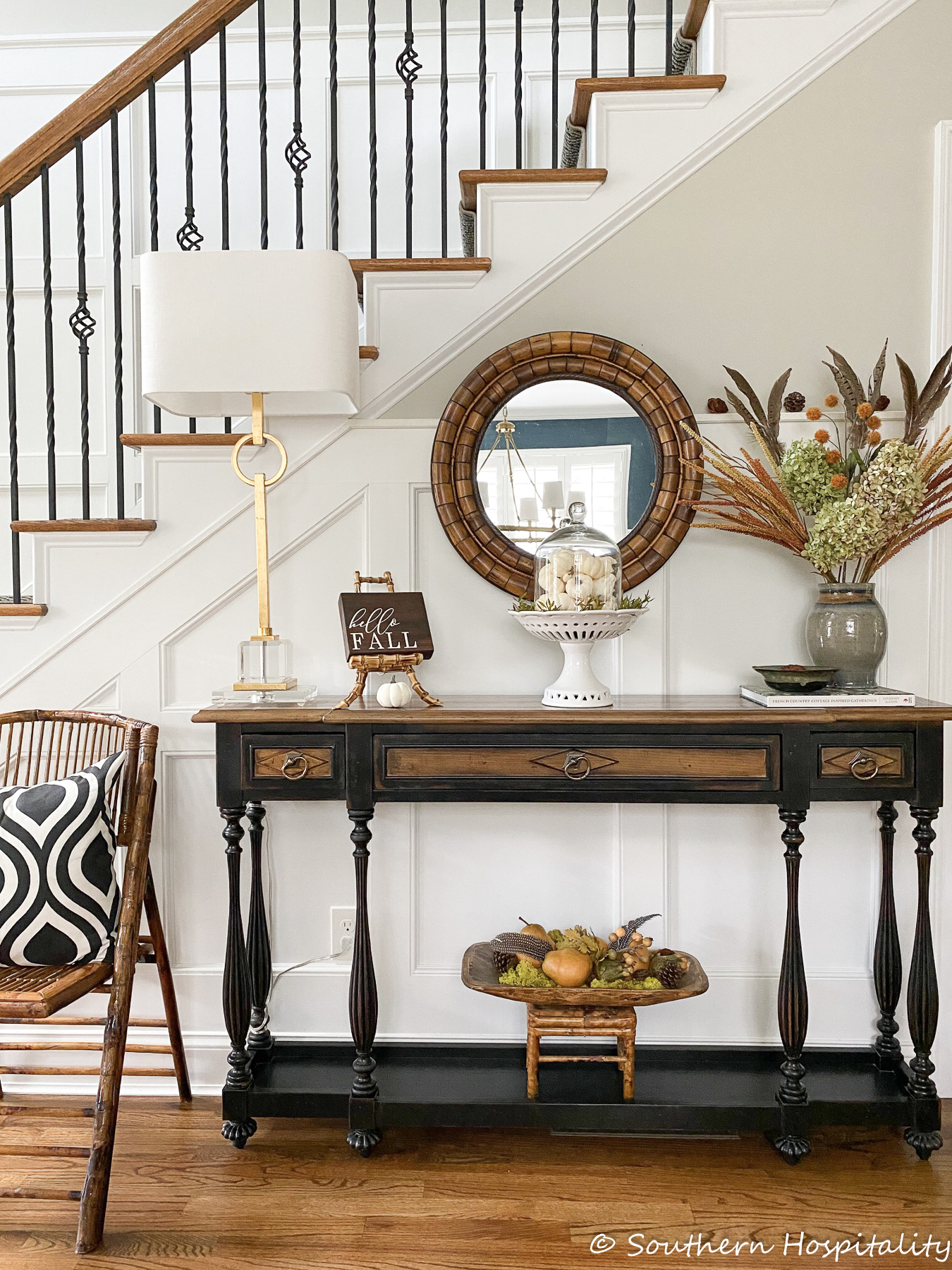 I enjoy changing out my foyer table for each season.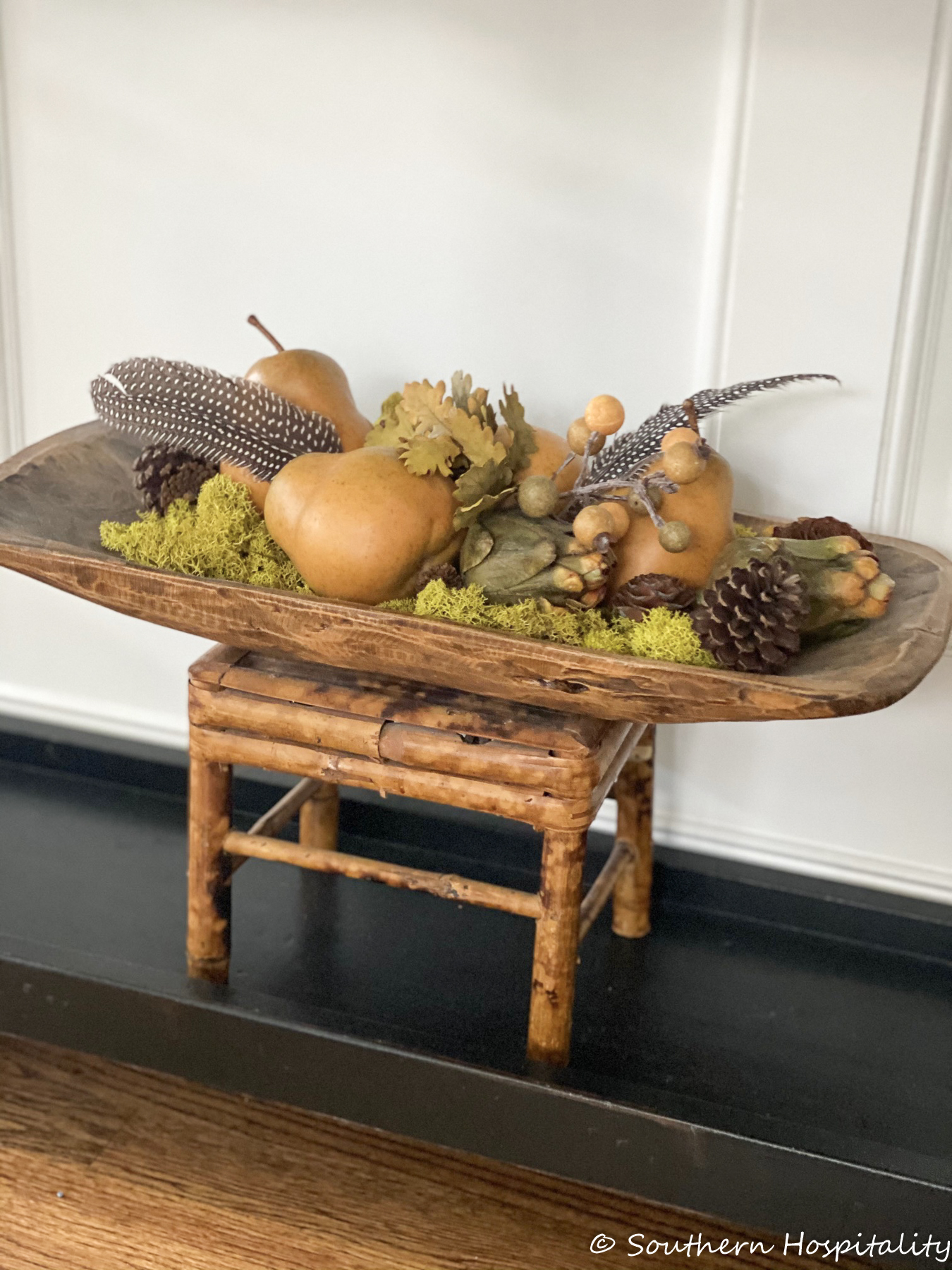 A dough bowl holds some fall decor.
I kept the table pretty simple with faux foliage in vases and white pumpkins under a cloche.
I've had these pottery pieces for years too and love them during the fall season.
Nothing easier than adding small white pumpkins under glass. I've got some fun fall items in my Amazon store including white pumpkins like this.
Hello Fall!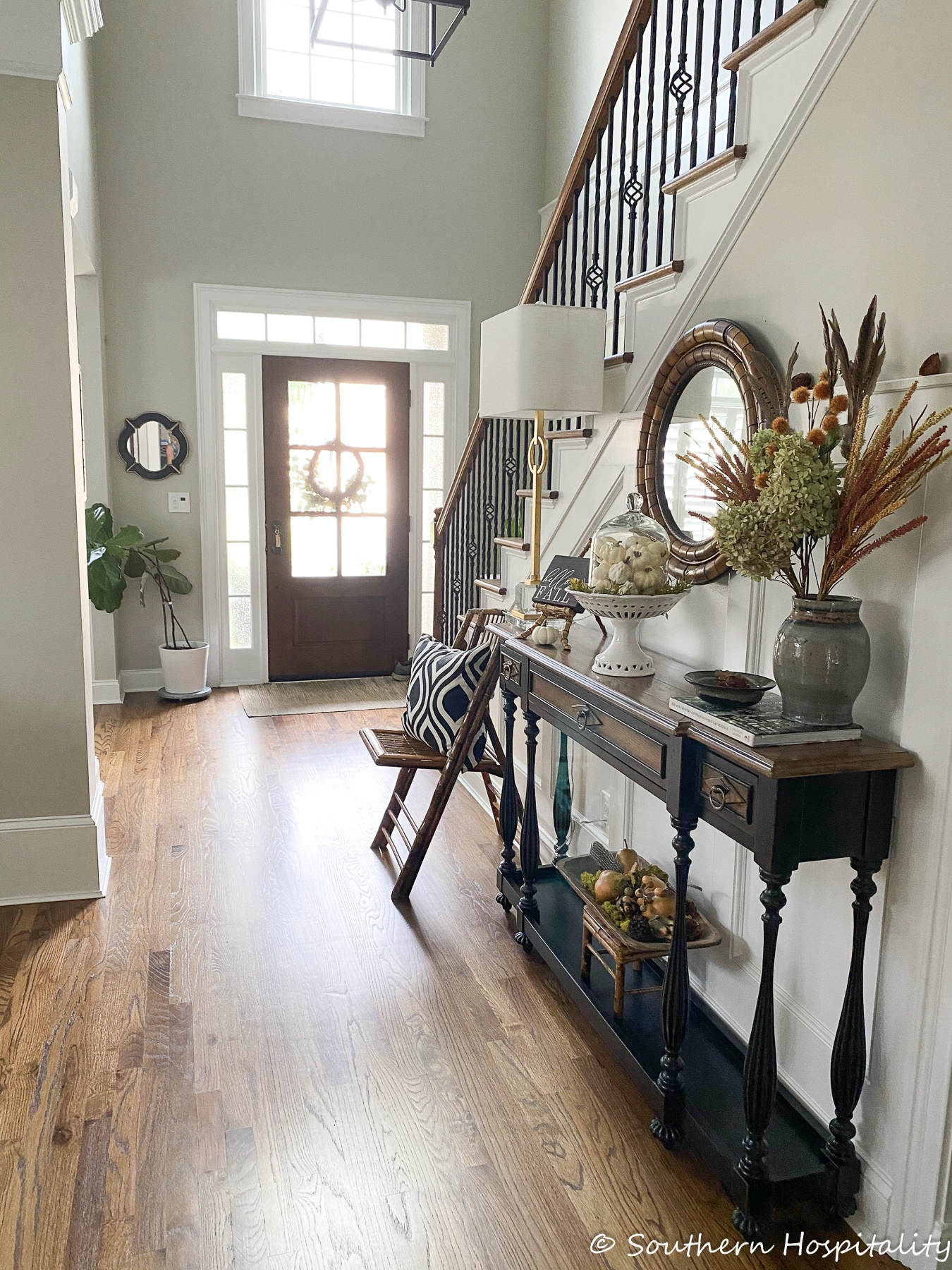 Foyer to the front door.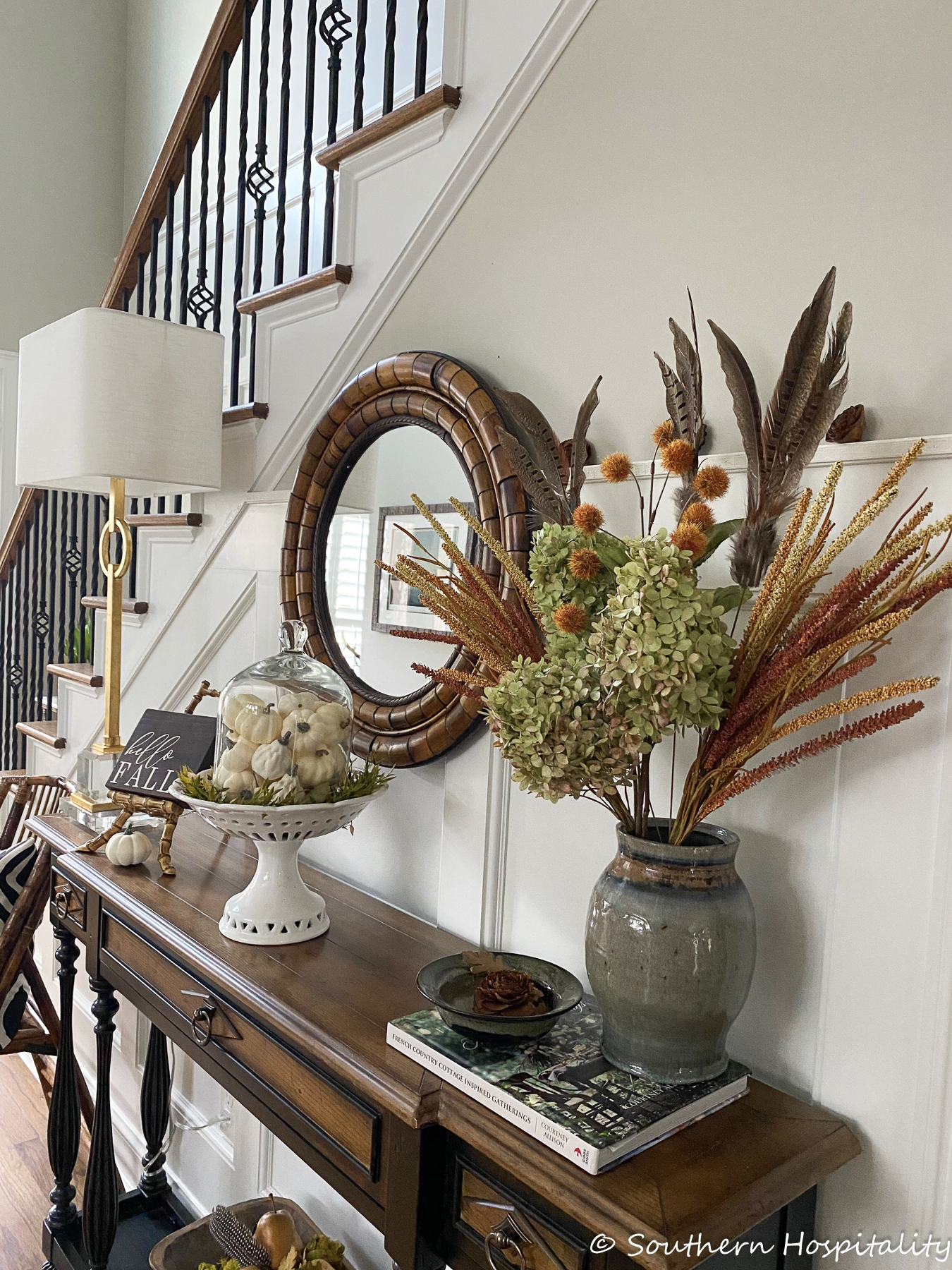 We sure love our home and use every bit of it. Thanks as always for coming by to see us. Happy fall to you all, I hope you enjoy this season to the max.
We are going to the beach this weekend and will spend a few days down there next week. I've got a friend staying with Daisy, otherwise we would take her with us, but it will be easier if she stays at home. We can't wait to get back to the beach and hope the weather is great.
Related
Don't Miss a Post, join my list!