A turn-of-the-century home gets a new but traditional IKEA kitchen.
Having an outdated kitchen is bad, but having one that is out of touch with your needs is even worse. And when the kitchen — which is supposed to be the heart of the home — is actually hindering progress on your whole-house remodel project, something has to be done. How can you entertain properly with a cramped kitchen space? How can your kitchen be effective for everyday activities if it has no flow? Not very enjoyable. This was the situation for Jaime from Tacoma, WA, whose turn-of-the-century home was in need of a major kitchen remodel to open it up properly.(By the way it was built at the turn of last century!)
"We had such a dated kitchen that was closed off from the dining room and living space. Nothing flowed properly and it made things very inefficient for our family. We really wanted an updated look, more storage space (including seating options) and a much more open floor plan," he says.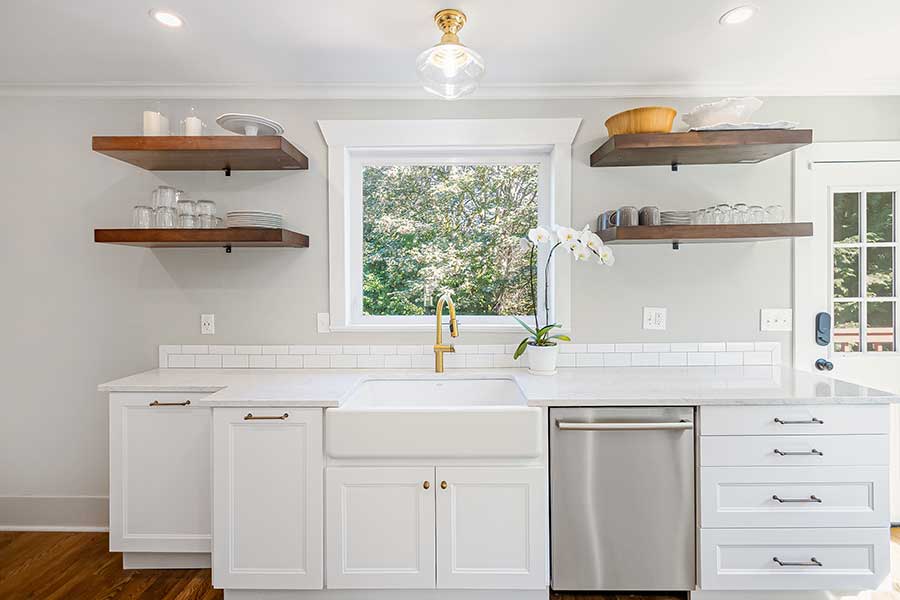 Even though he intended this as a DIY project to save costs (since the kitchen layout was part of a larger remodel), he also needed professional design guidance. So he found IKD online to guide him through the selection process. With a budget of $15,000 for cabinets, countertops and labor Jaime combined IKEA's SEKTION kitchen system with Matte White IKEA AXSTAD cabinets along with IKEA MAXIMERA drawers for base cabinet storage. Other products include appliances purchased through Home Depot; quartz countertops purchased through a local company called Sumner Marble; pendant lights purchased through Pottery Barn and cabinet hardware and butcher block purchased at Rejuvenation Hardware.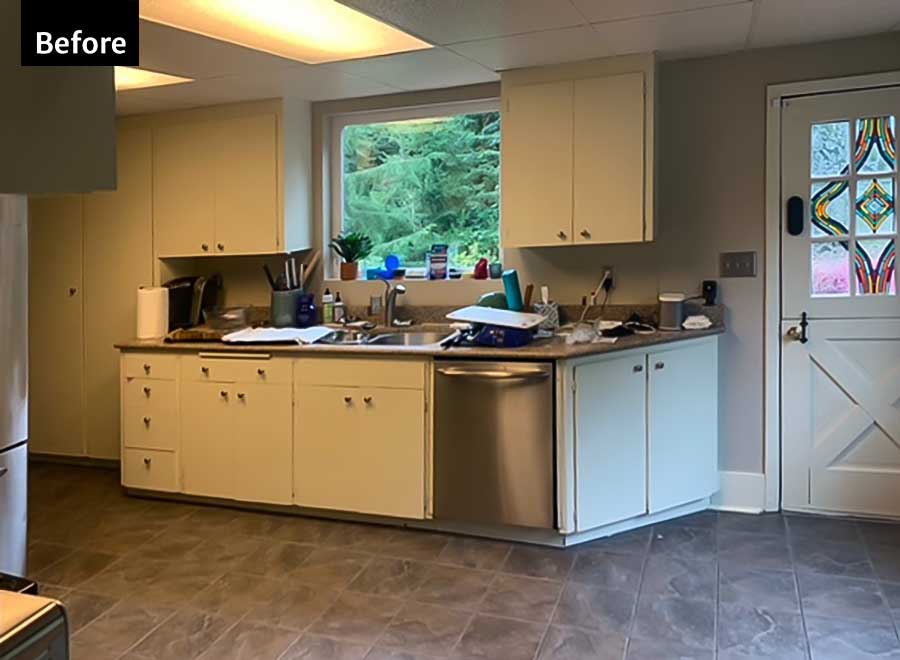 The result is a classic, traditional-style IKEA kitchen that is warm, inviting and provides an open gathering space for the entire family.
Project Numbers
| | |
| --- | --- |
| $2,897 | Total IKEA Cabinet Cost |
| $1,906 | Total Extra Items List |
| $4,803 | Total Project Cost |
Let's see how Jaime's kitchen came together!
We'll Design Your Ideal IKEA Kitchen Easily,
Affordably, and Online

Our IKEA Kitchen Design Package is everything you need to complete your new kitchen with confidence.
DIY with Some Help
Choosing a DIY kitchen remodel doesn't mean never using professional design assistance.
"The biggest obstacles we faced were our lack of knowledge about IKEA's cabinet configurations; our inability to picture how to relocate the pre-existing appliances; our desire for an island or peninsula for seating and my struggles using the IKEA Home Planner. I also felt so overwhelmed coming up with an accurate supply list," he says.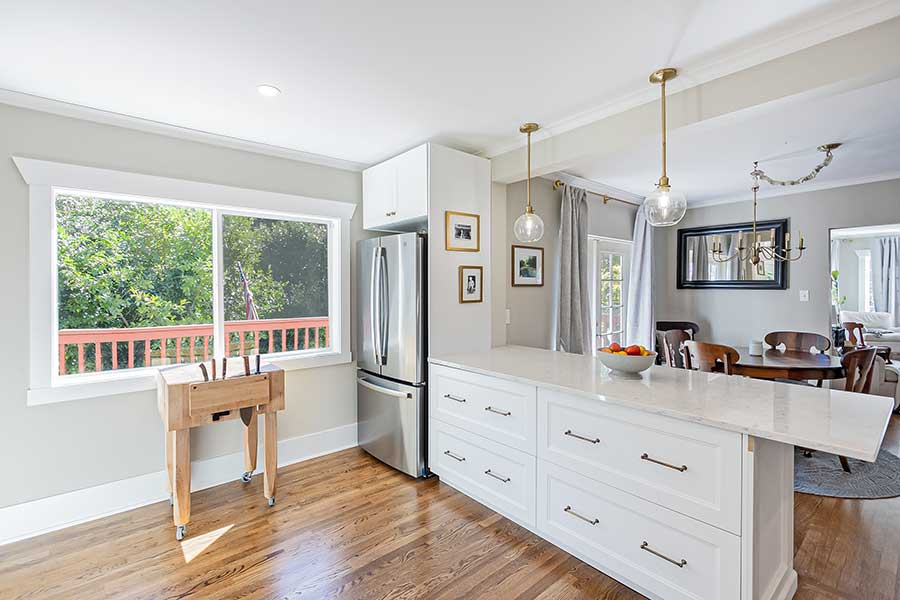 So Jaime worked with IKD designer Frank for these design issues, as well as a contractor during installation. He adds that he selected IKEA cabinets because they were easy to install and affordable.
Wide Open Approach to Traditional IKEA kitchen
Jaime now needed to address how to open up the floor plan.
"My plan was to remove the wall connecting the kitchen with the living room and dining room and to relocate the appliances. I just couldn't figure out a good flow for the room," he says.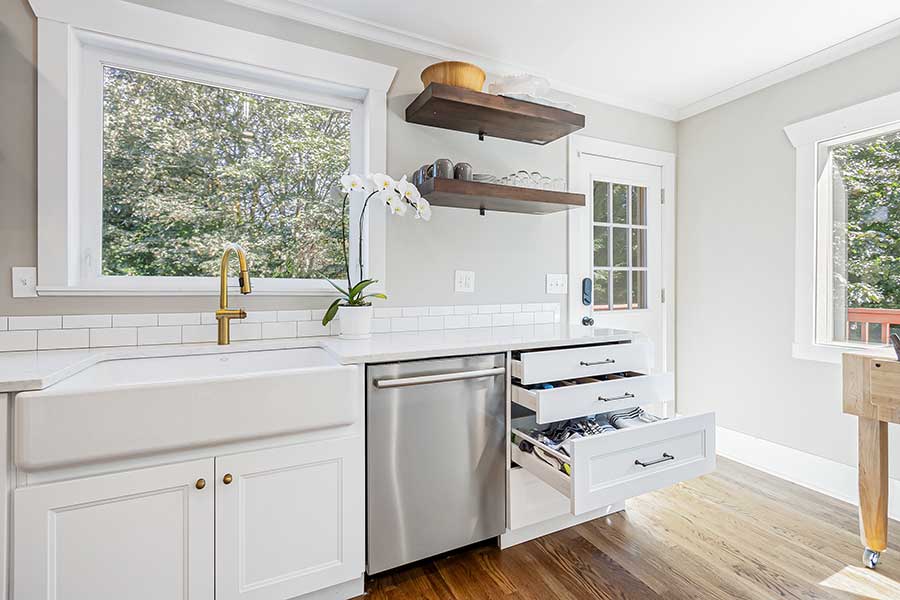 The result is three distinct zones (food storage, food prep and food cleanup) working together seamlessly. To accomplish this the contractor removed the wall and installed a support beam (based on Frank's design) with Jaime's assistance. This opened up the kitchen to the adjacent living spaces. The space was kept open by adding a large peninsula with no upper cabinets in this section. Floating shelves were added on either side of the window above the sink rather than cabinets, which improved the openness and provided extra storage for bowls, plates and drinking glasses. The sink was left in its original location to reduce costs of moving any plumbing and to keep it under the window. Mean while the refrigerator and stove were moved to create an improved work triangle. This approach makes mealtime (including meal prep which they couldn't do together before!) a much more enjoyable experience for the family.
Traditional Style
Jaime wanted to maintain the traditional feel that his circa1900-built home offered.
"We wanted to retain the traditional IKEA kitchen style using a combination of IKEA cabinets as well as the open shelving and large drawers for storage. I wanted to also add counters with seating and retain the large windows, but optimize storage space," he says.
Jaime selected Matte White IKEA AXSTAD cabinets for the upper and base cabinets. This is impressive as the original kitchen layout offered limited space for upper cabinets (the ceiling is only 8′).However upper cabinets are featured on either side of the stainless steel range and 30″(W) hood, ideal for storing plates and serving dishes ready to be plated. Several IKEA AXSTAD base cabinets are featured underneath the apron front sink with MAXIMERA drawers next to the stainless steel dishwasher. Large drawers in the peninsula island provide extra storage for small appliances while shallow cabinets were added to avoid blocking the entryway to the hall that couldn't accommodate a full-depth lower cabinet.
His favorite part of the kitchen? For Jaime, it's easy — the peninsula island.
"We love the peninsula for seating. We enjoy eating there and playing games with this large surface with our two young sons. It is a great space for them to eat snacks without dirtying the dining room," he says.
Overall the kitchen maintains a warm, light feeling as the large window over the sink and the second large window near the door provide ample natural lighting and a nice view of the trees. Rounding out the product list include IKEA UTRUSTA hinges; IKEA FORBATTRA cover panels and IKEA FORBATTRA toe kick; a pullout trash can; and a white IKEA VARIERA insert for spice jars, among others.
Words of Advice
Jaime offers some words of advice for other IKEA remodelers.
"IKEA has many kitchen items backordered because of pandemic supply chain issues, so I suggest you keep a close accounting of what has been ordered and received. We didn't and ended up ordering some items twice! This resulted in several returns to [our local IKEA] which was frustrating and unpleasant," he says.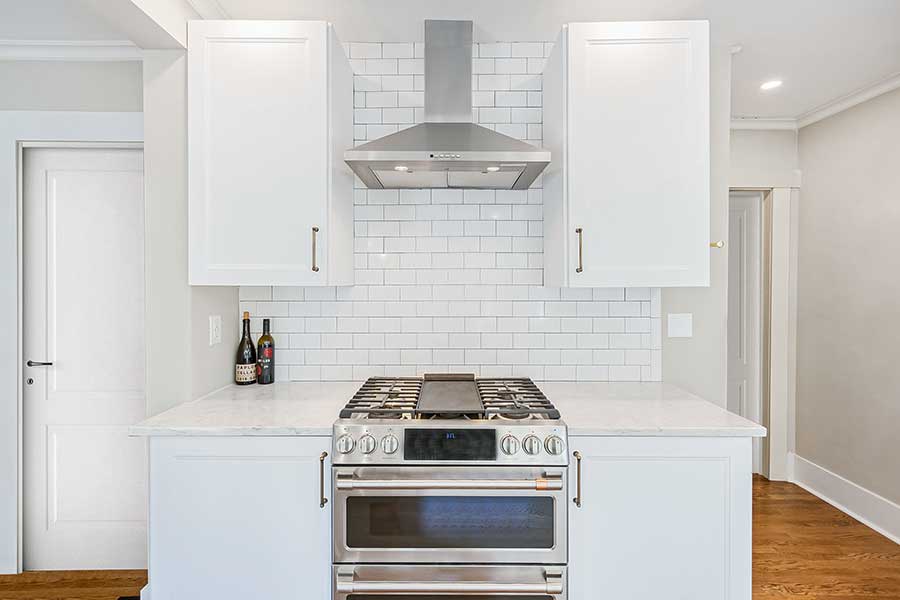 He also suggests to hire design professionals, like IKD, to guide you through the design and product selection process. As you can see even an incredibly outdated, inefficient kitchen layout can be restored and rejuvenated using IKEA cabinets.
Get a Professional IKEA Kitchen Design – All Online

Work with our certified kitchen designers to get a personalized kitchen designed around your needs and vision. If you're interested in learning more about our service, make sure to check out our IKEA Kitchen Design Services.