That's a great question. And, as you've probably guessed, the simplest answer is- it depends. Most homeowners are simply looking to update the kitchen aesthetically however, there are other improvements that can be made. Adding storage, improving function, and changing layout are other updates homeowners are seeking.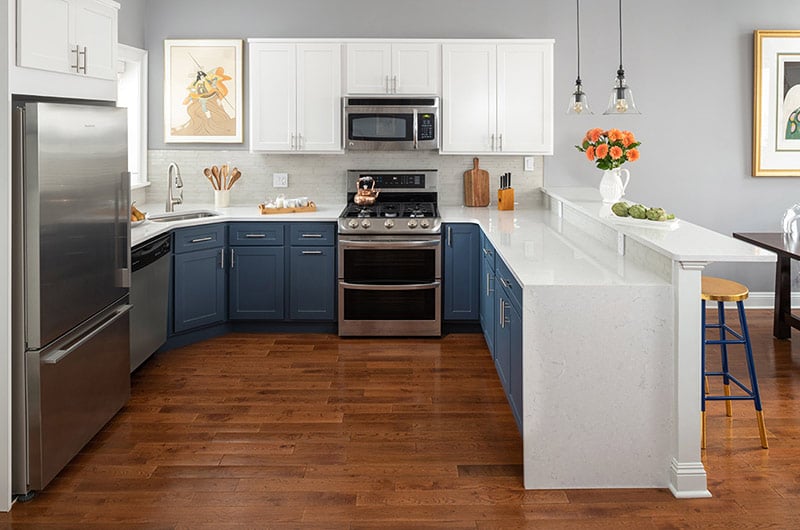 To arrive at the right budget and most value for your kitchen project will require giving some thought to the following questions:
How long are you planning to live there?
How well is the kitchen functioning now? Do you need to change the floor plan?
Is the overall look of your kitchen well (or poorly) and how it functions that is bothering you?
How are you planning to finance the renovation?
What's your timeline for the renovation?
What are the other properties in your neighborhood doing?
The bottom line: Everyone has a budget. It is important to decide where to splurge and where to save.
Break it down. The best way to determine the best solution for you is to think about each component separately, then think of them as a whole. The main components of any kitchen are cabinetry, countertops, floors, tile, and appliances.
Don't close the door on new cabinets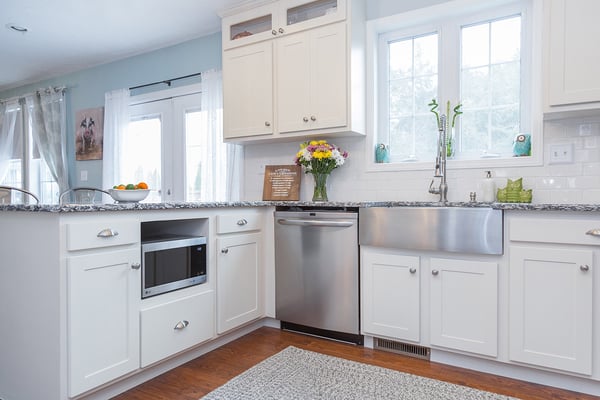 There are different options when it comes to cabinetry and remodeling solutions that will have an impact on the cost. Here are some questions to ask:
Do you need additional storage or modifications to make your kitchen more functional?
Are your existing cabinets sturdy and is this the layout, you plan to keep?
Do you prioritize a full plywood cabinet, or are you okay with pressed composite wood?
If pressed wood is okay, how important is understanding its construction and that it has a good warranty?
Would you consider RTA cabinets and doing a bit of work yourself?
Hard facts about countertops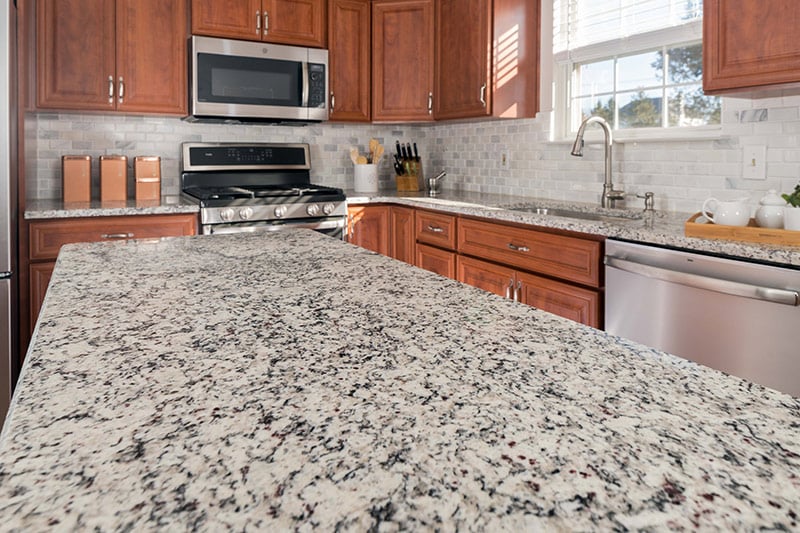 Countertops can make a big difference in your investment too.
Do you need easy-to-clean and heat-resistant counters, like Quartz?
Are you a bit more care and love the look today's new engineered laminates can give you? Very much like natural stone and wood even down to the texture.
What material & color countertop do you want? Natural stone, like granite, will have more variation, is often less expensive than quartz, but also requires sealing and maintenance you will not need to worry about with quartz surfaces.
Flooring options that will ground you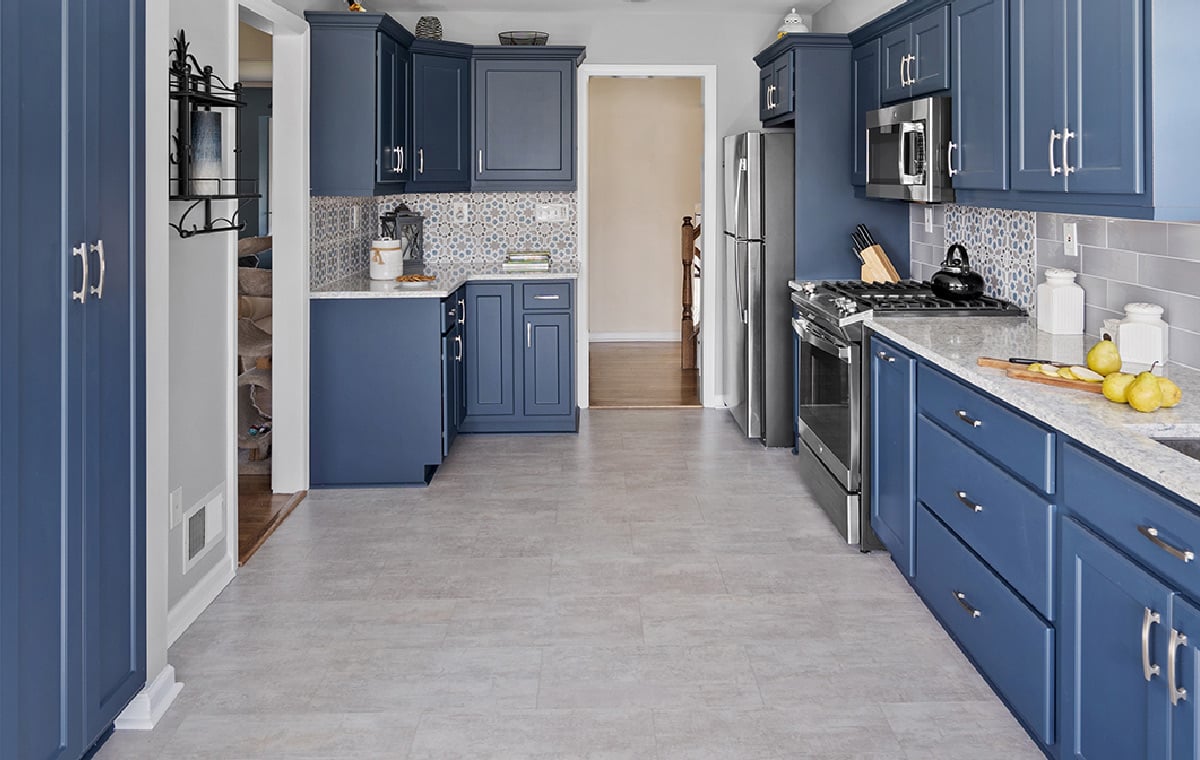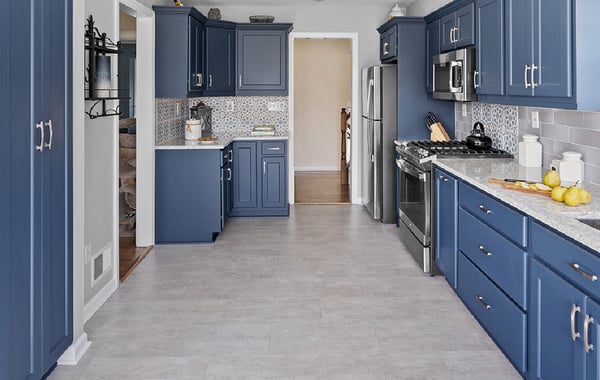 Flooring is often in good shape and can be reused. But first, you need to answer a few more questions:
Are you changing the footprint of the kitchen?
If so, does the flooring go under the current cabinetry?
If not, it is likely better to just replace what you have or install a floating floor above it. Many homeowners are making use of the LVP flooring because it is easy to install, easy to clean, and generally more cost-effective.
A laminate backsplash can be a great place to save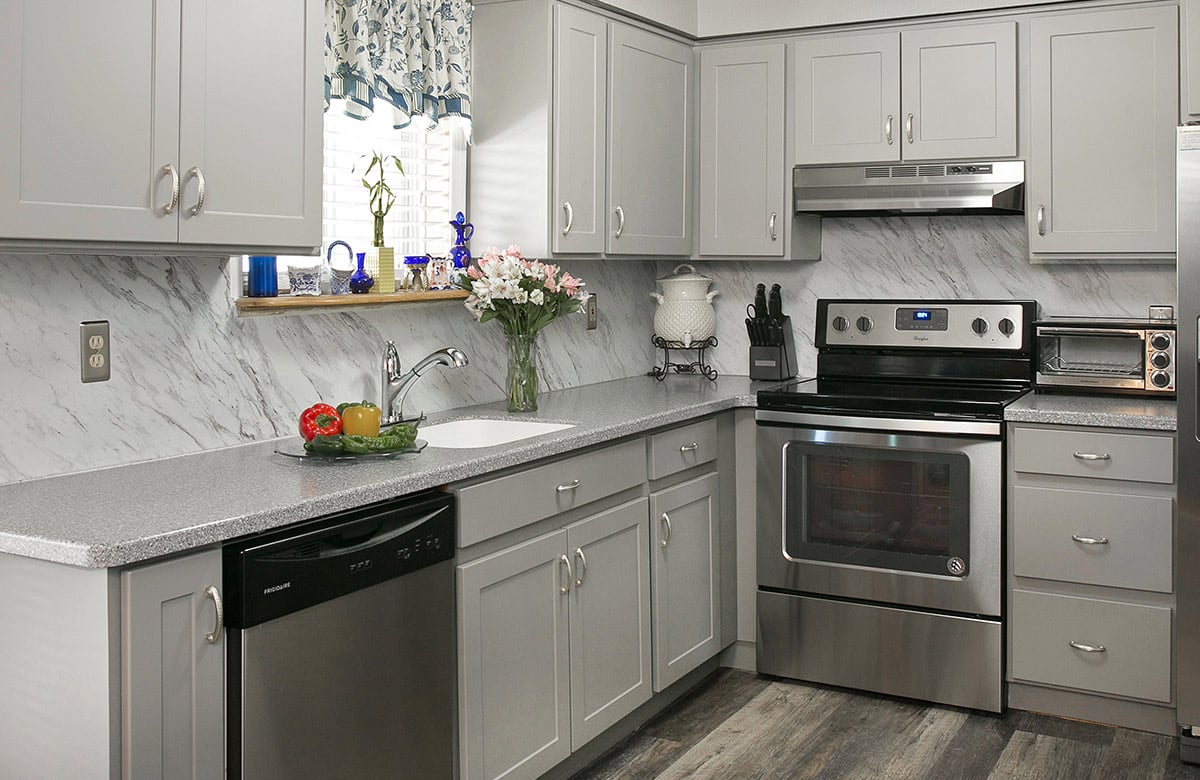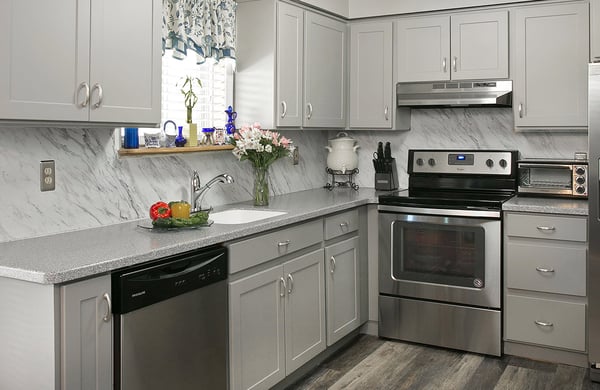 Everything can't be a focal point and many customers use tile as a way to bring the design elements together. Subway tile is classic and versatile and fairly budget-friendly. If you want something a little unique, simply use a different size, grout color, or pattern of subway tile. None of those changes will add much to the bottom line but they will all add to the finished look of the kitchen.
Full slab stone or, better yet a laminate that resembles stone, is a designer-esque trick that instantly creates an upscale look. Choosing Wilsonart laminate for your backsplash is a budget-friendly option for the remodel.
Working your remodel in phases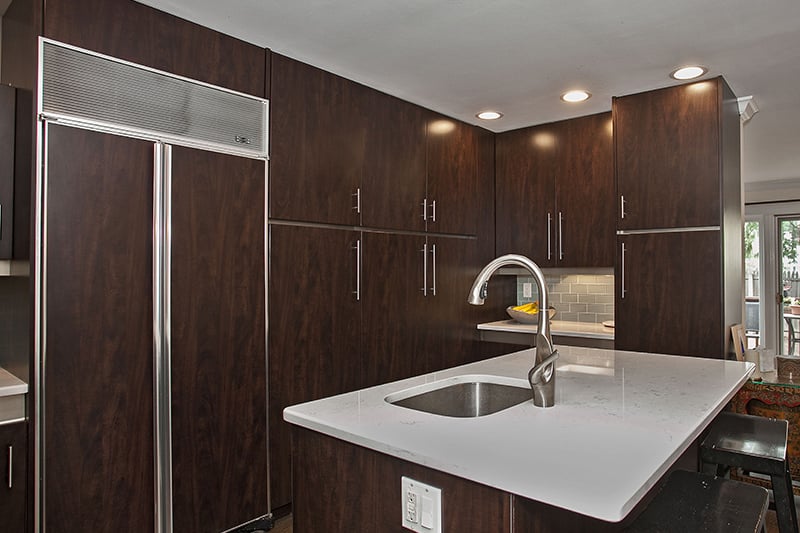 The cost of appliances varies widely but one thing you can do to try to contain the budget is to keep the placement of the appliance the same. Adding a false panel to the appliance fronts is a great way to conceal an outdated, yet still working appliance. Other than refrigerators, appliances are typically uniform in size. So, you can always wait to upgrade the appliances, as phase two of your project.
Moving the sink or gas range can be expensive. If appliances don't need to be moved, try to work with the existing location.
Are you willing to take on work yourself?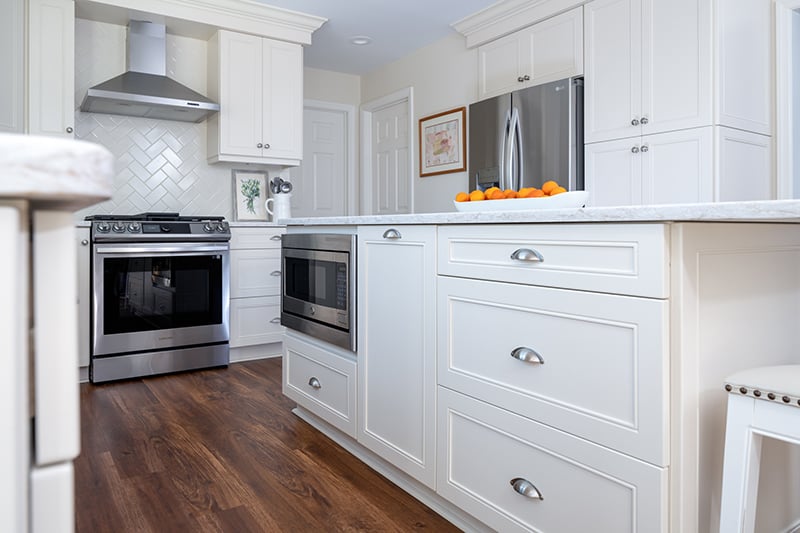 Are you confident in your DIY ability to lay flooring or install tile? For some, these are fun projects and for others, it just adds stress. It's important to know how you really feel about it. If you're in the latter category, don't try to save here; you will be thankful you have a professional shouldering the responsibility of marking sure it's done correctly.
When you're ready to remodel
Not all aspects of the kitchen renovation need to be a splurge. If you are able to prioritize your needs before you start making design decisions, it's often easier to decide where it's best to save (and splurge). Also- taking high-quality yet more budget-friendly options into consideration will easily help keep your project costs manageable.
Where in the Lehigh Valley, PA, and surrounding areas can I book a reputable kitchen remodeler?
Kitchen Magic is a family-operated company, that provides Lehigh Valley homeowners and other Pennsylvania residents with a range of interior design services that meet their specific lifestyle needs. Our true success is based on a long list of successfully conducted kitchen remodeling projects. No matter if you're looking for personalized kitchen cabinet doors or for the perfect color combination, we're here to help.
Explore how you can change the way your kitchen looks and functions with a free design consultation. It's fun, informative, and completely free! Just give us a call at 866-525-7999, or click here to schedule your free design consultation with us today!