Less boozy bars open up their designs in favor of wine coolers and floating shelves.
When we talk about IKEA bar designs, our customers have particular taste.This holds true for their design — and their wine. Looking at three recent projects, you'll see a clear preference for both.
IKD designer Javier explains: "When a customer requests a wine cooler (or two) for their home bar, that's a pretty good giveaway. Bar sinks are much smaller lately, which means they likely don't have margarita gear to wash up!"
Another hint would be lots of floating shelves to place tall wine glasses. Our team incorporated these elements recently into three Home Bars measuring between 8′ to 12′ wide spaces using IKEA's SEKTION kitchen system and IKEA cabinets. This includes a 10'wide IKEA home bar area for Dana from Columbus, OH, featuring white floating shelves from The Cabinet Face; a unique office space/bar area that was part of a kitchen renovation for Adam from Norfolk, VA; and a sleek bar area with a wine cooler and floating shelves, designed as part of a new construction kitchen for Jonathon from Castle Rock, CO. These unique designs do share some characteristics including clever IKEA cabinet hacks; efficient use of storage; and style that seamlessly blends with the entire layout. And IKEA customers looking for affordable home bar options can achieve this as well. Let's take a look at how these IKEA home bar designs came together!
We'll Design Your Ideal IKEA Home Bar Easily, Affordably, and Online

Our IKEA Home Bar Design Package is everything you need to complete your new bar with confidence.
1. IKEA Office Space with Home Bar area
Dana's layout provided just 10' to work with, but there's a lot packed into a little space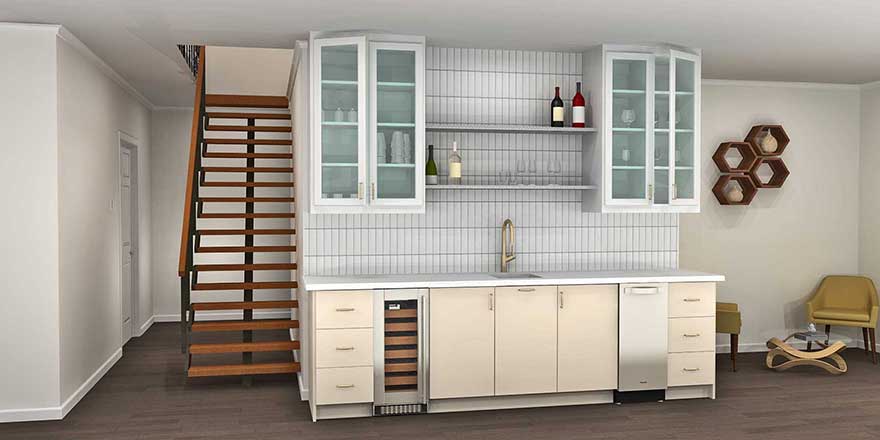 She explains: "The bar area was part of a major kitchen remodel and we requested a wine cooler, ice maker and sink. We had electric and plumbing moved as well."
To make everything work, IKD designer Merari utilized an IKEA cabinet hack and modified a 15"(W)x15"(D)x80"(H) tall cabinet unit into a 15"(W)x15"(D)x45"(H) wall cabinet. This was key as the design requireda 45"(H) cabinet — and IKEA's tallest cabinet is only 40" — in order to extend to the top of the 103-1/2" ceiling.The design includes Beige High Gloss Slab base cabinets, White High Gloss Shaker upper cabinets and floating shelves from custom door manufacturer The Cabinet Face. The floating shelves display her wine bottle collection and wine glasses and serve as a centerpiece. Dana also opted for a white tile background, selecting Fireclay's White Mountain 2.5″x8″ tiles.
Merari adds: "A trash bin was needed too, but there was only the 18″(W) base cabinet beneath the sink. So we adapted an 18″ base cabinet frame with an 18"(W) x 30"(H) door, then internally attached an 18″(W) x 24″(H)IKEA MAXIMERA drawer for the trash bin to sit in."
Completing the look is a KitchenAid ice maker with separate 15″ and 18″ wine coolers, as well as quartz countertops. In total, nine cabinets and six panels were used.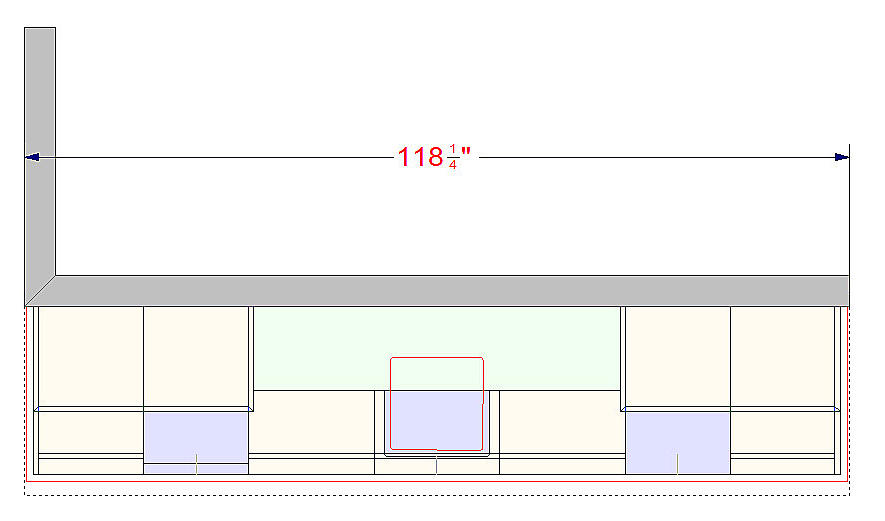 Project Numbers
| | |
| --- | --- |
| Door Style | Beige High Gloss Slab plus White High Gloss Shaker Doors (The Cabinet Face) |
| Door Cost | $4,000 – $6,000 |
| IKEA Cabinet Cost | $1,342 |
| Extra Items Cost | $338 |
2. IKEA Office Space with Home Bar area
It's good if the office feels like home, right? Adam from Norfolk, VA, thinks so. He added a bar area to his office space as a way to entertain customers.
Adam selected IKEA AXSTAD Matte White cabinet doors for the base and upper cabinets which nearly extend to the top of the 93" high ceiling. This includes plenty of storage. To accomplish this, IKD designer Florence used an IKEA cabinet hack, modifying a 30" base cabinet to include drawers at the bottom 30″(W)x10″(H) with a shelf above to separate the IKEA HUVUDSAKLIG undercounter microwave and drawer. There is also a trash bin beneath the sink.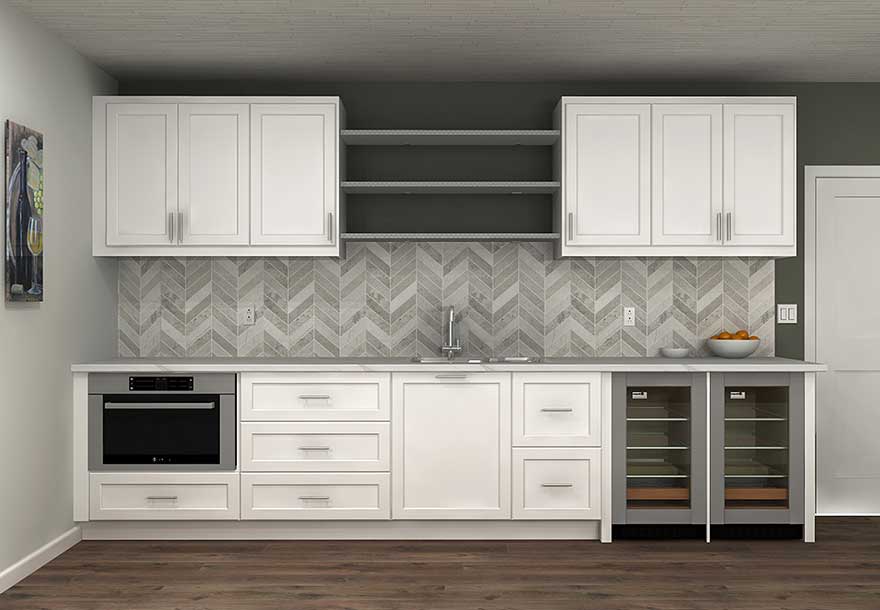 The bar area features the IKEA HUVUDSAKLIG undercounter microwave ($749); an IKEA VATTUDALEN single bowl kitchen sink ($128); an IKEA DELSJON faucet ($86); IKEA ECKBACKEN White Marble Effect laminate countertops ($198) and IKEA KALLROR stainless steel cabinet pulls.
Florence explains: "Normally customers mix other products with their IKEA kitchen. In this unique design everything's IKEA except for the two wine coolers."
In total, eight cabinets and eight panels were used for a total cost of $3,933. This includes panels that were required at the sides and center of the two wine coolers, providing countertop support and to encase them.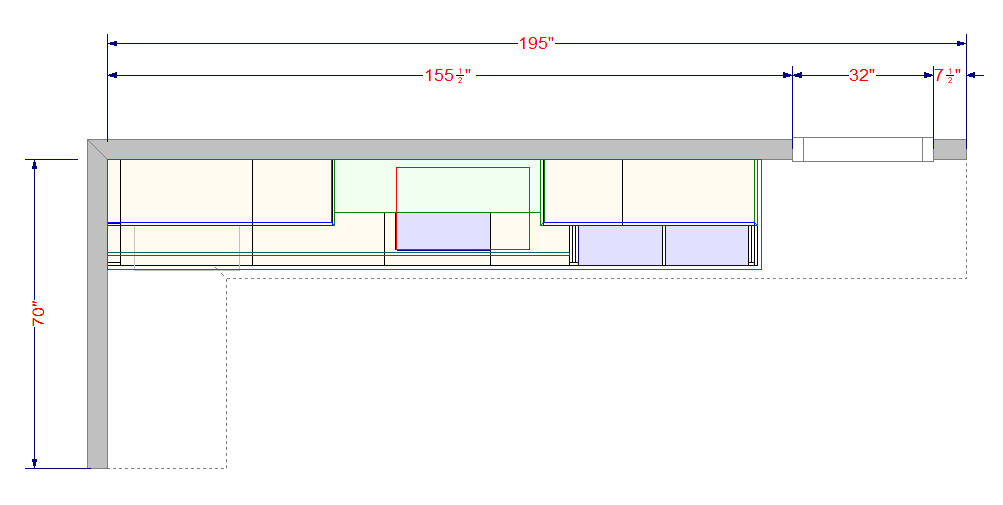 Project Numbers
| | |
| --- | --- |
| Door Style | IKEA AXSTAD |
| Total IKEA Cabinet Cost | $2,037 |
| Total Extra Items | $1,896 |
| Project Size | 27 Sq ft. |
3. Home Bar for a New Home
An IKEA bar area may be exactly what your home is missing.
Jonathon from Castle Rock, CO, explains: "While reviewing our new home plans, I found an 83″ niche that was ideal for a home bar. I entertain a lot and was really excited we could do this in our IKEA kitchen!"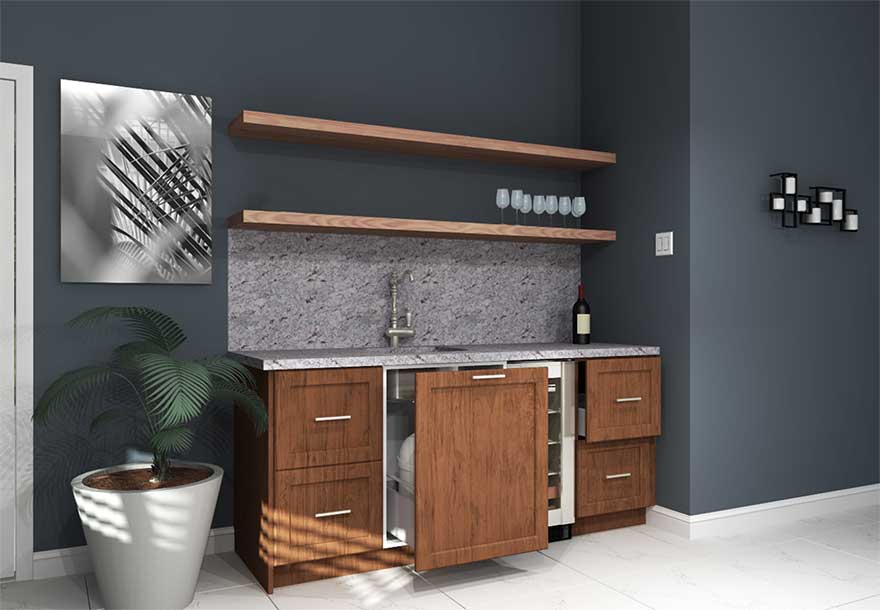 Working with IKD designer Richard, Jonathon requested only two floating shelves to maintain a sense of openness. The kitchen has 120" high ceilings. So he combined IKEA's SEKTION kitchen system with Semihandmade (SHM) CLJ Saddle Shaker door frontsto create a sleek, yet inviting look. The floating shelves match the wood tones of the SHM door fronts, creating cohesiveness with his modern-style kitchen. Storage was also key. Jonathon wanted at least four drawers to store wine decanters, blenders and ice buckets. This is achieved with IKEA MAXIMERA drawers on either side of the undercounter wine cooler and pull-out trash bin.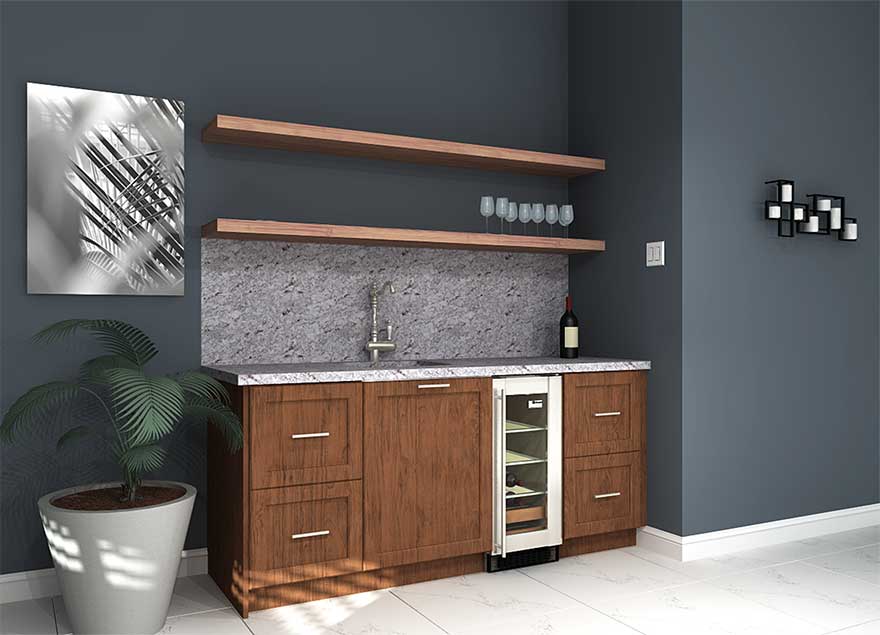 The bar is completed with an IKEA NORRSJON undermount sink ($203) paired with an IKEA faucet and 14 square feet of granite countertops (and backsplash material), chosen from a local fabricator. In all, the bar area features three cabinets and one panel for a total under $4,000! As these projects show, wine connoisseurswill appreciatethe advantages of an IKEA home bar. Our team is here to guide you through the design process.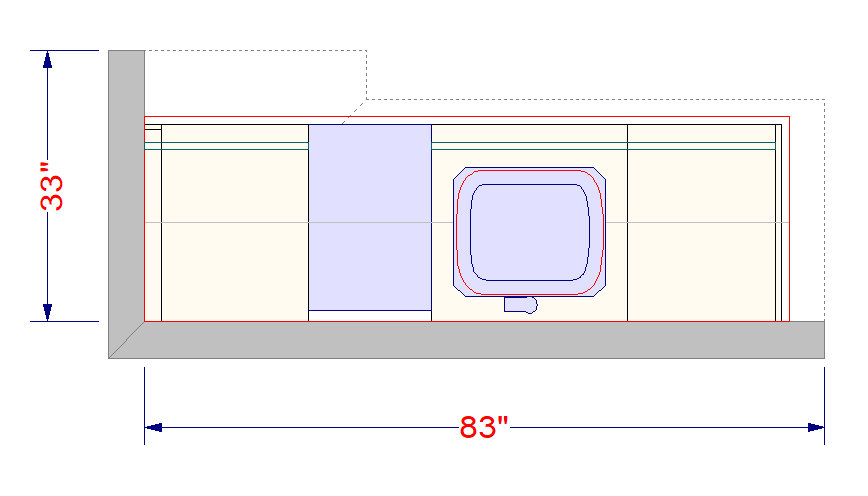 Project Numbers
| | |
| --- | --- |
| Door Style | Semihandmade (SHM) CLJ Saddle Shaker |
| Door Cost | $1,018 |
| Total IKEA Cabinet Cost | $525 |
| Total Extra Items | $159 |
Get a Professional IKEA Home Bar Design – All Online

Work with our certified designers to get a personalized home bar designed around your needs and vision. If you're interested in learning more about our service, make sure to check out our IKEA Home Bar Design Services.