This Post May Contain Affiliate Links. Please Read Our Disclosure Policy here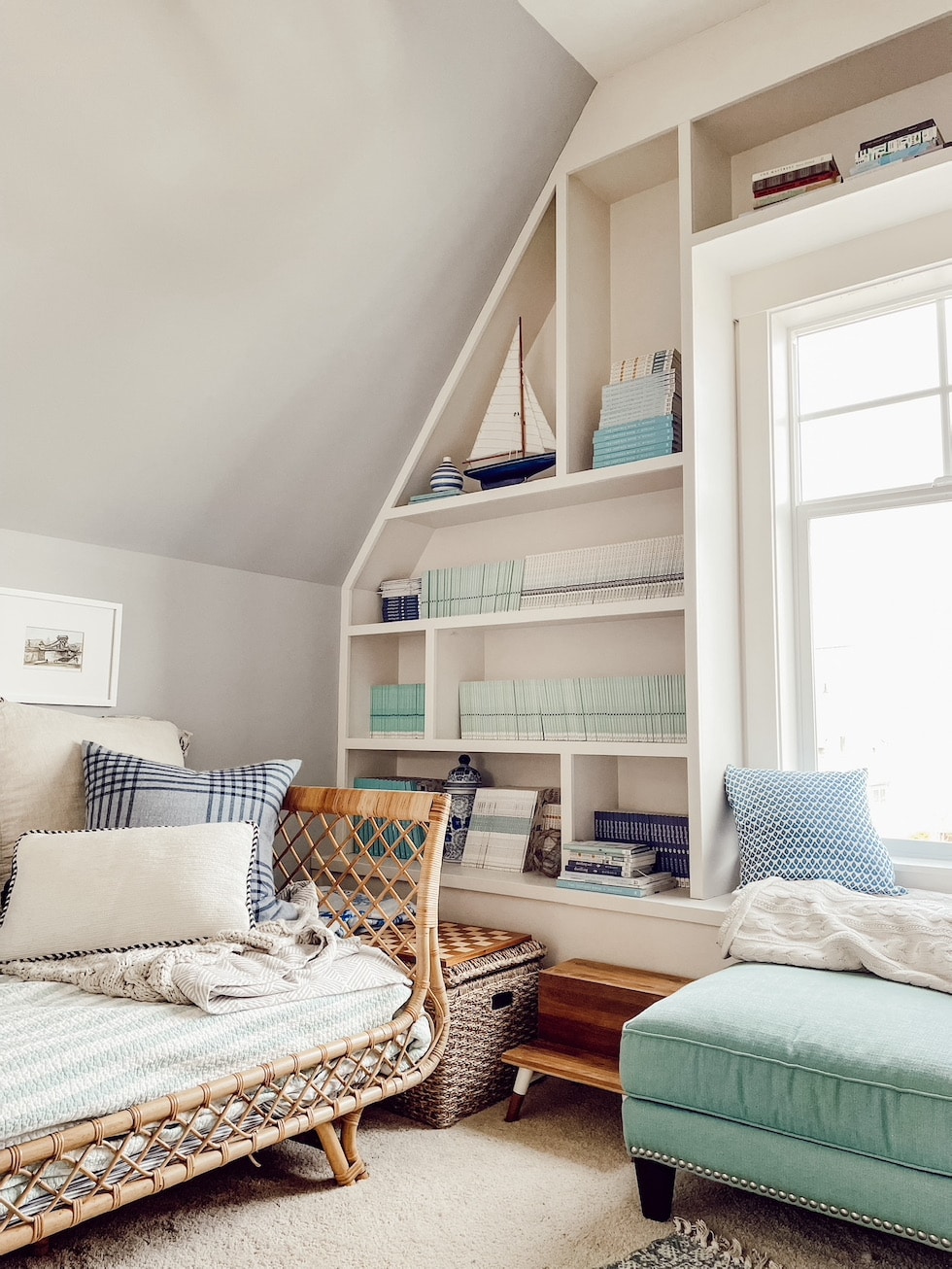 It has always been our goal to help our readers create a home they love. And we LOVE to help you save time and/or money whenever possible! Today we are sharing a FREE service where we can better help you to do just that. Introducing our home decor Amazon storefront, featuring our own personally curated favorites just for you!
Are you an Amazon shopper? We are! But did you know as a small business we also have our own Home Decor Amazon Storefront for The Inspired Room? We do!
As a small business, we so appreciate your support.
It is our belief that decorating a home shouldn't be difficult, but we know it is sometimes difficult to find items you need that are practical, stylish and affordable, too. That's why we personally and thoughtfully curate items we love and share them with you.
We love helping you find things you love, and hope love what we share, too.
Don't miss the Prime Day deals from July 12-13! You can shop our Amazon storefront here along with some of our favorite Amazon items and mood boards below!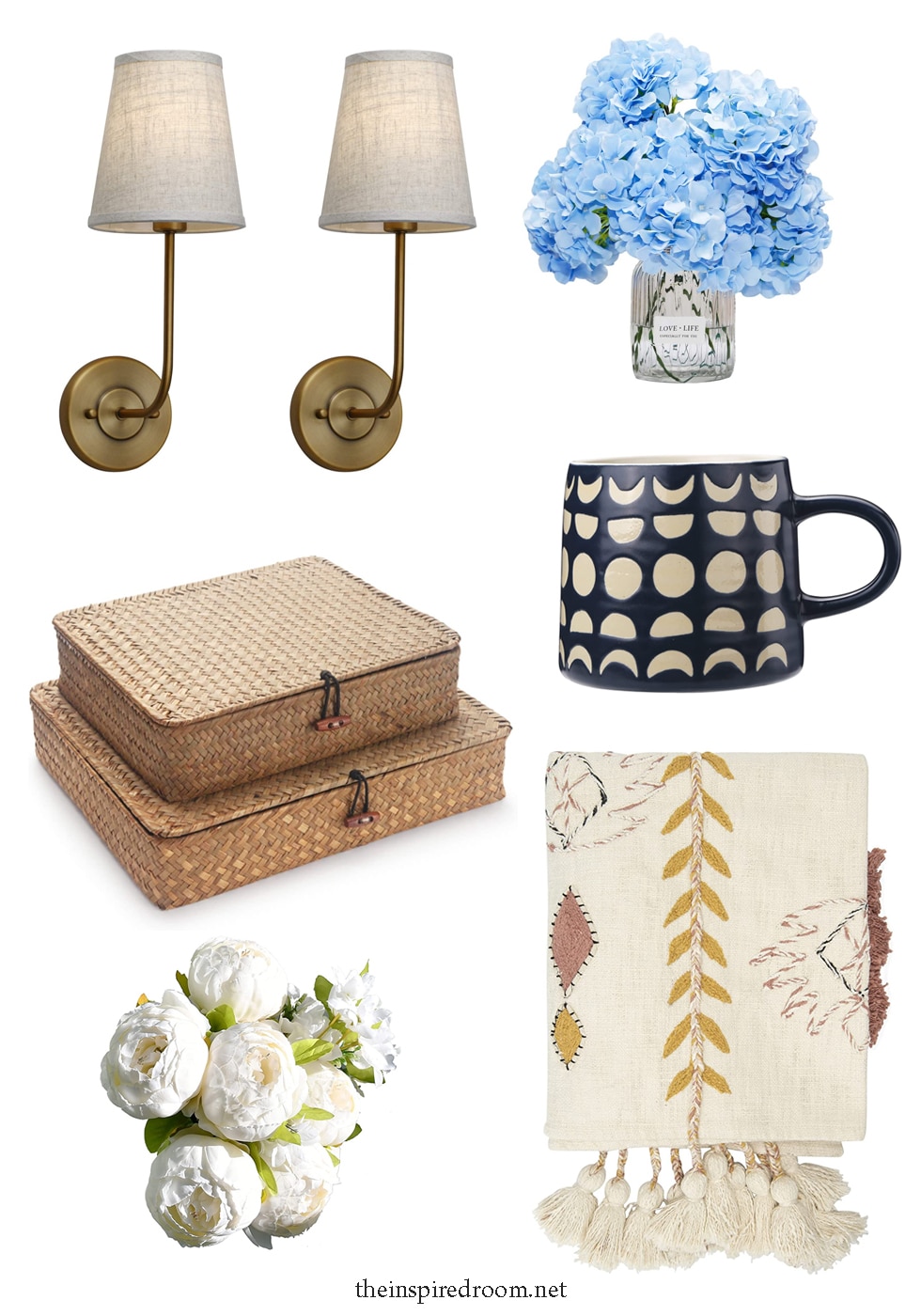 BOOKMARK OUR STOREFRONT FOR EASY HOME IDEAS!
Our home decor Amazon storefront is a convenient and FREE to you service to help you find pretty and practical decor and items for your home. You can find our favorite recommendations and ideas any time when you visit The Inspired Room Amazon storefront here! If you click the tabs labeled IDEA LISTS or PHOTOS, you'll be able to browse what we love any time!
Be sure to bookmark our storefront page. That way you can easily find our recommendations and shop for whatever you need!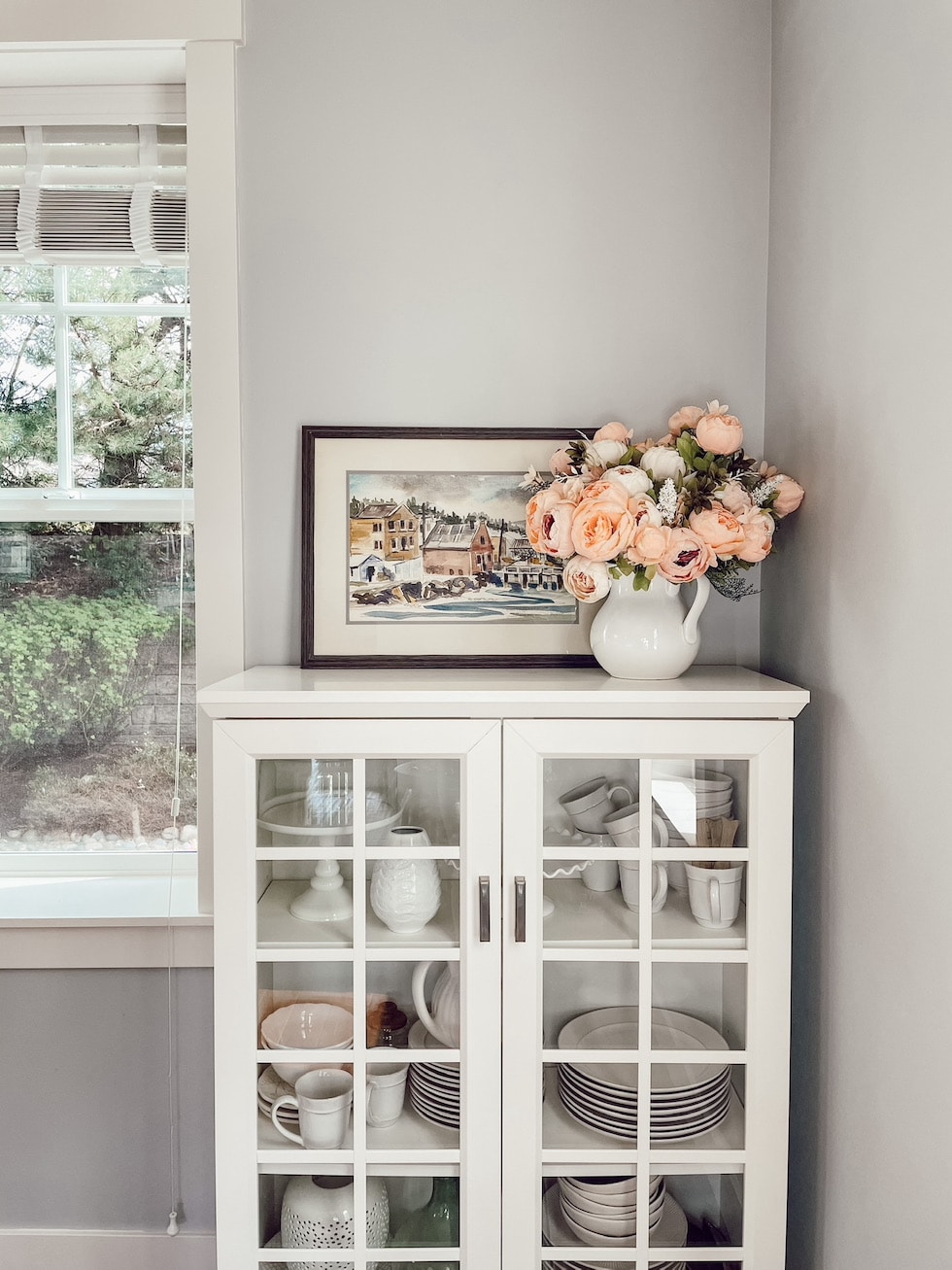 Here's how to easily shop on Amazon from our storefront:
Once you are on our Amazon storefront page, you can begin to explore the pieces we recommend through clicking on our idea lists and photos. Bookmark the shop so you can shop anytime for whatever you need! We LOVE to help you find pretty and practical things for your home. And using our storefront helps support our efforts at The Inspired Room, too! We appreciate the support so much.
Keep in mind that you never pay even one cent more to use our links or our Amazon storefront. If you find our services helpful and you use our referral links, we may get a few cents in return! It is always very much appreciated. Every penny counts these days, amiright? Using our storefront and links is a win win for both of us.
In The Inspired Room Amazon storefront you'll also find our curated idea lists and inspiration photos. We regularly find new items and round up favorites we recommend and know our readers will love. We put them in this simple to find place so you can always find our most up-to-date favorites! We've even hosted livestream video chats on our storefront, so it can be a fun place to hangout, too.
Shopping from our storefront is a simple way to find things you will love for your home. It means the world to us when you use any of our referral links and hope you'll enjoy our Amazon storefront any time you shop at Amazon.
Thank you from the bottom of my heart for supporting our family and small business. We hope you continue to enjoy what we create and offer through The Inspired Room.
OUR FAVORITE AMAZON HOME DECOR AND MOOD BOARDS!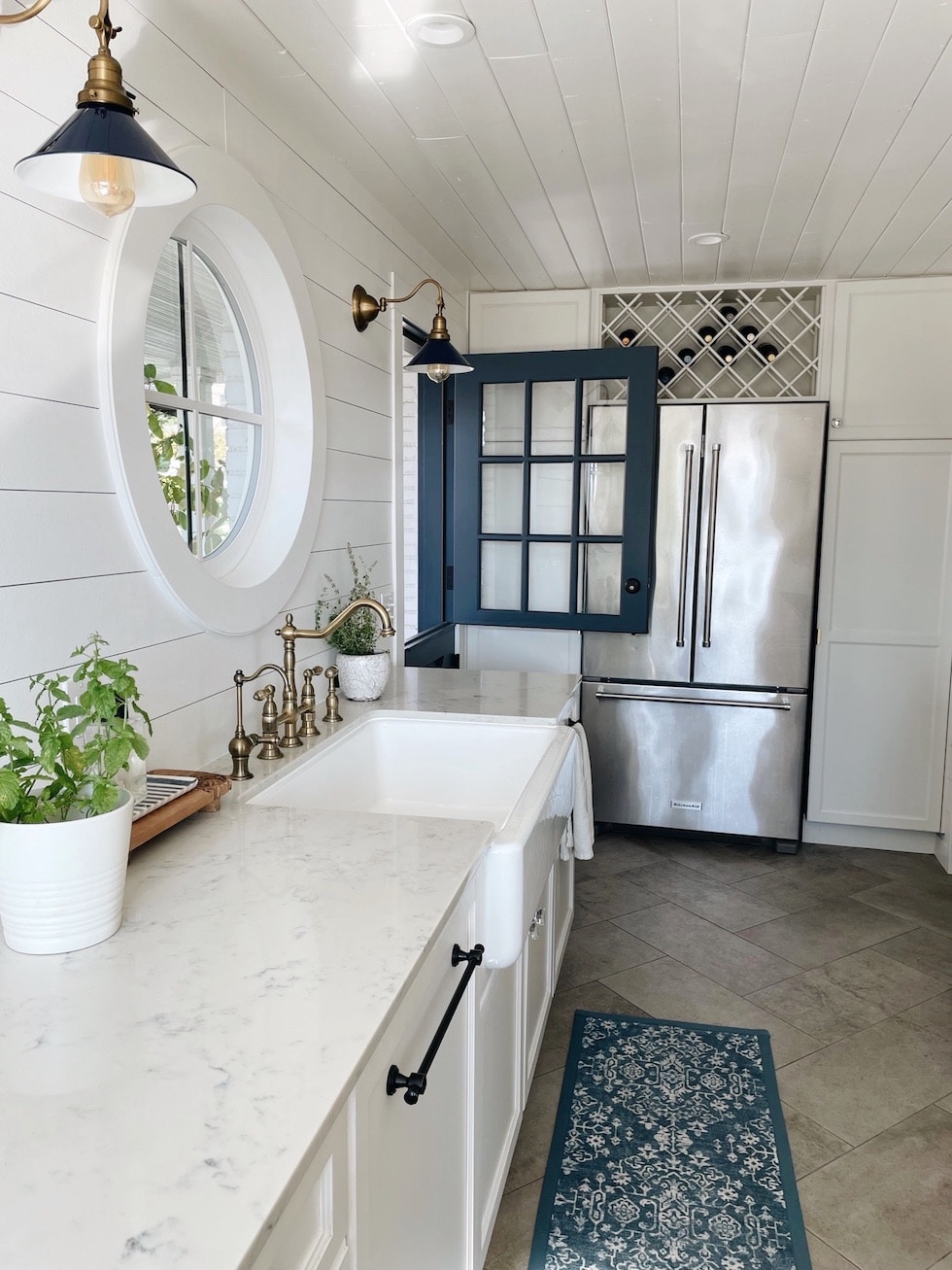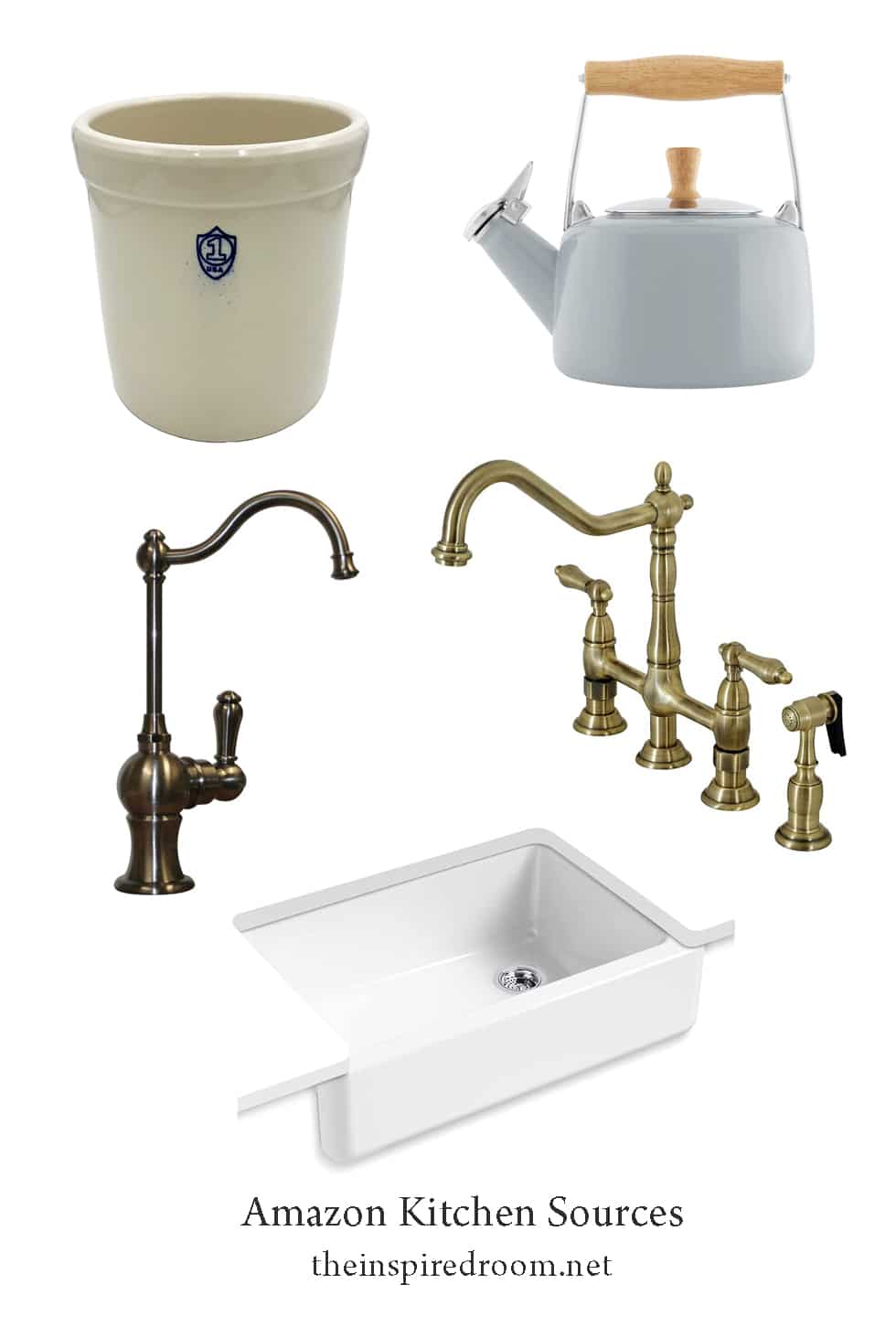 Farmhouse Sink (by the way, I also got this sink drain!)
Mood boards are our readers' favorites! Here are a few to inspire you:
Click the links below for source details:
Louvered Door Cabinet (multiple color options)
Blue and White Porcelain Planter Pot
Black Wall Sconces with Linen Shades Set of 2 (I have and love these, I use them to hang lights without hardwiring them–you can see mine and read more about that here!)
Framed Ready to Hang Ship Artwork
Round Vintage Accent Pedestal Side Table
Upholstered Weathered Driftwood Stripe Bench
Blue Ticking Stripe Accent Chair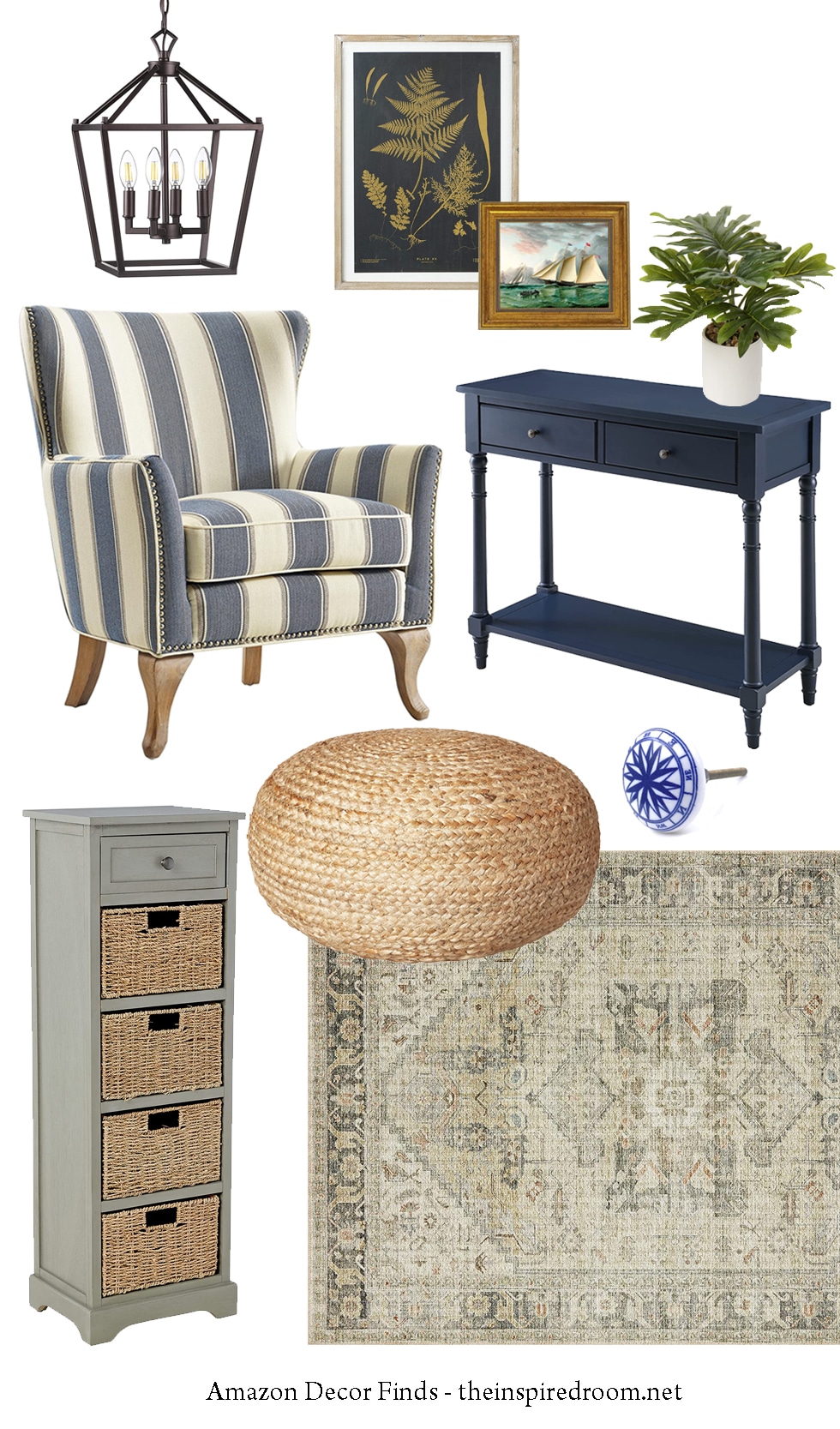 Click the links below for source details:
Striped Nailhead Trim Arm Chair
Blue and White Compass Knob Hardware
Gray Chest with Storage Baskets
Navy Console Table with Drawers
Find more decor finds daily on my Amazon storefront here! We are excited to continue to grow in what we offer our readers this fall, so let us know if you find our storefront helpful and how we can continue to support your efforts to create a home you love.
PS, loving "Coastal Grandmother Style"? Check out our Coastal Grandmother Amazon finds here!