This Post May Contain Affiliate Links. Please Read Our Disclosure Policy here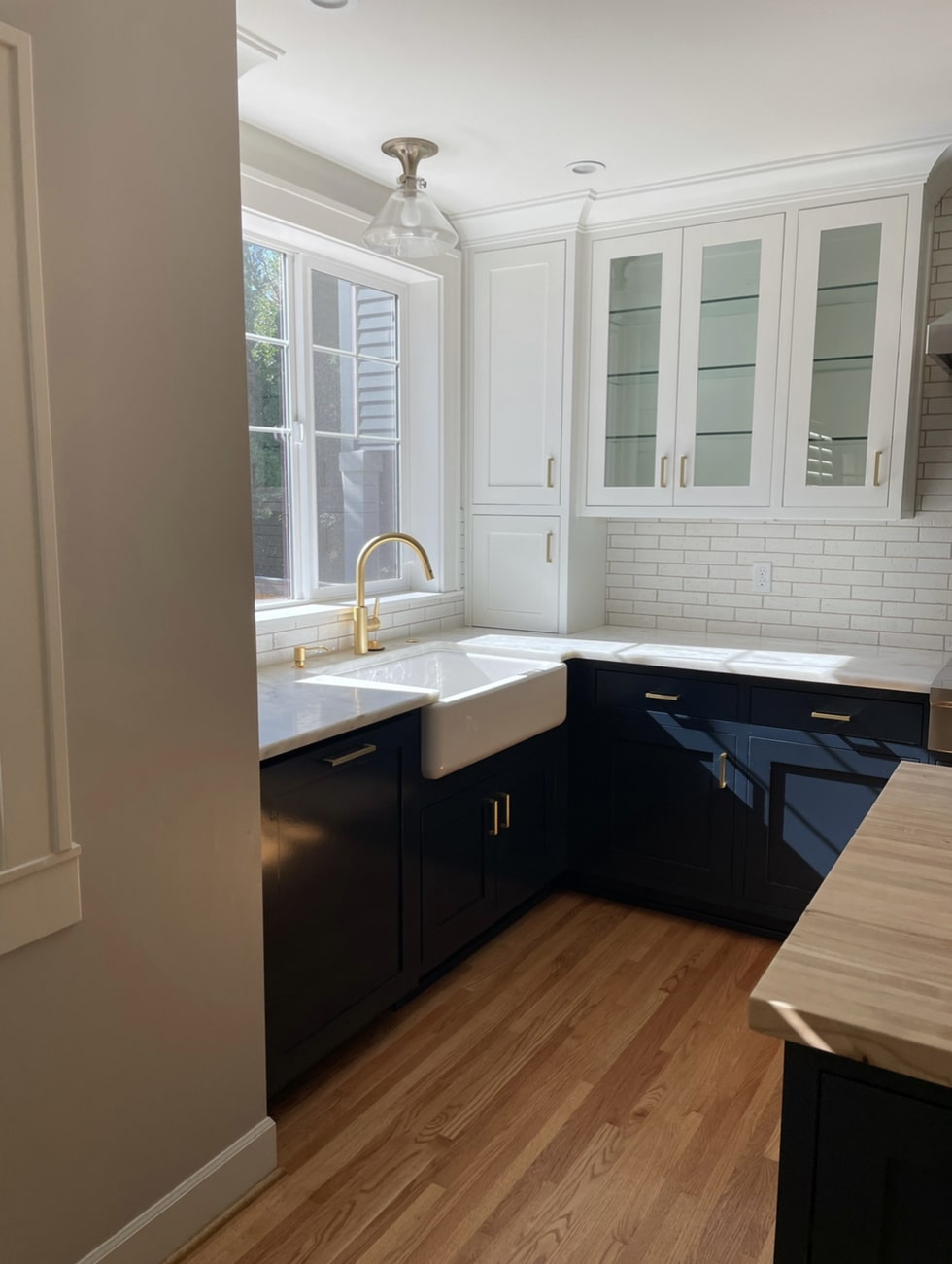 It's always fun to see how rooms evolve and change over time. Little by little, you can make a house feel like home! Kylee (my daughter) is here today to share the updates in her kitchen and dining area one year later, from move in day to now.
Kylee here! The above photo is our kitchen sink corner on move in day. We moved into our house almost a year ago and lucky for us the kitchen had already been remodeled before we moved in! So, we didn't have to do anything major, just some styling and adding personality. I did a post sharing about styling my glass front cabinet shortly after we moved in, which you can check out here, but I've made a few more updates since then!
Simple updates can make a house feel like home.
One of the first style changes we made was to swap out the original light fixture to one we liked a bit better. The clear shade on the original one collected bugs and was very challenging to take apart to clean. We found this pretty little globe light here! It gives a lovely soft warm glow in the evenings.
Another big upgrade was adding a lined woven bamboo shade to the window above the sink. It not only adds style and a nice texture to the room, but has also been so practical for sun control and privacy. We got it motorized to we can raise and lower it with the push of a button–so convenient!
The sweet little teacup art prints belonged to my mom, she and my dad had bought them when they were first married and I was so happy to find a place for them in our home!
The stainless steel contraption is our Berkey water filter, which we love! I used to use a Brita Filter, but turns out that those don't really filter out the bad stuff so I made the switch and I have never had better tasting water in my life. It filters all the gross stuff out of water (Even pond water. It's totally apocalypse proof LOL).
Display items that make you feel like you live there.
My husband bought me the most beautiful marble pestle and mortar for Christmas. It looks gorgeous displayed and is one of those pieces you keep and pass on for generations! It's a great gift idea. This is the one he got me. This one is similar!
We also recently got a new set of dishes from Crate and Barrel. We used our trusty square dishes we got for our wedding for nearly 14 years, but I've always wished I had round ones. I've loved the new ones so far, plus they look great in the cabinets! It's fun to display your own items and get things for your new home. It's a process to make a house feel like home in the first year, but it's so rewarding to finally feel like it's really becoming your own.
Pulling back a bit, this is the view standing in our dining room into the kitchen. This photo is from the day we moved in!
And here it is today!
Embrace a more welcoming and inviting space.
One of my favorite changes we made was swapping the light bulbs in the chandelier, doesn't it make such a difference?! It truly is the little things that make a house feel like home. If you follow me on Instagram you know I obsessed over what to do for weeks, trying several styles of bulbs. I even bought these amazing patterned lampshades, but ultimately I fell in love with these bulbs. Fair warning, the light output on them is pretty low, so I recommend having other light sources available for times you need more light, but I love the softness and the way they look, both on and off.
The stools we got for the island are the only ones I could even find that were affordable and would fit in the small space. Luckily they fit into the design perfectly! They come in several colors, too. Our new plaid curtains added some softness and I can't believe I got them from Amazon! They are lined and room darkening and are such great quality. The dining table, chairs, and banquette bench you probably recognize from my mom's old house!
It's always fun to look back and see how far you've come in creating a home! Hope you enjoyed seeing our first year of progress!
More Posts by Kylee:
Styling Glass Kitchen Cabinets (+Get the Look Kitchen Sources)
My Favorite Cleaning Tools and Gadgets that Make Life Easier
How to Decorate When Your Front Door Opens into the Living Room
Entry Console Hack (Saved $1500!)