Happy Friday and July 1st! I'm back today with a new Friday Favorites, so I hope you enjoy this inspiration I share each week. I'll be back this weekend with a new update on my sister and BIL's new lake house. It's really coming along and I can't wait to share it all with you. They hope to move in by end of July.
Feature Friday
Here's a look back at author Mary Kay Andrews home on Tybee Island, Ebbtide. I visited the island back in 2014 and it is such a cozy vintage home. You'll love it if you missed that tour.
It's a perfect summer home tour!
Instagram Inspiration
Heather Chadduck is my favorite designer/stylist and I love what she did here with these twin beds. It's so cute, colorful and cozy! She did the Southern Living Idea house in Amelia Island a few years ago and I featured it, if you missed that one, it's stunning. Maybe my most favorites decorated house ever. The shot below is from that house.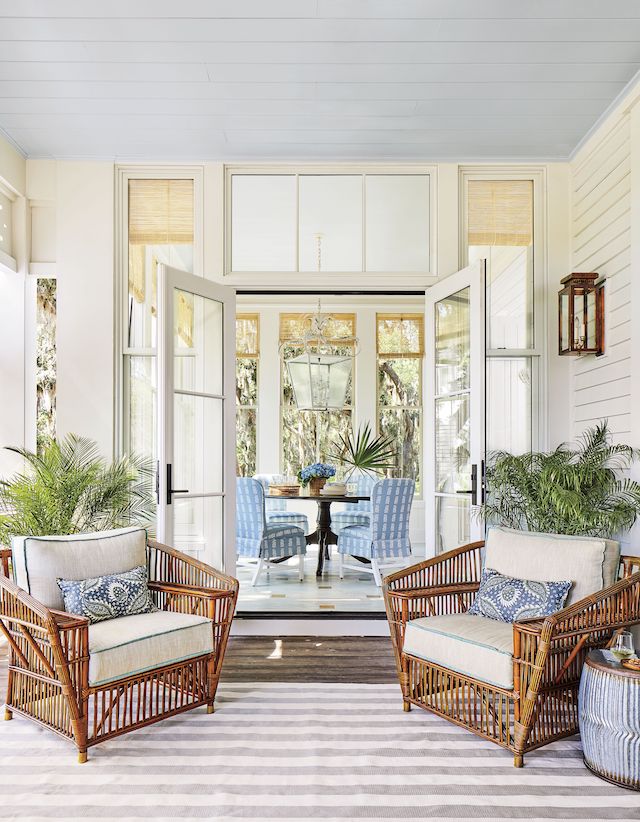 Recipes
Another good sounding recipe from Hungry Happens, these Zucchini Pizza stacks look and sound delicious. Zucchini is good for you and it's cheap, so I look for ways to use fresh summer produce that is tasty and this one looks like a good one. In fact, I made a version of this recipe this week with some fresh zucchini I bought. I didn't add the pepperoni, but it was a good side dish with ravioli I made for dinner.
Another one from the same food blog, this Cowboy Cavier looks so good. What a tasty treat for summer and the addition of feta cheese sounds delicious to me. I'm going to have to try this one for a crowd pleaser.
Around the House
We are still working on the backyard and our turf is now in. As soon as we can, we'll get the backyard sod installed as well and then I can finish my little bit of landscaping and planters I'm going to add back there. We are loving it all!
Here are a few things I've gotten recently on Amazon. Here's my Amazon shop if you want to take a peek at all I've saved there.
I saw a recommendation for this shop on Amazon for these solar lights, (affiliate links used) so I'm trying these in our backyard flower beds. I'll let you know how I like them. They have good reviews.
Here's a cute water volleyball blow up net I bought and we will probably be using it this weekend for the 4th of July holiday when the family comes over.
Lauren got me this automatic soap dispenser for Christmas and I really love it. You add a bit of soap with water and it foams so saves soap and it's hands free. You charge it with a cord for easy use.
I had to get Daisy a new pink harness. She grew out of her XS size after she turned one, so this Small works great. This is a good style for her and I love the 3 step protection with a hook, clip and velcro closure. This one fits her great at her 9 lb. weight.
Here's a really cute set of bamboo flatware that's perfect for outdoor dining. I have a dark set, but I really love this one too.
What We're Watching
When I was staying with my sister, we watched a lot of shows on TV. It was too hot to be outside all the time, so at night we would catch up with some good shows. She likes the same kind of true life crime shows that I do, so it was easy to find some to watch together.
Mark alerted us to a show he had watched while I was gone, He Lied About Everything, so we found that one and watched it. It's amazing how many con men are out there, lying about their lives and everything else. This one was a doozy involving a well known surgeon from Italy and an investigative journalist. We found it on ID Discovery channel, but I think you can also rent it on Amazon. Of course, free is best. This one was really a crazy story, but so captivating.
We also watched an older 4 time Oscar nominated movie from 2013, Philomena on Netflix. It's based on the book, The Lost Child of Philomena. It stars Judy Dench and was a really good movie. We both enjoyed it had some surprises at the end. I won't share anymore in case you want to watch it. Very good story!
While I was there, we also watched another newish movie called Hillbilly Elegy starring Glenn Close and Amy Adams. I had seen it before, but we watched it again. Based on the book by J.D. Vance, who is now a conservative political candidate from Ohio and I just put that together on this watching. It was a heart warming story and had a happy ending.
Related
Don't Miss a Post, join my list!