Happy Friday friends! Are you feeling the summer heat like we are here in GA? It's definitely feeling like summer in June around here and we are ready for it. The pool is coming along and I'll do an update post on it as soon as I can. Not moving as fast as I would like, but it's getting there and of course, we've had a couple of glitches along the way. I've got a summer tour coming up on Monday, so stay tuned for that. Hope you enjoy these shares today on Friday Favorites! Enjoy your weekend!
Feature Friday
I introduced you to my friend, Sara with Simply Southern Cottage, a few years ago and shared a tour of her beautiful renovated cottage in LA. You can find her mainly on Instagram (link above) and she is one busy girl.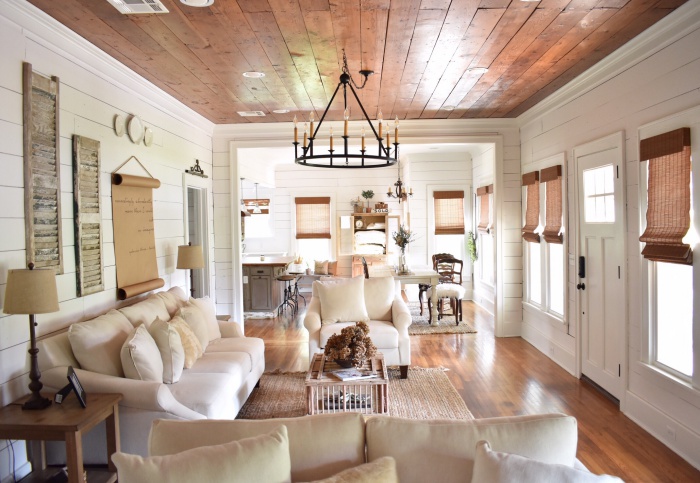 You'll love her renovated cottage home that she completely restored from top to bottom. She was just on HGTV highlighting her hometown of Minden, LA on Home Town Kickstart, the show that helps small towns across America with a resurgence in their community. It was fun to watch and if you have HGTV you should be able to catch the replay if you missed it. So fun to see friends on TV!
Instagram Inspiration
I've shared Alisa with Glass of Bovino with you before, her home tour is here, but she is expecting a baby boy this year and just completed a beautiful nursery for him in the One Room Challenge. It's so pretty and fresh. See the whole nursery tour on her blog. She's a young traditionalist with great taste.
This gal, Chrissie Home and Design also joined the One Room Challenge and did this fantastic bathroom that I love, of course. Color, pattern and interest! You can find that whole reveal here.
One more beautiful space to share with you, Leslie from Deeply Southern Home, shared her elegant European inspired master bath renovation also from the One Room Challenge. I admire these gals who tackle room renovations and join this challenge for an 8 week timeframe. There's a reason I never join it, I wouldn't want the pressure. It's fun to see the outcomes though!
Recipes
I keep finding good recipes on Hungry Happens and this Mexican Street Corn salad looks delicious and perfect for summer.
Around the House
I'm a fan of summer and all the feels that go with it (except the extreme heat). These items really evoke a summer feeling to me and are similar to things I have in my house. I really enjoy my blue/green bottle collection and you'll be seeing them in my summer home tour again soon. I have that green pillow fabric on my guest room bed, I love a good bird print and have the 4 heron prints. That large heron print caught my eye too, so colorful and makes a statement. I also adore a bamboo easel and enjoy displaying things on mine during the seasons. And seashells, don't forget the seashells, I pull mine out every summer.
You can find all these links below in the shopping widget (affiliate links used). Happy Summer to you all!

We watched a true crime documentary, Keeper of the Ashes, this week on Hulu and it was very interesting. It happened in 1977 in OK, and Kristin Chenoweth is from that school and hosted the documentary. Three girl scouts were killed in camp and it was a heart breaking story.