A Brief Listing of Some Recent Spectacular White IKEA Kitchens
Whatever the size and shape of your kitchen, IKEA cabinets have it covered, though unless you are a kitchen design expert, it can be tricky to seamlessly incorporate them into your space.
Our designers created five personalized kitchens using IKEA cabinets that meet all the requirements of a modern home.
White kitchens are thoroughly modern, easy on the eye, and easy to keep clean. Our kitchens are designed with practicality and ease-of-use in mind. As always, we considered alignment of oven, sink and work surfaces, plus the ideal configuration for every space.
Here are our five white IKEA kitchen design examples, created with all size, style, and kitchen shapes in mind.
#1: GRIMSLOV Off-White Kitchen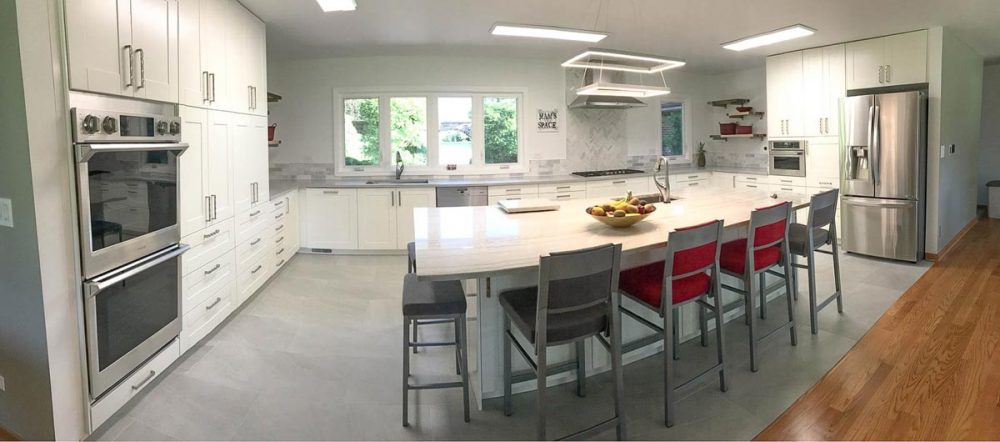 IKD customer Beena wanted a customized IKEA kitchen with a non-customizable product – a light, airy space with lots of storage. We choose to combine floor-to-ceiling cabinets with floating shelves.
The cabinets increased the storage space and gave the room a sense of height, while the shelves kept the kitchen airy. MAXIMERA drawers were also included for extra storage space.
These internal accessories can be pulled out all the way so you can access what's inside with ease.
This IKEA kitchen has a lot going on, though its simple design gives a relaxed look, making it ideal.
Door style: GRIMSLOV off white
Cabinet frame finish: white
Drawers: MAXIMERA
Ceiling Height: 96"
Approximate cost: $8,970
We'll Design Your Ideal IKEA Kitchen Easily, Affordably, and Online

Our IKEA Kitchen Design Package is everything you need to complete your new kitchen with confidence.
#2: Semihandmade Shaker White Kitchen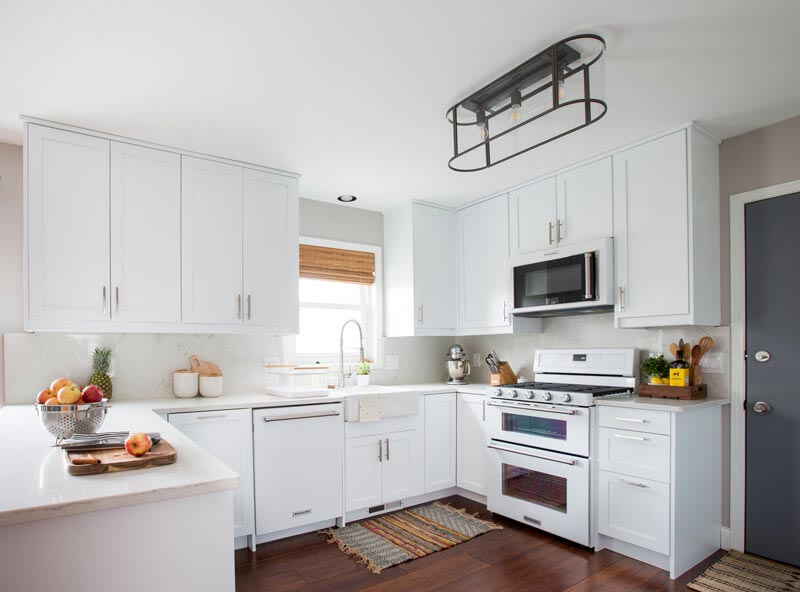 A simple style for a smaller space. In this configuration the homey, Shaker-style door by Semihandmade has been teamed with a wood-finish floor and wooden kitchen accessories for a warm yet practical feel.
This look is easy to achieve, however, the cabinet doors can also be given a sharp contrast with more neutral or glossier flooring.
The addition of a white KARLBY countertop adds continuity to the white color palette and produces a more integrated look.
BAGGANAS handles add cool simplicity to the design and to its laid-back style. This IKEA kitchen shows you can pack a lot of 'wow' factor into a small kitchen.
Door style: SHM Shaker white
Cabinet frame finish: white
Handles: BAGGANAS
Countertop: KARLBY
Drawers: MAXIMERA
Ceiling Height: 95 1/4"
Approximate cost: $3,604 (not including doors)
#3: Another GRIMSLOV Off-White Kitchen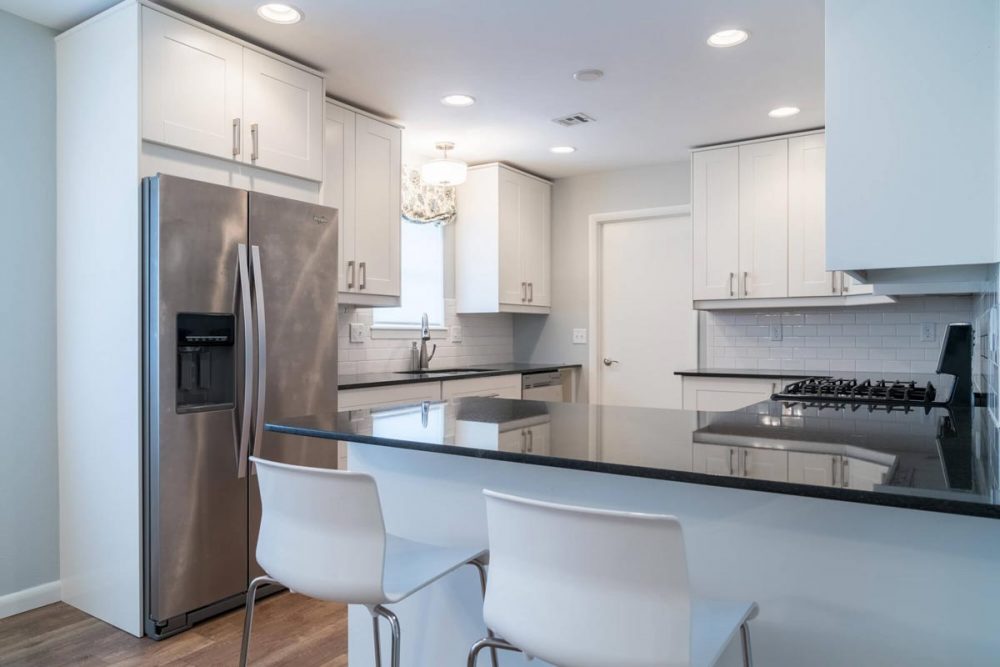 This IKEA kitchen in a rental property combines the high-tech appeal of dark, glossy finishes with the soft off-white of GRIMSLOV cabinet doors.
Chunky BLANKETT handles help lend a softness to the overall look (they're also comfy on the hands!).
The metal fridge is integrated into the cabinets and it echoes the dark, glossy breakfast bar/work surface, which contrast with stark white tiles on the backsplash.
This monotone effect gives a clean, modern look to a small space.
Door style: GRIMSLOV off white
Cabinet frame finish: white
Handles: BLANKETT
Drawers: MAXIMERA
Ceiling Height: 96"
Appliances: LAGAN microwave oven
Approximate cost: $4,905
#4: RINGHULT White Kitchen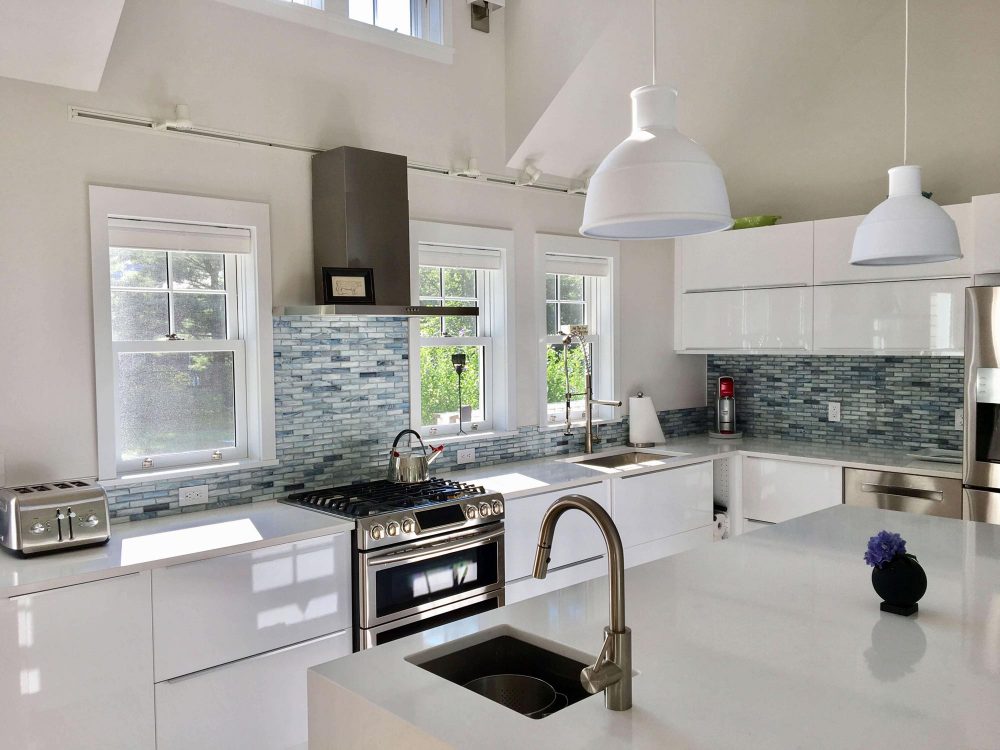 This modern white kitchen we designed for a creative gourmand who loves to cook shows the shiny, streamlined appeal that is created by MAXIMERA drawers and RINGHULT doors in a high gloss finish.
A minimalist and modern effect is enhanced with the use of BLANKETT handles, effortlessly incorporated into the cabinets and drawers.
Here, a gorgeous, grainy effect is created with blue-grey mosaic tiles, though choose your preferred color scheme to set off the high gloss, white RINGHULT doors.
The minimal integration of the sink into the island enhances the streamlined, modern look.
Door style: RINGHULT high gloss white
Cabinet frame finish: white
Handles: BLANKETT
Drawers: MAXIMERA
Ceiling Height: 102"
Approximate cost: $7,948
#5: VOXTORP Matt White Kitchen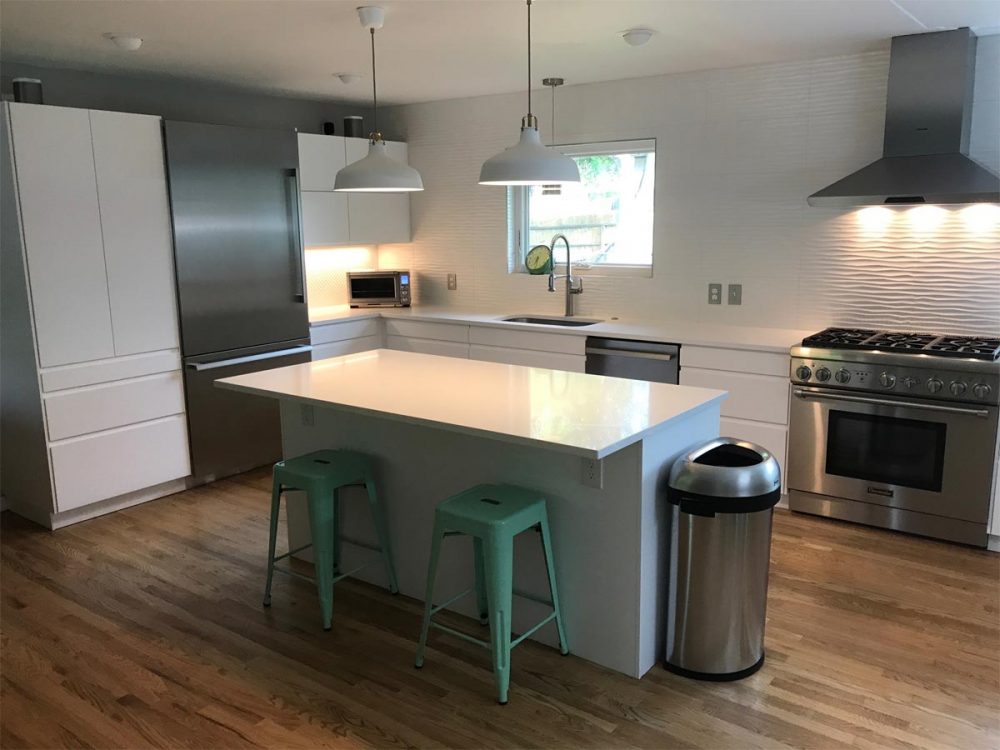 The ultimate in simplicity of design, this VOXTORP kitchen in white with MAXIMERA drawers creates a space that is welcoming, yet clean and bright.
Seamless, handle-free and glossy, the IKEA cabinets present fine lines that contrast well with the pared-down breakfast bar.
Even the seating is hidden beneath the overhanging work/dining surface.
Door style: VOXTORP white
Cabinet frame finish: white
Drawers: Maximera
Ceiling Height: 98"
Approximate cost: $8,768
Five Design Tips for Choosing Your White IKEA Kitchen:
The finish of a white kitchen can mean the difference between a homely style and a more stark, modern appeal. Matte finishes are warmer and less hi-tech. High gloss white finishes are bright and striking as they reflect light and create a greater sense of space.
Try practical, industrial-look light fittings like IKEA's white RANARP pendant lights over breakfast bars and kitchen islands. Hung low, they brighten the space and add to the elegant, yet functional feel of a white kitchen.
If you have limited room, choosing white is a great option as it creates a sense of space. Light bounces off white surfaces and cupboards can be stacked high without seeming cramped or oppressive.
White is not just one color. Try mixing off-white with stark white, gloss with matte to create different shades in your white kitchen.
Decide whether or not to use handles to complete the look of your kitchen. We use metal handles, (for example, the comfy feel of chunky BLANKETT handles), as they incorporate a clean, practical feel. You can also create a streamlined effect with no handles at all.
Get a Professional IKEA Kitchen Design – All Online

Work with our certified kitchen designers to get a personalized kitchen designed around your needs and vision. If you're interested in learning more about our service, make sure to check out our IKEA Kitchen Design Services.