The Advantages and Disadvantages of Floating Shelves in Your IKEA Kitchen
More than any other room in the house, your IKEA kitchen has the challenging job of blending design and function to create a space that is both aesthetically pleasing and practical.
As the "heart of the home," your IKEA kitchen must serve many purposes from food prep to homework station to social hub during gatherings.
To meet all these demands, an IKEA kitchen design not only has to include many diverse elements, but it must ensure those elements are tailored to match your lifestyle.
Luckily, the designers at Inspired Kitchen Design have a lot of ideas.
While it's still true that most kitchen designs tend to include mainly traditional wall cabinets – especially the SEKTION wall cabinets from IKEA – there has been a growing trend to use open or "floating" shelves instead of or in combination with more conventional closed cabinets.
In some cases, incorporating floating shelves into an IKEA kitchen design is purely a matter of personal taste. In others, it's a budgetary consideration (floating shelves are substantially less expensive than closed cabinets).
No matter what drives you to consider floating shelves, there are many options available.
The challenge with this design approach is that IKEA doesn't sell floating shelves specifically for the kitchen.
Their LACK collection, for instance, is more for the living or bedroom and can't be cut to create custom sizes. There's also EKBY, but because it's only 7" deep it doesn't align with most cabinets.
Given these limitations, we use a variety of floating shelves from other companies (Wayfair, Amazon and Home Depot) to create unique IKEA kitchens for our clients.
We also use the metal shelves from the Grundtal series when we want to achieve a more industrial look. Finally, for our DIY-type clients, we are happy to share information about making your own floating shelves, such as from this article on House One.
Here are a few inspirational shots of how people are using floating shelves in the most-used room in the house: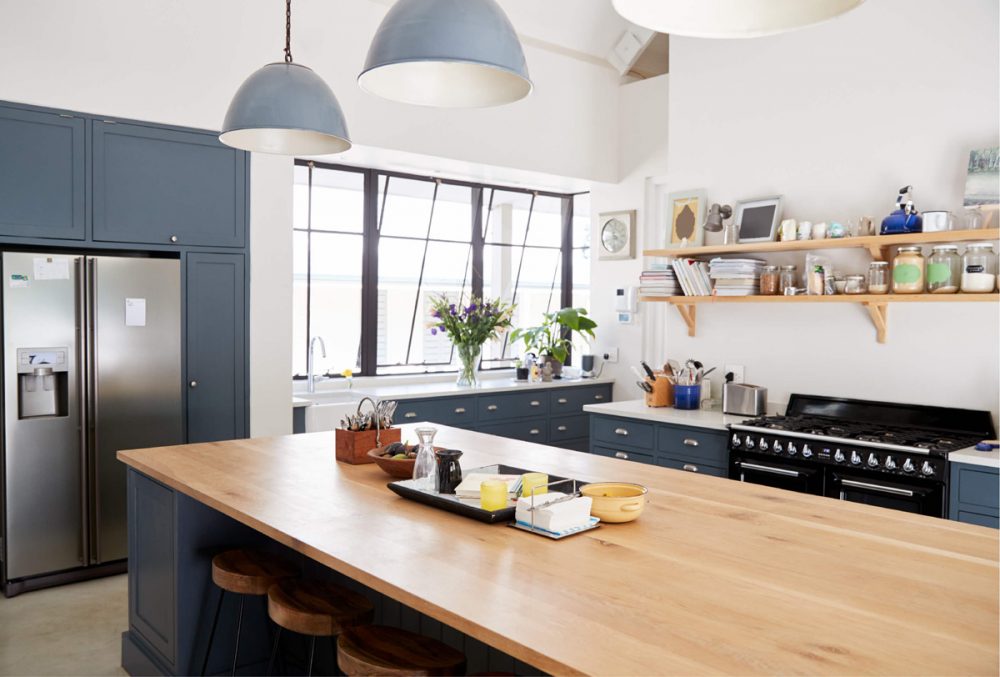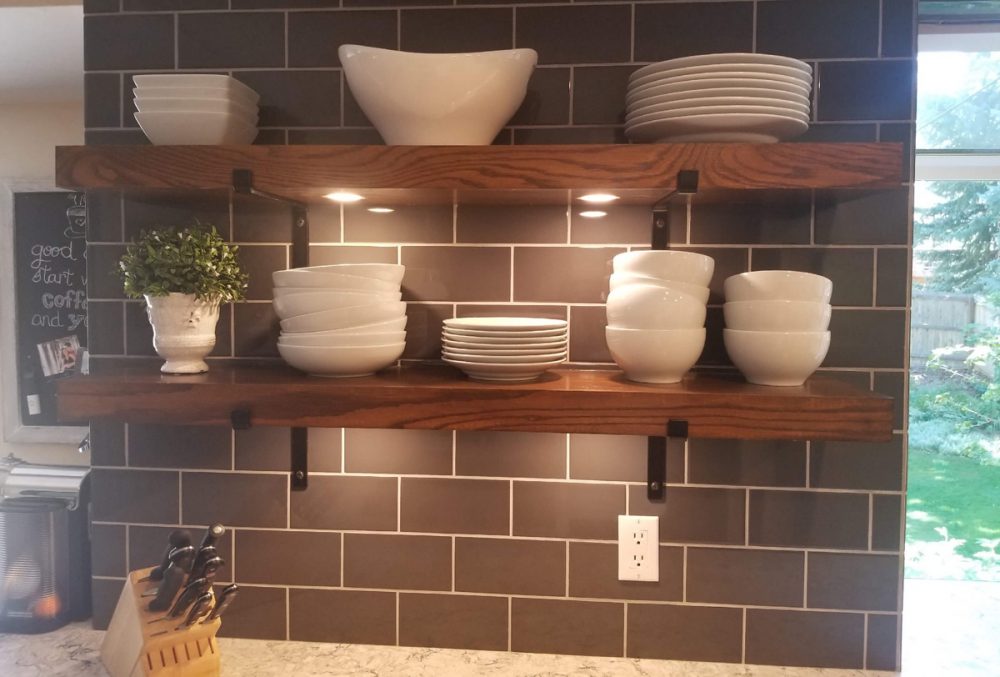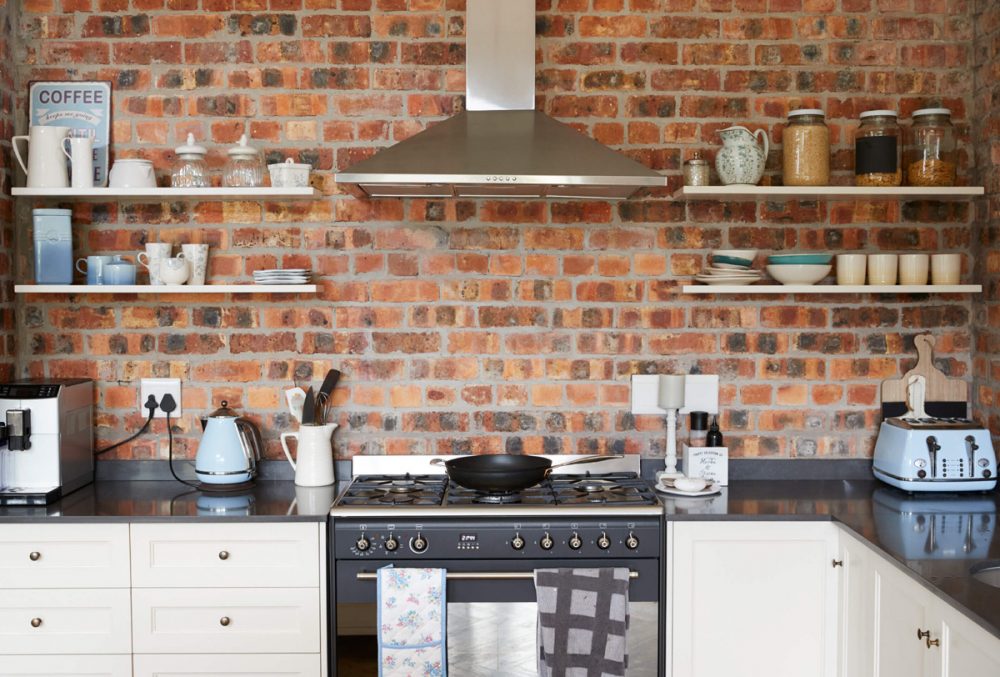 Open Shelving Kitchen or IKEA Wall Cabinets?
If you are considering an IKEA kitchen design that uses floating shelves—either to replace wall cabinets or to accent them—there are a few things you may want to consider before making your final decision.
Here are our top pros and cons to both approaches based on our work with hundreds of IKEA kitchen clients.
We'll Design Your Ideal IKEA Kitchen Easily, Affordably, and Online

Our IKEA Kitchen Design Package is everything you need to complete your new kitchen with confidence.
Advantages of Floating Shelves
Saves You Money
One of our customers most frequently cited reasons for considering floating shelves is to reduce their budget.
Floating shelves are usually quite a bit less expensive than wall cabinets, which can help you to either keep costs in check overall or give you the leeway to spend more on other projects.
Opens up a Small Space
Floating shelves are particularly advantageous for small kitchens that tend to feel cramped or dark if they are overstuffed with conventional wall cabinets.
By opening up space, floating shelves make a small room look and feel bigger, brighter, and more open.
One of our design tricks that can be especially effective in making the most of small spaces is to use floating shelves in awkward spaces (such as around windows) that would otherwise go unused.
Using floating shelves can also add height to a room while allowing you to make the most of every nook and cranny.
Accessibility and Convenience
Floating shelves, similar to something like an IKEA appliance garage, literally put everything you need at your fingertips.
With no cabinet doors in the way, it's easier to grab your cookware and dinnerware, creating a smooth workflow for food prep and entertaining.
Speaking of entertaining, we also see how floating shelves make it easier for guests to find what they need, since they can see everything right out in the open.
Opportunity to Display Your Personal Style
Finally, floating shelves are often just a design preference. They not only help create a distinctive look, they also give you the opportunity to display favorite items and tell your story.
Floating shelves aren't just for dinnerware, cookware, and food items. Get creative by using them to showcase photos and artwork, treasured knick-knacks, or even your liquor collection.
They also make it easy to add a splash of color, either through the items you store on them or by adding paint accents behind them.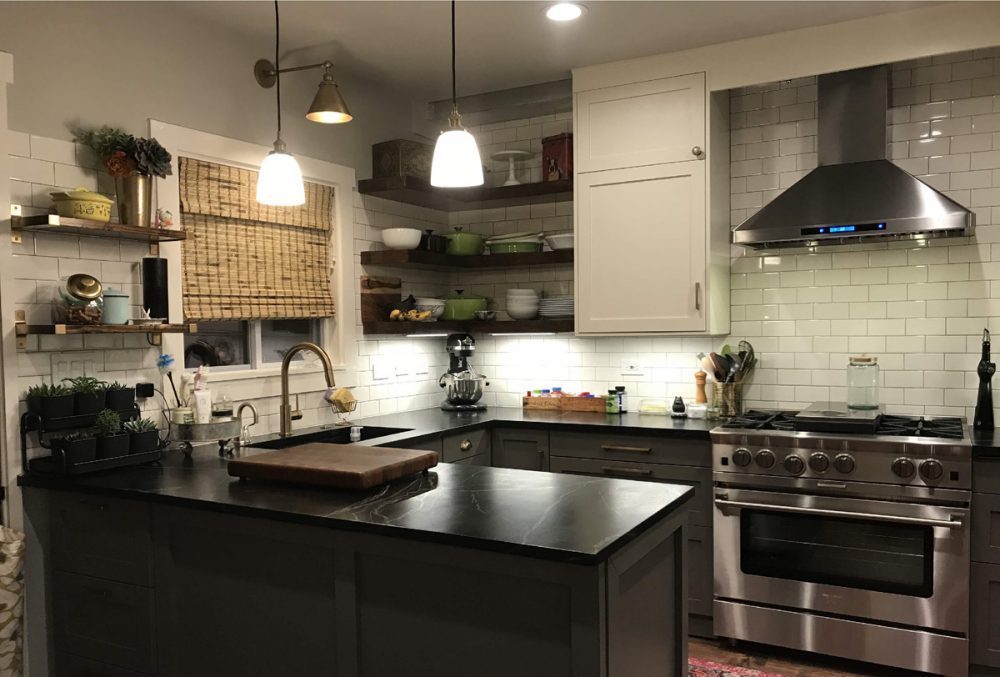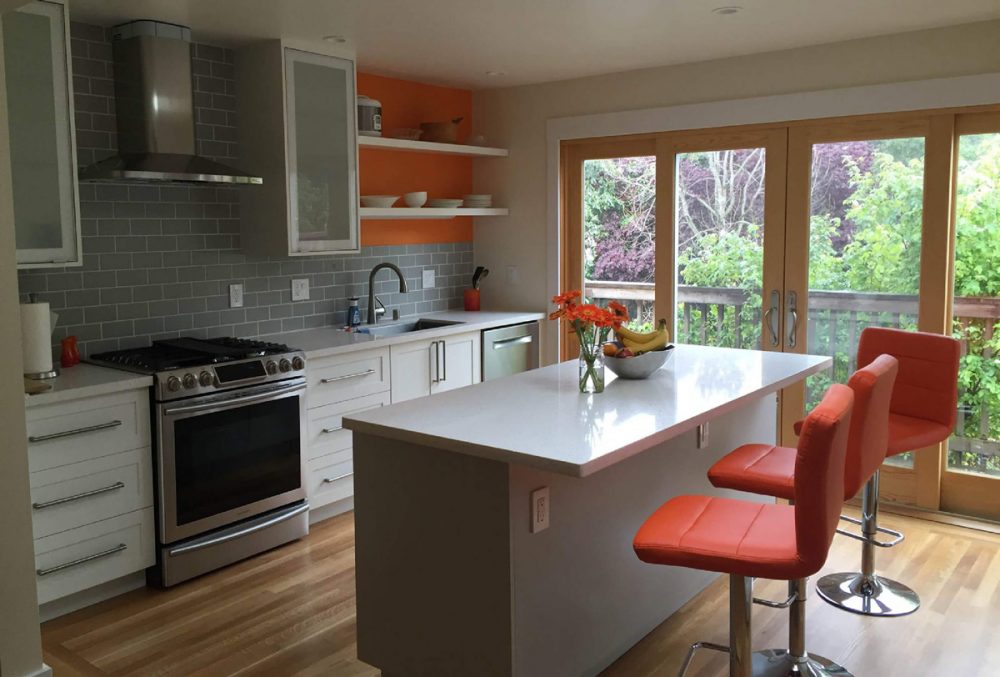 Disadvantages of Floating Shelves
Requires Neatness
While it's lovely to have your favorite things on display, doing it in a way that's pleasing to the eye can be a challenge if you're not naturally neat.
If you're prone to filling any flat space with "stuff," floating shelves might prove to be too much of a temptation for you.
Creates Visual Clutter
In addition to the issue of neatness, floating shelves—even when the items stored on them are nicely arranged—have an intrinsically different feel from the uniform and "clean" feel of wall cabinets.
By their nature, floating shelves bring more texture and color into an IKEA kitchen design, which may or may not be desirable, depending on the other elements in the room.
May Collect Dust and Grease
While closed cabinets protect items from airborne dust and grease, floating shelves expose your possessions.
This issue can be minimized with a little design strategy. For instance, if you primarily store frequently used items on your floating shelves, the constant use will reduce the chance of dust collecting.
Likewise, it's not recommended to use floating shelves near cooking surfaces that throw off grease and steam.
Advantages of Wall Cabinets
Hides a Multitude of Clutter Sins
If you aren't the kind of person who earns gold stars for neatness, closed cabinets might be a better choice for you.
This traditional approach allows you to be more relaxed about how you store items because, once you close the door, no one can see (or judge) your stacking style.
Eliminates the Need for Dusting
Doors on cabinets also provide the benefit of eliminating dusting as a regular chore. By closing your kitchenware in, you ensure that it's safe from airborne dust, grease, and other detritus (and that you're safe from having to get out the feather duster).
Typically Provides More Storage Space
While there are exceptions, in most cases wall cabinets do offer greater square footage in terms of actual storage space. If you have a large collection of kitchen accoutrements, you may need more closed cabinets to house all your goods.
Provides a Streamlined Look
If you're after a minimalist, built-in or "clean" look, closed cabinets can help you achieve that aesthetic by providing a very uniform surface throughout your kitchen.
Disadvantages of Wall Cabinets
Increases Your Budget
Simply put, traditional cabinetry is substantially more expensive than floating shelves. If you're working with a small budget or just trying to keep costs down, wall cabinets may not be the best choice.
A More Visually Heavy Feel
While some kitchen spaces can handle a lot of closed cabinets, smaller rooms can suddenly feel even smaller if there are too many cabinet doors.
Cabinets also tend to limit the amount of natural light, especially if they are installed close to windows.
Limited Flexibility and Display Options
Wall cabinets don't allow you to change things up. While floating shelves make it easy for you to refresh your kitchen's look by simply rearranging items on the shelves, wall cabinets can only present the same face all the time.
In addition, because they conceal all your belongings behind their doors, wall cabinets keep you from displaying any of your kitchenware, so you don't get to enjoy it unless you're actually using it.
Whether or not you are a gourmet cook, chances are you will spend a lot of time in your IKEA kitchen. It's where most of us begin our day, and often where we end it.
But, don't be overwhelmed by the challenge of deciding between closed wall cabinets and floating shelves.
IKEA kitchen design is one place where you can actually have it both ways. Many of our innovative kitchen designs combine conventional cabinets and floating shelves options to give our clients the best of both worlds in one beautiful and highly functional space.
As professional IKEA kitchen designers, we've worked with hundreds of different kitchens and design needs. Through our design process, we know what to ask about your kitchen design goals and which IKEA products you like. Also, there are plenty of options to modify your IKEA design so you can really personalize it to reflect your style.
Get a Professional IKEA Kitchen Design – All Online

Work with our certified kitchen designers to get a personalized kitchen designed around your needs and vision. If you're interested in learning more about our service, make sure to check out our IKEA Kitchen Design Services.