Modern Design Ideas for an Outdated Kitchen Using IKEA Cabinets
For IKD customer Sommer, the results of her DIY IKEA kitchen remodel were literally night and day.
Sommer, who lives in Eastsound, WA, explains:
"We wanted to update the look of our 111-year-old kitchen with a fresh, clean feel while keeping a coherent flow with the rest of the house."
With that, she had a few specific design wishes, including wanting a modern, high-end look with lots of drawers and no upper cabinets; establishing as much light as possible in this previously dark, cramped space; and maintaining a visual flow between rooms — particularly with light and white elements — while avoiding a jarring contrast with the adjacent dining room (which features dark wood wall panels).
To accomplish this, Sommer found IKD's design team online and with designer Florence's guidance, combined IKEA SEKTION cabinetry framework with IKEA Dark Brown SINARP cabinets and White GRIMSLOV cabinets used exclusively in the base cabinets.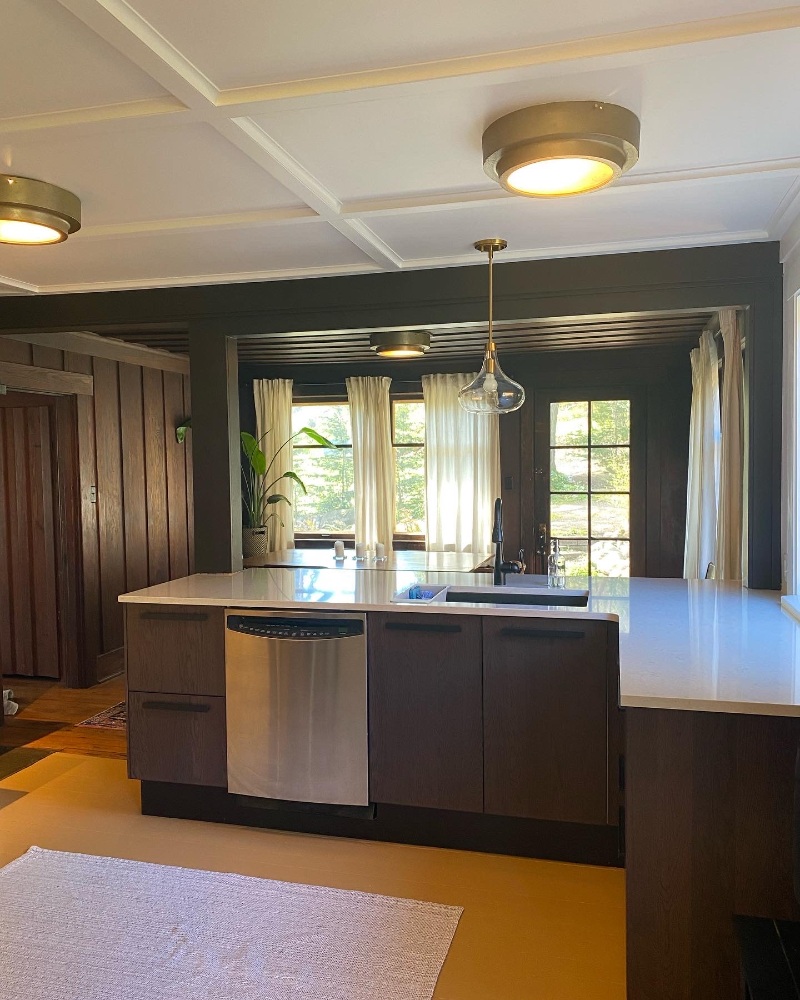 Combined with Mara Blanca quartz countertops from Home Depot; a 36" Imperial gas range; as well as other high-end appliances, the results are a new IKEA kitchen that Sommer calls "Modern Classic."
Even more impressive is that Sommer and her partner installed the kitchen themselves. She explains:
"Having done all the work ourselves, we saved money along the way and [as a result] we were able to splurge on a few nicer things, like a powerful in-line fan system, high-end lighting, and the quartz countertops. In all we spent around $18,000."
(Note: IKD has been referenced by Martha Stewart Living as experts on how to reduce kitchen renovation costs as well).
She concludes:
"We selected IKEA cabinets because we wanted the most value for the cost and to create a modern look as economically as possible. I love the whole kitchen and how the two- tone cabinets create a harmonious flow into the dining room, and how the modern white drawers look next to the old brick wall and refurbished hood. And I really love all the light we created that fills both rooms and the open feeling with the view between rooms."
Let's see how Sommer's kitchen remodel came together!
We'll Design Your Ideal IKEA Kitchen Easily, Affordably, and Online

Our IKEA Kitchen Design Package is everything you need to complete your new kitchen with confidence.
Out With the Old
Sommer's original kitchen was very outdated (built in 1911) and featured an ineffective and ill-conceived layout.
She explains: "We removed walls, had to jack up a bowed ceiling and install a beam between the kitchen and dining room, as there were two sliding doors with tracks that came into the kitchen ceiling. These had to be removed."
And, since there are no square walls or corners from the original design layout – a common kitchen design mistake – Sommer and IKD designer Florence needed to be extra creative.
"An exterior window had to be replaced with a smaller size to allow for the counter height as the sill formerly sat very low."
"There originally was a wood cookstove that sat against this amazing brick wall. We had to fuss with installing propane under the cabinets and in front of the brick. Plus all electrical and plumbing had to be replaced. Trimming around all the quirks of this almost full house design project was a challenge."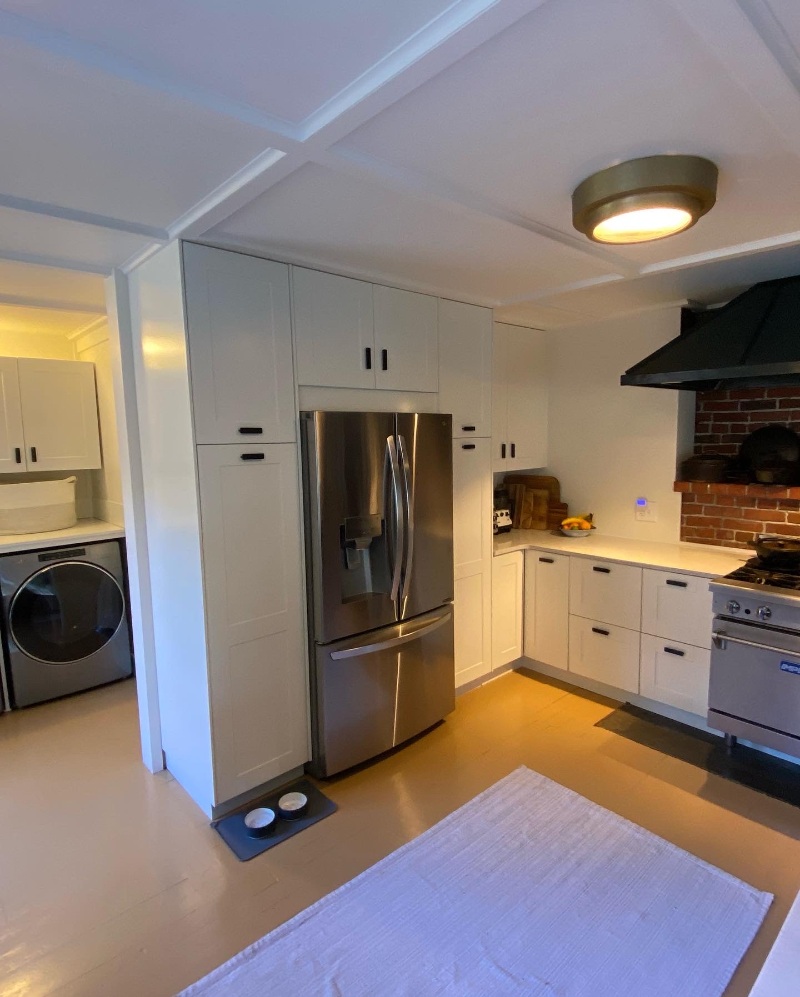 With these challenges overcome, Sommer selected IKEA Dark Brown SINARP cabinets and organizers for the base cabinets next to the dishwasher; a trash and recycling area underneath the quartz granite sink from MR Direct, and even found additional storage underneath the reconfigured window.
The dark tones of the SINARP cabinets balances out the white IKEA GRIMSLOV cabinets and really complements the dark wood in the dining room.
She also cites the soft-close IKEA MAXIMERA drawers (with IKEA UTRUSTA drawer fronts) and the newfound lower storage as especially enjoyable in her remodeled IKEA kitchen.
"The counters can now stay clear, and I love our undermount sink for ease of cleaning and the simple beautiful lines of it."
Since there are no upper cabinets in the layout, there was no need for counter lighting or inside drawer lights.
In regard to the IKEA GRIMSLOV base cabinets, these are featured around the stainless steel LG refrigerator and continue along the perimeter underneath the Imperial gas range.
These are complemented by the quartz countertops and set against the backdrop of the brick wall and the original 6' vent hood featuring an in-line Fantech FG 10" fan mounted on the roof.
The additional counter space establishes ample room for food prep and the brick wall provides unique additional open storage for cast iron cooking items.
She concludes:
"My principal concerns were to open and lighten and modernize this space, still keeping the best original elements like the old brick and the 6' hood. When we removed walls we didn't know what surprises we would find, and what was load-bearing, [but it worked out]. "
Achieving the Impossible as a Team
Achieving these results for this IKEA kitchen required a true team effort.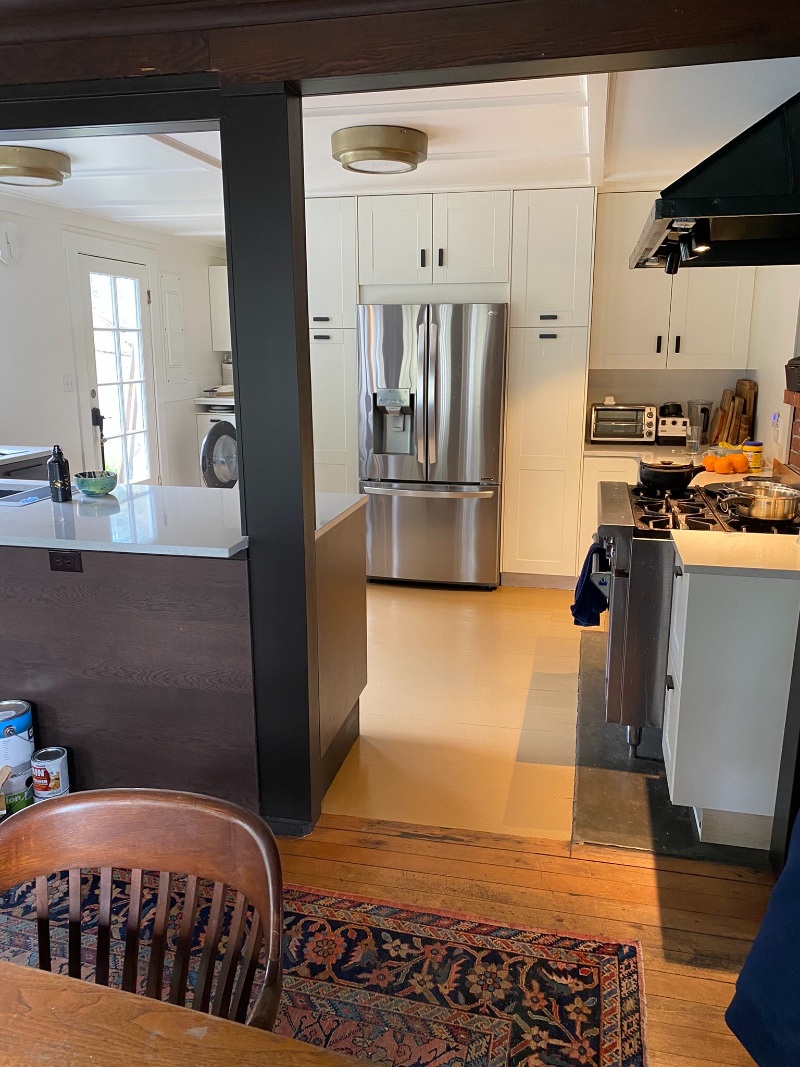 "IKD was the perfect service for helping us make our vision real with the least amount of stress and confusion possible, and the cost was very affordable."
Specifically, Sommer notes there was the rather steep DIY learning curve during the project.
"I had to rebuild my drawers many times to get the nuanced differences between each drawer and its placement etc., [but] we were very happy with how [everything] came out."
She concludes:
"I recommend IKD to everyone I talk to who is or may at some point be redoing their kitchen. IKD helped my vision become reality and saved me unknowable amounts of stress and confusion in sorting through the world of IKEA kitchens. Using IKD would be my number one piece of advice, and beyond that, do what you can do with what you have!"
Get a Professional IKEA Kitchen Design – All Online

Work with our certified kitchen designers to get a personalized kitchen designed around your needs and vision. If you're interested in learning more about our service, make sure to check out our IKEA Kitchen Design Services.