This Post May Contain Affiliate Links. Please Read Our Disclosure Policy here
I am often asked about the hydrangeas in the bouquets around our home. Many readers say they hope they are faux hydrangeas so they can easily get some, too! While usually our flowers are in fact real and from our own yard, today I can say YES, the flowers in today's post are artificial, you can get these faux hydrangeas for your home!
One of my favorite summer flowers for the garden and to bring inside are hydrangeas. We planted probably close to seven real hydrangea bushes at our old house before we decided to sell our house :). Sorrow. Plus we had the most beautiful hydrangeas already there when we moved in, so every summer we were stocked with hydrangeas!
Why You Might Want to Try Faux Hydrangeas
I decided to give faux hydrangeas a try this year since we are just getting started with planting in our new home. It might be a few years before we have enough blooms for bouquets. And we have a very small yard so we have to go with more compact plants and have limited planting areas. By the way, I planted two new compact hydrangea varieties in pots near our front porch, so I'll share more about that in an upcoming post.
If you are in a part of the country that isn't conducive to growing hydrangeas or you don't have the space to grow them, faux flowers might be the way to go! The blooms can be expensive to buy so faux may also be a money saving idea, too. Plus like I have said with the other faux flowers I've shared this spring, these petals won't wilt or die and you can keep them on hand and looking fresh for a long time, so I do think faux flowers can be a good choice for convenience as well.
Blue Hydrangea Blooms for Door, Basket, Wreath, or Vase
I got these hydrangeas in two colors to see what they were like.
Faux Hydrangeas in shades of blue (click links and images below for sources):

---
I mixed both colors and put in my scalloped basket. along with the flowering branches I had in it earlier this spring. Our front door is under an overhang so I'm not too worried about the hydrangeas (I'm assuming they are intended for indoors so I wouldn't put them directly out in the elements). The basket has been on the door all spring with the branches and it's been just fine.
Pro Tip for a More Realistic Hydrangea Look
At first when I opened the package, I wasn't sure they were as realistic as they could be. But once I put them in the vases and door baskets and stepped back, they really look beautiful. As with all new decor decisions, it's important to step back and look at it in relation to other things in the room. Now I don't think about them being faux, they are just pretty flowers in the room! The price was so good that I am excited to try more colors and combinations, too.
I looked at other options online and the price or negative reviews kept me from trying them. But if I find others I like, I'll be sure to share!
PRO TIP :): Real hydrangeas come in so many different hues and they change as the season goes on. They often start out really bright and change and fade by fall. For a realistic mood with hydrangeas, you can do the same with your faux bloom color choices. Start with brighter tones, then mix in fall hues and eventually use all muted fall colors.
I also just ordered this pretty color for an additional muted variety.
Scroll and click images below for sources from this post!

---
Embrace Your Inner Coastal Grandmother
Hydrangeas are the perfect summer flower for embracing your inner "coastal grandmother" 🙂 !
I shared more about Coastal Grandmother Style in this post.
I also shared Coastal Grandmother Decor Finds on Amazon in this post!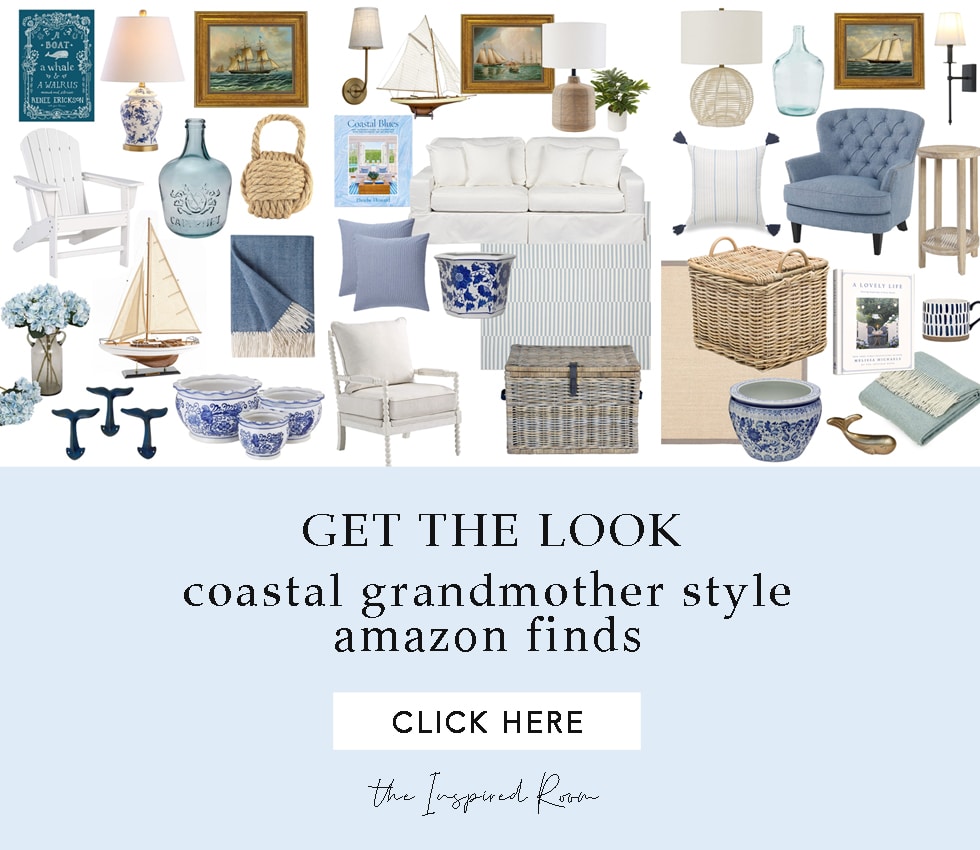 Looking for more decorating ideas? Check out the links below for inspiration on the blog!
Garden and Outdoor Room Inspiration Gallery
Style Tips Gallery (how to decorate, room mood boards, designer secrets and more!)