IKD has long had a design relationship with Los Angeles, CA-based Semihandmade, a leading third-party custom cabinet front manufacturer whose offerings fit perfectly with IKEA's SEKTION cabinetry framework.
Semihandmade is evolving into a fully realized lifestyle brand, and they started by launching their own line of cabinets: BOXI by Semihandmade.
BOXI is designed to simplify the installation process so customers can remodel their kitchen, bath, or any other room in the home.
This is accomplished through easy online design and ordering as well as competitive pricing, and American-built durable cabinetry products.
They provide a one-stop shopping experience and the cabinets will arrive pre-assembled, with door and drawer fronts attached. No more Allen wrenches or hours-long assembly at the hands of an expensive contractor.
This is important because IKEA customers may or may not realize the professional-level assembly and installation skills that are required with IKEA cabinets.
Better understanding this can significantly cut installation costs and save time and stress spent on improperly installed cabinets, missing items in your order, and repeated trips to IKEA.
BOXI has a curated selection of some of the most popular drawer and cabinet fronts with which to choose from in the market, including options for base cabinets, wall cabinets, tall cabinets and vanities.
According to BOXI, this includes Shaker, Slab, Woodgrain and Edge door styles. Total available BOXI cabinet profiles include eight options.
The Shaker style comes in a Matte finish (Salt and Mushroom);
The Slab style also comes in a Matte finish (Salt and Mushroom);
The Woodgrain door style features a horizontal grain pattern on doors/drawers and a vertical pattern on most panels/trim;
The Edge door style features a Matte finish (Peppercorn) as well.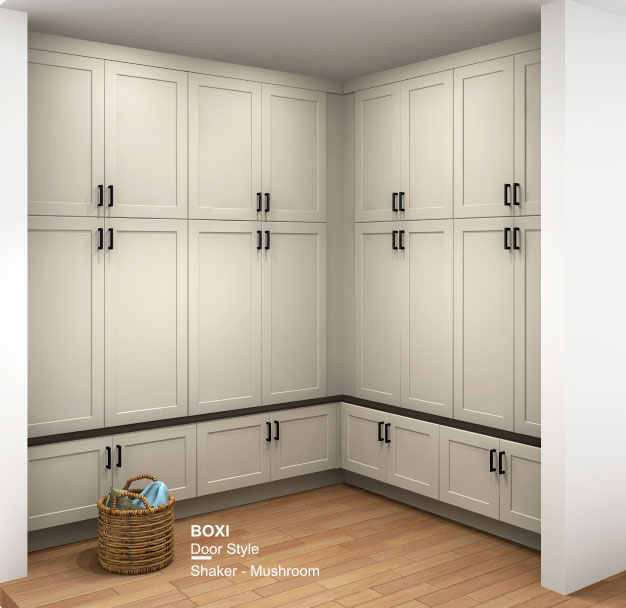 Get A Professional IKEA Design For Your Home – All Online
Our IKEA Design Packages are everything you need to complete your new kitchen, home office, or any other room with confidence.
John McDonald, founder of Semihandmade and BOXI notes that there are different services available for ordering BOXI.
"The first is working with long-time Semihandmade partner IKD who manages remote design as well as anybody in the industry. You simply snap photos of your space and include dimensions and they will guide you throughout the rest of your journey to make sure you address all your questions and concerns."
BOXI base cabinets come in one-, two-, three- or four-drawer styles as well as corner and roll-out configurations;
BOXI wall cabinets come in one- or two-door options;
Tall cabinet offerings, such as the pantry cabinet, are offered with multiple shelf options (among others);
The BOXI high vanity is offered in one-, two-, three- or four-drawer configurations.
Note: BOXI's prices begin at $4,200 for a 7 ft. row of kitchen cabinets

BOXI's Trusted Design Partner
BOXI is designed to simplify the installation process so customers can remodel their kitchen, bath or any other room in the home.
For just $399 IKD's experienced IKEA kitchen designers will design and provide answers to all the common and uncommon questions that homeowners experience when going through a kitchen renovation.
By working with IKD you will also be able to organize your storage space as they also create 3-D views of the interior space of each one of the cabinets. They will also make sure that your appliance selection fits appropriately within BOXI's product offering.
IKD designer Elisa Suarez says:
"From built-in microwaves, panel-ready refrigerators, built-in double ovens to beverage stations that accommodate a coffee maker, ice maker, mini fridge as well as your favorite beverage cups and glasses"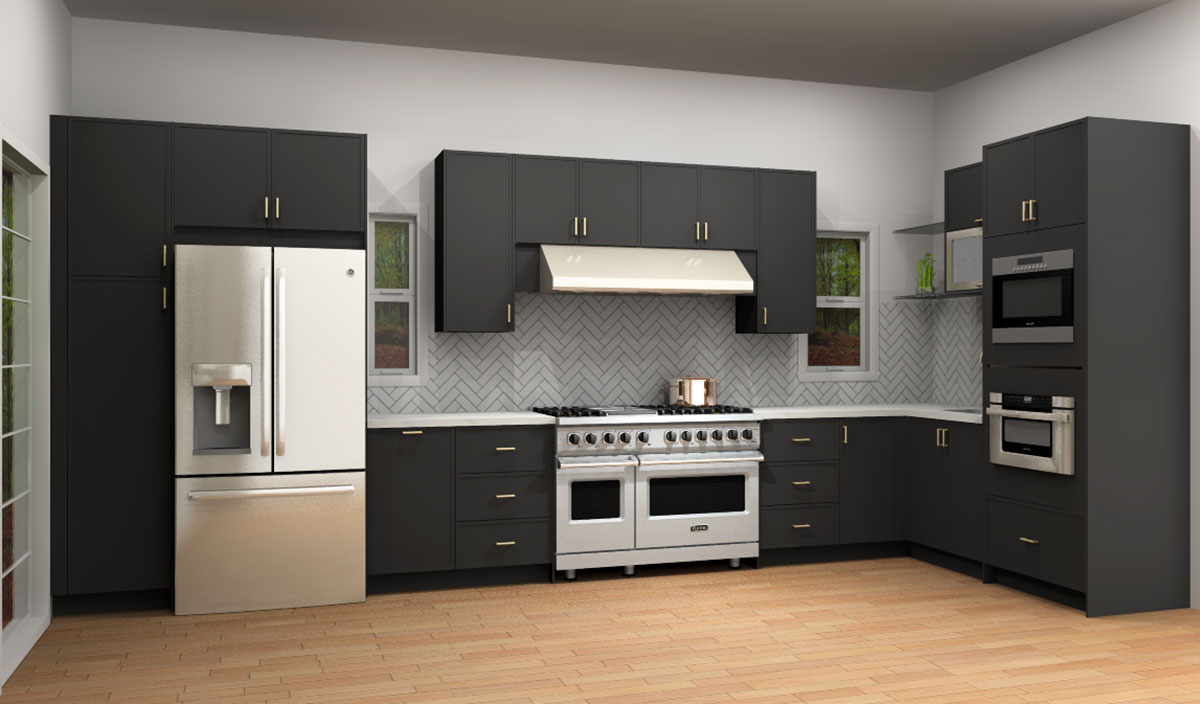 In addition to a hassle-free ordering process, your IKD design service includes:
Unlimited high quality 3-D color renderings that cover all angles.
Elevation and floor plans with dimensions.
Complete kitchen renderings showing what's inside the cabinets: shelves, organizers, internal drawers.
Panel dimensions, locations and cabinets numbered for easy reference.
All pricing and a purchase list for your BOXI order.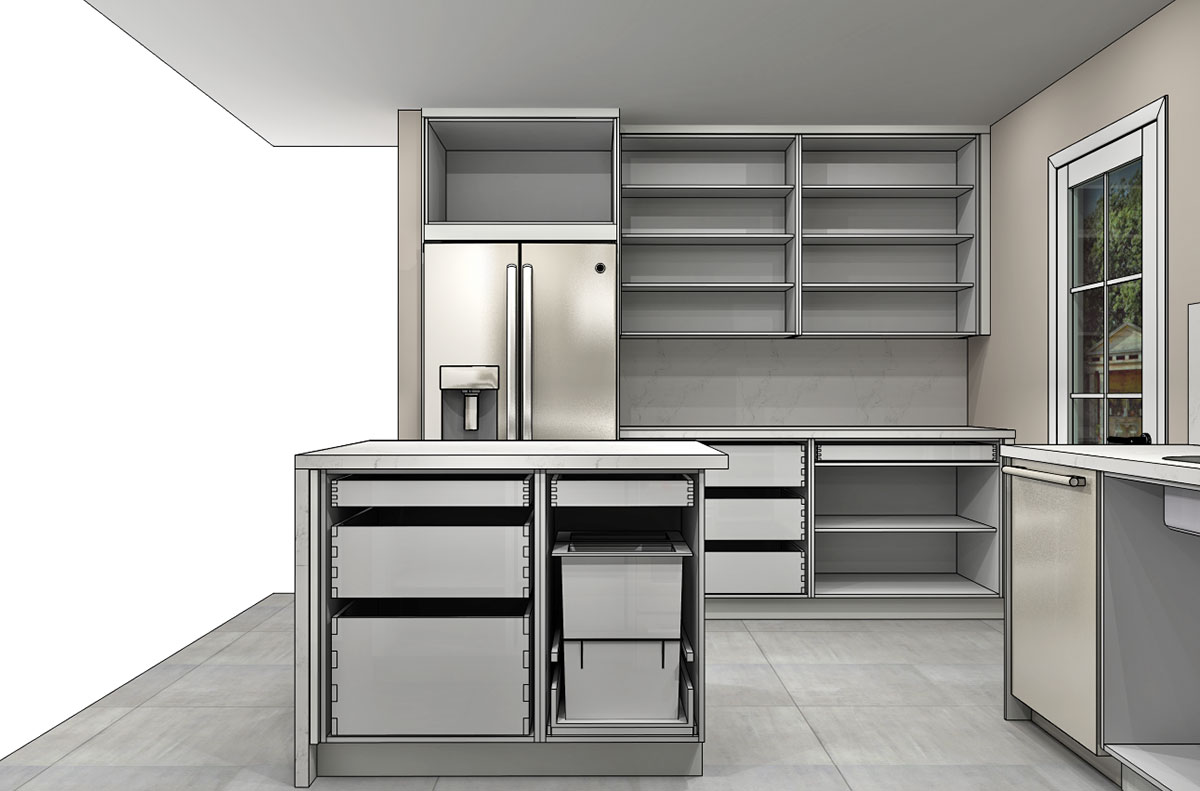 Elisa says:
"By combining our team's creative skills and vast experience we help BOXI's customers select cabinet sizes and configurations that are functional and meet their storage needs and lifestyle."
"IKD provides unlimited 3-D images that cover all angles to empower homeowners and give them the peace of mind and clarity that they need to make sure they are creating a functional space that they will love and enjoy for years to come."
"IKD creates realistic colored renderings so homeowners can rest assured that they will have the optimal storage space, style and functionality that covers their family's needs."
"Homeowners select their personal touches, which includes wall color, backsplash, countertop, main appliances and sink choices to see how it all ties together with their preferred door style and color selection for BOXI cabinets".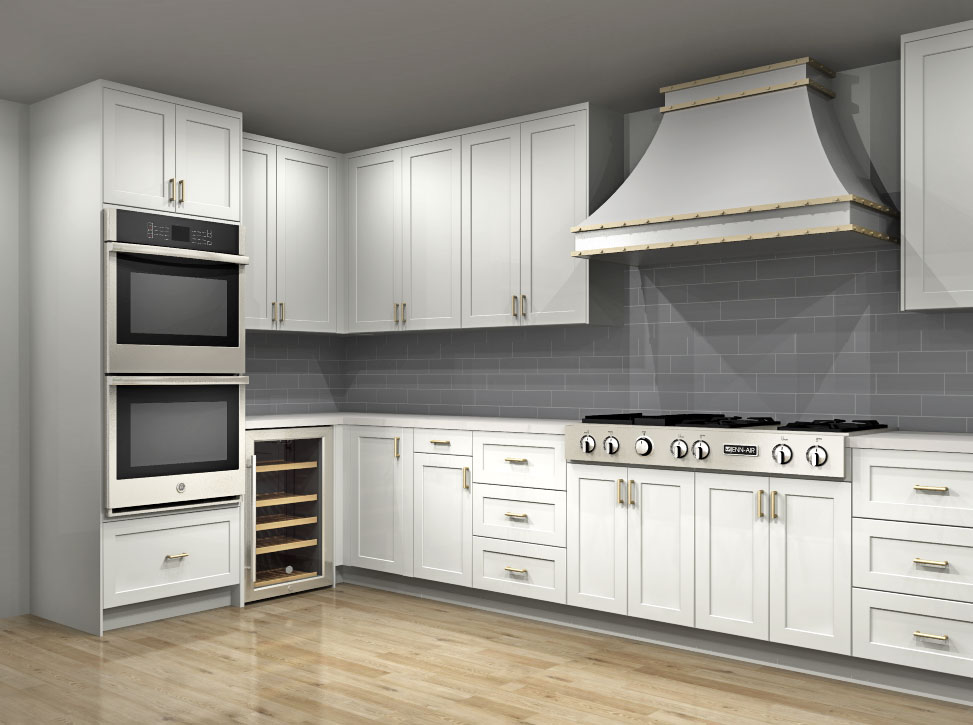 Koa Nu'uhiwa, VP of Operations for Semihandmade, concludes:
"Customers who choose BOXI (versus Semihandmade and IKEA) eliminate a time-consuming and often overwhelming step in their discovery process — the need to visit a big box store.

BOXI cabinets can be viewed and purchased from the comfort of their living rooms!

Plus, unlike IKEA boxes, BOXI arrives fully assembled at your doorstep. For some people, this ease of purchase and delivery is a real game changer."
Visit the BOXI Web site here to get started!
Get a Professional IKEA Design For Your Home – All Online

Work with our certified designers to get a personalized IKEA design for your kitchen or any other room in your home. If you're interested in learning more about our service, make sure to check out our IKEA Design Services.