A Brief Look at the Product Highlights of the IKEA FINTORP Wall Organizer
We all want to maximize space in our kitchen. There are easier and much more comfortable ways to do it than to fill your entire wall with kitchen cabinets.
FINTORP wall organizers from IKEA are an excellent alternative: they can make a great addition to a country or transitional kitchen.
The FINTORP series has different items, including handles. This line is designed to work with rails and hooks, hanged from walls.
Each rail is 22 1/2″ or 30″ long and you can connect two rails together using only one bracket. This means that you can keep the same look throughout your kitchen.
Here are the most popular FINTORP wall organizers from IKEA:
We'll Design Your Ideal IKEA Kitchen Easily, Affordably, and Online

Our IKEA Kitchen Design Package is everything you need to complete your new kitchen with confidence.
FINTORP Utensil Holder: Handy Display for Condiments, Cans, or Plants!
When attached to a FINTORP rail, this accessory can hold oil bottles, vinegars, spices and other condiments. You can also use this for smaller canned goods or jellies. Wider items are accessible and displayed neatly.
You can even use this for plants or as a fresh herb mini planter to have in your kitchen.
Dimensions: 14 5/8″. We recommend using one per rail. Standard size.
Available colors: white and moss green
FINTORP Wire Basket with Handle: Hanging or Free-Standing Organization
These are probably the most versatile accessory from the FINTORP series: you can use it as a condiment carrier, as a free-standing unit on your dining table, and even as a plate holder.
Dimensions: 11 3/4″ wide by 91/2″ high. Also available in a smaller size: 7 3/4″ by 9″ high.
Available in a black finish only.
FINTORP Magnetic Knife Rack
This can be a handy close to your cooktop right below the wall cabinets.
If there are children in your household, you may opt for safer places to store your knives but you can still use this for other metallic kitchen utensils or even use it as a magnetic board to leave notes or keep recipes close with the help of magnets.
Dimensions: 15″ long, 1 1/2″ wide.
Available in a natural finish only.
FINTORP Cutlery Caddy
This accessory is so popular, it has become one of IKEA's classics. The FINTORP system has been around for a while and their design has remain untouched.
You can use it to store kitchen utensils, cutlery and all sorts of nick-knacks for your kitchen such as straws or close to a beverage / breakfast station in your kitchen.
For even more practical examples of these being used, check out our blog post on craft room design – the possibilities are endless.
Dimensions: 5 1/8″ diameter, you can use up to 3 in one rail. Standard size.
Available colors: Chrome finish, white and moss green.
And you can even use them all at once in a small space close to a sink or a window to use every inch of storage space possible, like in this example: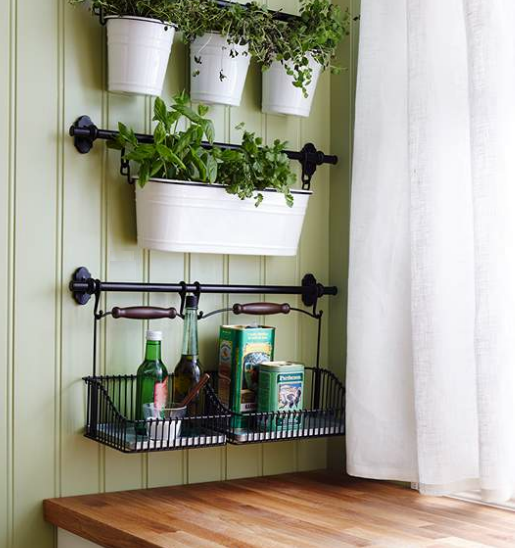 Get a Professional IKEA Kitchen Design – All Online

Work with our certified kitchen designers to get a personalized kitchen designed around your needs and vision. If you're interested in learning more about our service, make sure to check out our IKEA Kitchen Design Services.