When designing an IKEA laundry room the goal is to make everything nice and tidy.
What that means is simple: It must be efficient enough to save time (and limit trips!), and stylish enough to blend well with the rest of your home.
Luckily, IKEA's SEKTION cabinetry provides opportunity for different storage solutions as well as style options for incorporating wall shelving, hooks or pegboards within your laundry room.
More specifically, the IKEA SEKTION system is a modular and frameless cabinetry framework that allows you to personalize your IKEA stock cabinetry choices.
Or order custom front options from third-party manufacturers like Semihandmade, as well as IKEA drawers, IKEA pullouts and IKEA corner organizers.
And, since they're frameless (meaning there is no "lip" around the front face of the cabinet), it frees up more storage capability as well.
It's a win-win.
But, before you say "Hey, isn't SEKTION only for kitchens?" we at IKD have used our signature IKEA design hacks to incorporate SEKTION into many other rooms in the home including the laundry room.
Therefore, customers looking for IKEA laundry room examples have come to the right place!
To highlight these possibilities, we'd like to share some case studies of recent IKEA laundry rooms we've designed.
These include projects for:
IKD customers Sarah and James, who wanted better storage options in their remodeled, L-shaped laundry room.
A retooled laundry space for IKD customer Mike, who favored clever internal drawer solutions.
And a dynamic IKEA laundry room for IKD customers Marcia and William, who took advantage of their large space by incorporating IKEA's SEKTION/MAXIMERA High Cabinetry combo with IKEA's AXSTAD cabinetry in Matte White.
Let's take a look at some IKEA laundry room designs using IKEA's SEKTION cabinetry!
We'll Design Your Ideal IKEA Laundry Room Easily, Affordably, and Online
Our IKEA Laundry Room Design Package is everything you need to complete your new laundry room with confidence.
Pullouts to Improve IKEA Laundry Room Organization
For IKD customers Sarah and James from Bend, OR, the goal was to update an inefficient laundry space.
"What our L-shaped laundry room had in character it lacked in organization," Sarah says, who adds that the space was meant to be used as a "catch-all" for their family in hopes to keep up with their children's busy sports schedules.
To accommodate those needs and to maximize the available space, we suggested IKEA's SEKTION base cabinetry with pullout storage, which was a great way to store the laundry detergent the family needs.
We stacked VADHOLMA open cabinets to create a tower that can be used to keep things handy and readily available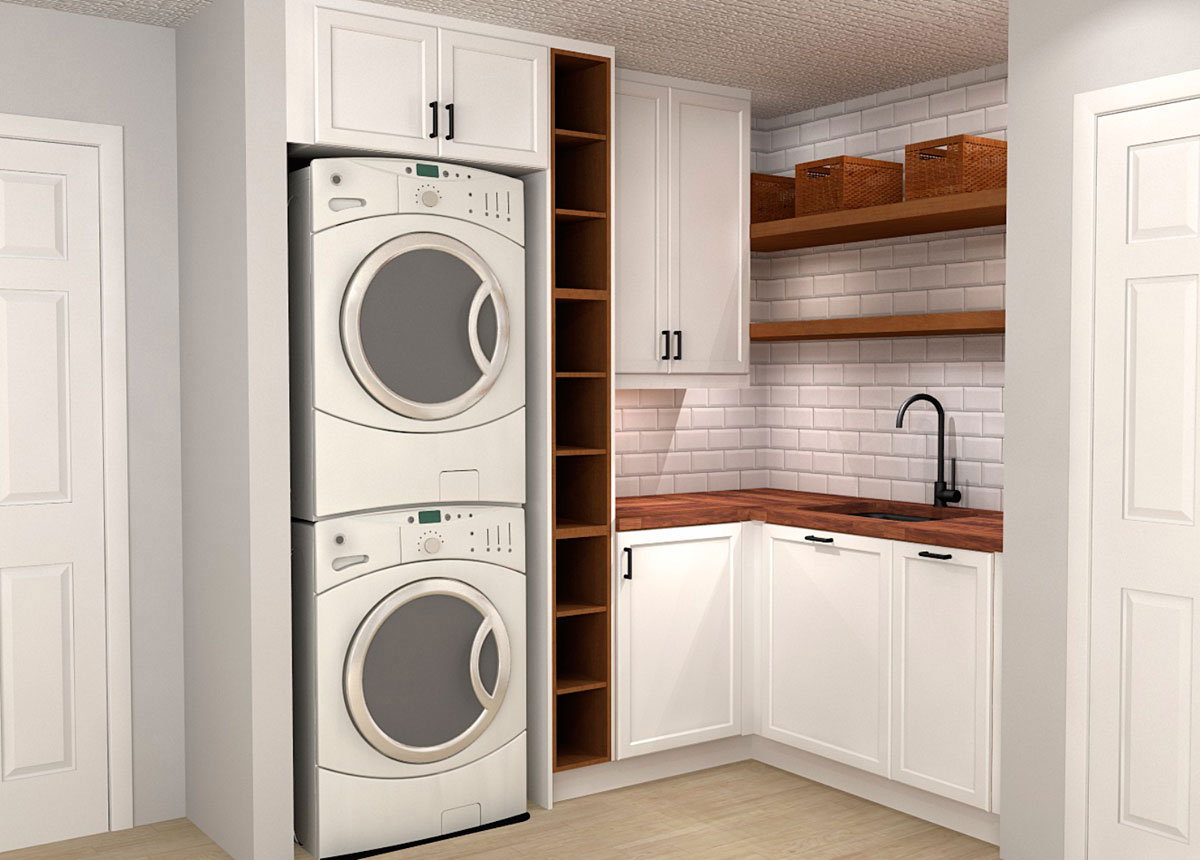 We also suggested IKEA's SEKTION 18"x24x30" base cabinet for sorting which serves as a ideal hamper option for the family as well.
Lastly, the sink area was very underutilized so we recommended to use a pull-out cabinet for the sink that can be used to keep trash concealed or to organize and store more cleaning supplies.
Sarah concludes:
"The ideas IKD gave us has made our laundry room so much more organized and made things more efficient for our family!"
Putting Drawers to Work
IKD customer Mike from Trenton, NJ, came to us looking to maximize a very small laundry area in his condominium.
He says:
"Spacewise, my options were pretty limited so I wanted to get everything I could out of the laundry room without things looking cluttered."
This was an opportunity to use SEKTION's cabinetry featuring its signature internal drawer system. In this case we recommended using the SEKTION base cabinet in with three fronts and four white MAXIMERA drawers.
So on first glance you see the top drawer, but there is another drawer inside it, creating a concealed storage space for smaller items like bags and dryer sheets, for example.
With some space freed up, Mike also opted for the IKEA SEKTION tall cabinet with internal rollout drawers, which gave him a convenient area for extra towels, toiletries and other supplies.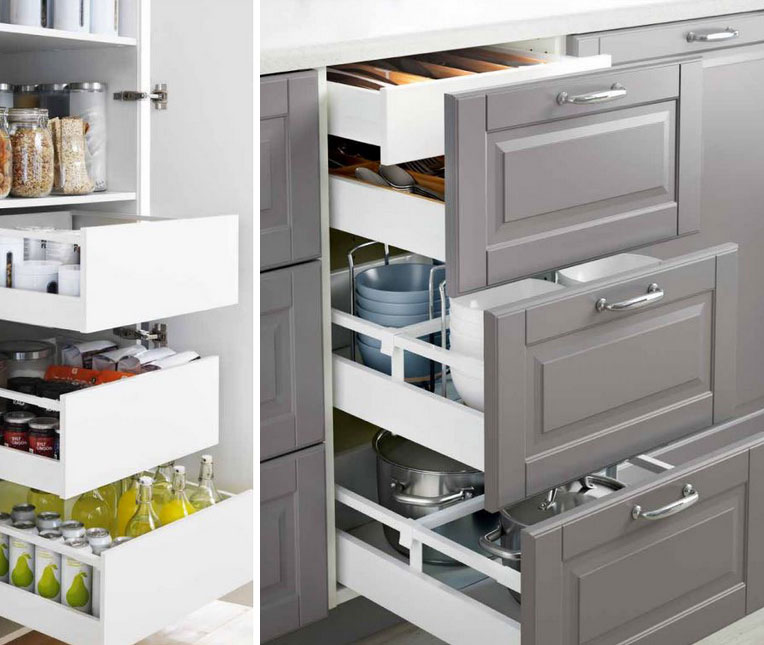 ** Images from the IKEA website
"I couldn't be happier with the results of my new IKEA laundry room and it even has the clean, simple look that I really wanted," he concludes.
Taking Advantage of Laundry Room Wall Space
Part of a whole-house remodel project, this IKEA laundry room of IKD customers Marcia and William from Fort Wayne, IN, gave them plenty of room to spare.
"Our basement and laundry room area is very large with high ceilings, so we wanted to make full use of the space and get creative," Marcia explains.
So, as a "storage centerpiece" to the traditional and elegant space, Marcia and William selected IKEA's SEKTION tall cabinet, which holds linens, soaps, detergents and other cleaning supplies.
This also complements the Electrolux Front Load Washer & Dryer Set in Titanium and is conveniently placed near it, with the ironing board located nearby as well.
The couple also enhanced the area by choosing the White IKEA ALGOT wall upright/shelves/drying rack, which provides a space for folded clothing items and linens
** ALGOT system. Image from the IKEA website
Other notable items included in their laundry room are the IKEA BJARNUM aluminum folding hook; the IKEA SKADIS pegboard combination for holding keys, notes and a laundry day calendar; and the IKEA BERGSHULT wall shelving in White.
"We were hoping to be creative with our laundry room design, and all of the organizational items, especially the pegboard, has worked out great for us!" Marcia concludes.
So remember that regardless of the shape, size or scope of your project, IKD will incorporate budget-friendly laundry room ideas to organize your home and streamline laundry day!
Get a Professional IKEA Laundry Room Design – All Online

Work with our certified designers to get a personalized laundry room designed around your needs and vision. If you're interested in learning more about our service, make sure to check out our IKEA Laundry Room Design Services.