When I say that our garage was in dire need of organization, that is an understatement. It was in pathetic shape after living here for almost 5 years now and never getting it really organized. When we moved in we threw things in the garage and they have been pretty much the same all those years. We would paint and do projects and just leave things piled out there after finishing one after another. I attempted to organize my side and added a steel shelving unit in there as well as some plastic shelves which are still there, but Mark needed to work on his side and I couldn't organized his stuff, he needed to figure out how he wanted to do it. Most of the stuff in the garage was his, so I left it up to him to finally get motivated to organize and change things and when he finally did get motivated,…wow, it was a sight to see! He did a great job of getting our garage organized and most all the stuff off the floor. He ordered brackets and garage organization pieces and I'll link them all for you at the end of this post in case you get motivated too. It was a long time coming, but I'm so glad he did it!
I didn't get the best before pics, but suffice it to say, our garage was a big mess. We had piled stuff in there from early projects and it got to the point where we didn't know where things were. It was pretty frustrating, to say the least. We had a mess of things to go through. We also had a steel shelf out here that housed extra canned goods and pantry items, so we relocated that to the basement. It was right beside my car, so it was nice to get that out. I didn't get a pic before we moved it.
He pulled everything out from the walls and began to sort through everything and I helped with this part some too, but then I went to the beach and left it with him. HIs goal was to get most everything off the floor and hung on the walls. That's the secret to a small garage. Ours isn't that big so we had to utilize all the wall space. The walls out here are extra tall, which helps a lot.
We usually leave our bikes in the basement, but with the mess of the pool in the backyard we brought them up here for easy access. We don't have a great place for them, but we found a spot for each of them after the organization was completed. We will leave them in the garage for now. So this is where we started for the most part. And now it looks so much better. It's not a fancy garage with all the built ins and fancy storage containers, but it's so much better than it was and now we know where things are.
The goal was to utilize the walls as much as possible to hang things and get them off the floor. Mark did a great job of that with adding shelves and hooks everywhere he could. He located the studs so that everything is extra secure. I'll share all the hooks and racks he bought at the bottom of the post. He's leaving his miter saw stand and table saw in place. All his other tools have a place on the wall now.
He bought brackets and then we went to Home Depot and bought MDF lumber for the shelves. They are 1 x 12″x 8′ long and he cut them to fit. These are just white MDF boards that he cut to fit the space. All his gas cans and weed and feed items are here. His car washing gear is in the bin.
Chairs have a special hook as well as the extension cords.
All the power lawn tools have a hook now on the wall and that works out well. Shelves can hold whatever needs to go up there, like this power trimmer. He added some boards on studs to hang some of the hooks on.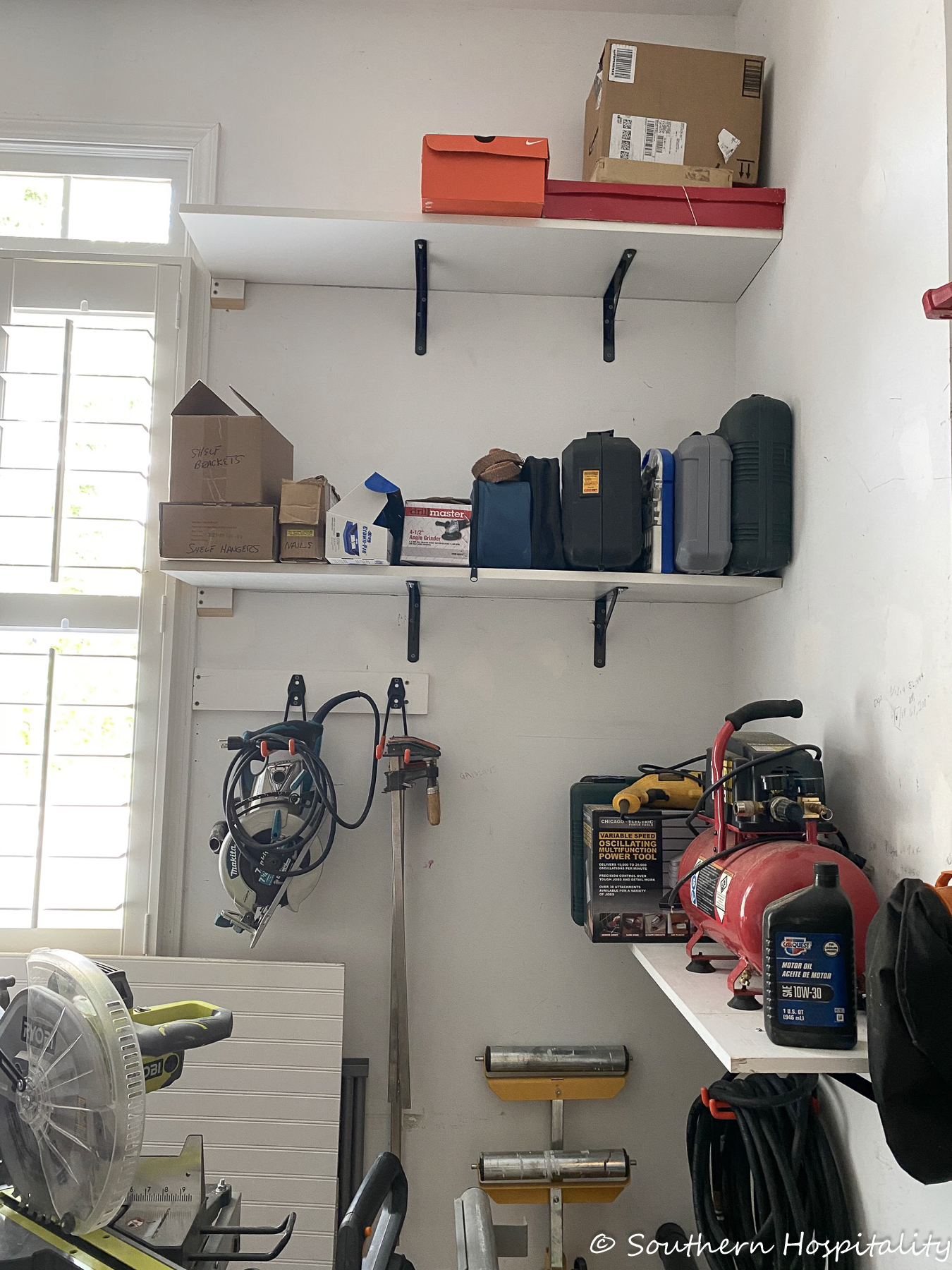 Nail guns and other misc. things go on the shelves, handily available when needed. It's so nice to get all of this off the floor.
His gas powered blower, cord and air compressor are out of the way.
On this side of the window are more shelves with more tools put up and out of the way. Things can up up here that aren't used all the time but are easily reachable. A peg board further organizes things.
Left over beadboard is stored that's too good to get rid of.
He added another large peg board on this wall to house all his hand tools. It looks so good now with all the organizers in place to house his small hand tools. What a difference now! None of this was accessible before.
Above that, he added racks for storing extra wood. Wood is so expensive now so we keep things that we might use later on. They are up and out of the way up there. He even added a paper towel holder to his peg board, which will definitely come in handy.
We will keep this wood and maybe use it on other projects down the road. We love having an extra fridge and freezer out here. It's very handy to have. Mom passed her freezer to me when they moved, so I was excited to get it.
These upper cabinets were already here so we utilize those too. I added those plastic shelves below and we keep things on there that we use a lot. We did have all our paint cans on the floor here, but we moved all of those to the basement out of the way. They are all together and will be there when we need them. We have rechargeable batteries plugged in here.
The steps going inside the house were a mess so I gave them two coats of semi gloss white paint to make them look better. Mark got that walking stick from my dad.
He added this pencil sharpener and a bottle opened a couple years ago and those come in handy.
On this side, my pegboard was rehung and organized with handy tools that I use a lot. It's nice to have them at eye level and readily available.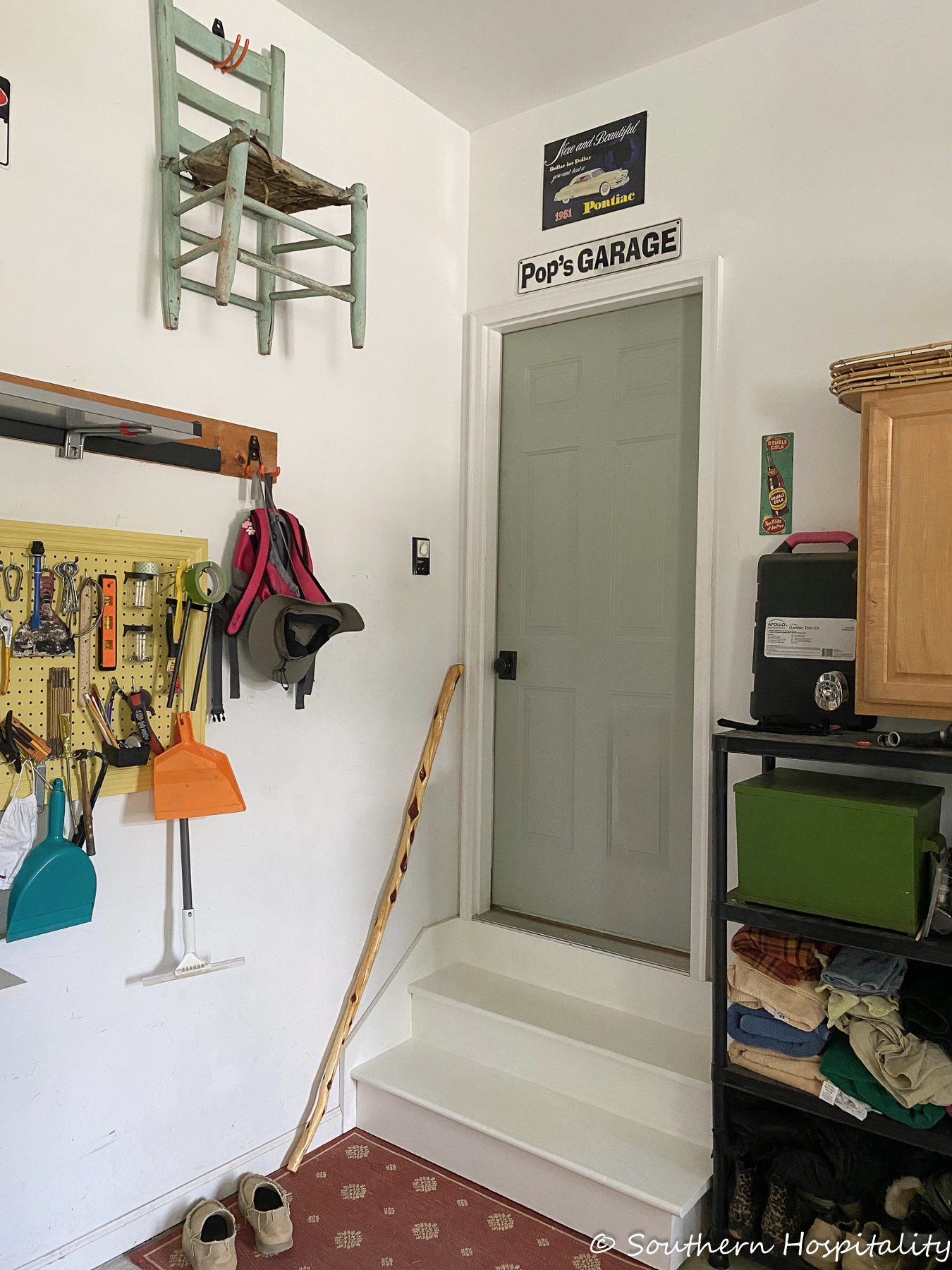 That aqua old chair was my grandpa's chair, my dad's daddy. I got it from their mountain house and don't really have a place to use it so we hung it on the wall for now, out of the way. It's probably from the 1920's.
I love my little pegboard and it's so handy to have. That's a Rubbermaid rail system that I brought from my other house and Mark ordered a few new pieces for it. as well as another rail for the other side It's a pretty nifty little system for organizing too. The former owners had put up these boards for nailing things to, so we put the rail system directly on the boards in studs and found studs for the other additions.
We've got ladders etc. hung on this wall, readily available. The blower hangs from a peg too. We do have some extra tile from our master bath here that we need to do something with. Will probably donate these extras and it's past time for that. I didn't show where our bikes ended up, but mine is on this side where I park my car and it's still out of the way when I drive in. It feels way more spacious out there now.
More pegs on this side hold shovels, brooms, etc. Getting them off the ground is key and we can easily see what we have now. We love having an extra big trash can out here. Our chairs hang on the wall too. Trash bags now have a shelf to sit on.
Those two upper ceiling racks came with our house so that's nice to have too.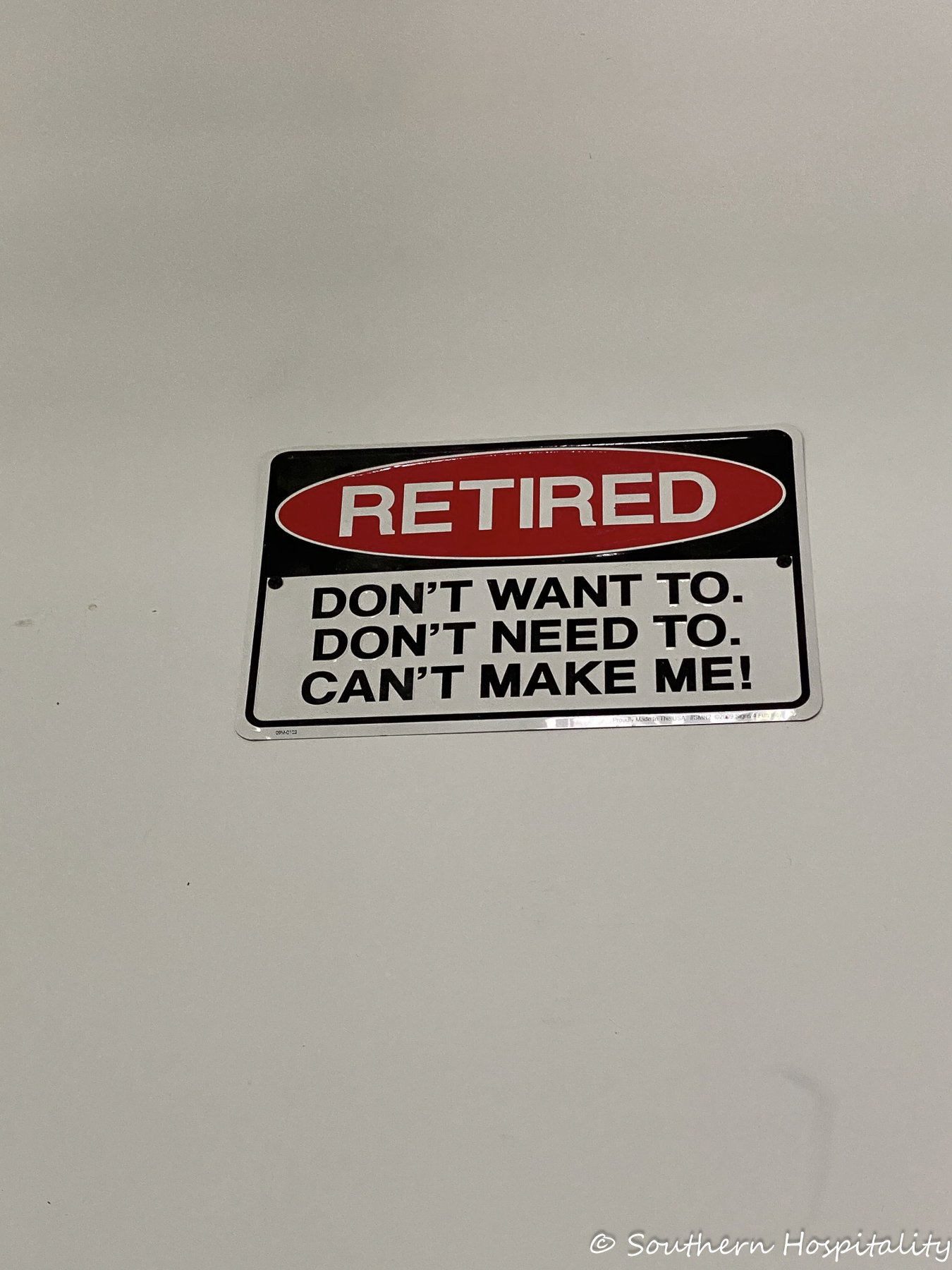 And that's a tour of our garage. This is definitely Mark's mantra now that he's retired. He fully embraces this thought! He's so funny, but I don't blame him for wanting to enjoy his retirement. He's earned it!
That Pontiac sign reminds him of his grandfather and Pop is his official granddaddy name. Life is good! We love our home and have so enjoyed living here. This garage makeover isn't beautiful or that fancy, but it is SO much better than the way it was, so I hope you get inspired too and maybe get a few ideas for organizing your spaces as well. Our garage was way past due for an organization makeover and I'm so proud of Mark for tackling it all. He did a great job! It's not exactly beautiful, but it sure feels so much better to us. We can actually walk out there now and find things. What a great thing that is!
Below are all the things that Mark ordered for our garage makeover (affiliate links used):
Related
Don't Miss a Post, join my list!